5 best mod menus for GTA 5
GTA 5 is a game with an expansive world, in which you can do anything you like. While completing missions and progressing through the story is one way to go about playing GTA 5, another way is to ignore the main missions and muck around for as long as you can.
However, without fulfilling the main missions, it can be a tad bit difficult to galivant around the map, since you'd basically be low on money to access some things. That's where mod menus come in. They can help you turn your GTA 5 gameplay into your own personal fun ride, enhancing your overall experience. Here are the five most popular GTA 5 mod menus that you can try.
Five best mod menus for GTA 5
1) PC Trainer V
PC Trainer V allows you to change or modify the world of GTA 5 as per your wishes. Don't like the weather? Change it. Would you rather roam around with bodyguards to protect you? Spawn some. Don't like the day/night cycle? Remove it.
PC Trainer V allows you to make a plethora of changes to your game, ranging from how you look to how the entire city of Los Santos will appear like.
Features:
- Minigames
- Bodyguards
- Weather controls
- Weapons options
- Personal options
2) Enhanced Native Trainer
Enhanced Native Trainer is another mod menu that allows you to add various customizations to your GTA 5 gameplay. Ranging from your own character to the pedestrians on the street, you can easily control and change anything to how you like it.
With Enhanced Native Trainer, it is easier than ever to customize weapons, characters, peds, or cars as well as to teleport to places and save your time from driving from one place to another.
Features:
- Skin customizer
- Vehicle customizer
- Weapon customizer
- Organized and extra vehicles
- Organized and extra teleport locations
3) Firah Menu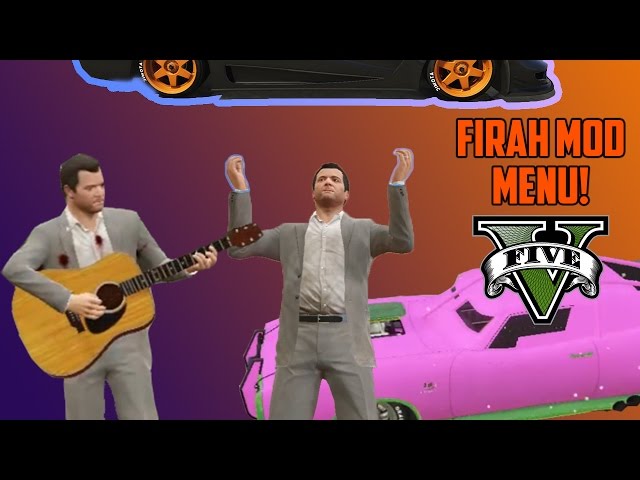 Firah Menu is a great mod menu if you want to transform your open world into a completely new experience.
You can easily spawn any vehicle, add any attachment to it, change the weather, carry infinite ammo, add money to your wallet, or simply apply ragdoll physics to the game to have a bit of crazy fun. You even have options to toggle modes like God mode or Never Wanted.
Features:
- Self options
- Vehicle spawner
- Weather
- Weapon options
- Teleport to places
4) Menyoo PC
Menyoo PC Single-player Trainer Mod has been designed specifically to enhance a player's experience of the GTA 5 story mode. It is by far the most downloaded mod menu and is preferred by a lot of players.
This is owing to the sole fact that you can modify your gameplay to basically anything with this creative mod menu. The changes the mod makes to your open- world looks realistic and give you an incredible immersive experience to enjoy. 
Features:
- Vehicle options
- Weapon options
- Weather control
- Add task
- Player options
5) Simple Trainer for GTA V
Simple Trainer for GTA V is an extremely easy-to-use mod menu that adds several customization options to your game. 
The mod allows allow you to customize even the way your character walks or jumps. The Simple Trainer is perfect for anyone who doesn't want to use complicated mods to use in their game.
Features:
- Personal options
- Weapons options
- Vehicle spawner
- Add money
ALSO READArticle Continues below
- God mode
---
Sours: https://www.sportskeeda.com/esports/5-best-mod-menus-gta-5
How To Install Pc Trainer V Mod Menu In GTA 5
The PC Trainer V Mod Menu (2020) adds full animations for your player and bodyguards, a wide range of customised vehicles along with the objects. You can customise the vehicle according to your liking. This mod supports mouse, keyboard and gamepad to provide the best gaming experience.
This guide will let you know how to install the PC Trainer V Mod Menu (2020) in GTA 5.
Open the link below and download the mod file.
https://www.gta5-mods.com/scripts/pc-trainer-v
Open the downloaded file.
Copy all the files from the folder.
Paste the copied files within the GTA V directory.
That's it, launch the game, press F4 to open the PC Trainer V menu, explore and enjoy the game.
Sours: https://gameskeys.net/how-to-install-pc-trainer-v-mod-menu-in-gta-5/
GTA 5 Trainer Mod Menu Download
Have you been looking for the GTA 5 mod menu that will make it easy to live your real life in the gaming world? You are not to worry as the gta 5 trainer mod is created for that purpose.
The mod menu trainer is crafted with the mind of allowing trainers to showcase their skill and creativity in training others in the virtual world.
So, do you think you can take the job of a trainer? Are you thinking of the best way to sharpen your knowledge of the trainer, but do not know how to make that possible? No worries as GTA Cache are the right online platform for the information.
What's A Mod Menu Trainer?
Grand theft auto has been modified in several ways, making it a delight in the heart of game enthusiasts across the world. The GTA 5 trainer is among the best game mods that contributed to making Grand Theft Auto V what it is today.
DOWNLOAD MOD NOW
The trainer mod is a software app designed specifically for GTA games. The game mod is created to perform many functions like making a protagonist invisible in the game. The mod function is also known as God Mode, as it gives the gamer a superhero kind of power to dominate the gaming world and defeat the competitors. So, check on the GTA Cache to get it today.
Reasons to Download the GTA Trainer Mod Menu
When you want to enjoy Grand Theft Auto game in a fun and entertaining manner, you should visit the GTA Cache for the trainer game mod. The gta 5 trainer mod is provided to allow gamers to take up several actions in the game. Some of the things you can do with this game mod include:
Get unlimited armor to your in-game troop
Have unlimited ammunition
Get unlimited oxygen while in Los Santons.
How you can get a GTA 5 trainer menu
After reading about the trainer mod, the next thing that will come to your mind is how to get it. PC gamers are provided with an opportunity to get this trainer mod into their device.
To install this, you should place the PCTrainerV.ini and PCTrainer.asi in the root folder of your system with ScriptHookV.dll. Hit the "F4" key on your keyboard to open the main menu and navigate through the interface with Numpad keys. Checking through the Grand Theft Auto cache will make it easy to learn more about how to get this mod in your device.
Additional Information
Everything you need to know about trainer mods for GTA V is already available on the renowned gaming platform. GTA Cache is the only place you will get straightforward guides on how to download and install this game mod. It is also where you can read a complete description of this game mod.
Find out the best way to become a trainer in the virtual world with Grand Theft Auto, and you will be happy that you did.
Sours: https://gtacache.com/gta5/mods/trainer/
How to install PC Trainer V Mod Menu (2020) GTA 5 MODS
PC Trainer V 1.1 for Gta 5 PC
If you're trying to find a better way of playing the game and just improve how you enjoy the experience, it can be a really good idea to try out the PC Trainer V GTA 5.
This is a mod designed to help you add in all the realism and even some funny features like super jumps into the game. You really get to determine how you play and how you can adapt to the process in a way that works. In fact, PC Trainer V is one of the few GTA 5 mods PC that allows you to change car lighting and other features that a lot of people would actually want to see a little bit different. 
How can you use the PC Trainer V?
In order to install the PC Trainer V GTA 5 you will need to place the PCTrainerV.asi and the PCTrainerV.ini in the Root folder with help from the ScriptHookV.dll. Once you will do that you will be able to access the F4 menu and then add in all the features you want inside the game. The trainer also allows you to change the keycodes to open the menu if you want. Or you can stick to the regular key codes and you will be just fine. 
The idea is to provide a sense of value and quality while also showing attention to detail and a very good user experience. With help from PC Trainer V you can make all the difference you want. This is one of those mods that can be very creative and fun to use but also adaptable and fully customizable. It gives you access to the quality content and features you want but at the same time it always pushes the boundaries by bringing in a very creative set of ideas that totally works no matter the situation.
What features are included with the PC Trainer V?
This is one of the more complex GTA 5 mods PC because it comes with a whole lot of stuff that you can do and enjoy inside the game. For example, you have new animation options, the input and play animations can be looped. You can also change the movement style if you want. And then you have some new audio options. There are 50 different unique to model speeches, mobile radio, you can even change your voice if you want and go to the next radio track or choose a mobile radio if you want that.
With this great PC Trainer V mod you can also access minigames like becoming an assassin, new bodyguard options, you can even spawn objects if you want to do that. The PC Trainer V also allows you to teleport even in front of you or to a waypoint. And you even have vehicle options like spawning everything you want or getting any weapon you want in the game.
If you're looking to add in a timecycle modifier, change the weather, toggle the day or night and add in all kinds of other similar features, then you have to give the PC Trainer V a shot. This is an incredible tool with outstanding quality and tremendous value. You should consider giving it a try if possible, and you will enjoy its great attention to detail and powerful experience. 
Screenshots:
Showcase:
Animation Options
-Input/Play Animations which can be looped. (The Input Custom Animation format goes like this: "animDict,animfile" without the quotation marks.)
-Change Movement Style.
Audio Options
-Over 50 Unique-To-Model Playable Speeches which can also be played through a megaphone.
-Change Voice of the Player.
-Mobile Radio.
-Change to the next radio track on your current radio station.
Bodyguards
-Spawn any model in the game to be your bodyguard(s).
-Change the appearance of your last spawned bodyguard with any of its available model options.
-Add hats/glasses/masks to your bodyguard with the accessories option.
-Give your bodyguard any weapon.
-Add/Remove Blip so you could keep track of your bodyguard on the radar.
-Set Invincible/Vulnerable if you do/don't want them to die.
-Give Current Weapon will always give them the weapon you have currently equipped.
-Change the Group Formation and Spacing to have a unique fighting style.
-Delete the last spawned bodyguard.
-Dismiss all bodyguards.
Minigames
-Become an assassin and kill the target for a randomized amount of cash.
Misc Options
-Spawn a random bodyguard who will have your current weapon when spawned.
-Recruit the nearest ped with the current weapon you have.
-Resurrect a target ped back to life and they will thank you.
-Spawn a random ped to do whatever with.
-Call the police if someone is attacking you or if you just want to kill some pigs.
-Call Merryweather Mercenaries to protect you from any hostiles on your current location.
Object Spawner
-Type in any model name to spawn right in front of you. (Ex: p_spinning_anus_s)
Use these for reference:
http://ecb2.biz/releases/GTAV/lists/props.txt
http://ecb2.biz/releases/GTAV/lists/objects.txt
Player Options
-Change to any model in the game.
-Change the appearance of your player with any of its available model options.
-Add hats/glasses/masksto your player with the accessories option.
-Adjust health, add/remove armour, or toggle invincibility.
-Set a Cash Value to spawn cash. and make it rain!
-Adjust wanted level, clear it, or become never wanted.
-Become invisible.
-Enable most of the player cheats such as explosive melee, super jump, etc.
-Kill yourself with a pill or pistol if times are tough.
Teleport Options
-Teleport 2ft in front of you.
-Teleport to the waypoint in the blink of an eye!
Vehicle Options
-Spawn any vehicle in the game.
-Customize it with the Mini Los Santos Customs option aka Customization.
-Add invincibilty, hookers, become a passenger, and more with Extras.
Weapon Options
-Give the player any weapon from the game.
-Set ammo type such as fire bullets, explosive bullets, etc.
World & Game Options
-Toggle Night Vision/Thermal Vision.
-Hide the HUD to take screenshots or whatever.
-Apply a timecycle modifier.
-Adjust traffic/ped multipliers.
-Become a weatherman and change the weather!
How to install:
Step 1: Download PC Trainer V
Step 2: Right-click on the downloaded File and select "Extract Here" to extract it, we will see 2 more files named: PCTrainerV.asi,PCTrainerV
Step 3: Copy the 2 files you unzipped in Step 2 to the Game GTA V folder that you used for MOD.
Download Links:
 1.1 (current) Link Download : https://dl1.9gtamods.com/index.php?act=dl&id=1587396003
Tags:
best gta 5 trainergta 5 trainer pc 2018gta 5 trainer pc 2019gta 5 trainer pc 2020TRAINER,
Also on 9GtaMods.com
Sours: https://9gtamods.com/pc-trainer-v-1-1-for-gta-5-pc/
Trainer gta pc 5
Update: We are no longer adding new features but I have built and uploaded the latest code we have since 1.1 (see changes below). Some of it is untested so let me know if you find any bugs and i'll try my best to fix them – Three-Socks.
Console Trainer V has finally come to pc.
Installation
Download and install Alexander Blade's Script Hook V
pc_trainer_v.asi
– Place inside your GTAV install directory.
pc_trainer_v.ini (optional)
– Place inside in C:\Users\YourUserName\Documents\Rockstar Games\GTA V\pc_trainer.ini.
(The trainer will create one automatically with default settings if not found)
speedometers.ytd (optional)
– Add into script_txds.rpf located in update.rpf using OpenIV
\Grand Theft Auto V\update\update.rpf\x64\textures\script_txds.rpf\
Requirements
Microsoft Visual C++ Redistributable for Visual Studio 2017
Controls
(XBOX Controller or Keyboard & Mouse)
-Open/Close the menu using (RB + DPAD LEFT or N key) or edit C:\Users\YourUserName\Documents\Rockstar Games\GTA V\pc_trainer.ini to define your own keyboard bind.
-Navigate menu (DPAD or Scroll Arrows, mouse)
-Select option (A or Enter)
-Go back (B or Backspace)

Features
Fully supports gamepad, mouse & keyboard
A full animation player for your player and bodyguards
Object Peds/Vehicles choose from a variety of custom made vehicles with objects attached to them.
Object spawner either use with gamepad or keyboard.
Create a custom camera and attach it to the bones of player or set a custom offset and sync it to the player coordinates and game cameras rotation.
Texture Viewer
Customise any vehicle to your liking.
Save custom vehicles.
Full Features
Animation
Animation Player (Play all ingame animations)
Animation Clipsets (choose between a variaty of movement clipsets)
Animation Facial (Player moods)

Audio & Video
Video Player (Play the tv channels from the menu)
Mobile Radio (Play the radio while on foot)
Bodyguards
Spawn Bodyguard (Spawn all available ped models)
Appearence (Change the peds Appearence)
Accessories (Change the peds props/accessories)
Animation Player (Play all ingame animations on bodyguards)
Bodyguard Options (Delete bodyguards, change group formation and spacing, give weapons, change visibility and teleport them to you).
Max Bodyguards (Set the amount of bodyguards from 1-7)
Custom Camera
Top down view (Camera looking down on the player)
Create a custom camera and attach it to the bones of player or set a custom offset and sync it to the player coordinates and game cameras rotation.

Map Mods
Load IPL Game maps.
North Yankton
Load/Unload North Yankton.
Object Ped/Vehicles
Load up custom made vehicles with objects attached to them by Cerberus and player models with objects attached to bones by Evil Blunt.
Object Spawner (Supports controller and mouse/keyboard)
Spawn Object/Ped/Vehicle models and place them anywhere you want or attach them to your player/vehicle.
(Theres models which wont spawn they have been left in for now until i figure out why).
Player
Change Model (Choose from all available ped models)
Appearence (Change your current models appearence)
Accessories (Change your current models props/accessories)
Explosion on player
Health (Give full health, give full armour, set invincible or set players proofs)
Special (Turn on/off main models special abilities or set it to infinite)
Unlimited Deadeye (Like red dead redemptions deadeye, Original concept by JDMAlex)
Visibility (Change the player visibility and alpha levels)
Wanted (Set player max/min wanted level or never wanted etc)
Weapons (Give your player weapons)
Settings (Choose players run speed, swim speed and super jump and more)
Teleport
Teleport to preset locations/waypoint/1-15ft in front or teleport to custom coordinates of your choice or to nearest vehicle.

Texture Viewer
View ingame textures from the script_txds.rpf and dlcs.
Vehicle
Spawn Vehicle (Choose from all available models including dlc)
Customise (Customise vehicle models to your liking)
Extras (Change the vehicles extras if it has any)
Respray (Change vehicles colours, tire smoke etc)
Health (Fix vehicle, set invincible or set vehicles proofs)
Modify (Open/Close or remove the vehicles doors, set the lights, change vehicle number plate and engine sounds)
Multipliers (Change the vehicles acceleration, brakes and handling etc)
Speedometers (Needs custom txd to work, will be changed over to loading png eventually)
Vehicle Weapons (Shoot rockets, lasers etc)
Visibility (Change the vehicle visibility and alpha levels)
World & Game
Display Options (Display coordinates of player/vehicle or display the game cameras coordinates)
Gravity Options (Set player/vehicle gravity)
Hud & Radar Options (Hid the hud & radar or choose what to hide)
Disable Pause (Disables the pause menu)
Stat Editor (Change various stats for the main models)
Time (Adjust the time, set day/night 24/7, freeze time, sync system time and change the time scale)
Traffic & Ped (set the traffic on/off etc)
Unlock Achievements
Weather (change the games weather and change the timecycle modifiers)
Menu Options
Menu Position (Change the menu from left or right position)
Menu Fonts (Change the header or menu items font)
Menu Colours (Change various parts of the menu to a different colours)
Menu Sound Effects (Turn the menus sound effects on/off)
Menu Notifications (Turn the menu notifications on/off)
Player Action Mode (Turn player action mode on/off. Action mode means you can move faster while the menu is open)
Menu Open/Close Input (Change menu open/close controller or keyboard bind)
Startup Defaults (Change the menus startup settings edit C:\Users\YourUserName\Documents\Rockstar Games\GTA V\pc_trainer.ini to define your own)
Draw Tool
Shortcut Keys
Reset Menu (reset the menu to its default settings)
Shortcut Keys
-Unlimited Dead Eye (While aiming press RSTICK or LCTRL)
-Vehicle Boost (Click LSTICK or E)
-Vehicle Weapons Shoot (RB or E)
-Mobile Radio (X + DPAD DOWN or SPACEBAR + SCROLL ARROW DOWN)
-Vehicle Invincible (RSTICK + DPAD DOWN or LCTRL + SCROLL ARROW DOWN)
-Repair Vehicle (RSTICK + DPAD RIGHT or LCTRL + SCROLL ARROW RIGHT)
-Clear Wanted (B + DPAD DOWN or BACKSPACE + SCROLL ARROW DOWN)
-Player Invisible (B + DPAD LEFT or BACKSPACE + SCROLL ARROW LEFT)
-Vehicle Invisible (B + DPAD RIGHT or BACKSPACE + SCROLL ARROW RIGHT)
1.2.2
– Fix broken options menu.
– Added dlc horn gxt.
– Added speedometers.ytd
1.2.1
– Added support for update 1.0.1604.0.
– Support for spawning new dlc vehicles.
– Updated disable controller shortcuts and mobile disable.
– DLC vehicles and ped models.
– Added Menu Scroll Multiplier option.
1.2
– Added support for update 1.0.1011.1.
– Support for spawning new dlc vehicles.
– Updated disable controller shortcuts and mobile disable.
– DLC vehicles and ped models.
– Save/Load vehicles.
– Added in halloween weather and latest timecycle modifiers.
– Added latest textures from cunning stunts and Bikers dlc.
– Added support for more listing of dlc vehicles in spawner.
– Added weapons components.
– Added parachute tints and parachute smoke trails
– Player keeps weapons/components when changing models.
– Menu base updates and bug fixes.
1.1
– Added more IPL Maps with teleports.
– Texture viewer sprites scale from screen resolution.
– Custom model input (bodyguards, player models, object spawner, vehicle spawn, and engine sound).
– Save last custom vehicle model input.
– Increased max models (Objects 1500, Peds 250, Vehicle 250).
– Bodyguards are now properly removed from the player group when the bodyguard dies.
– Bodyguards & Object spawners blips will show their number and bodyguard blip changed to friend sprite.
– Bodyguards will now spawn into vehicle with player if seat is available and bodyguard camera wont turn on if the bodyguard is in vehicle.
– Added load online map to map mods menu and teleport menu (Aircraft carrier, Yacht, Police Station, Benny's Garage).
– Animation player options, stop animation on menu exit, default animation flag.
– Facial Animations (moods)
– Teleport to nearest vehicle.
– Benny's vehicle mods.
– Added power and torque to the vehicle multiplier menu
– Disable vehicle balance control, set heli/plane out of control.
– Revamped vehicle door open/close/remove in vehicle modify menu.
– Set vehicle dirt level, vehicle siren.
– Added latest dlc ped models.
– Added lowrider2 dlc weapons to give all.
– Compiled using VS2013 instead of VS2015 for better compatibility.
– Keyboard inputs no longer closes when the menu open/close input is pressed.
– String keyboard inputs can be opened when the enter action is pressed and the string is blank instead of using open keyboard action (space/X).
– Removed duplicate timecycle menu.
– Changed bool menu item non-selected sprite.
– Added time check to some model loads – stops infinite loading on invalid models.
– Set vehicle on ground properly.
– Removed menu number keyboard input max limit.
– Remove last shown notification when drawing a new one.
– Code refactoring.
1.0.7
– All models can now be spawned in object spawner – Thanks to GTAMultiplayer Team
– Add DLC vehicles to change engine sound.
1.0.6
– Added support for update 1.0.678.1.
– Set global var to stop game from deleting mplowrider2 dlc vehicles.
– Added new dlc weapons.
1.0.5
– Added support for update 1.0.617.1.
1.0.4
– Added support for update 1.0.573.1.
– Added support for more dlc vehicles in spawn menu. Fixes menu crash when opening DLC2.
1.0.3
– Added support for update 1.0.505.2 (disable phone & recording shortcuts).
1.0.2
– Added support for update 1.0.463.1 (disable phone & recording shortcuts).
– Added Player Action Mode setting to menu options.
– Never fly through windshield vehicle setting.
– Fixed never fall off bike.
– Fix menu_confirm message not showing when menu notifications are disabled.
– Added fast run/swim to startup defaults menu.
– Added current cash to stat editor.
– Added draw benchmark fps.
– Fix ini load bug when reloading or starting a new game.
– Minor fixes.
1.0.1
– Added menu open/close input in Menu Options.
– Fixed infinite loading after using model changer while dead or being arrested.
– Reset cursor position when menu is opened.
– Disabled phone and recording shortcuts showing while in menu.
– Menu open/close input hold delay no longer tied to fps.
– Added a confirm before the menu reset option.

Credits:
Alexander Blade – Script research, Script Hook V.
Sasuke – Script research.
XBLToothPik – Script research.
Zorg93 – Script research. Console script high level decompiler.
Object Vehicles
Cerberus
Teleport Locations
InTheSevens
Speedometers
oinkoink
Testing & Help
PC version:
Ramboy
Console version:
Adaaaa – baby_blue_6_4 – KranK_ModZ – RaYRoD – ResistTheEarth – Slinkyy
Tagged asi, trainerSours: https://gta5mod.net/gta-5-mods/scripts/pc-trainer-v-official-1-2-2/
GTA 5 - Hướng dẫn Cài và Sử Dụng Mod Addon PC Trainer V - F6
GTA 5 Mod Menu for PC, PS4 & Xbox
Don't miss out on the FiveM mod menus available for free.
Undetected GTA Online Trainer Hacks by Mod Menuz
We at Mod Menuz provides you with the best collection of mods we can find, all compiled in a single giant trainer. And you can download this software from our website absolutely for free. Our GTA 5 mod menu will offer you all the cool features you need to excel in your game.
What Is A GTA 5 Mod Menu?
Like every other game out there, GTA 5 also has its mods, or you can even call it as user modification.
This mod menu is a commonly desired trend amongst the players. It allows them to make some tweaks here and there. This unofficial modification can significantly enhance your GTA 5 experience.
With these hacks, you can easily alter the gameplay and the game style, getting rid of unwanted features or bringing new ones.
There is nothing you can't get with the GTA 5 mods, from never-ending health to unlimited money and ammo. It can also make drastic changes in the game, such as using any character, even dogs or cats, to replace the main character. And it even allows you to change the map entirely.
This whole modding of the GTA franchise began with the GTA 3 back in the day. Modders started by making small changes here and there, like editing the characters' skin, changing the surface textures, or adding custom-built vehicles.
They are now developing all sorts of crazy mods; one of them even lets you turn the entire GTA 5 into zombie land. How interesting is that?
Some Popular GTA 5 Mod Menus
With the creation of countless numbers of new trainer every minute, it has become quite a struggle to keep track of every hack and mod available out there.
Here is a list of some of the GTA 5 mods or cheats popularly used by many players.
PC Trainer V
With PC trainer V you can make tons of changes to your GTA 5 game. It can change your character's look and even change the city's entire setup, Los Santos, in the game.
If you don't like the city's weather, you can change it and remove the day and night cycle if you want to.
If you wish bodyguards of your own, you can quickly generate them with this PC trainer V.
Therefore, this mod's features include mini-games, weather controls, bodyguards, weapons options, personal options, etc.
World Of Variety
For those of you who enjoy driving around in the game will love this hack. You can get every vehicle style, model, or color you want with this hike without completing any task for it.
All you need to do is download this GTA 5 mod.
The Red House Mission And Heists
GTA 5 is a vast and super long game with several missions to complete. And once you have completed every task in the game, the red house mission mod comes in handy. It brings in many exciting missions such as the heist, assassination, gang cleanouts, etc.
Firah Menu
This menu is another way to transform your gaming experience. This mod allows you to make a plethora of changes.
It includes complete customization of vehicles, unlimited ammo, and weather change. It even lets you toggle God Mode with this menu. Its features include vehicle spawner, teleportation, weather change, weapon options, personal options.
Enhanced Native Trainer
The enhanced native trainer is another hack that can spice up the GTA 5 Single Player game with all its various customization offers. This trainer lets you change and control your character and the pedestrians on the street, which can be absolute fun.
With this trainer, you can have a lot of fun, customizing weapons, cars, peds, etc.
It also has a feature that lets you teleport to places, thereby saving all the time of driving from one destination to the other during your mission.
Its features include skin customizer, weapon customizer, vehicle customizer, teleportation.
Menyoo PC
The Menyoo PC design improves a single player's overall experience in the story mode of GTA 5. This trainer is incredibly popular among many players, as it gives you great flexibility to alter your gameplay anywhere you want.
It can provide your open world with a very realistic and captivating experience.
Its features include vehicle options, weather control, weapon options, Player options, and you can even add tasks to your GTA 5 gameplay.
Simple Trainer For GTA 5
It is a simple and pretty straightforward trainer. It offers pretty much every customization option you will need. Amazingly, you can even change how you want your character to walk or jump with this trainer.
Some of its features include – personal options, vehicle spawner, weapons options, add money, God mode.
Redux
Redux works excellently in changing the environment in the game to a new and beautiful color packed scene. You will have more fun driving around the coast because of the pleasing environment.
You will also notice that this trainer makes you have an even smoother and better feel while driving or weapon handling.
Gravity Gun
This hack can give you a game-changing experience. The gravity gun works by enabling you to bring down pretty much any object only by clicking a button. You can also easily trick the gravity of a massive airplane like a Boeing 707.
GTA Zombies
This hack is another intriguing one. Using this mode will turn every character in your game, even the pedestrians, into a zombie.
While all these zombies try to attack you, your job is to stay alive and successfully kill them. And you will get rewards for every zombie wave you complete.
How To Safely Use Mod Menuz's GTA 5 Trainer Hacks
Mods are highly essential in enhancing your GTA 5 experience, but you need to be careful where you download them as it can pose some risk.
It is vital to ensure that your modding is safe and secure to keep your computer and your GTA account as safe as possible.
Avoid malware
Make sure that you take the necessary steps required before downloading the trainers to shield yourself from malware. To do this, you must download the anti-malware and antivirus software to scan and check every file you download.
However, if you download the mods from our website, you don't have to stress about its safety. Because while uploading the mods, our software files are already scanned for any malware or virus.
Don't forget to get an injector to load the mod menu into GTA V safely.
How To Install Mod Menu Trainers for GTA V
You can install the GTA5 mods on your Windows and your Mac device but not on your Android device since the game isn't available for the Android platform yet.
Here's how to install the GTA 5 mod menu on your Windows
The first thing you will need to do is download the GTA5 mod menu file from our website.
Once the download is complete, open the downloaded file, which usually opens when you double click on it—then the next step is to install.
When the installation is complete, wait for the tool to pop up on your desktop or PC.
Then, finally, you should be set to go.
You can also download the GTA 5 USB mod menu that works on all consoles such as Xbox One, Xbox 360, PS3, PS4, PC, etc.
What Is Grand Theft Auto V?
If we talk about the world's gaming franchises, GTA definitely makes one of the biggest franchises. And when it comes to popular series of the GTA/grand theft auto, the 5 series is the first thing that pops up in the head.
GTA 5 is the latest series installed in the franchise, and it is easily the best released open-world series.
You will be surprised that the game is almost seven years old, yet it continues to be relevant. It remains amongst the top-selling games for various platforms.
Additionally, it tops the all-time bestselling charts for video games and is highly valued even in other entertainment properties, such as books, movies, and music. And this being the reason, Rockstar Games is one of the most desirable game developers.
This action-adventure game is so vast with a story mode of about 50 hours. You will be so engrossed that you won't even realize that you have been playing for a long time. And with the extras, the game can even continue for 130 hours.
This game features three protagonists letting the player live three lives at once: a kid, a maniac, and a rich guy managing a big heist.
And apart from this story mode, you can also switch to GTA online. The online mode offers you even more user options. Now you can play with real players and interact with them. You can even perform stock market trading or become a company CEO.
Thus the GTA 5 provides you with unending possibilities and an excellent user gaming experience.
Additional Information
Therefore enjoy the compilation of unlimited features and whatnot in your GTA5 game by visiting our website and downloading the mod menus.
Moreover, we make sure that our trainers are free of any malware, so you don't need to be concerned about your PC and your GTA 5 account's safety.
Hence, quit waiting. Experience the GTA 5 in a fresh new way by downloading the free GTA 5 mod menu from our website. We provide you with the latest and the most fun cheats you will love.
Sours: https://modmenuz.com/gta-5/
You will also like:
GTA 5 Trainer Cheat
About Grand Theft Auto V
Grand Theft Auto V, or rather GTA 5, is the latest installment of the best crime-themed games. This version was released in 2013. You can engage with this game on PC, PlayStation 3, PlayStation 4, PlayStation 5, Microsoft Windows, Xbox 360, Xbox One, and Xbox Series X/S.
Hardcore Grand Theft Auto fans appreciate the brutal scenes, while newcomers should anticipate an abundance of such moments. GTA 5 feels like living in a crime-infested, mafia/gang-run world where anything, yet everything happens.
The plot operates along the lines of plausibility, engaging the player in absurd shootouts. Its three main characters are anything but law-abiding citizens, for sure.
Why Use A GTA 5 Trainer?
Completing a game under your own steam can bring a lot of fun to the experience. However, there's certainly no medal or cheers to looking up to. Beating a game by leveraging the collective experience of all players holds the same amount of weight and maybe more.
GTA 5 is one of those games where you most definitely want to use cheat codes. In case you want to progress through the game faster, there is no other way to do it.
Unlimited money
Now, here's something that doesn't need much explanation. The GTA 5 trainer affords you unlimited money for the shopping spree of your dreams. Buy a house, a car, and another house; you can afford it all. If your car needs fine-tuning, buy everything you want without any limitation.
Speed
If your marathon runner self needs a bust of confidence, the trainer can do that as well. It doubles your running speed to help you get to places faster. Run towards and away from action faster however you'd like.
Endless supplies
The reason cheat codes exist is to help players skip levels and open up options. For games with a clear approach to progression, this often means that the good stuff is reserved for later levels. However, the trainer unlocks every feature from the very beginning, thereby allowing the play to go wild on everything.
Custom Stats
Sometimes, the game's AI needs to cheat to keep up with the player. The line between a clean win and a tech-enhanced one is blurry, and game developers like to keep it that way. A trainer is the only way to customize everything at once.
It's free
There's every reason to use a trainer. These free programs are easily accessible and downloadable.
How Does The Trainer Work?
The GTA 5 trainer is a third-party program designed by fans and die-hard players to make it easier for newcomers to make it in such a tough environment. It is easy to download, and the installation process is pretty straightforward.
Once downloaded, your antivirus or Windows Defender will flag the software as malware. Don't panic; this is quite common with third party programs. All you have to do is deactivate your antivirus temporarily or whitelist the GTA 5 trainer.
Sours: https://flingmods.com/gta-5-trainer/
958
959
960
961
962