Tips for the perfect Jackson Hole vacation with your dog
Throughout these tips we will introduce you to the dogs of the Jackson Hole Chamber of Commerce team and where their favorite spots are...we hope you enjoy taking a quick "paws" to "meat" the team. We've bee nasked if our office is a doggy day-care. "No, we just know the pawsitive impact of well-behaved doggos in the workplace!" ;)
First thing's first. Pet friendly accommodations:
This is by no means an exhaustive list, but it's a good place to start.
Virginian RV Park, Grand Teton Lodge Company Colter Bay Cabins , Grand Teton Lodge Company Colter Bay Tent Cabins, Motel 6, 49'er Inn & Suites, Alpine House Lodge and Cottages (just in cottages), Antler Inn, Elk Country Inn, Cowboy Village Log Cabin Resort and Homewood suites by Hilton, Inn at Jackson Hole, Inn on the Creek, Mountain Modern Motel, Snow King Resort, The Hostel, Fireside Resort Jackson Hole, and Fireside Buffalo Valley RV Park.
Jackson Hole Airport
Two designated pet-relief areas (mutt-mitts provided for your convience)
Therapy Dogs (Teton County Pet Partners have provided furry travel-stress relief)
---
"Meat" the newest member of our team, Waffle - 5 months, Golden Retriever, Favorite spot: Elk Feed Ground.
---
Where to dine with your pup:
Keep your eyes open for restaurants with decks including Healthy Being Juicery, Hayden's Post, Hatch Taqueria, Bin22, Cowboy Coffee and The Bird. Bear in mind that dogs are not allowed inside most restaurants unless considered a service or companion dog.
---
"Meat" Carl - 9 years, Labrador mix, Favorite spot: Crystal Creek, Gros Ventre
---
What about shopping with my dog?
Many shops allow them to join you in purusing their treasures. Just ask. Of course, they must be well-behaved. And of course we have pet supply stores and grooming services! Teton Tails, Mountain Mutts and Big R Ranch and Home are a few.
---
"Meat" Micco - 1 year, Australian Shepard Mix, Favorite spot: 3Creek Trail
---
Can I bring my dog to Yellowstone National Park? Grand Teton National Park?
Pets are not permitted in the majority of the country's national parks, however they are welcome on roads and in "barking" lots! That being said dogs are allowed in the National Forests - Gros Ventre is a favorite. The following map created by PAWs of Jackson Hole is a life-saver (double-click for a larger version):
---
"Meat" Leela - 10 months, Anatolian Shepard/Beagle (rescue mix), Favorite spot: Slide lake, Gros Ventre and the Roadhouse Brewery (Andy gives her treats)
---
Where can I leave my dog while I adventure?
Jackson Hole has great dog dayboarding including DogJax and Happy Tails.
---
"Meat" Lizzie - 13 years, Yorkie,Favorite spot: In her earlier years; Josie's Ridge
---
Paws of Jackson Hole's must-know tips for you and your dog
On Pathways, In Town: Dogs must be on leash
On Pathways, Out of Town: Off Leash, under voice control
Always scoop the poop! Trails with pet waste could lose their designation as a pet-friendly pathway or park
Always carry a leash, which helps protect your pet from dangerous wildlife and fast bicycles
Teach your dog to calmly exit your vehicle. Many trailheads have busy traffic and/or blind corners
If you encounter another user on the trail (biker, skier, jogger) please yield to the other user. Pull your dog off to the side of the trail in a heel position until the other user has passed
Never allow your dog to chase wildlife
---
"Meat" Juanita - 9 months, Black Lab, Favorite spot: Levee by the Snake River
---
Might your dog be sick?
Have no fear, Jackson is home to fantastic vetrinarian care including the Jackson Hole Animal Hospital and Spring Creek Animal Hospital.
---
"Meat" Rudi - 12 years, Australian Shepard, Favorite spot: Goosewing Ranch
---
Wish you had a dog? Or miss your dog and need to give some pets and scratches?
The Animal Adoption Center has multiple dogs (and cats!) every day. Not only are they up for adoption, but they need to be fostered overnight, walked and even just loved! Pop on in to lend a hand.
---
"Meat" Avalanche - 3 years, Golden Retriever, Favorite Spot: anywhere with mountains and clear creeks.
---
If you have unanswered questions about bringing your dog to Jackson Hole give our Visitor Centers a call at (307) 733-3316 and our Visitor Service Agents will do their best to help you.
Sours: https://www.jacksonholechamber.com/blog/tips-for-your-visit-dog-friendly-jackson-hole/
Local Resources
Jackson Pet Shops
Teton Tails
250 West Pearl Avenue
Jackson, WY
307-739-9247
Pet Place Plus
1645 West Martin Lane
Jackson, WY
307-733-5355
Animal Adoption Center
75 North Glenwood
Jackson, WY
307-739-1881
Veterinarians
Animal Care Clinic
415 East Pearl
Jackson, WY
307-733-5590
Cache Creek Veterinary Clinic
2400 North Fish Creek Road
Wilson, WY
307-733-6707
Spring Creek Animal Hospital
1035 West Broadway
Jackson, WY
307-733-1606
www.springcreekanimalhospital.com
Other Services
Aska's Animals (Boarding)
1984 W. 7000 S.
Victor, ID
646-258-2512
www.askasanimals.com
Wagitude Dog Boarding
Alta, WY
307-353-2275
208-201-1683
Hairball Hotel
Victor, ID
208-787-2806
Pet Paradise Boarding
Victor, ID
231-750-4979
Sours: http://www.jhpositivetraining.com/local/
Dog boarding Wyoming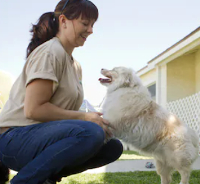 Dog boarding facilities in Wyoming
Dog boarding Casper, Wyoming

K-9 Corral Your Pets One Stop Shop
736 N Glenn Rd, Casper, WY 82601
Phone: 307.251.7784
Services at K-9 Corral Your Pets One Stop Shop include: dog boarding, doggy daycare. Amenities at K-9 Corral Your Pets One Stop Shop include complimentary bath and nails with raised cots to sleep on. Spacious kennels. All dog breeds are welcome at this dog boarding facility.

Sunrise Pet Lodge
4700 S Valley Rd, Casper, WY 82604
Phone: 307.337.4987
Services at Sunrise Pet Lodge include: boarding, doggy daycare, dog grooming. Amenities at Sunrise Pet Lodge include indoor and outdoor kennels, luxury pet suites and orthopedic memory foam beds. Medication administration. Geriatric pets are welcome.

Connies Pet Palace
128 Nichols Ave, Casper, WY 82601
Phone: 307.237.8743
Services at Connies Pet Palace include: boarding, doggy day care and grooming. Amenities at Connies Pet Palace include boarding kennels that are air-conditioned and heated. Boarding dogs are let out three to four times a day.

Dog boarding Cheyenne, Wyoming

Bradbury Boarding Camp LLC
1635 Road 136, Cheyenne, WY 82009
Phone: 307.634.6470
Services at Bradbury Boarding Camp LLC include: dog lodging, day camp and in-home pet care. Amenities at Bradbury Boarding Camp LLC include
3 daily potty breaks (1 hour of day camp play/or nature hike split into 20 min. sessions during potty breaks)
Comfy Log Bed with memory Foam Mattress & Clean bedding daily
Padded Flooring
Flat screen TV with animal related shows
Privacy door screen
Nose-to-tail assessment everyday to monitor your dog's health.

K-9 Kennels
310 W. College Dr, Cheyenne, WY 82007
Phone: 307.635.5273
Services at K-9 Kennels include: dog boarding and daycare. Amenities at K-9 Kennels include temperature controlled kennels with 15-foot runs. Individual indoor and outdoor runs.

Dog boarding Cody, Wyoming

Happy Tails
129 Road 20, Cody, WY 82414
Phone: 307.213.0044
Services at Happy Tails include: dog boarding.

Cody Country Bed & Biscuit
134 Cooper Ln E, Cody, WY 82414
Phone: 307.587.1073
Services at Cody Country Bed & Biscuit include: boarding, dog training and dog grooming. Amenities at Cody Country Bed & Biscuit include a choice of spacious, climate controlled, bedroom-type bunkhouse or smaller den like housing with indoor/outdoor access to all runs. Dogs are exercised periodically during their stay.

Dog boarding Dubois, Wyoming

Geyser Creek Boarding Kennels
151 Bald Mountain Rd, Dubois, WY 82513
Phone: 307.455.2702
Services at Geyser Creek Boarding Kennels include: boarding, grooming.

Dog boarding Jackson, Wyoming

DogJax
3590 Southpark Dr, Jackson, WY 83001
Phone: (307) 733-3647
Services at DogJax include: boarding, grooming. Amenities at DogJax include open play groups for the dogs, based on energy level and compatibility. Outdoors we offer three play yards with fresh water, room to sniff, go potty and ample room to run.

Dog boarding Sheridan, Wyoming

Park your Paws LLC
1492 Beechcraft Street, Rawlins, WY 82301
Phone: (307) 757-7969
We are a Dog Boarding and Dog Daycare Facility.

Country Pet Inn
87 Beaver Creek Rd, Sheridan, WY 82801
Phone: 307.674.8582
Services at Country Pet Inn include: boarding, dog daycare, dog training. Amenities at Country Pet Inn include clean, quiet and climate controlled environment for boarding pets. Boarding dogs are let out 5-6 times a day for potty breaks and play.

Big Horn Kennels
185 Bird Farm Rd, Sheridan, WY 82801
Phone: 307.674.0150
Services at Big Horn Kennels include: dog Boarding (short & long term), dog training & obedience, gun dog training. Amenities at Big Horn Kennels include large exercise yards for extended outdoor play. Affordable prices. Experienced staff. Facilities with AC and heat. Family-run. High-quality dog care.


Sours: https://www.dogbreeds911.com/dog-boarding-near-me/dog-boarding-in-wyoming.html
Virtual Dog Mushing Tour Jackson Hole Wyoming
I began to cover myself with my hands. - I removed my hands. she commanded calmly and imperiously. I lowered my hands, and then missed a spit in the face and a few powerful slaps in the face. Then Alexandra began to pinch me.
Boarding wy hole dog jackson
Yah you. realizing that I was joking, Irochka lit up again. Our last night. I want something special.
VandeWater Ranch, Jackson Hole, Wyoming
As soon as I managed to jump off Tolstoy's dick, I immediately rushed to the door, simultaneously fighting off the hands that were trying to stop me. To the laughter of my husband's friends, I fell out of the car, and with difficulty rearranging my legs, I walked to the shore. Because of the sperm that flooded my eyes, I hardly saw where I was going, but still I got there and immediately plunged into the.
You will also be interested:
And on my mother's head, she wore a black baseball cap from nowhere with an inscription on the front, in large letters USA and a little. Lower California. These baseball caps were trendy and expensive. And it is strange to see her on the head of our mother, a modest teacher of Russian language and literature. Marina, where did you get it from.
857
858
859
860
861