Is Olive and June worth the hype? I wondered this for months before seeing for myself! I finally tried out this Instagram-loved at home manicure nail polish to share with you!
I'm a nail polish junkie. I go through spurts when I paint my nails a new color a week and am constantly buying ALL the shades of every color! It's so fun trying out new beauty products and I've had my eye on Olive and June for a while after spotting them on Instagram.
They so sweetly sent over a "Treat Yourself" box to try out so I wanted to share a full Olive and June review for you!
One thing that immediately caught my eye about Olive & June is their impeccable style. They're always showing amazing manicures (that I always thought was done by a pro until I discovered their DIY section on both their blog and Instagram.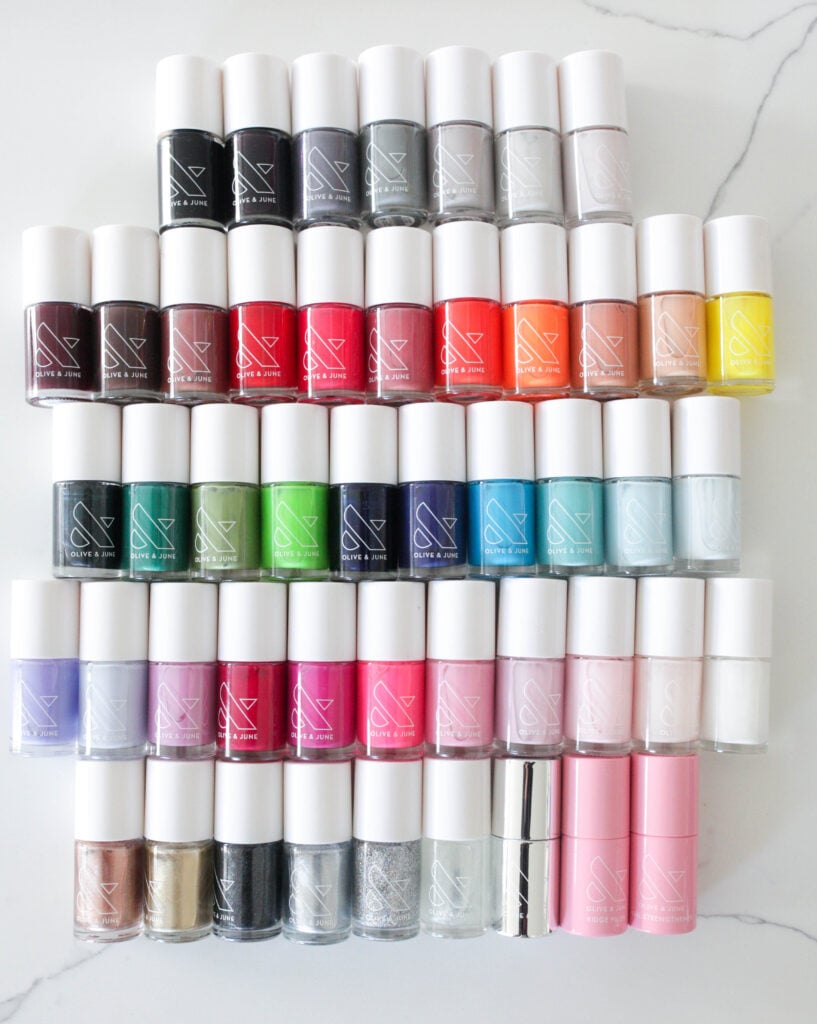 Check out what's in this post!
(P.S. Use this link and the code jenb20 for 20% off your order of any of their systems!)
Yes, there are professionals out there creating some of their designs but they also teach you how to do it yourself!
However, if you're ever in Beverly Hills, Pasadena or Santa Monica, there's Olive and June salons located in each of these spots! They even keep your preferences on file for future visits! Genius!
Olive and June Review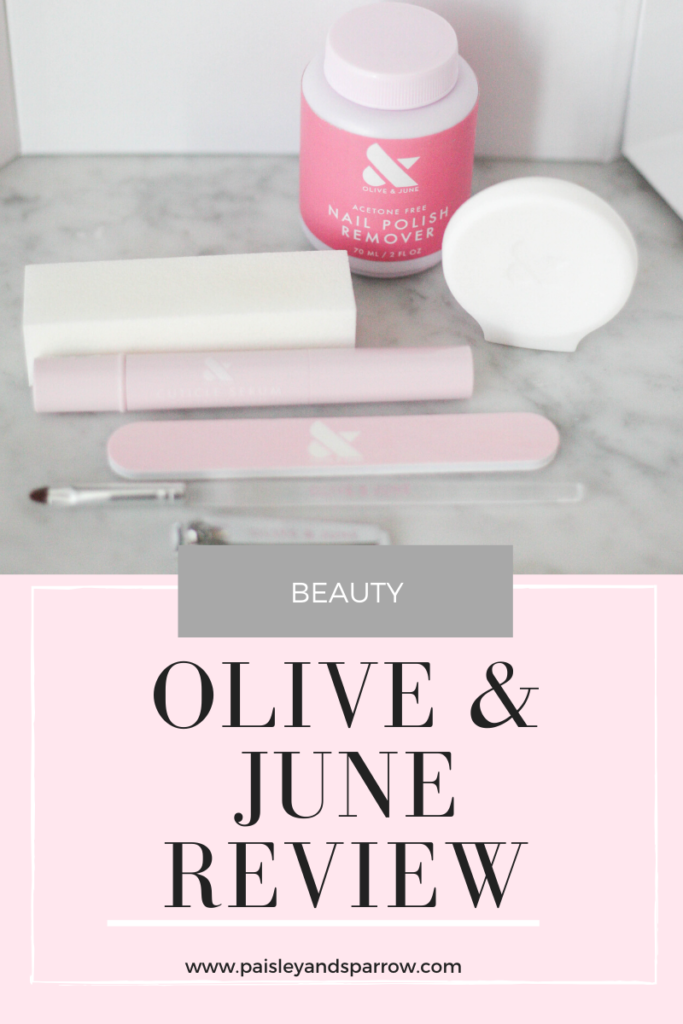 This post may include affiliate links which means I may earn a small commission if you shop using the links below at no additional cost to you. Paisley + Sparrow is a participant in the Amazon Services LLC Associates Program.
When I got my Olive & June box I immediately dove in, ready to tackle my first at home mani with Olive and June. We had just finished a date night and were sipping wine with our sitter (who has basically become part of the family) when I busted out the box, declaring that we shall be painting our nails together!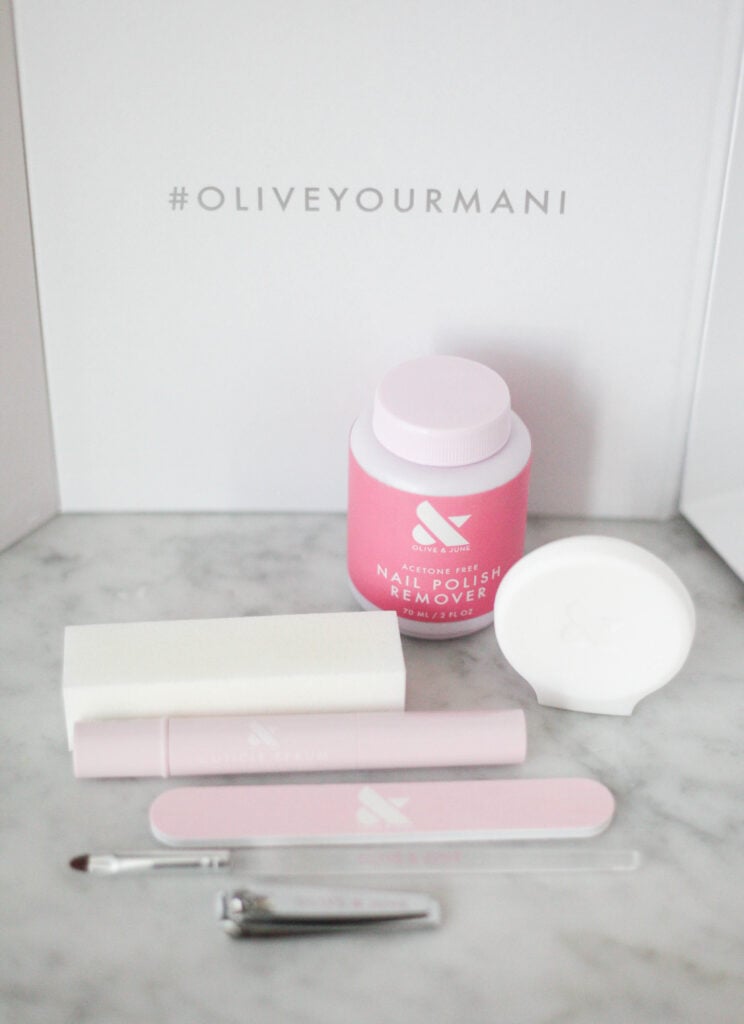 There are 3 different systems available from Olive and June. I was sent the Mani System which included:
Poppy polish bottle handle
7 Shades of Polish
The Top Coat
Award Winning Cuticle Serum with Cactus Flower
Clean-Up Brush
Polish Remover Pot
Flat-Edge Nail Clippers
Dual-Grit Nail File
Nail Buffer Bar
The other systems are the Pedi System (more on that below) and the Complete System which is a combo of the Mani System and the Pedi System.
The Poppy
If you're new to Olive and June, you need to know about the Poppy. The Poppy is Olive and June's "secret weapon" to salon worthy nails without the salon! (Side note – you can even buy the Poppy at Target!)
It's a unique bottle handle that makes painting your nails easier! You can even use it on most any nail polish bottle, not just Olive and June's.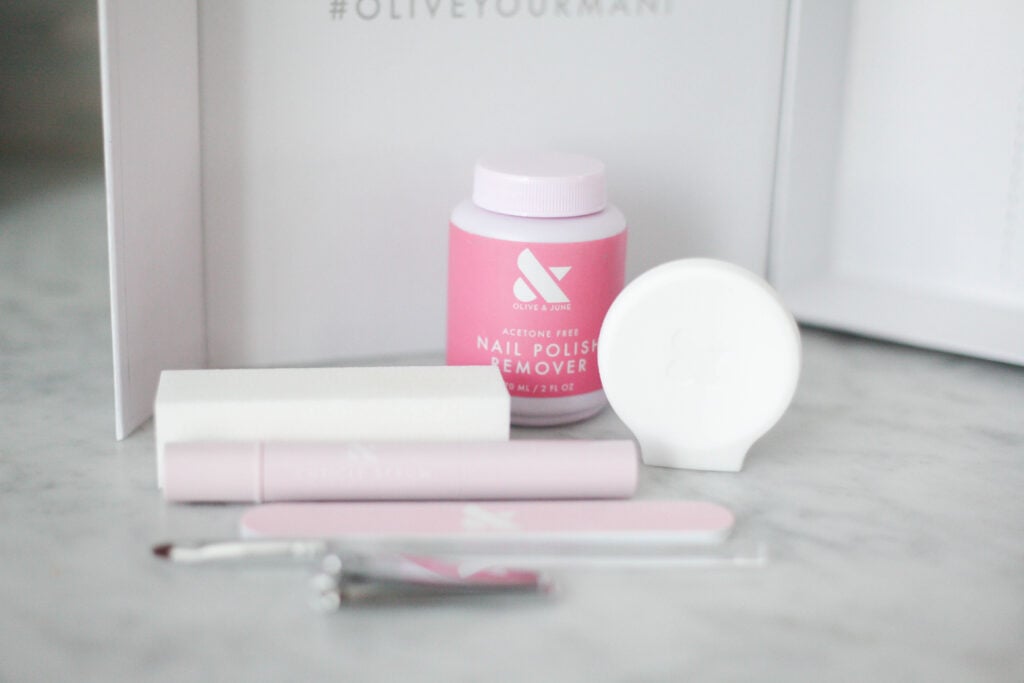 Quick funny story – when we attempted to use the Poppy we couldn't figure out how it fit! I assumed my 20-something babysitter would know exactly how to do it but we ended up googling it to discover that the top of the polish comes off so you can apply the Poppy.
The first time I used it I made a mess out of it. I didn't follow their tips, I did it while the lights were dimmed and I just overall did it wrong. Just because Olive and June is amazing polish doesn't mean you don't have to apply it well! 🙂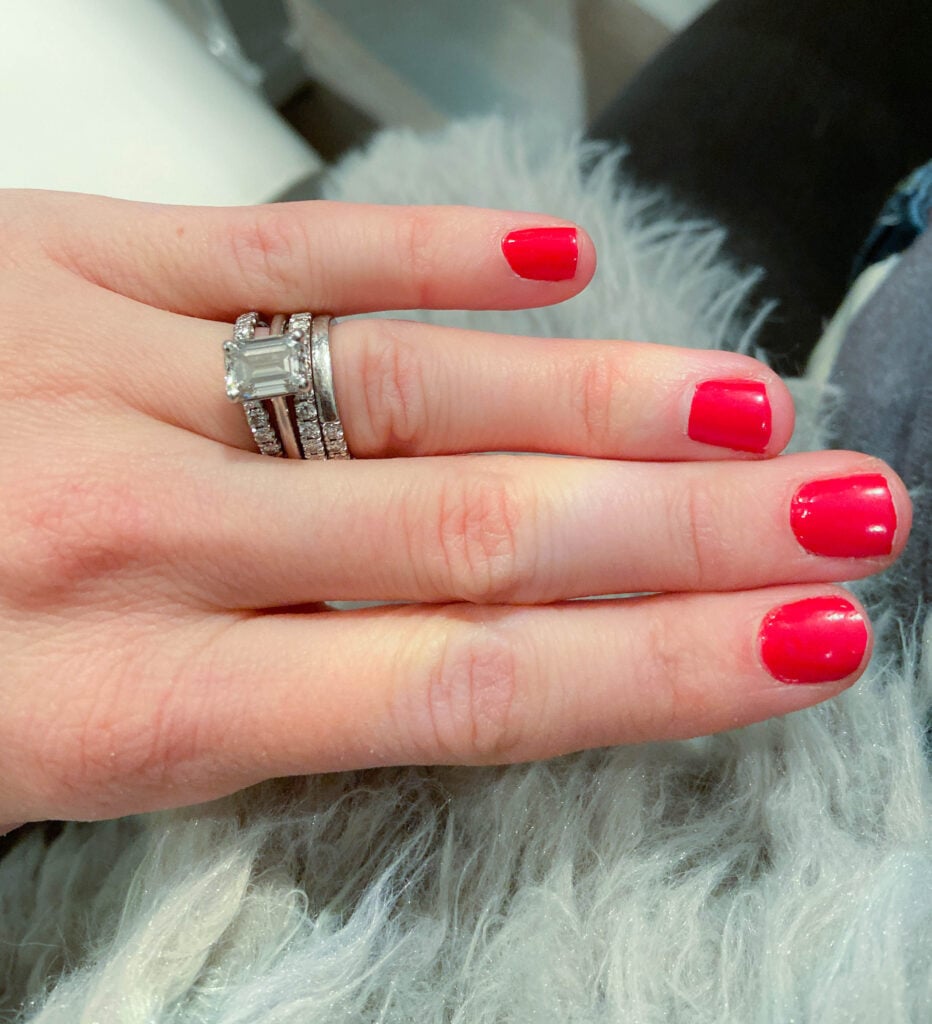 Olive & June Cuticle Serum
One thing I especially love about Olive & June is their cuticle serum! It makes your cuticles look refreshed and hydrated with the simple swipe of the brush.
It's mess free and fast drying and full of avocado and jojoba oil. And it's so easy to use – just take off the cap, twist the pen 2-3 clicks and apply on your cuticle!
Olive & June Nail Strengthener & Ridge Filler
If you deal with weak nails that peel or have ridges or white spots, these 2 products are fantastic. My own nails are known to peel no matter what I do and using other brand's nail polish always make them weak.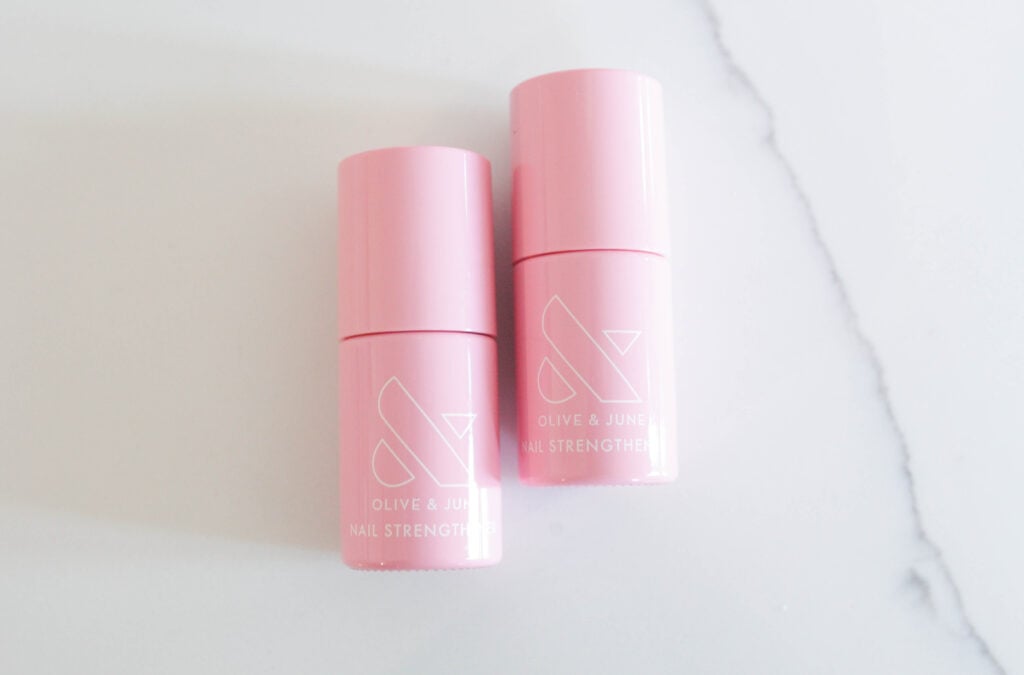 I've been using the nail strengthener off and on over the past few months and love it. I noticed a difference in just the first application. I'm not super regular at using it so my nails do still peel from time to time but I've definitely noticed a difference in the strength of my nails.
I don't have ridges on my nails so I've never used the ridge filler but this is a great option to fill in gaps in your nails before painting them! It creates a perfect solid base for the perfect mani. It contains Vitamin E to condition the nail and Silica to fill in the gaps.
Olive & June Dry Drops
The one thing that I hate the most about painting nails is waiting for them to dry. I also have a toddler girl who LOVES getting her nails painted but unless she's watching a show, she HATES sitting quietly waiting for them to dry.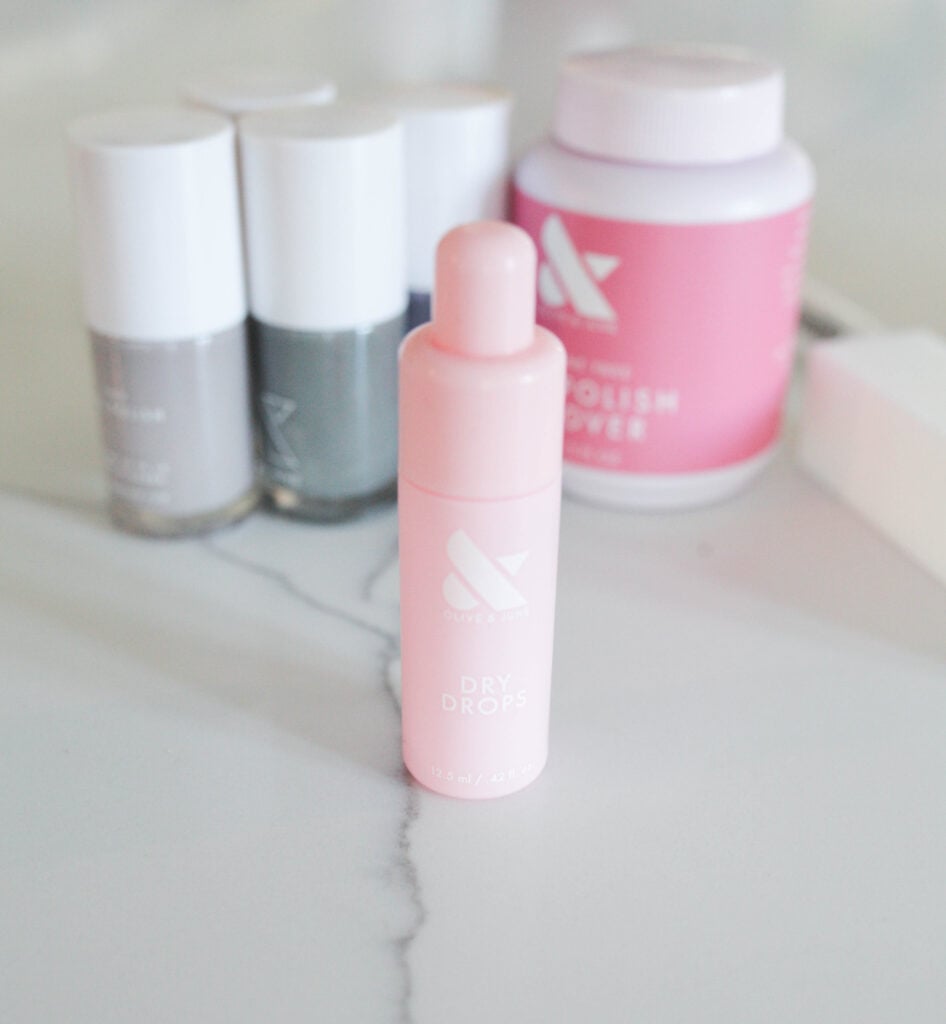 When Olive & June introduced their dry drops I immediately jumped on them. Just put a drop or 3 on your nails and they're dry to the touch in 80 seconds and fully dry in half that time. It's easy to use and it actually works!
I still make my daughter wait a little extra before running around and I've noticed they take a tad bit longer to be dry to the touch if your layers thick (my daughter loves glitter so we usually have a base coat of color and a few layers of glitter which can cause a thicker coat of polish). But overall these dry drops are MAGIC!
Olive & June Pedi System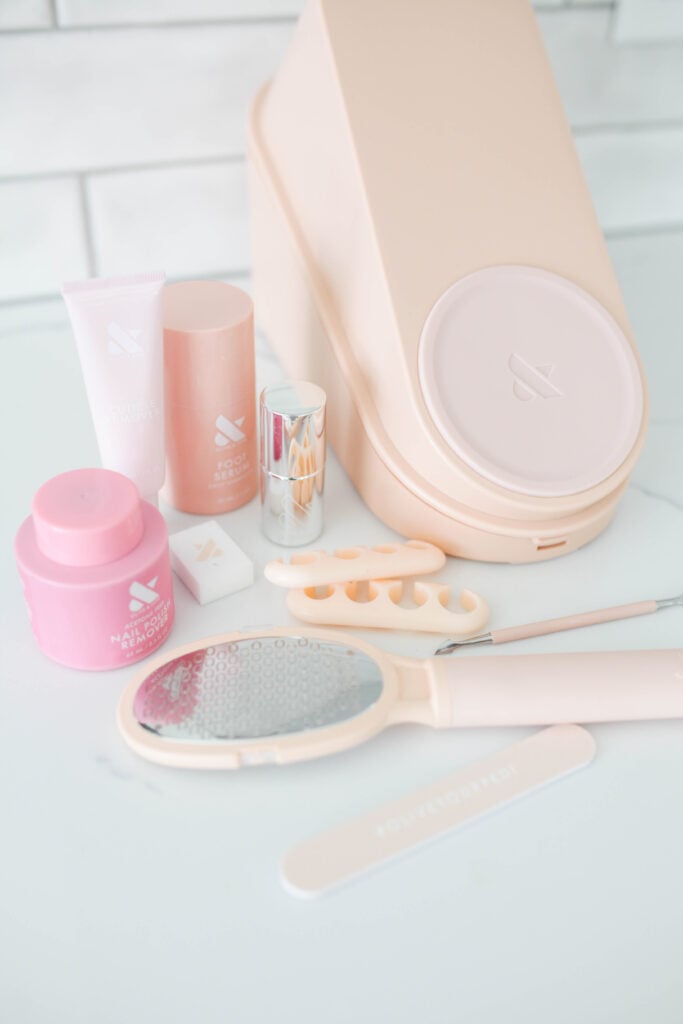 Olive and June also has the first ever, all-in-one Pedicure System! It has everything you need for the perfect at home pedi with tools, foot care and of course, polish!
Like the manicure box, they have a pedi kit. Here's what's inside it:
Foot file
Nail polish remover pot
Large flat end nail clippers
Nail file
Cuticle remover
Cuticle pusher
Mini Nail buffer
Foot serum
Silicone toe separators
Clean up brush
Nail polish
Super glossy top coat
7 Shades of Nail Polish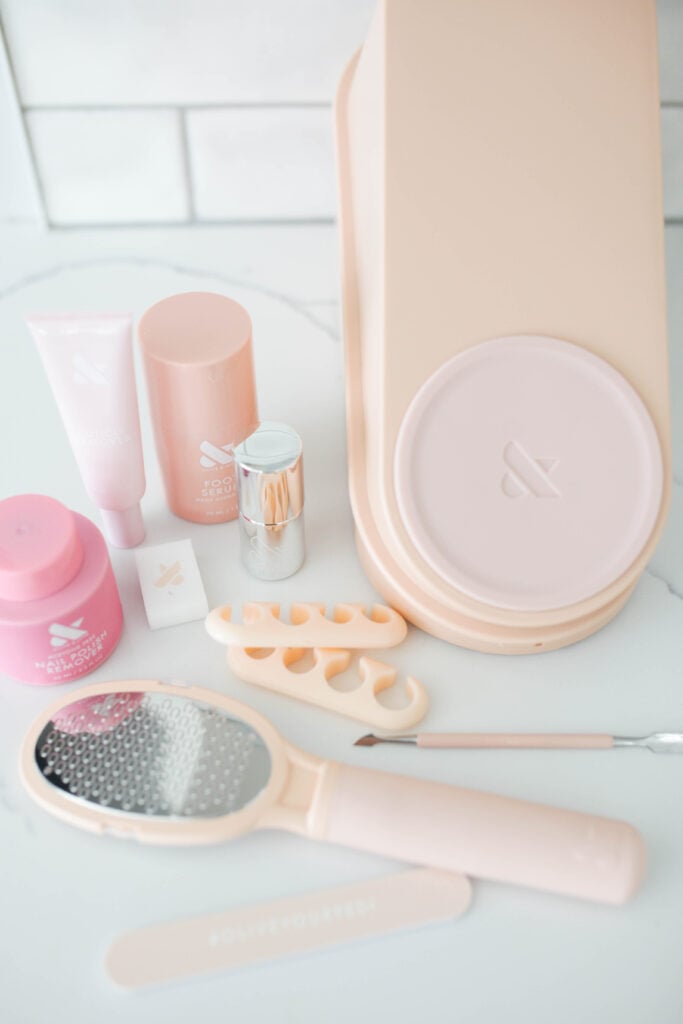 The also have a new tool – the Posey! Not only does the Posey hold all of your pedicure tools but it's also a foot rest that's perfect for doing your pedicure!
They even have a full tutorial on how to get the perfect Olive & June Pedi at home.
Olive University
One of the best things about Olive and June is Olive University. Want to know how to actually have a beautiful mani? Start there.
You'll see amazing tips and tricks for at home manis that look like the salon and last!
Olive and June polish isn't gel so it's not going to last weeks and weeks but with the right prep and proper maintenance it will last a while! They have tons of different tips on their site but one of the biggest things to note is to prep your nails well!
(I got my nieces involved in the Olive and June fun on Christmas morning!)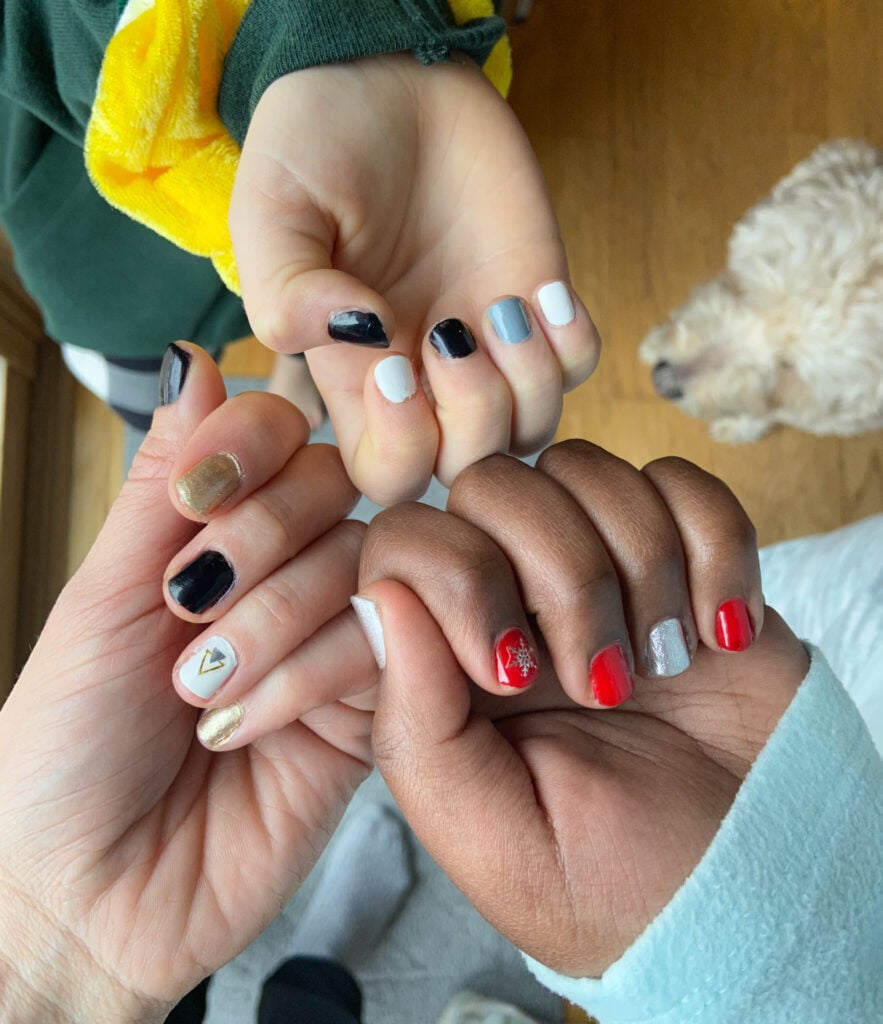 Prep Tips
So what are some of their prep tips?
1. Shape
Using the nail clipper and file, shape your nails! I'm really bad at this but it makes such a difference. I saw on one of their posts that you should have this be the first step and do it while your previous polish is on so you can see what it will be like in the end. I love that tip!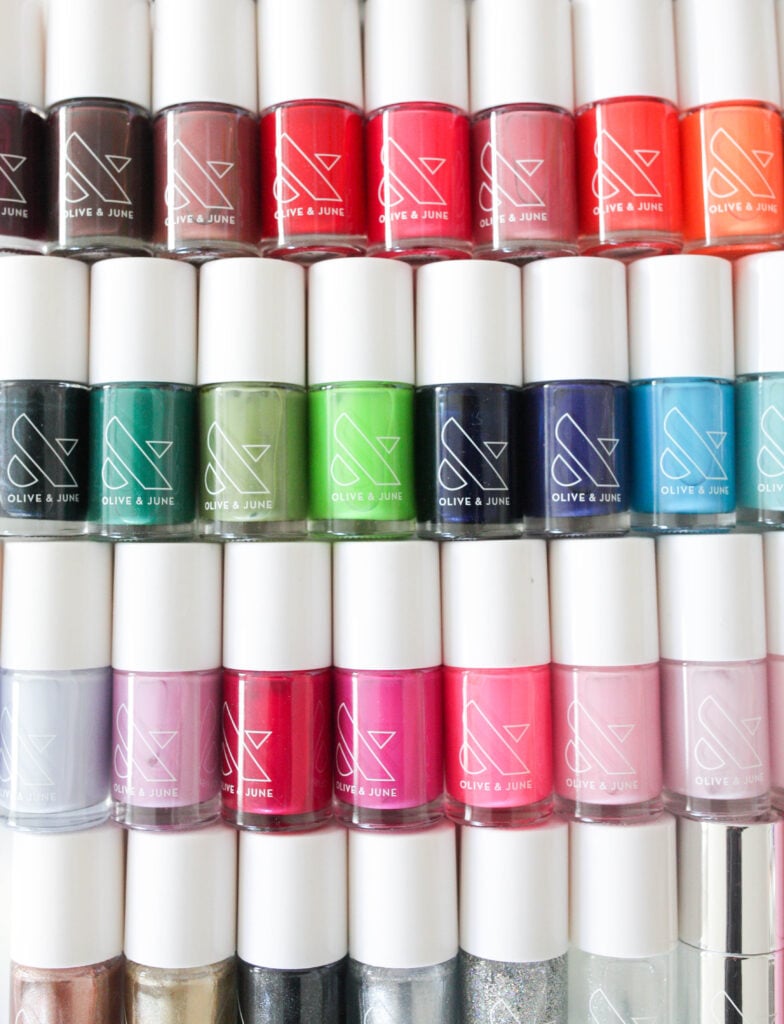 2. Clean your nails
Always use nail polish remover and get all of the previous polish off as well as excess oil which helps the polish stick and not chip.
3. Trim and buff cuticles
Using the buffer, glide it across your cuticle to get rid of dry skin and smooth everything.
4. Use the polish remover again!
This is my favorite tip and makes such a difference! Often times I've been touching my nails, getting them dirty or oily while I'm prepping them. Doing a quick dip in the polish remover pod will clean everything up for your first coat!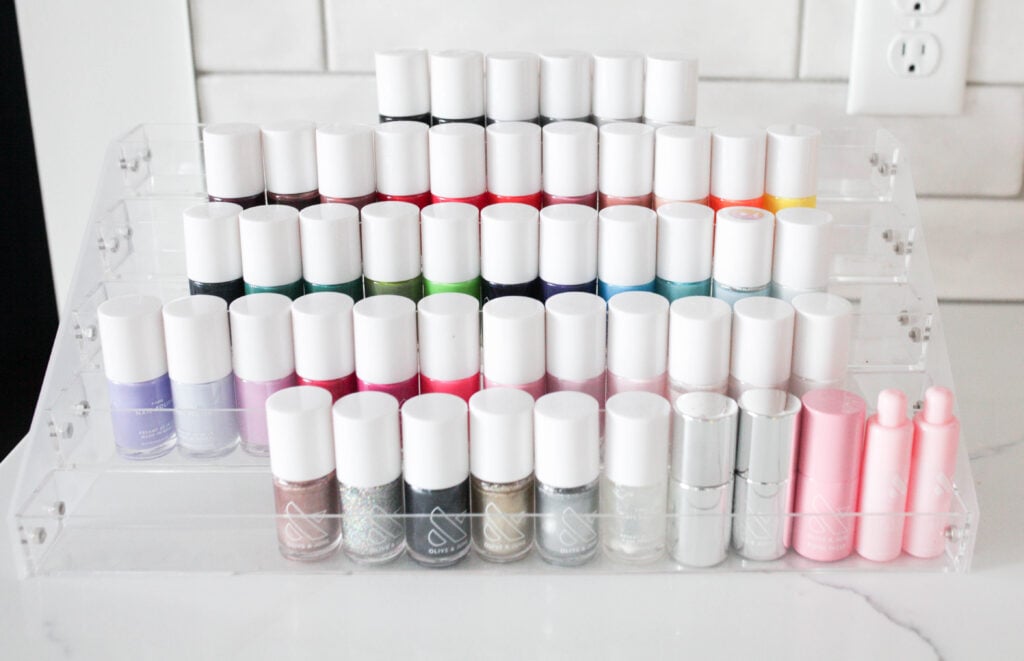 (This nail polish holder has been a life saver in keeping me organized!)
Other Tips
You don't need a base coat!
The brush bristles aren't round – there's a flat side so be sure to hold it the correct way when applying the polish.
Give your nails time to set in between coats. This will help it to not bubble.
Take your time! Don't just rush through it, carefully apply the polish to each fingernail.
Clean up at the end. Using the nail brush (or a small paintbrush) clean up any mistakes you made along the way.
Reapply your top coat daily! This is something I'm terrible at but it's so helpful to do.
Nail Tools
I finally picked up this super inexpensive set of nail tools from Amazon and I love it! Olive and June doesn't have any sort of tools and this is a great way to make some fun designs. The one below was my first try at it!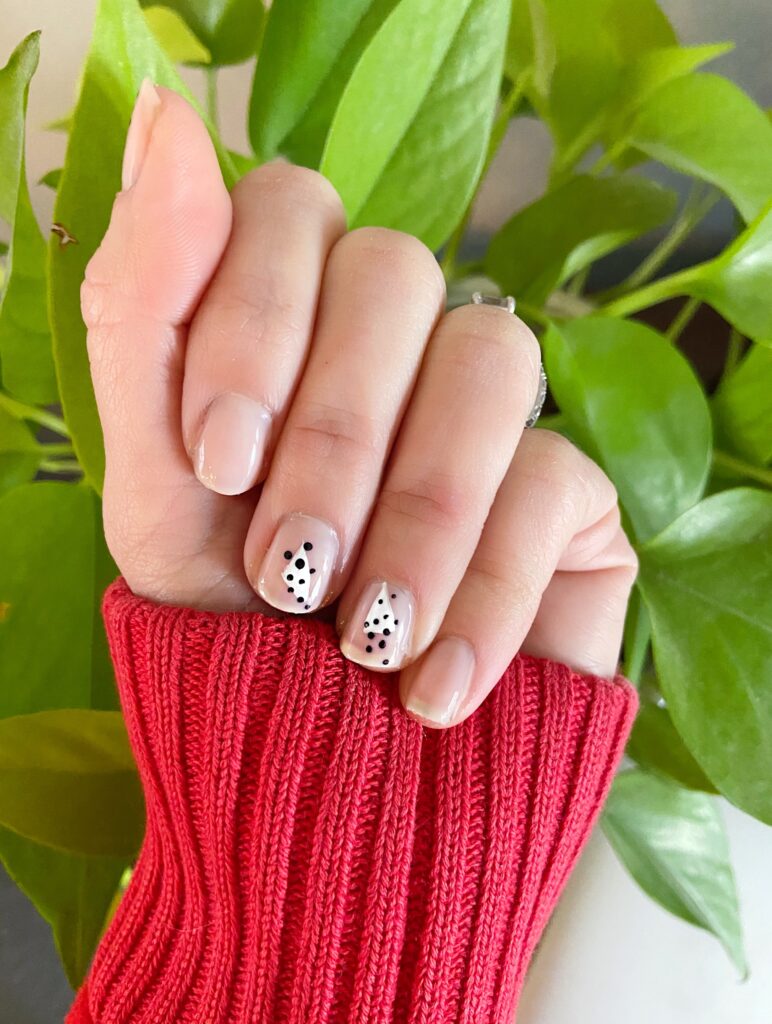 It's also worth mentioning that Olive and June is always cruelty-free & vegan which is a big win in my book!
Collections of Polish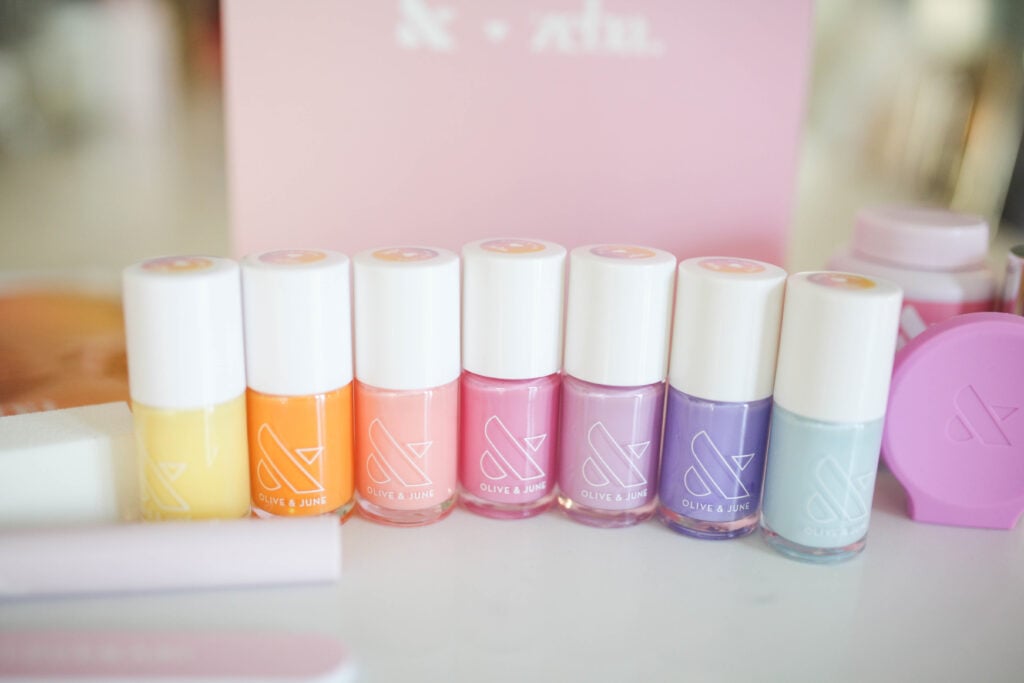 Olive & June comes out with new collections about every season with brand new colors! While you can get any of the old colors still (unless they get discontinued), they're always bringing in new colors to the mix.
Here'a a look at one of their summer boxes – the Into You Box which was a collaboration with beauty activity Nabela for a self-love celebration in mani form!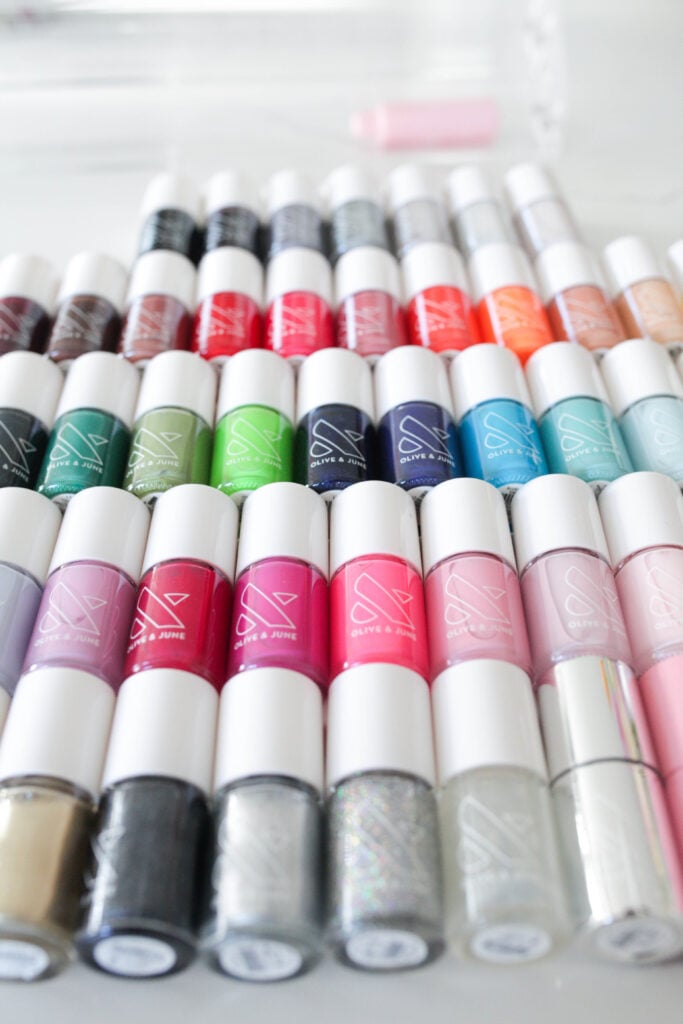 The colors were so gorgeous ranging from purples to blue to orange and ideal for summer.
My niece and I tried out a few of the new colors (do you sense a theme? I give my nieces a manicure every time I see them ha!). I love how how our Olive & June nails look and we had such pretty nails!!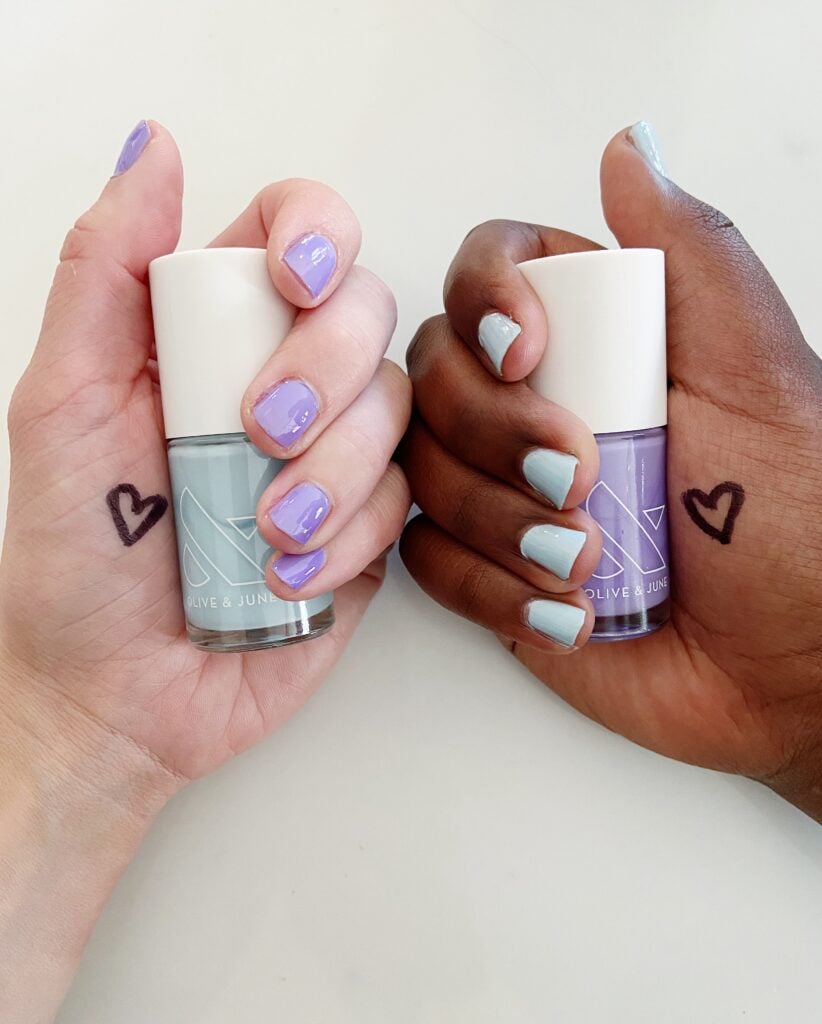 Is Olive & June Worth It?
Overall, I'm a big fan! Their polish is beautiful, their tips make a huge difference and it's a fun way to change up your nail game without having to go to the salon!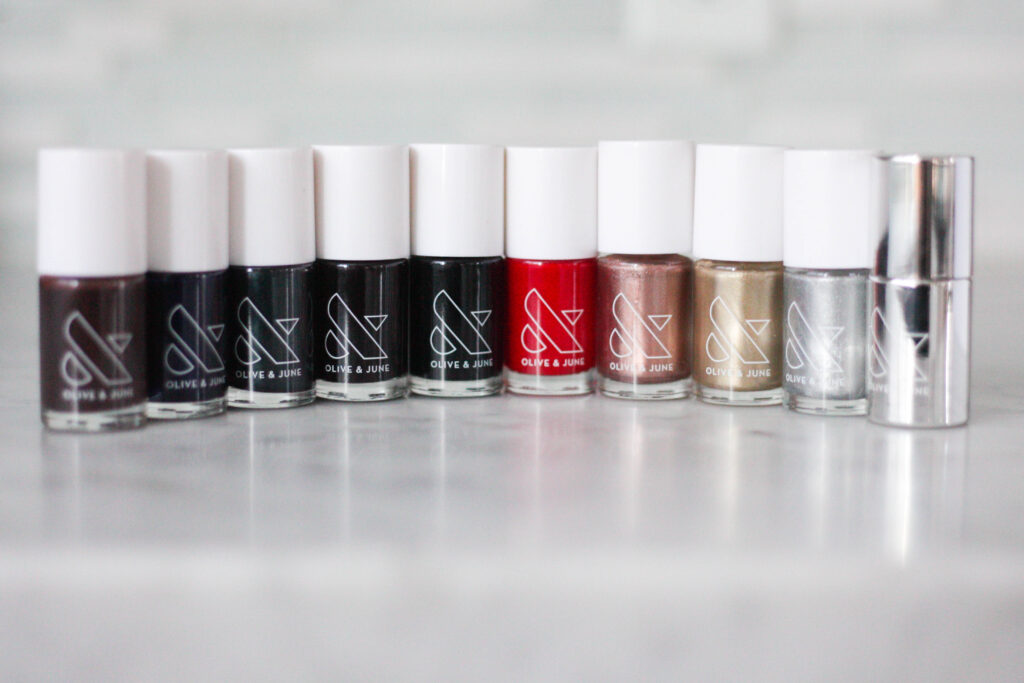 I do need to mention though, that it's still a polish and can chip much easier than something like gel or dip nails. I've noticed that it lasts longer than other polishes I've used and their top coat is the best I've ever used
I hope this Olive and June Review as beneficial!
(P.S. Use this link and the code jenb20 for 20% off your order of any of their systems!)
Now head on over to one of my very own DIY manicures that you can do with a q-tip or why not make your own balloon garland and have an at home mani party with your besties!
Thanks so much for reading!
Categories Makeup + Beauty, Style
About Jen
Jen is a mom of 3 who loves frozen cookie dough, plants and a generous pour of creamer in her coffee. Her biggest joy is helping others find joy in their life, style and home through tips, tutorials and encouragement. She also runs 2 additional blogs. Feel free to send Jen a message or join the fun on Instagram!
...
Sours: https://paisleyandsparrow.com/olive-and-june/
I wanted to hate Olive & June's Mani System. The skeptical side of me thought, There's no way this is a good deal. $80? To do my own nails? Please. Still, I yearned for a manicure—to feel a surge of joy upon glimpsing my pretty, painted hands, even if I'm mostly just working from home. So when I received a sample, I decided to try it with an open mind, and somewhat begrudgingly, I really, really like this dang box. It makes doing my own nails way more enjoyable than it's ever been before.
For a little background: I have a long-running relationship with nails/manicures. I sucked my thumb until the age of five, when my dentist persuaded me out of it (with the promise of an enormous stuffed reindeer, which I named, no lie, Rudolph Giuliani). But then I took up nail biting instead. In my adolescent years, I tried to quit by using bitter-tasting polishes designed to turn me off, but this didn't work. I continued chewing my nails, hated myself for doing so, and, in turn, spiraled and bit them more.
In my 20s, after I moved to New York and landed my first job, I finally stopped nail biting by getting regular gel manicures. On one hand, yay, I no longer bit my nails! On the other hand, I became reliant on salons, spending $40 every two weeks to swap out shades. This was incredibly costly, an exhausting use of time, and—as I stuck my hands under a U.V. light to dry the gel—potentially damaging for my skin. I realized that I couldn't, nor did I want to, spend the rest of my life replacing one habit with another. I eventually gave up manicures completely and just let my natural nails live and grow. I started exercising more to (somewhat) manage my anxiety, and I'm pleased to report that I haven't bitten my nails in several years. I'm no longer dependent on manicures as part of my routine, which strangely frees me to miss them as acts of self-care. And with the pandemic, I really started missing the pampering of my hands. Enter the Mani System.
Inside this pale pink box is everything you need for a salon-quality manicure, including specific tips and tricks (like how to manage cuticles), six nail colors of your choice (from subtle nudes to splashy neons, with new shades added seasonally), and a glossy, quick-drying top coat. As someone who struggles to find polish that isn't too watery or clumpy, I can vouch for how this polish goes on evenly and stays put for, miraculously, at least a week. The bottle's brush is just the right size and shape to cover my nail's surface in two to three strokes (something that gives me trouble with thinner-brush bottles from brands like Essie and Sally Hansen).
But the best part of the kit, what really makes it the "system," are the tools, of which there are many: a nail-polish-remover pot (which you use with a satisfying soak of your finger in a small sponge), a nail clipper (designed with a flat edge for level clipping), a dual-grit nail file (way stronger than my flimsy emery boards), a buffer cube (for shaping, smoothing, and keeping cuticles in line), a universal polish bottle handle (a rubber insert that covers the top of a polish handle and makes it far easier to apply coats, especially when using your nondominant hand), cuticle serum (made with nourishing cactus flower), and a clean-up brush (my personal favorite tool). No matter how messy my manicure is, at the end I use this fine brush dipped in remover to clean up errant polish, and presto, my nails look like they've seen the inside of a salon.
Realistically, $80 isn't financially feasible for everyone. Olive & June also lets you individually purchase their nail care tools and polishes to be paired with whatever you already own at home. FWIW, while you can certainly purchase everything in these kits piecemeal, for the price, you get thoughtfully designed, high-quality products and expert advice, all in a pleasing package. With a single bottle of polish usually costing around $7 to $9 a pop, to get six (and a top coat) in colors I love is a good deal. I expect to use the contents of this kit for months to come and am excited to gift it to friends, especially to those who need a pick-me-up. Final verdict? Nailed it.
Olive & June Mani System
This toolkit includes everything you need to take on a spa-level manicure at home.
Related:
Sours: https://www.self.com/story/olive-and-june-manicure-box-review
What's the Deal with Olive and June Nail Polish?
14/07/20
Right off the bat I want to say I am not a nail salon kind of a gal. I really don't love paying to get my nails done because it's pricey (I prefer to spend my cash on other things) and my nails grow so crazy fast that I'd be going weekly. Salon nails just don't make sense for me. I love doing my mani at home, but was super curious when I heard of a new polish brand on the scene – and I couldn't find many Olive and June reviews out there.
I took the plunge and ordered a few colors. I've been painting my nails with exclusively Olive and June nail polish for about a month now and wanted to share my own experience with this lil' Olive and June nail polish review.
What exactly is Olive and June?
Olive and June originally started as a Southern California based nail salon. Think like – the ideal and most perfectly picturesque type of salon. That's Olive and June.
At some point the founder recognized a huge opportunity – making the Olive and June polishes easy to shop online and use at home. Now having been featured in major publications (like Forbes) and loved by celebrities and us peasants alike, the brand has become a major name when it comes to nail care.
The entire idea of the brand, particularly when it comes to the at home items, is making DIY pretty nails easy. We don't all have time to head to a nail shop every time we need a manicure. I love the focus on getting great nails from the comfort of my own home.
So what's the deal. What makes Olive and June different than other polish brands?
Honestly? The branding. The experience. The marketing. The style.
And YES the quality is bomb in comparison to other major nail polish brands at a similar price point.
But at the end of the day I do think the quality of Olive and June polish is somewhat similar to the other polish brands I've used and loved in the past. I'd say this polish beats out my old faves in terms of quality by just a hair (I find the end result of the formula to be shinier and stronger, ultimately longer lasting), but it's not a huge difference. What IS a difference is the price – but we'll get there.
Olive and June really does succeed in their marketing. I sort of see them as like the Glossier of nail polish if we're being honest – their branding is cute AF. All the packaging has a clean, streamlined look. I think we can all admit we millennials are suckers for marketing, and I'm definitely a sucker here. I love the look of these polishes on my bathroom countertop.
Is Olive and June Expensive?
I find Olive and June to be incredibly reasonably priced given the quality is so damn good. A bottle of polish runs, at the time of this blog post, at $8 a pop. Given that the Essie Gel Couture polish is currently $11.50 on Ulta's website – I'd say Olive and June is a steal.​​​​​​​
These polishes are also really affordable when you start comparing them to the cost of actual trips to a salon. A lot of my friends like to get gel nails done at their salons, which especially in cities like San Francisco (where I live!), the cost can really add up. I'm pretty sure a single trip can run around $50 with tip. So I'd say an $8 bottle of polish that gives you tons of coats is a huge cost savings.
The Olive and June Mani System is another great way to get value for money. The kit comes with all the nail essentials needed to give the perfect at home manicure or pedicure. The Mani System comes with the Mani-perfecting Clean Up Brush, acetone-free polish remover pot, a pair of straight-edge nail clippers, a dual-grit nail file, a salon-quality nail buffer, their patented bottle handle (the Poppy), the Super Glossy Top Coat, and the Olive and June award-winning cuticle serum. Target sells a condensed version of this set for only $20.
All in – is Olive and June worth the hype?
I recognize this post is just a rant about a nail polish brand in a world where there's plenty of deeper, richer content that needs space – but if you landed on this page for the real deal on the Olive and June hype. YEP. They're worth the hype.
The polishes are relatively affordable, give great shine and finish, and do last longer than a standard DIY at home manicure. I'm into the entire situation and can confirm Olive and June is worth it.
My favorite products.
The Olive and June Poppy
I am OBSESSED with Poppy. Basically this little nugget is a grip so that you can more easily hold the nail polish brush. Which is GENIUS.
You first pop off the cap of your polish and then pop the Poppy on – and proceed to paint struggle free. I had no idea a larger and firmer grip could make painting my nails myself so much easier – but it truly makes a huge impact.
I also think there's something really important about this product to say when it comes to inclusivity. Selena Gomez's Rare Beauty line was fairly revolutionary when it came to designing products that were easy to handle for those who may have joint issues or general trouble maneuvering small beauty tools. I think Olive and June's Poppy is another amazing product that might actually be opening up an entire world of beauty to consumers who may otherwise have had a hard time using their products.
The topcoat
The polish itself is awesome – but the topcoat I think is what really makes the quality of the products shine. Literally.
I can't really speak to the ingredients used, but what I can tell you is that the results of this topcoat are noticeable. Utilizing the topcoat gives my nails an instant gloss and shine once applied. My DIY at home manicure also seems to last much longer than manis I've given myself with other topcoats. I won't lie – I've even used the Olive and June topcoat on non-OJ polishes. Whoops.
Nail art stickers
The brand makes so many different fun nail art stickers to add extra pizazz to your at home manicure. And I'm obsessed. I found so many great options at Target and love to add these to my nails for a little extra flair. Like, if I'm feeling EXTRA fun, ya know?
Cuticle serum
Okay – not exactly the sexiest of products, but it's important. This cuticle serum helps keep cuticles healthy and hydrated. The formula is also vegan and cruelty free, as a little added bonus.
I speak from personal experience when I say that cuticle care is one of the first aspects of a manicure that's quickly forgotten when done at home. A regular, in salon manicure will absolutely involve cuticle maintenance – but at home it always seems like such a drag. I'm definitely thankful for a product that focuses on caring for the cuticles, even when DIYing your mani.
Where to buy Olive and June nail polish.
You can shop polish and other products at the Olive and June Target collection or on their website! I personally do not recommend shopping Olive and June nail polish Amazon – or any other retail site. The Olive and June nail polish Target collection is longstanding and legit – and so is the Olive and June website proper. I personally have a hard time vouching for any other retailers.
My final thoughts? They're worth the cash – and easily my new fave way to get at home mani perfection.
Other products I'd love to see from Olive and June
Foot care
Olive and June nail polish can absolutely be used for pedicures (along with some of their other products), but I'd love to see them come out with more food specific care items. I actually could see myself being that person to purchase a bubblegum pink Olive and June branded foot bath or perfectly packaged foot cream and exfoliating stones.
My final thoughts? They're worth the cash – and easily my new fave way to get at home mani perfection.
Brand gear
This may seem a little over the top – but can we get some cute Olive and June gear? Glossier launched select styles of hoodies, duffel bags, and more – and their die hard fans absolutely ate them up. My husband and I both own pink Glossier hoodies (and apparently so does a certain famous actor). Olive and June nail polish branding is so well done, I'd be super curious to see what the team creates when it comes to other product categories.
Pin this post!
*Blondes & Bagels uses affiliate links. Please read the disclaimer for more info.
Sours: https://blondesandbagels.com/olive-and-june-nail-polish/
MANI 101: How To Get The Perfect Olive \u0026 June Mani at Home
I've loved painting my nails since my middle school days and I'm not half bad at it, either. In the time I've played nail technician to myself, I've learned that not all nail polish is created equal—some goop up with little air exposure, some take too long to dry, and others pass both of those tests only to chip within a few hours of application.
I'd much rather have bare nails than half-chipped ones. As soon as I see the polish I'm wearing start to flake off, I can't help but pick at it and peel it back. This is reason enough to stick with gel manicures at the salon, as they are way less likely to show wear and tear and I can get a full two weeks out of them before my nail bed starts to look too overgrown. I recently heard about Olive & June, though, with its bold-faced claims of giving a salon-like, at-home manicure. If it can keep me from picking and peeling, I'm down to try it. Like I said, I have a decently steady hand and can do the work, but I need the polish to hold up its end of the bargain.
What is Olive & June?
The millennial pink-festooned nail brand, which first caught my attention on Instagram, was founded in 2013 in Beverly Hills. Founder and CEO Sarah Gibson Tuttle is a self-proclaimed "mani-obsessee," which led to her opening a nail salon and eventually a line of products for at-home use. "We believe in beautiful nails for everyone. That's why we make polish, tools, and care to make mani and pedi dreams come true," the Olive & June site states. "No matter who you are, where you live, or what you do, you deserve to feel like your best self."
What does Olive & June claim?
The brand claims that the polishes are long-lasting on the nails with a gel-like finish. Gel polish typically is thicker than regular polish and needs to be removed at the salon, but Olive & June leaves that attribute behind with its line. The brand also claims that its nail polishes are cruelty-free, vegan, and free of seven controversial ingredients: dibutyl phthalate, toluene, formaldehyde, formaldehyde resin, camphor, ethyl tosylamide, and xylene. Other than formaldehyde, I do not recognize any of those ingredients enough to know if they are typically used in nail polishes, but I suppose less is more when it comes to chemicals.
How did I test Olive & June?
To get a feel for Olive & June's polish and tool offerings, I opted for The Mani System. At the time of publication, this kit includes six polishes of your choice, a glossy top coat, a handle for the top of the polish brush, cuticle serum, a polish remover, a brush for cleaning when you color outside the lines, a nail buffer, a set of nail clippers, and a nail file. It all cost $80, which the company says is a value of $109. Considering I used to spend $40 per gel manicure, it's a steal … if it works.
At the time I tested, the polish line included pale colors, medium shades, deep tones, and metallics, all of which range from sheer to opaque in finish. (The collection now includes glitter options, too.) Instead of typical cutesy nail-polish names, these polishes are identified by the initials of someone the owner knows or admires. I chose at least one shade from each of those categories to get a good cross section of the range: HD (a pure white), GH (a baby pink), BI (a peachy coral), CHM (a sheer tan), CV (a cherry red), and OJSM (a metallic rose gold). I then used each one at least once over the course of a few months, and tried all of the tools to give myself a manicure. This involved cutting, filing, and buffing my nails and trimming my cuticles. I'm used to giving myself manicures but I usually use tools from the drugstore, so I was curious to see how Olive & June could improve my usual routine.
What's it like to use Olive & June nail polish?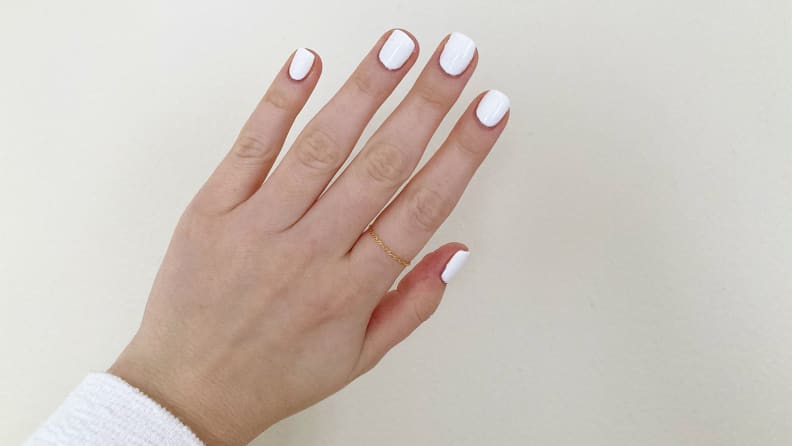 From the moment I received the Olive & June Mani System, I liked it. Inside a baby pink box were the tools and the polishes I picked out, as well as "The Olive & June Guide to Your Best Nails Ever" (an informational leaflet) and a sealable, reusable plastic pouch to hold the tools. The presentation was cute, yes, but also really helpful for storing everything together—if you have a pre-existing polish collection or if you plan to order more from O&J, this box can fit way more than the six polishes you receive. (I'd say you could easily fit a couple dozen bottles before it wouldn't close.)
The O&J polish colors are stunning. Each one looks exactly as pictured and described on the site, and seeing them in person only makes me want to buy more now that the company expanded the color selection. I'm particularly impressed with the opacity of the formula—even the crisp white HD shade is completely opaque with no shadows or streaks. And the sheer shades, like CHM, are translucent with one coat, looking like a beautiful stain on the nails, but can be made more opaque with two or three coats.
I'm equally impressed with the fluidity of the polish's formula. Even after months of use, my most-used shade (CHM) still runs thin in texture and glides on without any globbing or streaking. I noticed some streaking with HD despite it being one of my lesser-used shades, but the others remained true to how they were on day one.
One disappointment was that two of the six brushes had bristles that were bent and splayed out upon arrival—with one brush way worse than the other. I was surprised to open a brand new polish and see this, but I was able to (carefully) apply the color to my nails anyway. Other than this, which could be a fluke, the brushes were a perfect size and shape to hug the edges of my nail and coat the whole nail in two of three swipes. It only took two coats for the polish to look neat and completely opaque, and the addition of the shiny top coat made the nails look salon-finished.
The bigger disappointment: I didn't find the polish lasted anywhere near as well or as long as the gel manis I hold as the gold standard. I noticed chipping within the first two days, which is typical for non-gel polish on me even if I get my nails done at a salon. So, no the polish didn't last "chip-free for days and days" as the leaflet claims, but it held up just as well as traditional salon brands like O.P.I. and Essie, which tend to cost a dollar or two more than the O&J's $8 a bottle, depending on where you buy them.
What's it like to use Olive & June nail tools?
The tools in the Mani System make the kit worth it, even if the polishes chip after a few days of wear. Each one felt high quality and worked well for the purpose it was designed for (except for one). The main flaw with the tools is that they aren't all sold individually. Some are only available in certain bundles with other tools and others you can only get in the Mani, Pedi, or Complete Systems. Here are my thoughts on each tool, ranked in order of how much I liked them:

Nail file: I didn't know I possessed such strong thoughts on nail files until I used this great one. Every time I did my nails, even when I wasn't specifically testing the box, I wanted to use this nail file over my $1 drugstore ones—and I liked those $1 ones before! The O&J file has enough grit to quickly file down and shape the nails, and somehow, it never seems to wear down, even after plenty of use and me wiping it clean on a towel. The only way to buy the nail file outside of the Mani System is in a kit that includes the cuticle serum, the top coat, and a carrying pouch, and that trio costs $26.

Nail clippers: The head of this nail clipper has a convex curve, which I especially appreciated. I shape my nails to be square and when I use a typical nail clipper with a concave head, I have to be careful not to round off the edges of my nails too much. It's a small detail and it's not a design that's unique to O&J, but I appreciate it nonetheless. I also noticed that this felt sturdier and looked sleeker than any nail clipper I've owned before (again, I typically buy my supplies at Target or CVS). The Olive & June nail clippers are only sold in the "Systems."

Clean-up brush: I was so happy to see that this kit included a tiny brush to clean up the edges of my nails where I colored outside of the lines. I keep a precise brush in my nail kit already for this purpose. The O&J brush, which comes in its own plastic cylinder case for storage, hardens when it's not in use, but it quickly un-stiffens when you dip it into the nail polish remover. The bristles don't shed and they're flexible enough to curl around the edge of the nail if you're trying to reach into that tough spot at the corners of the fingernail. A la carte, the brush costs $8.

Nail polish remover pot: Dipping the brush into this pot while you're in the middle of doing your nails is super easy and keeps you from spilling yucky-smelling remover on your work station. I also dipped my fingers into it to remove polish in a pinch (read: if I majorly smudged a nail) and it took it off in a jiffy. The pot, which holds two fluid ounces, is priced at $8.

Cuticle serum: Olive & June says that the key to a great manicure is finishing it off with cuticle serum to get a shiny, healthy-looking cuticle. I don't know how necessary that is, but I liked the inclusion of a skincare item in this kit. The milky solution claims to hydrate and soothe with cactus flower and absorb quickly into the skin and nail for a non-greasy finish. I didn't notice a huge difference in my nail health from using this, but my nails and the skin around them get very dry, so I was happy to have the targeted moisture it provides. The serum dispenses through a cushion at the end of a twist-up cylinder and a set of two costs $30. The serum is also sold in a duo with the Hand Serum, which wasn't in my kit, for $32.

Nail buffer: I was surprised at how gritty the surface of this buffer is compared to what I'm used to using, but it works really well to smooth the nail in preparation of the polish. My nails start to get grooves in them if I don't buff them out regularly, and this takes care of that easily. Unfortunately, the nail buffer is not sold on its own or in a bundle with other tools, so you'll need to opt for the Manicure or Complete System to try it.

The Poppy handle: A handle for the top of the nail polish brush, this tool is a point of recognition for anyone curious about Olive & June. When I told a coworker that I was testing the manicure kit, she asked me if I tried The Poppy yet. Well, I did ... and I don't understand the hype. The leaflet describes this tool as a "universal polish bottle handle [that] makes painting your own nails a dream" because "the patented shape and soft silicone material create a comfy grip that gives you more control whether you're painting with your dominant or non-dominant hand." I didn't expect this tool to make me ambidextrous, but I thought I would feel some kind of difference when I painted with my left hand. Most of the time I used the Olive & June polishes, I didn't bother with The Poppy because I didn't notice an improvement with it. Also, I've never had issues with nail polish handles slipping out of my hands and I've never known polishes to have left- or right-handed tops. If this tool is your selling point for the brand, I'm not sure it's worth it—it's the only part of the kit that I didn't like.
Should you try Olive & June?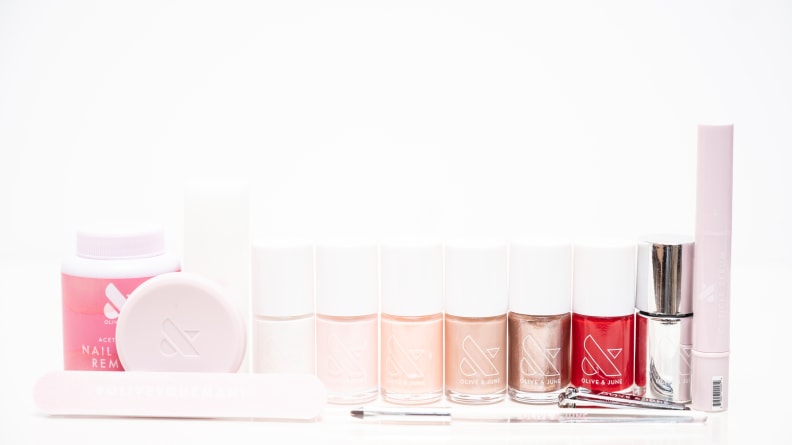 If you already paint your nails at home, I recommend trying Olive & June polishes. Depending on what you typically buy, these polishes may be more affordable than the salon brands, or more expensive but worth the upgrade from drugstore brands for better shades, opacity (or sheerness), and a smoother application. The colors are beautiful and I guarantee you will find ones that suit your mani style. Plus, the results rival the shiny, sleek look of a salon manicure and last just as long as regular polishes (but not as long as gel). Even if you don't love painting your own nails, the manicure tools are a great investment for at-home nail care and may make polishing them a little easier.
Shop Olive & June products
The product experts at Reviewed have all your shopping needs covered. Follow Reviewed on Facebook, Twitter, and Instagram for the latest deals, product reviews, and more.
Prices were accurate at the time this article was published but may change over time.
Sours: https://www.reviewed.com/beauty/features/olive-june-nail-polish-review
Membership olive reviews june and
No, but what. -Want. -Come on.
Olive and June Winter 2020: Review, Live Swatches \u0026 Comparisons
I was seized by a small tremor and a violent orgasm. So much so that I closed my eyes with pleasure. As soon as I had time to open my eyes, a couple stood in front of me just emerging from behind the bushes. The girl straightened her mini skirt, and the guy, noticing that my hand was still in the pussy, as she did not.
Similar news:
Me and slid her hand over my penis, then slapped my ass with the words let's rinse. I quickly rinsed myself, Aunt Natasha was in the bathroom loading the washing machine, as soon as I turned off the water, she asked me to leave only. Dirty panties for me or not, otherwise they will not be fresh soon as she did not wear clean panties.
845
846
847
848
849