Faded Beards: The Styles That Work And How To Get Them
The big bushy beard thing. We get it. A lustrous chin wig has long been a symbol of masculinity, virility and even wisdom; a hairy badge of honour, if you will. All the best people have them too: Jason Momoa, Brian Blessed, Zeus, Gandalf…the list goes on.
As manly as they may be, massive beards don't exactly scream 'excellent grooming habits'. Which is why, as well as being a hallmark of badassery, they're also heavily associated with chronic shower dodging. If only there was a beard style that made its wearer look more polished, not less.
Enter: the faded beard. This finely tuned flavour saver straddles the line between masculine and manicured. It's the sort of facial hair that says, "Yeah, I iron my T-shirts. That doesn't mean I couldn't get a grizzly bear in a chokehold should the situation call for it". And quite frankly, if that's not the kind of message you want your chin to convey, you're beyond help.
What Is A Faded Beard?
The fade has become an important element in modern barbering. It involves creating a smooth transition between hair of differing lengths. On the head, that means blending long hair on the top with short hair on the back and sides. Beard-wise, it's about fading chin hair into cheek hair and cheek hair into sideburns.
When done right, it's a precision look that pairs nicely with similarly just-so haircuts, like a slick back or pompadour. A good fade makes a beard look intentional. Like a conscious style decision as opposed to just something that grew out of your face while you were sitting in a darkened room playing Xbox.
Is A Faded Beard Right For Me?
Despite all the plus points, faded beards aren't without their drawbacks. Yes, you'll look sharper, but that requires time, money and maintenance. If you want to keep your fade looking fresh, you'll need regular trips to the barber as well as a few of your own tools at home for upkeep. If you're the kind of guy who favours Call of Duty binges to… well, anything else, the fade might not be for you.
It's also a style that requires pretty consistent growth across your face. If you have patchy facial hair, there's not a barber in the world who will be able to fade it for you.
Can I Do It Myself?
In short, yes you can, but you'll need a steady hand and the right tools to trim your beard this well. Even so, don't expect it to be quite as sharp as it could be if you paid your local barbershop a visit.
Tools
Razor
Adjustable clippers or trimmer
Beard comb
Method
First and foremost, you'll want to ensure your beard is clean, fresh and free of Cornflakes. To do this, simply give it a wash with some beard shampoo, apply a small amount of beard oil and blow dry while combing through to get rid of any knots or nasties.
"Next, use your clippers with no grade, starting under your chin to decide the length and create the perimeter parallel to your jawline," explains Tom Chapman, founder of the Lions Barber Collective and an official ambassador for The Bluebeards Revenge.
"Using grade 2 (6mm) on your clippers, work down your face from ears to chin to remove any excess hair, making sure you move away from the face as you approach the jawline. Do this all around the edges of your beard removing the excess fuzz."
Now it's time to get faded. "Using your clippers with a 0 (no grade) create your shortest guide about 10 mm from where the ear connects to the head to the middle of the ear," explains Chapman. Then repeat this on the opposite side of the head.
"Then create second and third guides above and below 0 with a grade 1 (3mm) about 10mm each side," he says. "Now open the blades up on the clipper to 1.5 (4.5mm) to blend the lines between grades 1 and 2 on both sides. Take the guard off and open the blades to 0.5 (1.5mm) and blend between 0 and 1 on both sides."
Once that's done it's just a case of using your razor to neaten up the edges.
The Best Faded Beard Styles For Men
No one could blame you for reading the above instructions and deciding you'd rather let an experienced barber handle your fade than have a crack at it yourself. If that's the case, here's what you need to know.
Long Faded Beard
You can still go full Gandalf without looking unkempt. And pairing a precision fade with a long beard is the best way to do it.
"Ask your barber to fade your beard into your hair but maintain the length and thickness," says Chapman. "A picture of what you want is always the best way to get the right result and avoid any confusion."
Then it's simply a case of keeping things in check at home. "You can keep your beard looking sharp easily by giving your cheeks a little touch up each day," says Chapman. "Also, never underestimate the power of a good beard oil, round brush and a hairdryer."
Mid-Length Faded Beard
Mid-length beards have a tendency to look a little scruffy if they're not kept in immaculate shape. This is where a clean fade and a little scissor work can come to the rescue.
"You're looking for clean lines and a fade from your hair into your beard," explains Joe Mills, owner of Joe and Co. in London's Soho. "Make sure your barber really works the beard shape into the hair and there are no hard lines." Again, Mills also recommends taking a picture along with you, just to ensure you get exactly the beard you desire.
Next comes the small matter of maintenance. "Get it trimmed regularly, don't think this is a once a month thing!" says Mills. "You can leave it but it won't hold its shape so every couple of weeks would be ideal. If you have invested in a decent clipper then you can maintain it between trims but go easy. Remember, once it's cut it's cut."
Short Faded Beard
Big beards aren't for everyone. If you prefer to keep things short, cropped and neat, a short faded beard will work, blending from a skin fade to longer stubble.
"Ask your barber for a heavy fade, taking the 0 down to the bottom of the ear and blending from there, maintaining enough hair for a strong line up," advises Chapman. "This is great for those who don't have a strong amount of hair growth on their cheeks. Once again a picture of what you want is always the best way to get the result you want."
Being a shorter style, this one can take a little more work to keep it sharp. "I would suggest letting it grow out through the sides but use your beard trimmer and a razor to keep your neckline and your cheeks nice and clean," says Chapman. Aside from that, you should be aiming to visit your barber every week or so for a touch up.
Sours: https://www.fashionbeans.com/article/how-to-get-faded-beard/
Beard Fade – Cool Faded Beard Styles
The beard fade is perhaps one of the coolest beard styles for men. By lining up a tapered fade with a beard, guys can create a fresh faded beard that uniquely transitions from their low or high tapered haircut to their full beard. The contrast and styling of a beard shape up, especially with a skin fade on the sides, creates a stylish and trendy modern look that's perfect for rugged men and hipsters alike. If the faded beard looks like an awesome new men's style worth trying, check out the different ways to shape up your beard. Below are some examples of the best tapered beards to try this year!
Best Faded Beard Styles
These styles require facial hair to be precisely cut and blended. If you're thinking about growing a beard and grooming it to fade into your hairstyle, we highly recommend you leave it to your barber. Fading a beard isn't easy and one false move while trimming can turn a potentially awesome beard fade into no beard at all.
To learn exactly how to fade a beard, we suggest you watch your barber or stylist do it first. Seeing a professional at work can help you determine the right length, the right clipper sizes to use, and where to start the beard fade. After all, if you love the idea of fades and beards together, then you'll want your cut to turn out perfect.
Cool Fades with Beards
Low Skin Fade + Line Up + Textured Top + Long Beard
Undercut Fade + Hard Part Comb Over + Short Beard Fade
High Bald Fade + Brushed Back Hair + Cool Beard Fade & Design
Low Razor Fade + Short Curly Top + Beard Shape Up
Quiff + Faded Sideburns + Beard
Mid Bald Fade + Crop + Full Beard
Low Taper Fade + Comb Over
Slicked Back Undercut + Full Beard
Faux Hawk + Part + Tapered Sides + Thick Beard
Textured Side Part + Fade + Mutton Chops
Textured Spiky Hair + Long Beard + Fade
Full Beard Shape Up
Top Knot + Undercut + Sideburns Faded Into Beard
Thinned Out Beard + Low Fade + Thick Part
Tapered Beard + Burst Fade Mohawk
Hard Part Comb Over + Beard Shape Up
Medium Length Layered Hair + Low Taper Fade + Clean Beard
Shaved Sides + Top Knot + Long Beard
Low Taper Fade with a Beard
For more ways to style your facial hair, check out these perfect beards.
Sours: https://www.menshairstylestoday.com/beard-fade/
58 Stylish Faded Beard Styles For Men To Look Smart
Men have a thing for beards and we can't deny that. They are always in search of beard styles and designs that suit their face shape and structure. However, they face the real deal when there is a high chance of getting bewildered among the numerous style and designs and to pick the one that goes best. In one such scenario, we might be helped by naming one of the coolest beard styles right now. The faded beard styles for men have been a trending name in recent times and the most preferred thing. From short stubble to broad, full-length beard, the faded beard has loads to offer you.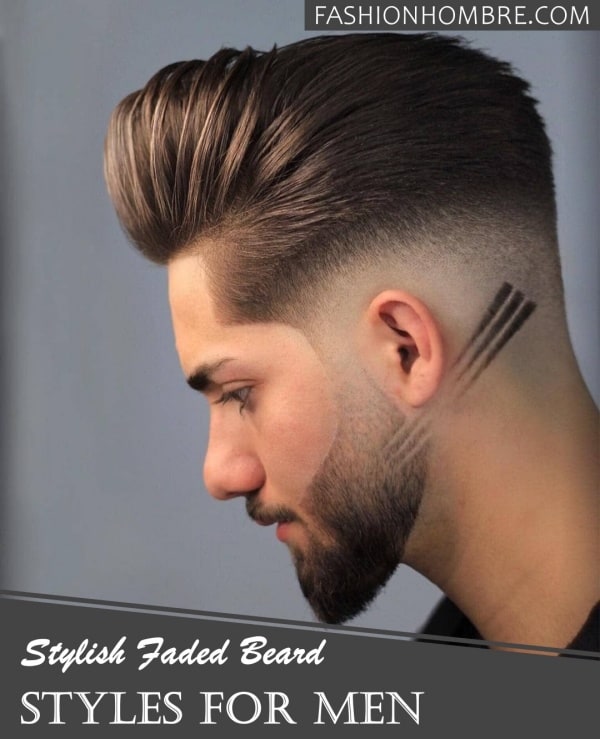 The styling feature and contrasting nature of the faded beard styles enhancing the skin fade on the sides make it more trending and stylish, and a perfect match to suit the rugged texture that men would love to flaunt. This is a bold look that syncs well with the faded beard which works well for the patchy facial hair and neckbeards. So, while opting for this we can help you by providing the list of beard styles which you would love for sure. Get glued to the section below and learn about it. But before that get quick know-how of the ways to fade your beard.
How To Fade Your Beard?
Fading of the beard is the second step that gets sourced to washing, brushing, and trimming of the beard first. So, let's first start with trimming.
Choose Your Ideal Length: The primary point remains in selecting the length of your beard and mustache. First, have a proper washing and then drying your beard and mustache, and that eradicates the excess hair. If you are opting for a subtle look, try this one with a shorter length.
Make Your Neckline Pointed: Comb your beard downwards and that would avoid the excess hairs. Just place your finger horizontally right above Adam's apple and then trim it in a vertical strip below this line. Work in the same process outwards right below the jawline, and repeat this thing on the other side as well.
Have A Proper Cleaning: Try a clean shave below the newly formed beard neckline. Make sure not to merge into the line that just got created.
Trim Down Your Cheek Line: While you are looking forward to a brittle cheek line, create a long, straight, or a slightly rounded line, rising from the bottom of the sideburns reaching to the tip of your mustache. While you are considering your cheeks to be natural, leave the cheek line as it is, however, removes any stragglers found on the upper cheeks.
Keep Your Mustache Neat And Tidy: Brush down your mustache by using the sharp edge of the blades to shape the top lip line, clipping away the mustache hair that has grown on the top of your lip. For a slicker look, try trimming down the top line of your mustache in a tidy way.
Now, we head on to the next part i.e. the steps to fade the beard.
We begin with the primary step of creating the tapered beard by shortening an inch upon the jawline with the blades set to a setting of one inch shorter than the rest part of your beard. Also, don't forget to trim the inches towards the sideburns.
On the next part, shorten the blades again, before shortening a bit more than one inch towards the sideburns.
Opt for a repetition of this process. Moving up an inch above and increasing towards the top of the sideburns integrate well with the sides of the haircut.
Best Faded Beard Styles for men
1. Wide Faded Strap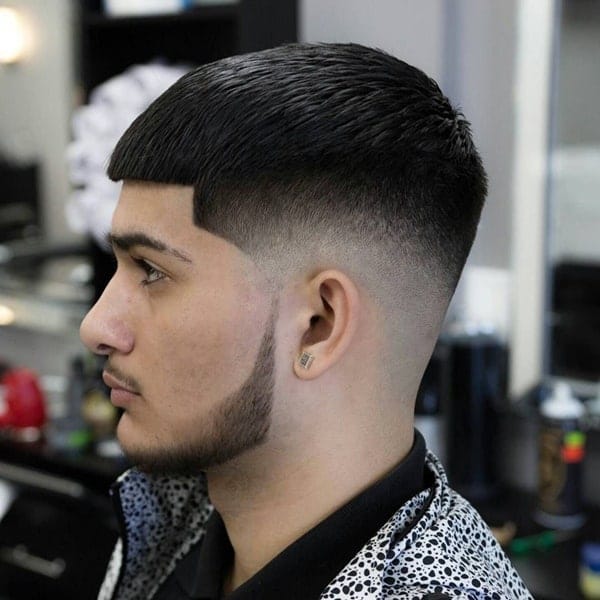 Image Source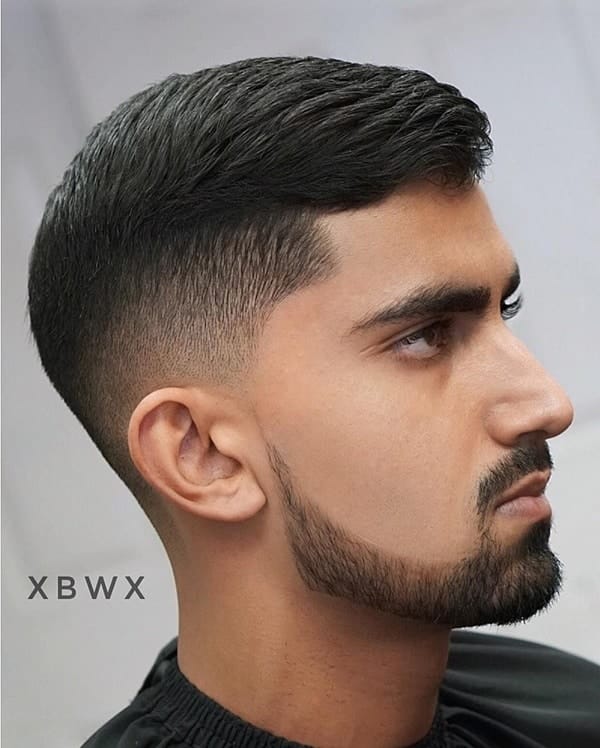 Image Source
One of the coolest styles to hit the scene. A wide faded strap beard allows a man to get a delightful beard without opting for it. To start it off, allow your hair to grow well at a considerable length and then start keeping it faded and neatly trimmed every week as per your choice of length of beard. This style might look all cool and sassy but maintenance is the keyword to stand out well in the crowd. Even if this style looks great on every face cutting, men with an elongated face would look great with this wide faded strap beard.
2. Mid-length Faded Beard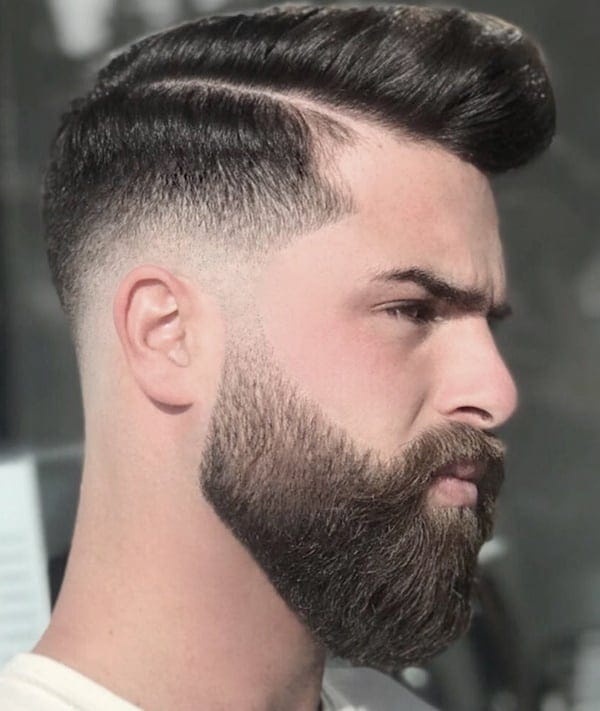 Image Source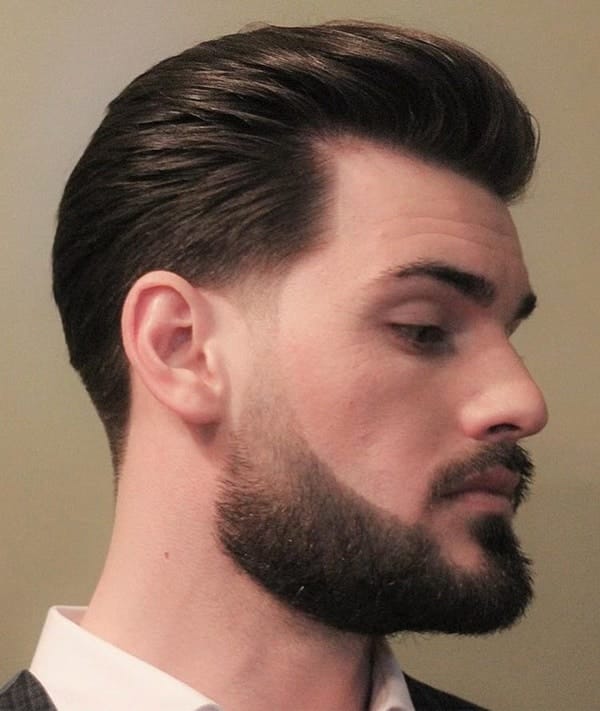 Image Source
If you are the one who doesn't have a knack for short beard yet is dreaded by the trimming and maintenance of the long beard, then a mid-length faded beard is something you should look out for. Just opt for its maintenance on a normal basis so it doesn't alter or meddle with the shape. Couple this beard style with a high and compact haircut and make yourself outstanding. Again, a style quotient that complements both the hotness and suave attributes, making you the star of the show be it an official or a casual look. So, grab it now to look the best.
3. Layered Fade Beard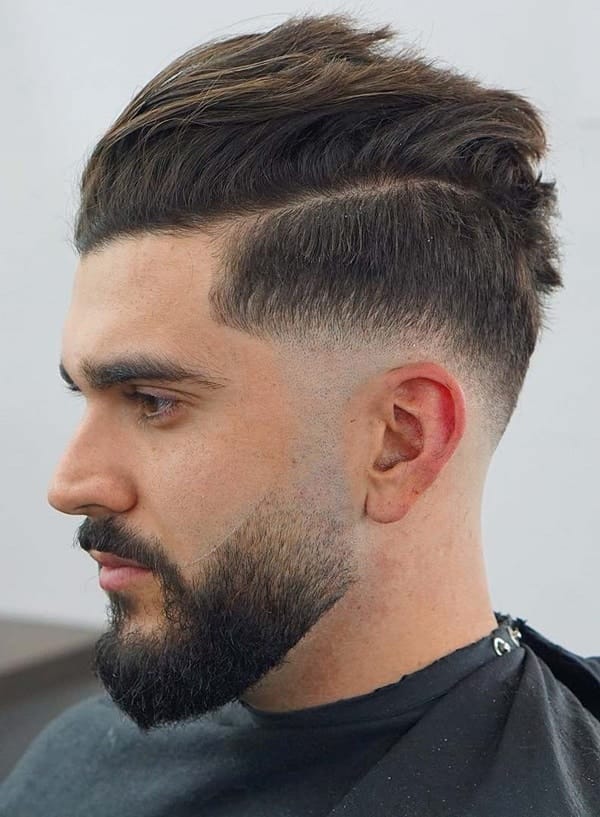 Image Source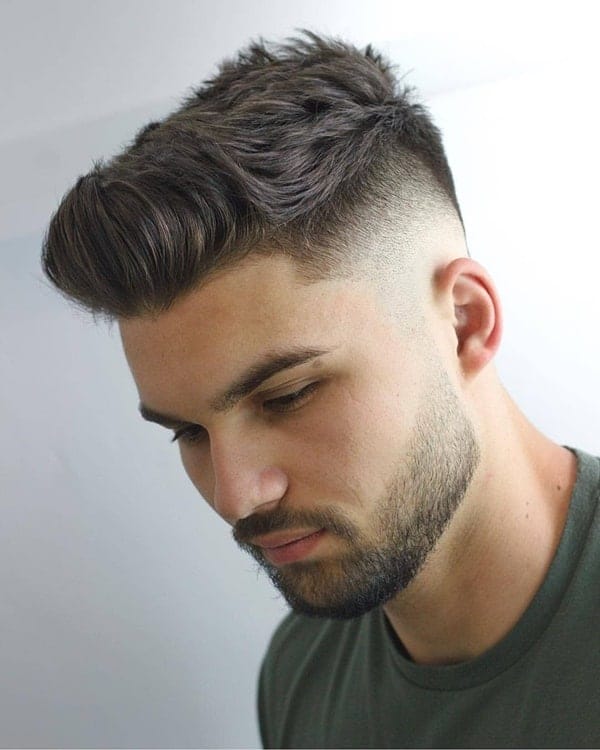 Image Source
A layered fade can be one of the best styles to be an entrant in the list of faded beard styles for men. Of course, this looks truly amazing if you are lucky enough to have thick hair for the creation of visible layers. Honestly, men with a darker shade of beards have an upper hand with this style when compared to the men with lighter hair. This contrast is mesmerizingly awesome. For this style, try to keep the sideburns at a lower level. In case, you want to opt for a full shaved head with a beard, you might as well opt for a layered fade too.
4. Thin Faded Beard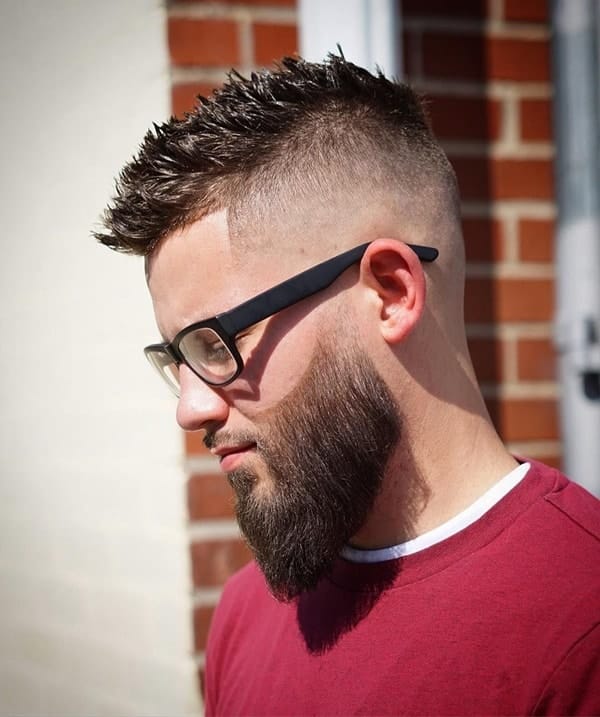 Image Source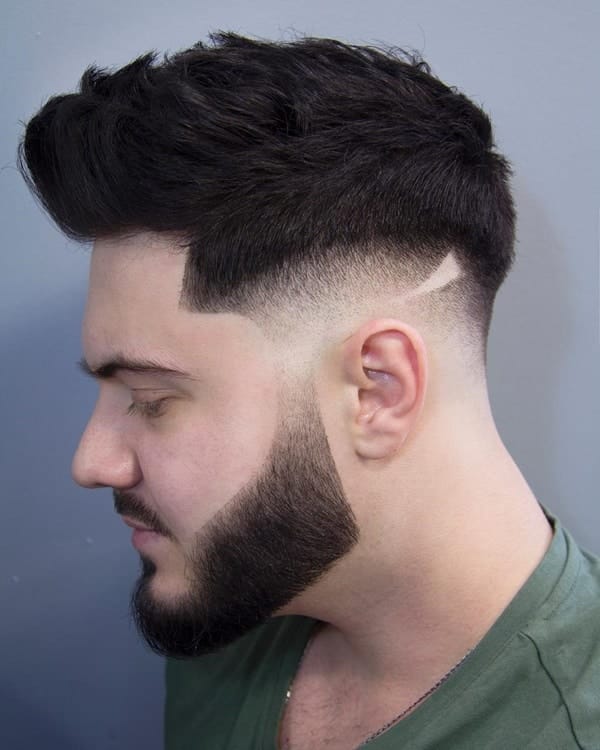 Image Source
If you are not quite keen on donning a dense facial patch yet still can't ignore the light patches endorsing your cheeks, do try this one for sure. It's works wonders for men with naturally thin facial hair. You can opt for this beard style by maintaining the clear distinction between the shags and the sideburns. In addition to this, the thick hair placed on the top of the head adds up to a fine contrast with the thin hair found on the base. For people who think that this is only a sign of less hair, this thin faded beard might be an excellent way to create and flaunt new styles.
5. Fade Patchy Beard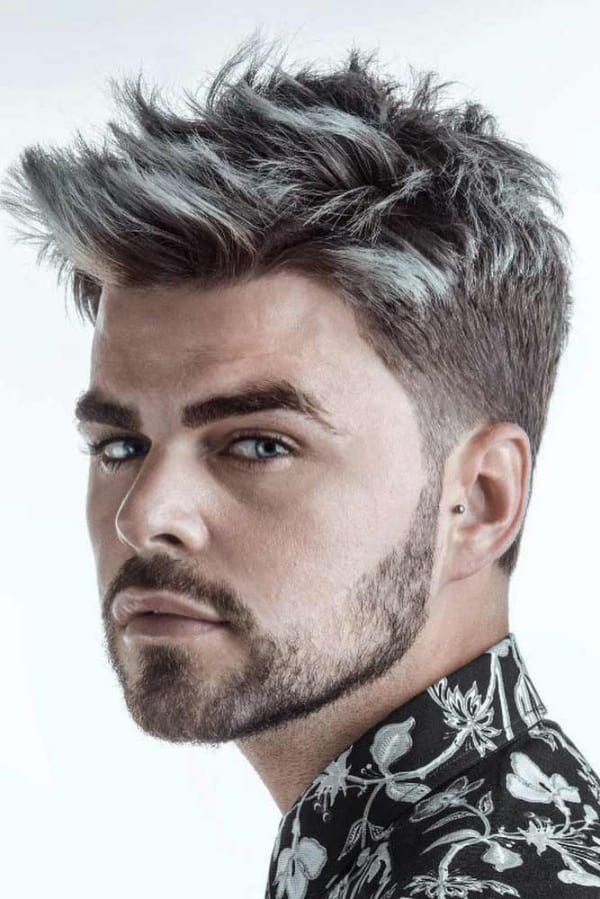 Image Source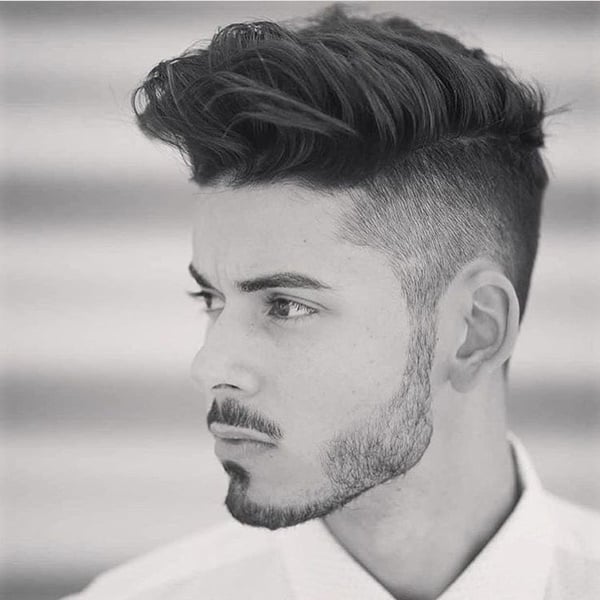 Image Source
The fade patchy beard is a great way or a kind of fresh air if you are too much bogged down with an edgy look and dense beard. However, for maintaining it well you just need to work hard for the proper identification of the patches, trimming at regular intervals when needed, proper cleaning of the beard lines from both sides, and of course, the smooth dealing with the uneven cuts. Some of you might consider this to be a strange yet uber-cool patch of facial beard, but when donned properly, nothing like it. So, go ahead and get this one.
6. Faded Curly Beard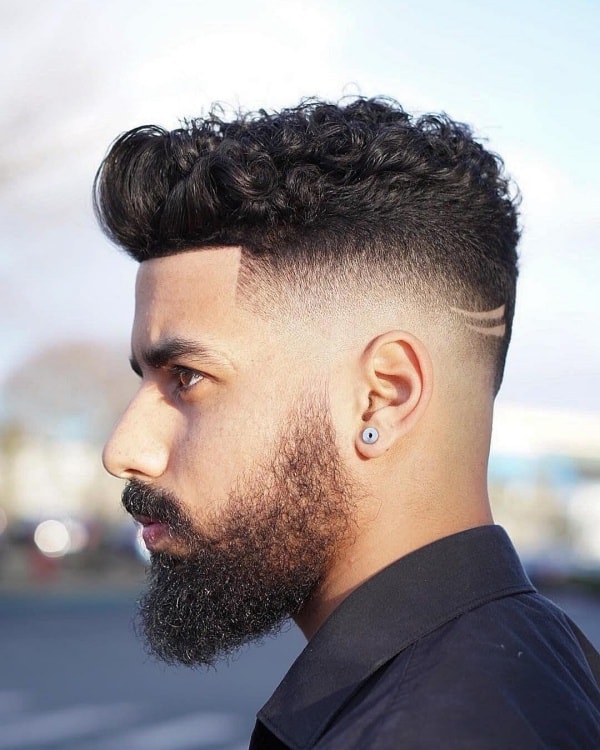 Image Source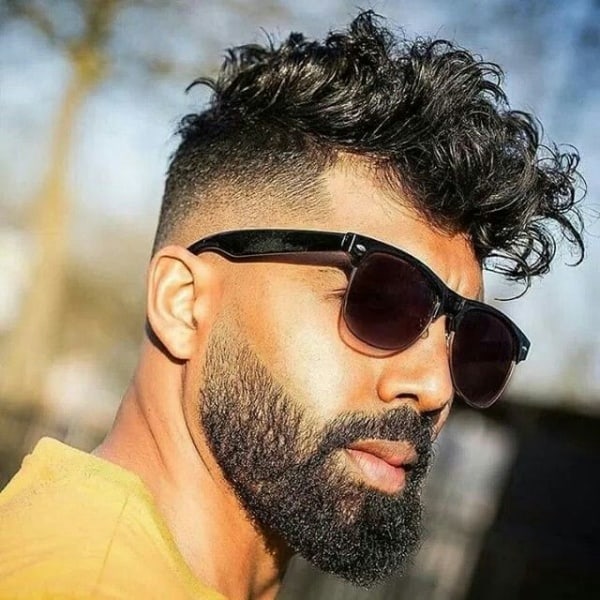 Image Source
If you are up for a moderate amount of facial patch and want to maintain it well, this name in the list of faded beard styles is just what you need. The curly beard might have the same amount of hair like the straight facial patch, however, looks fuller and dense due to their voluminous structure. This look in a way gets the undivided attention, however, for that, you just need to aid on beard oils, moisturizers, and combs to avoid the tangles and to keep intact the overall shine and glossy impact.
7. Faded Stubble Beard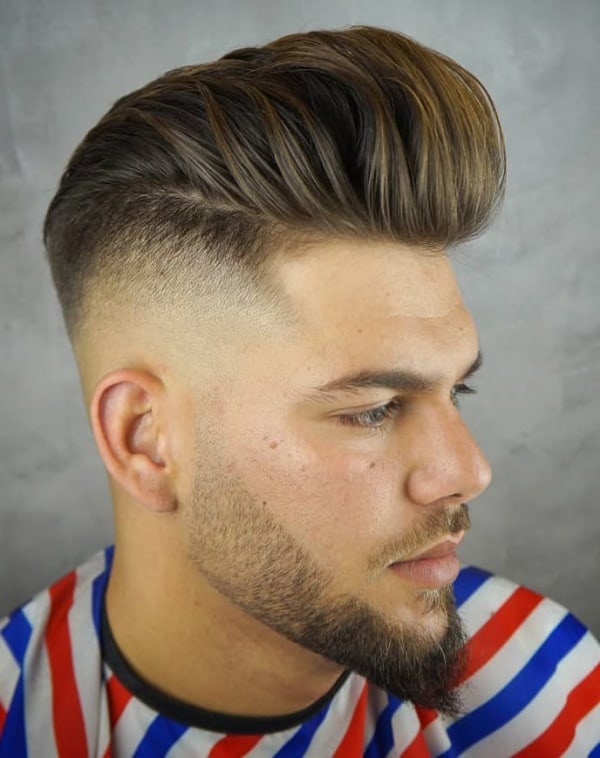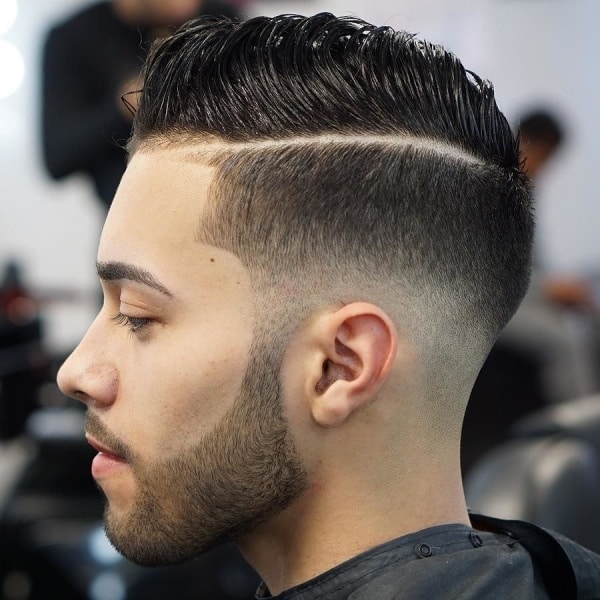 Image Source
People tend to get confused between a stubble and a short-lengthen beard. However, a stubble is somewhat obscure that takes a middle stance between a short beard and being clean-shaven. Yes, even if stubble is like a short beard the decreasing length of the hair doesn't fall off from the skin. This further refers to the fact that means that a stubble enables you to create a well-defined manly look with stubble without budging an inch into the broader territories of a full-length grown beard. A faded stubble beard looks incredible in a man, but remember to do it well and maintain it to flaunt the perfect look with pride.
8. Faded Goatee Beard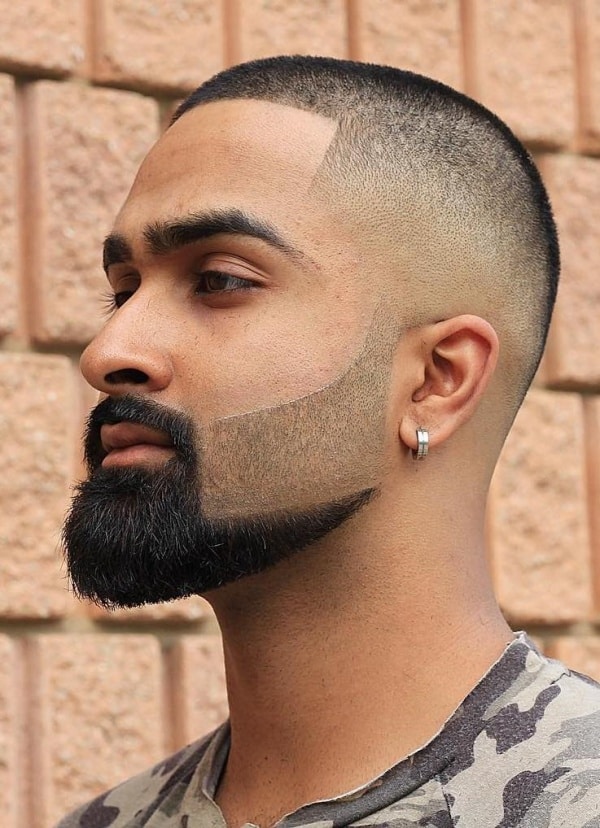 Image Source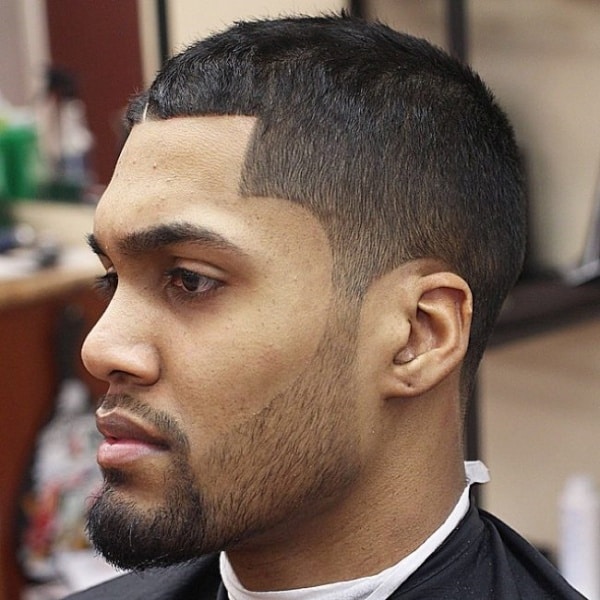 Image Source
Goatee beard style can never be out of fashion and continues to thrive in the scenario by being the trendiest style of all times. The faded beard with a goatee is a fresh and versatile style to pull up the goatee look. Here, the attention is grabbed by the goatee yet the faded beard does its part well. To measure a goatee perfectly, just place your hand under the chin in a way that your fingers can sway from left to right. When you know that you can fit at least two or more than two fingers between the Adam's Apple and your beard, lest be assured that you are all ready to flaunt this style.
9. Undercut Fade with Beard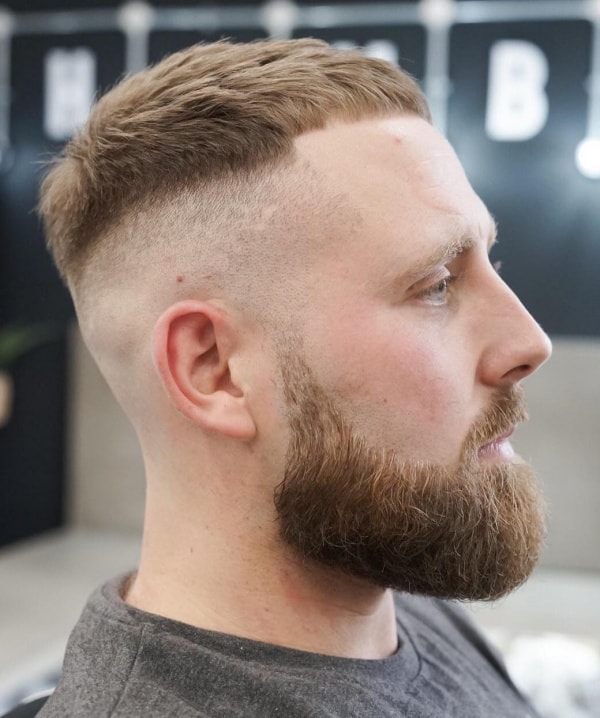 Image Source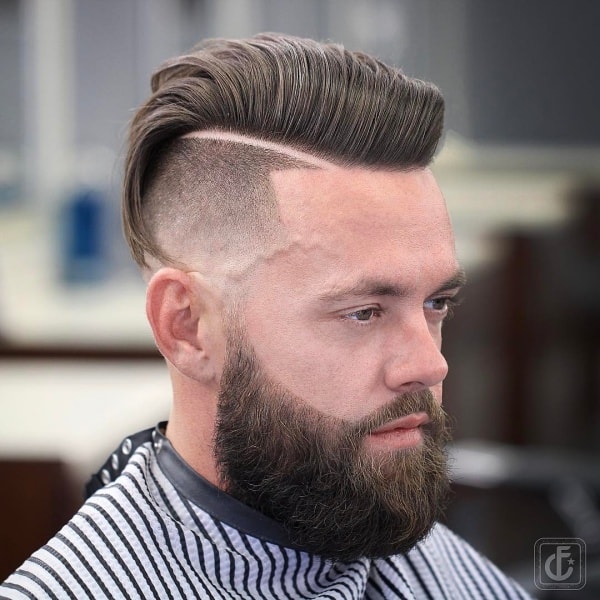 Image Source
A dense beard with an edgy look is anyway one of the greatest signs of masculinity. To top that, this name in the list of faded beard styles is like pinning to create a bold statement. The beard is a great way to enhance the undercut's trim while creating the same pitch between the beard and the cut. Sum up this entire pairing with a fade, that would surely affect it distinctively. It's a kind of rugged thing which might not be a thing to flaunt by all, however, is sure to make the heart skip a beat when donned in the way it demands.
10. Low Taper Fade With Beard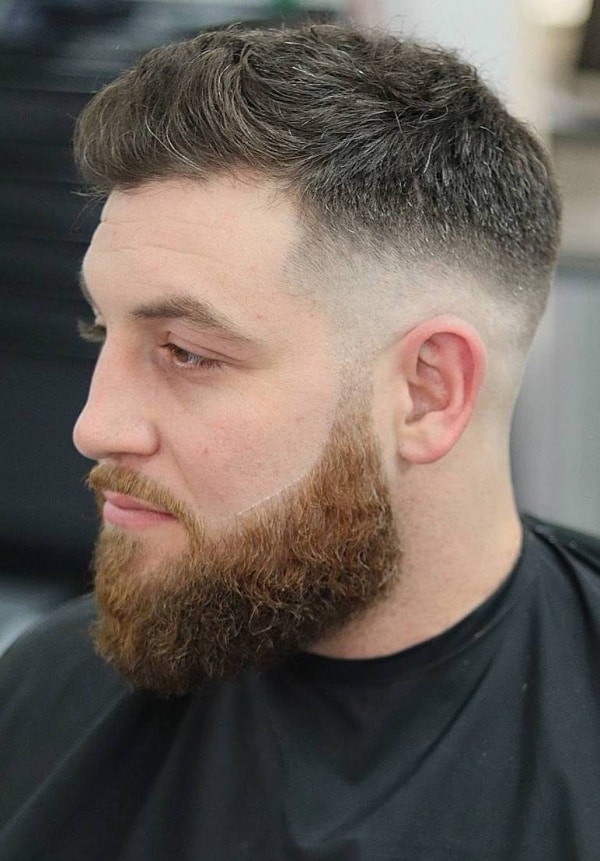 Image Source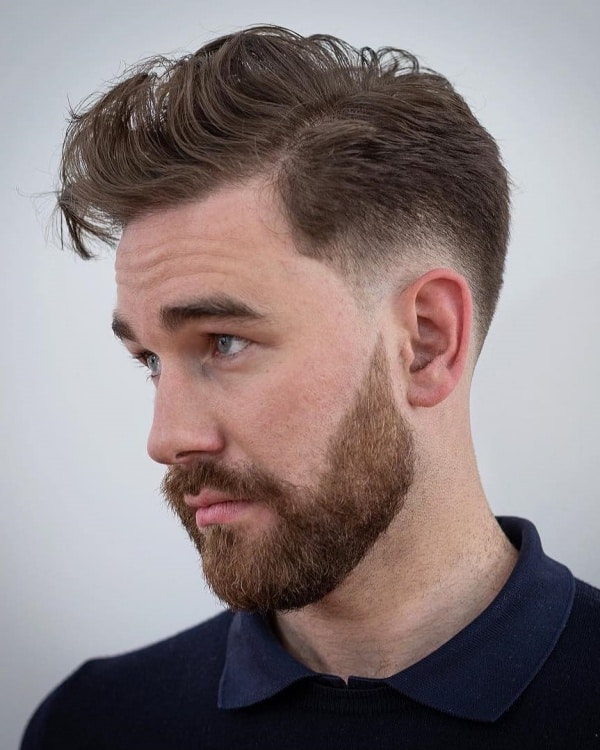 Image Source
For a proper explanation, a low taper fade is a kind of hairdo where the hair gets gradually shorter, after its inception from the lowest level possible which is right above the ears. If you are not very keen on fading the hair very close to the skin on both sides while the scalp gets exposed, this low taper fade is a good alternative. Now, by coupling the tapered fade with a beard, guys might as well opt for a freshly made faded beard that would serve as the unique transition from the already acquainted tapered haircut in low or high length to a full-grown beard.
Related:
11. Faux Hawk Fade With Beard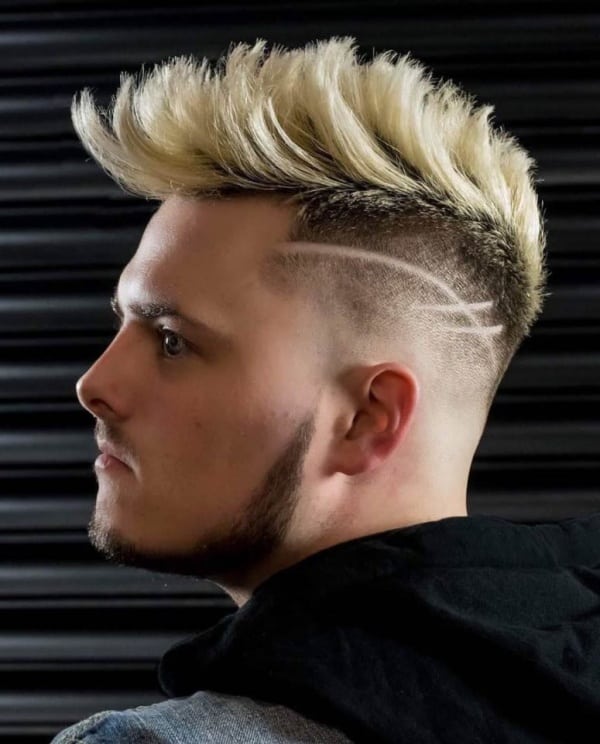 Image Source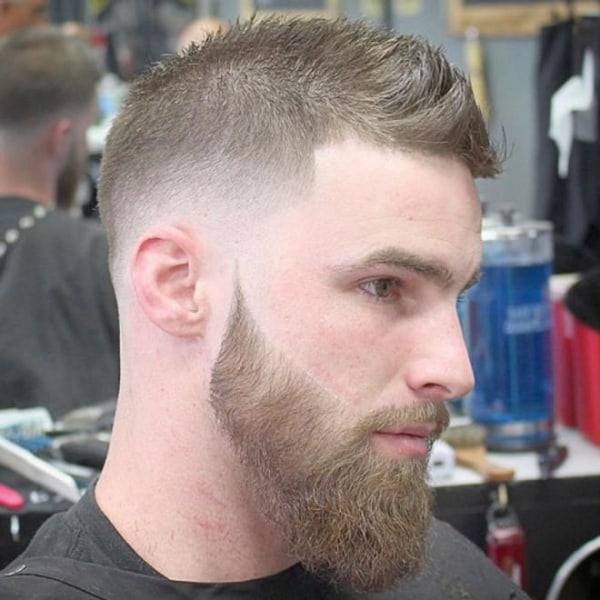 Image Source
To delve deep, the faux hawk hairstyle has recently gained a huge momentum that somewhat reminds us of the Mohawk, however, have comparatively shorter sides and longer hair on the top. This one speaks of style, elegance, yet undermining the wildness with a subtle sense of sophistication. This style with a fade speaks of a complete blend of the hair on both sides of the face. The main trick lies in enhancing the proportions of the cut and to get known to the perfect length that would be in sync with the individual features while making them realize the amount of beard hair that would be in sync with your face.
12. Fade Buzz Cut With Beard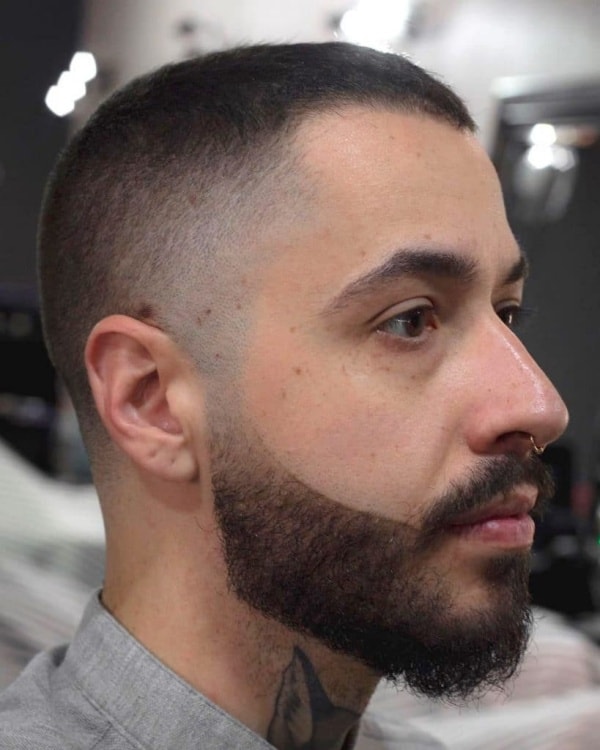 Image Source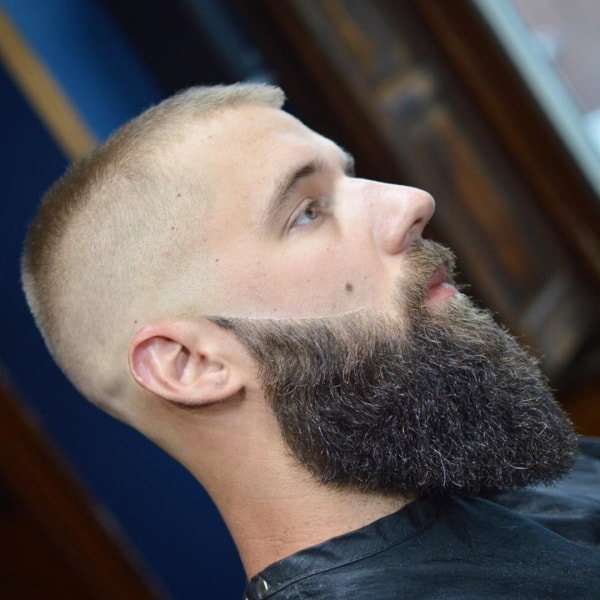 Image Source
This name in the list of faded beard styles for men is the ultimate style that men would love to flaunt. The ultimate style while describing sexy, dense, and edgy, the killer duo of fade buzz with a beard is the epitome of the urban-ultra male. To start this, grow a short beard with a buzz fade by getting your facial hair faded into both sides. Also, if you want to opt for a unique look, a long beard with a thick texture might be quite flattering. In fact, with the proper buzzed haircut and beard, you also can pull off a fresh yet the much-desired rough style that remains unmatched while donning the other styles.
13. Quiff With Fade Beard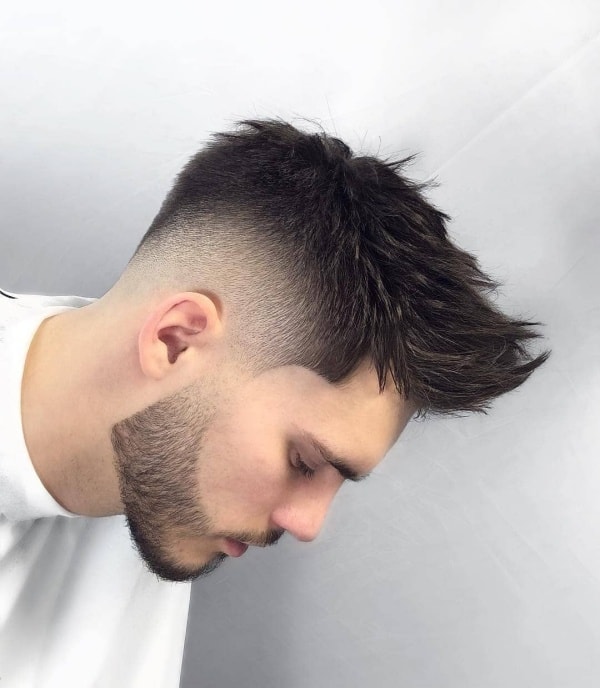 Image Source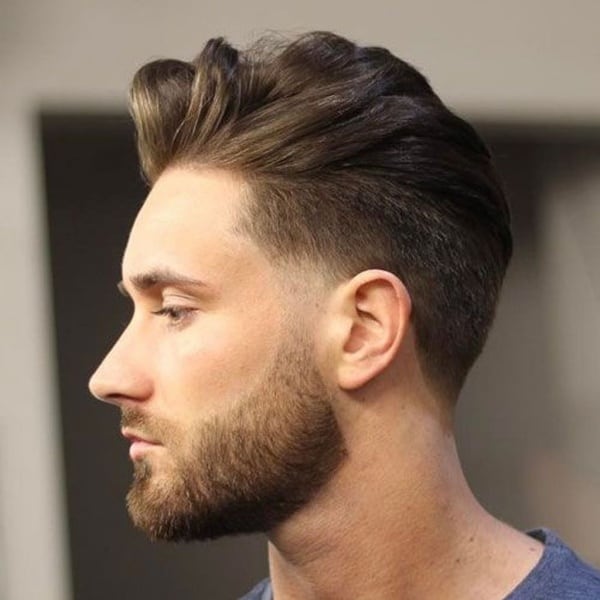 Image Source
The quiff hairstyle for men speaks of immense versatility that works for almost every man. However, the men who are blessed naturally with a rounded face, they look the best. A quiff gets created by first brushing the entire volume of hair forward, before its styling and giving it a wave shape. As a hairstyle, it's sure to steal the show. However, when integrated with a neatly trimmed and well-maintained fade beard, men, lest being sure to be the talk of the town for a considerable period. So, start trimming today.
14. Bald Head with Faded Beard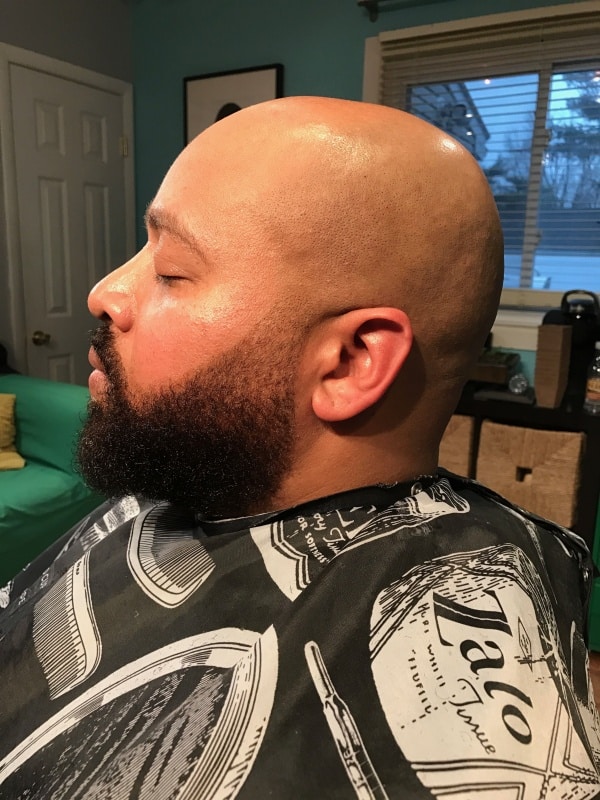 Image Source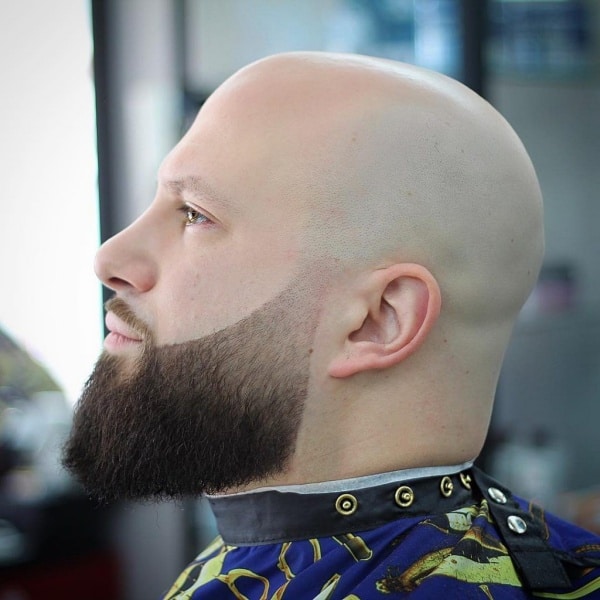 Image Source
Combining a bald head with a faded beard is the best way to make the most use of your sideburns and creating a completely revamped look. This style complements well when the facial hair patch borrows its name from the sideburns that fade smoothly onto the beard, and again this has been used in conglomeration with the short facial hair and trimmed hairstyles. A faded beard when maintained well, always looks nice, and works great as a transition from thick and dense to a bald head.
15. Faded Pointy Beard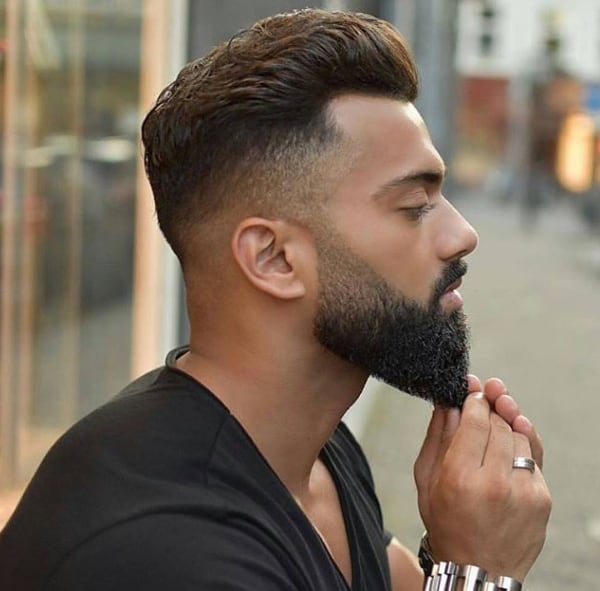 Image Source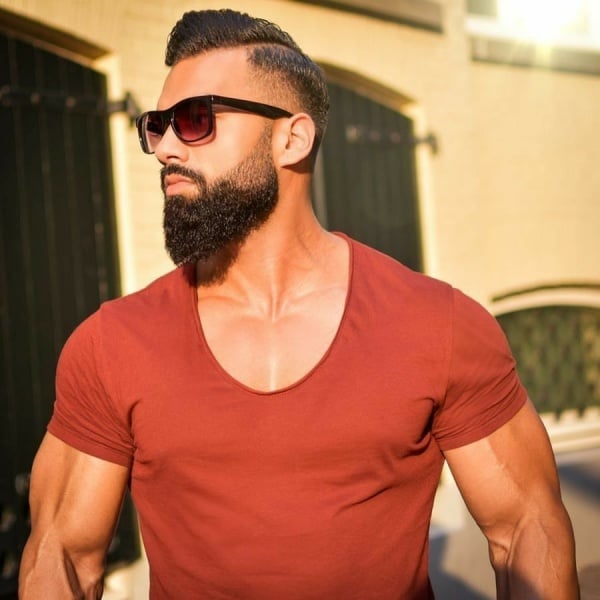 Image Source
Faded beard styles are always versatile and never go out for fashion. A Ducktail beard and a pointed beard might look similar but have also specified their distinctions. For the creation of a pointed beard, try to keep the angles crisp, and instead of making it squared at the chin, trim it towards a certain point. Try to do a diagonal line shifting from the corner of each jaw and then integrate them right below the chin. A faded beard looks a whole lot of aggressive than the known and comparatively gentle egg shape, but that would make any face-cut look elongated, slender, and leaner.
16. Faded Viking Beard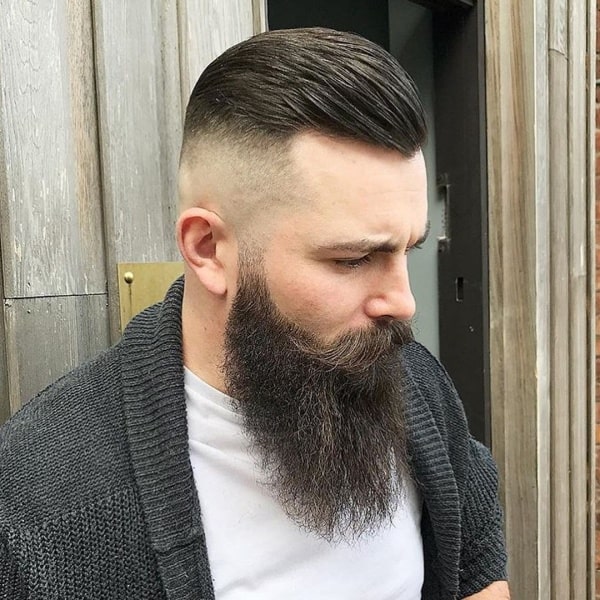 Image Source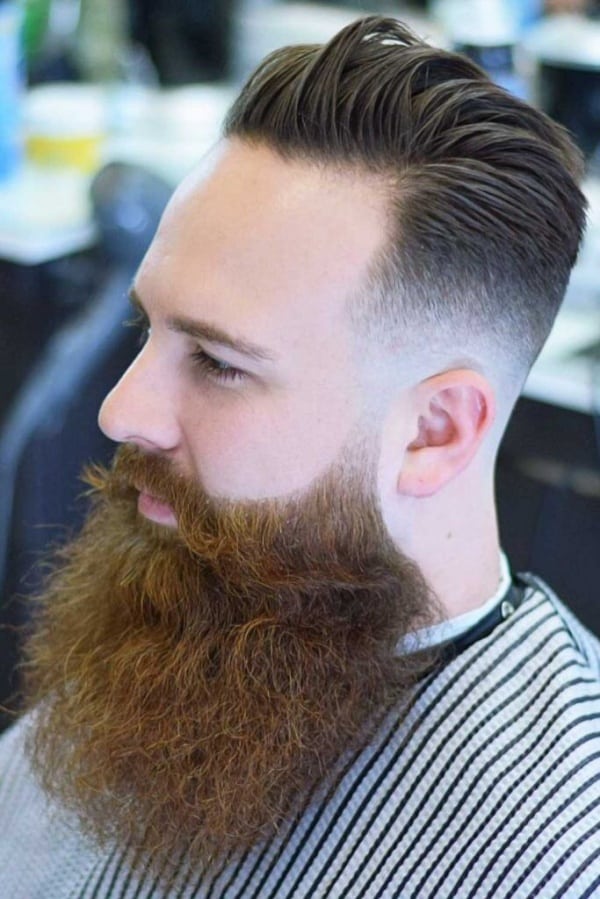 Image Source
Up for something outstanding? If yes, is the answer then you need to try this impeccably awesome due of a bald fade with a Viking beard. People tend to think that a Viking style of beard is difficult in maintenance, but trust me, after bearing all that this killer combo would broadly enhance your best feature. The only thing you need to make sure is that the beard is properly trimmed and shaped in exactly the way you would want to. So, get on the edge and take the plunge. Also, don't forget to flaunt your display picture stating this new style.
17. Full Beard with Fade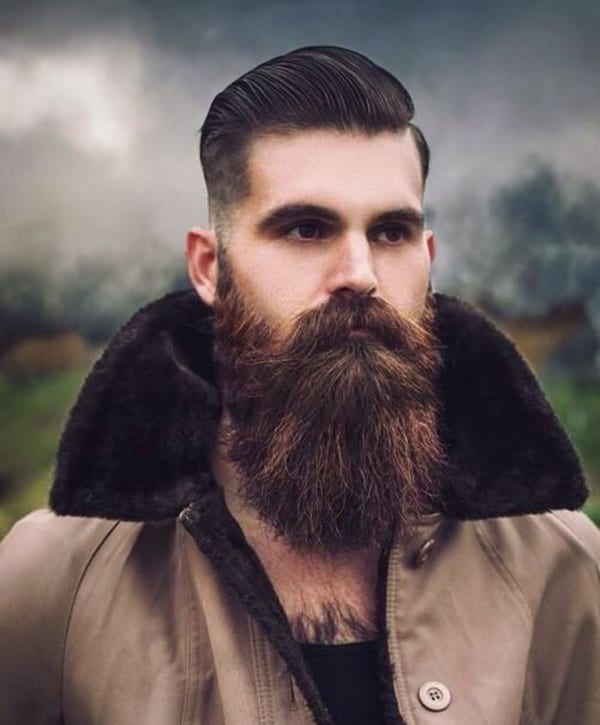 Image Source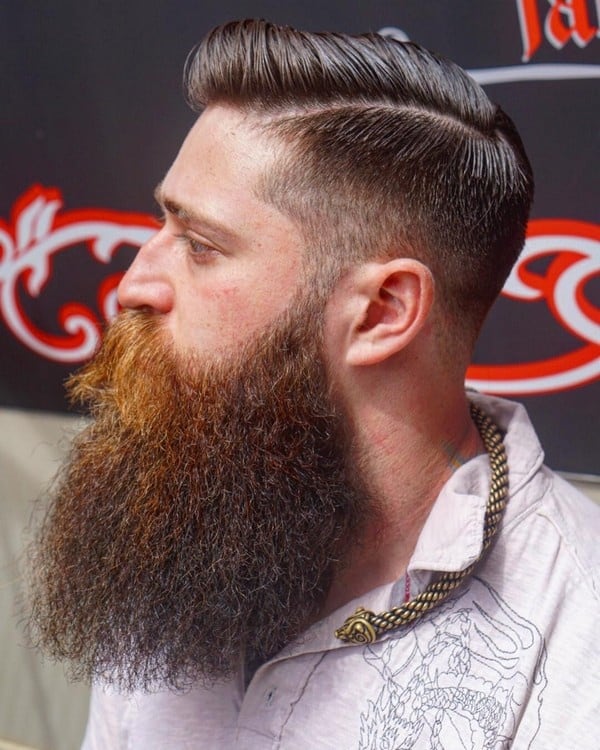 Image Source
Undoubtedly, this full fade beard is one of the coolest styles for men to hit on. With the proper precision and the lining up of a tapered fade coupled with a beard, guys can always look up to for creating a fresh patch of faded beard. This style forms the transition from a low or high tapered haircut to your full-length beard. Again, a good fade would flow properly from the head to the neck.
18. Skin Fade Beard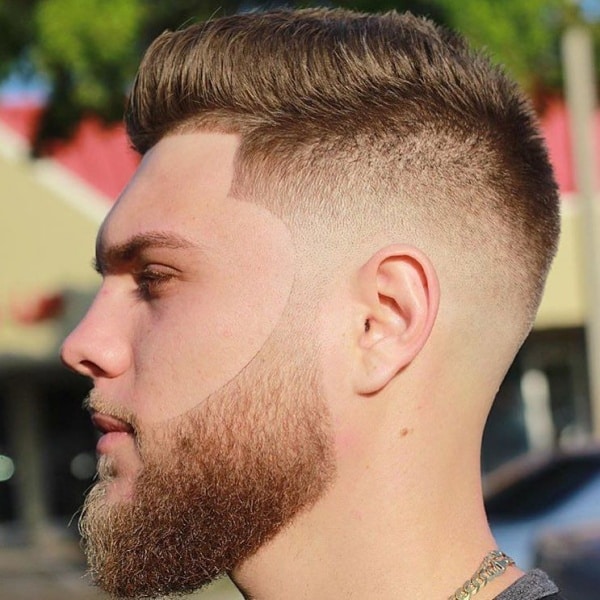 Image Source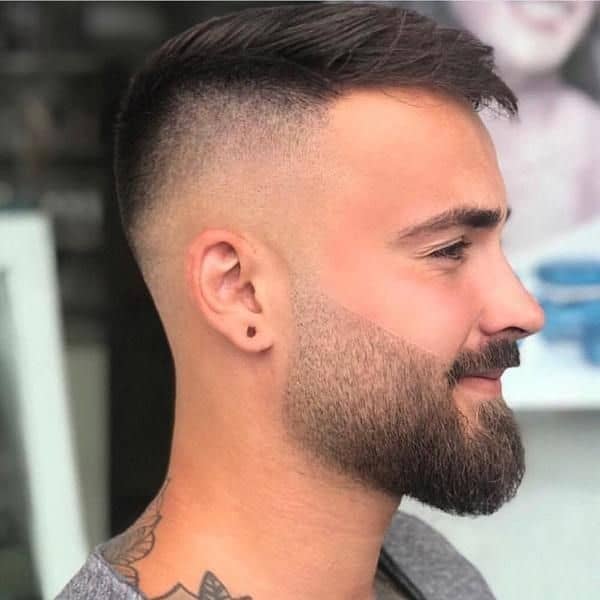 Image Source
By now, all of us are completely aware of the fact that faded beards are one of the coolest styles for men. The contrast and styling texture of this style of beard shape up well. Primarily, highlighting the skin fade on the sides, this entire style creates a modern and sophisticated trendy look that just seems perfect for rough men and hipsters. The primary step states of finishing the first fade and then it is as simple as that to maintain it.
19. Reverse Fade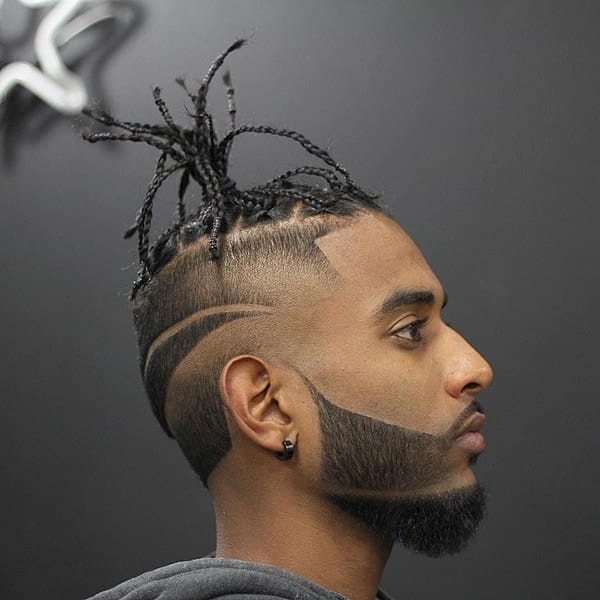 Image Source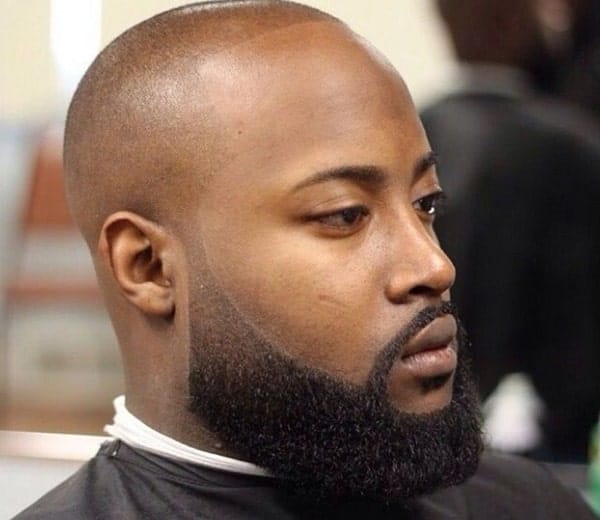 Image Source
Reverse fade is counted amongst the unique faded beard styles. This starts near the chin and ends up close to the ears. This wonderful approach cab simply makes you very smart. This thick beard is groomed to excellence with a clean line right underneath the jaw, the refined arc from the mouth. For an eye-catching appearance, you can make a decision to add a goatee as well as a mustache.
Here We Have: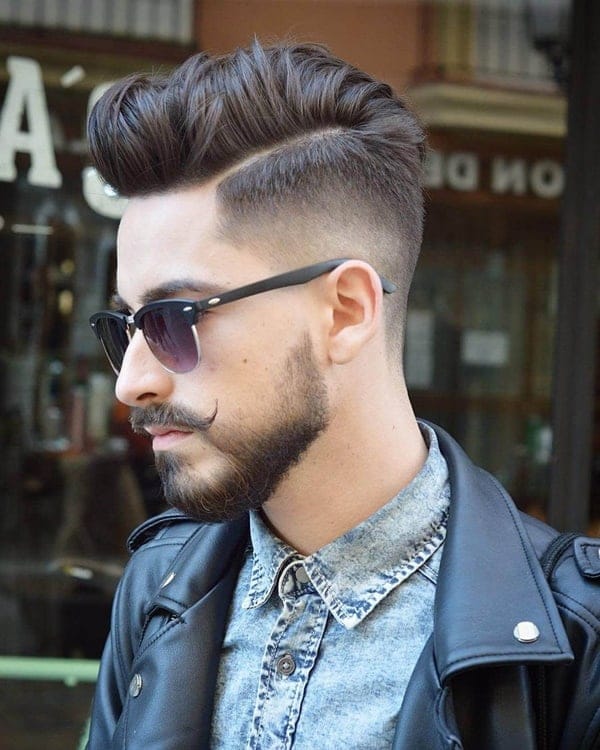 Image Source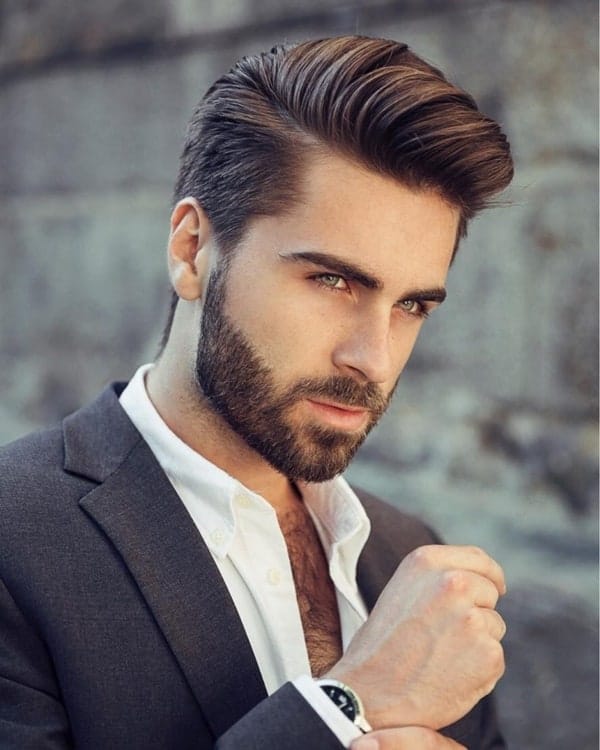 Image Source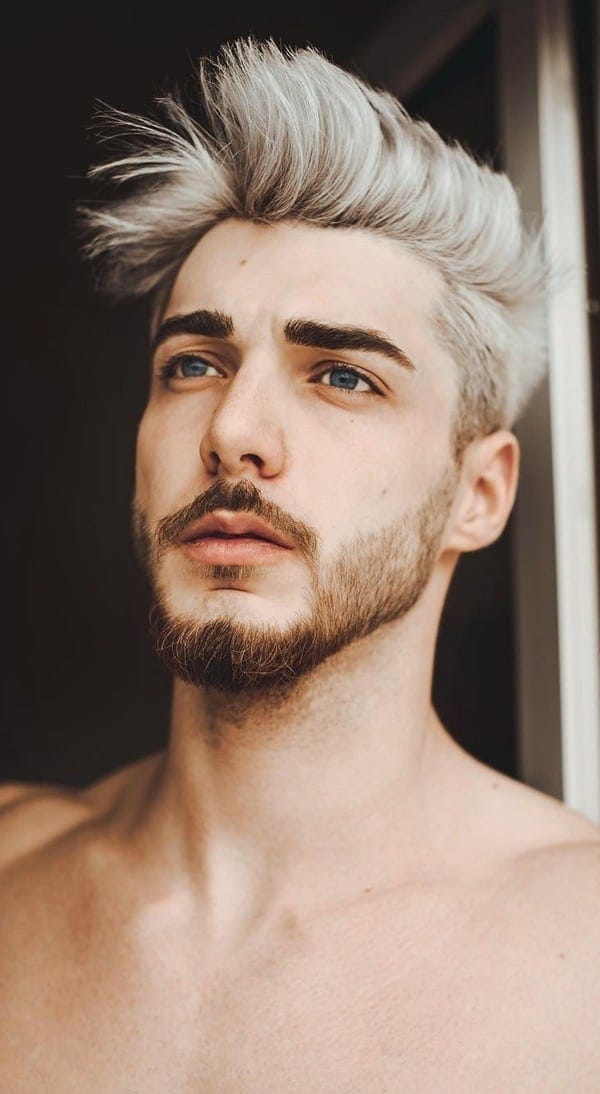 Image Source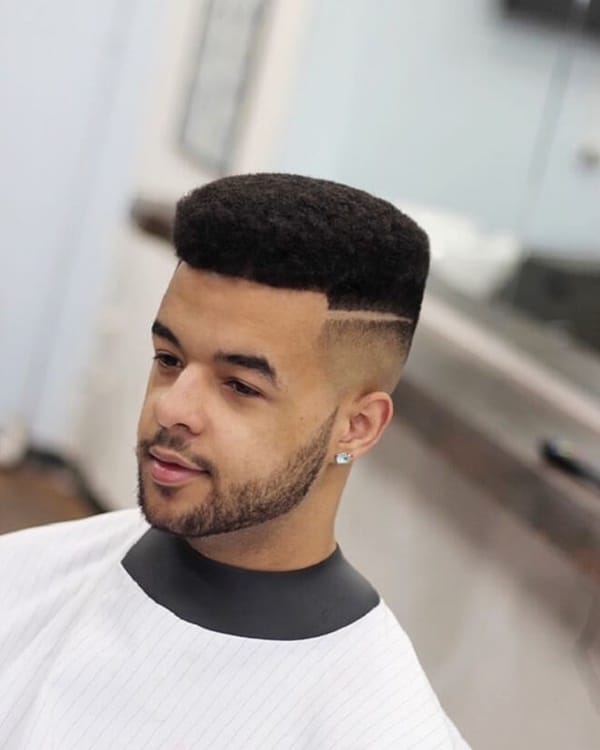 Image Source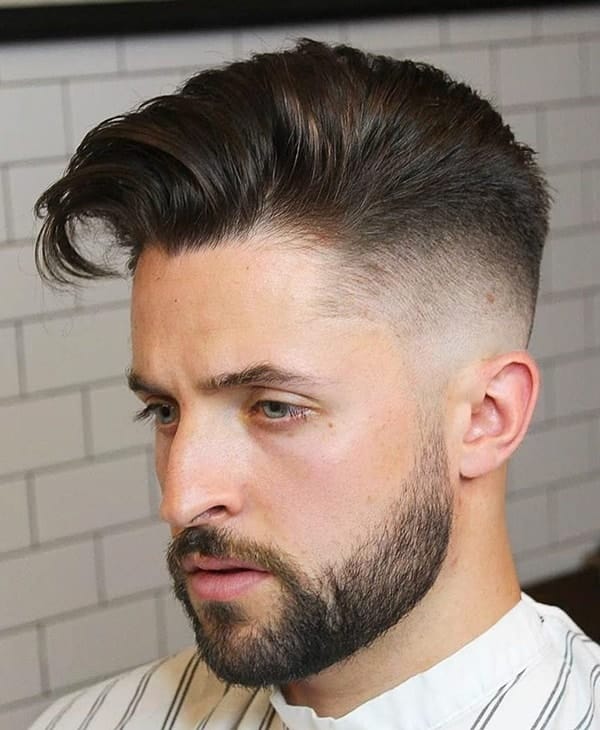 Image Source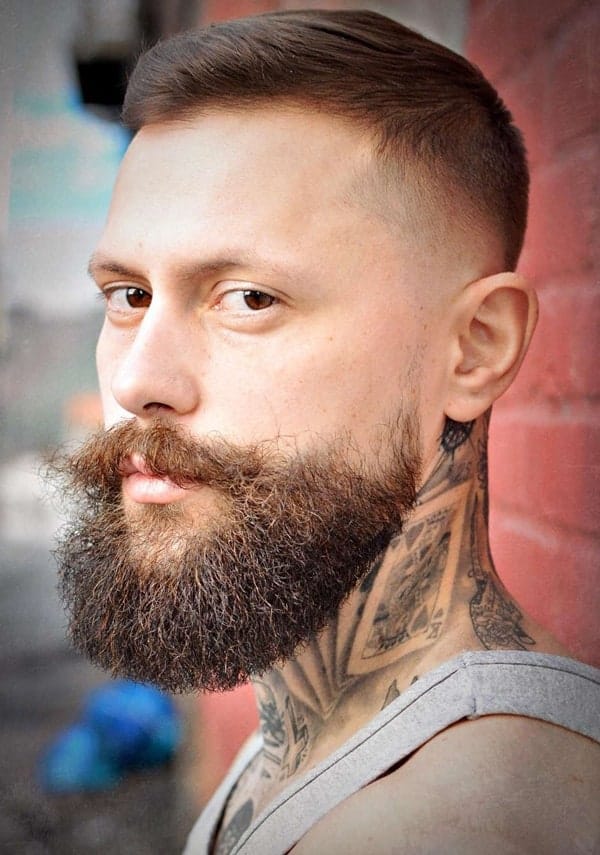 Image Source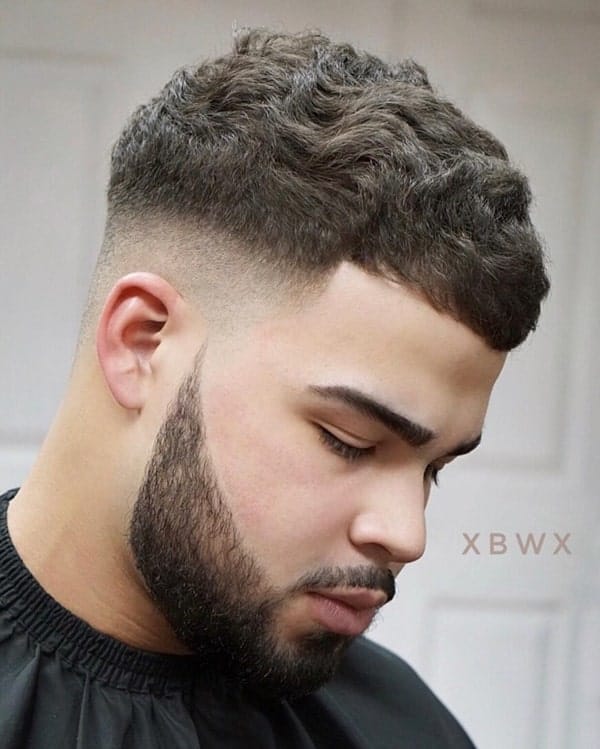 Image Source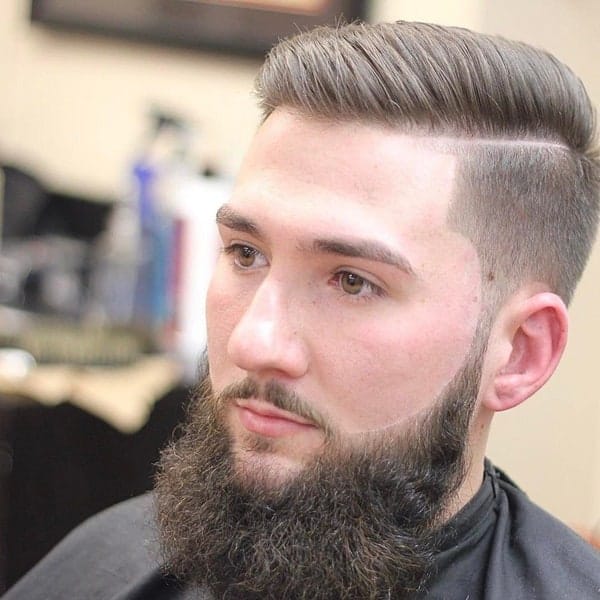 Image Source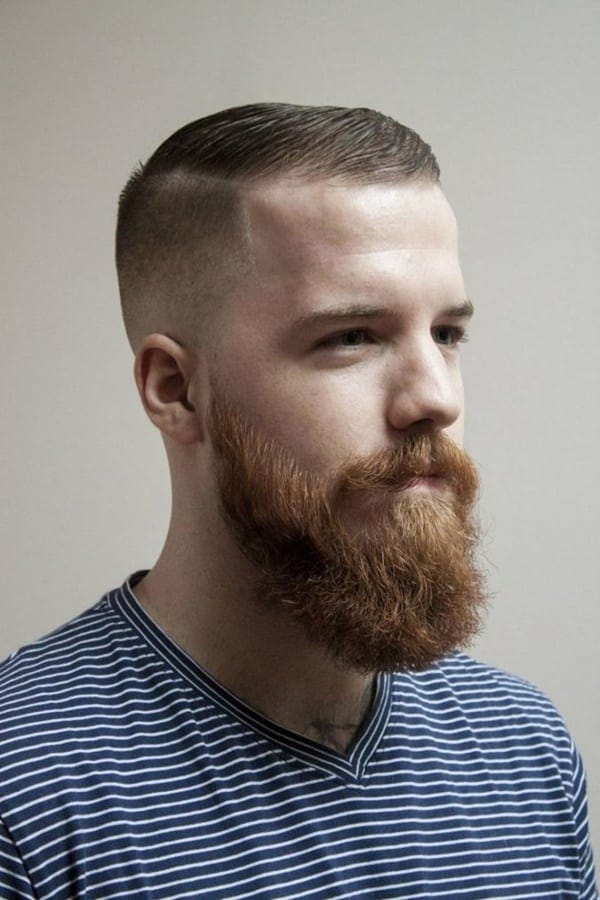 Image Source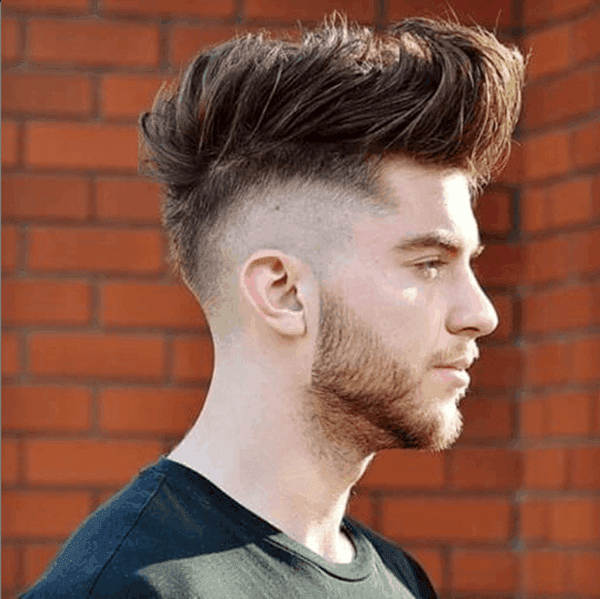 Image Source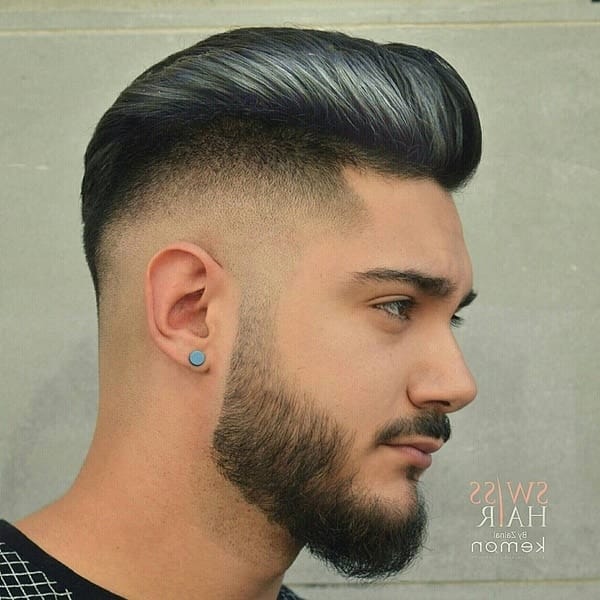 Image Source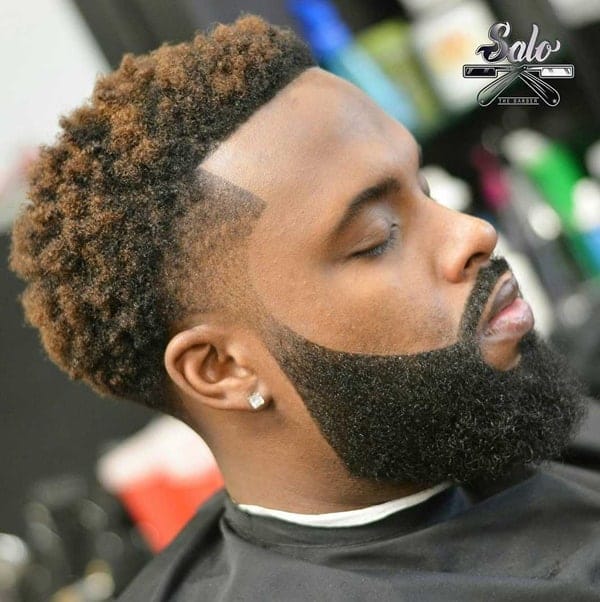 Image Source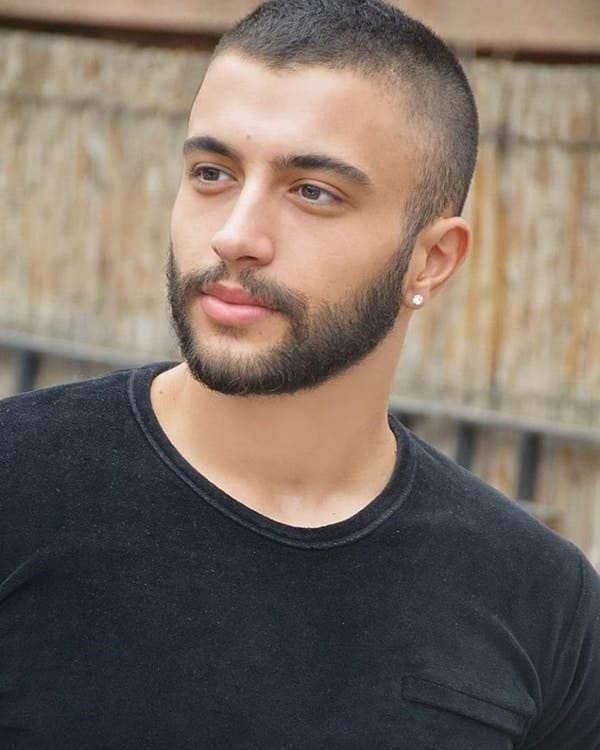 Image Source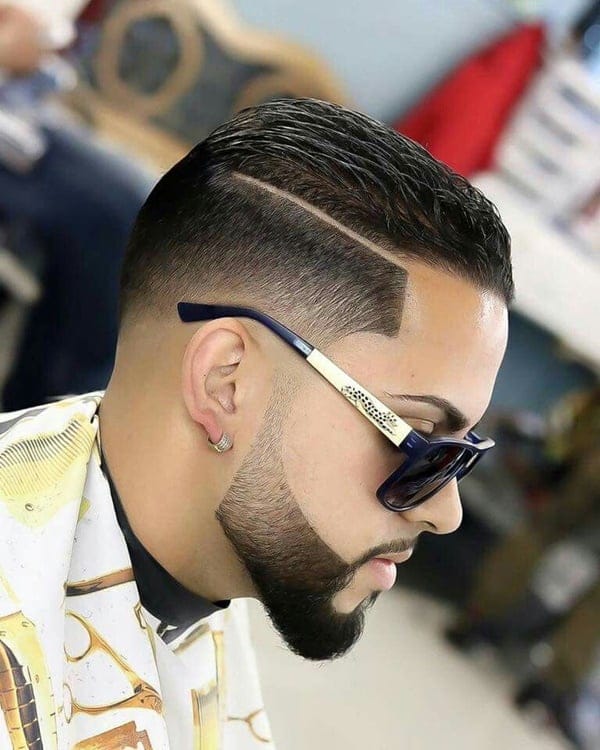 Image Source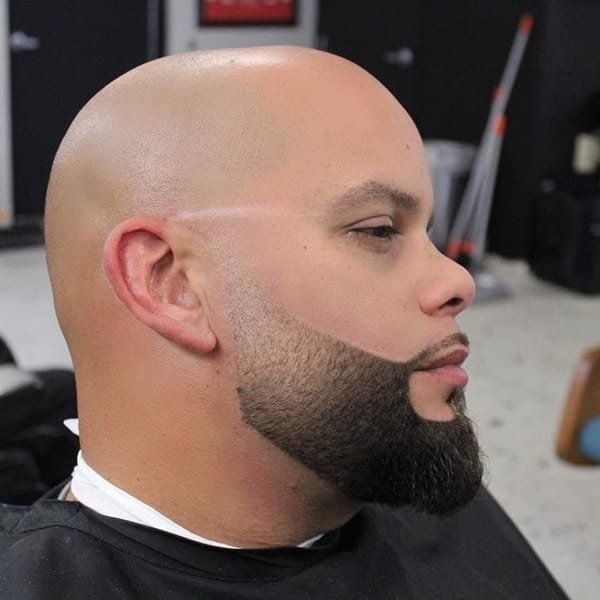 Image Source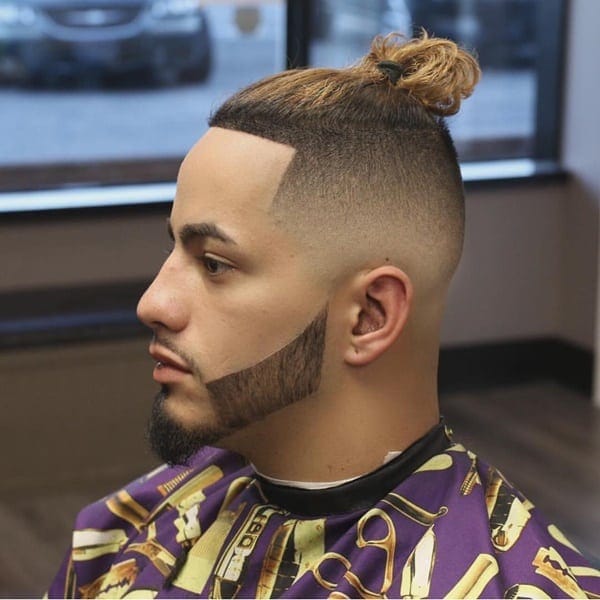 Image Source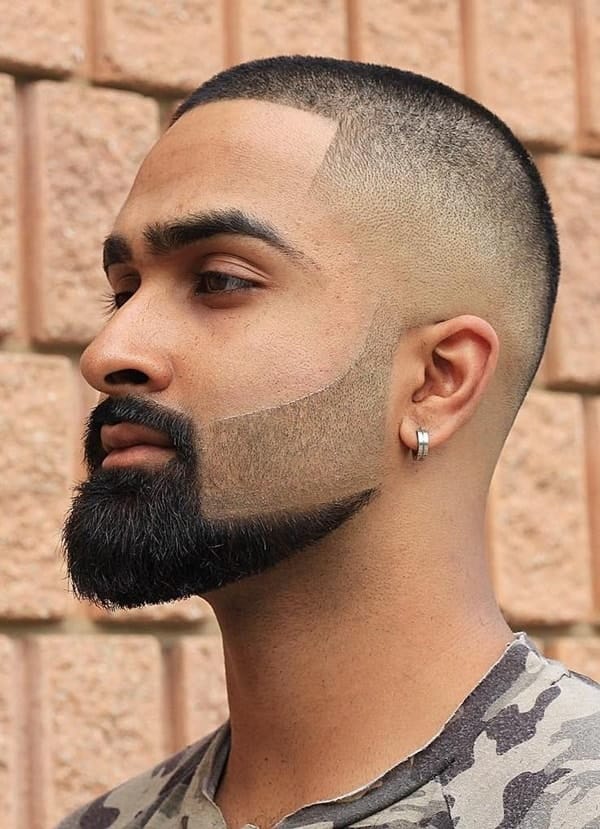 Image Source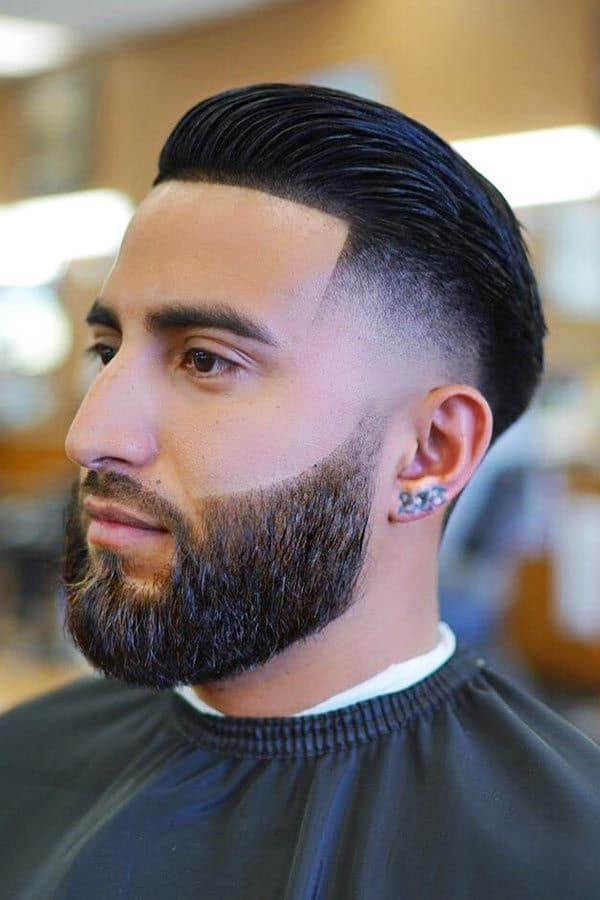 Image Source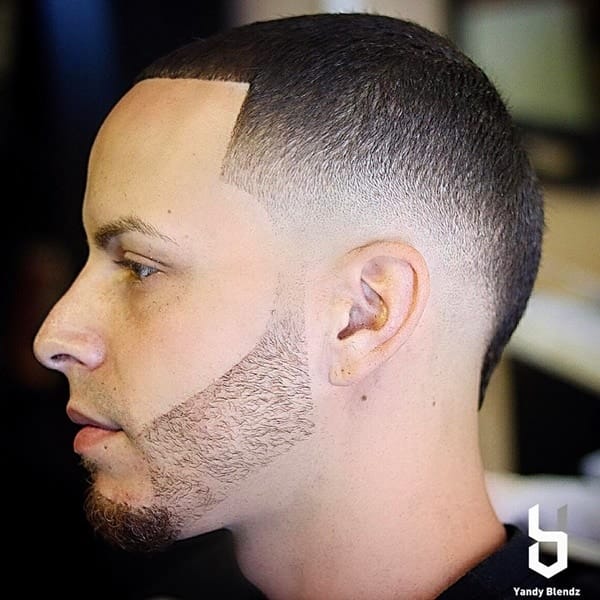 Image Source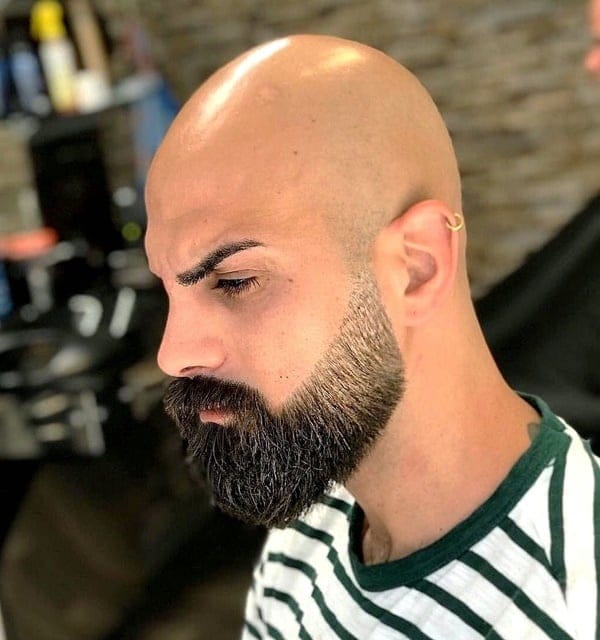 Image Source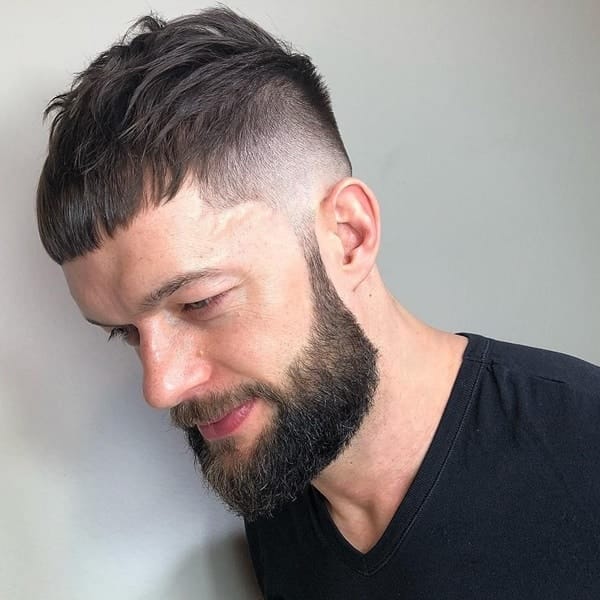 Image Source
The modern art of barbering involves this newly conceived faded beard styles. Undoubtedly, this is an important concept that involves the smooth creation of the transition between various types of hair ranging from differing lengths.
However, all you need is immense time and dedication at a hiatus level. So, before revamping your style, try a revamp of your wellness kit that would include beard oil, comb, moisturizer, and of course unadulterated love for oneself to opt any style which you think would look best on you. So, now that we are all done with the styles, get one done for you as soon as possible.
Sours: https://www.fashionhombre.com/stylish-faded-beard-styles-for-men/
FADED BEARD - BY WILL PEREZ
50 Best Faded Beard Styles for Men Trending Right Now
A faded beard style is becoming more and more popular. There isn't anything complicated about this way to shape your beard. In fact, it looks just like it sounds. The beard fades from thick hair growth to shaved face just like a faded haircut does. The fading approach can make even thick fullest and wildest beard look neat and stylish.
There are many different types of faded beards you can take advantage of depending on your preferences. Men that use up a lot of time growing and styling a full beard and often not ready to cut it in order to achieve neatness. A faded beard style can easily do the trick.
How to Style A Faded Beard
You can make your favorite faded beard style in just a few steps. If you have a trimmer, a clipper, scissors, and a comb, you can start right now. Don't be afraid of overdoing the fading. You practically can't go wrong with these styles. Any width or length of the faded part is allowed.
Your first step is to trim the beard to the length you want it to be. You can skip this step if you have a voluminous beard, which you want to grow longer.
Take a detailing clipper and use it to shape the beard around your lips. Keep the hair short but don't make it extremely short since you have more work to do.
Use the trimmer to make a line from the top of your Adam's apple to the neckline. Make sure to get rid of all the stray hair.
Use a detailing clipper to start clipping from the place under your ear to the line of your cheeks (where the sideburns end). This will be your fading point.
Set your clipper to zero length and place it at the fading point. Slowly move it down for about half an inch. Then switch the lever to 0.5 and go down again. This is the fading process.
You can continue the fading process as low as you wish (you can get some ideas from the list below).
Use a razor to shape up the beard and get rid of all the unnecessary hair around it.
Make sure to apply some aftershave lotion to the area where you actually did some shaving.
Faded Beard Styles
Depending on how much time you have to take care of your beard on a regular basis, you can choose among a certain number of faded beard styles. Don't be afraid to experiment with fading. You can go from a faded soul patch to a goatee and end up with a striking full faded beard. The more fading you use, the less hair gets into your way.
However, a lot of fading means plenty of care. If you are a lucky owner of a beard, you know all too well about the care hassle so a fading style is not something you are afraid of.
1. Low Beard Fade
Short beards often look good with a low beard fade. These fades typically end at the bottom of the ear and make sense with full, yet short beards. This look is easy to achieve and even easier to maintain. A low fade helps to open up your look and show off cheekbones.
2. Fade For Balding Hair
Incorporating a faded beard look for man with balding hair is surprisingly easy. Fades are great for balding fellows because the technique disguises hair loss and makes it look almost intentional. Try for a loosely tapered fade beard style.
3. Curly Beard Fade
A beard fade for black man is the perfect way to keep your look groomed without having to sacrifice gorgeous curly texture. Create a high fade at the ear if your hair is short and shape beard to a point at the chin for style.
4. Short Beard Fade
This technique is perfect for a short beard fade. It works especially well in conjunction with a faded hairstyle to really help open up your look. This medium fade is simple and easy, even if your beard is patchy.
5. Medium Shadow Fade
Just as the name suggests, a shadow faded beard blends slowly from full hair at the chin to a bald fade at the ear. Though this look is considered a medium fade, shadow fades can be low or high and can be done on the scalp as well.
6. Full Beard Fade
A full beard fade is for the fellow who is serious about his grown out and well-groomed beard. Fades focus the attention on your luscious beard and can be either low, medium, or high. For a clean, sharp look, give hair a high fade as well.
7. Beard Fade Into Hair
One look you definitely want to avoid is a sudden contrast between your hair fade and a full beard. A beard fade into hair creates a gradual fade on both the hair and the beard with your ear as the center of the action.
8. Low Shadow Into Goatee Beard
Shadow beards are awesome at giving the illusion of a beard when in fact, you're working with pretty much a goatee. This look will keep you on trend and let you work with the smaller, more manageable portion of beard that you desire.
9. Fade For Long Beard
We often see fades on shorter beards, but a long beard fade makes for a great style, too. Create a fade on both your beard and smooth, coiffed hair to let their length and height balance each other out.
10. Tapered Fade
The beloved tapered beard fade style is an approachable way to rock a fade style. It involves a gradual fading of hair as you move from the chin up to the ear. We love it for guys with patchy beards or pale fellows who have a hard time maintaining a shadow.
11. Medium Faded Beard
The main advantage of this beard is the contrast it makes with the rest of the face. A shaved or faded hairstyle is the best fit for a formidable and faded beard. The faded beard starts below the ears and slowly turns full.
Different Faded Haircuts for Men
12. Slight fade
This is another faded beard, which "hooks up" to the faded hairstyle. Keeping the hair on top of your head and the hair on your chin about the same length is a smart way to create a striking appearance.
13. Low Fade
This is a smart low goatee fade which looks truly fantastic but can give you some few hard minutes in front of the mirror. The most beautiful and impressive faded beard styles are usually the hardest to achieve.
14. Wide faded strap
A wide faded strap is a smart way to get a beard without actually growing one. You need to grow some hair in the beginning and then keep it neat and faded on the daily or weekly basis depending on your favorite length.
Chinstrap Beard Styles for Men
15. Layered fade
A layered beard fade can look truly amazing if you have thick enough hair to create visible layers. Men with dark beards can achieve the result easier than men with lighter hair. The contrast is awesome!
16. Shaped up fade
Shaped up faded beard styles usually look very impressive regardless of the length of the beard. So be it a chin curtain or even a soul patch, the shaped up form can save the day. However, it can take some time to create.
17. High Fade
High beard fade starts at the ear height. It looks great when coupled with a high taper fade on your head. However, it can be amazing all on its own. No matter how short the starting point is, the fade itself can be as long as you wish.
18. Slight fade
For all the lazy bearded guys out there, this slight fade can give some shape to your beard without too much hassle. The goal is to shape up the sideburns and make a line between the head hair and the facial hair.
19. Chin curtain
A faded beard style can be very easy if you have a chin curtain. All you have to bother about is the way the sideburns look. Whatever goes down the chain is easy to style any way you like. The bottom should be trimmed not to appear too long.
Best Short Facial Hairstyles
20. Neck hair
Even the most stylish faded beard can fade against the messy neck hair background. Make sure to keep the faded beard neat. Otherwise, it simply loses its charm. Take some time to shave the neck hair and shape up the beard.
21. Bottom fade
A neat stubble can be the first step to a bottom fade. You have to keep the hair on your face neat and short while allowing the hair on your chin to grow. In a few weeks, you can get a great faded beard style.
22. Ear fade
This is another lazy guy fade that makes the beard look fuller without too much hassle. The name comes from the place the fade is actually starting and pretty much ending. A small shaved space is enough to make a style.
23. Prominence
If you have a huge and prominent beard, consider a little fading on top to shape it. A fade is a simple way to give your beard a new look without trimming away the length. Give it a try!
24. Mixed fade
The impression of this fade comes from the faded hairstyle. The shaved layer on the head makes the sideburns and the beard look prominent. The next step would be growing a few inches of beard length to make the contrast even more striking.
25. Disappearing fade
Shaving the area to separate the hair on your head and your beard is a great way to achieve an impressive faded beard style. Go on to experiment with the length of the hair on your head and face to create real masterpieces.
26. Top layer
We are used to seeing the hair fade from top to bottom but what about a lateral fade? See how the layer on top is very short compared to the rest of the beard. Such neat shaping can be done by a professional barber.
27. Slow fading
Slow fading is a great way to make a stylish modern hairstyle and complement it with a new faded beard style. The drop fade on the back and the simple fade on the front can make you look fabulous!
Stubble Beard Styles
28. Detachable beard
A neat fade makes the hair on your head slowly turn into the hair on your face. However, you can go for a detachable look as you see in the photo. Then you can proceed with fading the beard any way you like.
29. High and special
Once you get a good hang of the fade making, you can go on to all types of experiments. You can make lateral and vertical fades or mix the two. You can get some inspiration from this photo. This one is easy to make for a professional.
30. Patchy fading
Patchy fading might look a little messy, but it's actually quite hard to achieve. Instead of working with clippers and trimmers, you need to create a partial scissors fade, which can take some time and effort.
31. Goatee stubble
A shaped up stubble ending in a goatee is a great way to style your facial hair. You don't need to wait too long for such beard style to grow. However, you need to maintain it on a regular basis so it doesn't lose the shape.
32. Pointed fade
This fade is not obvious since it's connected to the taper fade on top of the head. However, the connection point between the two is a slight pointy bridge that makes the overall hairstyle look fantastic.
33. Geometry
When you create faded beard styles, you might want to play around with the shape of your facial hair. This style is accessible to men who have thick hair that grows uniformly. You can make geometrical shapes and other designs.
34. Contrast fade
When you have a full beard a contrast fade is very easy to achieve. You can work with just one small area of your sideburns to create a certain neatness that can smooth down the whole wild beard appearance.
35. Scissors fade
A scissors fade is a beard style which is not easy to achieve on your own. However, the results are truly impressive. You don't use the trimmer or the clippers to create this style. It's done solely with the scissors.
36. Fade it up
Making the taper fade hairstyle as high as possible allows you to outline your beard. The less hair you have on the top, the more hair seems to appear on the bottom. Even if you have a stubble, the right haircut can make it look prominent.
37. Neat fade
Full and impressive beards are often hard to keep looking neat. Sometimes, men give up on full beard styles and give their facial hair a short cut. However, a neat fade can save the day and make even the fullest beard appear tidy.
38. Soft transition
The soft transition of a taper fade to a fade beard style is imperative to making the overall impression neat and solid. You might even need to use a ruler to create a perfect symmetry to help you achieve the goal.
39. Low scissors fade
A low scissors fade looks especially well when you keep the rest of the hair shaved. Allowing stray hair to grow on your cheeks or the neck can undermine the overall appearance. Neatness is the key to a great beard style.
40. Lazy option
While there is nothing lazy about trimming a beard, you can cut yourself some slack when you are doing the fade. You can just follow the outline your hairstylist made when you were getting a taper fade and not go too low.
41. Around the ears
The link between the hairstyle and faded beard style is a great opportunity to play around. You can make it run as far or close to the ears as the hair on your face allows. Make it a little farther away for a special look.
42. Reverse fade
This reverse fade starts near the chin and ends near the ears. This smart approach can easily make you stand out of the crowd. If you decide to add a goatee and a mustache, the appearance can be stunning.
43. Cool fade
There isn't anything complicated about creating a cool fade. All you have to do is make your beard appear more prominent by the right shaping. It makes sense to go to the barber shop if you are trying this for the first time.
44. A wide style
Making the hair on the cheeks wider than the thick patch on your chin is a great way to make an impression. It feels as if you have two facial hairstyles. One of them is a faded beard style while another is a special goatee.
45. Thin fade
If you have thin facial hair, it's hard to create an impressive fade style. However, you can try by outlining the difference between a shag and your sideburns. Thick hair on top makes a good contrast to the thin hair on the bottom.
46. Involve the mustache
Create a smart faded beard style by involving the mustache into the process. The mustache can be the top part of your fade while whatever is below is longer and more voluminous. Look how interesting this style is.
47. Layered fade
A layered scissors fade is the hardest to achieve but it looks spectacular. The top and the bottom layers of the beard is cut shorter than the middle part. This move shapes the beard and makes it look fuller.
48. No fade
If your hair is not too thick, you can leave the fading to the hairstylist. Ask the hairdresser to create a taper fade on your head and leave some space between the hairline and sideburns to give the beard a neater appearance.
49. Classic fade
The classic faded beard style should have you dealing with just the top part of your beard. The rest of the facial hair should be styled as usual. Even a small faded layer on top can give your beard a special look.
50. Creative fade
When you are dealing with a full beard, the classic fade might not be the best idea. However, you can get creative and make a fade wherever you see fit. Just make sure to detach the beard from the hairstyle.
These faded beard styles are just the first step on the road to interesting facial hair styling. You can easily achieve most of these on your own if you have the right tools. Whatever size beard you have, you can enjoy a beard fade.
Sours: https://hairstylecamp.com/faded-beard-styles/
Beard styles faded short
The beard fade is exactly what it sounds like, a fade in-between hair and facial hair. The fade occurs on both sides, up into the hairstyle and down into the beard. This distinction draws focus on both. For guys with patchy areas, a fade at the cheeks can even things out. And of course, a beard fade looks great with a shaved head.
The beard fade brings together two massive men's hair trends – the fade and the beard – into one cool and clean-cut look. Or instead of calling it a beard fade, it can also be considered as a fade haircut with a beard. Any type of fade, length of beard, and men's hairstyle can be combined into your own faded beard style.
Make the most of your beard fade with healthy facial hair. Use a beard oil after washing for moisture and conditioning. Long beards can also benefit from using a beard balm that softens, conditions, and holds facial hair. A faded beard is best executed by the professionals but general beard maintenance and trimming are easy to do at home. Focus on keeping the cheeks and neck below the beard line clean.
Here are just a few of the ways to wear beard fades. Keep reading for 27 more.
1. Types of Beard Fades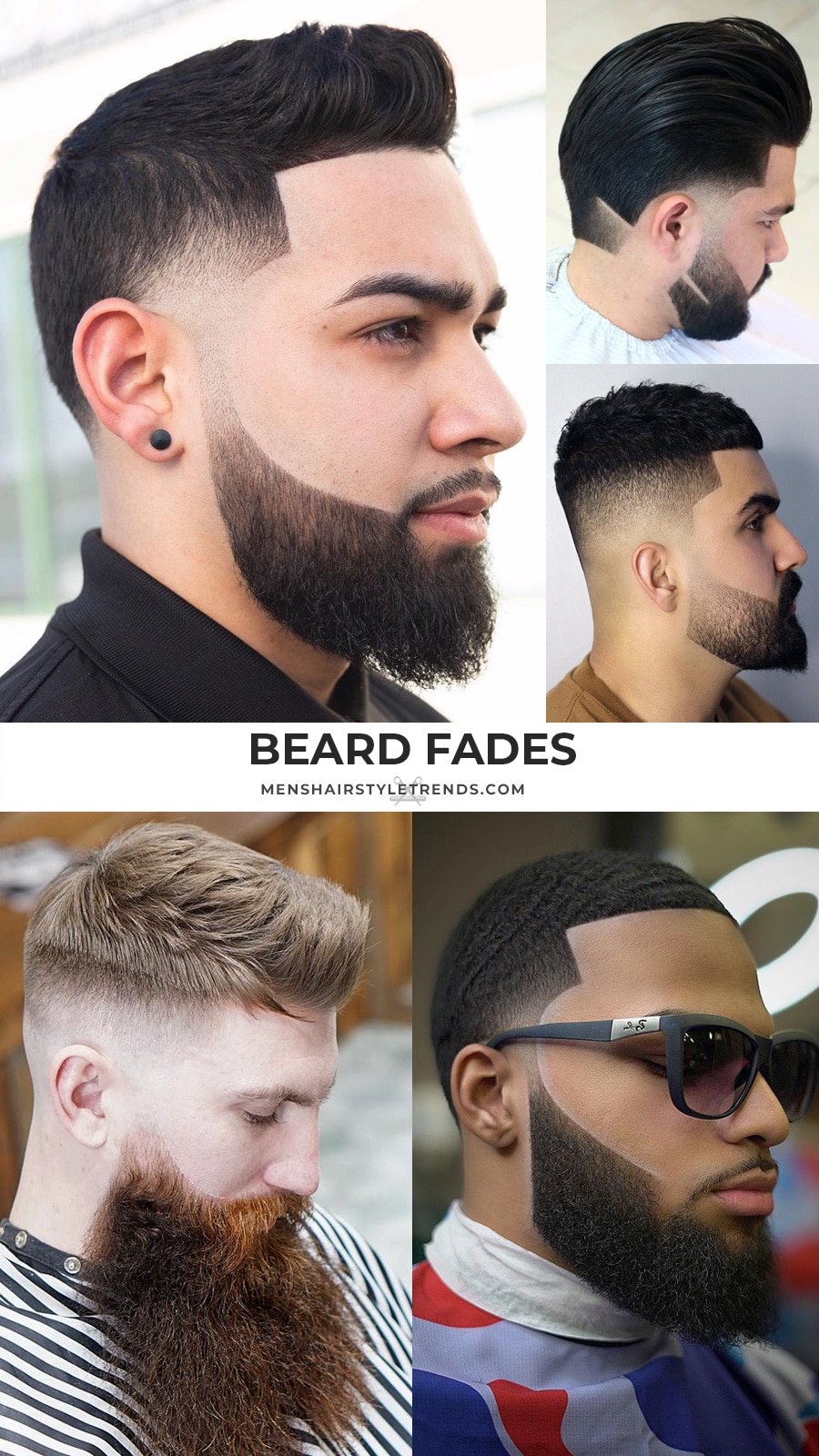 2. Fade Hairstyle + Shaped Beard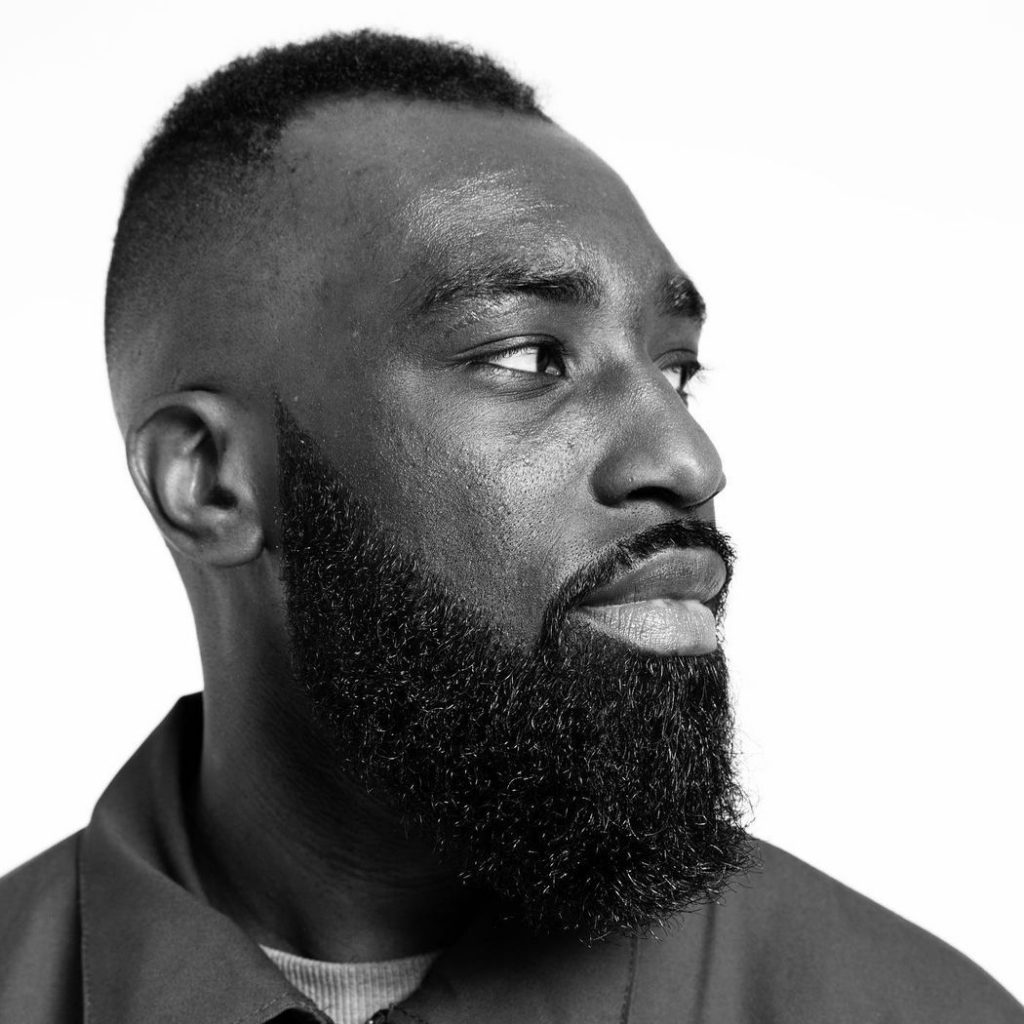 This is a fade haircut with a beard but not a beard fade. Instead of a blur, this full beard tapers up into a point at the temples. It looks great too but works best with thick facial hair.
3. Faded Beard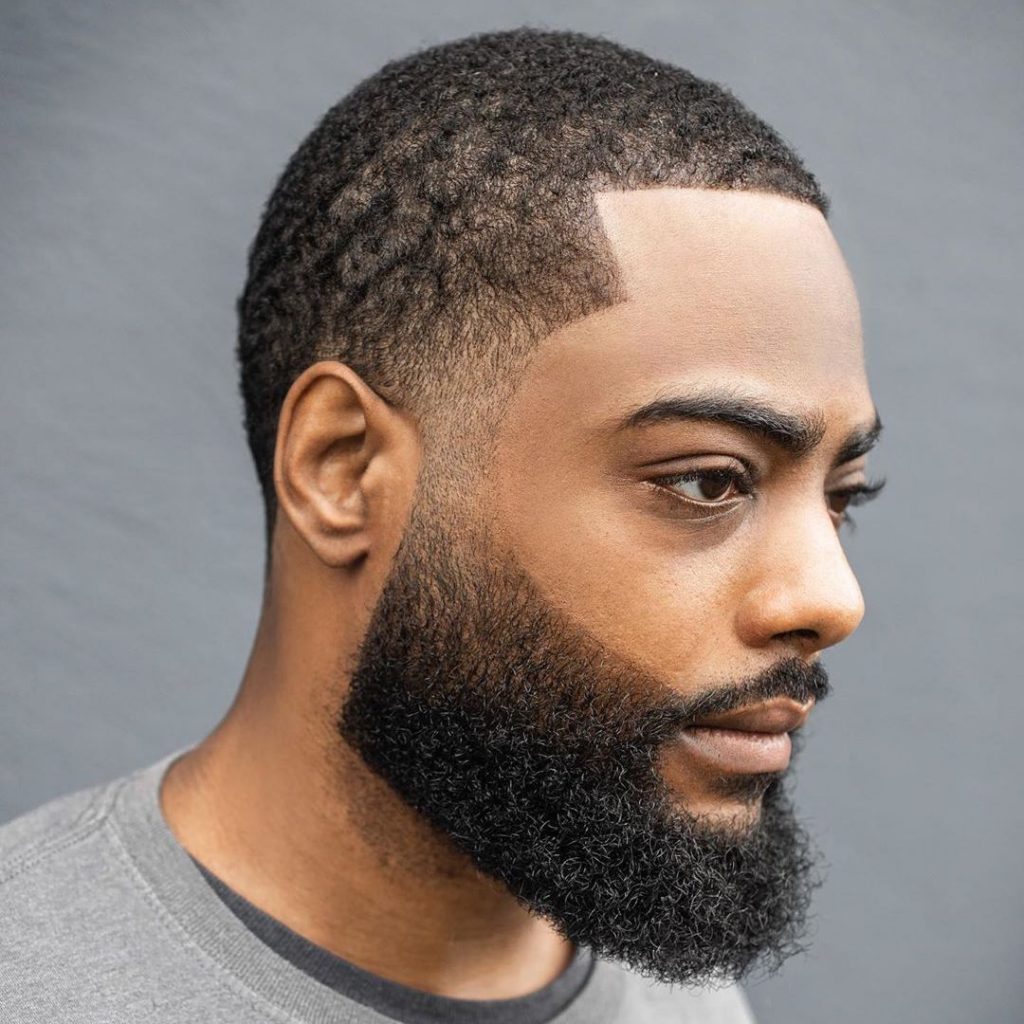 Wear long hair with a short beard or short hair with a full beard, like above. In this precision cut, the line up seamlessly continues into the shape of the beard.
4. Skin Fade + Beard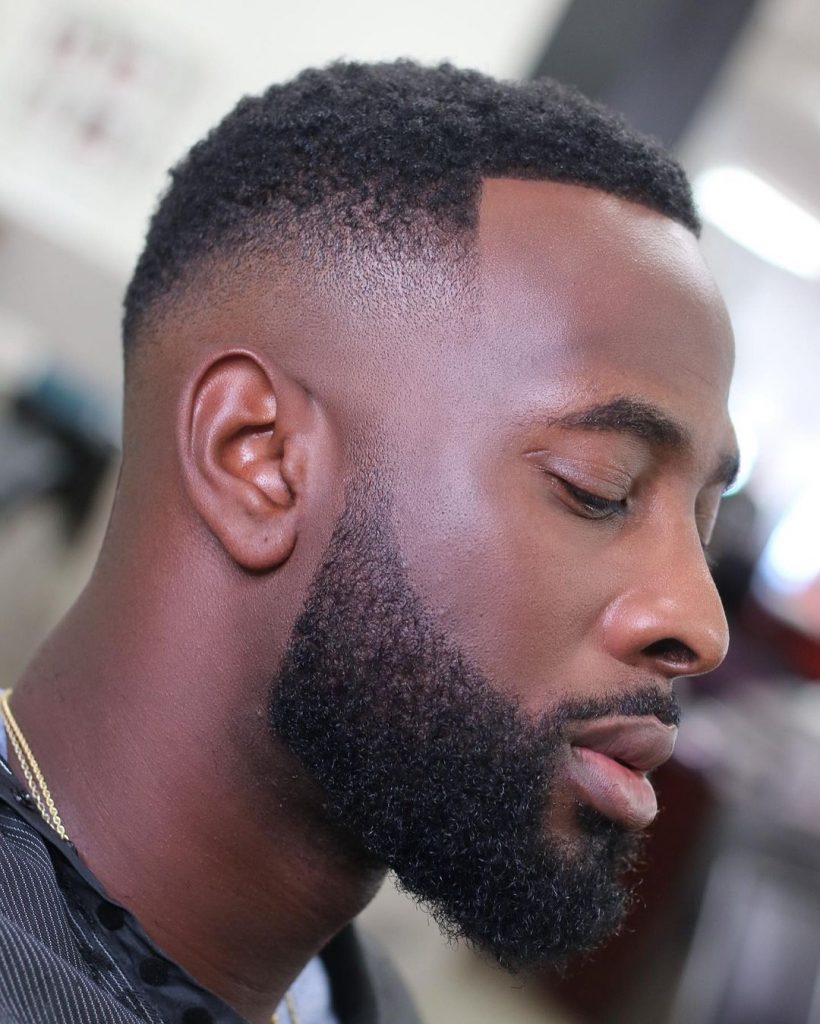 The skin, or bald fade, is one of the most popular types of fades for men. There is a complete separation between the hairstyle and facial hair. Talk to your barber about where you want to the fade to start and end. This version tapers down to the skin at the bottom of the sideburn but it can also be higher or lower.
5. Bald Fade Haircut + Beard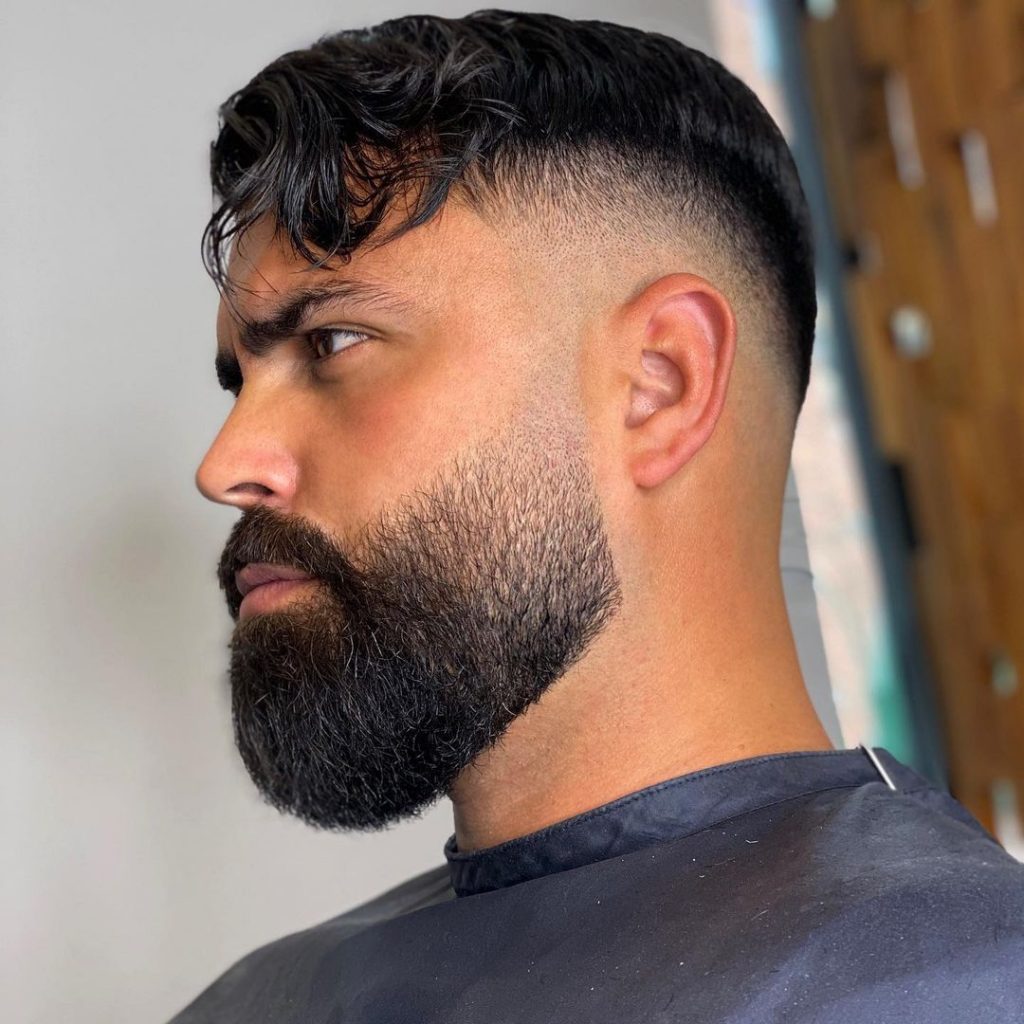 This fade goes further into the beard, starting at the bottom of the ear and working up to full depth in line with the lips.
6. Taper Fade Haircut + Beard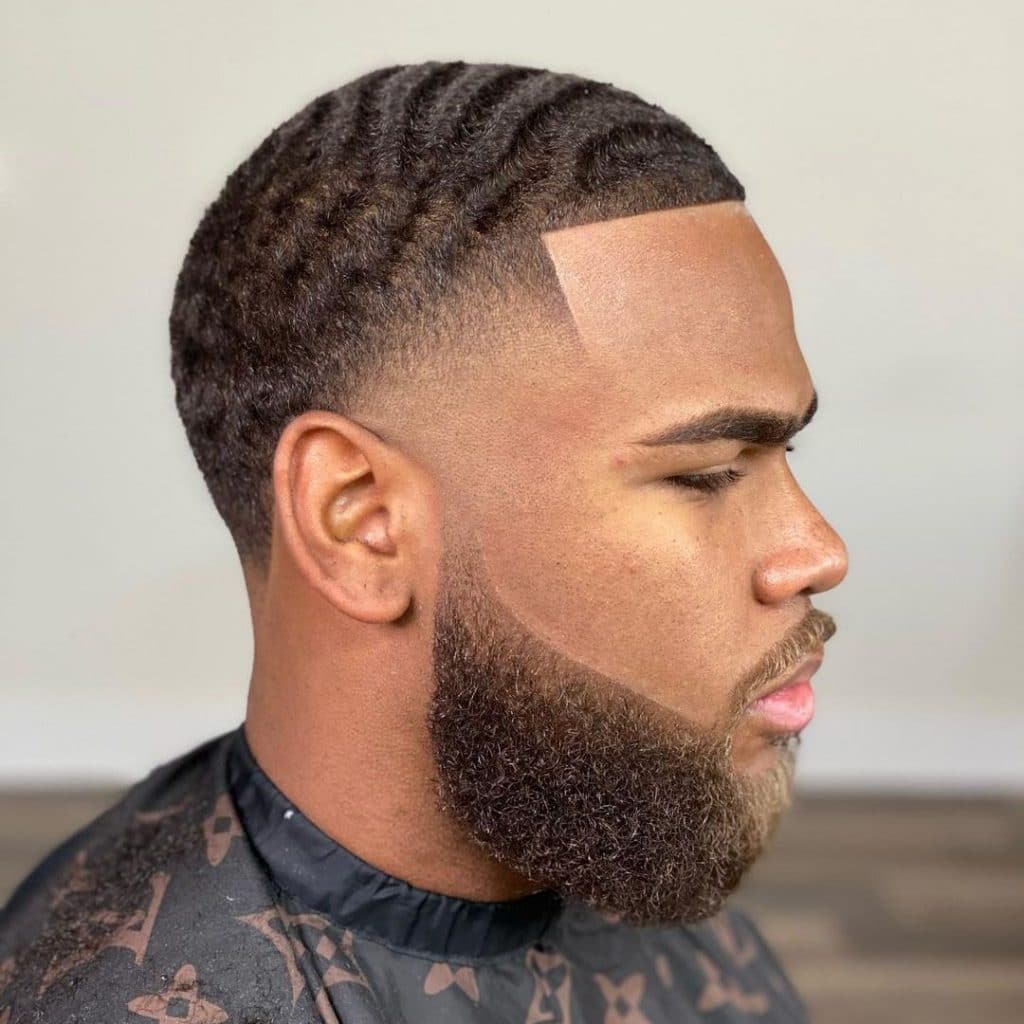 The taper fade shaves hair at the temples and the back of the neck and is the smallest type of fade for a beard. The temple fade can go up higher, like this, or be kept tight.
7. Long Hair + Faded Beard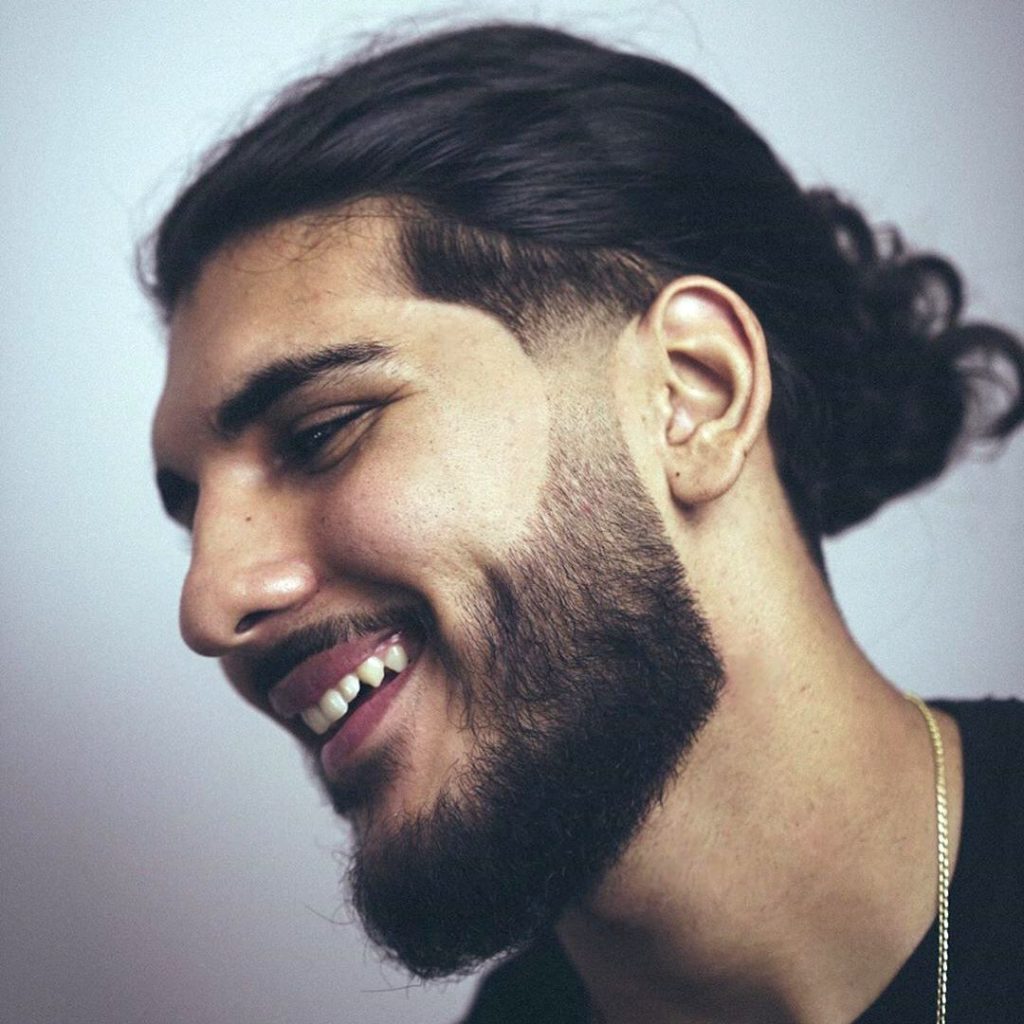 The taper beard fade cleans up the edges of long hair and the beard. Reveal the taper with a hairstyle for long hair.
8. Low Fade Haircut + Waves + Beard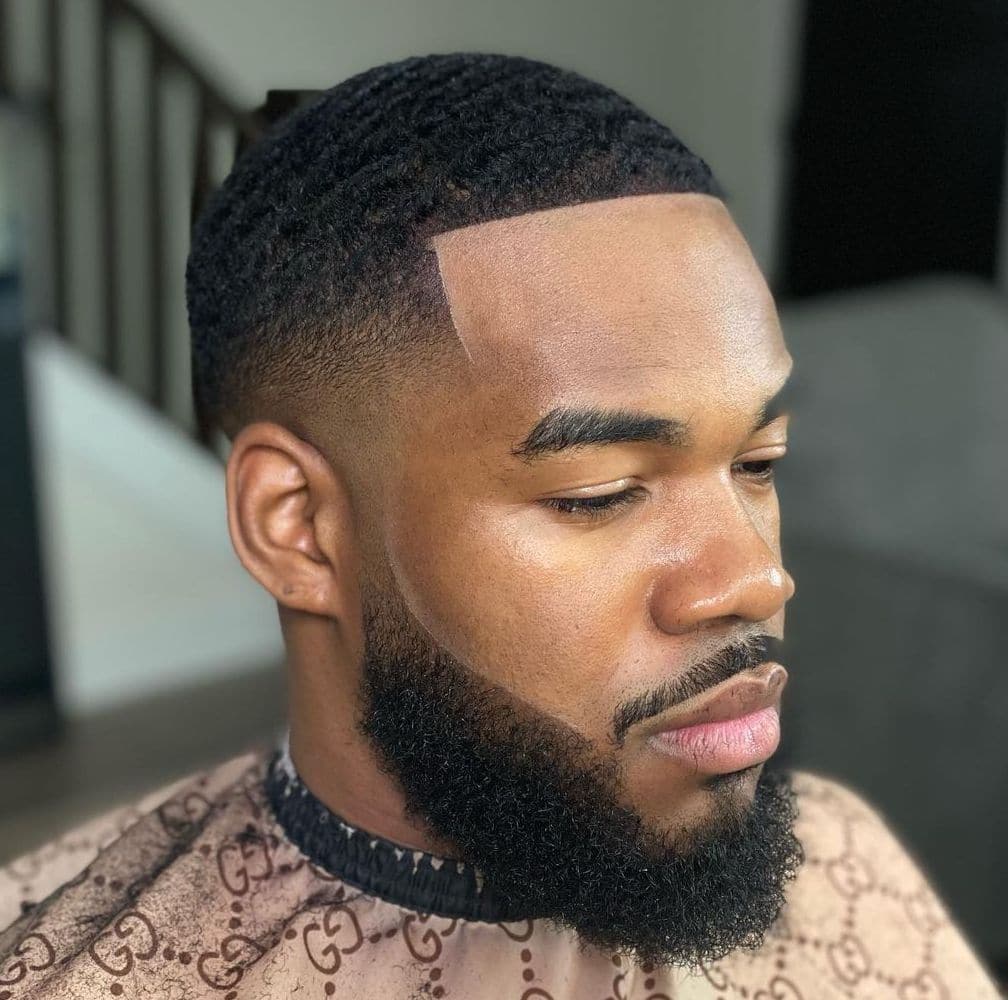 The low fade takes off hair at the temples and keeps going around the back of the head. It looks great with waves or a shaved head.
9. Matte Pompadour + Low Fade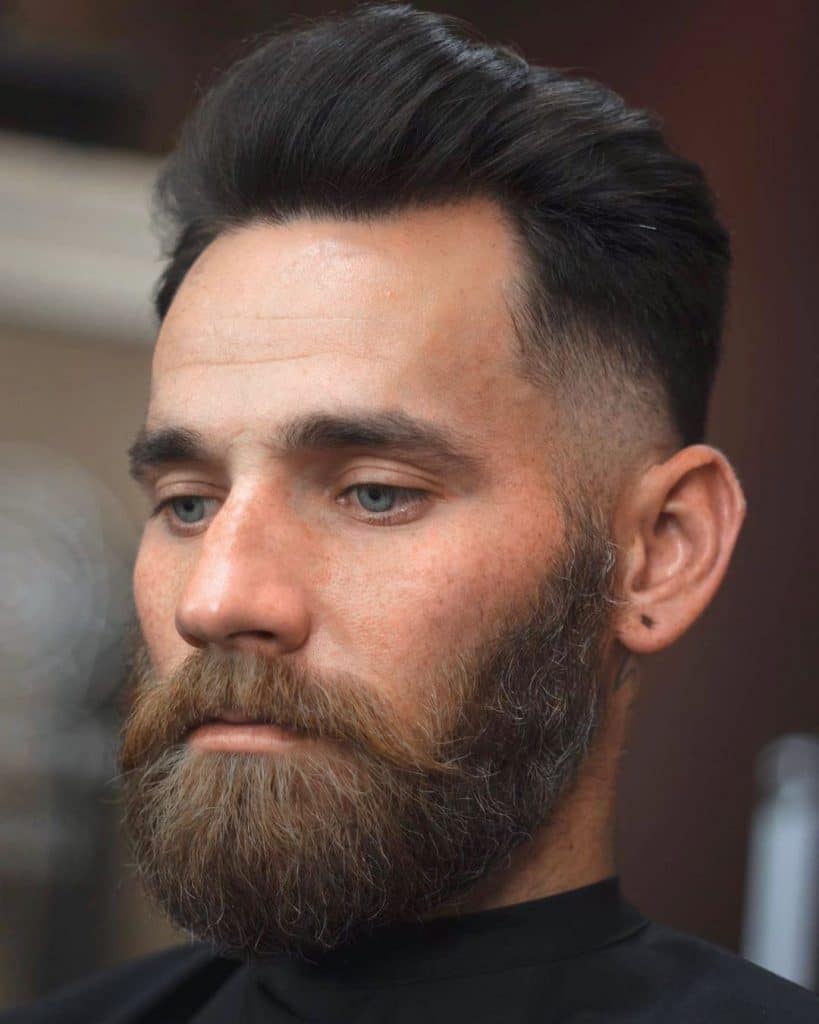 The fade creates a bare patch in between a medium length pompadour and full beard.
10. Curly Top + Medium Fade + Short Beard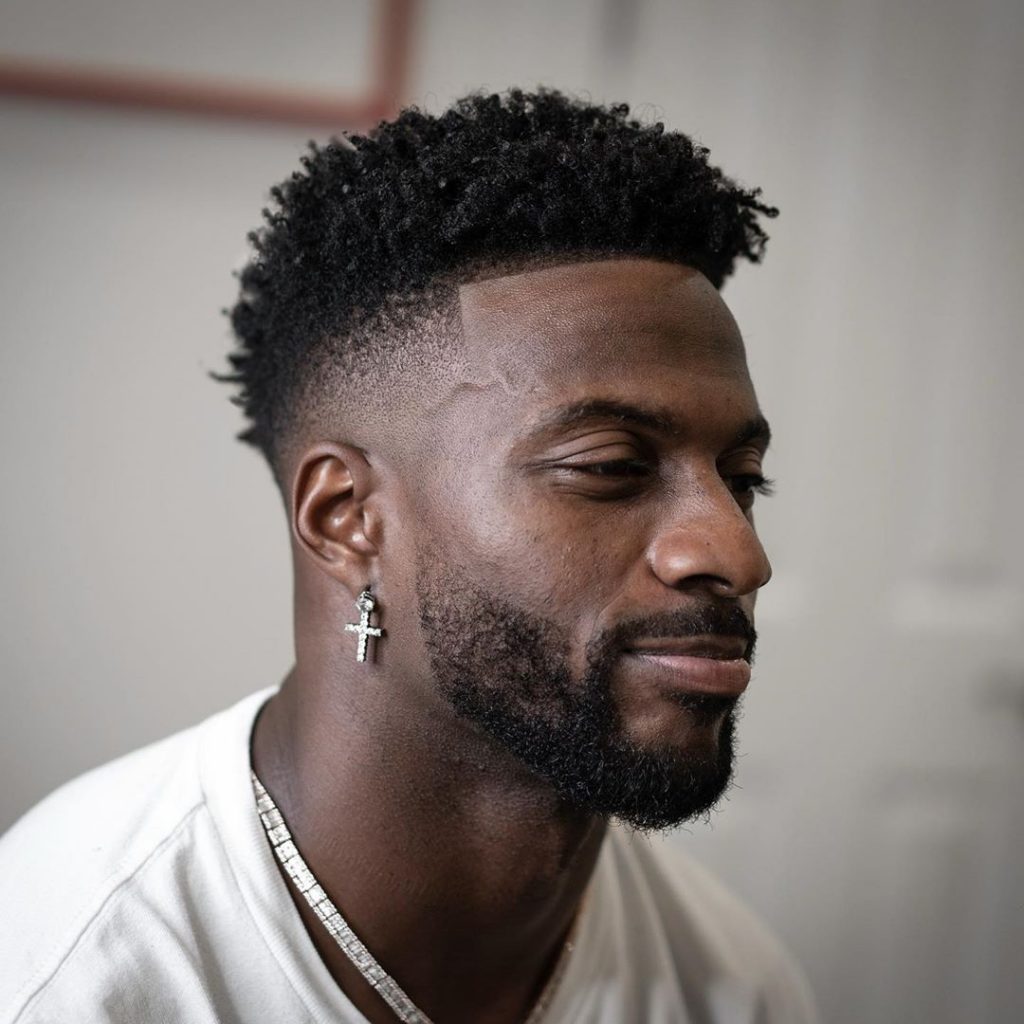 New Orleans Saints wide receiver Emmanuel Sanders is crisp and clean with a short beard, mid drop fade, and texture on top.
11. Comb Over + Fade + Beard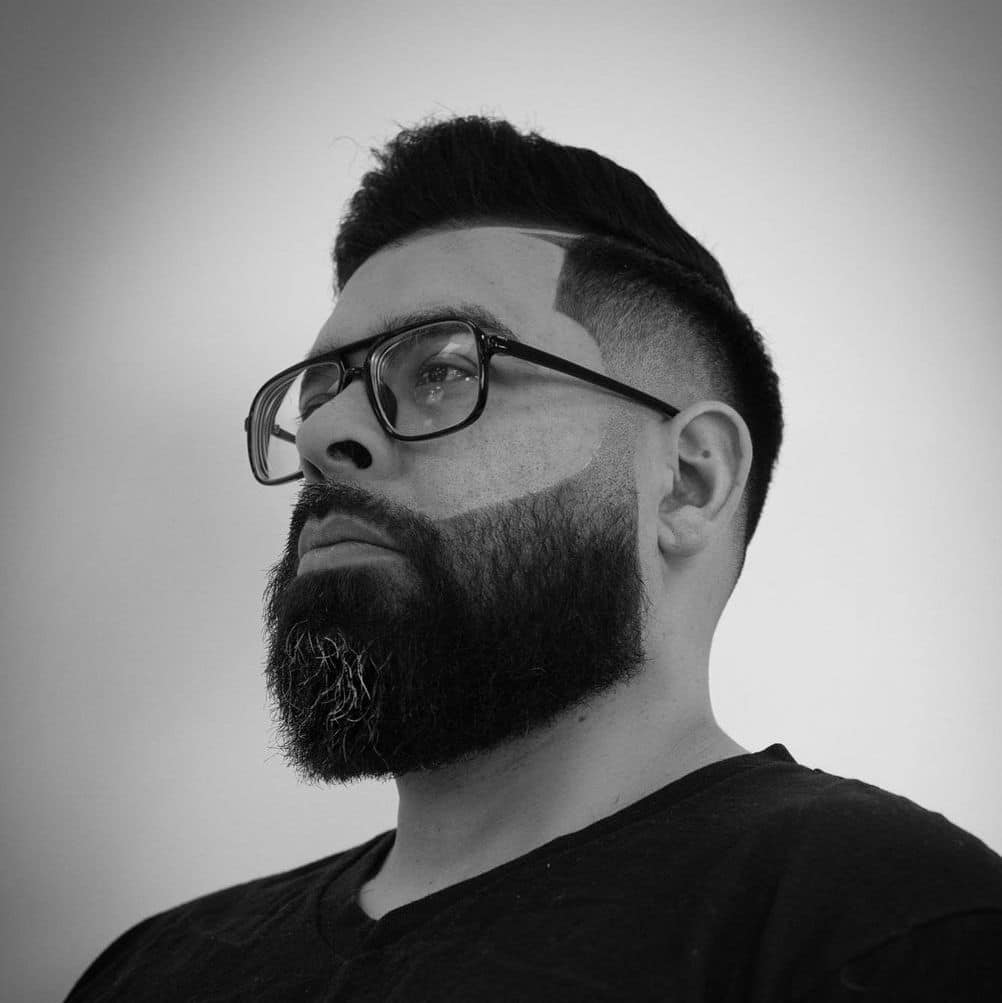 For guys with glasses, a fade clears a path for the arms and behind the ears. Is it necessary? No. Does it look good? Absolutely.
12. Medium Fade With Beard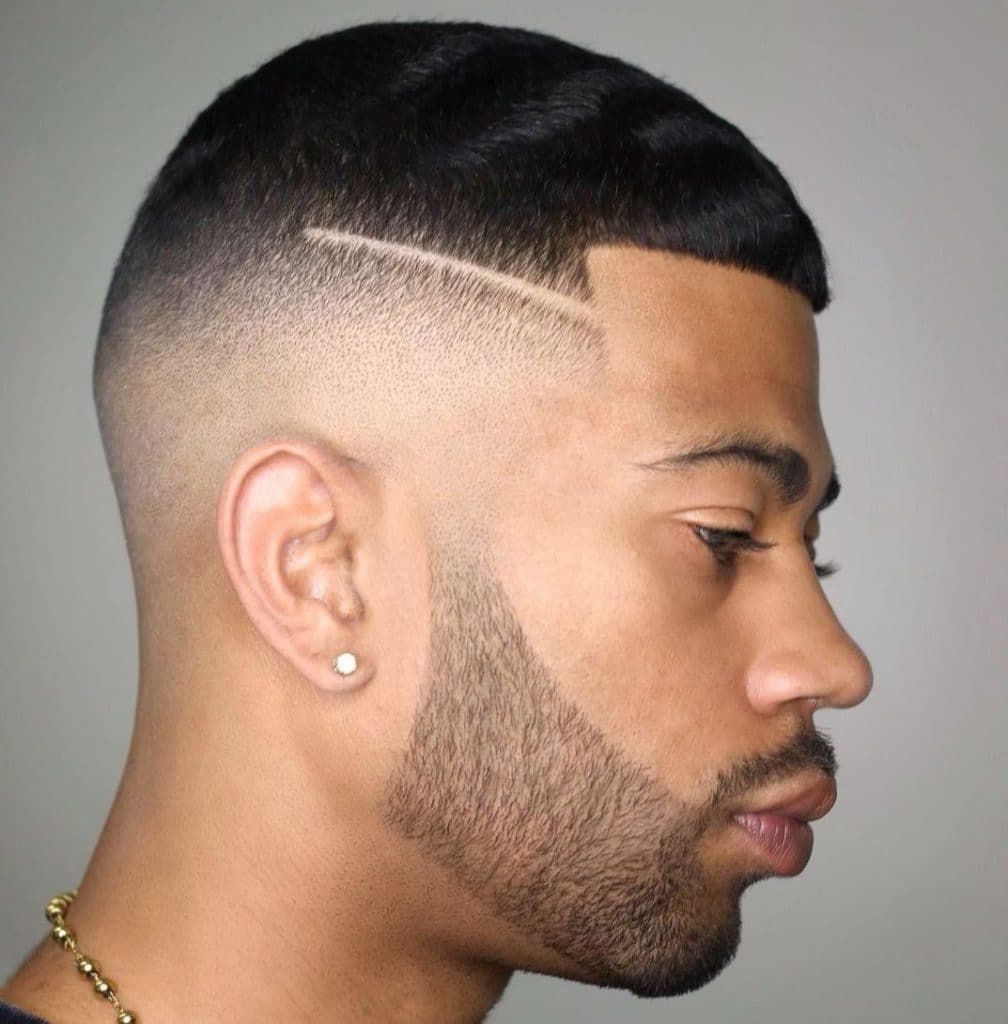 This short-all-over look has so much texture with waves on top, a blurry fade intersected by a line, and stubble bear.
13. Curly High Top + Mid Fade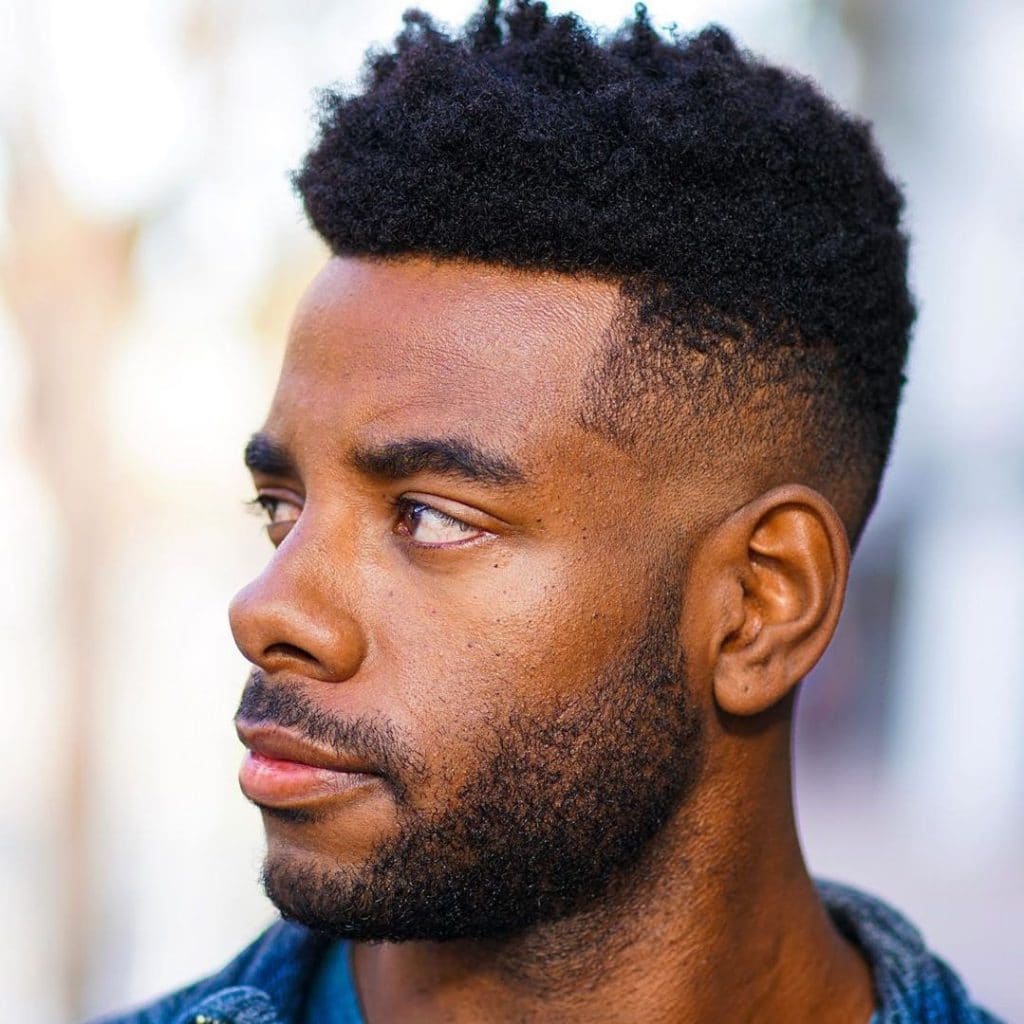 There are so many ways to combine fade haircuts with beards – longer on top with short facial hair, short on top with a longer beard, or the same length all over.
14. High Fade Haircut With Beard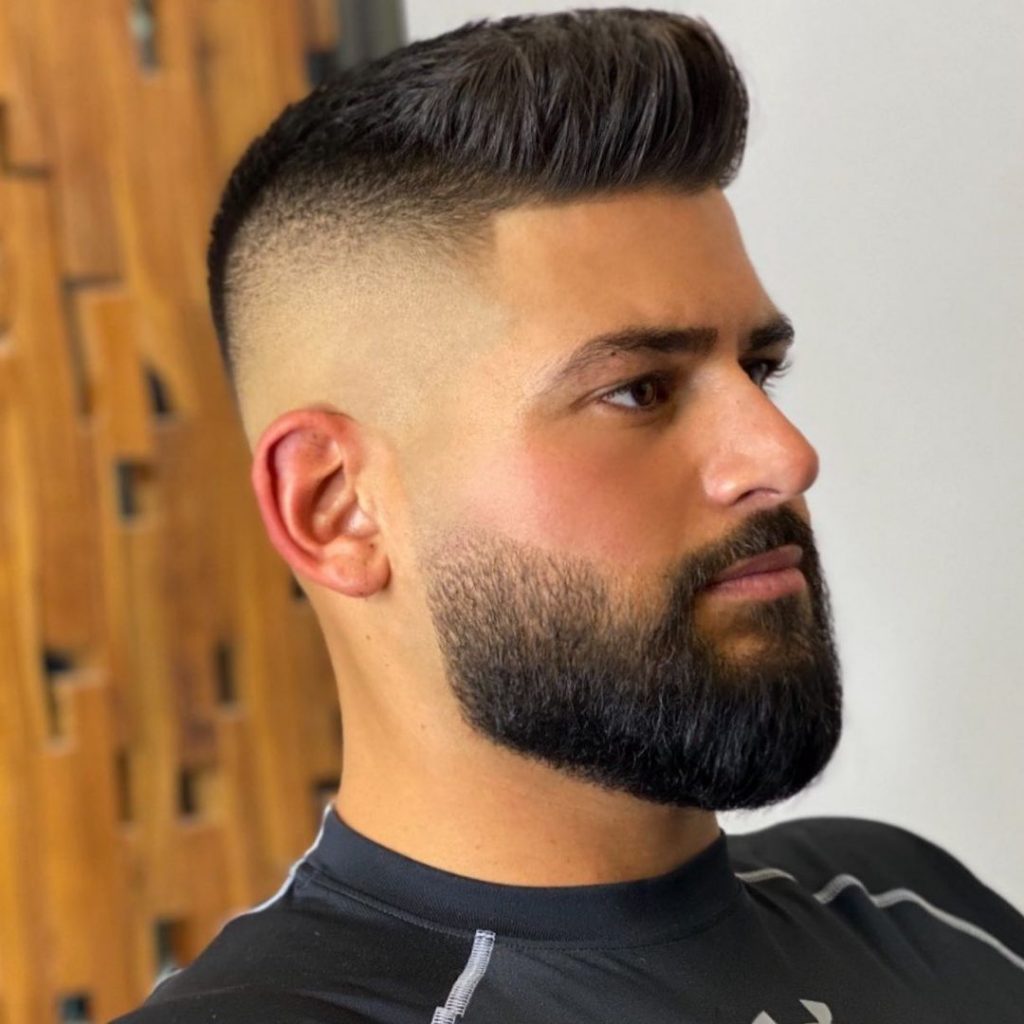 A high fade emphasizes the height of this quiff while the beard fade keeps the cheeks clean. This is also an easy facial hair style to maintain at home.
15. High Top Fade + Stubble Beard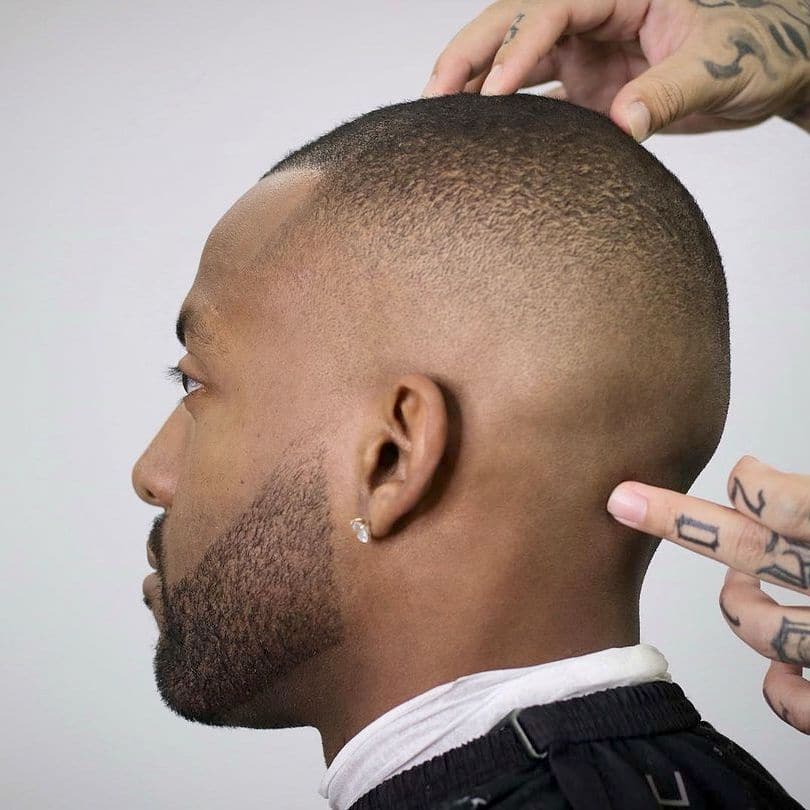 From blurry to smooth, this is a precision high and tight plus a stubble beard that gets thicker towards the chin.
16. High Fade + Full Beard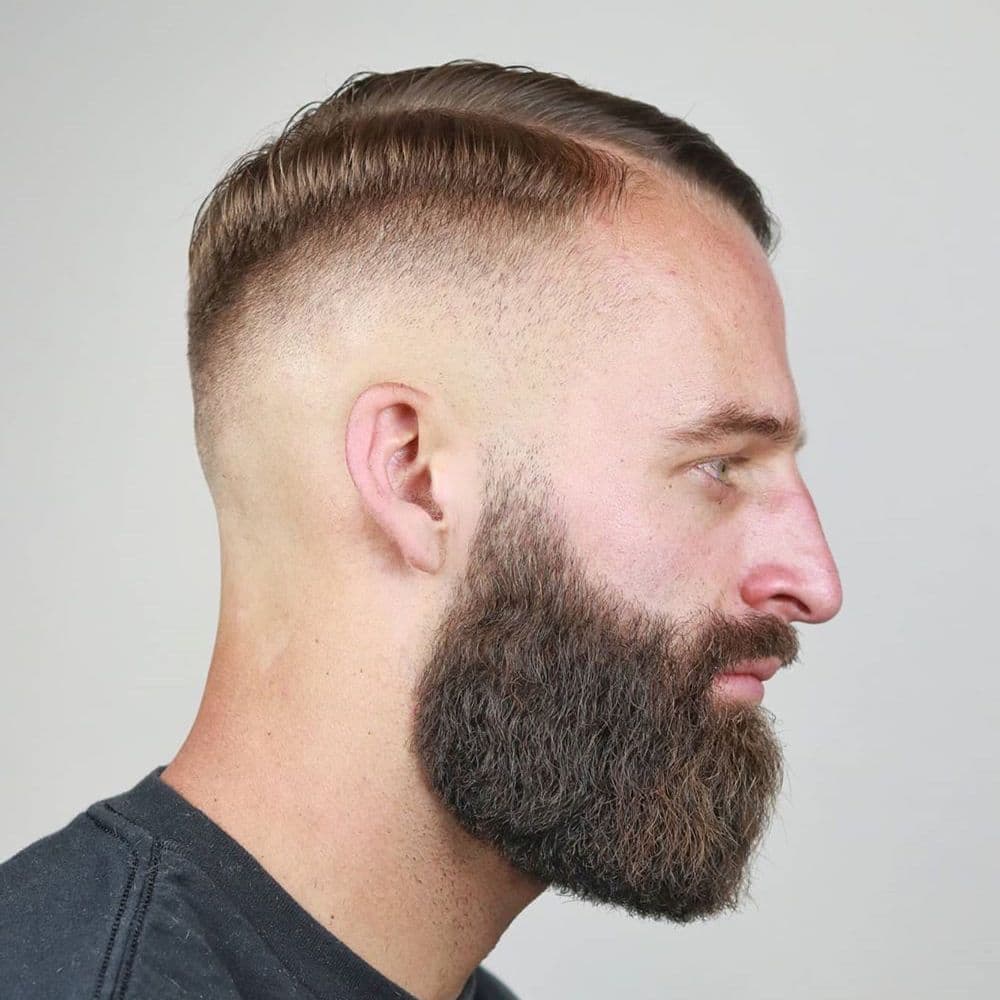 A high fade breaks up the short, thick side part hairstyle and full beard. Keep that wavy beard hair soft and smooth with a beard balm.
17. Temple Fade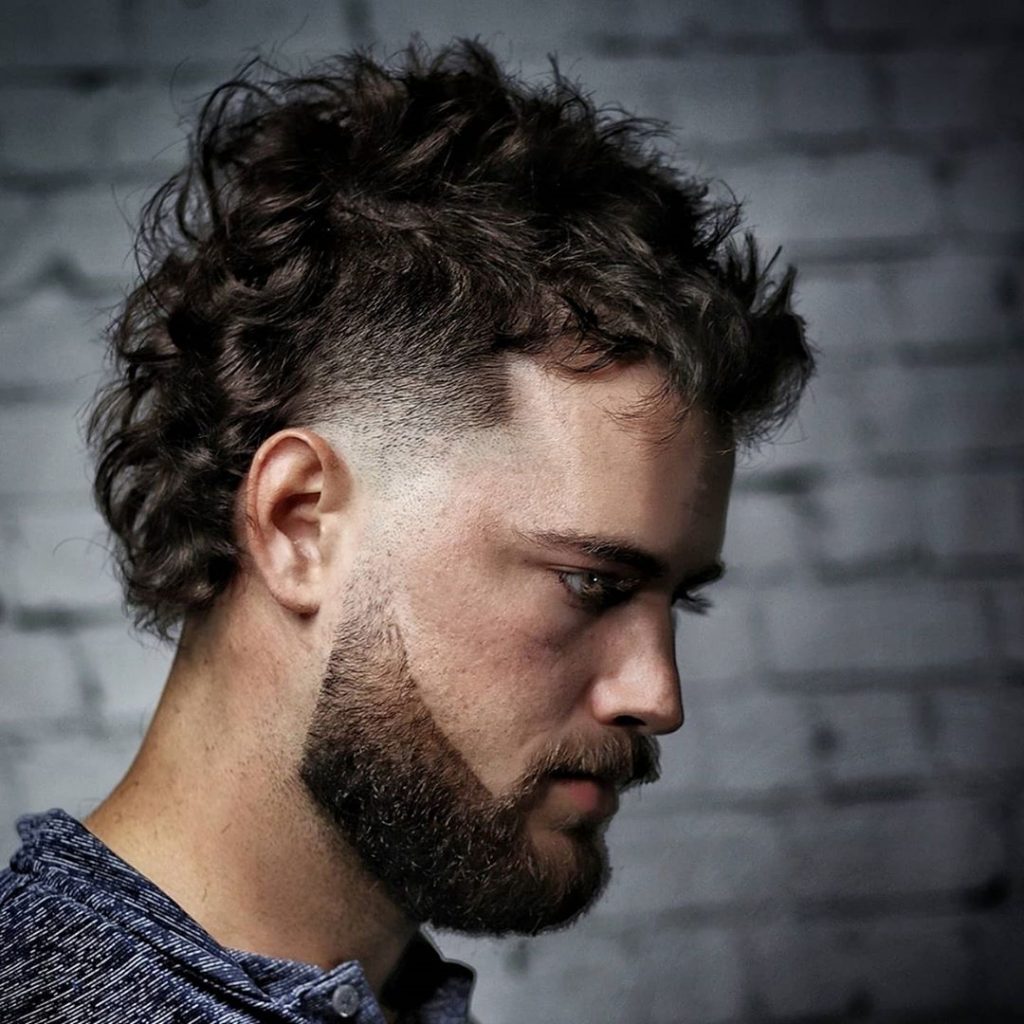 For something totally different, this look combines some curly flow with a temp fade and beard.
18. Shadow Fade With Beard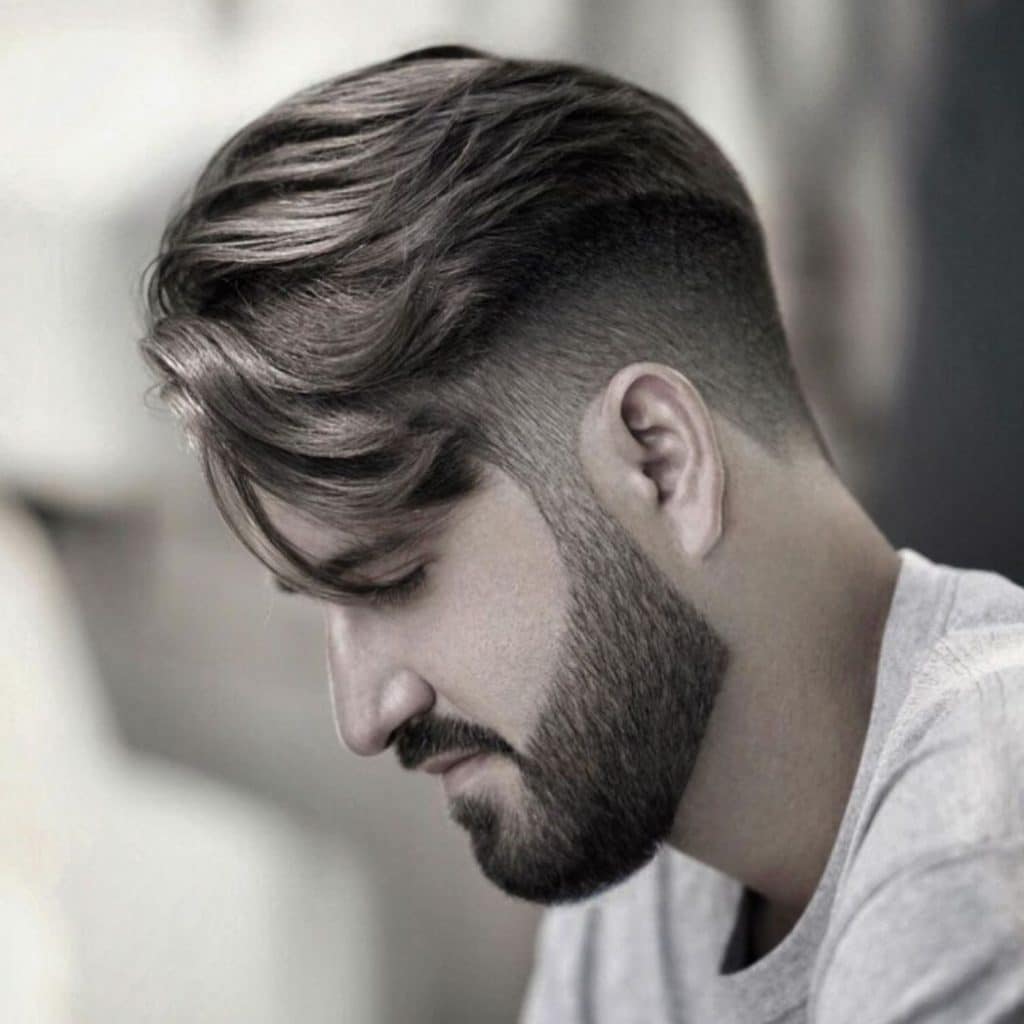 A shadow fade tapers hair down without revealing the skin. With a beard, it provides a continuous flow into facial hair.
19. Burst Beard Fade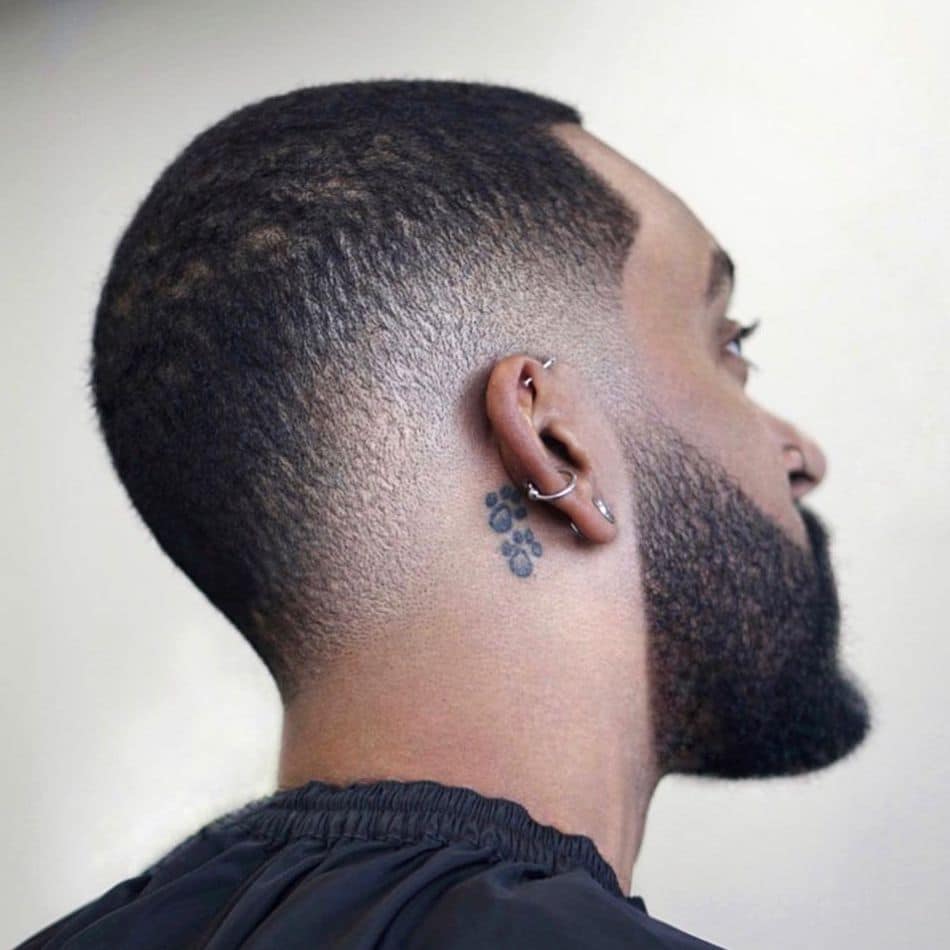 Here's another cool way to fade the beard with a burst fade behind the ear. It can be added to any hairstyle, not just this buzz cut.
20. Beard Fade For Black Men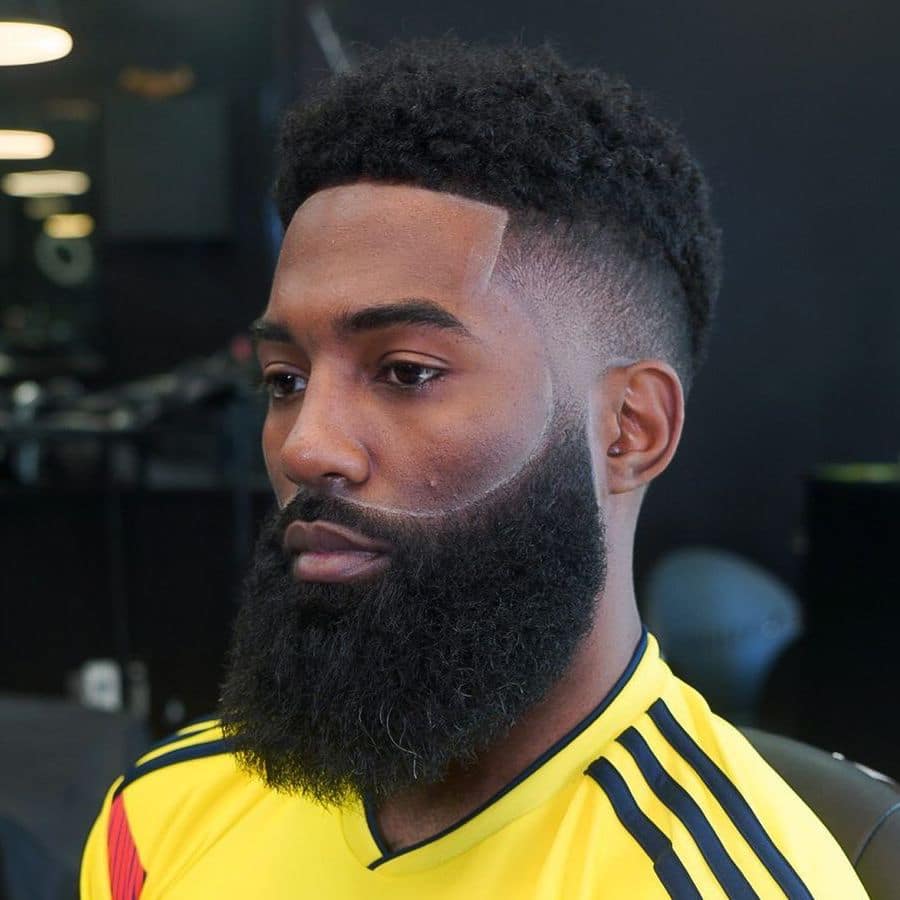 The same texture that makes Black hair curly and kinky, gives many Black men full and robust beards. A faded beard highlights the thick texture of hair and facial hair while the line up and beard shape frame the face.
21. Short Beard Styles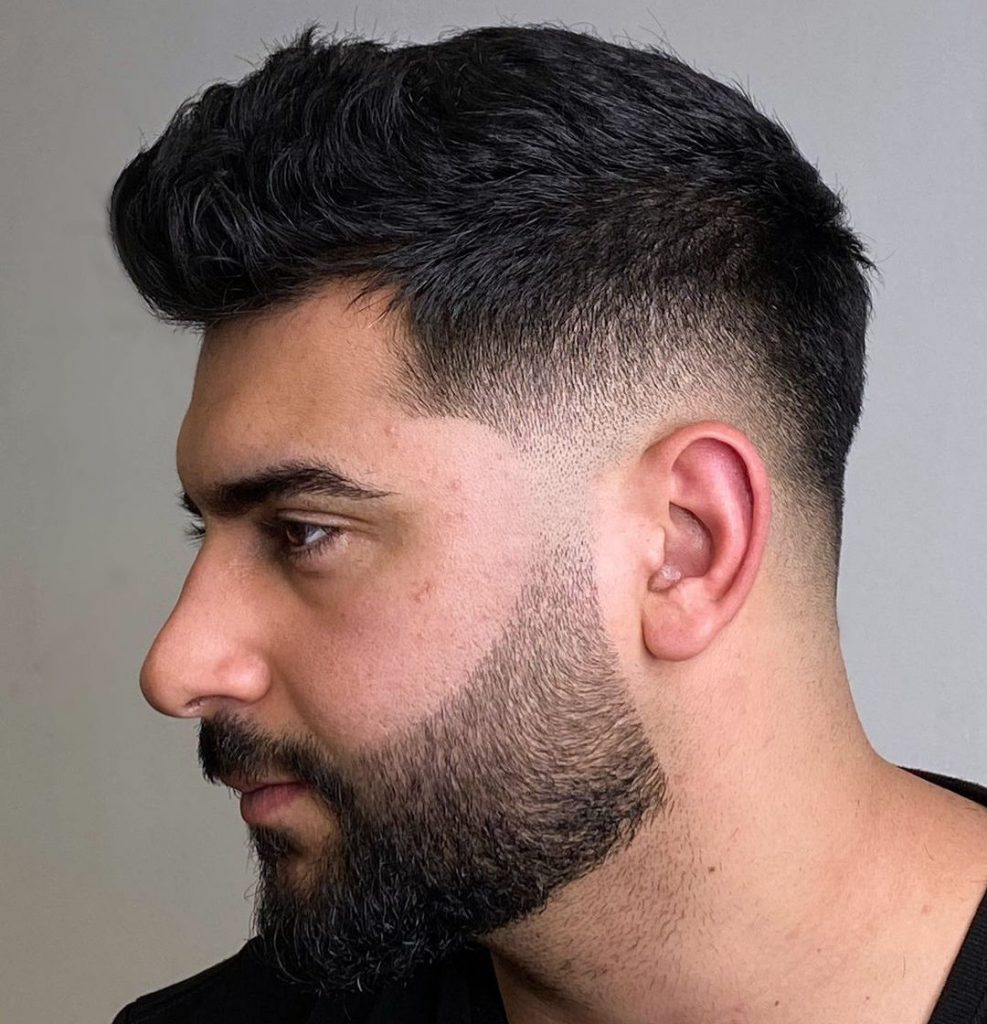 The fade can be added to any length of beard. This is clean cut look that is even professional with a classic hairstyle and trimmed beard.
22. Long Beard Styles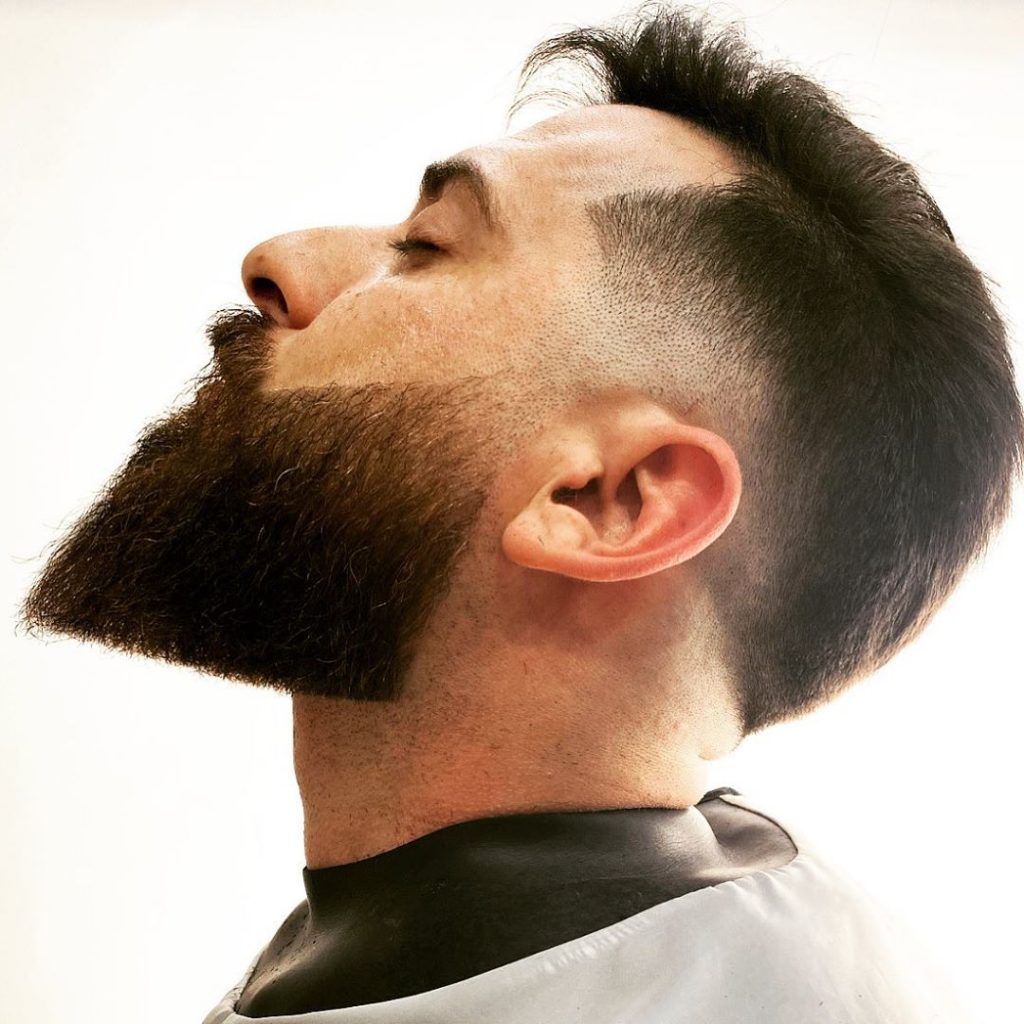 This cool beard shape contrasts a rounded burst fade with an angled beard.
23. Shaped Beard + Fade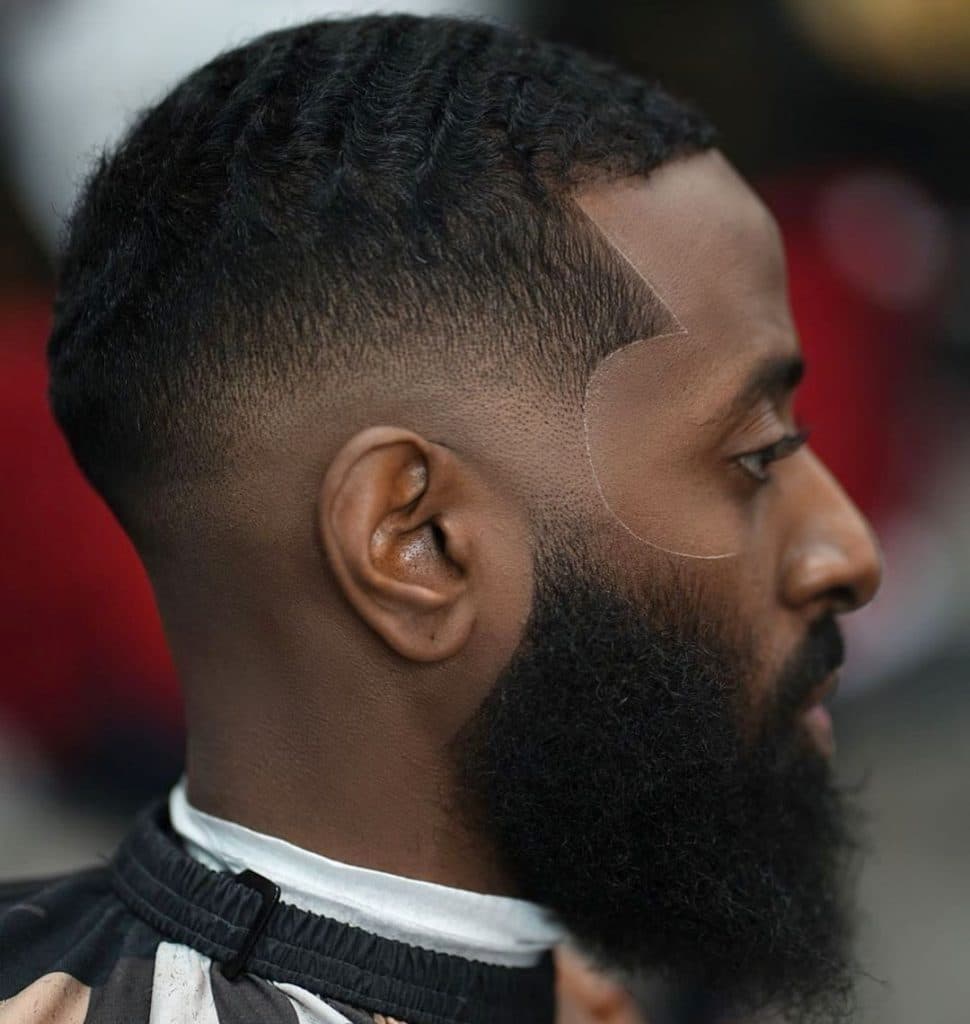 This is why you go to a barber for a beard trim. The line in front of the ear is so crisp and not easy to DIY. Even it it's not the budget every time, an occasional professional trim can give you a line and shape to follow with your own beard trimmers.
27. Bald + Beard Fade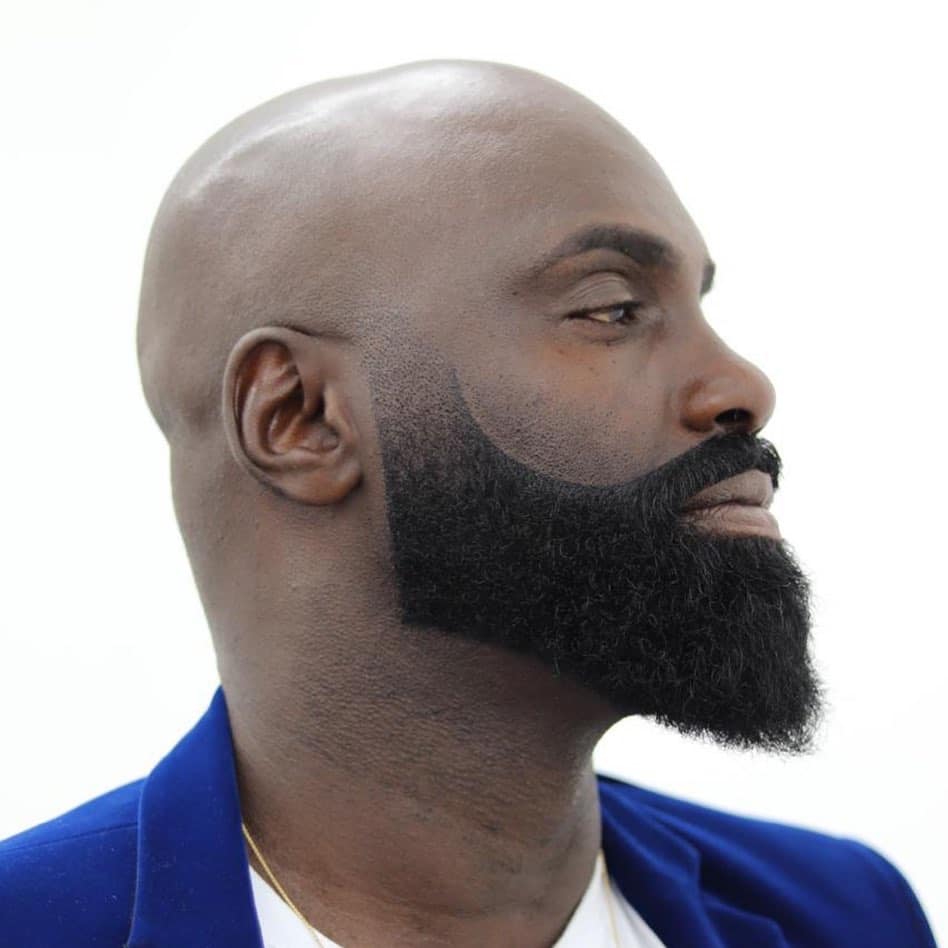 We saved the best for last. This faded beard creates a blurry transition from a shiny shaved head into a thick beard with a very cool shape.
This post may contain affiliate links. Please read our disclosure for more info.
Sours: https://www.menshairstyletrends.com/beard-fade/
How to FADE a Beard and blend with color enhancement Raw Sound
20 SHORT BEARD STYLES FOR MEN – Short Beard Styles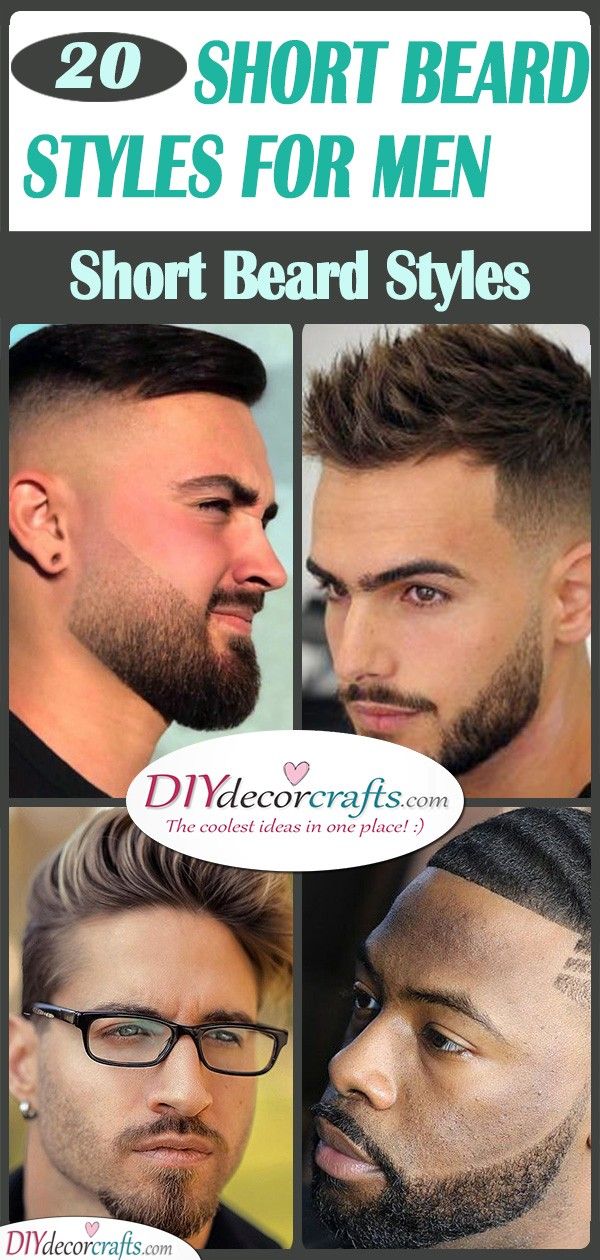 Men have to take care of their appearances just as much as women! After all, it's important for a man to look neat and tidy! This will not only include his clothes and his haircut but his beard as well! Beards have made a comeback and are as popular as ever! So, if you are in search of a short beard style for men, then how about you look through the ideas we have gathered? With the help of these short beard styles, you shall be able to discover something that goes well with your face shape and your haircut! So, get ready to look through these jaw-dropping beards to find something for yourself! 
1. A Full Beard – A Fantastic Short Beard Style for Men
There are so many beards to choose from when it comes to finding one perfect for your whole look! You may want to think about what sort of haircut you have or your face shape, before deciding on a beard though. Perhaps you have a fade or buzz haircut. If this is the case, you can imitate a small fade or the buzz cut in the way the beard is trimmed. A full beard, taken to the next level, with how it is cut, will look amazing!
2. An Awesome Fade Beard – Cool and Manly
While you may be in want of a full beard, you might still want to perk it up a little and give it a unique look. How can you achieve this easily? Well, how about going for a faded beard? This will go really well with your haircut if you have a fade cut, as the hair and beard will complement each other. To keep this beard looking good will require maintenance, as facial hair grows pretty quickly. This means the fade will grow out eventually, so you'll have to get it shaved again!
3. The Anchor – Cool Short Beard Styles
If you don't want to go for a full beard, how about you try out something different? A great example would be an anchor beard! But what exactly does the anchor beard consist of? It's a pointed beard, trekking across the jawline and is paired with a moustache, making it somewhat resemble the shape of an anchor. The anchor beard exudes confidence and a sense of manliness. Not to mention, this short beard trim will go really well with any type of haircut, making it a jack of all trades!
4. The Goatee Beard – Short and Simple
Maybe you are knowledgeable in the world of beards and know exactly what a goatee is. A goatee is mainly made up of facial hair growing on the chin and a moustache. You may be asking yourself whether you can pull off this type of beard. A goatee would be a great choice for a guy who has a weaker chin, as it will help in adding definition to it! It will also make a good option for men with rounder faces, due to the fact that a goatee can add some strength to it, taking away the sense of roundness.
5. Longer Stubble – Short Beard Style for Men
You may not want to grow out a full beard. After all, it does take a lot of care to keep a beard looking healthy and fine. As an alternative to a full beard, how about letting your stubble grow out? Long stubble is a great substitute for any guy, who is not really for a long and full beard yet, but would like to add some definition to his face! When you feel like the stubble is turning into a beard, you can either trim it or shave it off!
6. Another Faded Beard – With a Rounded End
We have already mentioned trying out a faded beard cut. It's a great beard style for anyone, who has a fade haircut already. And we don't have to tell you about how trendy it has become these days! But instead of opting for the simple version of a faded beard, how about you try out one that has a rounded bottom tip? With this type of beard end, you might be able to add a bit of roundness to your face, which is what you may want! For the complete look, make sure that your moustache is trimmed into a neat shape, that will look great with the faded beard!
7. An Effortless Look – Short Beard Styles
Here is a beard idea for men with round faces! If you have been wanting to add some definition to your face, then how about trying out this effortlessly easy beard? Allow your beard to grow out along the line of your jaw. The stubble or beard growing on your jawline will make it pop, but without being too much. Naturally, feel free to grow out a moustache as well! This type of beard is also known as the chin curtain and they are great round face short beard styles!
8. Pairing Your Haircut – Fun and Youthful
Depending on what sort of haircut or hairstyle you have, make sure that your beard or stubble matches it! Here is one of many small beard styles, that is guaranteed to go well with short and spikey hair!  A version of a short boxed beard will look truly awesome! It's a type of beard, that will most definitely add definition with its sharper angles to your face! So, if you have been in search of something refined yet stylish, this short boxed beard is something you may want to give a try!
9. Rugged and Handsome – Short Beard Style for Men
You don't necessarily have to opt for an incredibly neat beard! If your haircut has a windswept vibe to it, maybe keep your beard just a bit rugged, for a handsome feeling! Grow out a beard or long stubble along the sides and jawline of your face. And also add a moustache to your overall look. A simple beard idea like this will be great for men of any face shape! It's also perfect for men who have patchy facial hair, as they'll be incorporating a rugged look, instead of the clean and finely trimmed beard!
10. A Trendy Fade – On the Face and Head
As you will have noticed, we have talked quite a bit about faded beard cuts. They have become incredibly popular, meaning that it may have perked your interest and you have considered getting one yourself! Here is an example, that incorporates both the facial hair and hair in creating one large fade. Instead of creating a break between the hairline and the beard, have it shaved to a fade, just like in the picture above. You won't know where the hair ends and the beard starts!
11. The Awesome Anchor – Easy Short Beard Styles
The anchor beard is an easy men's short beard to try out. It is also an awesome look for anyone who has their facial hair growing in patches. The anchor beard, as we have mentioned before, incorporates two parts of facial hair.  A moustache and growing out the hair on the chin, just a bit longer, than the rest of your stubble. The shape of your anchor beard should resemble the nautical device, none other than the anchor! Give this a go, if you are looking for something easy!
12. A Bit Scruffy – Youthful and Simplistic
You may be in search of a beard that gives off bad boy vibes, giving you an edgy and somewhat scruffy look! If this is the case, opt for a simple beard or long stubble, that isn't combed to give off a neat and sleek appearance. Adding a short moustache will only help in enhancing this bold and daring image! Depending on your taste, you may opt for either a shorter or longer version of this look. Short stubble will look just as great as a long beard! 
13. A Chin Strap Beard – Easy and Short Beard Style for Men
Are you trying to find a fresh and youthful look, that is achievable for men, who have patchy facial hair? A fabulous idea would be to get your beard shaved into a chin strap beard, also known as a short beard trim! This revolves around the beard reaching along the jawline and the chin. It's a great way of growing a beard, but without the patchiness, you may encounter when trying to grow it out on the cheeks. To spruce, this beard up a little, feel free to get it trimmed evenly with an angular cut or add a fade cut to it.
14. Thin Lines – With a Curly Tip
Do you have curly hair? Then you may have facial hair, which is also quite curly! While you may want to show off your naturally curly hair, by letting it grow out, you might be in search of something shorter for a beard! How about you go for thin lines for a beard instead, reaching towards to chin. Then let the beard on your chin grow a bit longer. This is a good idea for anyone, who wants to add a bit of length and definition to their chin!
15. Match Your Buzz Cut – Short Beard Styles
We have already discussed what type of beard to get if you have a buzz cut. A buzz cut is clipped short and close to the head and adds an edgy and minimalistic look to its wearer. So when trying to find the perfect beard or stubble to match it, you'll want to go for a similar style! This may include a beard and moustache, made up of strong and straight lines to complete the buzz cut. Just take a quick glance at the example above for inspiration!
16. Great for Bald Guys – Keeping It Simple
Maybe you are bald and would love to find the perfect beard for your look! One of the best solutions for a man who is bald would be to grow a full beard or a pointed beard. Both of these will help in adding definition and a manlier look for your face. Not to mention, a full or pointed beard, will help in defining your jawline. Even if you aren't able to grow an intense and thick beard, even a bit of stubble will do the trick as well!
17. A Trendy Fade – Short Beard Style for Men
Here is yet another type of fade beard cut, giving you a different and unique variation of it! Create an overall fade from your beard, but leave one part of it longer. The longer part can resemble a circle beard, which will look amazing and manly. So, if you have been trying to find a simple yet cool beard, with a bit of a fade, that isn't high maintenance, then this is definitely something to try out!
18. Find Something Terrific – To Complement Your Hair
Always remember to try finding a beard, that will match your haircut! After all, you don't want to create two separate looks on your face. Instead, bring a balance of harmony by using similar styles for both your haircut and beard! Here is one of many men's short beard ideas to personalise and make your own! For example, if you have a fade pompadour hairstyle, you may pair it with a fade cut beard. These will also make fantastic round face beard styles!
19. The Van Dyke – Short Beard Styles
You may be familiar with the unique and artistic looking Van Dyke beard. It consists of two main components, a floating moustache and a chin beard. These two elements combined will give you a very suave and stylish look. It's a perfect type of facial hair to try out if you are in search of something that is low maintenance, as it will only require you to trim it when it gets too long!
20. Full and Faded – Never Going Out of Style
Finally, here is our last men's short beard idea! Combine a full beard with a fade cut, for a simplistic yet stylish look. The mixture of these two will create a clean look. It would be advised to have your faded beard to get done by a professional, but the rest of the maintenance will be easy to be done by yourself.
We trust that you have found a great short beard style for men! For other ideas, such as short haircut styles for women or toddler boy haircuts, check out our collection! 
Sours: https://diydecorcrafts.com/short-beard-style-for-men/
You will also be interested:
22 Best Beard Fade Haircut & Hairstyle Ideas for a Modern, Rugged Look
Mohawk with Beard Fade
Instagram @ali_heydari_org
Mohawk with beard fade gives plenty of options for men to style. You should leave no less than three inches of hair on top for styling. Don't forget to tell your barber to taper your beard to make a seamless transition from the beard to the haircut.
See more mohawk fade haircuts and hairstyles.
Short Curly Top and Shaped Beard
Instagram @rogerioaraujobarber
A short curly top and shaped beard is a good choice when considering a new curly top haircut. Curly hair can be hard to maintain at times. Tapering the sides to a shadow is an option to explore for men with curly hair.
Blurry Fade with Beard
Instagram @the_real_ayydot
Blurry fade with beard is a tricky yet great haircut for men to try. I suggest having a well-experienced barber execute a blurry fade. It should have a flawless transition from the skin to the desired length, leaving no room for any blending flaws. A razor-sharp hairline takes this blurry fade to the next level of excellence.
Beard Fade into Goatee
Instagram @chechecuts
Turn your beard fade hairstyle into a goatee, and see the unique flair it can provide you. What makes it unique from the other beard styles is the pointed facial hair on the chin part. It'll even allow your cheeks to look neat and stylish, which is perfect with a sharp faded haircut.
High Top Fade with Sharp Beard Neckline
Instagram @omithebarber_
Want to flaunt your medium-length kinks with style? Here's a high-top fade with a sharp beard neckline to give prominence to your black hair's natural texture. The sides and nape gradually fade to suit the shape of your neat facial hair.
Full Beard and Undercut Fade Hairstyle
Instagram @barber_gin
The full beard and undercut fade are an excellent combo for men with mid-length black hair on top. It's a modern take on what a manly beard style looks like.
Beard with Mid Fade
Instagram @junior___barber
The refined finish of a beard with a mid fade will look dope on you. Styling it with texture gives your black hair a fuller-looking payoff.
Low Beard Fade
Instagram @_cristianbarber
Let your natural texture do its job. A low beard fade is sure to work nicely on your black and wavy hair. For maintenance, a good beard trimmer is a must-have.
Bald Fade with Beard
Instagram @nik_hairdesign
Consider a neat faded beard cut for your fine brown hair! This bald fade with a beard will provide you a dapper edge that's very easy to maintain.
Medium Fade Haircut with Beard
Instagram @re_malia
Working best on thick and black hair, a medium fade haircut with a beard is very masculine! Texture forms flow and movement, creating contrast between the hair on top and the sides.
Low-Maintenance Buzz Cut with Beard Fade
Instagram @barberodessa
A shape up with a full beard haircut will not harm your entire style. Ask your barber for a buzz cut with beard fade to show off how stylish your black hair can be.
Comb Over Fade with Beard
Instagram @17cuts
Go for a comb-over fade with a beard if you're thinking of trying a sleek style. Part your hair to one side, comb it into place and put it together with gel. Now, that's how you rock a modern men's hairstyle.
Beard Fade for a White Guy
Instagram @joey_shakes
If you're a white guy, consider a beard fade  that puts emphasis on the dense, black hair on top. Add a little texture for a more handsome style.
Beard Fade for a Black Man
Instagram @aaronmybarber
There's always a perfect beard fade for a black man. Get this toned-down look by trimming your hair neat and short. Your curly hair will form waves, creating dash and charisma to your style.
Taper Beard Fade
Instagram @khalife.stylist
Grab the opportunity to pull off a taper fade. All it needs is a taper beard fade plus a well-styled and textured hair on top.
Beard with Temp Fade
Instagram @jeffthebarber
Deal with every mood of yours by wearing a beard with temp fade. Its sharpness and dapper-looking finish suit whatever vibe you're going for.
Curly Hair with Beard Fade
Instagram @barbermour
There's a lot of movement going on here. Opt for curly hair with a beard fade to flaunt your innate texture. Your black hair contrasts with the skin fade sides nicely.
Short Beard Fade
Instagram @rikzothebarber
Tapered sides that complement shaped-up facial hair makes one short beard fade with a tight and neat neckline. Black hair on top shouldn't be too short or too long — just enough length to result in a textured look with short bangs.
Drop Fade with Beard
You got to love the gradually faded sides in this cut! Partnering a drop fade with a beard like this will level up your styling game.
Hairstylist Enrique Tapia from Hesperia, CA created this haircut. "This is called a mid fade with hooks on the side, a textured top, and a beard lineup. I would describe this cut as being easy to style as the top has been point cut and follows the theme of a rugged choppy texture look. My favorite thing about this cut is how the fade radiates a clear contrast in length that stands out to the eye. It is the focal point of this cut," states Tapia.
"I would advise a dude who's interested in beard fade cuts to first consider going with a shadow fade (a fade without going skin) in order to avoid a tan line on the skin. After having a shadow fade, you can slowly work your way down to a bald mid fade. From experience, this will make the transition appear more gradual in the long run. Overall, beard fade hairstyles are very popular and currently trending," Tapia explains.
High Beard Fade
Pull off this high beard fade with enough length of hair on top for easy styling. This look is called a 0.5 fade into the beard with a spiked back top by barber Jaz Bailey of Toronto, ON.
"My favorite thing about the look is the seamless transition from the middle of the head from light to dark, going both ways. The hair fades into the top as well as the bottom," Bailey notes.
The advice that Bailey would give to a man who wants this look is to consider the top of the hair. He adds, "I work on trying to see how we can get the top looking exactly how they want it, whether that is through texturing or styling with blow-dry and product."
Long Beard Fade
Merge a long beard fade with a delicate faded cut to spice up your brown hair.
Created by stylist Gleb Morozov of Russia, this is the look of a modern hero, a man who cannot afford to spend a lot of time caring for his hair. "I really like that despite the simplicity of the design, this bow has its own details, and the density and structure of the hair and beard allow you to add personality to the image," Morozov emphasizes.
What's great about beard fade haircuts is their versatility. Morozov explains, "By combining the beard shape and the haircut shape, we can achieve the perfect balance on any head with any bone structure of the face, and the fade of the beard will emphasize the accuracy and character of the person."
Skin Fade with Short Bangs and Beard Fade
The short bangs are what make this skin fade haircut full of spirit.
This beard fade cut is called a crop fade with a beard fade, designed by barber Gabriel Silvagnoli of Ponce, PR.
"I first saw the crop fade in European men. The best part is that it's really not time-consuming to style at home. If you have a fast life and consider yourself edgy, bold, and fashionable then this style is for you," says Silvagnoli.
Sours: https://www.latest-hairstyles.com/mens/beard-fade.html
837
838
839
840
841