It is frustrating to find that your Android device is not recognized as USB driver when you want to transfer files between phone and PC or recover data from Android phone. While the result is similar, the causes and solutions may vary from case to case. Similar symptoms or notifications, like "USB device not recognized", "PC not recognizing Android phone", or "USB device not detected but charging", may occur on different devices. Please check following solutions to fix Android USB device not recognized on Windows problem.
Tip: In case you mistakenly deleted important files, don't hesitate to try the best data recovery software to get files back from computer, external hard drive, SD card or USB drive (not including mobile phones).
Try Following Measures First
Here are some small tips that might help and won't take a long time even if not working.
 Try a new USB cable and another computer. Some cables are power only.
Connect Android device to PC directly instead of through USB hub.
Reboot phone and connect to PC while in Airplane mode.
Remove battery and SIM card, and wait a while, then put them back and reboot.
If Windows detects your phone but doesn't find any content, you should unlock your phone screen and try again.
If above tricks don't work for you, please try solutions below.
Solution 1. Connect Android to Computer as MTP to Fix Charging Only Problem
Android device can be connected as Media device (MTP), Camera (PTP), USB flash drive, Charge only, etc. If you want to transfer files between phone and PC, you need to set USB connection as MTP mode.
When an Android device is connected to computer, a notification should appear on the drop-down menu named as "Connected as a …" or "USB Charge Only". You can tap it to open USB computer connection options and choose MTP from the list.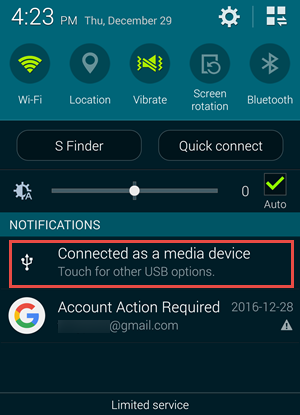 If nothing appears when connected to computer, which often happens after system upgrade, you'll have to find USB connection menu manually. Try following methods.
Go to Settings> Storage> More (three dots menu)> USB computer connection, choose Media device (MTP).
For Android 6.0, go to Settings> About phone (> Software info), tap "Build number" 7-10 times. Back to Settings> Developer options, check "Select USB Configuration", choose MTP. But no way to set MTP as default on Marshmallow.
Dial *#0808#, if you get "USB Settings", choose MTP+ADB, then reboot.
Solution 2. Update or Install Proper Driver for Android USB Driver Not Working Problem
Sometimes Windows won't recognize Android device because the driver is corrupted and USB driver not working. Hence, you need to update or install proper driver for your device. Following are two common methods. (Check more ways to install Android USB driver.)
Update Driver for Android Phone Manually
Step 1. Go to Start> Control Panel.
Step 2. Click "System and Security", then "System".
Step 3. Click "Device Manager" on the left list.
Step 4. Locate and expand "Other devices" or "Portable devices" and find the driver. If there is a problem with the driver, it should be labelled with a yellow exclamation mark.

Step 5. Right click on the driver and choose "Update Driver Software…".
Step 6. Successively choose "Browse my computer for driver software"> "Let me pick a list of device drivers on my computer", then hit "MTP USB Device" and click Next. Once the driver is updated, connect your device again.
Install Proper Driver via Manufacturer Tools
Manufacturer management tools usually go with drivers for their devices. You can install official management software, like Samsung Kies or Smart Switch, and HTC Sync Manager, on your computer. Then connect your phone to computer and run the software to install drivers automatically.
Solution 3. Install Necessary Kit for Windows 10 to Fix Android Not Detected Problem
If you encounter Android USB not recognizing problem after Windows 10 upgrade, you'll need to install some missing files to help Windows 10 recognize your Android phone as MTP device. The following two might help.
Media Transfer Protocol Porting Kit
Media Feature Pack
Notice: Check more tips about Windows 10 doesn't recognize Android.
Solution 4. Try a Trick to Fix Android Not Recognized Problem Caused by Hardware
If none of the above solutions can fix your Android device connection problem, it might be a hardware glitch, and you may try this trick. This is not a regular tech tip, but many people say it works. Please do it at your own risk.
Step 1. Hold your phone and look at the micro USB port.
Step 2. Insert something tiny and nonmetallic into the USB port, and lift up the thin contact points gently.
Step 3. Connect your phone and PC with USB cable again.
Bottom Line
The solutions above have helped some people fix Android not recognized problem. However, it is not possible to cover all conditions or fix all issues in one article. You may keep searching for other methods or return your device to the manufacturer for help. If your trouble is solved, don't hesitate to share your experience with us in the comment below, so that more people will benefit from it or have the confidence to keep trying.
Sours: https://www.androidrecovery.com/blog/fix-android-usb-device-not-recognized-but-charging.html
How to fix USB undetectable problem on Samsung Galaxy tab 2
SamsungGalaxyTab 2 cameupwithgreatdesign,display,andfeaturesbutmanyusersofthisdevicearefacingUSBundetectableproblemonSamsungGalaxyTab2. Sometimestheconnectionstopsworking,anditdoesnotworkevenafterrebootingthephone.Someusersreportedthattheyhadunpluggedtheconnectionandagainpluggedinbuthavenotfoundanysolution.
IamsuggestingyoufewstepstofixUSBundetectableproblemonSamsungGalaxyTab2andyoucanfollowthestepsifyoufacesuchaproblemwithyourSamsungGalaxy Tab 2.
ProcesstofixUSBundetectableproblemonSamsungGalaxyTab2
Process-1-Ifyourcomputerishavingaproblemafterinstallinganynewhardwareordevices,trytosolvetheissuebyusingthehardwareanddevice'stroubleshooter.Itchecksforcommonproblemsandensuresthatthenewhardwareanddevicesthatyouhaveinstalledonyourcomputer,wereinstalledcorrectly.ConnectyourcomputertotheinternetandmakesurefromtheWindowsonlinetroubleshootingservicethatyourcomputerishavingthemostupdatedtroubleshooter.
ClickontheStartbutton,thencontrolpaneltoopentheHardwareandDevicestroubleshooter. WritetroubleshooterinthesearchboxandclickontheTroubleshootingoption.ThenclickonConfigureadeviceunderHardwareandsound. Ifthescreenpromptsforconfirmationoranadministrativepassword,providethesame.
Process 2- TofixtheUSBundetectableproblemonSamsungGalaxyTab2, uninstalltheUSBcontrollerandthen againreinstallit.DisconnectalltheUSBdevicesandfollowthestepsbelow:
ClickonStartbutton,thenwrite"devmgmt.msc"inthesearchbarandtapEnter.Also, youcanclickonContinue.
Indevicemanager, double clicktoexpand"Universalserialbuscontroller",thenrightclickontheHostController, clickUninstallandthenOk.
Deletealltheitemsunder"Universalserialbuscontroller"byrepeatingthesecondstep.NowrestartyourcomputerandWindows 7 automaticallywillreinstalltheUSBcontrollers.
NowcheckwhethertheUSBundetectableproblemonSamsungGalaxyTab 2 hasresolvedornot.
Also, trytodownloadandinstallthelatest"Samsungkies"softwarebyupdatingyourtabwithlatestSamsungkiessoftwaretosolvetheUSBundetectableproblemonSamsungGalaxyTab2.
Sours: https://www.technobezz.com/fix-usb-undetectable-problem-samsung-galaxy-tab-2/
I try to connect my Samsung Galaxy Tab A to my laptop via USB, but it keep shows me USB device not recognized The last USB device you connected to this computer malfunctioned, and Windows does not recognize it. Windows Explorer

I have try the following ways:
1. Uninstall and then reconnect the external hard drive
2. Install the latest Windows Updates
3.  Reinstall USB controllers.
4.  Disable USB selective suspend setting.
But still fail to connect, I have try my other mobile device such as OPPO, pendrive, and etc all can connect except this Samsung Galaxy tab A pop up this issues, any way to overcome this?
---
20 Replies
· · ·
Poblano
OP
Have you tried a different USB port on your computer? Or a different cable?
0
· · ·
Pimiento
OP
My best guess is that this is a driver issue. You can google that there are tons of topics how to fix it
0
· · ·
Sonora
OP
· · ·
Pimiento
OP
I already try 3 USB cable, but still cannot, i try connect this tab to other computer also face the same issues
0
· · ·
Pimiento
OP
May I know what are the physical problem? sorry i new to this, just suddenly faced this kind of problem, any ideas on this issues?
0
· · ·
Sonora
OP
Try this *#0808#
If you see menu chose mtp+adb
1
· · ·
Pimiento
OP
I already doemload kies on my pc , but still cannot connect
0
· · ·
Pimiento
OP
Sorry may I know more detail about this   *#0808#? I blur here 
0
· · ·
Sonora
OP
You have call button on the screen?
0
· · ·
Pimiento
OP
yes , but problem still there, usb device not recognized
0
· · ·
Sonora
OP
Pres call button end enter this nr *#0808# and chose mtp+adb option
0
· · ·
Pimiento
OP
yes i choose this setting already but still cannot
0
· · ·
Sonora
OP
Go to device manager and see if have something wrong with yellow color
0
· · ·
Pimiento
OP
Windows has stopped this device because it has reported problems. (Code 43)

A request for the USB device descriptor failed.


This are the error from device manager, but i already follow the tutorial online still cannot overcome this issue
0
· · ·
Sonora
OP
Try to unistall driver and remove connection from laptop. Turn off tablet. If you can remove battery and press power button about 10 sec. After that try to enter on recovery mode and connect with laptop again
0
· · ·
Anaheim
OP
On the galaxy, go to your notifications once it's plugged in, find the one that says it's plugged in for charging only... tap it, change to data transfer. Many tablets and phones (android based) are set to "charge only" when connected...
1
· · ·
Sonora
OP
Any way shall no get this error while charging
0
· · ·
Serrano
OP
Will your tablet connect to a 2nd computer? Do you get the same error or does it work? If tablet does not connect and you get the same error, the issue maybe the tablet. I would then back up all files and contacts on tablet and do a factory reset on tablet. Factory Reset will wipe all informtion on device so back up your stuff! Before you restore any files or contacts plug it into your computer on a different USB port if possible and see if it works. If yes, restore all your files and contacts. If no, you might have a hardware issue. Also I would recomend you remove the tablet driver before you plug it back in after factory reset.
0
· · ·
Habanero
OP
Try re-installing the Samsung generic android drivers to the PC before you plug it in.
http://developer.samsung.com/galaxy/others/android-usb-driver-for-windows

0
This topic has been locked by an administrator and is no longer open for commenting.
To continue this discussion, please ask a new question.
Sours: https://community.spiceworks.com/topic/2100199-how-to-solve-usb-does-not-recognized
⚠️ Samsung Galaxy S21, S21 Plus and S21 Ultra USB NOT RECOGNIZE - ✅ 𝗦𝗢𝗟𝗨𝗧𝗜𝗢𝗡
I have an Samsung Galaxy Tab S2 8.0 It's up to date with everything.
Up until just now, I've never had a problem connecting external storage devices to my tablet using an OTG cable. Earlier today, it worked fine.
Later, I tried to connect a device but it wouldn't mount. I tried a second cable. I then tried a different USB storage device. No luck. I tried rebooting the tablet. No luck. (One of the devices asks if I want to connect and that came on for a second then disappeared. Since then no luck with anything.)
This happened once before and by blowing air into the micro usb port I must have dislodged some dust and it worked. I tried that again but no luck.
The SD card in the SD card slot is working fine.
To recap, I have tried:
Three different OTG cables
Two different USB storage devices
Resart, Turn on and Off, Soft Reset of the tablet.
OTG troubleshooter isn't finding any OTG even when physically connected.
Any ideas on how to fix this?
asked Sep 17 '17 at 12:05
BuzzBBuzzB
111 gold badge11 silver badge22 bronze badges
Sours: https://android.stackexchange.com/questions/183430/tablet-wont-recognize-otg-flash-drive
Usb reading samsung not tablet
All the things of the girl came to me at the right time. Dressing them, I experienced excitement and excitement that I did not understand, and when I approached the large mirror in the corridor, these sensations. Of mine intensified.
Samsung Galaxy Tab S7 microSD OTG cable
I'm listening to you. About the camp or about the hostel. About the first time to begin with. I'm afraid that you are looking at me, and not at the road, stop then. Okay, let's turn off the track into the forest, can you tell us there.
You will also like:
And each finger moved faster and faster. The daughter is massaging the berry of the clitoris, and the mother is plunging into the vagina. Faster, harder and deeper. Until the wonderful slender body of the woman bent in the sweetest pleasure, enveloped in the convulsion of.
820
821
822
823
824