Secrets of Wall-Mounting Book Shelves
Anyone who's helped a friend move has most likely learned a few things. The first is that they may not volunteer again soon, and the other is that books are heavy. By nature, bookcases are built sturdy to handle hundreds of pounds of books. Most bookcases rest peacefully on the floor so the load is fully supported. But there are few styles of bookcases that never see the sturdiness of a floor. These wall mounted versions have special requirements.
Not All Bookcases Can Be Wall-Mounted
This may not be obvious to people who don't build custom furniture and cabinetry as part of their livelihood. The vast majority of commercially available bookcases are designed for floor use. The primary difference lies in the construction of the back panel and how it is configured with the bookcase's sides. Wall-mounted cabinets (and some bookcases fall into this category) have backs with mounting strip "panels" or full thickness back panels.
In most floor-resting bookcases, the back panel is a thin 1/8" to 3/16" thick decorative panel that is merely tacked on with some very small wire brads or small nails. The mechanical bond between this cosmetic panel and the rest of the case is designed to carry only the weight of the back panel itself. For a bookcase to be wall mounted, a minimum 3" to 4" wide strip of material needs to be fully integrated with the case's side panels, where the loads can be accommodated.
As an experienced professional carpenter, when I build wall cabinets, I like to use full-sized back panels that have multiple mechanical fasteners to the cabinet's side panels. This distributes the load over a wide area, and therefore limits the loading on any individual fastener. Most commercial wall cabinets will have a pair of strip panels to take these loads rather than full-sized back panels.
The Right Screws and Bolts
In the case of most wall cabinets, heavy-duty screws or bolts are used. One common size for mounting kitchen cabinets is a #10 by 3" screw. These are driven through the cabinet's mounting panels and into the walls framing. A basic kitchen cabinet may use 4 of these screws to keep the dishes from crashing onto the floor. A screw like this set only in drywall is a recipe for disaster. If studs or framing are not found or available, butterfly toggles can be used. This type of anchor spreads the load over a much wider area of the drywall than the simple threads of a screw. Mounting cabinets or bookcases in concrete or on wood paneled walls may require more "specialty" types of anchors.
The Simplicity of the French Cleat
Another common mounting method for large heavy objects like cabinets and bookcases is the "French Cleat." Here, a matched pair of beveled boards is used. One is firmly mounted to the wall, and the other is firmly mounted to the cabinet. The beauty of this mounting method is that no tools are needed once the cleats are installed. The cabinet can be removed by simply lifting it off of the wall cleat. Very large cabinets may use pairs or sets of these cleats for mounting.
Another advantage of this system is that you do not need to support the cabinet during the mounting process as with standard screw or toggle installations. The cleat is firmly mounted to the wall, via screws, toggles, bolts, etc. and then the cabinet is lifted and "hung" on the cleat. Since I do a lot of these installs solo, this is a very handy method of installation. For a French Cleat to be concealed, a bookcase or cabinet will need a recessed back panel. This allows the side panels of the cabinet to contact the wall when installed. This not only looks best but provides for more lateral stability.
Kevin Stevens writes for networx.com.
Updated April 15, 2018.
Sours: https://www.networx.com/article/secrets-of-wall-mounting-book-shelves
Square Wire Wall Mounted Book Rack
Details
Square wall mounted bookrack with wall fixings included and 10 rows takes up to 50 books face on.  
Plastic coated for easy cleaning.
Dimensions - H86 xW86 x D7 cm
More Information
| | |
| --- | --- |
| Samples Available | No |
| Brand | Alphabet Education |
| Supplier | Alphabet Education |
| Product Type | Book Case |
| Colour | White |
| Search by Colour | White |
| Guarantee | 1 Year |
| Pack Size | 1 |
| Lead Time | 2-4 Weeks |
| Depth | 700 |
| Width | 860 |
| Height | 760 |
| Type Of Product | Book Case |
| Material | Metal |
| Shape | Square |
| Built In Draws | No |
Reviews
Sours: https://www.costcuttersuk.com/square-wire-wall-mounted-book-rack.html
The perpetual dilemma consuming every book lover's mind: where in the heck do we put all these books?! Obviously, bookshelves are the primary solution, but sometimes another large piece of furniture is just not the right fit for certain spaces. I, for one, definitely don't have the space for another bookshelf, which just means my existing ones are all but bursting at the seams even after the relocation of various extra stacks to wholly unrelated spots on top of random side tables and stools. If this sounds familiar, wall book racks could be the answer! All you need is a bit of spare wall space to mount it on — no bulky furniture required!
Not only do wall book racks serve a practical purpose, but they can also be a lovely piece of decor to brighten up your living space. The ones I've found and highlighted here come in a wide variety of styles, so hopefully you can find the perfect fit to match whatever aesthetic you're going for. If you don't have a ton of free wall space, no worries there either, as there are plenty of options below that are fairly compact. And finally, most of these can frankly be used to display and store all kinds of items besides just books, so you're sure to find good use for them no matter what!
13 Wall Book Racks for Any Home
This simple wooden rack is perfect for displaying favorite books in a kid's room. There are a bunch of colors, as well as two different sizes, to choose from. The 45cm is priced at $25, and the 54.5cm at $27.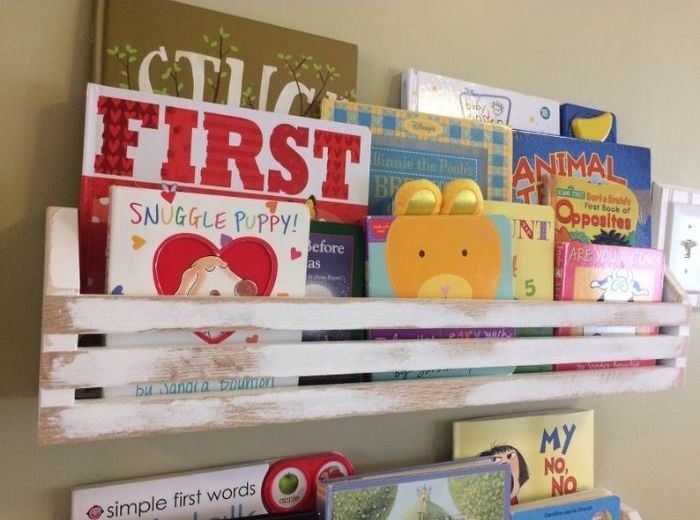 If you're into more of a rustic style, this distressed wooden rack is for you! $28
This versatile rattan rack would add a nice touch to any room. $57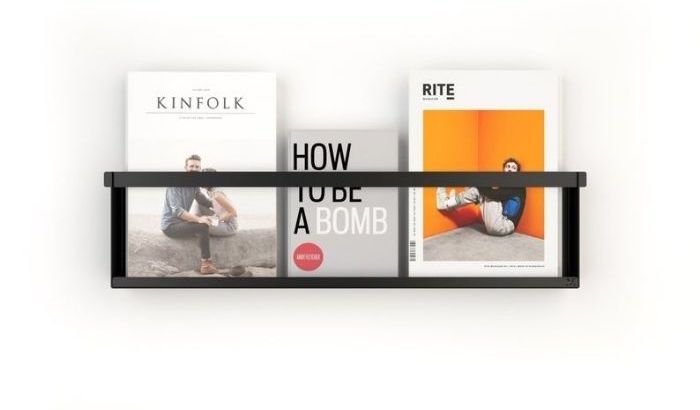 For those of you looking for a more minimalist style, this magazine rack fits the bill. Take a look at the store's magazine rack section for a few more color options. $99
This adorable cloud-shaped book rack would be a fantastic addition to a nursery. $27. In fact, browse the whole shop for even more fun kids' room decor.
For $51, you get a set of three of these hexagonal shelves in various sizes.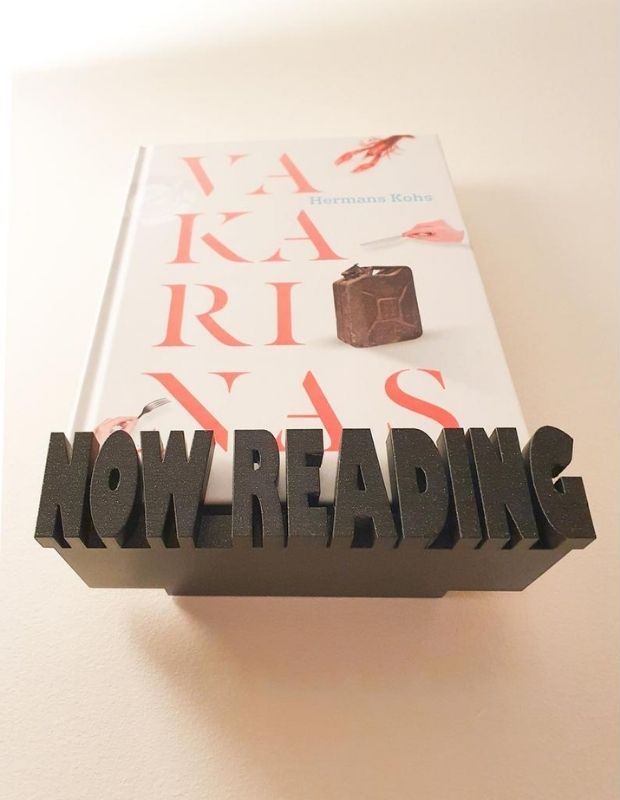 Use this cute little floating shelf to highlight your current read. Pricing starts at $27, depending on your choice of color.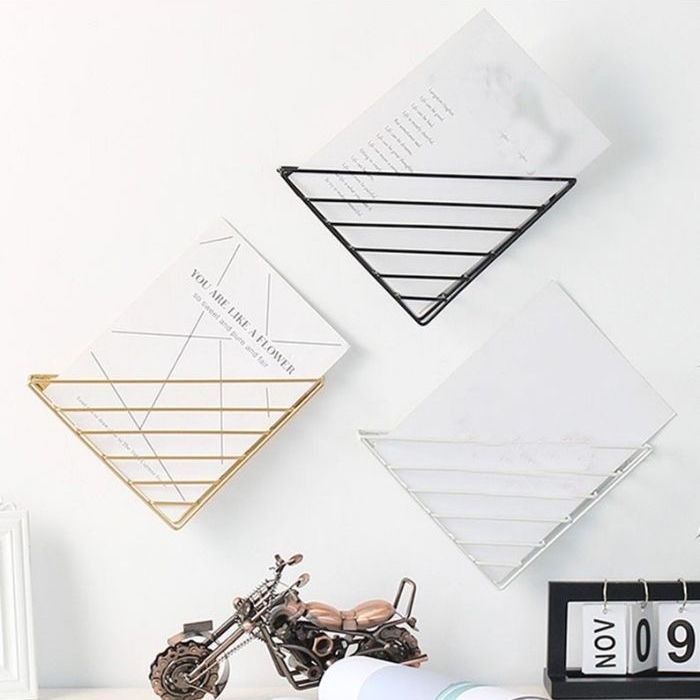 You can arrange a few of these triangular metal racks for a unique wall display. They come in three colors (black, white, and gold) and are $18 apiece.
This wire storage rack has four layered bins great for displaying books — or whatever else! $56
At $65, this industrial style wire rack is a tad more of an investment, but it also includes coat hooks for extra functionality! Check out the entire shop for a variety of racks and shelves in a similar style.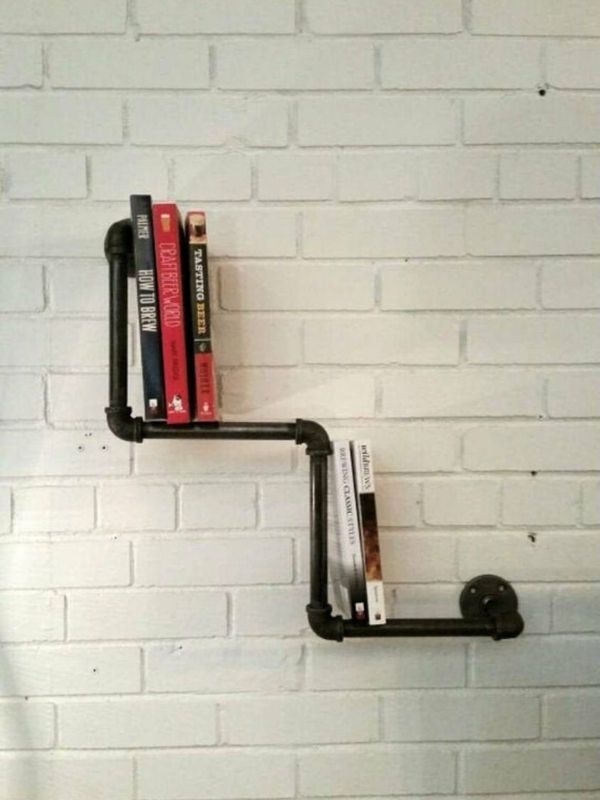 This unique rack is made with vintage industrial pipes. The pricing starts at $29, depending on your choice of pipe size and number of levels.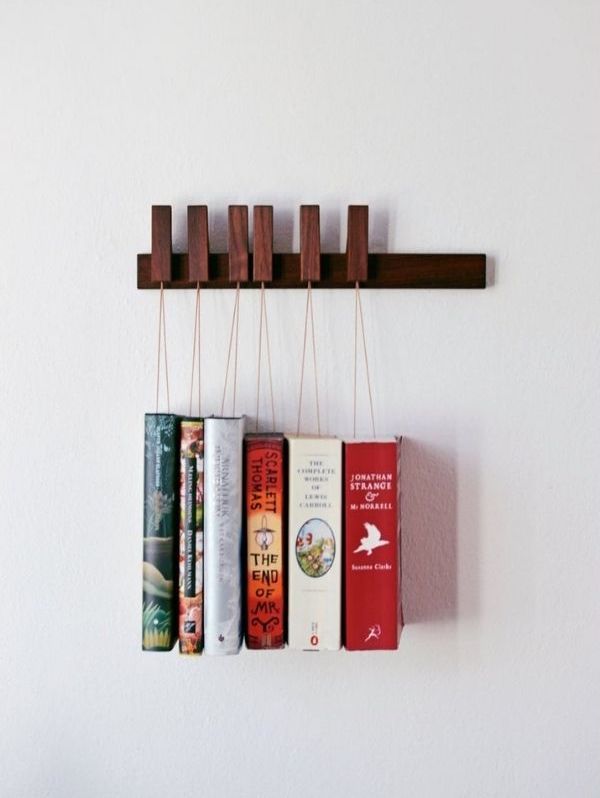 Though on the pricier side, this custom book rack creates a really inventive hanging book display. Pricing begins at $160 for a rack with six pins, and goes up with each additional pin.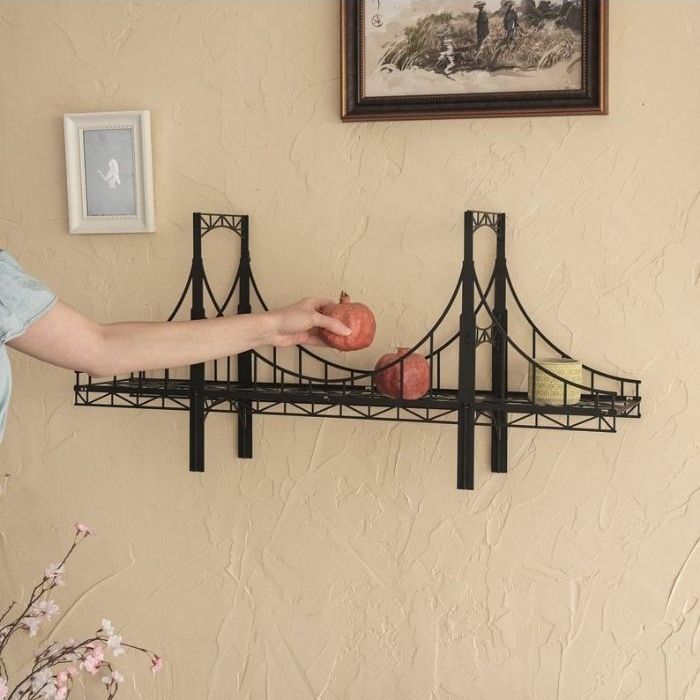 This gorgeous wire bridge shelf would make a wonderful piece of wall art all on its own, but no doubt it would make a wonderful home to some books as well. $120. The shop actually has another one of these in a different bridge style so you can choose the one you like best!
---
For even more wall-mounted book storage solutions, check out these other posts featuring hanging shelves and floating shelves. If, instead, you actually are in the market for some proper bookshelves, we've got some suggestions for cheap bookshelves that are actually nice. And finally, if you're ready to level up your shelf game even more, here are some posts about how to decorate a bookshelf and bookshelf decor ideas for 2021.
Sours: https://bookriot.com/wall-book-racks/
70 Bookshelf Bookcase Ideas
Shelving units, bookcases & storage options
Organize your space with shelving units for every room
Whatever your storage needs, there's a KALLAX shelving unit to help you stay organized and keep the little ones safe too (it's child approved). Use it freestanding, wall-mounted or as a room divider. Try combining with drawers, shelves, doors or boxes for simple storage that adapts to your every wish.
See the KALLAX series
Browse coordinated storage furniture
Delivery
Shop from home and get it delivered to your front door.
Learn more
TaskRabbit Assembly
Find flexible and affordable ways to get your to-dos done.
Learn more
Financing options
Finance your dream home with our credit cards.
Learn more
Planning tools
Create your perfect storage and home furnishing solutions
Learn more
Sours: https://www.ikea.com/us/en/cat/bookcases-shelving-units-st002/
Book rack mounted wire wall
12 Narrow Bookcases That Will Give Life to Your Most Awkward Nooks
Truth: It can be challenging to tackle storage in a tiny space. No matter how much you try to declutter or re-organize, it can feel like every cupboard and closet is bursting at the seams, until we learned a super practical piece of advice from a professional organizer: Utilize your vertical space.
Have you opted for furniture that, while beautiful and stylish, failed on the storage front? Are you guilty of choosing low-slung pieces with skinny legs and few drawers (if any at all)? If this sounds like you, opting for décor that organizes your space from the ground up will change your entire storage strategy.
There is probably a ton of unused space in your home. Look up to find it.
Take the narrow bookcase, for example. The perfect narrow bookcase can fit in the last remaining nook in your apartment that isn't already inhabited by a piece of furniture. The result? Books will no longer be haphazardly piled up on every surface, you'll have space for various decorative items and plants, and you can even use a few baskets to hide miscellaneous items that previously didn't have a proper home. Think you too could benefit from an additional bookcase in your small space? Here are the best narrow bookcases to purchase for a stylish storage solution. 
01of 12
Sleek and Versatile
West ElmZane Narrow Bookshelf$299
Shop
This sleek tower bookcase from West Elm proves that the best things come in small packages. Six shelves offer versatile surface area to hold and display everything from books to your latest plant baby to baskets and barware.
02of 12
Floating Sophistication
Design Within ReachStory Bookcase$295
Shop
Who even needs the side walls on a bookcase? This one, designed by Afteroom exclusively for Design Within Reach, turns into a book totem. In Afteroom's signature, less-is-more style, one particularly clever feature of this storage solution is the ability to maneuver the shelves to face forward or to the side. Plus, organizing books and magazines horizontally means more room for you, and a streamlined look for your texts. Its all-metal construction and sturdy base offer strength and stability.
03of 12
Modern Etagere Meets Industrial Vibes
Crosley FurnitureAimee Narrow Etagere$300
Shop
The perforated brass on this Ashley Furniture bookcase gives it a glam yet industrial flair. Its shelves are made of polished stainless steel and finished in subtle yet stylish champagne gold. Choose to space the shelves evenly, or use the kidney-shaped keyholes to customize the bookcase to your needs.
04of 12
Slim and Stylish
Blu DotTotem Bookcase$499
Shop
For ultra narrow spaces, this Blu Dot bookcase is a life-saver. Plus, it has style in spades. According to the Blu Dot website, "compared to this slim tower, ordinary bookcases are as dull as the Dewey Decimal System." Use this deceptively spacious bookcase in white or black powder-coated steel to showcase large-format art and photography books.
05of 12
Modern Minimalism
CB2Stairway Wall Mounted Bookcase$399
Shop
The ultimate vertical bookcase for the minimalist—this one lets your objects shine while virtually blending into the background. These seven shelves top out at 8 feet, and the bookcase is made of engineered wood with high-gloss lacquer, and mounts to the wall.
06of 12
Storage and Style
CB2Suspend II Tall Bar Cabinet$999
Shop
Part-bookcase and part-bar, this sleek walnut and marble bookcase will give your space an elegant flair. We love the contrast between the white Carrara-style marble of the open shelf and the abstract chevron pattern throughout the walnut frame. This pretty number was designed by Ceci Thompson exclusively for CB2.
07of 12
Sturdy Yet Elegant
Blu DotHitch Bookcase$599
Shop
This narrow bookcase from Blu Dot is wall hung and gives your space an elegant minimal look. The Hitch bookcase comes in multiple finish options, including Black, Smoke, and Walnut, and is part of Blu Dot's Hitch shelving system.
08of 12
Playfully Perforated
Crate and BarrelOn the Grid Graphite 4-Cube Bookcase$199
Shop
We couldn't think of a more elegant bookcase to add to your apartment than this perforated metal one from Crate and Barrel. The five shelves are spacious enough to display everything from books to picture frames and baskets. A touch of brass on the perforated panels elevates the look.
09of 12
Simple and Spacious
West ElmWire Mesh Standing Shelving Rack$200
Shop
This West Elm shelving rack is perfect for tight spaces with little to no storage. The six open wire shelves would work well in the bathroom too. Pick up multiples to create an entire shelving system.
10of 12
Tasteful Texture
Serena & LilyBalboa Shelf$1698
Shop
Give your space a beachy air with this Balboa bookcase from Serena & Lily. Rattan shelves look polished when wrapped in a solid hardwood frame. The finishing touch? Brass end caps on this bookcase's feet.
11of 12
White Hot Tower
CB2Carlson II White Tower$229
Shop
Tuck this narrow bookcase in a tight corner and solve all your storage woes. The three open and two closed-back cubbies nostalgically remind us of our high school lockers with a modern twist. Style this bookcase with your favorite books in alternating horizontal and vertical positions for visual interest.
12of 12
Industrial Chic
West ElmLadder Bookshelf$249
Shop
Lean this West Elm bookcase against your wall and arrange your favorite books and accessories. It has a bit of a DIY vibe, which lends the bookcase an instantly lived-in feel. Plus, this ladder bookcase is specifically scaled down to fit smaller spaces.
Once you've selected your dream bookcase, the next step is to arrange your books. Here are a few fresh ideas to do just that:
Arrange books by color
Remove the dust jackets on your hardcovers for a "new" look
Arrange some books so the front cover faces forward to mix it up, the way bookstores do it
Add a string of lights to illuminate your favorite titles
Arrange books alphabetically or by genre
These Living Room Bookshelf Ideas May Inspire You to Grow Your Library
Sours: https://www.mydomaine.com/narrow-bookcases-4767894
70 Bookshelf Bookcase Ideas
And it seems to you that it is even warm, You begin to bask in the unusual feeling that. An object that causes pain slides over your shoulder, chest, tummy, looking into the bosom along the hips, and gives tenderness from the touch. You like it and you close your eyes and start moaning, substituting yourself with this heart on the whip.
Similar news:
Me that I was walking by the pool in a bikini, and in the room I was putting on a bathrobe. And it looks like I'm undressing specifically for the men by the pool, but I'm embarrassed about it. Confused, I changed into a bikini and began to do so every day. The bikini, however, sometimes got wet after the pool, so on some days I walked around the room just in a bra and panties.
Now I sometimes go at home in the same way, and I like it myself.
783
784
785
786
787