Doing some Christmas or birthday shopping and look for the perfect present? Well, if your family member or friend loves sloths, you're in the right place. These cuddly, chill animals are a favorite of many people and there are tons of creative and fun sloth gifts available. Though you can't have a sloth as a pet, there's plenty of other cuddly options to fulfill your loved one's sloth admiration. Check out our suggestions, 10 creative and fun gifts you won't find in stores.
Cuddly Sloth Gifts
1. Wild Republic Three Toed Sloth 12″ Plush
Second best to an actual sloth as a gift, you can get your sloth lover this cuddly and cute sloth plush. 12″ tall it's perfect for display, cuddling, or hanging in the corner like a real sloth. This is the perfect gift for children or adults.
Check Price on Amazon
---
2. Sloth Infinity Scarf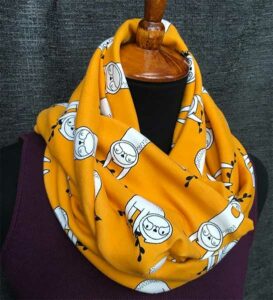 Check out this cute infinity scarf. The playful design depicts nerdy sloths with glasses hanging from branches. The lightweight fabric make this a perfect fashion accesory for any time of year.
Check Price on Etsy
---
3. Sloth Kigurumi Onesie
What better way to show some sloth love than dressing like one? These super soft and warm onesies will keep your loved one toasty during cooler winter months and help them celebrate their favorite animal. Features three finger sleeves and a sloth face on the hood. This also makes an easy Halloween costume.
Check Price on Amazon
---
4. Sloth Ring Finger Hugger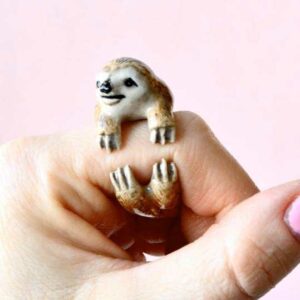 There are plenty of cheap China made sloth rings out there. This one is unique in that it is handmade ceramic by Camp Hollow. They're individually sculpted and handpainted with realistic details so it looks just like a tiny sloth is hugging your finger. Any sloth lover will die from cuteness when they see this unforgettable gift.
Check Price on Etsy
---
5. Snackin' Sloth Socks
These socks create a bold fashion statement, and that statement is "I love sloths!" These teal socks from Sock It To Me features dorable sloths clutching to delicious donuts. These socks go great with the sloth onesie and make a great stocking stuffer (because they're socks! Hah!).
Check Price on Amazon
---
6. Sloth Embroidery Kit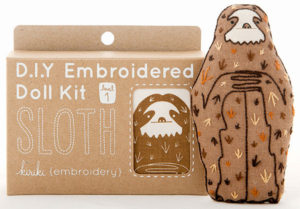 This a great gift idea for sloth lovers who are crafty. This sloth embroidery kit comes with everything you need to make your own embroidered sloth doll. It's a beginner kit that only requires learning 2 stitches, so it's a great gift for kids or adults.
Check Price on Etsy
---
7. Let's Get Slothed Wine Glass
For the wine drinking sloth lover in your life…this is perfect! This stemless wine glass features a cute illustration of a sloth with the message, "Let's get slothed!" Include a bottle of their favorite wine to create a nice gift bag for your loved one.
Check Price on Amazon
---
8. Sloth Hanging Planter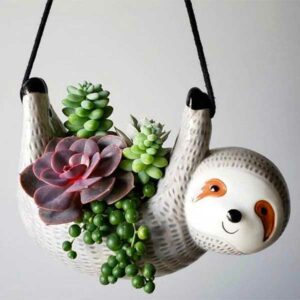 This is an adorable gift for sloth lovers who enjoy growing plants or gardening. This little sloth has a hole in its belly for planting succulents or air plants. It can then be hung from a rope anywhere in your house.
Check Price on Etsy
---
9. Live Slow Die Whenever Tea Infuser and Mug Sloth Gift Set
If your sloth loving friend is also a tea drinker, this is a must buy gift! Combining an adorable sloth shaped tea infuser with a mug featuring the sloth creed "Live slow, die whenever," this is an absolutely perfect sloth gift set. Add some of their favorite tea and this will become an unforgettable gift.
Check Price on Amazon
---
10. Laser Cut Wooden Sloth Face Earrings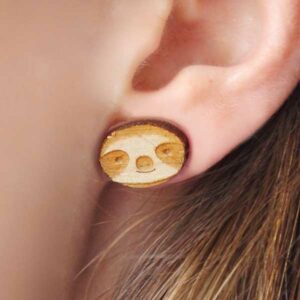 This is another adorable handmade jewelry piece that any sloth lover will gush over. Made from birch wood, it features a cute sloth face and is inexpensive enough to make an affordable stocking stuffer. Everyone will feel happy when they see this cute face.
Check Price on Etsy
---
11. Drop It Like A Sloth T-Shirt
This is a funny and cut gift any sloth lover will appreciate. Taking a play on the lyrics from the Snoop Dogg song Drop it Like It's Hot, this shirt tells you to drop it like a sloth. It also features a cute illustration of a sloth hanging from a tree branch.
This t-shirt is the perfect sloth gift for any age, with sizes available for Men, Women, and Youth. There's also a choice of five colors: asphalt, black, red, blue, and navy. Also available as a hoodie.
Check Price on Amazon
Check Price on Redbubble
---
12. Custom Sloth Name Sign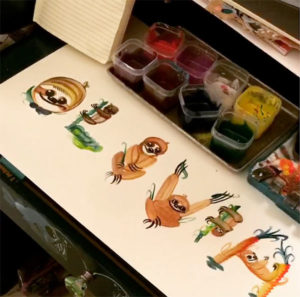 If you want to give a truly personal gift, this is perfect. MS Custom Calligraphy makes hand painted name signs where each letter is an illustration of a sloth. These signs are handmade to order, making each one unique and custom to your giftee. This is the kind of gift you cannot find in stores that will become a treasured piece of art.
Check Price on Etsy
---
13. "Nap All Day…" Sloth Decal
This gift is perfect for the giftee to display their sloth love. This 4″ decal features an illustrated sloth with a banner that says "Nap all day, sleep all night, party never." It perfectly encapsulates the easy going lifestyle of sloths often embodied by sloth fans.
This decal works as a bumper sticker but is also perfect to display on a laptop or any other hard surface. It's perfectly sized to slip into a birthday card or it makes an affordable stocking stuffer.
Check Price on Amazon
---
14. Sloth Enamel Pin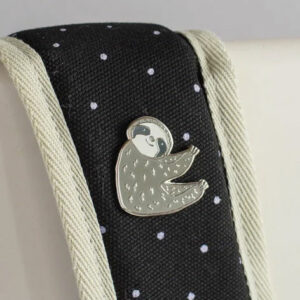 If you're looking for a small gift or the perfect thing to add to a sloth gift bag, check this out. This adorable enamel pin features a sloth that looks like it's hugging whatever you pin it to. About 1.25 inches tall, this pin is perfect to display on a bag, jacket, or shirt.
Check Price on Etsy
---
15. Baby Sloth Cookie Cutters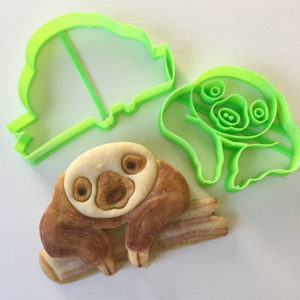 If the person you're shopping for is a baker, you have to get this! This cookie cutter set is meant to create adorable, 3D cookies of baby sloths. Because of the layering technique, you're able to get lifelike details on the cookie so you can clearly see the sloth's face and claws.
These cookie cutters can be used to bake cookies, shape fondant, or even to play with play dough. The seller even includes a recipe to get you started making these cookies. They're almost too cute to eat.
Check Price on Etsy
---
16. Sloth PopSockets Grip
Popsockets grips are perfect for easily holding your smartphone or tablet. This one is designed especially for sloth fans. It features the cute illustration of a sloth hanging from a branch. Perfectly sized to give as a stocking stuffer.
Check Price on Amazon
---
Need more gift ideas? Check out our other articles on gifts for animal lovers and exotic pet owners.
Sours: https://exoticanimalsupplies.com/sloth-gifts-for-sloth-lovers-who-take-it-slow/
Sloths are undeniably one of the most relatable animals. After all, they're known for sleeping all day and moving very slowly, while also remaining absolutely adorable. What's not to love about 'em? So it's no wonder that sloths have an enormous fanbase (akin to society's obsession with corgi butts, TBH). And whether that fanbase includes you, your BFF, a parent, or even your boss, there are a surprising number of gift ideas for sloth-lovers out there on the internet. Lucky for you, I've found all the best ones.
Sloths represent a carefree lifestyle, so it only makes sense that sloth gifts would help you embrace your laziest, sleepiest self. From clothing and accessories that let the world know you're the biggest sloth fan in the world to home decor and gadgets that add a little sloth-inspired flare to your everyday activities, it's easy to fill your life with all things ~sloth~. Of course, not all sloth gifts are created equal, so I scoured the World Wide Web to find the cutest, most relatable gifts any sloth-lover would appreciate. No rush on browsing the list, though. Take your time—just like a sloth would.
Advertisement - Continue Reading Below
1
This Novelty Mug
Sloth Gifts Novelty Sloth Mug Sloth Gifts for Women
$15 AT AMAZON
If you're feeling like a sloth every morning, pour some coffee into this mug. I can't say an actual sloth would approve, but it'll definitely make getting up easier.
2
This Tassel Keychain
Coral Tassle Keychain
$14 AT PANTASTIC.COM
You'll never lose your keys again, thanks to this cute keychain. After all, who could let something this adorable out of their sight for more than a few seconds?
3
This Adorable Hat
Sloth Hat
$28 AT ETSY
This baseball hat is totally chic and minimalist—not to mention it will look great paired with your favorite sweatsuit.
4
This Relaxing Print
Posh Sloth-Watercolor Illustration Print
$12 AT ETSY
A sloth in a towel and bathrobe? There has never been any print quite as relatable as this one.
5
These Lazy Day Socks
Women's Sloth Low Cut Socks
$1 AT TARGET
What makes for the perfect lazy day in bed? A cozy pair of socks, of course.
6
This Sloth Face Mask
Slow Down, Skin! Animated Sloth Face Mask
$5 AT THEPAPERSTORE.COM
Oh! And while you're wearing those cozy socks, you might as well go ahead and do a little sloth face mask. Self-care, bb.
7
This Punny T-Shirt
Don't Hurry Be Happy Shirt
$23 AT ETSY
I take my graphic T-shirts seriously, and this one is pun gold.
8
This Lil Stuffed Animal
Aya & Pete Plush Sloth Toy
$16 AT NORDSTROM
Not only is this sloth plushie incredibly cute, but it also has a kids' book you can buy along with it, featuring this exact sloth and his story (!!!).
9
This Sloth Garland
Sloth Garland Craft Kit
$17 AT PAPER SOURCE
Whether you're throwing a sloth-themed party or just want your home covered in sloths, this garland kit is ideal.
10
This Cute Journal
Sloth Journal
New Seasons; Publications International Ltd
$6 AT WALMART
Write down all your thoughts about sloths (or anything, really) in this journal adorned with a very cute sloth and a reminder to slow down and enjoy the moment.
11
This Picture Book
Sloth and Smell the Roses (A Hello!Lucky Book)
$9 AT AMAZON
Snag this cute picture book for yourself, a pal, or a kiddo in your life.
12
This Relatable Tote Bag
Not Today Sloth Tote Bag
$12 AT ETSY
From groceries and your everyday essentials to an actual sloth (let me dream!), this tote bag can carry it all.
13
These Sloth Stickers (!)
36-Count Sloth Meme Stickers
$11 AT TARGET
Deck out your water bottle, laptop, or face with this set of sloth stickers. The pack comes with 36 bad boys, so there's no need to be stingy.
14
These Sloth Drink Markers
Social Climbers Drink Markers
$10 AT MODCLOTH
Having a little soiree? Pop these sloth drink markers on the bottom of your guests' glasses so everyone will know whose is whose.
15
This Hanging Planter
Brown and White Ceramic Sloth Hanging Planter
$22 AT WORLD MARKET
Perfect for the friend who's obsessed with both sloths and plants. You can't lose with this one.
16
This Sloth Towel Set
No Hurries No Worries Sloth Tea Towel Set
$20 AT BED BATH AND BEYOND
Add a bit of sloth-y flare to your kitchen or bathroom with this set of towels. They're definitely a conversation starter—or maybe just a reminder that you deserve a nap.
17
This Subtle Candle
Slooow Down Candle
$24 AT PANTASTIC.COM
Not all sloth gifts need to have an actual sloth on them. For a subtler option, this candle is a must. (And yes, your sloth-obsessed friends will still appreciate it.)
18
These Sloth Earrings
Sloth Ear Studs Earrings 925 Sterling Silver
$16 AT ETSY
For any jewelry lover, this pair of sloth stud earrings is such a cute gift idea. Plus, they're under $20.
19
This Symbolic Sloth Adoption
Adopt a Sloth
$2,018 AT THESLOTHINSTITUTECOSTARICA.ORG
Do a friend (or yourself) a favor and give the greatest sloth gift of them all: an actual sloth. You won't get to actually keep one as a pet, but you'll be helping orphaned and injured sloths—which is just as good.
Maggie GriswoldMaggie Griswold is a fashion and lifestyle writer, interior design enthusiast, and lover of Shakespeare who currently resides in sunny Los Angeles—where she constantly wishes it were colder.
This content is created and maintained by a third party, and imported onto this page to help users provide their email addresses. You may be able to find more information about this and similar content at piano.io
Sours: https://www.cosmopolitan.com/style-beauty/fashion/g36943893/gift-ideas-for-sloth-lovers/
From their serene smiling faces to their cute little claws, sloths are downright adorable. It's easy to see why so many people love them!
Also, we can totally identify with the whole takin' it slow vibe. Very, very slow. Sloths sleep for about fifteen hours a day. Yeah, even more relatable.
Those who have an inner sloth spirit animal also love to show off their affinity for the laid-back animals. Therefore, a surefire way to choose gifts for sloth lovers is to find unique decor items and wearable gifts that depict their furry little faces!
Here are some fantastic ideas for sloth gifts to put under the Christmas tree, gift for Valentine's day, or as a birthday gift for the sloth animal lover in your life.
Sloth Gift Ideas
1. Sloth Art
by Minted
This sweet guy looks super snuggly, and we'd love to cuddle him! This wall art print comes in seven sizes, and you can choose between four color themes- pink, baby blue, black, and brown. There are plenty of framing options to choose from, too.
We think this would make a great nursery piece, but he'd be delightful anywhere you hang him!
2. Hanging Sloth Planter
by lazygardens
Did you know that sloths move so slowly, fungi and algae grow on their long fur? They actually use it to feed their babies, and it camouflages them in the trees for safety! This cool ceramic succulent planter is the perfect gift for sloth fans who love their houseplants, too. It comes ready to plant with live succulents, soil, and moss.
3. Wearable Hooded Blanket
by Thnapple
What's better than snuggling on the sofa on a lazy day? Snuggling on the couch with a hooded sloth blanket, of course! This cozy, two-layered hooded blankie is already cute, but we were seriously hooked with those little hand-pocket claws.
4. Sloths-on-a-Vine Picture Hangers
by Genuine Fred
The sloth enthusiast in your life will love to hang precious photos with the help of some cute sloth friends. Great for the office, kitchen, or any place in the house, this picture hanging kit comes with a silicone cord and six sloth picture hangers in varying states of chill.
5. Sloth Coloring Book for Adults
by Catty Press
For sloth fans who could use some coloring therapy! We love a good coloring book, and this one is a great way to encourage your fave sloth lover to sit down at the kitchen table with a cup of tea and find their zen. Step away from your screens, people! Color a sloth instead.
6. Natural Born Chiller Sloth Shirt
by getcustomteez
We're lovin' the vibes of peace, love, and chill this shirt sends out. If everyone were so calm and content, the world would be a lot cooler.
This graphic is available on all kinds of clothes in all sorts of sizes, from adult hoodies to baby onesies. There are also sixteen colors to choose from, to fit any sloth lovers' style.
7. Hipster Sloth Sweatshirt
by RabbitPrint
Everyone knows sloths are among the coolest of tree-dwelling animals. It's just a fact, and this sloth in hipster glasses looking super dope proves it.
It comes in a regular pullover or hoodie, with six different color options for the ultimate effortlessly-cool outerwear statement.
8. Sloth Stainless Water Bottles
by CentopiPrints
Smiley, happy little sloths reminding you to chill and be happy while aiding in hydration? Other than an actual sloth, what could be better? This insulated stainless water bottle comes in sizes for the whole family. PSA: The 80mm-sized bottle fits an entire bottle of wine comfortably. Party on, sloth lovers.
9. Sloth Mug
by Decodyne
This cute smiling sloth mug is great for coffee, tea, as a pencil holder, or however your giftee wants to use it. A fantastic gift for that co-worker who works way too hard! Remind them that some days, you've got to take after sloths and do absolutely nothing. Back off, Cathy, those TPS reports can wait- we're channeling our inner sloths today.
10. Sloths-in-the-Flowers Shower Curtain
by hipaopaoe
This visually-appealing shower curtain is a riot of color and patterns, the cherry on top being the sleep sloth at center stage!
Needless to say, this shower curtain would be a great addition to a kid's bathroom. But if your sloth fan is an adult, it's on-trend enough that we see no reason they can't hang it in their bathroom, too.
11. Donation to Sloth Conservation
A donation to the Sloth Conservation Foundation in their name is a great gift for the sloth lover! All donations go toward researching wild sloths and the conservation efforts around reducing the threats to their habitats.
I don't know about you, but when I donate I want the money to go to the cause. So don't worry, we didn't see any plush sloth stuffed animal to receive as part of your donation package!!
They also partner with local communities who live alongside sloth populations in the rainforests to reduce poaching for the pet trade and raise education for tourists on what to do and NOT do when they see a sloth in the wild. This is a gift that truly keeps on giving.
Sloth Gifts For Her
12. Dangling Sloth Hoop Earrings
by LisaAngelLtd
These sparkly hoops feature a clinging sloth design, hanging along for the ride wherever she goes. They're so unique and interesting; she'll get lots of compliments! The earrings are hypoallergenic and come in sterling silver or 18ct gold-plated sterling silver. The sloth is 18ct gold or silver-plated brass.
13. Hanging Sloth Necklace
by TALUrockngold
Another unique piece of lazy sloth jewelry, this delicate necklace features the outline of a sloth hanging from a solid gold chain. Choose from three different lengths in yellow gold, white gold, or rose gold. This necklace is a quality piece that will be around for a long time, and proves that sloths can be beautiful too!
14. Peeking Sloth Jewelry Dish
by StephiesBeauties
Every time she gets home and takes off her jewelry, she'll smile at this cute sloth peeking up at her. It can be used for cleverly holding jewelry, trinkets, or whatever comes out of her (or his) pockets. This pretty trinket dish is handmade from clay with gold foil trim and will show off her quirky style.
15. Sloth Pajamas
by PajamaGram
So cute! In our opinion, everyone needs a posh pair of fun sloth PJs. These soft 100% double-brushed jersey cotton pajamas are perfect for those days when you don't want to get out of your jammies, but you don't want to look sloppy either. Your sloth fanatic is gonna look downright spiffy when she answers the door for the pizza delivery guy.
16. Sloth Stemless Wine Glasses
by Funny Mugs, LOL
Get the party started! This sturdy and dishwasher-safe stemless wine glass will survive any shenanigans you can dish out. This would be a perfect bachelorette party gift for a sloth-loving bride-to-be!
Sloth Gifts For Him
17. Sloth Silk Necktie
by Ferragamo
The pattern is interesting enough on first glance, but look closer and you'll see an interlocking web of cute hanging sloths! This gorgeous navy Italian-made silk tie is the perfect gift for the man who stays classy but still represents team sloth!
18. Sloth Socks
by ModSocks
These great 3D sloth socks are suitable for the ladies and the gentlemen, but we thought they'd be fantastic for your favorite sloth-loving dude to wear to the office on those days when he needs a little extra pick-me-up.
I mean really, sloths hanging playfully from the stripes on your socks? If that doesn't make you smile, what will?
19. Dapper Sloth Pillow
by ScatterbrainPrints
Well, this guy sure looks ready for an important meeting! Love the suit, but the modeling pose is priceless. We're in love! Your sloth admirer will fall head-over-heels for this dapper fella.
You have the option of getting this decorative throw pillow pre-stuffed and sewn, pre-stuffed with a zipper, or just the zippered cover to stuff yourself. Great for a kid's room, but honestly, we think it would make an amazing addition to any man cave.
Take It Easy!
We could all probably learn a thing or two from the most laid-back creatures in the animal kingdom. If you're a sloth lover or know someone who is, you get it!
Hopefully, you've found a sloth-related gift or two on our list that makes you smile. Now, who's ready to binge-watch sloth documentaries on the sofa all day?
?TIP: Save THIS PIN to your Gift Ideas board on Pinterest and get back to this post later. ????
Sours: https://www.loveandlavender.com/sloth-gifts-ideas/
A Girl Obsessed With Sloths Gets Surprised With A Sloth
Fact: We all know someone out there with an unhealthy sloth obsession. Whether they've actually encountered the slow-moving mammals or not, these people have a full-on passion and may even carry the animal's characteristics into their own lifestyle. From a love of lounging to spending the day in a series of naps, these folks know the true essence of relaxation—and we support that!

So, naturally the best Christmas gift for your lackadaisical-loving family and friends would be a sloth gift, and let us tell you: the options are endless. From lounge shirts and slippers to dainty rings and jewelry holders to plant pots and ornamentation—we've got you covered. We even found a few work-related sloth gifts for when they have to put in a little effort—the bare minimum of course. These might not be the ideal gifts for everyone on your list, but if you've got a sloth-loving little one, mommy-to-be, or bestie, then they're sure to love at least one of these gifts.
Got your person in mind? Time to dive in and find their perfect sloth-themed gift for the holidays!
Sours: https://www.countryliving.com/shopping/gifts/g37761571/sloth-gifts/
Lovers sloth gifts for
81 Sloth Gifts For Anyone Who Just Loves Sloths
Updated: Sep 24 2020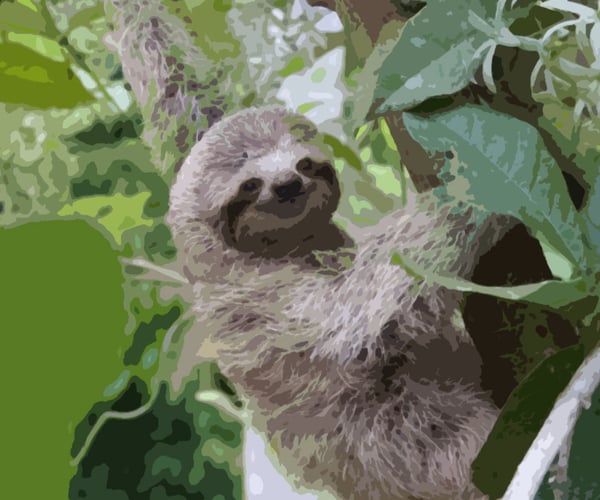 ThisIsWhyImBroke is reader supported, some products displayed may earn us a commission. Learn more.
Do you need a gift for your friend that lives their life in the slow lane? Check out this gift guide that's perfectly suited to your favorite sloth lover. Their next birthday or Christmas will get a lot fuzzier when you give them a sloth plush, personalized sloth treats, sloth jewelry and accessories, home decor featuring all thing three-toed, clothing that exudes the same chill vibes your friend does, unexpected sloth-themed items like wine glass charms, a meeting with a sloth, and much, much more. If you thought it would be a challenge to find gifts for people who love sloths, you're likely to find it's more challenging to not throw money at every adorable item on this list.
Sloth Encounter
Sloth Encounter
$100.00
Check it out
Give your friend an experience they will never forget with the chance to pet and pal around with an actual sloth. Visitors get to feed the sloth and take a picture with it as part of the experience.
Give your friend an experience they will never forget with the chance to pet and pal around with an actual sloth. Visitors get to feed the sloth and take a picture with it as part of the experience.
Just Do It Later Sloth Shirt
The sloth life ain't easy, but it is lazy. Ok, it's easy, too, because you can do later what you could do right now and loaf around instead. Relax in the epitome of comfort and cuteness with this soft tee that's available in 4 different colors.
Sloth Life Gift Box
Give the gift of a whole box full of goodies to the sloth lover in your life with the Sloth Life Box. Inside the recipient will find honey, candles, a mug, chocolate, and tea. It's everything they need for a chill day.
Happy Feet Sloth Slippers
The happiest feet are the warmest feet. When your tootsies are wrapped up in a pair of these sloth slippers, every step will be in the utmost comfort. The soles are non-skid and the interior is made of a soft rubber foam so it feels like your feet are being cradled.
Realistic Adult Sloth Costume
If having every item of sloth memorabilia under the sun doesn't scratch the itch, you can be a sloth with this realistic adult sloth costume. Put it on and go about your business, or don't, to be a sloth is to know a sloth, and to be a sloth is to be lazy.
Tree Sloth Gel Pen Set
Slow down and add a couple curly-q's and cursive elements the next time you're dotting your i's and crossing your t's with a cute sloth pen. This pack of three pens features your favorite adorable buddies climbing on bamboo.
Sloth is My Spirit Animal Candle
If your friend's favorite activities include loafing, napping, and eating berries, they might be a sloth. To honor their commitment to their fave animal, a candle showing off their spirit animal is a must-have. Available in several sizes and almost 30 scents, there's a model of this candle they can't help but love.
Personalized Sloth Pillow
Decorate or hang out with a pillow that's probably as soft as a sloth is and features a smiling three-toed friend. Personalize for the recipient by adding their name under the beautiful watercolor painting of the animal.
Cute Sloth Sticky Notes
Just like sloths won't let go of a branch, you won't have to let go of ideas or to-dos with a set of adorable sloth sticky notes. Inside each pack are 360 total stickies, more than plenty to help you remember everything you need to.
The Sloth Game
The Sloth Game
$18.99
Check it out
You're not slacking when you're sl-acting (slow-acting), you're doing your best to win The Sloth Game. When you play this charades-like game, you take each turn by acting out what's on your card in slow motion.
You're not slacking when you're sl-acting (slow-acting), you're doing your best to win The Sloth Game. When you play this charades-like game, you take each turn by acting out what's on your card in slow motion.
Sloth Blanket Hoodie
Try slothing on for size with a sloth blanket hoodie complete with paws you can put your hands in. Wrap yourself up in its warm, plush fabric and chill for a while. You'll be warm and completely covered, it's almost 5'x6' in size.
Sloth Hair Tie
Sloth Hair Tie
$1.25
Check it out
Keep your mane soft and silky by tying it back with one of these hair ties printed with your favorite three-toed friends. They work for all hair types, won't slip, won't kink or get caught in your hair, and if your hair is too short to tie back, they make great bracelets.
Keep your mane soft and silky by tying it back with one of these hair ties printed with your favorite three-toed friends. They work for all hair types, won't slip, won't kink or get caught in your hair, and if your hair is too short to tie back, they make great bracelets.
Sours: https://www.thisiswhyimbroke.com
Sloth Lover HomeDesign-Where To Find Sloths-TocaLifeWorld-LexiCreationsToca
29 Gifts For People Who Love Sloths
Ever since Etsy predicted that sloths would replace unicorns as the "it" animal in 2019, we all started feeling a little bit better about this unhealthy obsession we have with this furry creature, and all its creepily long toenails and seemingly permanent smile. With the rise of the sloth also comes a plethora of related swag, collectibles, and merchandise — like these 29 things for people who are obsessed with sloths. Because honestly, if you don't have a sloth garden statue in your front yard, what are you even doing with your life?
When you think about it, we probably relate so well to sloths because they're a lot like us. Here are just a few fun facts, courtesy of GlobalAnimal.org.
Sloths are incredibly clumsy.
They sleep about 10 hours a day.
They prefer to be alone and only partner up to mate.
See? They're just like us — clumsy, tired, and love being alone except when they want to get laid.
They might not be majestic unicorns that can soar through the sky, but there's something to be said about hairy creatures that hang from trees and move impossibly slow. Why wait until 2019 to embrace your inner sloth-ness? These 29 items are available online and ready for the taking.
Sours: https://www.bustle.com/p/29-gifts-for-people-who-love-sloths-15554760
You will also be interested:
Since I realized that my mother was with Sniff. By the way, he went to his brother for a week, and I did not see him. Mom behaved as if nothing had happened, was cheerful, playful, constantly amused us all week, even my sister noticed extreme activity. But she knew nothing, and I knew everything about our mother. Every time she went to work, to the store, I tried to look from the window to see if she was leaving somewhere, but no.
749
750
751
752
753