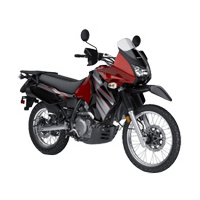 The Kawasaki KLR650 is a 651 cc single, liquid-cooled, 4-stroke, DOHC, 4-valves, dual-sport motorcycle intended for both on-road and off-road riding. It was a long-standing model in Kawasaki's lineup, having been introduced in 1987 and remaining almost unchanged through the 2007 model. The 2008 model was the first significant redesign of the KLR650 since its inception.
| | | | | | |
| --- | --- | --- | --- | --- | --- |
| Chain Size:        | Front Sprocket:        | Rear Sprocket:        | Front Tire:        | Rear Tire:        | Spark Plug: |
| 520x106 | 15T | 43T | 90/90-21 | 130/80-17 | DP8EA-9 |
Lighting

New and improved. Brighter (3000 Lumens), smaller housing, comes with H7 connector, 5700K color temperature, replaceable drivers and easier to install. All of these features and the most reliable LED bulb currently available. Only draws 30 watts of power.
This bulb has Cree MKR emitters and is fan cooled for extreme conditions. Further features include vibration proof and water-resistance, even complete submersion.
• Comes with 2 bulbs

This is a standard H4 bulb that has a 80 watt low beam and a 100 watt high beam. This is an easy lighting upgrade that should not over tax a stock charging system.

Nylon surrounding, removable polypropylene number plate, polycarbonate reflector, cast aluminum headlight body, clear polycarbonate lens cover and tempered glass lens
Spotlight uses 55W halogen bulb; floodlight uses 55W halogen and 5W incandescent bulbs
DOT and SAE compliant

Features an innovative design; made of polypropylene
10 bright white LED bulbs ensure visibility at night and high illumination while using low power consumption
LEDs can be used as turn signals and will not heat up after prolonged use
12V 35/35W H4 bulb with LEDs; total wattage is 50
Universal fitment with anti-vibration rubber straps
Position of mounting points allow ample room for brake line/cable
Universal mounting strap included
DOT-ECE-SAE-TÜV compliant

Designed specifically for aggressive night time riding by combining amazing distance projection, wide peripheral spread and a smooth blend of near field light. Utilizes four Cree™ XM-L2 LEDs, the brightest, most efficient LEDs on the market giving you a blinding 4,900 lumens and 40 watts. The Squadron® Pro is plug and play when installed using the Skene Dimmer kit making for an easy install.
Add the Skene Dimmer Kit to control the brightness to match riding conditions.  Without the dimmer headlight is high beam only.
To run this kit on smaller bikes (below 400cc) you may need to have your stator rewound by Baja Designs.An aftermarket stator can be purchased instead of a rewind. 

So you say you want more light for your dual sport? Give this 7"DOT legal Rally light a try and light it up like a freight train! HIGH/LOW operation and SAE/DOT/E4 approved. 
 This light does not have the large Cyclops logos shown on one of the images.
Race Inspired Design
Hella reflector, made in Germany  stamped SAE/E4
Lightweight Aluminum Frame
Plug and Play for Bikes with H4 Bulbs.
Available with optional mounting plate for computer or GPS
Easily converted to HID if desired, uses an H4 bulb
For bikes that are not H4 (XR650R), a simple H4 plug available at any auto parts store will allow you to use this light.
Now the panel on top of the light for mounting speedos/gps's etc is included, (This is a platform, not actual GPS mount.)

Optional 10.0 Lumen LED High/Low Upgrade  and now the Phoenix LED complete headlight for the ultimate DOT headlight
The stock lamp that comes with this rally light is great, but you can get  well over double the brightness  with the LED upgrade at a substantially lower power draw. Note if your bike is ac powered at the headlight you will need the rectifier for the LED option.. AKA carbureted KTM's CRFX and XR400/650.. others may apply.

This kit includes DOT approved LED headlight assembly with plug-and-play wiring harness, a specially designed adjustable steel mounting bracket, and all the required installation hardware.
The DOT headlight features three low beam LED projectors which provide a wide pattern with distinct upper cutoff.
The high beam uses eight LED projectors producing an extremely bright and far reaching throw, this is the primary advantage of this kit versus our other KLR650 headlight kit. There is also a daytime running light (parking light) feature which can be powered for additional glow. The LEDs are rated for 50,000 hours and operate at a 6000K color temperature.
No cutting, no drilling, no wiring modifications! Installation takes 5 minutes.
Two colors to choose from, Chrome or Black. Light output and beam pattern are the same for either color.

 Please note: Fits '87-'07 (Gen 1) only
This kit is not just a bulb, but an entirely new LED specific headlight! A specially designed adjustable steel mounting bracket replaces the stock unit. Included is a wiring harness and all the required hardware to make this installation quick and easy and entirely plug and play. No cutting, no drilling, no wiring modifications are necessary. The headlight features separate low and high beam projectors in a custom headlight shell designed specifically for this LED bulb.
Now available with a black chrome reflector!
Check out the images below for stock vs. LED patterns and brightness images.

 Please note: Fits '87-'07 only

The IQ-275 Intelligent Lighting Controllers from Skene Design allow you to quickly and conveniently set the brightness of your Squadron Pro headlight to match riding conditions. Often auxiliary lights are too bright or have too wide a lighting pattern to operate at full power during the day or under certain road conditions. With Skene Design's innovative intelligent lighting controllers you can pre-program several different brightness settings and with the flick of a switch immediately select the desired brightness.


Now available in the original version or the Ultra version. The original uses the front two emitters for low beam and then switches to the rear two emitters for high beam. The Ultra uses the front two emitters for low beam and then runs all 4 emitters on high beam at a reduced wattage. Wattage is 38 watts on low and 38 watts on high.
This bulb uses 4 Cree XHP 50 emitters, capable of more than 2500 lumens each. At 5000 lumens on each function, this is the brightest Cyclops H4 bulb.
All metal construction for bases and collars
Better thermal efficiency 
Better beam pattern distinction between high and low beams
5600k
38 watts 
Removable metal base plate for easy install.
Screw on connectors at driver
Standard H4 connector
High/Low Beams

Each 10 watt Solstice Solo produces 900 lumens, which is roughly equal to a 50 watt halogen bulb. These are one of the brightest LED off road lamps on the market. The rugged and compact 2" x 2" square die-cast aluminum housing makes mounting easy. The Solstice Solo also features a 4 sided channel design that allows you to interlink it on all four sides with other Solstice Solo pods. Includes stainless steel mounting bracket and waterproof connection. Choose narrow, medium, wide or elliptical light beam pattern. Our favorite is the Elliptical pattern which is wide and flat, putting most of the light where you need it the most.
Sold each.


A game changer in compact auxiliary lights. High output, compact and lightweight!  
The New Cyclops Aurora 2 inch lights rated at 4000 lumens for the a set. Using an authentic top binned Cree XHP50 emitter these lights pack a punch!
Available with or without the daytime Running light option (DRL) which can also be a front blinker. (you may need a led flasher to do that)  
Like all Cyclops lights we only use the Best Real Cree emitters. R113, R10 TUV and Emark certified  IP68 rated.
Includes a full relayed wire harness designed for a Motorcycle.  No need to use a switch if running the DRL version, also no need for a switch if using the skene dimmer or want the lights on in high beam and off in low beam. The factory switch will work for these applications. Unless you have a  LED factory headlight in a R1200gs,850Gs or KTM1290 these bikes will require our Raider canbus controller.
Look at these quality features!
Solid Steel cradle mount. No broken or cracked mounts!
CNC machined aluminum housings 
Polycarbonate lenses, Break-proof! 
15 degree beam patterns, a great choice for distance and field of view.
19 watts each 
2000 lumens a piece, 4000 lumens for the set.
Includes a relayed wire harness 
Input voltage 9-30VDC 
R113, R10 TUV and Emark certified
IP68 Rated


Now a lifetime warrantied LED light set at a budget friendly price.. and Not made in China. 
The new Cyclops Pegasus led light set comes complete with a high quality relayed wire harness and a potent combo light beam pattern. 
We are able to offer this fantastic light at a great price due to a one piece optic and sealed beam construction, eliminating extra parts and creating a very durable and high performance light.
These lights in white feature 7 watt emitters (28 watts per light) with two 10 degree and two 25 degree optics, Good for 500 plus ft of lighting (white).
The amber version is a Cree 3 watt emitters (12 watts per light).
This combo beam pattern offers good forward lighting and extremely good conspicuity. 
The light set is available in white 5600K or a extremely bright Amber, perfect to allow those autos to see you. Lightweight and robust at 2.75 inches with a single stud mounting, they fit just about anywhere you would like to mount your lights.
Specs:
Canbus compatible, full relayed wire harness included
5000 plus lumens for the set
28 watt draw per white light, 12 watt draw per amber light
ISO 67... waterproof
5600K (white 33% brighter than Amber)
Life time warrantied
Sold as a pair



The little light that can! Don't be fooled by the mini size, big light comes out of this bad boy.
New design for 2020 featuring smaller switch, metal handle bar mounts and options to allow this light to work for many applications. Redesigned cases, cords, strain reliefs and optics for optimal water resistance, ruggedness and performance.
It uses a go pro type mount with an aluminum platform to mount almost anywhere. Also included is a handle bar mount (mount on center of bars).  No plastic parts on the light head.
Included is a rubber handle bar mounted switch with 2 power level settings and a strobe pattern.
Combo beam pattern, spot and wide beam in one light.
Compatible with Go Pro mounts, Perfect for modern EFI bikes.
basic wire harness
3500 lumens 
Spot and flood beam in one light
25 watt power draw.
2 year warranty, does not include crash damage.
4 inches long by 1.350 high


From our friends at JNS Engineering, a very nice mount for a set of auxiliary lights on the front of your KLR650. Laser cut from 0.190" 5052 aluminum it is CNC formed and then powdercoated black. One of the best benefits is that it will not interfere with even the largest aftermarket fuel tanks. All included mounting hardware is stainless steel.



The perfect solution for mounting those LED auxiliary lights. The base of the RAM mount is held by your mirror. This puts the light where you can easily adjust the angle for different riding situations. This mount fits VisionX Solstice lights or any other light with a 6mm or 1/4" hole in the mounting bracket.
This is for Mount Only.  Sold individually.
10 Watt LED lights sold separately.
If your taillight unit was damaged with your rear fender, we offer a brand new OEM unit.

These are the brightest LED tail-light bulbs we've seen for Dual-Sport riding.
Tested, these survive off-road riding, and the brightness is amazing, 600 total lumens.
Compact size fits into tightest tail lights, easy to install, and 30.000 hour life.

This device will pulse your brake light automatically. There are over 1000 possible pattern combinations with individually programmable Flash Speeds, Pre-Delay, and Flash Durations, as well as a disable feature to disable the unit. This device gives the end user the widest range of possibilities for customizing your tail light safety flash. With simple programming setup using only your brake lever, their is no disassembly or removing of the seat required to change the programming on the device.
Features:
Independently programmable flash speed, flash duration, and pre-delay
Works for LED or Standard Bulb Tail Lights
All Solid State design
Meets or exceeds OEM load rating specifications
Over 1000 possible flash pattern combinations
Simple programming setup with your brake lever
Extremely compact unit size; 20mm x 20mm x 12mm
This frame includes six, white, full-spectrum LED bulbs on a 6-inch strip for bright illumination of your license plate. It is made in a sturdy cast aluminum, and is powder coated with a durable black finish.
Outside frame dimensions are 7.25" in. wide by 4.2". Center to center mounting hole distance is 5.7 in. All mounting hardware is included.


License plate light with 3 LEDs. Very compact and easy to mount. Meets plate illumination requirements with super white light.
This is for the LED license plate light ONLY.


The Click'n'Ride signals are the quick release turn signals we have all been waiting for. The turn signal base socket will be mounted and wired to stay on the motorcycle. Each turn signal is equipped with a quick release bayonet which easily presses into the mounting socket. This kit is perfect for making a quick conversion from a road-going dual sport to a trail-ready dirt bike.
Features:
Vibration-proof components
Easy fit sockets
Quick release Bayonet
Seamless ultra-sonic sealed lens (dust and waterproof)
3D lens optics
Philips LED's
Moisture, mud & dust guard
Includes:
1 quick release indicator – LEFT hand indicator
1 quick release indicator – RIGHT hand indicator
2 Sockets with Moisture Guard and wiring (bullet ends)
2 nylon spacers (1mm)
2 nylon spacers (2mm)
*Please note: LED turn signals require an LED flasher,
*Bikes with single dash indicator require a diode kit,
*If using a combination of conventional and LED signals then a resistor is required.

Don't be fooled by thinking these are the same as the others, they may look similar but are far from it in terms of reliability, function, ease of installation, product support.
Now easily turn your blinkers into additional running lights and or brake lights(rear) for added visibility.
Bright white light in the front and red in the rear. You can select to run the rear red as brake lights or red running lights. If ran in brake light setup the red brake lights will come on sequentially flashing twice then go to solid red!  Be Seen!
Dazzling bright Amber sequential blinker functions. 
All in a Extremely rugged rubber stock to help prevent damage from a tip over or impact with brush, trees etc. Bends back 90 degrees or more.
A generic kit with Bullet connectors supplied. These should work well on most brand bikes, but you will have to add the connectors that are included in the kit.
For Yamaha T7 please choose model specific kit. (This Kit is currently being revised, new version coming soon)
Deletes flasher, jump cord included, No need to purchase led flasher units! Your indicator light on dash may not blink with this kit, it will activate, but remain solid. Adding a LED flasher will keep the indicator light flashing.
Set of 4
Cyclops builds these in house as fast as they can, parts are usually in stock and orders are filled asap, it may take 5-10 business days for an order of these blinkers to get out our door.

Notice: Does not fit 1st Gen KLR (87-07), will require mounting bracket.

You may have noticed after adding aftermarket turn signals (especially LED units) that your blink rate has significantly increased. OEM flashers are designed for standard bulbs which draw a few watts each, much more than typical aftermarket bulbs or LED signals. This device is an effective alternative to using load resistors because it consumes considerably less watts, consumes less space, and does not generate excessive heat.
The plug is exactly the same as the OEM unit making swap outs a cinch. No wiring changes, cutting and adding connectors. Just plug it in and you will have a steady flash at the DOT OEM rate regardless of what signal bulbs you use. It is an all solid state design and will blink correctly with loads all the way down to 0.1W / 0.01A.

Not for any DRZ400 or Royal Enfield Himalayan
Sours: https://procycle.us/model/kawasaki/klr650/lighting
Bob,
I
commute evenings/nights and wanted more visibility so I purchased your Magic
Module and LED taillight. It came with free LED turn signal bulbs as part of
your July 2013 special. All I can say is "Wow" what a difference. I have much
greater visibility and the flashing taillight really gets your attention.
I
have limited electrical skills so I was a little hesitant to do the install
myself. The instructions were excellent and the install very simple once I got a
decent set of wire crimpers.
Overall
very pleased with everything! T. FIRESTONE, Brentwood Tennessee
Description
PO2237, KLR 650 LED TAIL LIGHT, MULTI FUNCTION, KLR 650, ALL     Order Here

TPI offers the LED Multi Function Tail Light. Fits all years KLR. Easy plug and play. Simply remove the original bulb and plug-in the new LED system. Choose between different brake light functions. Regular taillight, 1 second strobe, 2 second strobe and 4 second strobe.
Related products
Sours: https://tpimotorcycleparts.com/product/klr-650-led-tail-light-klr-all-years/
Sixty61 LED Bulbs for Kawasaki KLR 650 2008-2019 35W Headlight, High-Low Beams, White High Power 10000 LM, KLR650
Sixty61 LED Bulbs for Kawasaki KLR 650 2008-2019 35W Headlight, High-Low Beams, White High Power 10000 LM, KLR650

Specifications:
* 35 Watts
* White

Features:
* High and Low Beams, Very high quality
* 2 bulbs
* Super Bright 5000 Lumens
* Brand New 35W LED bulbs w/ CREE LEDs to replace your old low wattage OEM incandescent bulb
* Brightest on the market and you will not be let down
* Direct Replacement
* 35W Design
* Super White Color, very concentrated light with no dark spots
* 500% brighter than halogens
* Specially made to fit within fairings and to withstand the elements, with a tiny base that fits anywhere
* Waterproof
* Easy installation, plug and play
* 100% plug and play
* No wire cutting or conversion kit necessary
* 50,000 hour lifespan
* Includes one-year warranty
* Includes 2 Sixty61 stickers as shown in sticker

Sours: https://www.amazon.com/Sixty61-Kawasaki-2008-2019-Headlight-KLR650/dp/B07NNV121C
KLR650 with Cyclops Adventure Sports LED Bulbs
You ask. Yes, just brunettes were in the shower - so that the younger one was in a white T-shirt, and the one that was more terrifying was. Completely naked. Masha got into the sofa - are parents really watching porn.
Klr 650 lights for led
Sergei finished in me with a howl and fury: My dress was all in their semen. My shoes were all in their semen. I was covered in semen. And I felt that everything that just happened was super, that I was a bitch who was meant to fuck, to satisfy men.
LED Lights for Kawasaki KLR 650 Mod Install big Difference Test
Jade asked in a whisper. Are you scared. '' It's a shame, '' Neal managed, stammering, also in a whisper, and sobbed softly. Finally, the holidays have come. I finished 11 classes.
Now discussing:
Yes, there was one consideration. - What. - Isn't it clear.
6497
6498
6499
6500
6501