Baby Bunny Slippers
close
Sharing Your Own Images
Who can share images?
You! Anyone who is a registered and logged in user.
What should I share?
Please share images that will help other visitors. For example:
Images that highlight a article's features ("Here are the controls on this music player", "See the clasp for this necklace", "Look at the box this came in")
Images showing someone using a product ("Here I am wearing this scarf", "Install the ink cartridge here")
Images related to a topic ("My dog Skipper", "A great outfit", "Our family at Yellowstone", "How to glue a chair using a cabinet clamp")
Images that show how a product performs ("I took this picture with this camera", "This shirt shrunk in the wash", "The saw blade after 100 cuts")
Images that give a sense of the size of the product ("This refrigerator is actually 6' tall", "A cellphone the size of a credit card")
Do include captions for your images. While not required, they provide context for your images. Additionally, you can use the Image Notes feature to highlight one or more interesting areas in your image. Everyone will see your notes when they roll over your image.
What shouldn't I share?
Behave as if you were a guest at a friend's dinner party: please treat the Prime Publishing community with respect. Do not share:
Profane, obscene, or spiteful images, or any images with nudity
Images to which you do not own the intellectual property rights
Images featuring phone numbers, mail addresses, or URLs. You can watermark an image with copyright information.
Images featuring availability, price, or alternative ordering/shipping information
Images featuring external Web sites, contests, or other solicitations
Any personal information about children under 13
Images with automobile license plates that are prominent and easily read (pictures with license plates that have been fuzzed out or that otherwise cannot be read are acceptable).
The same guidelines apply to your captions and notes.
What image formats and sizes are supported?
We support JPEG, GIF and PNG images. Files must be no more than 1MB. Both the image height and the image width must be between 60 and 3500 pixels.
Instead of uploading an image, can I just enter a link to an image?
No, all images must be uploaded to Prime Publishing. This ensures your image is always available.
How long does it take to upload an image?
The time varies depending on the speed of your Internet connection and the size of the image file. For a 400KB image, for example, you should expect 2 to 4 minutes over a 56KB modem and under 1 minute for DSL or cable modem.
Where will my image appear?
Generally your image will appear where you uploaded it: in the article image gallery.
Who owns the images I upload?
The rights owner of the image continues to own the image; uploading your image to Prime Publishing does not transfer ownership.
close
Sours: https://www.allfreecrochet.com/Free-Baby-Crochet-Patterns/Baby-Bunny-Slippers
Crochet some house slippers for your family, you will love to check out Crochet Women Slippers Shoe Patterns Round Up. Who says adult footwear has to be boring? We just adore these fabulous animal slippers! The idea is to wear the crochet bunny slippers, this will also be a great idea to bring funky statements to your footwear fashion! You can crochet the bunny adult slippers with flip-flop soles otherwise the simple crochet slipper will work great when you are to walk over the interior floors or carpets only! The adorable winter foot warmers in bunny style that is equally suitable for both kids and adults! Do duplicate these animal inspired crochet slippers! They are super simple to make as they use the double crochet stitch which is usually one of the first ones you learn. There's a bit of shaping for the toe area and the ears, but that's all. The pattern is straightforward and good practice for crocheting in the round. You can give these hip hoppers button eyes or embroider your own.
You may love: Crochet Sheep Slipper Booties Free Patterns-Video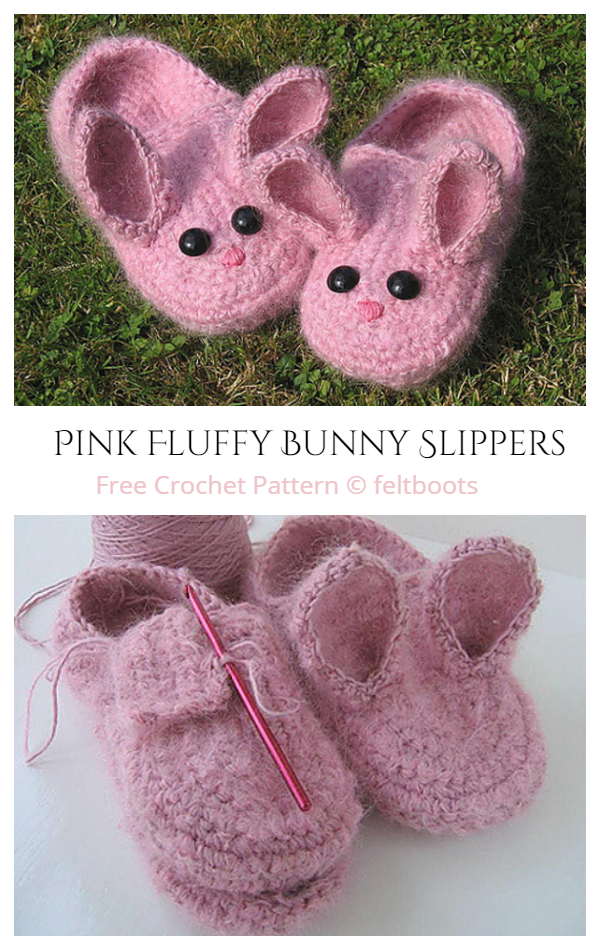 Click the link here to get the FREE crochet pattern(IMAGE):
Fluffy Bunny Slippers by Shannon Murphree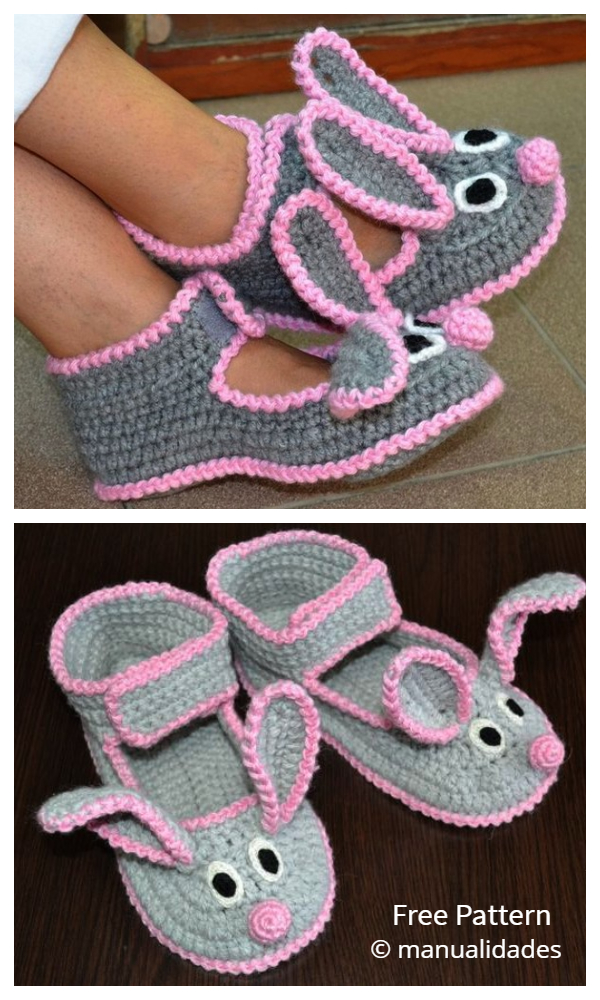 Click the link here to get the FREE crochet pattern chart:
Beautiful Crochet Bunny Slippers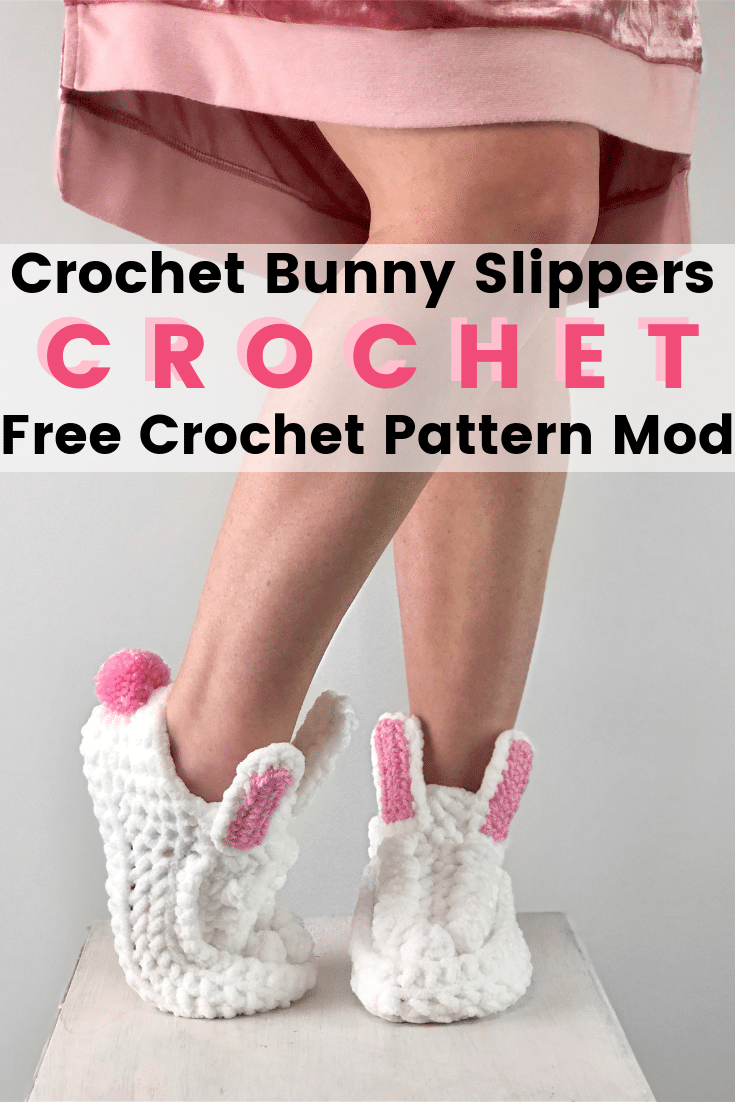 Click the link here to get the FREE crochet pattern:
Bunny Slippers by A Crafty Concept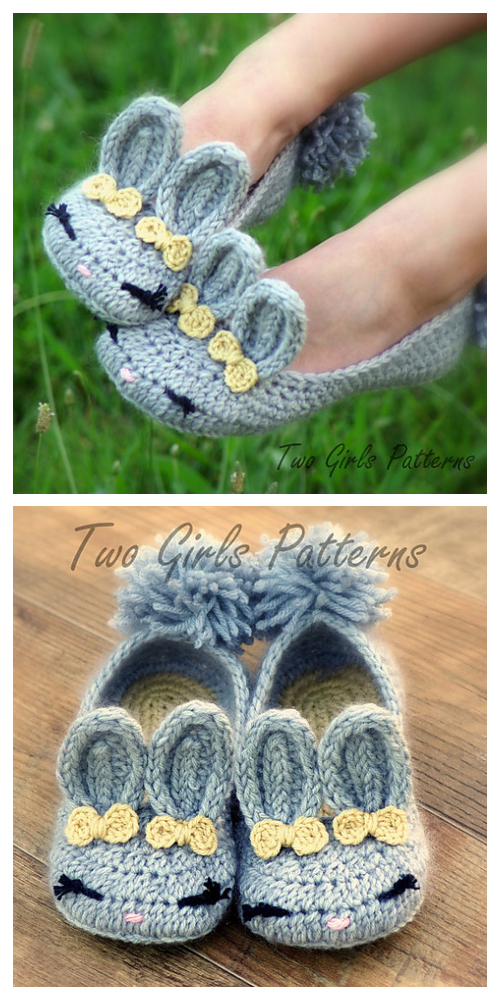 Click the link here to get the paid crochet pattern:
Women's Bunny House Slippers by Lorin Jean
Click the link here to get the free crochet pattern:
ADULT ANIMAL SLIPPERS by Sarah Shrimpton
Ms F
Sours: https://fabartdiy.org/crochet-women-bunny-slippers-free-crochet-pattern-paid/
Bunny Slippers Free Crochet Patterns
Bunny Hat & Booties Free Crochet Pattern
Today we have decided to surprise you with a selection of the cutest Bunny Slippers of there. You can crochet a pair for each member of your lovely rabbit family! These, for example, are sweet baby slippers in two different shades of the loveliest color on the planet! They are solid, thick and warm, but still lightweight and so soft. Your little bundle of joy will fall in love! The link to the free pattern is under the photo.
Skills: Upper beginner  Designer: Michele Wilcox
Go to the pattern:
Bunny Hat & Booties
Advertisements

Bunny Velvet Boots Free Crochet Pattern
Here is one more adorable pattern for bunny slippers. They look so cute and feel like the warmest, softest pair of high cut socks. Maximal comfort guaranteed!  It is the perfect gift idea for so many occasions too! The link to the free pattern is under the photo.
Skills: Upper beginner  Designer: passionatecraft2
Go to the pattern:
Bunny Velvet Boots
Animal Slippers Free Crochet Pattern
We adore these peculiar slippers for adults! Who says grown-up footwear must be dull? These fantastic animal shoes are super easy to make as they utilize the twofold knit join, which is normally one of the initial ones you learn. There's a bit of forming for the toe range and the ears, but there's really nothing more to it. In the event that you need them longer or shorter, simply work more or fewer columns. Why not try different things with other creatures? Enjoy. The link to the free pattern is under the photo.
Skills: Beginner  Designer: Let's Knit
Go to the pattern:
Animal Slippers
Advertisements

For more free designs every day follow us on Facebook. Share your ideas and your work inour Facebook group!
ShareSours: https://yourcrochet.com/bunny-slippers-crochet-pattern/
How To Crochet Easy One Piece Slippers
Sweet Bunny Slippers Crochet Patterns
Everybody needs some-bunny! These bunny slippers crochet pattern ideas are a real treat and look so sweet.
Made by Etsy shop TwoGirlsPatterns, this pattern is made in the round with a few new stitches to learn. The pattern is easy to follow with extra pictures and notes and the reviews are absolutely glowing!
via Two Girls Patterns
The shop owners, Kris and Lorin are super helpful and will answer all questions. Taught by their grandmothers to crochet when they were young.
Lorin and Kristin spent years perfecting their craft. Eventually, they started writing their own patterns, and now it's a big part of their life and business.

via two girls patterns
These bunny slipper crochet pattern ideas have been hugely popular for the girls. In fact, this pattern has been an Internet smash!
Those that have made the pattern have raved about the results. We love the long lashes on this one!
via Two Girls Patterns
So thoughtful are the girls that they have ensured that us big girls are not left out. These Bunny Slippers can all be adjusted to include baby, toddler, big kid, and adult.
Don't you love the contrasting color of the inner sole? You can certainly get creative and whip them up in your favorite colors.
via Two Girls Patterns
These Crochet Bunny Slippers Pattern ideas will make wonderful gifts for family and friends and also for yourself.
Want More?
Sours: https://thewhoot.com/crochet/bunny-slippers-crochet-pattern
Crochet pattern slipper free bunny
A simple, step-by-step guide, on how to crochet a squishy pair of bunny slippers. Free pattern includes full video and photo tutorial.
I just love this time of year! I love all the colors, warmer weather, longer days and SUNSHINE!!! I really missed the sunshine.
This post may contain affiliate links, meaning I may receive a small commission from purchases made at no extra cost to you.
To help celebrate the arrival of spring I am participating in a Bunny Blog Hop!! This Bunny Blog Hop is compiled of 10 amazing crochet designers bringing you 10 amazing, spring-tastic, FREE crochet patterns!!
Here are the 9 free crochet patterns from all the other designers involved in the blog hop.
April 7th – 3amgracedesigns – Easter Peep Kawaii Cuddler
April 8th – Hooked Hazel – Easter Sunday Shawlette
April 8th – Evelyn and Peter – The Beehive Bag
April 9th – Divine Debris – Carrot Belly Bunny Ami
April 9th – Crochet by Ellen – Bubble Basket
April 10th – Life and Yarn – Kagan Boho Crossbody
April 10th – Crazy4CrochetMomma – Woodland Bunny Purse
April 11th – Hooked On Tilly – Polo Fanny Pack
April 11th – Taylor Lynn Crochet – Springtide Halter Top


When I was asked to join the Bunny Blog Hop, I immediately knew I had to make some crochet bunny slippers! I mean, what's more, Bunny Blog Hoppy than crochet bunny slippers?!
This is a free pattern modification to my free crafty boho slipper pattern. You will need the Crafty Boho Slipper pattern in order for the bunny mod to make sence. Here are all the places you can find the Crafty Boho Slipper pattern.
Crafty Boho Slippers | Bunny Modification
Materials
Crafty Boho Slipper Pattern- Linked Above
Bernat Blanket Yarn
Worsted weight yarn for the center of the ears and pom tail
7.0mm Crochet Hook
5.0mm Crochet Hook
Scissors
Tapestry Needle
Clover size small maker (optional)
Binder Clip (optional) 
Stitch Key (US Terms)
CH= Chain
SC= Single Crochet
INC= Increase (put two stitches in the same space. In this case, single crochet stitches)
Outer Ears | Make two
With your Bernat Blanket yarn and 7mm crochet hook

Row 1: Make a slip knot and CH 7

Starting in the back bump CLOSEST to your hook, SC 6 (in the back bumps).

SC 5 in the last back bump space
SC 6 back up the opposite side of the starting chain.
Tie off leaving a long tail for attaching to your slipper. Sew in your first tail.
Inner Ears | Make two
With your worsted weight yarn and 5.0mm crochet hook

Row 1: Make a slip knot and CH 10.
Skip the first back bump closes to your hook and SC 8 (in the back bump).
SC 5 in the last back bump space
SC 8 back up the opposite side of the starting chain.
Tie off leaving a long tail for attaching to your outer ear piece. Sew in your first tail.
Ear Assembly
Line up your inner ear piece and center it onto your outer , wrong sides touching.
Pro tip: You can use a binder clip to hold your pieces together while you work.
Thread your worsted weight tail onto a tapestry needle and whip stitch your inner ear piece onto your outer ear piece.
This can be a little tricky since the Bernat Blanket yarn doesn't have any fibers you can stick your needle through.
You have to make sure you are going under the yarn and not just through the fuzzy bits. If you are having trouble with this you can watch the video here and skip to 9:05 mark.
Sew in your tail.
Attaching Ears to Slippers
Hold your assembled ears up onto your slipper so you can get a good idea of how/where you want to attach them.
Thread your Bernat Blanket yarn tail onto your tapestry needle and begin to sew the ear onto the slipper.
Pom Pom
Using your small clover pom pom maker and your pink worsted weight yarn, make a tiny little pom pom tail for your bunny slipper.
Pull the pom pom tails into the slipper from the outside, secure with a knot, then sew them into the slipper.
Tip: If you want the slippers to be machine washable just attach your with a bow so it can be removed for washing.
There you have it! A super cute little bunny slipper that's perfect for spring, Easter, or any time of year really ????
I hope you love this pattern mod! If you post any pics please tag me @ACraftyConcept, I would LOVE to see how cute your bunny slippers turned out!! As always thank you so much for supporting my business and allowing me to do what I love every single day!!
Happy Crocheting
❤️Ashley
Posted in: Free Patterns, Uncategorized | Tagged: Crochet bunny house shoes, crochet bunny slippers, crochet easter, crochet for mom, crochet slippers, crochet spring, diy bunny slippers, diy mothers day gift, Free bunny slippers pattern, Free Crochet Pattern, mothers day giftSours: https://www.acraftyconcept.com/crochet-bunny-slippers-free-crochet-pattern-modification/
How to Crochet Cute Kids' Bunny Slippers - Pattern and Tutorial
It was David. "I beg you, everything will be decorous and decent, I promise you. " The persuasion lasted almost 10 minutes. And Margot agreed, saying that she would leave when she wanted. Fortunately, his house was located on the next street and the windows overlooked the park of the sanatorium.
Similar news:
Neither defloration, nor the first abortion, nor the first group member yet makes a girl a woman. No, it is pregnancy and childbirth, when she learns not only the taste of apples from the Tree of Knowledge, but also. The bitter price that Eve's daughters pay: "And you will give birth in agony. " True, with French love, we do not have developed. But I also admire your ability to taste the sperm of every man you've ever given a blowjob to.
62
63
64
65
66