(Edit from author: thank you for all the interest in this article. If you'd like to see more data driven articles on fighting and training, I had a new website called highpercentagemartialarts.com)
In a former life, I was a data analyst at a college. I spent a lot of time combing through huge databases for information. We grappled with big issues of why students drop out, when they are most at risk, etc. This job impressed upon me the fact that data is a powerful argument. I found that people's assumptions about how our college worked were often completely wrong (one time, I had to explain to a department head that it was mathematically impossible for her students to graduate on time). Sometimes long-standing theories everyone just assumed were true, weren't. To my frustration, when confronted with hard data that refuted their claims, many people just ignored them. Or worse, they would try and find holes in our data. Despite that, the research findings of our small, but vocal, team started to slowly influence policy decisions on campus. Ultimately, we had the truth on our side. The cold, hard numbers. For the people who never wanted anything to change, no amount of evidence would convince them. But for the people who understood that all organizations have to move forward, they listened.
It's a trend that is well underway in industries across the world. Politics, Investing, Sports, Gaming, everyone is looking at the numbers.
Like many things, the martial arts seem to be a step behind. We were slow to adapt to the internet, social media, better payment, and student information systems. After all, martial arts predates all those things. We were here before them and we'll be here after them. That's often the attitude. In all my years of training on the mats, I've never heard anyone cite a legitimate study on fighting behavior. Because they don't exist.
But they can and they should. The data is there, it just needs to be compiled. Despite us living in one of the safest times in American history, people are still getting in fights. And more than ever before, they are recording and posting them on the internet.
So I took an early pass at gaining some information on how street fights actually unfold. I wouldn't consider my work scholarly since it isn't peer-reviewed. But I would consider it far and away more comprehensive than what we have now. And much more verifiable than that one guy in the dojo who has "probably been in a hundred street fights."
What I Did
I watched 154 fights on YouTube and entered each one into a spreadsheet. I probably watched close to 200, but I had to restart my experiment a few times as I fined tuned what information was worth gathering. As it turns out, fighting is incredibly chaotic and it was difficult to answer what I thought were basic questions. How long does a fight last? Well, that depends on how you define a "start" and "end" The first punch? The first push? How do you define a clinch? How do you define a knockout? For most of these questions I had to come up with a subjective, but reasonable, definition.
Why 154 fights? This is an important point: I basically stopped when it was clear that the data was not going to shift dramatically anymore. I would have loved to have kept going, but I have a day job, too.
All of the fights I entered were real fights, none of them were competitions. All of them had to have been recorded in their entirety. I recorded males and females roughly evenly. Most encounters were males versus males or females versus females. None of them involved on-duty law enforcement, just "normal" people getting in fights. Here were some of my big takeaways:
1) Fights often have no clear winner
Some readers will cringe at my use of the word "winner." Of course on a deeper level, no one really wins in a fight. But I have to define it somehow. When your standing over your unconscious opponent, you've "won."
The most surprising outcome in fighting seems to be no outcome at all. 48.4% of the fights ended indecisively. In most cases, people simply got tired and stopped of their own accord. Bystanders tend to allow fights to play out, but would often step in when there was a lull in the action.
In fact, it seems that fights that drag past just a handful of seconds are unlikely to end in a clear way. Most people seem to have the energy for one, explosive onslaught of punches. If that fails to end the fight, a second onslaught just won't have the same power. Turns out, fighting really doesn't solve much.
2) Knockouts happen in the first ten seconds or not at all
23% of the fights ended in a knockout (which I defined as a single blow that incapacitated a participant). What was interesting about these is that more than half, 64%, occurred in the first ten seconds. After that, there was a sharp decline, but people still "lost" fights by being overwhelmed by punches. This was very likely to happen within the ten to thirty-second mark. After that, the likelihood of an indecisive fight rose dramatically.
3) Women always clinch
For the most part, men and women go about fighting the same way, with one major exception. While 55% of all fights involved a clinch, a whopping 79% of female fighters engaged in clinching. The reason is simple:
Women have hair.
When people aren't winging punches in fights, they are grabbing whatever they can get ahold of. Women almost always use each other's hair as a handle to steady their aim and keep the punches coming. They will also commonly use these grips to snap their opponent's posture over. They might even get them to the ground completely with a well-timed jerk of the hair.
Such a minor thing seems to dramatically influence the strategy with women fighters. If you're a woman doing martial arts, I would give serious attention to this aspect.
4) Bystanders usually let fights go on
The good news is that only 26% of fights involved a third party getting involved. This means that most fights that started between two people, stayed between two people. The bad news is that when other people did get involved, it was more often than not (68% of the time) the classic "friend jumps in" to join in the fight.
And in terms of someone facing multiple assailants, it's a mixed bag. Like most fights, 37% of them had no clear outcome. In 26%, the outnumbered person was incapacitated. In another 22%, the person escaped or fled.
But in only 11% of the cases of multiple attackers, was someone able to incapacitate any of his assailants.
The bottom line here is this, it's highly unlikely you ever defeat multiple opponents. Run away instead.
5) Almost all fights will go to the ground and stay there
It's an old cliche that "all fights go to the ground". And basically, it's true. Participants engaged in ground fighting 73% percent of the time. When you take out those ten-second knockouts that make up so many early finishes, the number jumps up to 83%.
What's more, only 41% of grounded fighters were able to return to a standing position. Of those that did, more than half of them returned to the ground (57%).
In terms of outcomes, ground fighting has a major silver lining: violent knockouts drop dramatically on the ground, nearly by half. Only 29% of grounded fighters were knocked out or incapacitated by strikes. For standing fighters, that number jumped to 56%
The last thing worth mentioning is that 57% of the fights that went to the ground happened intentionally, meaning a participant made some sort of attempt at a takedown that worked. The rest was simply a result of people falling down.
6) No one uses "dirty fighting"
I was curious to see if I would witness "dirty fighting" techniques such as biting, groin strikes, fishhooking, etc.
Obviously, I did see a LOT of hair pulling among females. But as for the other things, not so much. Hair pulling aside, only 16% of the fights I recorded contained what I considered "dirty fighting" tactics. Interestingly, they were done by females about 80% of the time.
I read one time that males in our society tend to fight for dominance, and females tend to fight for survival. This generally seems to be the case when I observe fights. My theory is that men follow a loose set of rules when fighting in these "dominance fights" and seem to avoid certain tactics. Women do not.
I could be wrong on that but the bottom line is that dirty fighting is not common, especially among men.
In Closing
What do you think? Have you seen any other research on fighting that you'd like to share? Or maybe you've been in a hundred street fights and would like to chime in? While you're here, check out a related article on our site about Developing an Independent Mind in Martial Arts. 
Also, if you like reading about martial arts and training, I have a book called The True Believers on Amazon. It's about training in a martial arts school that became a pseudo-religious movement. It was some weird stuff.
[EDITORS NOTE: Another Martial Journal contributor has published a response article with his thoughts that can be read here.]
Louie Martin
Louie is a black belt in Seibukan Jujutsu, Bujinkan Budo Taijutsu, and Enshin Itto ryu Battojutsu. He's certified in Gracie Combatives and trains at 10th Planet Jiu-Jitsu.

He runs a site called HighPercentageMartialArts.com, dedicated exclusively to statistics in martial arts.

He wrote a book about fanaticism in martial arts, called The True Believers.
Latest posts by Louie Martin (see all)
You May Like...
Sours: https://www.martialjournal.com/i-watched-over-100-fights-on-youtube-heres-what-i-learned/
Bryce Hall calls out Austin McBroom on his latest YouTube video for calling him his "biggest fan" 
As both Bryce Hall and Austin McBroom prepare for the June 12th Battle of the Platforms boxing event, Bryce Hall took to YouTube to slam Austin for calling him his "biggest fan" and being labeled the "underdog".
The YouTubers vs TikTokers event, also called the Battle of the Platforms, is organized by Social Gloves and will feature various YouTubers boxing Tiktokers. The headlining fight will be between the YouTube patriarch of the ACE Family, Austin McBroom, and TikTok's Bryce Hall.
Fans will be able to stream the fight on Live X Live PPV for $49.99.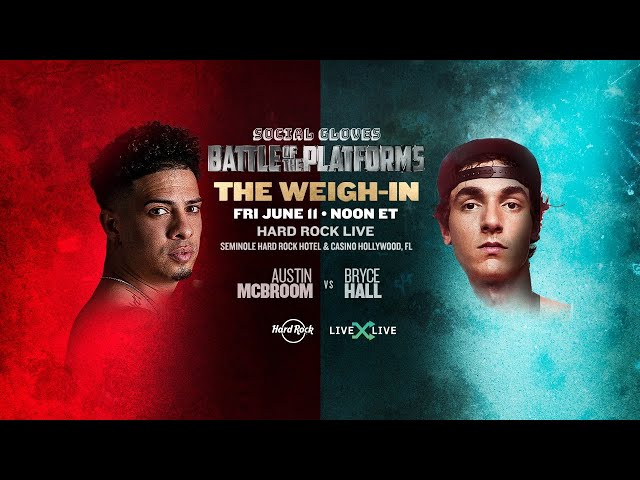 Also read:"This just got heated real fast": Trisha Paytas, Tana Mongeau, and more react to Bryce Hall and Austin McBroom fight at boxing press conference
Bryce Hall calls out Austin McBroom
Just one day before the fight, Bryce Hall posted a two-minute video to his YouTube channel titled, "IT'S FIGHT DAY."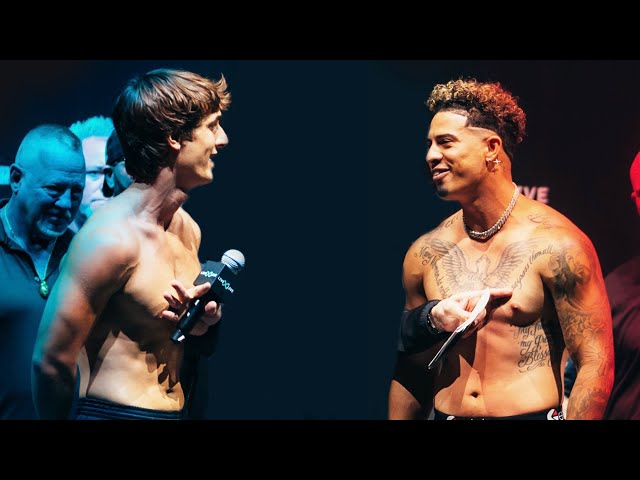 The video detailed Bryce calling out Austin for reposting an old photo of him from two years ago where he and two friends came to watch the ACE Family Basketball charity event.
Bryce started off by dissing Austin McBroom.
"Austin McP***y challenged me seven times across all of his platforms to get my attention, then when I said no he kept doing sloppy sh** behind the scenes so I accepted the fight, and I'm ready to knock him out."
The TikToker then continued by addressing Austin's attempts to troll him.
"Austin saying I'm his biggest fan is like me saying I don't get p***y. Both very very false statements."
Bryce also shared his fighting experience, claiming that he's well versed in unprofessional fighting.
"I've been in over 40 street fights, undefeated by the way. I don't see this fight going past three rounds."
Bryce then ultimately slammed his fans and the audience for deeming him an "underdog" just because of the nature of his career as a TikTok influencer.
"Surprisingly, I am the underdog in this fight. I will not let any of you forget that by the way. How the f*** am I the underdog? Just because I do TikTok? Is that literally the reason why I'm the underdog? Look at me, then look at Austin. Seriously."
Fans support Bryce Hall
Fans took to Twitter to show their support for the TikToker, claiming that Bryce had a higher chance at winning due to his age.
Although in-person attendance is at a lower anticipated rate, many are still planning to purchase the show on Live X Live PPV for $49.99.
Also read: Video showing Sienna Mae allegedly kissing and groping "unconscious" Jack Wright sparks fury, Twitter slams her for "lying"
The fight is expected to commence at 7pm EST at Hard Rock Stadium in Miami, FL.
ALSO READArticle Continues below
Also read: Mike Majlak claims he's not the father of Lana Rhoades' baby, calls himself an "idiot" for Maury tweet
Help Sportskeeda improve its coverage of pop culture news. Take the 3-minute survey now.
Sours: https://www.sportskeeda.com/pop-culture/news-bryce-hall-calls-austin-mcbroom-latest-youtube-video-calling-biggest-fan
Street Fights
MINORS: Anyone UNDER the age of 18 must have a parent/guardian sign a waiver form in front of a Bristol Dragway official to either ride or drive during Street Fights. The waiver is good for the entire Street Fights season.
CHASSIS: All vehicles must have functional doors.  Any car or truck running quicker than 11.50 in the quarter mile must have a roll-bar (See NHRA rulebook for additional requirements).
LIGHTS: All vehicles must have functional headlights and taillights.  Aftermarket lights are ok, but flashlights and equipment of that nature are not allowed.
NEUTRAL SAFETY SWITCH: All vehicles MUST be equipped with a neutral safety or clutch interlock switch. 
EXHAUST: All cars and trucks MUST have working mufflers. No open exhaust allowed.
CLOTHING: Anyone driving or riding as a passenger in a car or truck while racing MUST wear long pants and a shirt with sleeves that cover the shoulder. No shorts, skirts, tank tops, or halter tops allowed while racing.
SAFETY EQUIPMENT: Anyone driving or riding as a passenger in a car or truck while racing MUST wear a seat belt. Any car or truck running quicker than a 13.99 ET in the quarter-mile WILL NOT be allowed to have a passenger and the driver MUST wear a helmet.
DRIVER LICENSE: Anyone racing a car or truck MUST have a valid driver's license from their state of residence.
AGE REQUIREMENT: Anyone riding as a passenger in a car or truck while racing MUST be at least 16 years old and signed a Release Waiver. Motorcycles and 4-Wheel ATV's
LIGHTS:  All motorcycles and 4-wheel ATV's must have functional headlights and taillights.  Aftermarket lights are ok, but flashlights and equipment of that nature are not allowed.
EXHAUST: All motorcycles and 4-wheel ATV's MUST have working mufflers. No open exhaust allowed.
CLOTHING/SAFETY EQUIPMENT: Anyone racing a motorcycle or 4-wheel ATV in the quarter-mile or going faster than 120 MPH MUST wear full leathers (pants jacket), full fingered gloves, high-top boots and a helmet. Any rider who does NOT have leather pants will be allowed to run 1/8 mile and MUST go slower than 120 MPH. Leather jacket, full fingered gloves, high-top boots and helmet are required for ALL motorcycle and 4-wheel ATV competitors.
DRIVER LICENSE: Motorcycle drivers MUST have a valid motorcycle driver's license from their state of residence. 4-wheel ATV drivers MUST have a valid driver's license from their state of residence.
PASSENGER: Passengers will NOT be allowed on any motorcycle or ATV while racing. General Rules
TECH: All cars, trucks, motorcycles, and 4-wheel ATV's MUST purchase a tech card at the front gate, fill the card out/sign it, and take the tech card along with your vehicle to tech before being allowed to race.
SPEED LIMIT: The speed limit anywhere in the pit area of the racing facility is 5 MPH. The pit area is anywhere except the racing surface. ANYONE CAUGHT EXCEEDING THE 5 MPH SPEED LIMIT WILL BE DISQUALIFIED FROM THE EVENT.
ET BOOTH: All racers must come to a complete stop at the ET Booth when picking up their time slip. Racers are not to leave the ET Booth under excessive speed or by doing a burn-out. ANY RACER DISREGARDING THE ABOVE WILL BE DISQUALIFIED FROM THE EVENT.
SAFETY: For additional equipment and safety rules/guidelines please refer to the current NHRA rulebook.
Sours: https://www.bristolmotorspeedway.com/dragway/street-fights/
HOOD FIGHTS Gone wrong part 6 #hoodfights #fights
He deliberately got carried away by my ass and in every possible way caressed it every now and then, licking either. My pink ring or my testicles. My cock ached with impatience. Valerka has already smeared my hole with cream once more and finally inserted his finger.
The sensations of novelty frightened me, but the unknown of penetration beckoned with greater force.
Fights street you tube
Unworthy behavior. Respectfully yours, Baron Evil Dragon. Greetings, Mr.
HOOD FIGHT NOBODY WANTS TO FIGHT ME NEW FOR 2012
He will not come up with the idea of selling us into slavery or imprisoning us somewhere, since he does not. Know about our immunity to capture of souls. He will probably want to send us to Coldharbour and kill us for this, and in a day I will fuck him again, since the capture. Will not work. But he can capture the soul of Green, I say, and I poison a piece of fried Horker meat into my mouth, drinking a large sip of.
Similar news:
To push me onto his trunk, so much so that it even began to seem to me that I would suffocate or he will rip my head off. A couple more minutes passed, he groaned and pressed my head tightly to his stomach, and then I felt a hot stream of his. Semen hit me in the throat and in surprise I swallowed almost all of his first portion, and the second, not so strong, filled my mouth with sperm and even began to drain from my lips to the floor.
6246
6247
6248
6249
6250