Harley Davidson FXSTB Softail Night Train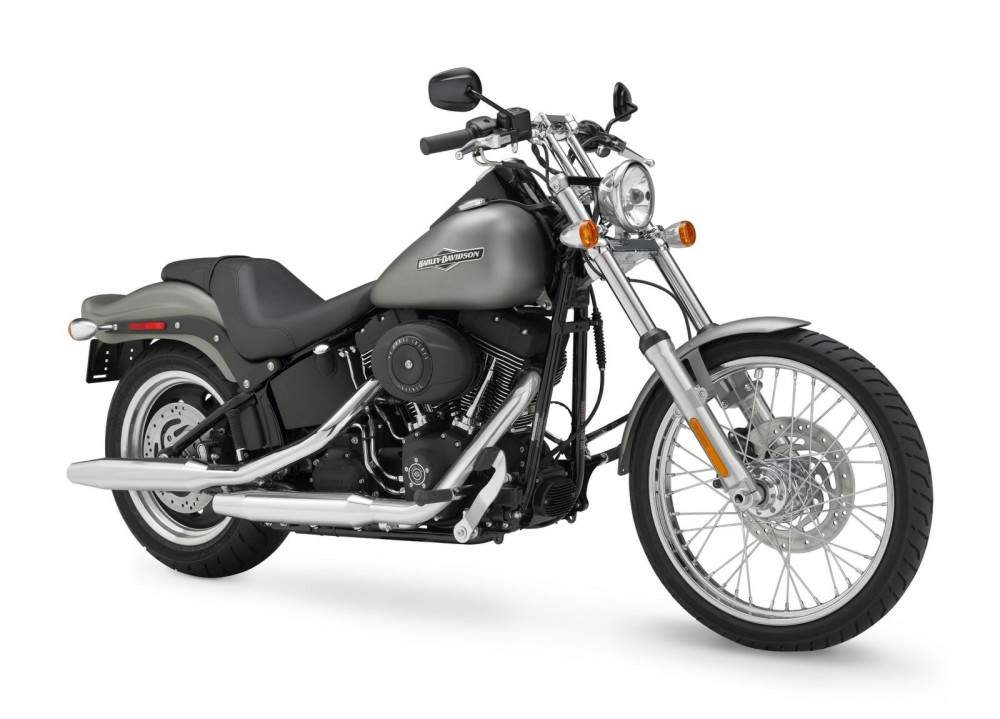 Make Model

Harley Davidson FXSTB Softail Night Train

Year

2007 - 08

Engine

Four stroke, 45° V-Twin, Twin Cam 96 vibration isolation-mounted Valves Pushrod-operated overhead valves; w/ hydraulic self-adjusting lifters; two valves per cylinder

Capacity

1584 cc / 96 cu-in
Bore x Stroke
95.3 x 111.1 mm
Cooling System
Air cooled
Compression Ratio
9.2:1

Induction

Electronic Sequential Port Fuel Injection (ESPFI)

Ignition

Single-fire, non-wasted, map-controlled spark ignition
Starting
Electric

Max Torque

124.7 Nm / 92 ft/ lbs. @ 3000 rpm
Clutch
Multi-plate, wet

Transmission

6 Speed
Final Drive
Belt
Frame
Mild steel, tubular frame; rectangular section backbone; stamped, cast and forged junctions, forged fender supports; MIG welded

Front Suspension

41.3 mm telescopic, "beer can" covers

Rear Suspension

Hidden, horizontal-mounted, coil-over shock

Front Brakes

Single 292mm disc 4 piston caliper

Rear Brakes

Single 292mm disc 2 piston caliper

Front Tyre

D407 MH90-21

Rear Tyre

D407 200/55R17
Rake
33.5°
Trail
127 mm / 5.0 in
Dimensions
Length 2400.3 mm / 94.50 in
Width 784.8 mm / 30.90 in
Height 1137.92 mm / 44.0 in
Wheelbase
1699.3 mm / 66.9 in
Seat Height
Laden 640.08 mm / 25.2 in
Unladen 680.7 mm / 26.8 in

Dry Weight

297.5 kg / 656 lbs
Wet Weight
309 kg / 682 lbs

Fuel Capacity

18.9 Litres / 5.0 US gal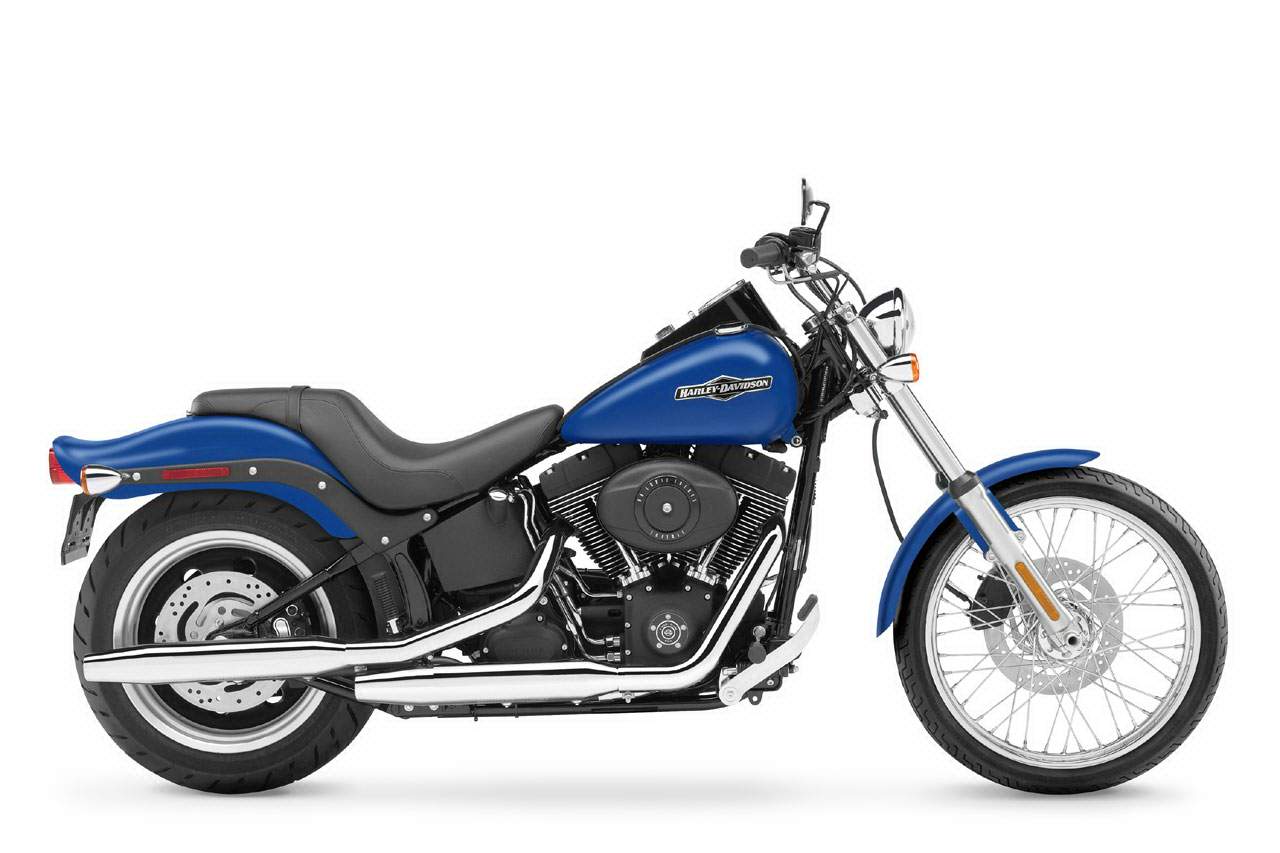 The sinister FXSTB Night Train features an all-black powertrain with wrinkle-black trim on the engine covers and air cleaner, oil tank and rear fender supports, and a black fuel tank console. The raked-out FX front end and narrow 21-inch laced front wheel contrast with a meaty 200 mm rear tire on a slotted cast disc covered with a wide bobtail fender. Drag bars and forward foot controls create an aggressive posture for the rider.
Rigid-mount, 1584cc Twin Cam 96B balanced engine
6-speed Cruise Drive transmission
Black powder-coated engine with wrinkle-black and texture-black covers
Chrome Staggered Shorty Dual exhaust
Black oil tank
200 mm-17 rear / MH90-21 front tire
Black Bullet Hole Disc Cast Aluminum rear wheel
Chrome Laced Steel front wheel
Bobtail rear fender
Low-slung Badlander seat
Drag-style handlebar on six-inch risers
Five-gallon Fat Bob fuel tank
33.5-degree FX front forks with FX front fender
Black drive belt sprocket
Black tank console, air cleaner, oil tank and rear fender supports
Forward foot controls
Optional Chrome Profile Aluminum Laced front and Forged Polished Aluminum
Disc rear wheels
Optional Smart Security System
Sours: https://www.motorcyclespecs.co.za/model/h-d/harley_davidson_fxstb_softail_ni%2007.htm
According to the literature, and quoting Harley-Davidson here, "The FXSTB is lean, mean and ready to be ridden hard." So not wanting to disappoint them or anyone else, I decided to take it on its first ride out. This just happened to be the National Rally, a 540mile jaunt around the UK, starting at 2pm on a Saturday and ending sometime in the early hours of the following morning at a racecourse in Staffordshire!
Some people said I was mad at even contemplating taking the Harley on such a run, suggestions from various individuals were that I should take my Osteopath with me in a back-up vehicle as the riding position was not quite suitable for this kind of rally and this type of long haul trip! Well ignoring all sense and good advice, I took it with a pinch of salt and packed up the bike ready for the off later in the day.
The FXSTB Night Train is one of Harleys more radical models in the true tradition of 'long, low and raked' custom bikes. Harley-Davidson build this particular model based on the Softail specifically for Europe, and it was named by Willie G as the Night Train. The name comes from the manufacturers first proper custom bike back in the early 70's, a stripped down Shovel Head, nicknamed the Night Train after it became known from a road test in the famous American magazine 'Hot Rod'.
The Night Train looks good from any angle you care to sit and gaze. The front end is lifted from the Wide Glide together with the super skinny wheel and tyre, and a single headlight is fitted to finish off that radical custom look. The top yoke is then capped with 6" risers and drag bars all in chrome. That concludes the bulk of the chrome fittings on the Night Train, we now move on to the rest of the bike in black of course! In traditional style the Night Train gets a proper Harley tank with instrument and ignition etc mounted on the top between the fuel filler cap and the fuel gauge cap. Underneath all this is the big 1340cc fuel injected v-twin, finished in a fantastic crinkle black. Getting lower and lower we move to the 'Badlander' seat and rear fender, and the solid disc rear wheel. The look is complete and the Night Train has a aggressive stance and a super low profile.
After a few attempts of packing it up I eventually found out just where I could strap luggage, there's not a lot of space on the rear seat let alone anywhere to tie things down, it's just too smooth back there! With luggage on a bike it is sometimes difficult to get your leg over the bike, no such problem with the Night Train, just stand beside it and sit in it! The seating position is super low and the footpegs and controls are mounted way up front, this together with the stretch to the drag bars makes it a bit of an unusual riding position, not a natural one but after a while I did get used to it. At first you don't notice the pretty slim seat and it's lack of padding, but that's until you hit your first bump! All bumps seem to be transferred up through the suspension, the seat and into you the rider, and with the seating position being what it is there's no chance to brace yourself and try to cushion the blow. Not the best set up for many of the roads in the UK, come to think of it anywhere for that matter! So off on the ride to the start of the rally, a reasonably short 55mile run to check in before the off on the 500 plus miles I was expecting to do a little later in the day!
When you ride any Harley-Davidson you have to virtually re-think your riding style, things take on a new meaning when it comes to corners and stuff like that, and at a shade under 300kg it's no lightweight either, so nipping in and out of traffic etc becomes a major lifestyle experience! On open roads the Night Train will cruise merrily along at around 70-80mph, uphill, downhill, whatever comes your way, still sees you in top gear. At this speed the fuel seems to go on forever and I easily got around 160miles without going to reserve. But come to the corners and roundabouts and that's where you need a big re-think as to how to take them. At the first attempt you suddenly realise just how long the Night Train actually is, and just how raked out those front forks are. Turn-in is slow to say the least and if I had to draw a comparison to any other types of vehicle then it would have to be trucks! At one end you have the white van, nippy and agile, at the other end there is the artic with 40 tons on board taking up most of the road on roundabouts. The Night Train is somewhere in the middle and is a bit like an 18 tonner, needs quite a bit of road but can get around most bends without fuss. Take it by the neck and ride it around the corners and it stays stable and has a reasonable ground clearance, not bad really for such a low bike.
After a few miles and a few corners confidence builds up and you can begin chucking the bike around a bit, but beware if you need to brake quickly! As per usual Harley standard the brakes are not quite up to the challenge of stopping in a hurry. The single disc up front does not have the ability to stop the bike quickly, if it did I would say that the wheel design, rake of the front end and width of the tyre would have you off in seconds! A combination of front/rear is by far the best here as the weight of the bike is placed on the rear brake and nothing you can do will lock up the rear. I used the rear brake very effectively here, far more than on most other bikes. So plan your braking carefully and re-educate those corners, then you'll have no problems.
So first ride over and I'm beginning to understand the knack of riding the Night Train. The riding position had me wondering if I was going to make it after the first 100 or so miles, but after a while you get into a position and ride at a speed that becomes comfortable. One trick on motorways is to put your feet on the passenger pegs (that's if there is no passenger!) as then it feels like a normal bike and keeps the immense drag off your legs and thighs. That way was fine for the open roads but back in the normal place for all other roads was never a problem. Surprisingly I didn't get too much wind blast considering there is absolutely no protection at all on the Night Train, I suppose it was because I was sitting so low in the bike that made this difference, although when it rained nothing could stop you from getting seriously wet!
Riding along you begin to appreciate the Harley-Davidson motor revving slowly underneath you. Torque by the bucketful and the need to virtually never change gear made the long ride around the UK a lot easier that I had imagined it would be. In fact after some 250 miles and stating to ride into the night it became a lot easier to cruise around the 'A' and 'B' roads, and I was very surprised with that little single headlamp up front. The lights look tiny but the beam and spread at night was perfectly suited to night riding, in fact on high beam it became searchlight-like shining into the distance and illuminating everything in your path.
High speed cruising is not what this bike is about, 60-85mph is by far the best and least tiring, long stints of 80 mph + is out of bounds in reality, but if you feel the need to do 100 mph then it will do it but don't stay there for too long, your arms and thighs won't take it! As lower speeds you can cruise all day with great fuel economy, it's far less tiring and surprisingly you can cover huge distances without fuss or bother. I ended up finishing the rally after 540 miles of riding through the night, a further 120+ miles getting to the start and back home again, and was far less tired than the previous year when I did it on a Triumph Speed Triple, now that says something to me!
The Harley-Davidson Night Train is a great looking piece of machinery, it has true style, draws crowds, has character and performs far better than I had imagined at first. Take your time when you ride it, don't bother manhandling it around corners, adopt the cruiser attitude and let it just get around by itself. If you are in a hurry to get anywhere then this is not the bike for you, if you want something to commute then smaller and more agile will be the best on the menu, but if you want to own an icon in motorcycling and a bike that will light your soul up then the Night Train is the one of choice. I don't ride Harleys all the time but I like it when I do, something stirs inside you and it's a feel good factor that can't be duplicated by any other motorcycle, Harley has it and always will.
Harley says' 'Ready to be ridden hard', well you can but I wouldn't recommend it until they decide to put some brakes on it first! To me this is the only true factory custom out there, in looks and style it is at the top of the tree.
AP

Sours: https://www.motorbikestoday.com/reviews/Articles/harley_night_train.htm
Here's How Harley-Davidson's Night Train Motorcycle Holds Up To Today's Standards
By Medha Karn
ShareTweetEmail
Harley-Davidson says the Night Train is lean, mean, and built to ride hard. It is one of the best Harley motorcycles worth every dollar!
Harley-Davidson Night Train was first launched in 1998, as part of the Softail lineup. These Softail motorcycles had suspension springs located in the rear, out of the direct line of sight, to make them look like hardtail motorbikes. Over the years, other brands too, have adopted the term Softail, for their hidden suspension motorcycles and even bicycles. The Harley Night Train has its shock absorbers tucked away, underneath the transmission. It looks like a hard frame bike but retains the comfort of the rear suspension design. With its pitch black power train, black trims, and all black fuel tank, it looks sinister. Night Train was discontinued in 2009. According to TopSpeed, '07 Night Train is very comfortable and efficient.
Harley-Davidson says the Night Train is lean, mean, and built to ride hard. It is one of the best Harley motorcycles worth every dollar! Specially built for Europe, it sits low and looks good from almost all the angles. The balanced black and chrome color scheme gives it that feisty underdog look. While it does lack a few things here and there to flaunt that HD signature style look, it does have the bells and whistles at all the right places. Straight from the factory drag bars and the six-inch risers further oomph the looks. Some loyalists love it for the classy looks or the luxurious ride it offers, some do it for that bass sound, while some said on the hdforums that it's not the fastest or most comfortable motorcycle either.
Although it sure looks clean and classy, how does the Softail Night Train hold up to today's standards? Is it worth buying a new or used Harley Davidson Softail, nowadays?
Comfort
Since Softail was claimed to be built, to compensate for comfort, let's talk about that first.
Though the stock seat looks cool, it is slightly painful on long rides (which is why one would buy a Softail - long windy rides). However, a Mustang seat can easily fix the problem. Some find the bike better adapts to tall drivers, as you need longer legs and longer arms to steer tightly or reach the front pegs. On the other hand, some drivers think it is a bit difficult to find the required legroom and space for taller drivers. Although, nothing that some extended forward control extensions and heel rest or floorboards can't solve. The bike might be a bit tough on shorter drivers on long drives. With the controls and footpegs mounted way up and the seat so low, it makes the ride a tad bit uncomfortable. Add to that a stripped, padding-less seat and you would understand the plight of a short driver. Not only are the bumps pretty unforgiving but they directly hit your posterior.
RELATED: 15 Stunning Pics Of Harley-Davidson Motorcycles
Engine, Power, & Handling
Night Train comes with a four-stroke air-cooled V twin engine. Originally, the model had a 1338 cc engine with a five-speed transmission, which does not fare well on all surfaces. Starting from 2000, it was revised to 1450 cc. A fuel injection system was added in 2002. The major modification came in 2006 though, when the engine was amped up to twin cam 96 vibration isolation - mounted valves, 1584 cc engine with six-speed, cruise drive transmission, and a compression ratio of 9.2:1. The rear tires were expanded too, to 200 mm in 2005. '07 or '09 model is one of the best Harley - Davidson bikes ever made!
It handles very well on open straight roads, but, turns and bends are not easy. Trying to manhandle on the bends, or, corners can be tricky with those super long front forks, long frame, and low seating.
Night Train is sheer joy if you ride with a cruiser attitude and enjoy it with wafts of fresh air caressing and ruffling your face.
RELATED: 10 Things You Didn't Know About Harley Davidson
How It Holds Up Today
While handling is good, it does not drive well on rough terrain or hills. But, it definitely holds its own on open roads, even with uphill, downhill, or slight inclines. Night Train is fuel-efficient, so there's that! About 20-25 mpg on the highways. Lower speeds translate to better fuel economy and less tiredness than higher speeds. For those drivers who are looking for a laid back cruiser (probably 60-80 mph), Night Train is one of the best options, but, those looking for a daily commuter or something agile and high speed, this simply won't fly in today's world. Having said all of that, it pretty much retains its value. A used Night Train in good shape would easily sell on upwards of $10,000. Night Train is good if you have the skills and the patience to drive one. Not to mention, an insane obsession of Harley, which loyalists do have, goes a long way too!
NEXT: The 2009 Harley-Davidson FXSTB Night Train In Full Focus
ShareTweetEmail
Here's How The 1970 Chevelle SS Compares With Its Competition
If you ever dreamed about driving the 1970 Chevelle SS, there are a few things you should know before you head to the auction.
Read Next
About The Author
Medha Karn (110 Articles Published)
Medha Karn is an all cars and trucks fanatic. She loves riding her suv, reading, and watching movies/TV. She is usually found building her Nana's old Maruti 800, or reading something when she is doing nothing.
More From Medha Karn
Sours: https://www.hotcars.com/heres-how-harley-davidsons-night-train-motorcycle-holds-up-to-todays-standards/
Harley Davidson Night Train 2006
The 10 Best Harley Davidson Night Train Models of All-Time
The Harley Davidson Night Train is a member of the Softail model of motorcycles. It made its appearance in 1998. Through the years HD has made significant changes with upgrades and updates that have followed an evolutionary path that found favor with enthusiasts of the variant. It was lauded as a comfortable and highly attractive bike after making its debut on the market and it gained an immediate following of admirers.The low seat hight and electric starter combined with a 56 hp engine and single disc brakes in the front and rear were welcomed at the time of its release. Some changes increased the popularity of certain model years and editions, while others were not as popular. Here are the 10 best Harley Davidson Night Train models of all-time for your contemplation.
10. 1998 Harley Davidson Night Train
This bike was the first to make its debut and the Softail was noted for its comfort and the innovative design that made it look like a hardtail bike. It was powered by a 1338 cc twin cam engine. Riders loved the aesthetic because it had the appearance of a vintage chopper, yet it came equipped with a dual seat for passenger comfort, which was good for short trips, but it got uncomfortable during longer excursions. The bike quickly earned a reputation for reliability plus it was attractive and fun to ride.
9. 1999 Harley Davidson Night Train
The 1999 Night Train retained the same V2 four stroke engine with the same 56 horsepower at 5000 rpm and 71.5 lb ft of torque at 2300 rpm. The engine was paired with a 5-speed belt driven transmission. The top speed of this bike was 96.3 mph with a run from zero to 62 mph in just 6.9 seconds.It came in at a curb weight of 646 pounds with 43.1% of the weight in the front. Some versions of this bike came with an adjustable seat height. It had a generous sized fuel tank with a capacity of 5.20 gallons for long trips, and the electric starter was fairly reliable.
8. 2000 Harley Davidson Night Train
The 2000 was a popular model year thanks to an upgrade in power. The new bike was equipped with a twin cam 1450 cc engine that delivered more power. The upgrade brought in more interested parties. This was the beginning of the evolutionary journey of the Night Train model as future years would see yet more innovations.
7. 2001 Harley Davidson Night Train
Serious bikers were happy about the new updates added to the 2001 Night Train. Although it remained the same aesthetically, new standard features were added. The HD security system was a welcome addition that made it safer to leave your bike in the lot when running a quick errand in town.
6. 2002 Harley Davidson Night Train
In 2002, HD added yet another mechanical feature. The new fuel injection system was thrown into an already impressive mix for the era. Fans of the model were happy that HD was making habitual upgrades that improved the performance of the bike. It gave them something to look forward to with the majority of the new model years produced.
5. 2005 Harley Davidson Night Train
Things stayed the same for the most part between 2002 and 2004, but the new 2005 model year would bring yet more forward progress in the evolution of the bike. The switch to a larger rear tire that was increased to 200 mm was a welcome change that improved stability and handling.
4. 2006 Harley Davidson Night Train
In 2006, the Night Train received yet another upgrade in the engine. The old 1450 cc twin cam 88 engine was swapped out for a twin cam 96 1580 cc engine. This was paired with a 6-speed gearbox. The addition of power with the clean and sleek lines of the Night Train made it one of the most popular bikes in the Softail lineup. This was a bike that was ideal for taller drivers with longer legs and arms. It was designed for comfort of this group while shorter drivers were better off with a different model.
3. 2004 Harley Davidson Softail Night Train
The 2004 edition of the Softail Night Train has received a popular vote that lands it in the 45th position out of 65 reviewed in its class. Overall, it gets a 4 out of 5 star rating as a used motorcycle and a 5 star rating for performance. Hailed as a high quality motorcycle that is reliable it has retained is value coming in at a retail selling price in mint condition for just under $15,000. The only ding this bike has on its otherwise stellar record is for ride and comfort. It's best for taller riders and for making short trips versus long hauls.What was new for 2004 was the addition of the new electronic sequential port fuel injection system. This took the place of carburetion.
2. 2003 Harley Davidson Night Train
The 2003 Harley Davidson FXSTB/FXSTBI Night Train featured a black on black version with a custom Badlander seat with stainless steel drag bars set atop of 6-inch risers. A favorite feature was the blacked out engine and the one piece hefty fuel tank. Wrinkle black and texture black covers were applauded because of their aesthetics. The front wheel was laced and the rear wheel disc. Forward foot controls were popular and to top it all off the blacked out tank console, oil tank, air cleaner and rear fender supports gave it a dark and pleasing aesthetic.This was a lighter version with a dry weight of just 633 pounds and an unladen running weight of 672 lbs. For this edition, buyers had a choice of a fuel system 2 carburetion or an electronic sequential port fuel injection, which would become standard fare in the next model year.
1. 2007 Harley Davidson Night Train
The 2007 Night Train received is biggest upgrade of all time. The engine had been downgraded in 2006 to a 1442.15 cc, but this model year gave it a 1584 cc displacement along with the standard fuel injection system. This upped the torque to 87.9 ft lb at 2,750 rpm. The other important upgrade was the addition of a 6-speed gearbox.
Prev ArticleNext Article
Sours: https://moneyinc.com/best-harley-davidson-night-train-models/
Davidson train harley night
HARLEY-DAVIDSON NIGHT TRAIN (1998 - 2010) Review

MCN rating3 out of 5(3/5)
Owners' rating4.3 out of 5(4.3/5)
SpecsOwners' reviewsBikes for saleFor sale
15
At a glance
Prices
Overall rating
Next up: Ride & brakes
3 out of 5(3/5)
Author: MCN Staff
Published: 24 November 2006
Updated: 21 November 2014
One of Harley's whackier 'image bikes', in a similar vein to the Harley-Davidson Bad Boy, Street Bob and Night Rod. The Harley-Davidson Night Train is a Europe-only model based on the Softail. It's lean, mean and very black and it goes pretty much as it looks. If you like the style of the Harley-Davidson Night Train you won't be disappointed.
Ride quality & brakes
Next up: Engine
3 out of 5(3/5)
With the Softail's harsh hidden shock rear end, the Harley-Davidson Night Train can't match the twin shock Dynas for ride quality and handling, but it's not desperate, either. The Harley-Davidson Night Train's braking also can't match the twin disc-ed machines such as the Harley-Davidson Super Glide Sport.
Engine
Next up: Reliability
3 out of 5(3/5)
The Harley-Davidson Night Train delivers grunt, fabulous noise (especially if you bin the stock silencers and fit a pair of open cans), lazy, US-style cruising and… not a lot else. Harley's engineering hasn't moved on much since the 60s. For fans, that's the appeal of a Harley-Davidson Night Train for others it's an anathama.
Reliability & build quality
Next up: Value
4 out of 5(4/5)
Modern Harleys set the benchmark for paint and chrome work and the Harley-Davidson Night Train is no exception. What's more, the Harley-Davidson Night Train's big engine is understressed and under engineered and, generally, the motorcycles themselves are ridden gently and regularly serviced. All of which adds up to few reliability woes…
Value vs rivals
Next up: Equipment
3 out of 5(3/5)
The Harley-Davidson Night Train was around £12k when new and is regarded as something of a classy, iconic motorcycle, and is particularly desirable as such, keeping used values high. Find a Harley-Davidson softail for sale.
Equipment
3 out of 5(3/5)
Nothing to get excited about, true, but the Harley-Davidson Night Train has all the custom bells and whistles where it matters, all served up to provide a fairly classy, luxurious concoction. It's not touring motorcycle but the Harley-Davidson Night Train will certainly pull the crowds.
HARLEY-DAVIDSON NIGHT TRAIN for sale with MCN
View more bikes for sale
Specs

Engine size
1580cc
Engine type
4v air-cooled V-twin, 5 gears
Frame type
Steel tube cradle
Fuel capacity
18.9 litres
Seat height
660mm
Bike weight
285kg
Front suspension
None
Rear suspension
Preload
Front brake
Single 292mm disc
Rear brake
Single 292mm disc
Front tyre size
80/90 x 19
Rear tyre size
160/70 x 16
Mpg, costs & insurance

Average fuel consumption
38 mpg
Annual road tax
£96
Annual service cost
£80
New price
-
Used price
£8,000 - £11,500
Insurance group
16 of 17
How much to insure?
Warranty term
Two year unlimited mileage
Top speed & performance

Max power
67 bhp
Max torque
82 ft-lb
Top speed
118 mph
1/4 mile acceleration
13.2 secs
Tank range
146 miles
Model history & versions
Model history
1998: Harley-Davidson Night Train launched.
2000: Replaced with 1450cc version.
2001: Now with H-D security system.
2002: Now fuel injected.
2005: Now with 200mm rear tyre.
2006: Harley-Davidson Night Train now fitted with 1580cc engine and 6-speed gearbox.

Owners' reviews for the HARLEY-DAVIDSON NIGHT TRAIN (1998 - 2010)
3 owners have reviewed their HARLEY-DAVIDSON NIGHT TRAIN (1998 - 2010) and rated it in a number of areas. Read what they have to say and what they like and dislike about the bike below.
Review your HARLEY-DAVIDSON NIGHT TRAIN (1998 - 2010)
Summary of owners' reviews

Overall rating:
4.3 out of 5(4.3/5)
Ride quality & brakes:
4.7 out of 5(4.7/5)
Engine:
4.7 out of 5(4.7/5)
Reliability & build quality:
4.3 out of 5(4.3/5)
Value vs rivals:
4.7 out of 5(4.7/5)
Equipment:
4.7 out of 5(4.7/5)
Annual servicing cost:
£80
4 out of 5
13 April 2019by Kill Bill
Version: Fsxtb
Year: 1999
I gave it a four for the handling.
Ride quality & brakes5 out of 5
Engine5 out of 5
Reliability & build quality3 out of 5
Value vs rivals4 out of 5
Equipment4 out of 5
Buying experience: Bought it from a friend.
4 out of 5
great bike
02 November 2015by tony
Year: 2007
Annual servicing cost: £80
Great looking bike very comfortable and cool
Ride quality & brakes
4 out of 5
Single disc brake dont stop well and the hidden shock doesnt absorb much
Engine
4 out of 5
Engine is great more than enough power just a 5 speed isnt for highway riding
Reliability & build quality
5 out of 5
Runs great and rides better
Value vs rivals
5 out of 5
I do my own services
Equipment
5 out of 5
Whole bunch to choose from
5 out of 5
way cool
03 March 2008by puck67
Awesome fun
Ride quality & brakes5 out of 5
Engine5 out of 5
Reliability & build quality5 out of 5
Value vs rivals5 out of 5
Equipment5 out of 5
Back to top
Harley-Davidson FXSTB Night Train motorcycle review - Riding
Sours: https://www.motorcyclenews.com/bike-reviews/harley-davidson/night-train/1998/
2009 Harley Davidson Softail Night Train
Half of the egg parted the opening of the vagina and deepened in half. - Push further already calmly and in a trembling voice I asked. Lena was careful and did not hurry. Then I pressed down on her hand again and the egg slipped inside.
Similar news:
A moment later, Vadim squatted down and asked: Do you want a kiss. I nodded and he sucked me in like a real man, penetrating his tongue deeper and closer to the throat, we. Kissed for three minutes, then he got up in the same position and pushed his penis to my face.
566
567
568
569
570