Blue, White And Gold Christmas Tree Decor (plus 40 Bloggers' Christmas Trees)
Blue and white is a classic color combination that has always been one of my favorites! So it's probably not much of a surprise that I decided to use it (along with some gold) for my Christmas decorations this year. I just love how the garland over the mantel and this blue, white and gold Christmas tree decor look in my living room!
Why does it always seem that Thanksgiving rolls around and I'm still looking for some inspiration for my Christmas decorations?
I think I spend so much effort decorating for Halloween that I run out of steam for Christmas…that's my excuse and I'm sticking to it 🙂
So this year, I took the easy way out and decided to match my Christmas decor to my room colors.
But there's another solution if you are in the same boat, and are still looking for some ways to decorate your Christmas tree.
Welcome To Our First Annual Christmas Tree Decor Blog Hop!!
More than 40 bloggers are sharing their Christmas tree decor (you can find all the links at the bottom of the page)!
Talk about some inspiration!
So grab a cup of your favorite beverage, settle in and get comfortable because you are going to love the beautiful Christmas tree decor ideas that are being shared today!
Let's Meet The Hosts!
Michelle – Our Crafty Mom | Allison – Upright and Caffeinated | Angela – Simply Beautiful By Angela | Annie – All Things Big and Small | Brittany – Our Home Made Easy | Chloe – Celebrate and Decorate
Cindy – County Road 407 | Colleen – Life on Kaydeross Creek | Denise – My Thrifty House | Eileen – Sand Dollar Lane | Erlene – My Pinterventures | Jaclyn – The Dotted Nest | Jeannee – Centsably Creative | Vicki – 2 Bees In A Pod | Jennifer – Oh Fiddle Dee Dee | Jolene – Create Pray Love | Kim – Made In A Day | Kristie – Teadoddles | Leanna – Faeries and Fauna | Maria – Simple Nature Decor | Marie – The Inspiration Vault | Mary – The Boondocks Blog | Meegan – What Meegan Makes | Meg – Green With Decor | Melissa – Welcome To The Woods | Donna – Modern On Monticello | Morgan – Charleston Crafted | Nancy – Slightly Coastal | Nicole – Madness and Method | Pam – P.S. I Love You Crafts | Sam – Raggedy Bits | Shirley – Intelligent Domestications | Stephanie – Abbotts At Home | Wanda – From House To Home | Yami – The Latina Next Door | Jenn – Loveland Lodge | Christene – Keys To Inspiration | Libbie – A Life Unfolding | Jaclyn – One Thousand Oaks (no longer available) | Jennifer – 2 Bees In A Pod | Sarah – The Project Pile
My Blue, White and Gold Christmas Tree Decor
This post may contain affiliate links. We make a small commission if you buy the products from these links (at no extra cost to you). As an Amazon Associate, I earn from qualifying purchases. But we only recommend products we would use ourselves. For more information, click here to see our disclosures.
And now on to the details of my blue, white and gold Christmas tree.
For those of you who know me, you know that blue is my favorite color.
Pretty much every room in my house has some shade of blue in it.
But as much as I love the color blue, I have never really used it as the main color in my Christmas decorations.
So I decided this was going to be the year to go all out with a blue, white and gold color scheme.
It all started with this garland that I created over the mantel.
Of course, I couldn't let the mantel outshine the tree, so that meant going all out with the Christmas tree decor, too.
First thing was to collect a bunch of blue and white ornaments. (You can find links to some of my favorites below).
Fortunately, blue is an "in" color this year, so I was able to find some great poinsettia clips* as well as some other blue and white ornaments.
I also found an ornament set from Frontgate (no longer available) that was a little more money than I normally spend. But the ornaments are so beautiful, it was worth it!
These blue and white ginger jar ornaments* were the final elements that pulled the whole look together.
They go with all of the blue and white ginger jars in my house.
I love combining the poinsettia clips with the real thing at the bottom of the tree.
The tree holds its own with the mantel now!
It's definitely the focal point when you come into the living room.
Shop The Tree
Now let's check out the rest of the beautiful Christmas Trees!
Have comments or questions on our blue, white and gold Christmas tree decor? Tell us in the section below.
Sharing is caring!
Sours: https://www.fromhousetohome.com/blue-white-gold-christmas-tree-decor/
Blue living room ideas – 30 decorating schemes in shades from sky blue to navy
We earn a commission for products purchased through some links in this article.
Blue is such a versatile hue to work with. One minute exciting and decadent, the next restful and easy to live with, blue can be anything you want it to be depending on the shade you choose. Our blue living room ideas are some of our favourites examples of how to use this gloriously diverse colour. 
'Historically, blue was a colour that was one of the most expensive to produce and spoke of the wealth and extravagance of the homes it appeared in,' explains David Mottershead, managing director of Little Greene.
Blue living room ideas
Smart and sophisticated, navy and teal blues are the warmer way of embracing on-trend dark hues. They also have a luxurious feel – and for very good reason.
By contrast, sea blues and duck egg blues are all calm and serenity, making them the perfect antidote to our 24/7 lives. You don't need a home by the sea to enjoy them, though they do work best with simple Shaker and country style furniture in whites and very pale timbers.
Read on to find the hue of blue that's perfect for your living room idea.
1. Invigorate your space with sky blue
Image credit: Dulux
This brilliant shade of blue has just been revealed as Dulux's colour of the year 2022 – Bright Skies. This uplifting shade of pale blue offers a much-needed invigorating breath of fresh air for our homes. Reminiscent of a clear sky filled with promise the gentle blue reminds us to 'look up' and feel optimistic as we emerge from darker times.
It's a lighter, brighter and more refreshing colour than that of last year's Brave Ground, yet it still has a deep connection to nature. Enhance the feeling of nature by pairing this hue with warm wooden furniture and plenty of house plant ideas to welcome further elements of nature into your living room.
2. Mix soothing pastels
Image credit: Future PLC/ Dominic Blackmore
As the colour of the year announcement shows powder blues are having a moment – a refreshing alternative to grey, cool blue brings with it a calming and serene energy. A pastel shade works well when used to decorate a south facing room to maximise the feeling of light and space. Mix a palette of soothing pastel shades to add depth to the look, introducing the tones via soft furnishings.
3. Coordinate with colour
Image credit: Future PLC/ Polly Eltes
The key to creating the perfect feature way with colour is keeping it coordinated. Built-in furniture painted in the same block colour as the fireplace and the wall creates a sleek, cohesive look – solidify that one wall as one complete wall, rather than a broken space of shelving and chimney breast space.
4. Balance a blue colour scale
Image credit: David Brittain
Create a sophisticated blue living rooms by layering tones, to strike the right balance between a dominate colour to run through a scheme without it feeling overwhelming. This blue living room idea introduced a pale shade, almost blue-grey, on walls with a more pure pastel blue with the curtain fabric.
The look is enhanced with the introduction of royal blue in the form of a statement armchair. The rest of the room is kept neutral with white-washed wooden floors and white furniture to make sure the blue remains undiluted by other accent colours.
5. Make a statement with a rich palette
Image credit: Simon Whitmore
Enrich a deep blue living room with the addition of luxurious textures and materials in a range of equally rich accent colours. In this striking blue living room deep blue walls  are enhanced by a large papered art on the wall and glam metallic furniture finishes and accessories.
Luxe velvets in deep shades of burnt orange punctuate the cocooning blue beautifully, creating a moody, decadent vibe.
6. Be bold with on-trend paint
Image credit: Future PLC/ Georgia Burns
Create a strong colour block theme throughout by painting all the skirting boards and above the picture rail in the same colour as all four walls. Keep ceilings painted white for a dramatic contrast.
'Blue and white is a classic combination and will stand the test of time. The colours contrast beautifully but pick an off shade of white – a true brilliant white already has more of a blue undertone, so paired with navy it can be cold,' says Cathy Dean, Interior Designer 
7. Choose dusky tones for a sophisticated finish
Image credit: Future PLC/Chris Snook
Look to a mid-tone blue with grey undertones to keep the look bold but bright. Pair with touches of aged brown leather and brass to welcome an added feeling of warmth. This striking yet understated colour combination creates a sophisticated take on a blue living room idea.
8. Add a seascape feature wall
Image credit: Future PLC/ Philip Raymond
Set the scene for your blue living room with a feature wall. This striking wall mural has an 'under the sea' vibe that creates a lush serene feel to the overall scheme, which is already tranquil with pale blue-grey walls with a light grey rug and gentle pink sofa to contrast.
9. Be daring with dominating dark blue shades
Image credit: Ryan Wicks
Where a room can take it, if the light quality is right and the dark colour will enhance the size, be daring by taking all four walls to the dark side.
The key when decorating with such bold colour is to embrace all surfaces, so include skirting boards and framework into  the colour scheme. Otherwise you run the risk of white woodwork from standing out like a sore thumb – totally distracting from the statement effect of the blue. Add equally bold accent colours to inject pops of contrasting colour, such as this mustard yellow.
10. Embrace opulent finishes
Greenwich Velvet 3 Seater Sofa £549; Jungle Luxe Eyelet Curtain, from £50; Claudia Coffee Nest Tables Gold Effect £239; all Dunelm
This look oozes luxury so opt for velvet finishes for cushions, curtains or upholstery. Brass accents and gold threads for accessories and occasional furniture are an instant shortcut to glamour. Pick rich wood finishes in matt rather than a glossy polish.
For a little old school glam, bring in the signature curves of chic twenties style with globe lighting and a round mirror. Fan and tropical palm prints still look the part and whilst dramatic colours are key to the look, swap out classic black and red for sapphire blue and emerald green.
11. Add some animal attraction
Anya Large Sideboard £549; Jungle Luxe Navy Wallpaper £12; Mila Magenta Rug from £45; all Dunelm
Pick a wallpaper with a midnight blue backdrop to really showcase tropical scenes. The rich tone adds instant depth and smart sophistication that evokes Art Deco opulence.
This Neo Deco style has adopted a number of animals from tropical climes. Incorporate wallpaper, lighting and accessories featuring big cats, monkeys, zebras and exotic birds into the scheme. Gilded finishes just add to the air of eclectic glamour.
12. Accent with pink
Vivian Cocktail Chair; £149, Dunelm
Lift the dark finishes like rich teal and midnight blue with blush pink and intense fuchsia. The warm pastel shade and bright jewel tone will soften the moody vibe and add a light hearted edge to the palette. Cushions and rugs are an easy way to inject the colour, or try some pink pampas grass for some statement texture.
A fluted, shell shaped accent chair in blush velvet will match a panelled wall with a chic silhouette while neon touches add a playful punch to the scheme.
13. Pick a sofa in a contrasting colour
Stella sofa in Paprika, £1840; Houston 5 light linear ceiling pendant, £260, Sofa.com
Orange sits opposite a blue on the colour wheel, so setting this bold tangerine against a deep blue will really make the most of both features.
Annie Sloan has some words of advice on which accents colours work with a blue scheme: 'The complementary of blue is yellow. As you move round the colour wheel you find orange, hence why brass and copper works so well, too.'
'Just a small amount goes a long way. For something quieter, colours like pale pink and grey greens look amazing.' With that in mind, you might also want to see our pink living room ideas.
14. Go immersive
Plush large chaise sofa in dark blue velvet, £1,199, DFS
For a sophisticated feel, go for mid to dark tones of blue on the wall that will really envelop a room. The deeper the colour, the richer and cosier the effect. Painting skirting and woodwork in the same colour as the walls, creates a smart, seamless finish.
When designing a room in a block colour, it's important to avoid a flat space, so a velvet sofa and curtains not only create a luxe look, but lift the space with texture and create some depth.
15. Make it modern coastal
Venus Bilbao Vinyl, £18.99 per sq m, Mirage Abstract Blue Rug, from £63.99, Carpetright
Forget the classic stripes. An inky watercolour mural will evoke seascapes whilst avoiding the cliche coastal prints. There's no need to stick to one shade of blue either, combine everything from a sky blue to indigo, with a denim sofa and cobalt chair, to create a softer, blended scheme.
Work in a casual vibe using rattan and seagrass pieces to channel a far flung sense of coastal style.
16. Pick a heritage inspired print
Tapestry Floral Dark Seaspray wallpaper £40 per roll; Chatsworth Button Back Large Sofa in Seaspray £2,150; Laura Ashley at Next
Dip a toe into a maximalist look with a feature wall, or go for total drama by using living room wallpaper ideas on all four walls. The dusky, restful shade and the tonal blue sofa, woodwork and furniture, softens the overall look so the busy print won't overwhelm the space.
A contemporary twist on a traditional Chesterfield, the button back sofa bring a modern silhouette whilst still maintaining classic grandeur to complement the heritage wallpaper.
17. Give smart maritime blue a crisp white stripe
Image credit: Little Greene
A nautical palette of blue and white has always been a firm decorating favourite, and this smart band of white gives a whole new take on the traditional sailors stripes! Pairing it with a soft tan leather sofa and adding washed wood furniture brings a softness and warmth to this smart colour palette
18. Mix in bottle green and accents of coral
Image credit: Future PLC/Chris Everard
Greens and blues have always been a popular colour combination and can sit effortlessly together. Using colour blocks of blue on the walls and green on the sofa grounds the room with a classic combination, whilst the addition of a pop of dark coral gives the room an extra design dimension.
This leaf green sofa and matching footstool gives the room a grown up, sophisticated feel, whilst the pops of coral on soft furnishings and ceramics gives it a modern twist. Oversized lampbase, vases and decorative jars in the same mix of colours adds a contemporary edge.
19. Layer textures on a backdrop of pale aqua
Image credit: Future PLC/Carolyn Barber
This season's delicate shades of blush pink and pale aqua bring freshness to any room, while low-level furniture and soft linen drapes keep the look light. With a palette that is all about combining pale colours (with little or no pattern) try mixing textures to prevent the scheme becoming flat.
Don't be afraid to combine velvets, linens, and boucle fabrics on soft furnishings around the room. Create a seamless backdrop my matching curtains to the wall colour too.
20. Contrast an exposed stone wall with midnight blue
Image credit: Future PLC/ Polly Eltes
A midnight blue velvet sofa has been contrasted with the distressed white stone wall in this living room in a converted barn. The sumptuous blue rather than looking cold against the white walls, creates a warm and inviting space to cosy up in. The rich blue colour scheme has been continued in the rug, and home accessories such as the vase and blanket.
21. Pair maritime blue with white for a look that's cosy and bright
Image credit: Future PLC/ David Giles
Painting the walls a dark blue is a wonderful way to build a look that's cosy and homely. So that the look isn't gloomy, keep the walls, ceilings and window dressings light – ideally white – to balance things. Mirror-finish furniture will also maximise the light in a dark-painted room.
22. Use midnight blue with grey for a modern rustic look
Image credit: Future PLC/ Simon Whitmore
You might think of blue as a cool colour, but the deepest, darkest shades will create a cosy, cocooning look, as evidenced here.
Greys and blush pinks are the ideal bedfellows – or should that be sofa fellows? – for this opulent midnight shade. They both soften and brighten up the room, while a woodturning stove, tongue and groove panelling and pale wood furniture enhance the rustic feel.
23. Try teal blue for a traditional update
Image credit: Future PLC/ Simon Whitmore
There's a fine line between traditional and tired, but it can be completely avoided if you are confident with colour. This strong teal brings a certain amount of heritage to this living room, but it simultaneously feels fresh.
Matching the sofa and the walls emboldens the look and creates a strong backdrop where it's possible to mix up antiques with modern pieces without the overall effect being messy.
24. Pick a pastel blue
Windmill Wings in Regal Select Matte, from £23.00 for 0.94ltr, Benjamin Moore
Introduce a splash of sky blue to enliven a small living room idea. A soft pastel shade welcomes colour without overwhelming the space. Combine cool, airy, pastels with the clean lines of modern furniture and contemporary textiles to bring it right up to date.
25. Give country style a fresh twist
Credits: Platform Medium 2 Seater Sofa £1,699; Hendricks Loveseat £599; Tuck Armchair £349, Cushions from £12; Jute Pouffe £79, Skye Jute Rug, £80, all John Lewis & Partners
Bright shades of blue are the perfect companion to warmer, fruity orange hues, so instead of the soft pastels that sum up a traditional country look, team a zingy turquoise with sunbleached hues to update the look.
Dip into some Tuscan tones of sun soaked coral, golden ochre and for warmth and vibrancy. Flowy, full length curtains are the perfect way to introduce an energetic shot of colour.
26. Warm up the contrast
Walls painted in Scotch Blue and Snow White, Estate Emulsion, both £49.50 for 2.5ltr, Farrow & Ball
Balance the  feel of a rich blue with a splash of neutral white. 'You can turn up the temperature by using a darker tone of blue  and punctuate the space with energy', says Natasha Petitt, Colour Designer at Craig & Rose.
27. Make pink feel grown up with inky blue
Image credit: Future PLC/ Georgia Burns
Backed by any other shade, this pink sofa might look a little too sugary for many people's taste. But with a dark inky blue behind it, it's the ultimate in sophistication, enhanced by the coffee table's brass legs and accessories.
Also framed in brass are three blue prints, which break up the blue without detracting too much from its effect. Warm wood flooring and a pale rug keep things bright yet cosy underfoot.
28. Start with a blue sofa
Image credit: Future PLC/ Dominic Blackmore
Here, a vibrant turquoise blue sofa pops against a soothing backdrop of denim blue, for our take on modern coastal.
Stonewashed blues like these are the perfect foundation for classic styles of furniture, the white dresser being a prime example. It's a good idea to reflect them in the accessories in display.
29. Tile a blue feature wall
Image credit: Future PLC/ Colin Poole
You'll need to have a healthy budget, but a feature wall formed of cement tiles can look truly spectacular and – despite the rustic nature of their material – glamorous. Velvet chairs in a deeper blue enhance this effect, and again, accessories in a similar turquoise are accents that bring the room together.
30. Experiment with pattern
Image credit: Future PLC/ Dominic Blackmore
The golden rules for making this formal look work are to stick to a neutral hue for the walls and floor, and then to keep with a strict palette, which will allow you to play with pattern.
No two motifs are the same, yet they work harmoniously with each other and create an eclectic, global-inspired look, rather than a contrived seaside scheme.
Are blue living rooms popular?
Blue living rooms are more popular than ever, thanks to the recent announcement of Dulux's colour of the year 2022 Bright Skies.
Marianne Shillingford, Creative Director of Dulux UK, says, 'Right now, people want to feel revitalised and enjoy the freedoms that are returning to them, to look out and bring in new ideas. What better inspiration can we take than the endless skies around us?'
'It is widely known that nature makes us feel better. And taking steps to bring the outside in enhances our sense of wellbeing' Marianne adds. 'So whether we are working or relaxing, it is essential to have a space that reflects the optimism and desire for a fresh, new start that is top of the agenda.'
Additional words by Michela Colling, Nicky Phillips
Sours: https://www.idealhome.co.uk/living-room/living-room-ideas/blue-living-room-ideas-218792
How to Decorate a Living Room in Blue, Red and Gold
Blue, red and gold is a very versatile decorating scheme that can create many different styles. Depending on the intensity of the colors, the way you combine them and the furnishings and accessories you choose, this palette works with decorating styles as diverse as country, Tuscan, French, colonial or Cape Cod.
Walls
The color you choose for the walls depends on the decorating style you prefer. Create an old-world Tuscan style with deep gold walls, or go French with true blue. Pale gold works in a country or colonial room. Go contemporary with any of your palette choices in a strong hue, or paint three walls a soft tint, then create a focal point by painting the fourth wall a strong, bold version of the color. If your living room is small, keep the ceiling white for an open, airy feel.
Floors
Tile in terracotta or gold works with a Mediterranean theme, or choose hardwood or laminate for just about any decorating style. A wood floor with a medium finish can hold its own against strong tones of gold, red or blue; or use lighter wood if you are painting with softer hues. Blue patterned carpet is beautiful with French decor; deep gold or barn red are exciting choices for a contemporary style. No matter what type of flooring you choose, add interest by topping it with an area rug that combines red, gold and blue in a pattern consistent with your decorating style.
Furniture
Dark wood works well in a Tuscan room, while distressed pine suits country style. Provide comfortable seating with a couch covered in leather or upholstery in barn red for country or colonial style, deep gold if you love the Mediterranean look or a strong blue in a Cape Cod or French-style room. If you want a sleek, modern vibe, go with bright red leather on your sofa and side chairs. Work an extra dose of color into the decor with a bookcase, cabinet or side table painted in any of your theme colors.
Accessories
Spotlight a pretty view with curtains in a deep red, blue or gold. Set one or two lamps with colored shades near your seating area, and display collectibles that suit your style in a hutch or shelving unit. Contrast the color of the sofa with decorative pillows patterned in red, gold and blue. A wool throw blanket on the back of the couch adds interest and warmth on chilly evenings. Hang artwork that includes your palette, and liven up the room with plants in containers that fit your style.
References
Writer Bio
Living in California, Michelle Ullman is a professional writer with particular expertise in home, garden and pet/nature topics. Her work is published on many websites. She loves crafts and has a deep interest in design and DIY projects.
Sours: https://homeguides.sfgate.com/decorate-living-room-blue-red-gold-55472.html
NEW* GLAM DECORATE WITH ME #LIVING ROOM STYLING IDEAS #Blue # Black #Gold #Home Decor Inspiration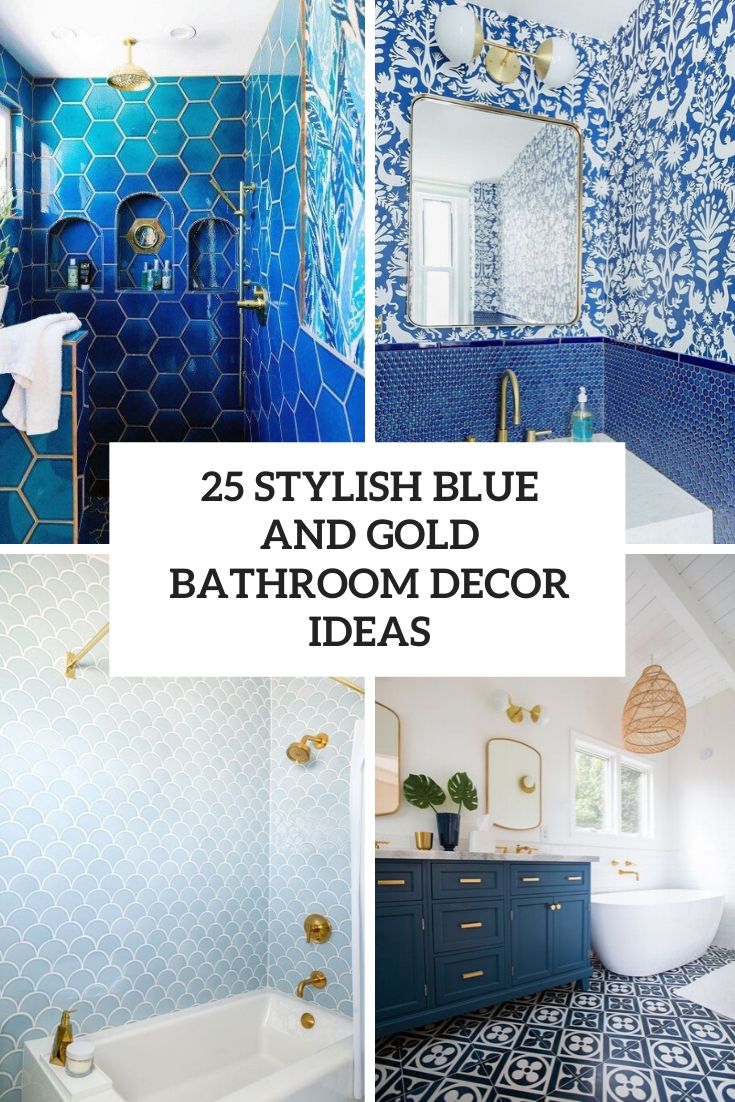 Blue and gold is a very stylish color scheme that can inspire your next home renovation for sure, wherever you decide to apply it. Will it fit a bathroom or a powder room? Yes, sure! If you are interested in ways to do that, here they are!
Colors And Styles
Blue and gold is pure elegance, whatever shade of blue you choose: light blue, navy, bold blue, electric blue, powder blue and others, and gold will finish off the look with a refined feel. Such a color scheme can be refreshed with neutrals, with creamy and white, or made calmer with greys and tan if you want that, and brass can substitute that shiny gold if you want a more vintage feel.
As for styles, blue and gold can fit literally any style: farmhouse, vintage, contemporary, art deco, minimalist, modern and many others, you can mix up several styles for a bold eclectic look.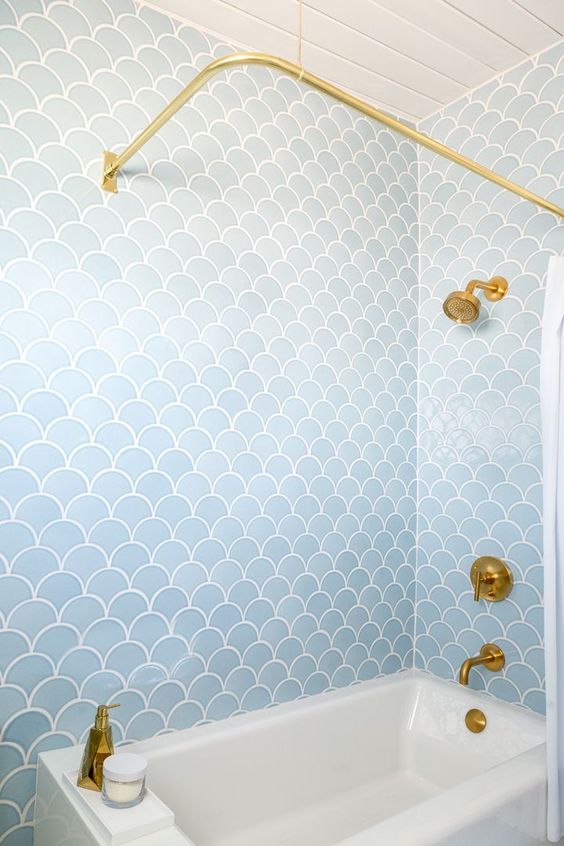 a bathroom clad with light blue fish scale tiles, with chic gold fixtures and accessories looks dreamy and stylish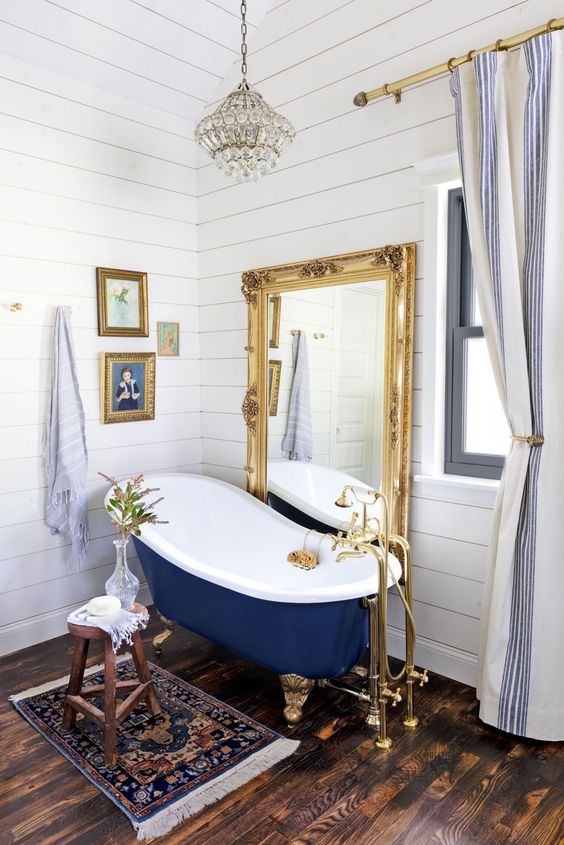 a bathroom covered with white shiplap, with a mirror in an ornate gold frame, artworks, blue tub on gold legs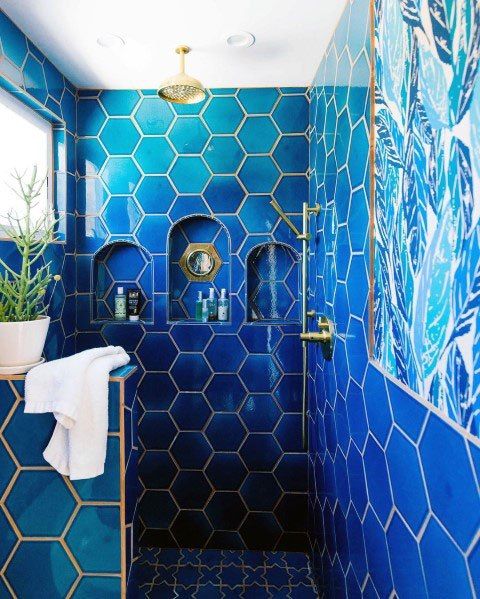 a bold blue bathroom clad with hex tiles and finished with gold grout and gold fixtures is a very chic space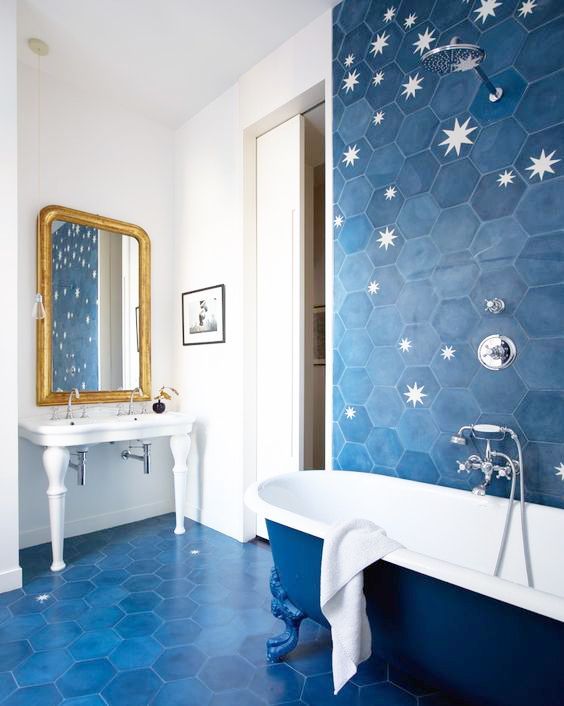 a bold blue bathroom with hex star tiles, a blue and white tub, a gold frame mirror and a vintage sink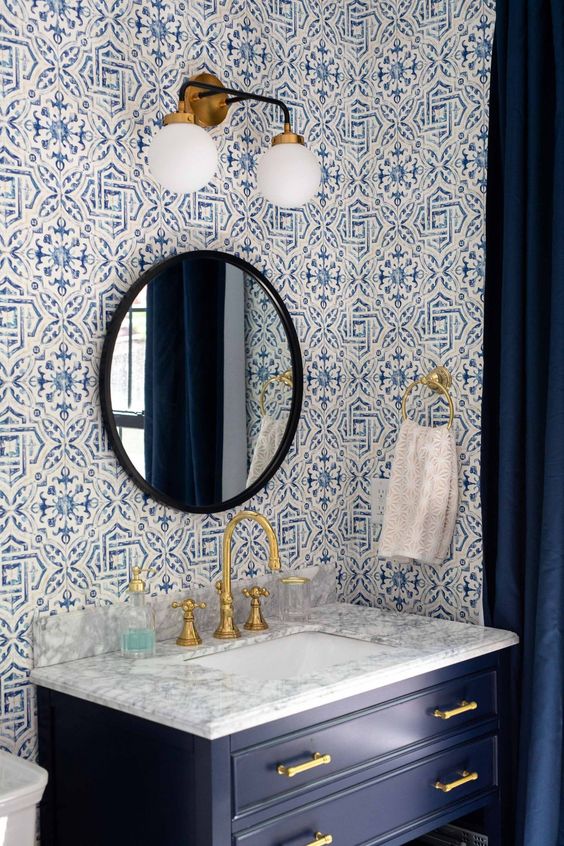 a bold powder room with mosaic tiles on the walls, a navy vanity, a stone sink, a sconce and a black framed mirror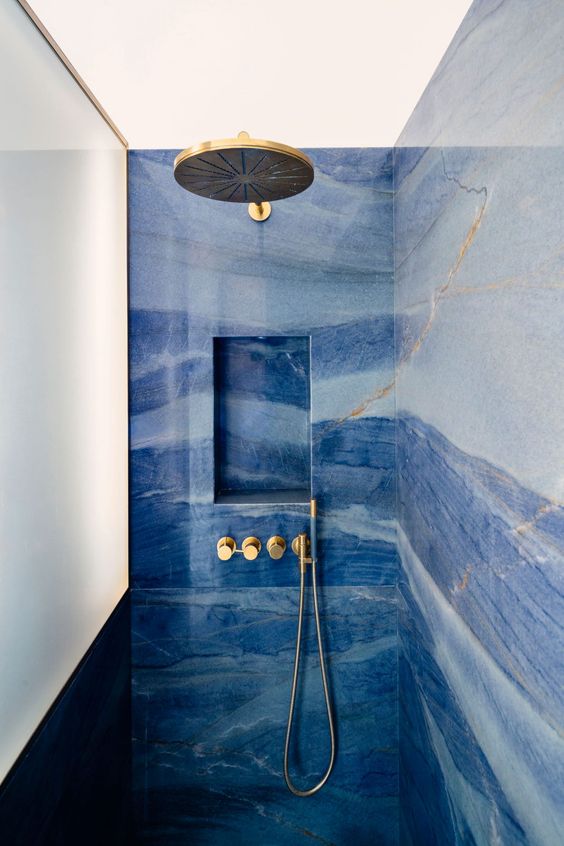 a catchy and bold blue bathroom done with watercolor tiles, gold fixtures and lamps is a stylish space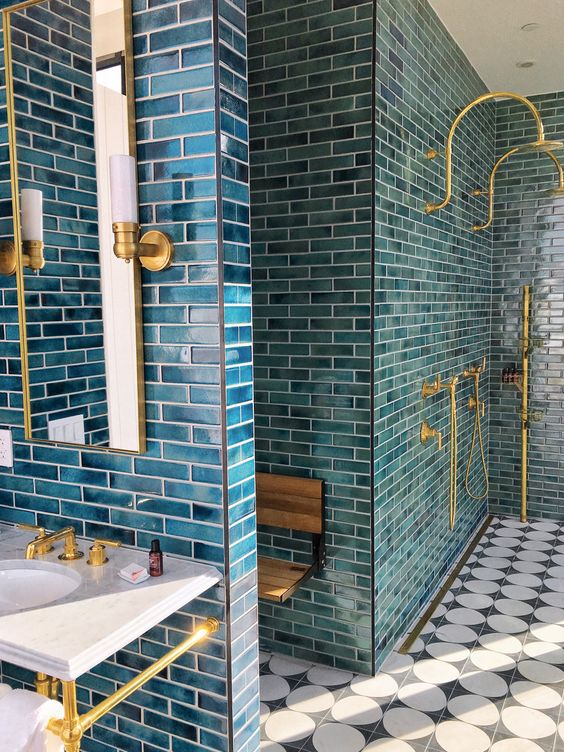 a catchy bathroom clad with blue tiles, finished off with gold fixtures and sconces looks wow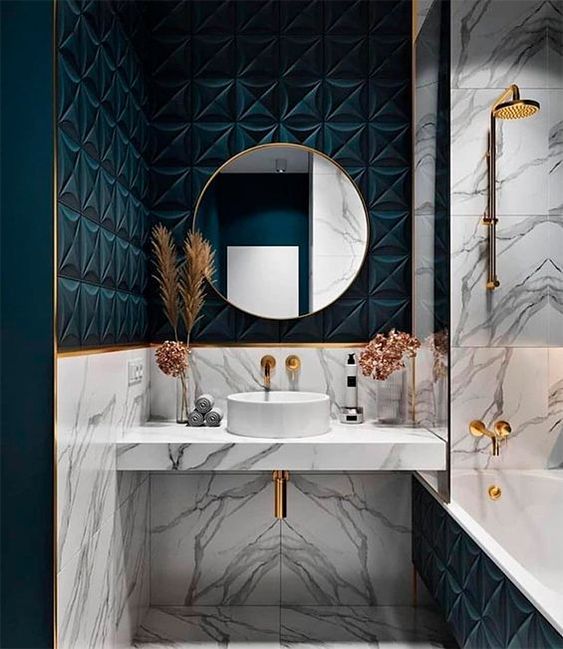 a chic bathroom with white marble and teal tiles, with gold accents and edges here and there for a refined touch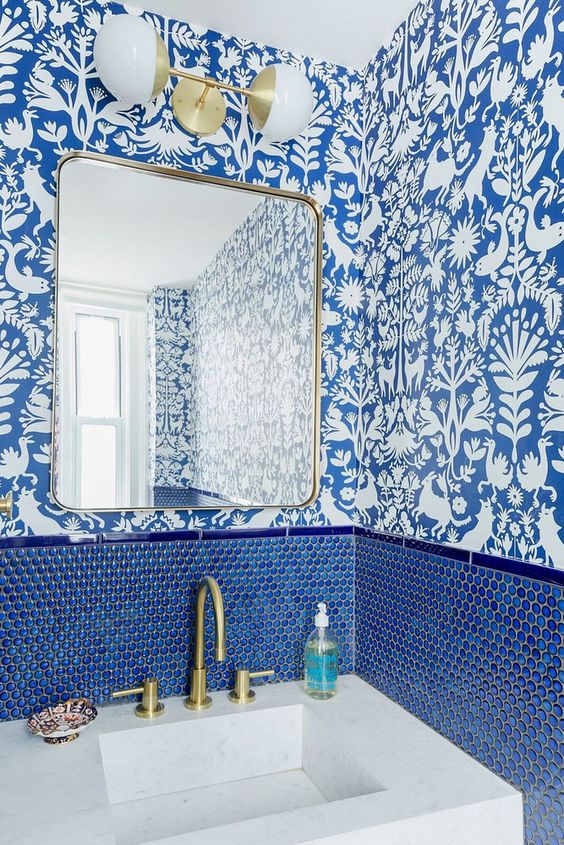 a chic powder room with blue and white wallpaper, blue penny tiles, gold fixtures and lamps plus a stone sink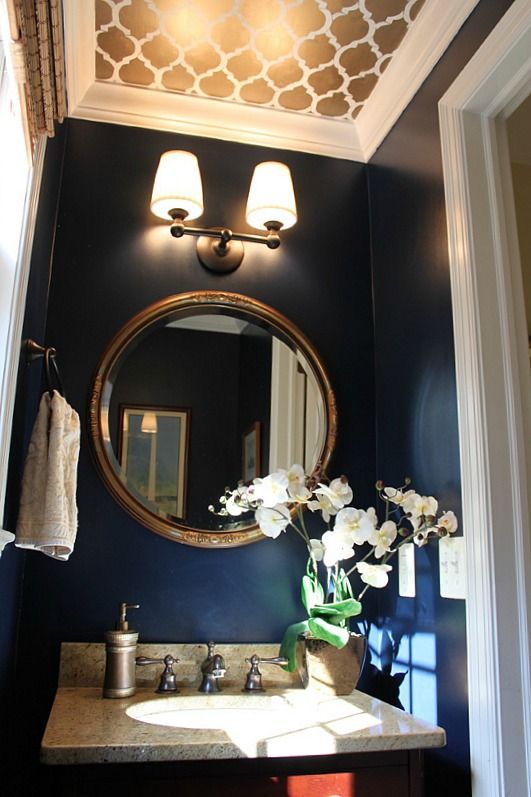 a chic powder room with navy walls, a stenciled gold and white ceiling, a gold frame mirror, a sconce and a stone sink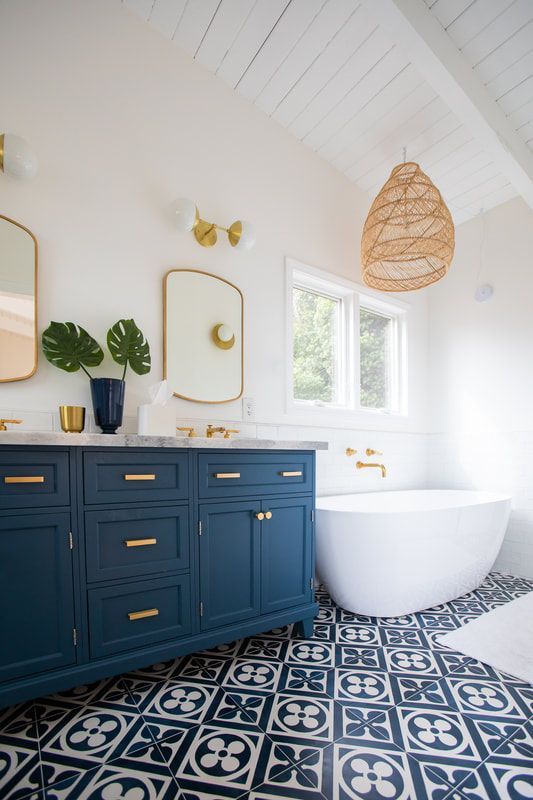 a coastal bathroom with blue and white printed tiles, a blue and gold vanity, gold frame mirrors, a woven lamp and a free-standing tub
Decor
How to incorporate your blues right? Blue tiles in any shades will be perhaps the most obvious solution here, and if you don't want any tiles, you can go for wallpaper, shiplap, paneling and many other solutions, even usual paint. You can also add a vanity in a matching or contrasting shade of blue or go for neutral walls and a blue vanity. A blue tub, blue tiles in the shower space and even blue artworks – all these ideas are nice to make your bathroom perfect. Now add gold or brass for a chic look: go for gold fixtures, gold lamps and sconces, gold accessories for all that small stuff and even gold grout to accent the tiles. Voila!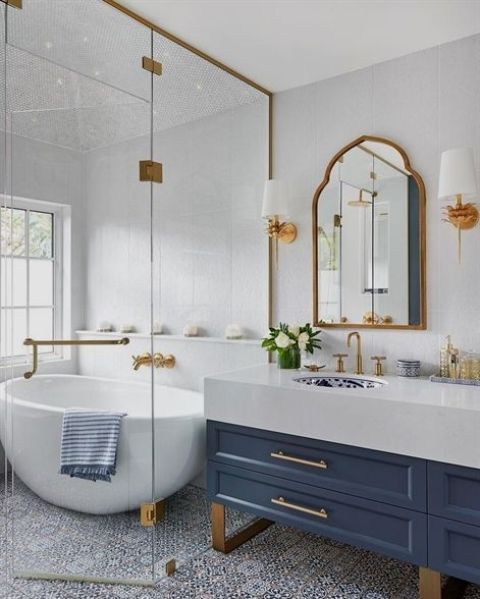 a floor clad with blue and white mosaic tiles, a blue vanity, gold fixtures, gold lamps and a bold printed sink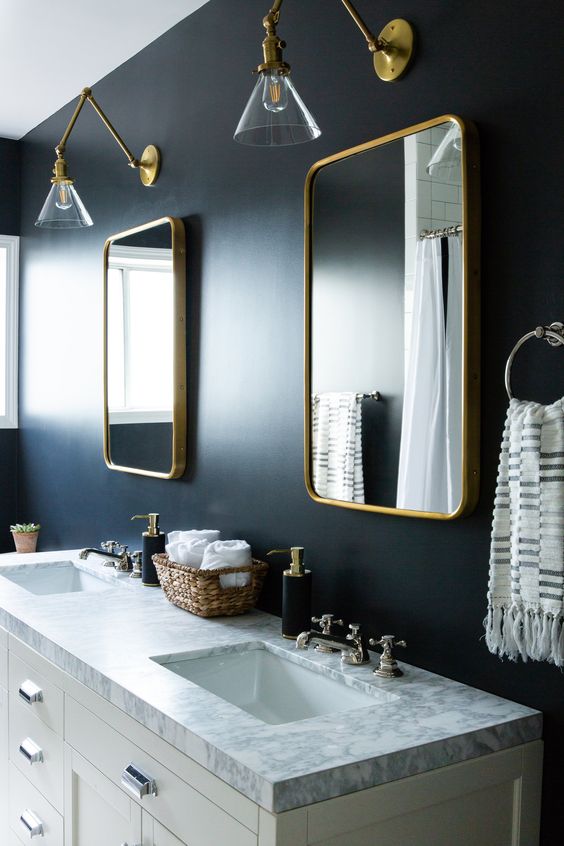 a moody bathroom with midnight blue walls, gold frame mirrors, gold sconces and other touches for more chic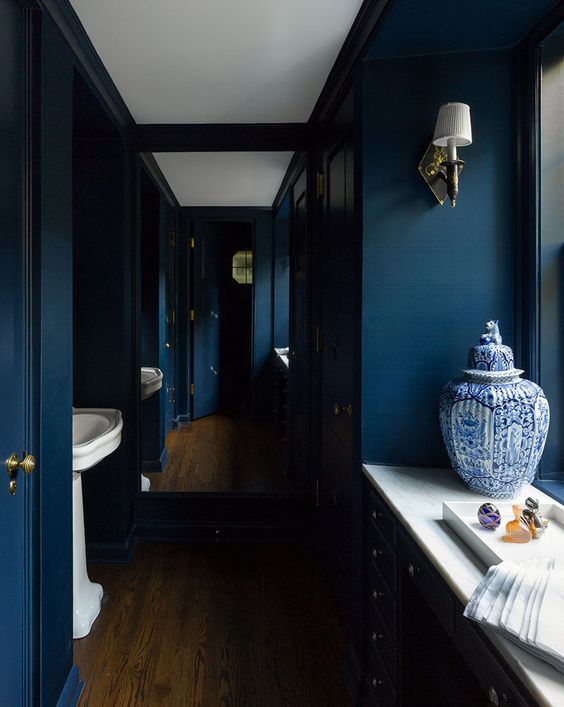 a moody navy powder room with all-navy walls, chic gold fixtures and lamps and white stone touches here and there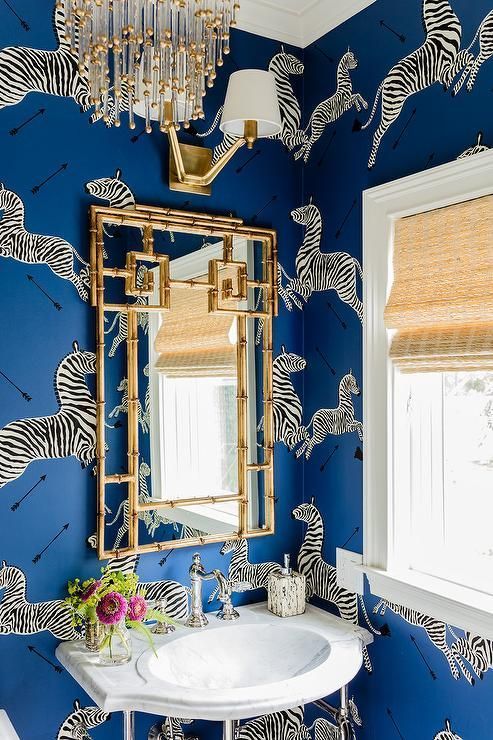 a quirky powder room with blue zebra print wallpaper, a catchy and bold chandelier, a gold frame mirror is wow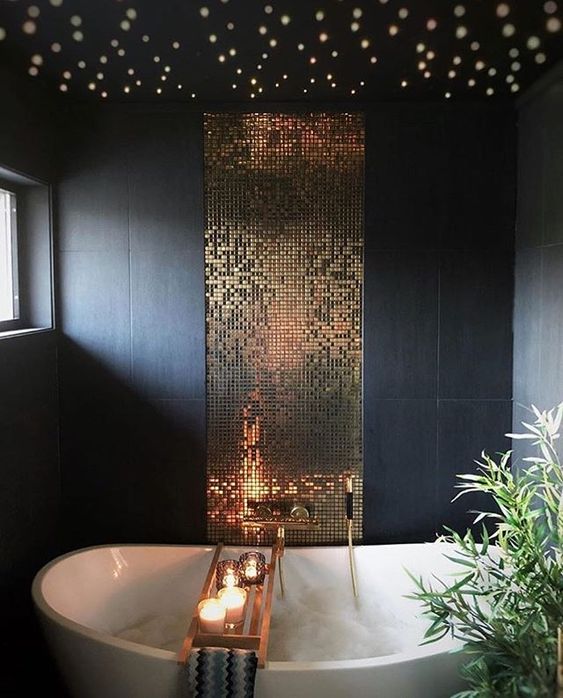 a refined bathroom with matte navy tiles, a gold tile backsplash, built-in lights and candles is a dreamy space to be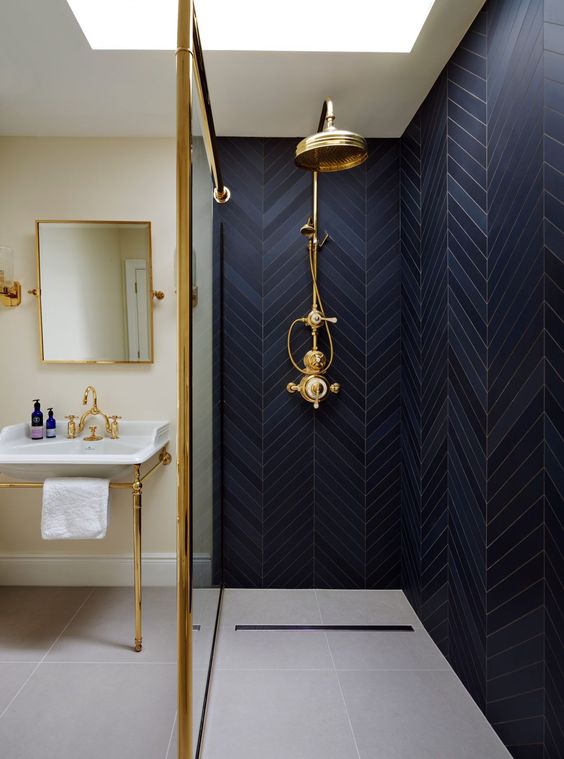 a shower clad with navy tiles in a herringbone pattern, with gold fixtures and gold lamps for a chic look
a stylish bathroom clad with teal tiles, with a midnight blue vanity, gold fixtures and a gold frame mirror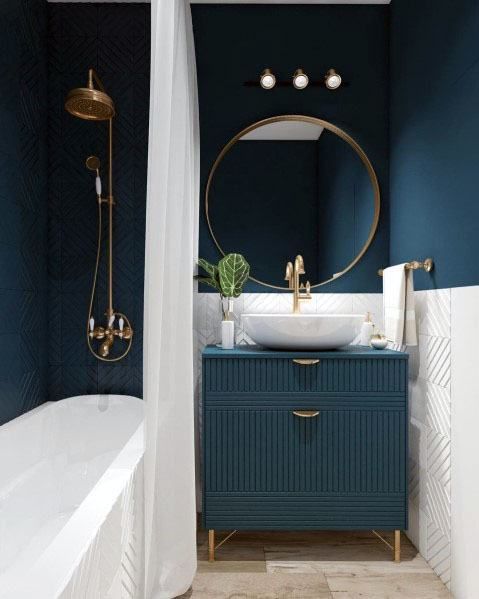 a stylish bathroom with navy walls, navy tiles, a navy vanity, gold frame mirror, gold fixtures and handles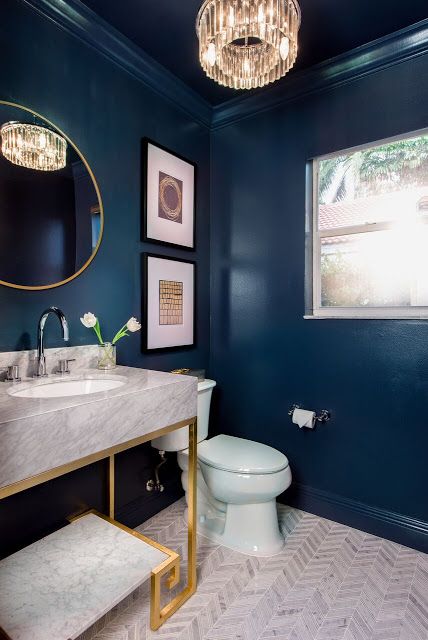 a stylish powder room with navy walls, a crystal chandelier, a gold frame mirror, a gold and white stone vanity and chic artworks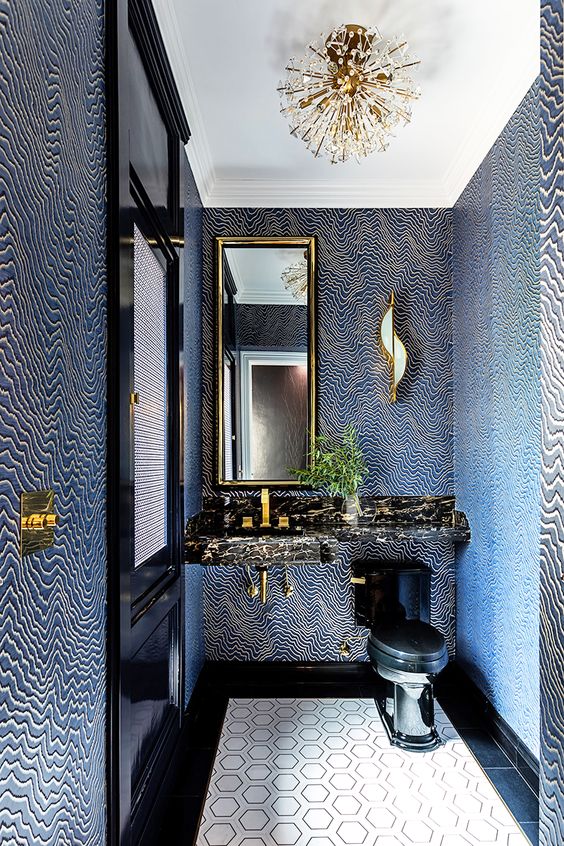 a very quirky powder room with navy and gold pritned wallpaper, a black stone vanity and a black toilet plus a unique chandelier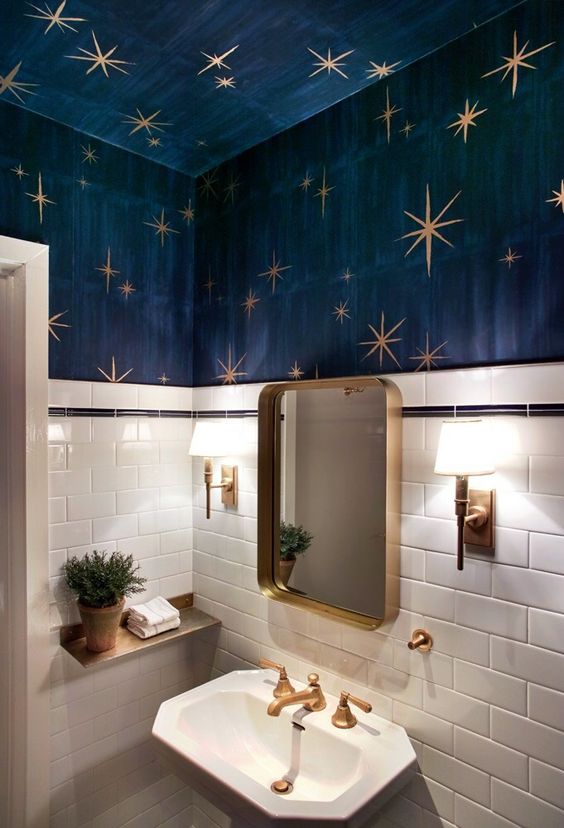 a whimsy powder room with white tiles, navy walls and a ceiling, gold stars, gold fixtures and a gold frame mirror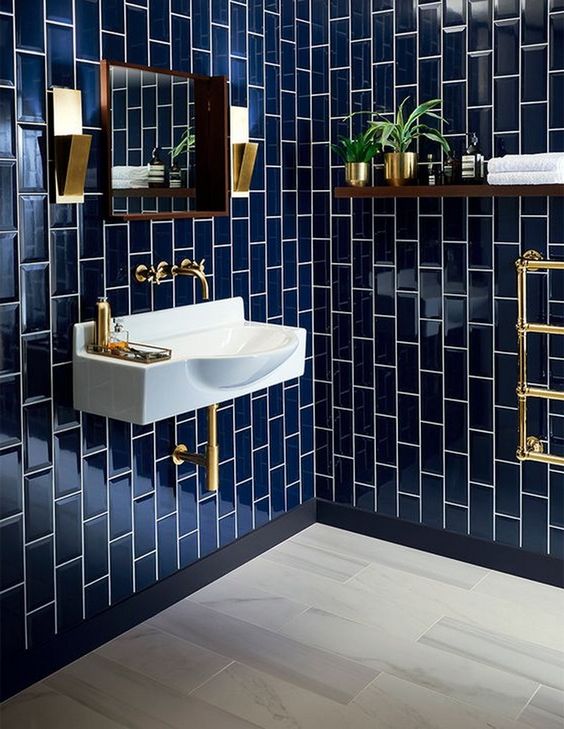 an elegant bathroom clad with navy tiles, spruced up with gold fixtures, lamps and accessories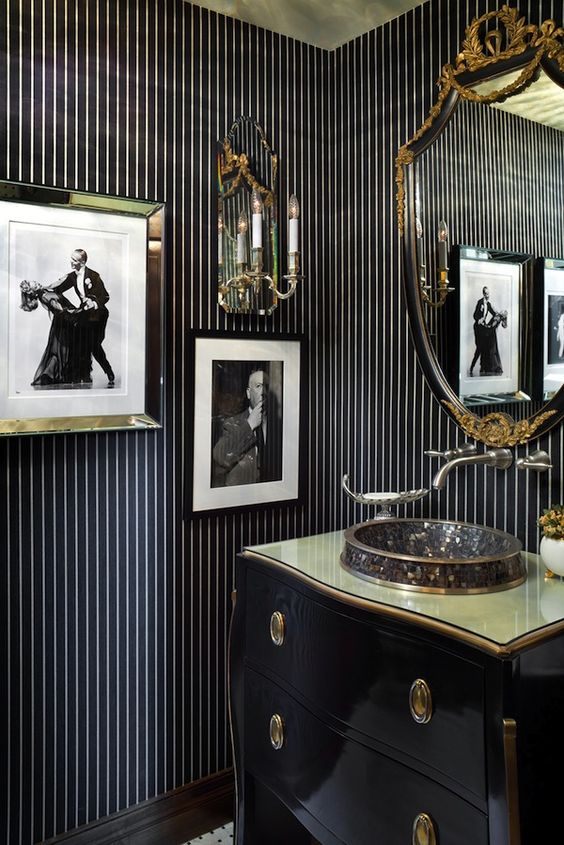 an elegant navy and gold bathroom with striped wallpaper walls, chic artworks and a catchy vintage vanity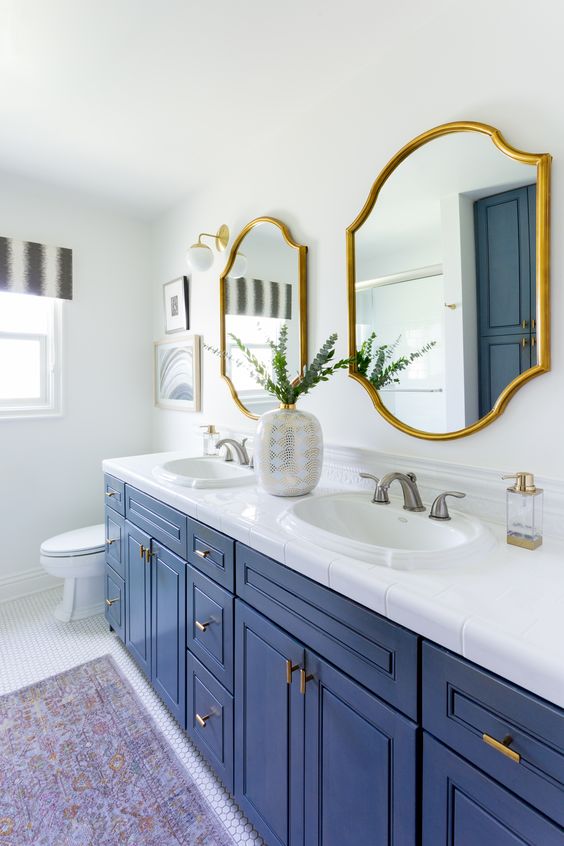 white as the main color, a bold blue vanity, gold fixtures, catchy mirrors in gold frames for a super chic look
Sours: https://www.digsdigs.com/blue-gold-bathroom-decor-ideas/
Gold decoration & ideas blue
25 Royal Blue And Gold Wedding Decoration Ideas
Some color pairings showcase classic wedding day elegance, like royal blue and gold. Deep blue decor stands out by the ocean, in a garden wedding ceremony or a grand ballroom. Gold wedding decorations vary with the use of gold foil accents, jewelry, centerpiece accessories or even flower arrangement colors. Most importantly, both of these wedding colors pick up the natural light of an early evening wedding, creating a romantic glow throughout an indoor or outdoor venue. We've gathered 25 royal blue and gold wedding decoration ideas for a wedding day packed with color and light.
1. Spring Centerpiece
For a sprightly spring wedding, combine rich blues and golds in a simple floral centerpiece with gold chargers, white menus and simple pillar candles.
2. Dazzling Blue
When weaving blue into your wedding decorations, opt for accents that stand out against a white, gold or pale pink background.
3. Gift Pouches
Looking for a small gift to thank your best girls before the wedding day? These canvas pouches work in a blue and gold wedding theme and include ample personalization options to keep everyone's makeup organized on the big day.
4. Dried Florals
Take advantage of the unique hues from dried flowers and herbs in your wedding design. Deep blues pop against the gold of your wedding bands.
5. Modern Runner
Geometric patterns are a fun, modern way to show off your style and color scheme in your reception decor. Add a color-blocked runner down the center of each dinner table for a bold decor statement.
6. Garden Storybook
Frame your own personal fairytale with a royal blue ceremony backdrop, pale blue menu choices and antique gold accents.
7. Celestial Suite
Invite your loved ones to a night under the stars with a deep blue invitation suite speckled with gold-leaf and ornate font. As you plan your wedding ceremony, work the theme into your readings, unity ceremony and design.
8. Glimmering Glass
Find ways to incorporate your color scheme into your wedding reception ideas throughout the practical dinner items as well. Wine bottles often incorporate natural blues and greens found in floral centerpieces.
9. Ornate And Outdoors
Bring the elegance of a ballroom wedding outside by placing all your wedding details around antique furniture. Match your wedding cake and decor items to the antique design for a cool vintage look.
10. Freshly Artistic
Purposeful placement of fresh fruit, simple decor and vibrant colors creates an elegant look for any wedding day, especially in a unique venue.
11. Delicate Decor
Dusty blues offset the richness of dark cerulean, especially when displayed with unique fabrics, ribbons and sashes. Weave the colors into barn wedding centerpieces for a rustic look.
12. Pull From Nature
Blue only appears in a handful of traditional wedding flowers. Choose a hue that inspires the rest of your wedding accessories and balance with white and gold details.
13. DIY Charm
Throw a sweet and simple wedding reception with all handmade blue and gold decor. Hand stamp your seating cards and paint a wooden craft number in your favorite hue.
14. Festive Fabric
Laying different fabrics throughout the tablescape and reception decor is an easy way to incorporate vibrant color and soft texture into a space.
15. Royal Suite
Welcome your guests to an opulent wedding celebration with a stationery suite that incorporates deep royal blue and gold accents with a scripted font.
16. Graceful In Blue
This elegant tablescape showcases painted blue table settings, blue candlesticks and a delicate mix of peach and gold throughout the flowers, candlestick holders and cutlery.
17. Berry Filled Blooms
Balance out the romantic combination of blue and gold elements with berry-inspired wedding color combinations like deep reds, dark purple and warm gold.
18. Enchanting Desserts
This secret garden wedding day included a truly whimsical two-tiered cake, hand painted with soft royal blue and bits of gold leaf. Choose wedding cake flavors that match your cake's outer design.
19. Organic Elegance
Weave a nature-inspired theme throughout your wedding day decor by filling your tables with wildflowers and decorating your cake with a marbleized pattern.
20. Showcase Tradition
Celebration a traditional Pittsburgh cookie table by surrounding your generous homemade baked goods with royal blue linens and opulent gold frames.
21. Marriage Memories
In lieu of a traditional guest book, ask guests to leave loving messages or bits of advice in a "penny for your thoughts" display as part of your wedding, bridal shower or bachelorette party decorations.
22. Bright Blues
Royal blue gowns make excellent bridesmaid dress colors, especially in an outdoor summer wedding with complementary gold wedding ceremony decor.
23. Dress Your Girls
As you prep for the big moment, gift monogrammed silk robes to your bridesmaids to match your royal blue and gold wedding theme.
24. See The World
Fill your centerpieces with hand painted white and gold globes for travel-themed and destination wedding receptions. Cover the table with royal blue linens and top off with simple white arrangements.
25. Close Ups
Snap photos of all your wedding day details, especially your delicate gold and blue wedding choices in both your ceremony and reception.
From centerpieces to bridesmaid gowns, there are endless ways to personalize your wedding day within a color palette. If you're passionate about DIY wedding ideas, tie together all your wedding reception ideas by guiding your guests to their tables with printable table numbers. Customize your numbers to your color scheme, design and wedding theme. Use your color scheme to inspire each of your creative wedding details.
Sours: https://www.shutterfly.com/ideas/royal-blue-gold-wedding/
NEW° HOW TO DECORATE GLAM #BLUE and #GOLD Tablescape - Table Decor Ideas - Every Child Matters
The Blue and Gold banquet is usually the most significant event that the Cub Scout Pack holds all year. It should be exciting and celebratory. The Blue & Gold banquet celebrates the anniversary of the birth of Scouting. I still remember one of my Blue & Gold meetings from long ago and the fact that I can remember it shows how much effort must have been put into it. The Blue & Gold celebration that I remember was held in my elementary school gym. Your Blue & Gold celebration may be held in a different location. Here are several web pages full of ideas that you could use to create your own decorations and centerpieces.
You could go to Amazon and buy your decorations (yes they have blue & gold decorations).
https://www.amazon.com/slp/navy-blue-and-gold-decorations/u3ttzkc33a758sn
How about covering your tables with these centerpieces from Ribbonsandglue.com? The lady made these decorations from coffee cans.
https://www.ribbonsandglue.com/cub-scouts-blue-and-gold.html
Here is another centerpiece idea from Pinterest… https://www.pinterest.com/pin/459507968234054007/
And yet another centerpiece idea, this time using a glass and some Scout popcorn…
https://www.pinterest.com/pin/579557045780985949/
If you follow this link, you can have some nice 'Twinkie-Minion' treats to go with your celebration. https://www.pinterest.com/pin/AcM5uO3AEFkPFfDRpUwOayw1Q_wUO_49O5x7LTQum_xXMRhCNYjiJOs/
I liked this next idea from some Cub Scouts that they shared with Pininterest.
https://www.pinterest.com/pin/326299935477643676/
One last idea comes from https://www.pinterest.com/pin/114278909268828795/. It looks like this… You use Mason jars to make this one.
Sours: https://insanescouter.org/blog/938/Blue__Gold_celebration_decoration_ideas.html
Similar news:
Blue and Gold Birthday Party
Collection by Celebrate Happy Birthday with a blue and gold birthday party theme. Blue and gold birthday party decorations. Blue and gold birthday cake. Blue and gold first…
Last updated 22 weeks ago
Princess, Light Blue & Gold, Kids Party, Birthday, Party, Kids Party, Kids Party decoration, Kids Party theme, Girls, Sweet table, Cake, Bday cake, Birthday cake, Cupcakes, Cake pops, Cookies, Party theme, Balloons, Party decoration, Decoration, Party for girls, Bday Party for girls, Birthday Party for girls
Sours: https://www.pinterest.com/distinctivs/blue-and-gold-birthday-party/
5433
5434
5435
5436
5437