Precision Pet and Plant Sitters, LLC
About My Business
Precision Pet & Plant Sitters, LLC offers professional and precise care for your four legged family members and plants.
We service the foothills west of Denver, including Genesee, Lookout Mountain, limited areas of Bergen Park, Green Mountain and parts of Soda Creek.
Our PSI Certified Professional Pet Sitters are bonded & insured, Pet First Aid trained and background checked.
Our reviews and dozens of satisfied clients tell it all!
Since 2012, our owner Ann has personally met every client and their 2 legged parents in person to insure we have all the info we need to deliver a great experience on every visit.
We care for plants as well to insure that all is as it should be upon your return.
Rest assured, that your time away from your 4-legged friends will be without concern when Precision Pet and Plant is on the job!
Our entire team is top notch, well trained and keen on keeping you informed with a daily message about your pets.
For more information, please check us out at: wwwprecisionpetandplantsitters.com
303-988-6285
Contact Me
(303) 988-6285
[javascript protected email address]
http://www.precisionpetandplantsitters.com
What my clients say:
""Ann and Judie are great and we've used their services since 2012. Our mini dachs gets all the attention he needs while we are at work, and we trust that he's in good hands. Love that they send messages about the visit and photos. Great team, we highly recommend Precision Pet and Plant Sitters for your pets."

"
—Thea Read
"Precision Pet and Plant Sitting will take the absolute best care of your dog that you could ask for. Ann is amazingly compassionate and incredibly detail oriented. Her company and staff are dog and cat compassionate. I simply couldn't recommend her company more highly. She will check in with you, with pictures of your pets daily or as often as you like, and leaves detailed daily written updates. Because of the written updates, we were able to pinpoint the beginning of our dog's sudden onset of aggressive, untreatable bone cancer. When our dog died, she sent a condolence card and had a tree planted in his honor. She's an extraordinary person and animal lover. We couldn't ask for more. "
—Sally Johnson
"We used Precision Pet and Plant Sitters for the first time this summer, and our experience was wonderful. Ann and Barnes are incredibly thorough business owners, carefully asking what we need and desire. The people watching our cats were diligent and probably took better care of our pets than we do! They were super accommodating, working around our last minute plans and inexperience with pet sitters in general.

I really appreciated the online tools they have, which allowed incredibly easy communication. We were able to fill out info forms online before we left, and then continue to discuss any issues while we were gone. They even send pictures of the pets, as they feed them and play with them. Our pets were much less stressed upon our return than they usually are.

AND- they went the extra mile, helping with are garbage, asking about plants, just generally looking after things. It was like having close friends check on our home while we were gone, and it was such a comfort.

I highly recommend them for your pet sitting needs, and will definitely use them the next time we need a pet sitter.
"
—Elizabeth Peterson
Sours: https://www.petsit.com/pet-sitter-golden-co-precision-pet-and-plant-sitters-llc
Plant Sitting in Seattle, WA
Gosh, you've sure got a few plants there, but don't worry— we're here to help keep your house plant collections healthy and thriving! As former nursery workers we have just the right knowledge, and expertise to offer your plants the royal treatment: Plant Sitting, Maintenance, Pest Control and Re-Potting services.
About Plant Sitters
Services We Offer
Pricing
Book a Consultation
Who's taking care of your plants while you're on vacation?
Sours: https://www.plantsittersseattle.com/
Why You Need to Hire a Plant Sitter
We're well into the part of winter when the daydreams start, and we're all thinking about sunny beaches or southern mountain towns. If you're planning a spring break trip, you probably have all the essentials down. Book your travel, plan what you'll pack, put together the perfect road trip or airport playlist… and find a plant sitter. Yeah, we didn't know that was a thing, either.
It's totally a thing, and if you've got plants at home, it's a thing you need to think about! We've found examples of plant hotels (think doggy day care but just for plants!) and services like House Sitter that let you filter results in your area for plant watering, mail collection, and more. We've even seen examples of what not to do.
Luckily, we've got some tips for you to find a quality sitter for your leafy friends while you're on vacation.
Find a Sitter: You can usually find someone to stop by and water your plants if you use a pet-sitting service. Or you can just ask your sister to stop by while you're out of town. Either way, try to line up your sitter well in advance of your trip to check this off your list.

Leave a Detailed List: Err on the side of leaving too much info for your plant-sitter, so there are fewer questions and surprises on their part. Send them a link to our Care Instructions so they know what's up. You can also make a list of your plants and which room of the house they're in, so your sitter doesn't miss any.

Make it Easy: If you have a watering can, leave it full on the kitchen counter so it's ready to go the first time your sitter drops by! Also, make sure the sink is empty and clean so there's nothing in the way the next time your sitter needs to fill up.

Drop Off: If your sitter is willing, consider dropping the plants off at their place to make things easier. Try to find a location in their home with similar lighting to your plants' location in your own home so they aren't too shocked by the change of scenery.

Return the Favor: If a buddy or family member stops by to give some TLC to your plants, offer to return the favor. And if they don't have a plant, buy them one as a thank you gift, since they clearly know how to embrace their inner green thumb!
Considering becoming a plant sitter yourself? Here are some tips:
Compare Rates: Do some research on other pet-, house-, or plant-sitting services in your area to see what the going rate is. Figure out a way to differentiate yourself and jump in to find your first gig!

Advertise Your Services: Place ads on online services like Nextdoor or Craigslist for your local area during popular travel times like spring break, the winter holidays, and summer vacation time. You can also sign up on house- and pet-sitting websites and make some extra cash walking dogs when the plant gig is running a little dry.

Leave a Calling Card: When you've completed a sitting job, leave a thank you note or gift in your client's home to let them know everything went well and you look forward to seeing them again.
Safe travels to you and your plants!
Sours: https://www.wildinteriors.com/blog/hire-a-plant-sitter
The Plant Sitter - Gene Zion - Summer Kids Books Read Aloud - Bedtime Stories for Kids Storytime
Dawn G
For Hire: House sitting, plant care, animal care, yard and garden maintenance, hot tub maintenance, and snow clearingFor Hire: House sitting, plant care, animal care, yard and garden maintenance, hot tub maintenance, and snow clearingFor Hire: House sitting, plant care, animal care, yard and garden main…
South Lake Tahoe, California
About Me: Hello my name is Dawn. I am seeking a home sitter job in Central Oregon, Northern Nevada, And/or Lake Tahoe as I travel between those locations. I'm super flexible and can be available as needed.…
23 yrs experience
Pay negotiable
Sours: https://housesitter.com/house-sitters/everywhere/plant-care
Me plant sitter near
How to Hire a Plant Sitter for Vacation
Do You Need A Plant Sitter?
Is your new year's resolution to travel more? Whether you're jet setting on a vacation around the world or traveling more for work in the new year, you might want someone to stop by and take care of your plants while you're gone.
Many house and pet sitting services will throw in plant care on top of walking the dog, scooping the litter box, and grabbing your mail, but if you don't routinely use a pet service you might not have a good lead on someone who can take care of this for you. While we can't guarantee a stress-free trip, our tips and tricks can help you de-stress when it comes to taking care of your leafy friends at home.
How to Find a Plant Sitter
The easiest option is to ask someone close by if they can drop in for you. A friend, relative, or significant other can easily swing by and check on the plants. But if you don't have anyone local (or your brother has a forgetful streak), we get it. Check out a pet sitting or house sitting service that lets you filter for plant care, like House Sitter.
Try to book your plant sitter early enough that you're not panicking and doing it at the last minute. Nobody needs that stress.
If your friend or sitter is willing, you could even take your plants to their house for the duration of your trip, but be sure they'll have similar lighting to avoid shocking them with a change. If your plants tend to get upset when you move them around, don't do this.
Be Prepared
Leave your home in good condition for your plant sitter to easily and quickly handle their tasks. Leave a list of plants and how much water they need (including ice watering instructions for Max's plants, or special tips for Miles' succulents and foliage). You can even make a list of where all the plants are located in the house, so none of them are left un-watered. Leave a watering can or measuring cup out in plain sight so your sitter doesn't have to go looking for something to use.
Do Some Sitting Yourself
If you're confident in your plant care abilities, why not advertise your services and become your area's best known plant sitter? Make some business cards or flyers and ask if you can leave them in the floral areas of local grocery stores, farmer's markets, or even bookstores. Sign up for a house or pet sitting app to expand your side hustle repertoire.
Safe Travels!
Whether you need a plant sitter or not, we hope your next trip is great! Let us know if you've ever considered hiring a plant sitter before.
Sours: https://www.maxandmilesplants.com/blog/how-to-hire-a-plant-sitter-for-vacation
Our Hunt for A Plant Sitter - A Partnership with Microsoft365
Plant care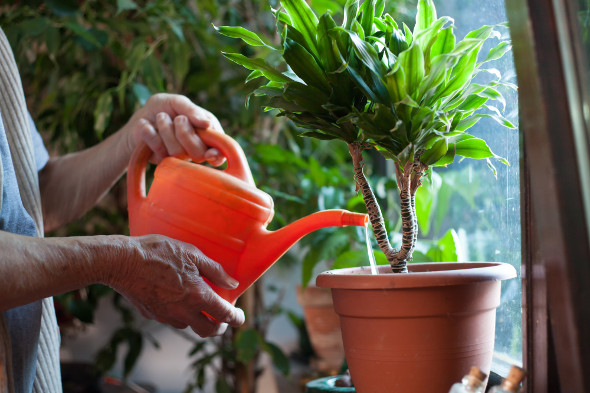 Our resident house sitters will water your plants for you, keeping your home and garden looking fresh for your return.
As well as looking after your home, The Home Service's professional and trusted  house sitters will maintain your plants and garden whilst you are away.
The Home Service Ltd is a first class professional house sitting company who you can trust to look after your home and pets whilst you are away. We employ our own mature and trusted house sitters who are carefully vetted; we interview all of our house sitters in their own homes prior to appointment. Additionally, for your added peace of mind, you can rest assured that unlike some house sitting / home sitting organisations our home sitters are employed by us and therefore covered by our £10 million liability insurance.
We have a comprehensive set of rules that our house sitters must abide by whilst undertaking their assignment to look after your home, and this together with a detailed briefing document – provided by you by simply completing our template – ensures that your home and pets are cared for exactly to your wishes.  You can therefore be confident that whilst you are away our trusted house sitters will look after your home and pets and that you will return to find it exactly as you would like it to be. With this knowledge and peace of mind you will be able to relax and enjoy your holiday.
Sours: https://www.housesitters.co.uk/home/plant-care/
You will also be interested:
) On Thursday, she flew into. My shower when I was washing, and without getting into the bath grabbed my ass with the words: Stayed 1 day, do you remember?) Um. Well, until the weekend, I know) Are you a damn fool or who?!. It is clear that the weekend, but I had something else in mind, well, you know how to ruin the moment.
Come on, you have known me for more than 1 year, why are you so aggressive?) I just don't know exactly what you wanted to say, that's why I.
471
472
473
474
475