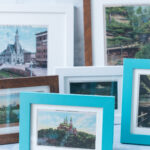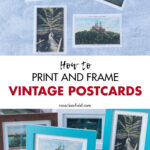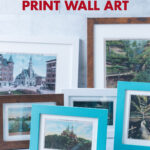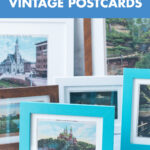 Learning how to print and frame vintage postcards is an easy way to make unique wall decor without breaking the bank.
This spring I released my first few free vintage postcard collections for St. Patrick's Day, Easter, and birthdays. I'm getting ready to start releasing a whole lot more vintage postcard collections. I'll have additional collections for holidays and other special occasions. Most of my postcard sets will be for specific locations, such as Yellowstone National Park, Washington D.C., and the Wisconsin Dells. I'm so excited about these vintage postcard collections and look forward to seeing how readers display them in their homes.
For each vintage postcard collection, I'm making the postcards available in multiple sizes. For every postcard collection, you'll see some combination of the following four sizes: Original size, 4×6 (original size with slight white border), 8×10 with slight white border, and 8×10 with large white border.
While many readers may have a specific size in mind and know exactly what they need to download, I think many readers will need a little more explanation. I'm providing a comprehensive overview of the postcard sizes I offer to help you choose the best downloads for your given frames and the aesthetic you're striving to achieve.
Please note that I have made the following sizes available based on my own experience framing my vintage postcard prints. It has taken a bit of trial and error to determine that these are the best options. However, if you are ever in need of different sizing or have questions about the sizes I provide, don't hesitate to ask. I'm happy to help in any way that I can.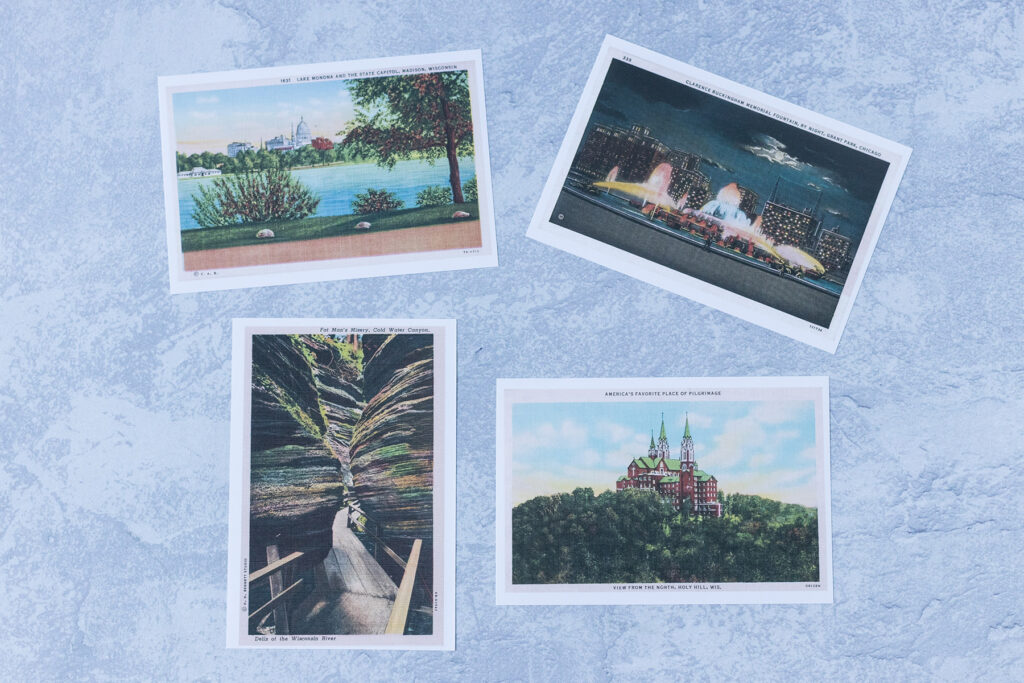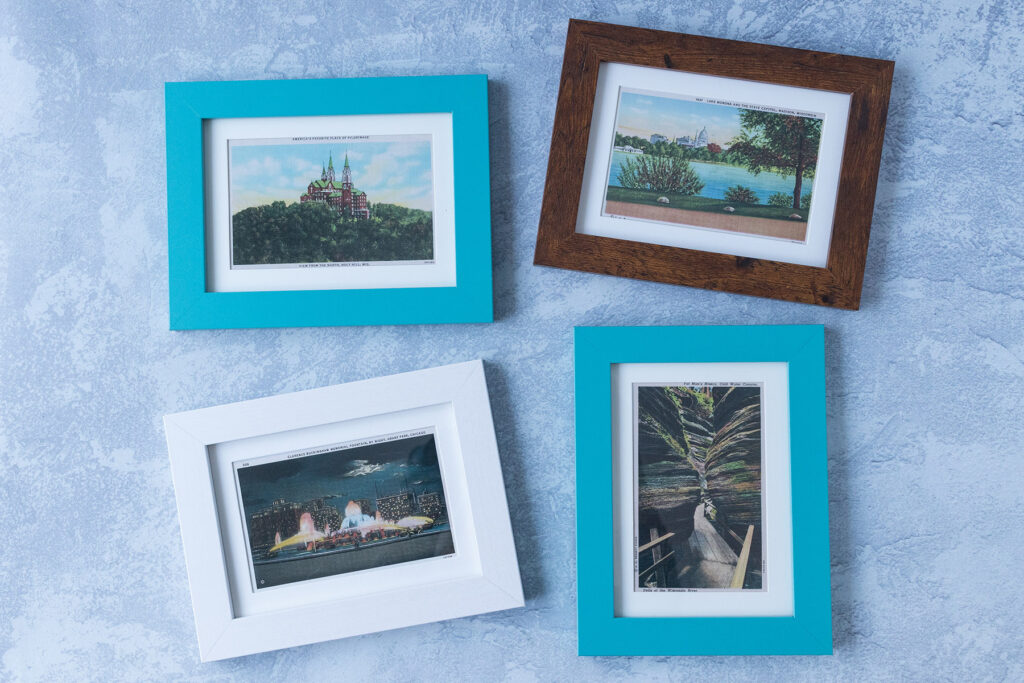 Original size
The vintage postcards I share are standard size, which is 3.5″ x 5.5." I always make my postcards available in original size. Having the original size allows you to frame vintage postcards in the exact size they were originally printed. If you're planning to use the postcards for creative purposes (i.e., decoupage, ATC, greeting cards), original size provides you the most creative control to crop and format the designs as you like for specific projects.
3.5″ x 5.5″ postcards are ideal for matted 4×6 picture frames. The biggest downside to the 3.5″ x 5.5″ size is that virtually no standard printing service offers this size. Of course, you can always print the postcards on any size paper on your home printer and trim them to size. If you are printing one or two postcards, printing at home is a great, affordable option. It quickly gets costly to make multiple prints, especially on an ink-jet printer.
If you want to use a printing service, I have a couple of preferred workarounds for the non-standard size issue, which are as follows.
Hands down, the best option I've found for original size vintage postcard prints is OddPrints. They did not sponsor this post or provide any other sort of compensation. At OddPrints, you can enter the exact dimensions you need, and they'll print them for you. It really is that simple. For the ease of the service and the quality of the prints, you absolutely can't beat the price.
OddPrints prints on the closest standard size paper available. Then you trim your prints as needed. It's partly how they keep their prices so low. If you'll be framing prints in frames with mats, having a slight white border isn't a problem whatsoever. If you want your prints cut exactly, it's very easy to do so with a paper cutter.
My second workaround is to use my 4×6 format postcards, which I describe in the next section.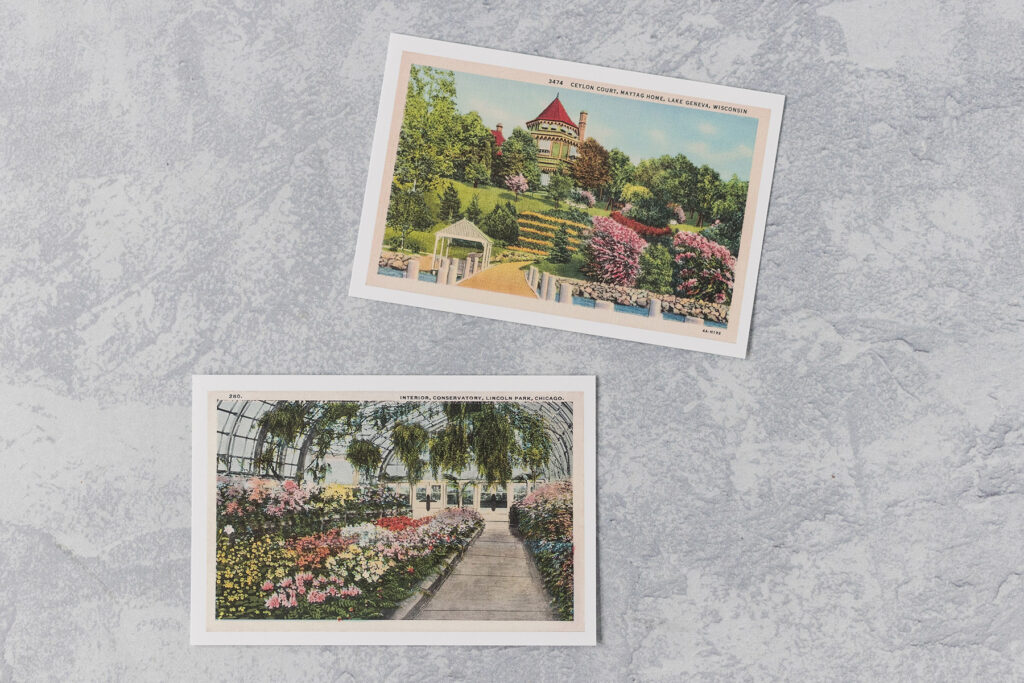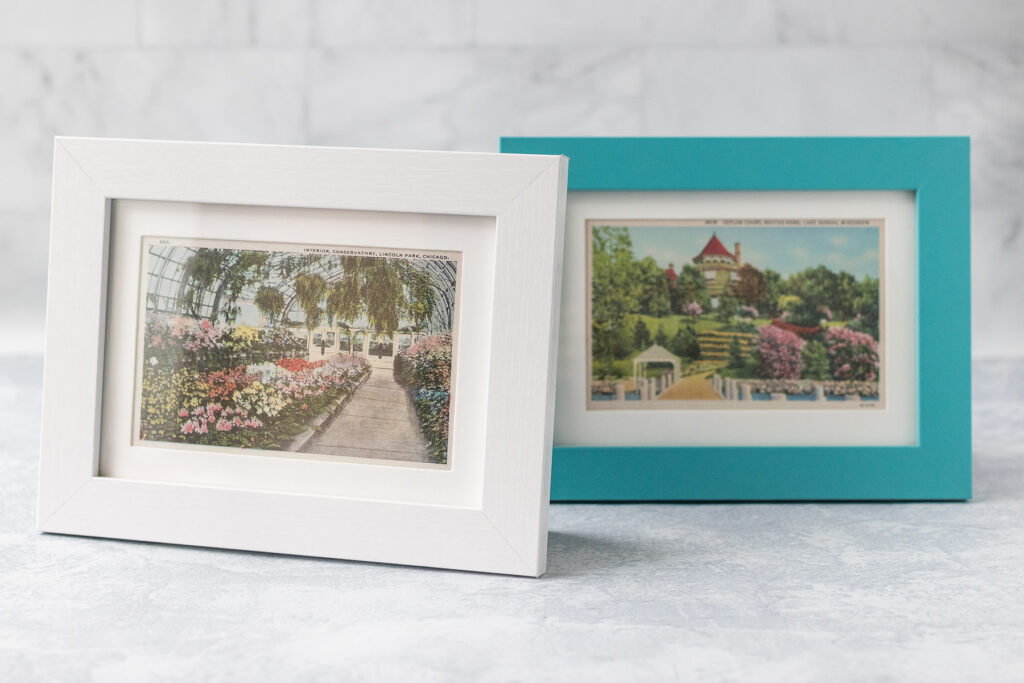 4×6
If you want original size prints and prefer to use a standard printing service, I recommend the 4×6 format. All I've done is add a 0.5″ white border on all sides of the image to give you 4″ x 6″ dimensions. Every company that offers photo printing services has a 4×6 format.
Again, if you're framing prints in frames with mats, having this white border isn't a problem at all. Once in the frame, you won't see the border. If you don't want that border, use a paper cutter to trim your prints to size.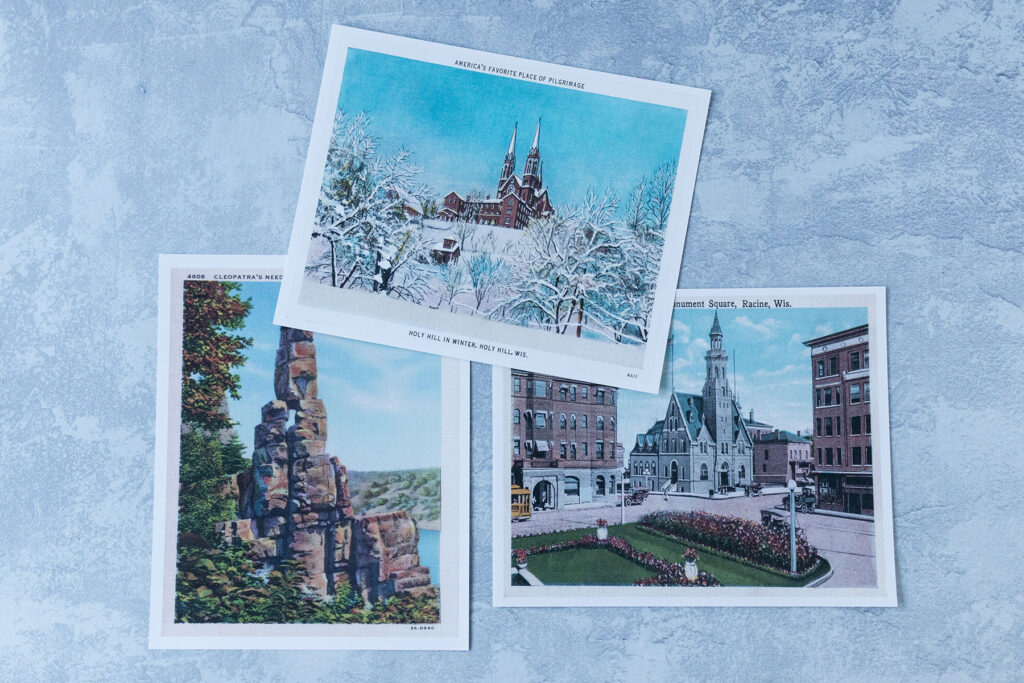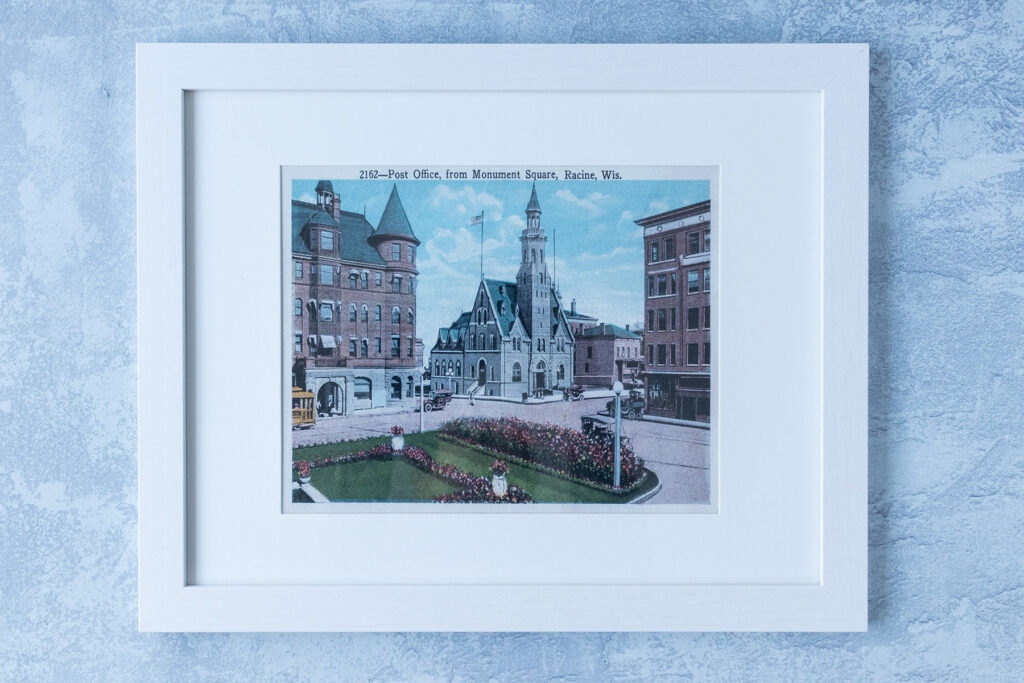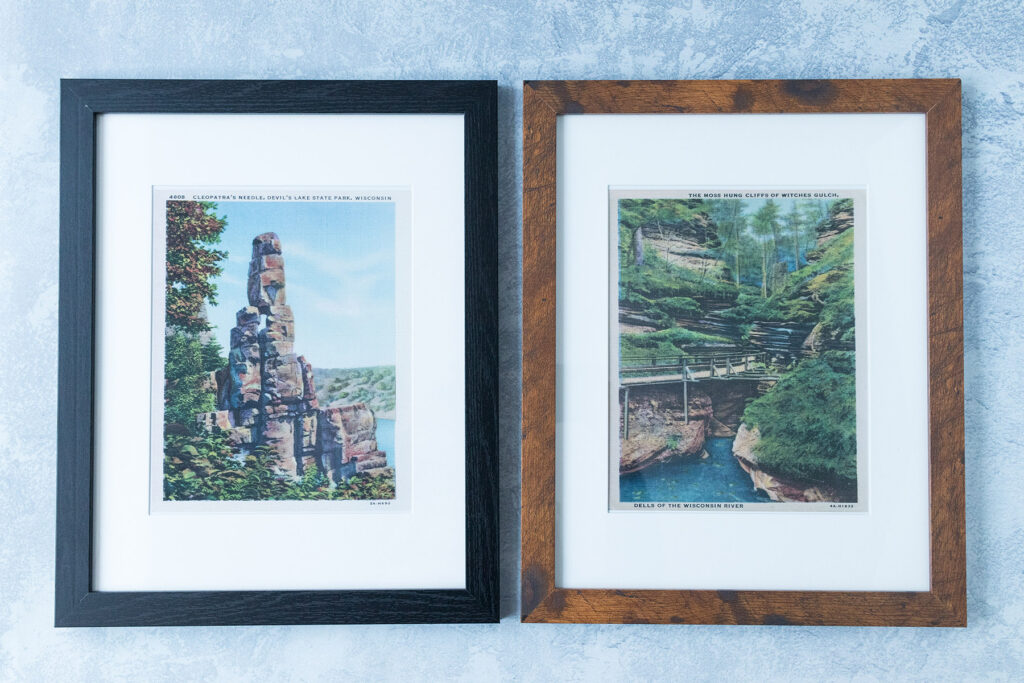 8×10 with slight white border
I also make my vintage postcard prints available in 8×10 format, as I know that numerous readers arrive at my vintage postcard collections looking for printable wall art in 8×10 format. Obviously, the original ratio of the postcards isn't 8×10. Even when formatted to 8×10, I found that it worked best to add at least a slight white border on all sizes to ensure the text below and above the images is visible in the frame, even with no mat or a standard mat.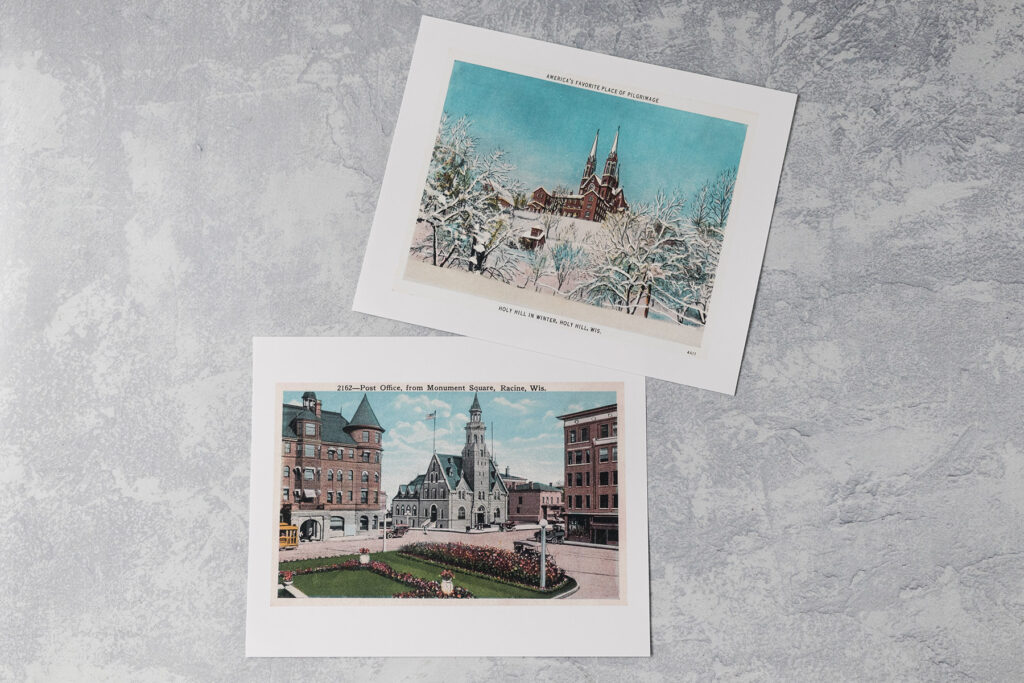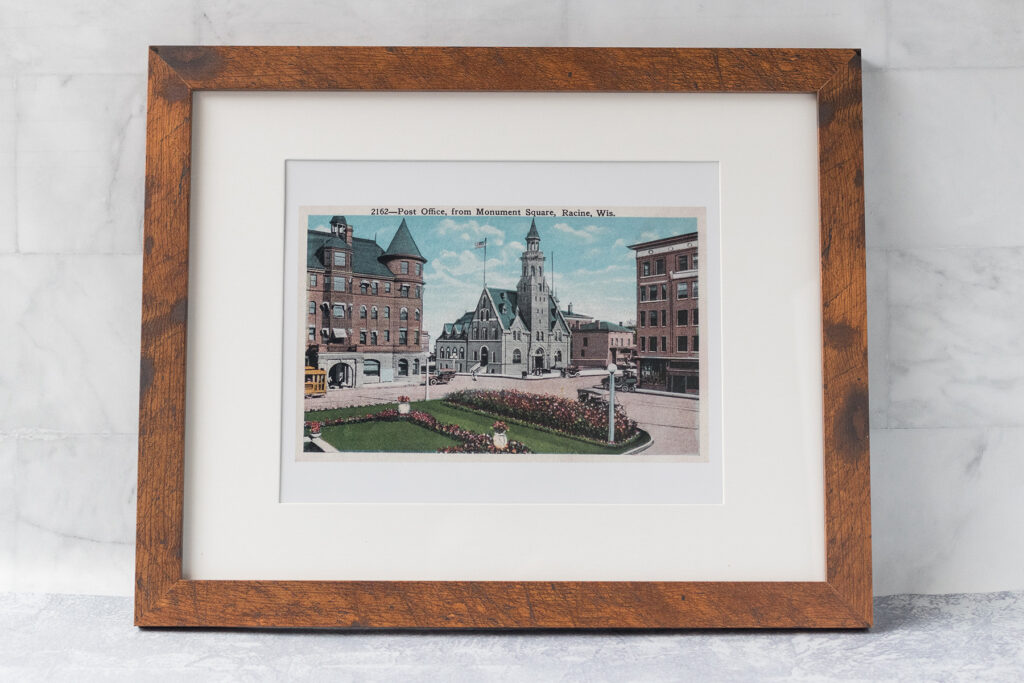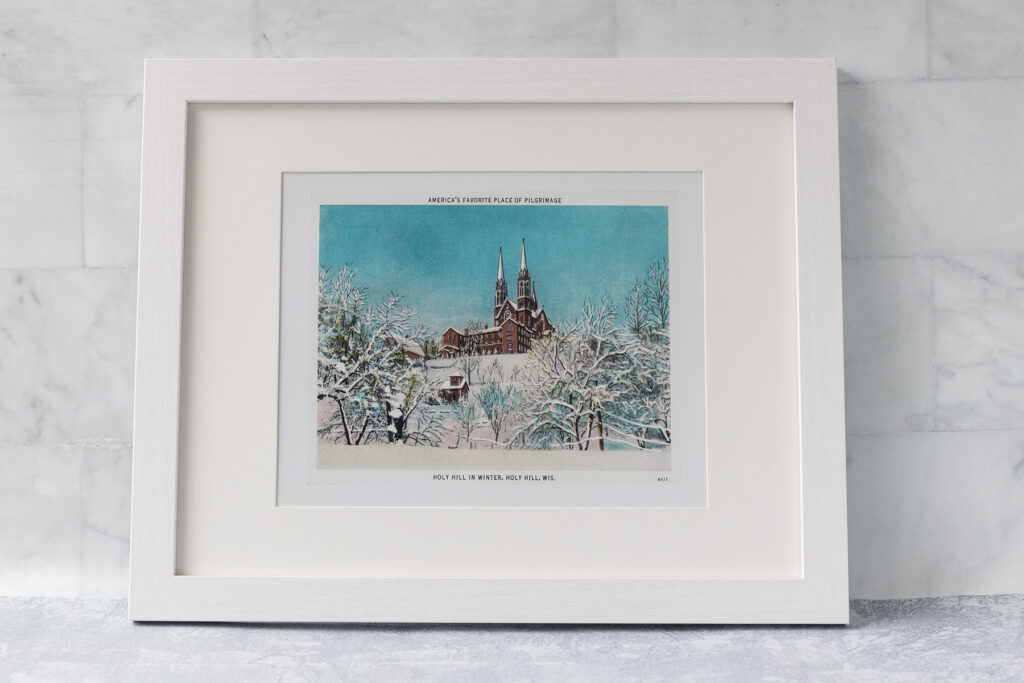 8×10 with large white border
I'm sure that it seems crazy to have a second 8×10 format option. I'll be honest, it is a little crazy. I know that the slight white border option works just fine for most people. However, personally, I prefer to have a little more space around the postcard prints for this size. So I created a second option. It's completely up to you which one you'd like to use for your 8×10-opening frames.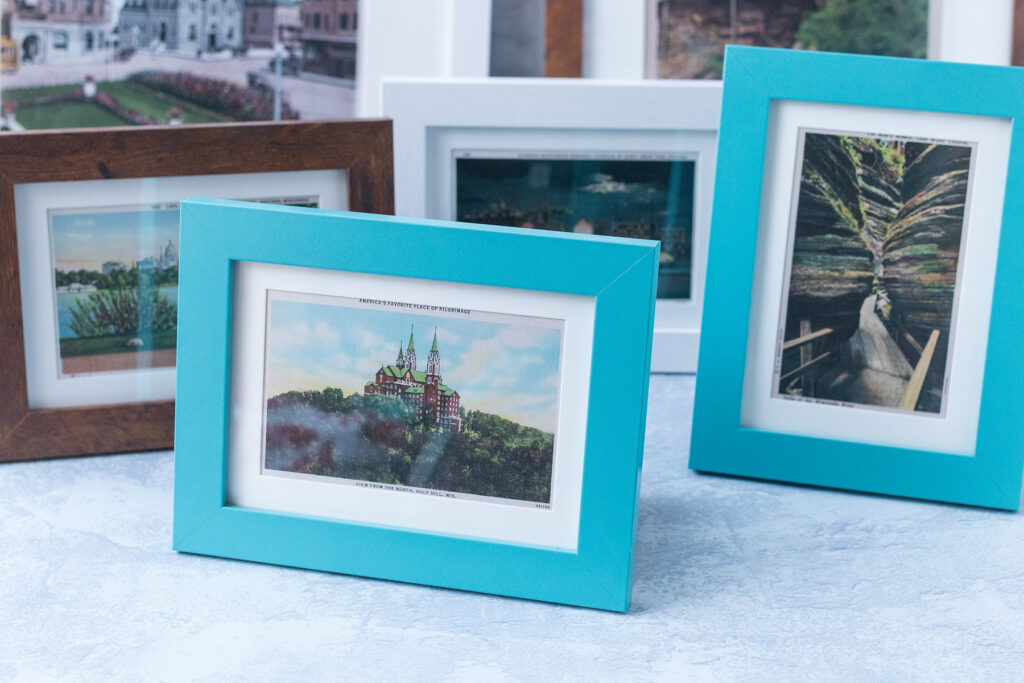 Frames
You're welcome to use any frames that you like for your vintage postcard prints. All of the frames I'm using for my vintage postcard prints in this post are Michaels Belmont frames. Michaels didn't sponsor this post or provide the frames. I have dozens of Belmont frames in my house and can't recommend them enough. They are high-quality and come in beautiful colors and finishes. You'll be hard-pressed to find other frames this nice and at this price point.
Michaels runs ridiculously good sales on Belmont frames all the time. Watch for 2-for-1 and even 3-for-1 deals on these frames. You can also always use their 20% off everything coupons on Belmont frames.
I hope that this resource helps you select the best format for your vintage postcard prints. If you have any questions or are interested in additional format options, please don't hesitate to ask!
[Disclaimer: There are a few affiliate links in this post. Thanks for your support!]
I'd love to see your framed vintage postcard prints!

I want to see your wall art! Tag your images #RoseClearfield on Instagram or Twitter or post a photo to my Facebook page.
Pin this post for easy access to the directions for how to print and frame vintage postcards later!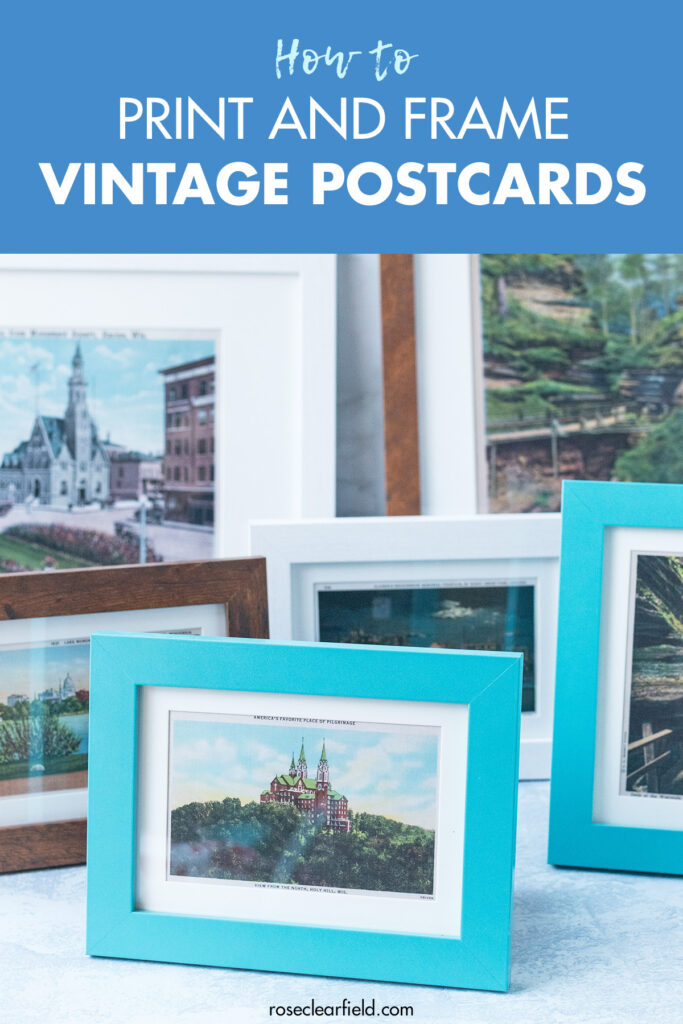 Free printable vintage postcard collections:
Please check the free printables section often, as I will be adding lots more free printable vintage postcard sets over the coming months.
Sours: https://www.roseclearfield.com/how-to-print-and-frame-vintage-postcards/
The Best Picture Frame Sizes: 6 Types for Prints
Framed photos complete a home and make it feel more welcoming. Whether you are moving into a new space and looking to make it yours or just ready to revamp you current home, framed photos are your solution. The beauty of framed photos is that you can personalize them to your style. Do you like a rustic farmhouse feel? Try using natural wooden frames. Would you rather have a sleek modern look? Frame your print with a classic black frame and white matte. Choosing a frame style is the first step, next you need to make sure the picture will fit. We've created a guide of picture frame sizes to help you pick the correct size frame. Simply keep in mind what size your photos are and match them to the correct picture frame sizes.
Jump to:
Most Popular Picture Frame Sizes
There are a few sizes that are the most common when it comes to photo prints. When you are designing a wall, you are most likely working with these sizes. Working with popular picture frame sizes makes it easier to find the correct frame in the style you want.
1. Picture Frames for 4×6 Photos

4×6 photos are the standard picture frame size and the most common for 35mm photography. 4×6 photos are good for a range of subjects, from family photos to abstract art. This size is also what most photo albums use. If your photo is 4×6 you will need a frame that is a little larger. How much larger depends on how much matting you want to include.
4X6 picture frames are perfect for designing picture collages on your wall and fit perfectly on wall shelves for home decor. This picture frame size is one of the most commonly sold frames size and will accent any picture that is put within the frame. Choose a frame design that matches your home decor styles and colors for an additional touch to your framed pictures and wall art decor.
Frame sizes if you want matting:
Adding an additional white matting boarder will enhance your photos and add a touch of a professional classiness to every picture within the print. Some additional picture frame sizes you can use for 4X6 pictures are:
2. Picture Frames for 5×7 Photos

The next size up from 4×6 is a 5×7 photo print. This size is preferred if your photo has a person as the focus. It's a little larger so they will stand out clearer. 5×7 prints can fit in various frames, depending on how thick of matting you would like to include.
5X7 photos will add a bit of uniqueness since it's a less common print size. It's small enough to picture print size to fit on wall decor shelving but big enough to see the full print of the picture print.
Frame sizes if you want matting:
3. Picture Frames for 8×10 Photos

8×10 photos are larger than 4×6 and 5×7 so they are typically used for group photos or portraits. If you are hanging graduation photos in the hall, this is most likely the size you would use. There are a variety of sized frames you can fit a 8×10 photo in, depending on if you prefer a wide or narrow look.
8X10 photo prints are the perfect size for putting single image pictures on walls because of the amount of detail that is printed on a 8X10 photo. For an added touch, customize your frames to match the occasion of the photo within. If you are framing a graduation photo, consider having a design with the graduates year or a tassel on the picture frame as a reminder of the graduate's hard work.
Frame size if you want matting:
Other Common Picture Frame Sizes
If you are working with a large wall as your canvas, you might consider creating a gallery wall to create visual interest. To do this try using one big photo print from the common sizes below and then fill in the space around it with the smaller picture frame sizes.
4. Picture Frames for 16×20 Photos

16×20 sized prints are considered small posters. If you are using a photo this size, make sure the resolution is excellent. This will ensure the photo doesn't appear pixelated or blurry.
Perfect for framing calendars and small posters, 16X20 frames will be the highlight of any home decor item. Giving your calendar a frame and a glass cover can allow you to add notes with a dry erase marker, so that the original calendar print wont be damaged from all the writing. This will extend the longevity of the calendar for the whole year. Add a personalized picture frame to any of your pictures and calendars for an added touch.
Frame sizes with matting:
5. Picture Frames for 20×30 Photos

With a frame, the 20×30 print size is nearing the average poster size of 24×36. This size print is sure to be the center of attention in your space. Pick something big and impactful to frame, like a landscape or photo of the ocean.
Perfect for any wall art and home decor, these pictures are great for decorating any space in your home or office. Choosing this 20X30 picture frame size will elevate any wall art print. Choose between different photo frame colors for a different feel for each home decor style.
Frame sizes with matting:
6. Picture Frames for 22×32 Photos

A 22×32 photo is larger than a poster, which means it doesn't necessarily need matting.Try using a frame that is the same size as the print instead to keep it to a manageable size. Perfect for areas with larger spaces, this picture frame size will look fantastic in open spaces in your home or office. Add a wall art design that will catch everyone's eye every time some one passes it. These extra large wall art pieces will look great as personalized framed canvas pieces that showcases your favorite pictures and images.
Frame sizes with matting:
Tips for choosing the right frame size
1. Think of the space

When trying to find the perfect frame, first consider the space you have to work with. If you are redesigning the space above a desk you will have different parameters to work with compared to a living room wall. For a confined space you need to decide if you want to include many small photos or a few larger ones.
To visually think of the space, you can use painters tape to tape on the walls of the different sizes and shapes of each wall decor print you want to put on your wall. Once you have a general feel of the different outlines of the sizes and shapes, you can then rearrange anything you like before putting holes in your wall.
2. Photo type

Consider the type of photo you are planning to hang in the space. A family photo is typically printed in a larger size to showcase everyone's smiles, so it will probably need a thin and simple frame. On the other hand, a simple scene with only one focus can be placed in a thicker, more intricate frame. Also creating a customized tabletop photo frame will accent any photo framed from within creating an extra decorative design not easy achievable through a regular colored solid frame.
3. Consider the matting

Matting will affect the frame size you decide on. There are also many different colors and textures you can choose from. A smaller photo with a thick matting will need a bigger frame. Make sure to take into account how much matting you want to show when choosing a frame. Photo frames with matting will make the photo within look more professionally created and is easy to achieve with these personalized photo frames.
4. Bring the photo with you

If you are going to a store to pick out your frame, bring the print or a copy of it with you. If it is a poster size you can just take a photo of it and take that along. Holding the photo up next to the frame will help you decide on which frame style you like best and will give you a better perspective of the best picture frame options.
5. Measure, measure, measure

Before you leave the house, measure the space you are planning to hang the photo. Measure the matting that you want to frame the photo in. Lastly, measure the frames in the store to make sure they will fit in your home and that the matting will fit properly.
When looking for the perfect picture frame sizes it's easy to get confused by measurement. Sometimes the sizes are stated on the frame, but often times we are left to figure it out on our own. Choosing the right sized frame makes all the difference, and with this guide you'll have your photos hung in the correct sized frame in no time.

Picture Frame Guide
Image SizeFrame Size
4×66×8, 8×10
5×78×10, 11×14
8×1011×14, 12×14
16×2020×24, 24×28
20×3024×36
22×3230×40
Wrapping Up
Framing photographs allows you to turn special memories and beautiful scenes into home and office decor, but frames can be more than just holders that keep a picture on display on the wall or a tabletop. The right photo frame can make the colors of a picture pop and add a special finishing touch to the image. Once you have found the ideal option from our selection of personalized photo frames, the fun begins. You can personalize our custom frames in just minutes and let your creativity shine.
Upload the photo you intend to frame to see how it looks and then add your text. If you wish, you can choose a different font or color and align the text in a different way. Our design tool can even check the spelling for you to make sure your finished custom frames are error free.
Also of interest:
Sours: https://www.shutterfly.com/ideas/picture-frame-sizes/
From Photos to Artwork, Here's How to Mat and Frame Anything
Matting and framing are the best ways to protect and present illustrations and photographs, but you don't need to rely on a professional framer. It's less expensive—and often quite fun—to do the work yourself, particularly when you embellish the mat to suit the style of whatever you're framing. For example, covering a store­-bought mat in fabric or textured paper will give it a distinctive surface that can contrast against your walls; simply adding a border of paint or ribbon to a mat can enhance a vintage photo's classic appeal.
Ultimately, a mat is the visual bridge between an image and a frame, the space that allows these two elements to balance and complement each other. Decorating the mat can affect how you see an image and the frame; the busier the design on the mat, the less noticeable the frame may become. Subtle changes in a mat's dimensions, color, thickness, and texture will play a part in the overall look of your framed photographs and artwork. Framing your mat and artwork or pictures will give them a refined look, and it will ensure that they'll be preserved for many years to come.
Related: How to Choose the Right Frames for Your Art
Mat Board and Materials
The mat serves as a protective barrier between the image and the glass. Every mat consists of at least two boards: the window mat, which contains the opening that displays the image, and the mounting mat (or back board) on which the image is affixed. Mat boards can be made from a variety of materials, including wood pulp and cotton. If you want your artwork to look good for many years to come, it's worth investing in an acid-free mat board. Works of art, especially those on paper, disintegrate over time and are vulnerable to damage such as humidity, pollutants, light, and insects. Photographs are especially susceptible because of the chemicals used in processing and their sensitivity to light.
To avoid discoloration of your artwork, use acid-free mat board. Although an acid-­free mat won't necessarily protect against deterioration, it won't contribute to it. Also, look for mat boards that are lignin-­free; lignin is a by-product of wood pulp that can darken when exposed to light. One-hundred-­percent rag mat board, which is made of cotton, is best for framing valuable pieces of art because it is pH balanced (close to seven on the pH scale). You can also use an acid-­free and lignin-­free mat board made of a combination of rag and purified wood pulp. These are often called conservation, ­museum quality, or archival boards, and they are only marginally more expensive than non–­acid-­free boards. Mat boards also come in a variety of thicknesses, ranging from two- to eight-­ply. The thickness affects the depth and thus the look of the window. Conservators recommend that you use at least four-ply board for adequate depth. You will also need linen hinging tape (used to affix artwork to a mat), a frame, and hanging wire.
Step-by-Step Instructions
The following mounting and framing techniques are used in professional frame shops. Changes in temperature and humidity cause the layers of mat board and backing to expand and contract, creating a vacuum that can suck dust and other particulates into the layers. Sealing the artwork with the paper backing keeps it clean inside the frame.
First, place the window mat facedown and the mounting mat face-up, with the top edges touching. Cut a strip of tape and join the two sections of the mat, making a hinge between them. Place the artwork on the mounting mat, centering the image where you want to affix it, and fold over the window mat. Adjust the artwork to make sure it is centered. While the window is still down, place a few weighted objects—such as clean stones, a book, or a stapler—onto the image to keep it from moving. Lift the window mat up again. Cut four two-inch pieces of hinging tape. Stick one piece, sticky-­side up, to the back of the artwork an inch from one of the top corners; leave about an inch of the tape exposed at the top. Repeat on the opposite top corner. Stick the remaining pieces of tape—­sticky-­side down—horizontally over the exposed tape that is already stuck to the back of the mat. Take care not to tape over the front of the picture.
Lay a towel out on a flat surface. Remove the glass from your frame and lay it gently on the towel. Clean both sides of the glass with glass cleaner and a paper towel. Lift the glass up, with one edge resting on the towel, and look through it to make sure there are no streaks, dust, or fibers. Trace the outline of the mounted artwork onto a piece of foam board, and cut it out with a craft knife and a straight-­edge. This will be the backing for the frame. You may want to cut out multiple pieces of foam to create a sturdier backing. Place the glass and mounted artwork into the frame, followed by layers of foam board to 1/4 inch of the edge of the frame. Starting about one inch from one corner, insert a framing brad where the foam board and frame meet; hold the edge of the frame to keep it from slipping, and wedge the brad in by pushing it with a flat­head screwdriver (and a hammer for more force). Apply brads around the corners and then move to the sides of the frame, applying brads every few inches.
To apply a paper dust protector to the back of the frame, first apply white craft glue to the back edges of the frame. Lay a piece of kraft paper onto a self-healing mat. Turn the picture frame, glue-­side down, onto the paper. Let the glue dry before trimming the excess paper from the sides with a craft knife. Flip the frame back over onto the towel to protect the glass from breaking or scratching. With a spray bottle, liberally spritz the paper; it will ripple slightly. Use a hair dryer to dry the paper completely. Even if the paper appears dry, continue drying it until it pulls taut like a drum.
To give your frame a professionally finished look, rub fine sandpaper against where the frame and paper meet. This will remove any jagged pieces of paper that might otherwise show once you hang the frame. To attach the hanging hardware, measure one-third of the way down from the top of the frame and make a mark on each side with a pencil. Screw in the frame hangers at these pencil marks. For the hanging wire, measure the width of your frame, and then add about 12 to 14 inches—about 10 inches for wrapping the ends of the wire, and two to four inches for slack. Insert one end of the wire into one of the hangers and double knot, leaving a 5-inch tail. Wrap the tail around the longer piece of wire. Repeat on the opposite side, making sure to leave enough slack in the wire to hang the picture. Add rubber bumpers to the bottom corners of the back of the frame.
Sours: https://www.marthastewart.com/7842766/how-mat-and-frame-photos-artwork
How to Make a Picture Frame 3 Ways - DIY Woodworking
How To: Frame a Postcard
They're more than just a travel souvenir, ya know. That's right, framing these little works of art is a great way to commemorate a trip, an epic thrift store find, or even a low-tech message from a friend. We love how they act as a small window into a place or moment in history. Before you banish them to a faraway drawer or box, here are a few ways you can frame them.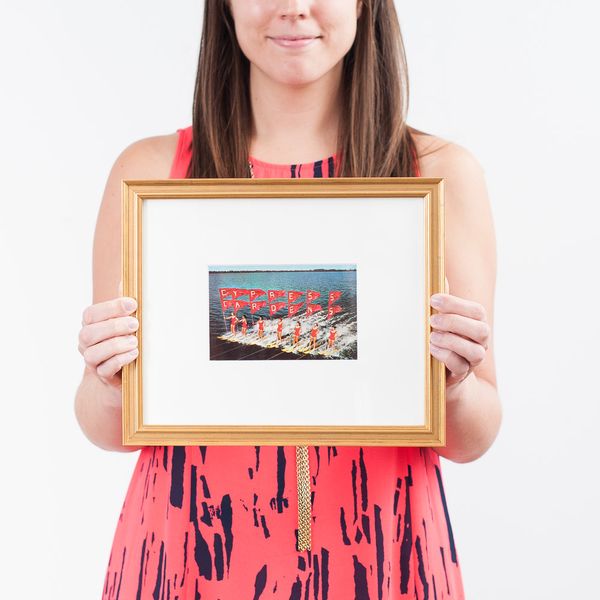 Postcard in our Richmond frame with a white mat
If your postcard looks more like art than mail we suggest framing it just like you would an art print - a traditional clean white mat and your frame of choice. Don't be afraid to try a more eclectic frame here. We love the look of an unexpected frame on a small accent piece like this.
Postcard float mounted in our Irvine Slim frame
If your postcard looks like it was plucked from your local museum we suggest going with a float mount instead of a traditional mat. Float mounting is just an additional $25, and will show off the worn, yellowing edges, highlighting your piece's vintage charm. For this piece we chose a clean, modern frame to keep the look feeling light and bright.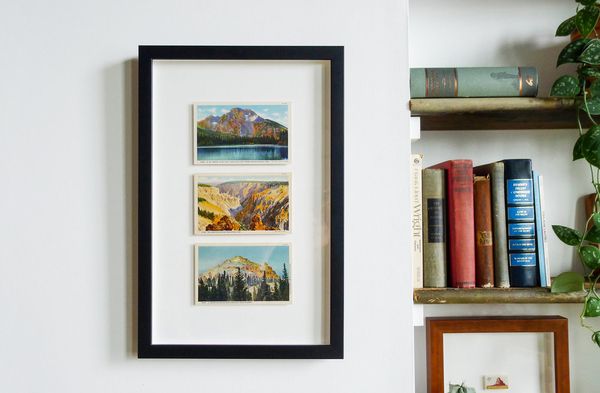 A series of three postcards float mounted in our Mercer Slim frame
If you've got a trio ...or duo or quartet... of beautiful postcards that go together don't break them up! Frame them together in one frame. The ones you see above are float mounted in our Mercer Slim frame. If you want to recreate this look shoot us an email at [email protected] and we can help you plan your look!
What are you waiting for?

Start Framing
Sours: https://www.framebridge.com/blog/how-to-frame-a-postcard
Multiple for postcards frames picture
15 Creative Photo Display Ideas That Don't Need Frames
---
Idea 01
Light up your prints.
What you'll need: String lights, fasteners (e.g. clothes pins, tape)

True story: String lights make everything a little better. So try using them to display the people and places that add a little light to your life. If you get a little creative with how you string them up, you'll have multiple ways to display photos from just this one idea. (Pro tip: If you want diagonal prints like the example, rotate your images 45 degrees on your phone editor before printing.)
---
Idea 02
Opt for a photo hanger.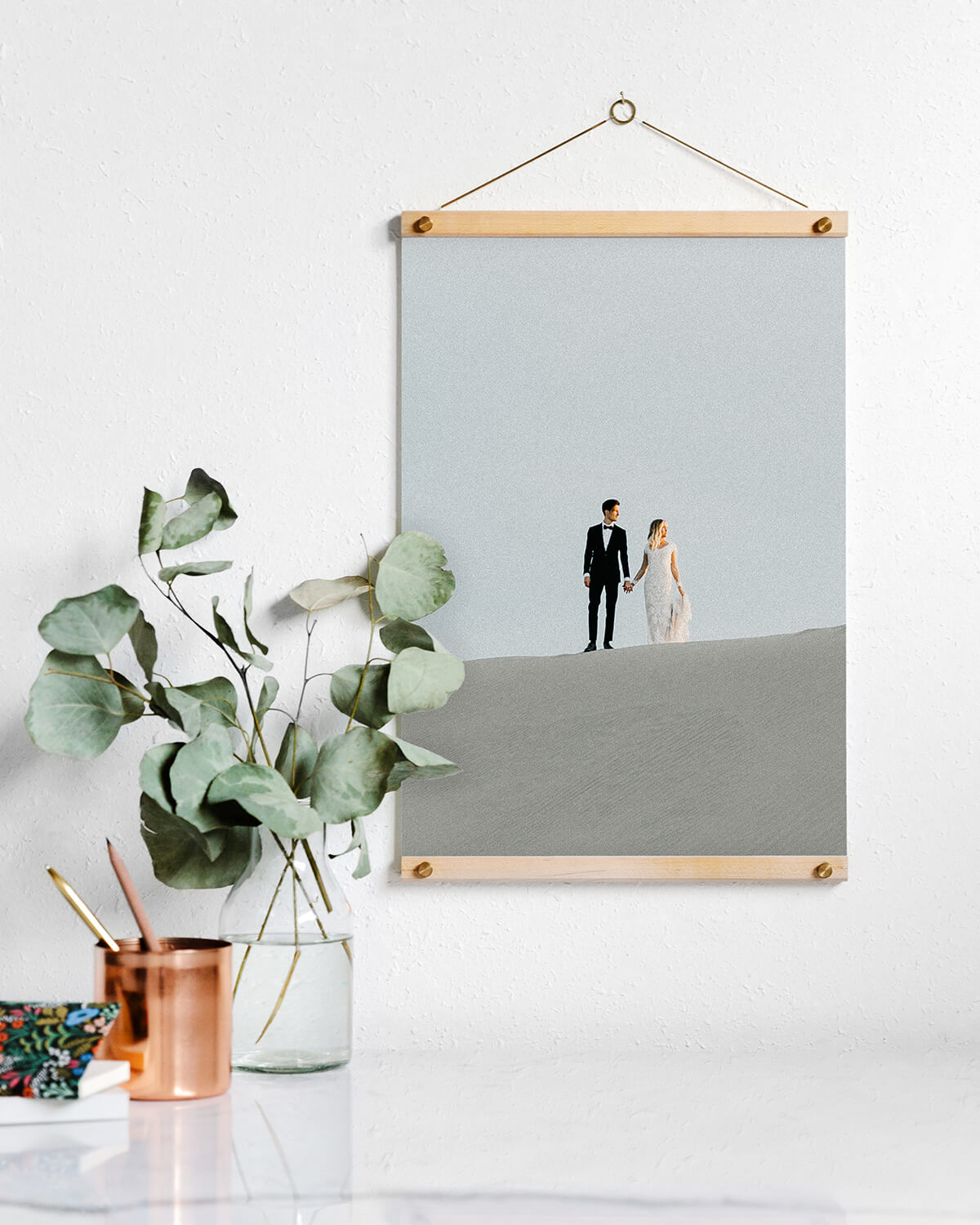 What you'll need: Large Format Print, print hanger, wall hook

You don't need a frame to hang it on the wall in an elevated way. A print hanger gives you all the sophistication of a frame plus unique minimalist appeal that can make the space. Just pick a large photo print that you love and slip it into the hanger.
---
Idea 03
Branch out for a natural display.
What you'll need: Branch, string (yarn or hemp rope work great), tape, anchor hook

Add a bit of string and tape to turn that fallen branch you found on your hike into unique decor. It's the perfect way to bring in a natural element amongst your other photo display ideas. (Note: You can also use a hole puncher to string through holes in your prints... your call!)
---
Idea 04
Pull those binder clips out of the drawer.
What you'll need: Binder clips

If you're looking for a simple solution to a clean look, consider binder clips your new best friend. Find clips with a metallic finish to get a better look and match other decor you might have in your space.
---
Idea 05
Consider a photo easel.
What you'll need:Brass Easel

Need new ways to display photos on a table or desk? Easel does it. A small easel can be the perfect alternative to a tabletop frame and makes it simple to swap photos. Just place a stack of your favorite prints on the ledge and change the feature print periodically.
---
Idea 06
Frame around prints with washi tape.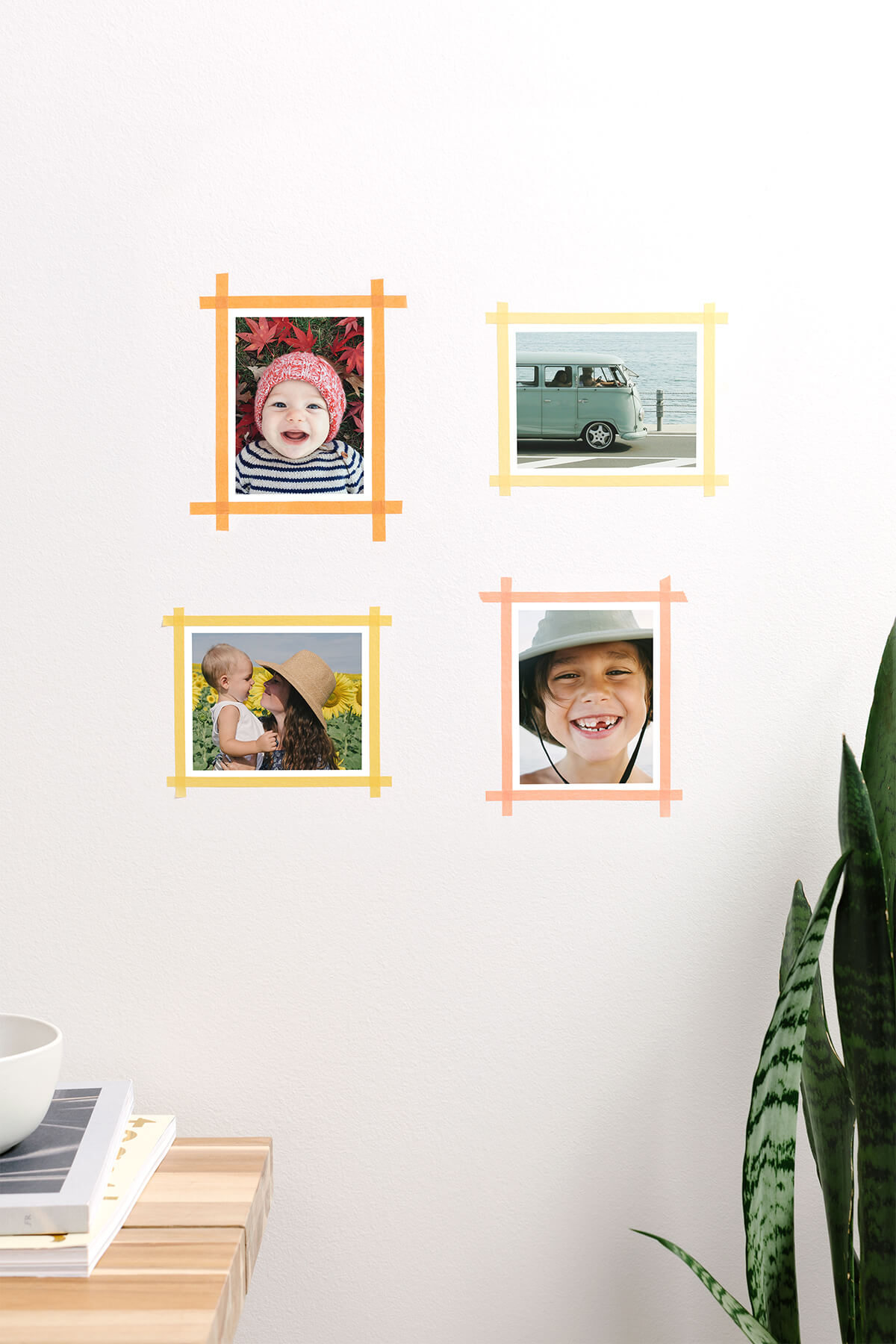 What you'll need: Washi tape, poster tape (aka gentle double-sided tape)

Your walls will thank you for this one. Skip the nail holes for colorful borders by using washi tape to create makeshift frames. By leaving a little space between the prints and tape, you can give it a gallery effect and keep your prints from getting damaged. (This is where the poster tape comes in.)
---
Idea 07
Arrange your prints into a grid.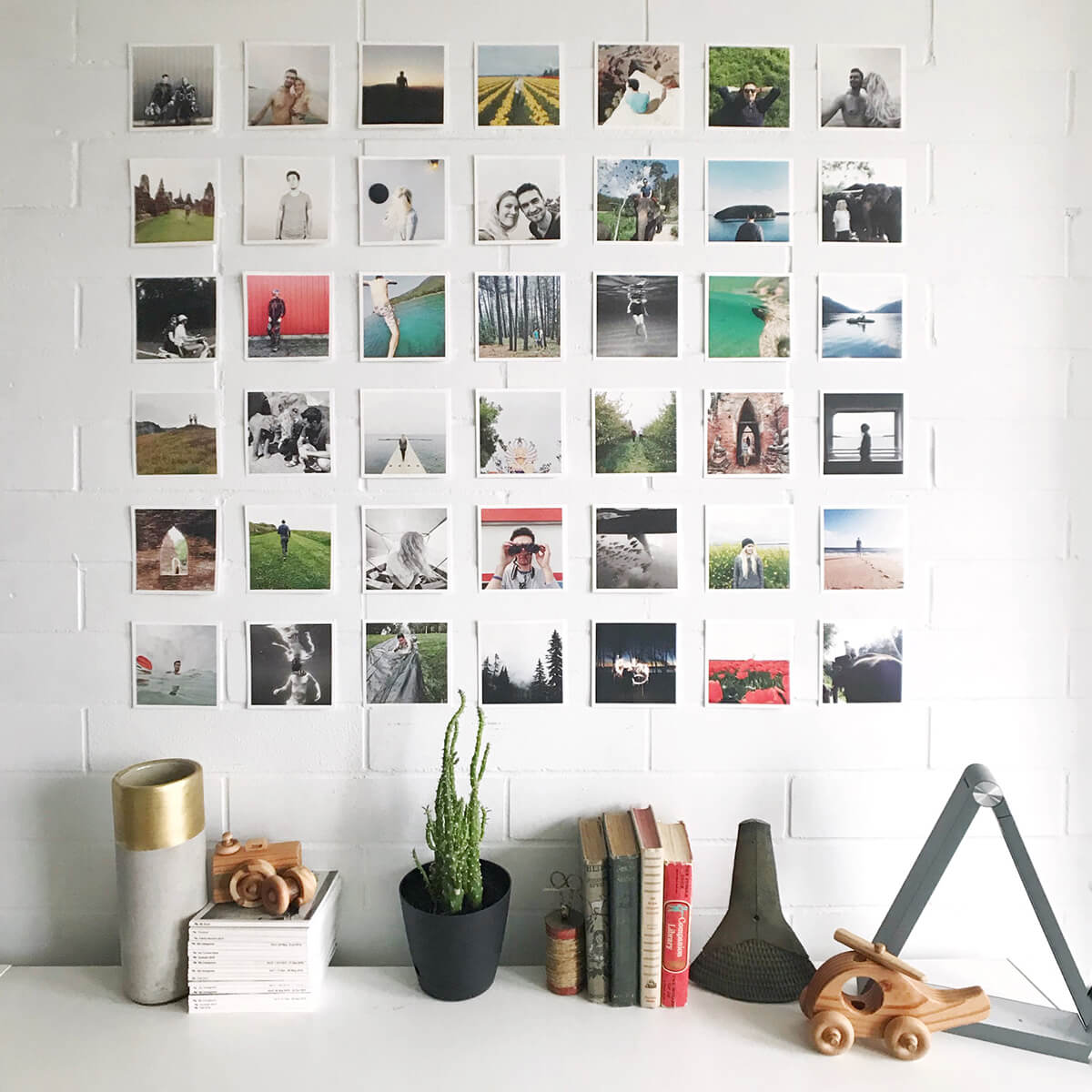 Photo By @ernestgentryceramics + @edswoodentoyshop
What you'll need: Poster tape, ruler (optional)

Have a lot of prints to display? The more photos, the better the grid! We recommend using a ruler to space out your prints to keep your grid clean and consistent. Not to say you can't also experiment with angles and spacing a bit to produce a more creative photo display. Just make sure you use poster tape so that you don't damage your wall or prints.
---
Idea 08
Repurpose a screen or fencing.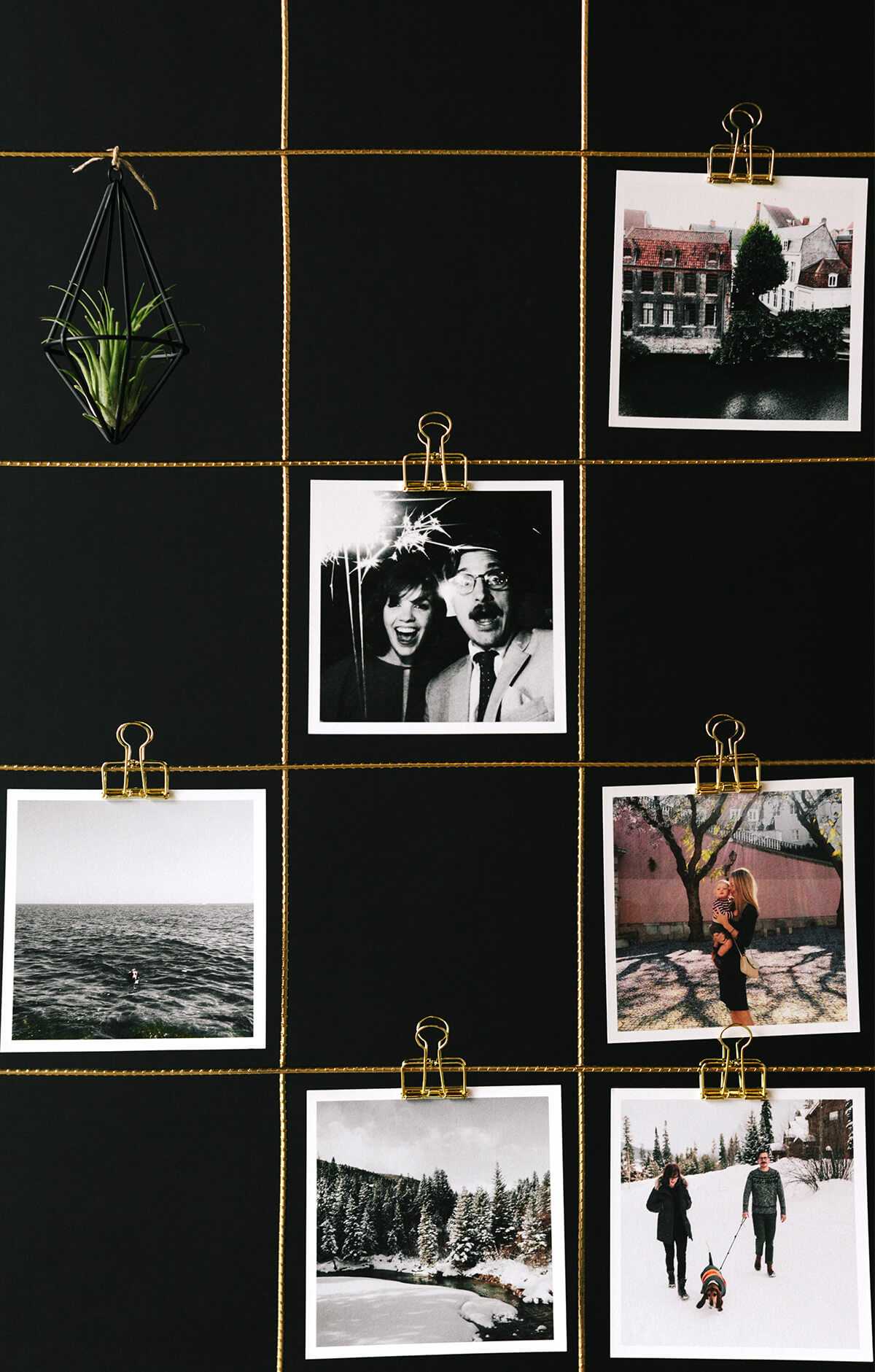 What you'll need: Screen divider or fencing, fasteners (clips or clothespins)

Fencing makes the perfect blank canvas for a unique photo display. Plus, with a little bit of spray paint, you can customize to create an upscale look. A little gold goes a long way! (Pro tip: We used simple fencing from the hardware store to create the display in the photo.)
---
Idea 09
Line your prints on a photo ledge.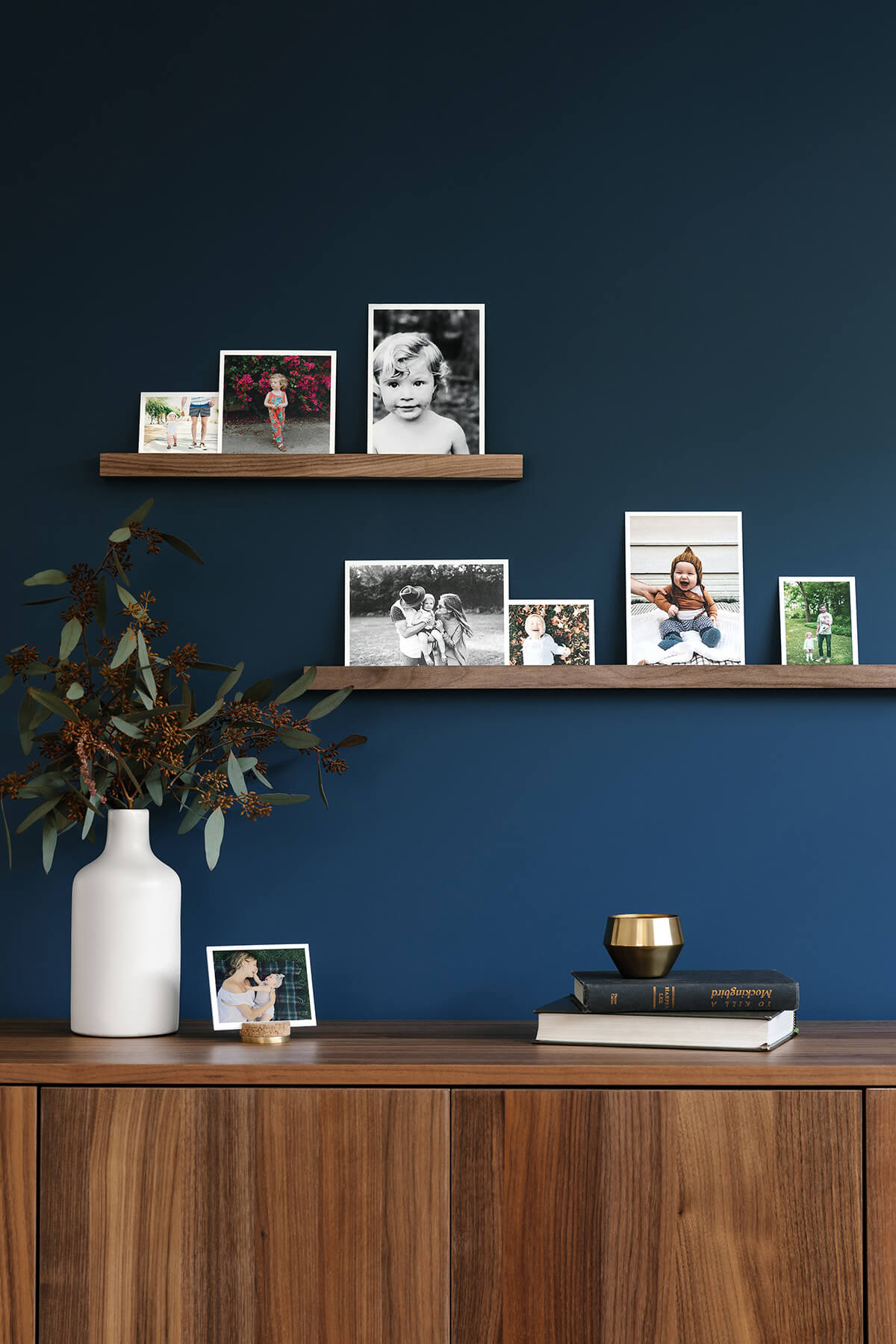 What you'll need:Wooden Photo Ledge

A Wooden Photo Ledge is a sturdy solution for unique photo display, and still simple to secure to a wall. Don't want to hang it up? Placing it on the mantle works just as well. Either way, mixing and matching different print sizes can keep things from becoming too uniform. (Hint: Use multiple ledges like the photo above to make the most of your wall.)
---
Idea 10
Level up with a ladder.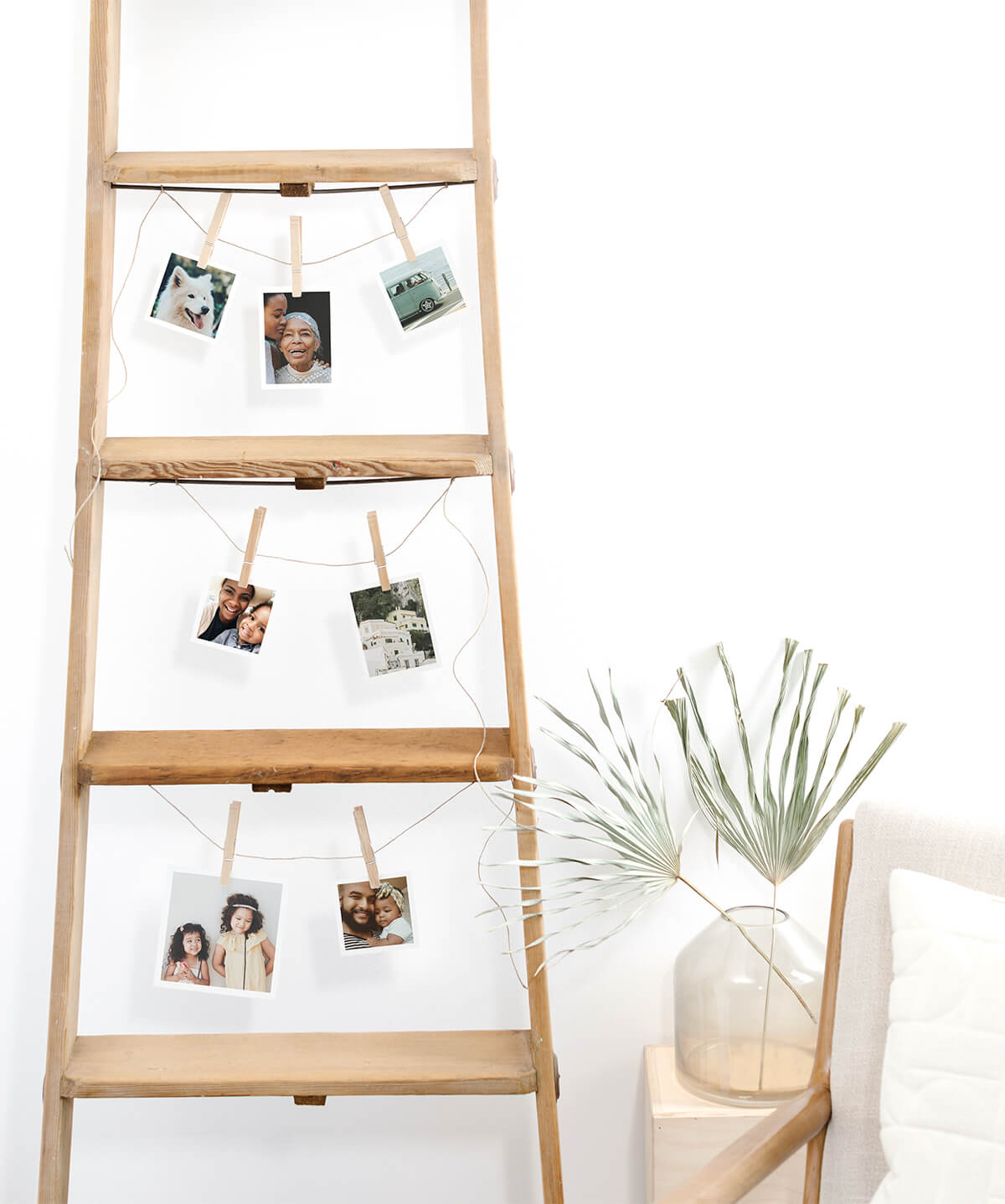 What you'll need: Wooden ladder, string, tape or clothespin

Don't throw out that old wooden ladder sitting in the garage — it's your ticket to a multi-tier photo display. Tying a string across each rung will give you a line to hang photos. Or, you can choose to punch holes in your prints and tie each photo to the rung. For a little variation, alternate between photos and other items on different rungs.
---
Idea 11
Choose a photo block for small spaces.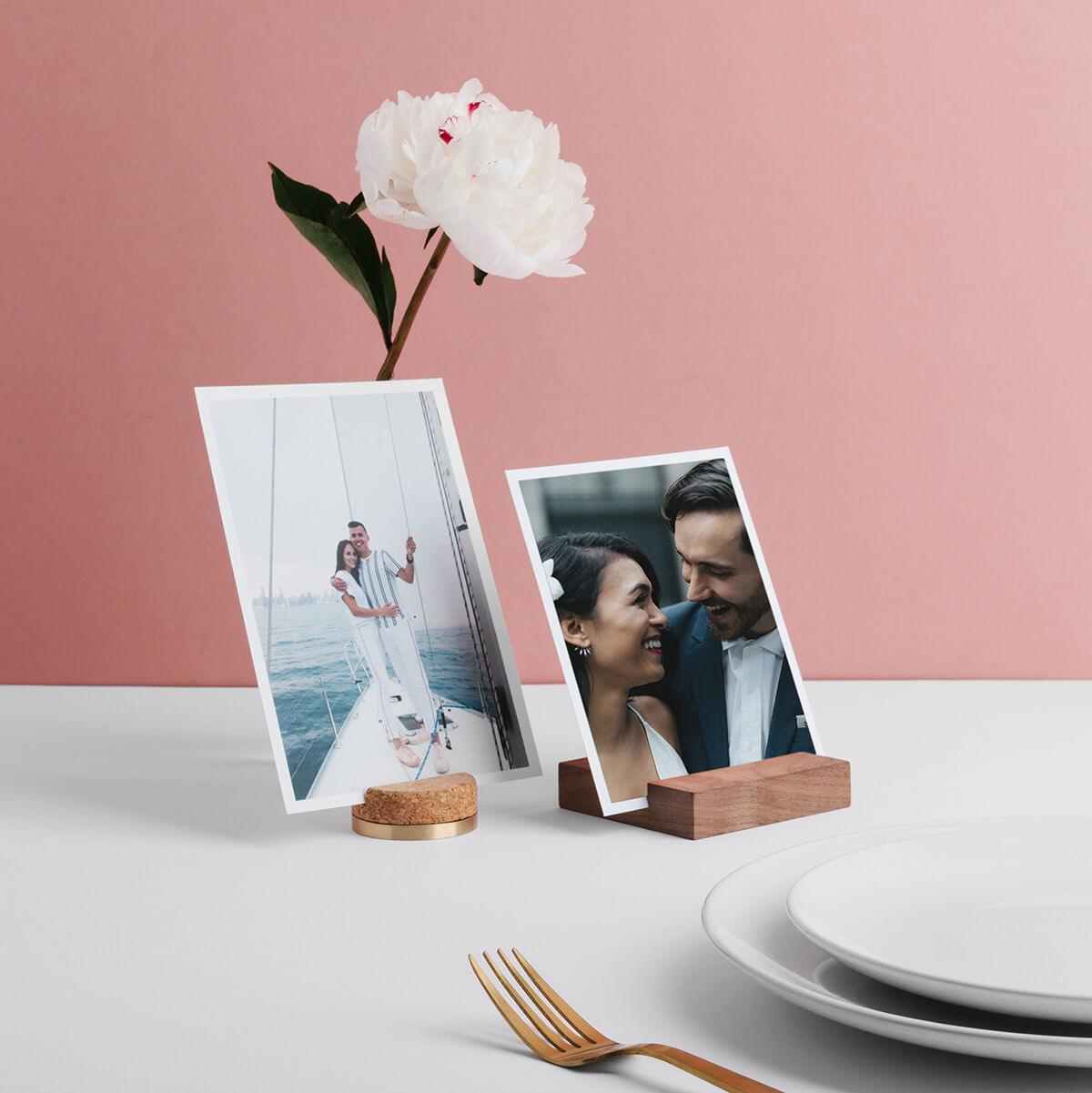 What you'll need:Walnut Photo Block

Have a small space on a mantel or shelf that's perfect for a print? Use a photo block stand to make it happen with minimal effort. It's subtle, sleek, lets you easily switch out photos, and gives more stability than standing prints up against other items. Plus, you can put it just about anywhere. (Bonus: Ours is made from reclaimed Colorado black walnut.)
---
Idea 12
When in doubt, tape it.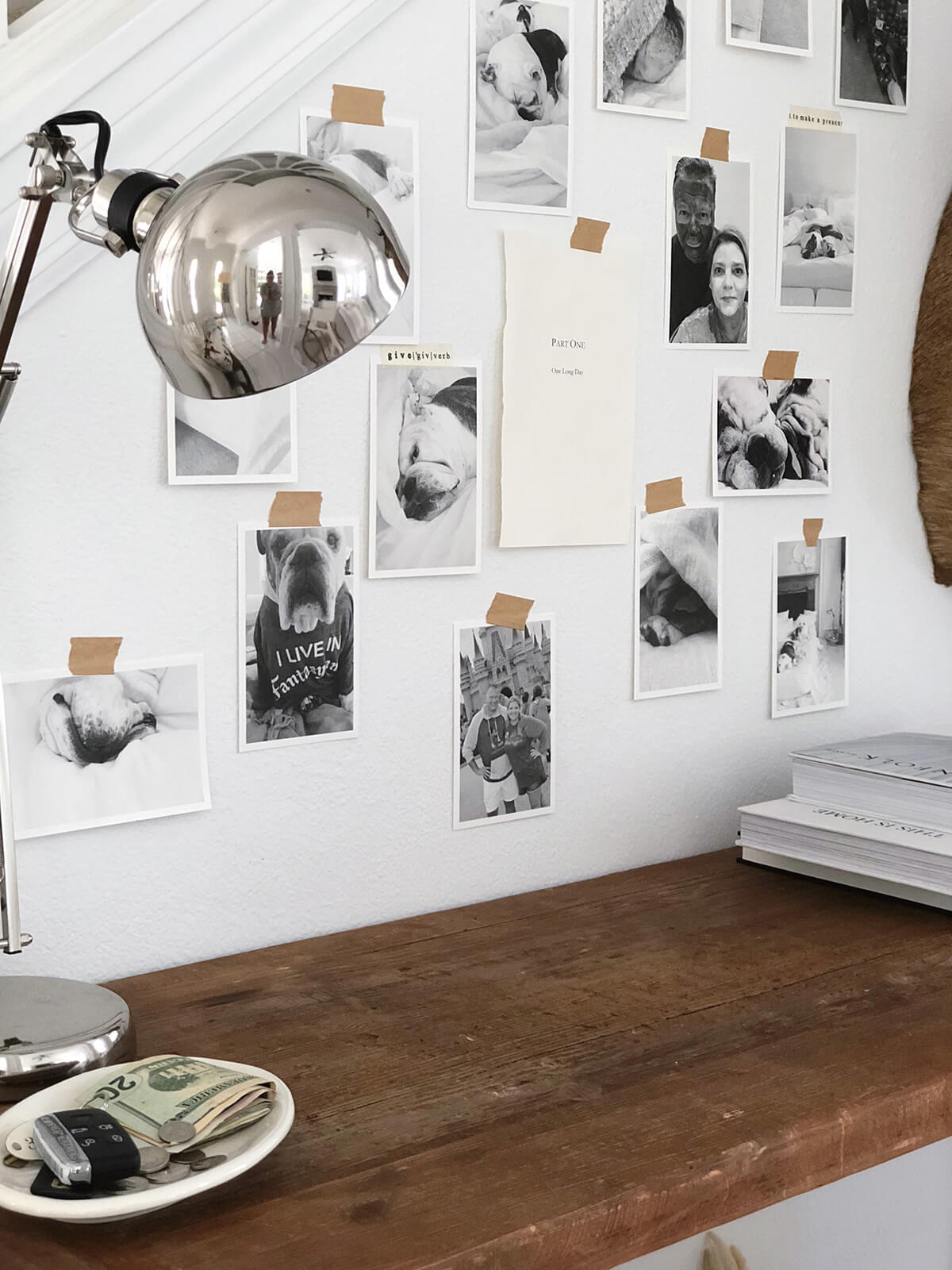 Photo By @withlovedani
What you'll need: Gentle tape of your choice

We're saying no to the stigma against tape. When used the right way, it's a simple, tasteful shortcut to getting those prints up on the wall. You can use accent tape to add a little color or parchment tape to keep things classic.
---
Idea 13
Skip the frame for a display box.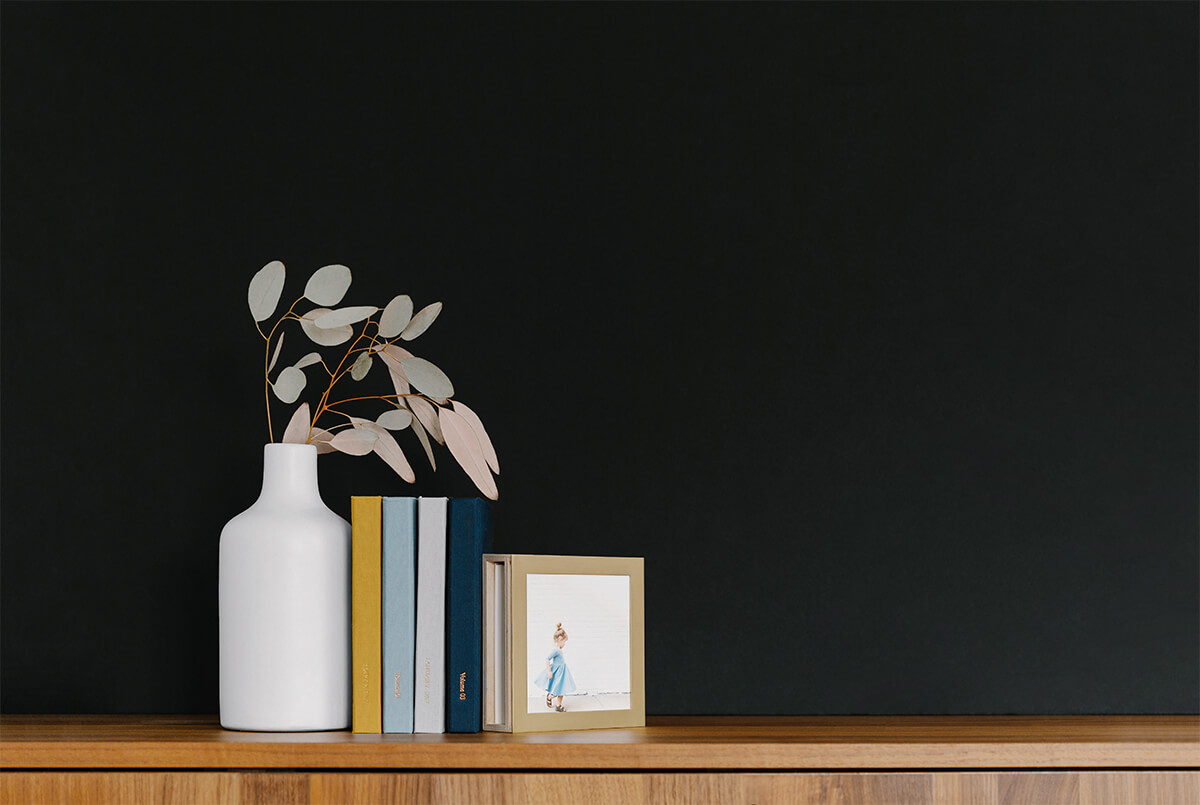 What you'll need:Brass & Wood Display Box

Change things up a bit with a welcome twist on the classic tabletop frame. This display box lets you stand your photos up on any surface and store additional prints for easy rotation. Keep a stack of your favorite prints inside the back slot and swap the feature photo out as often as you'd like. (Pro tip: It also makes the perfect bookend.)
---
Idea 14
Swap table place settings for prints.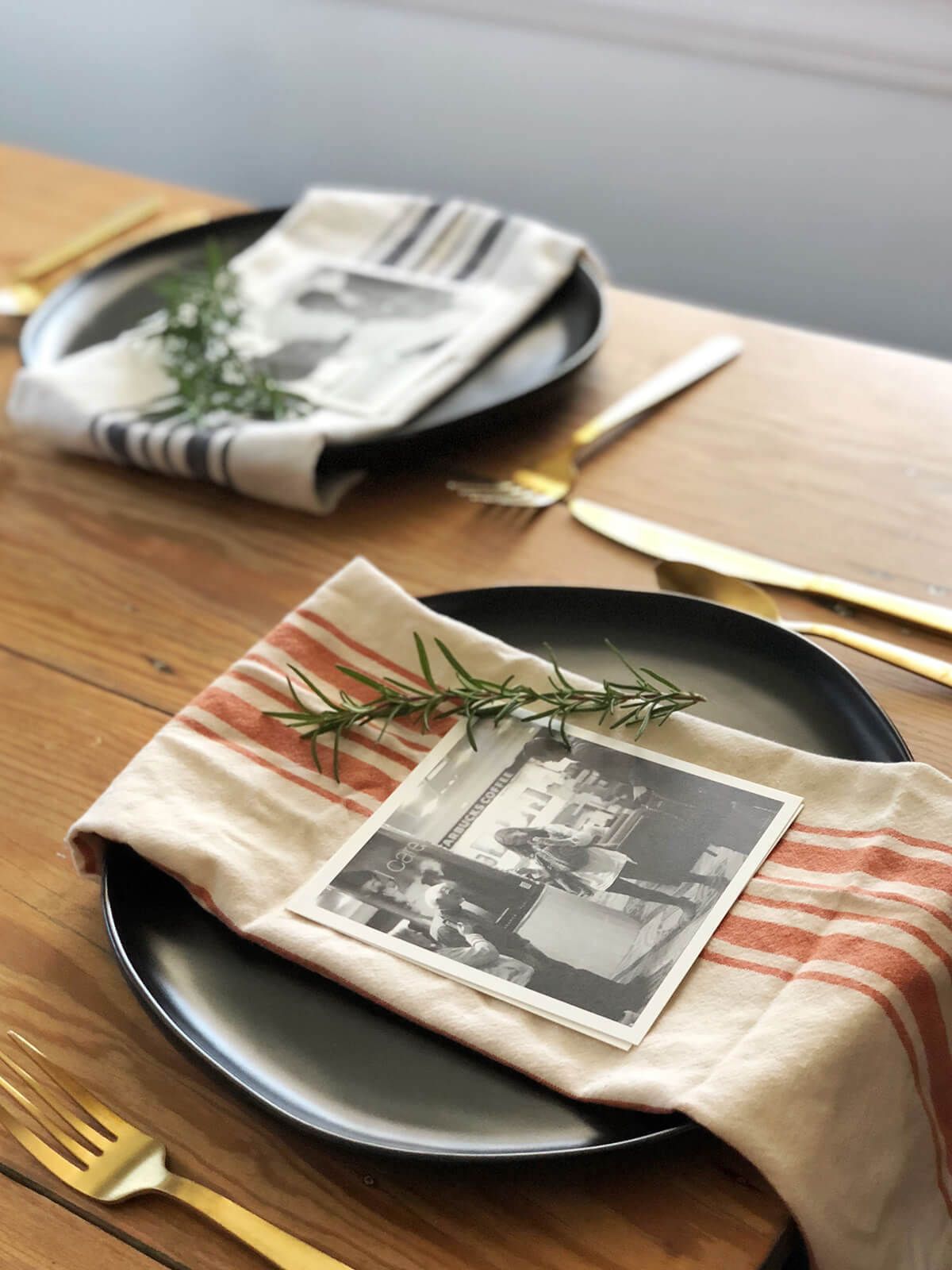 What you'll need: Just the photo prints

Whether it's a holiday meal or a wedding rehearsal, prints make the perfect table place setting to let your favorite people know exactly where to go. Because a special occasion calls for that little something extra to make guests feel right at home.
---
Idea 15
Cue the clothespins.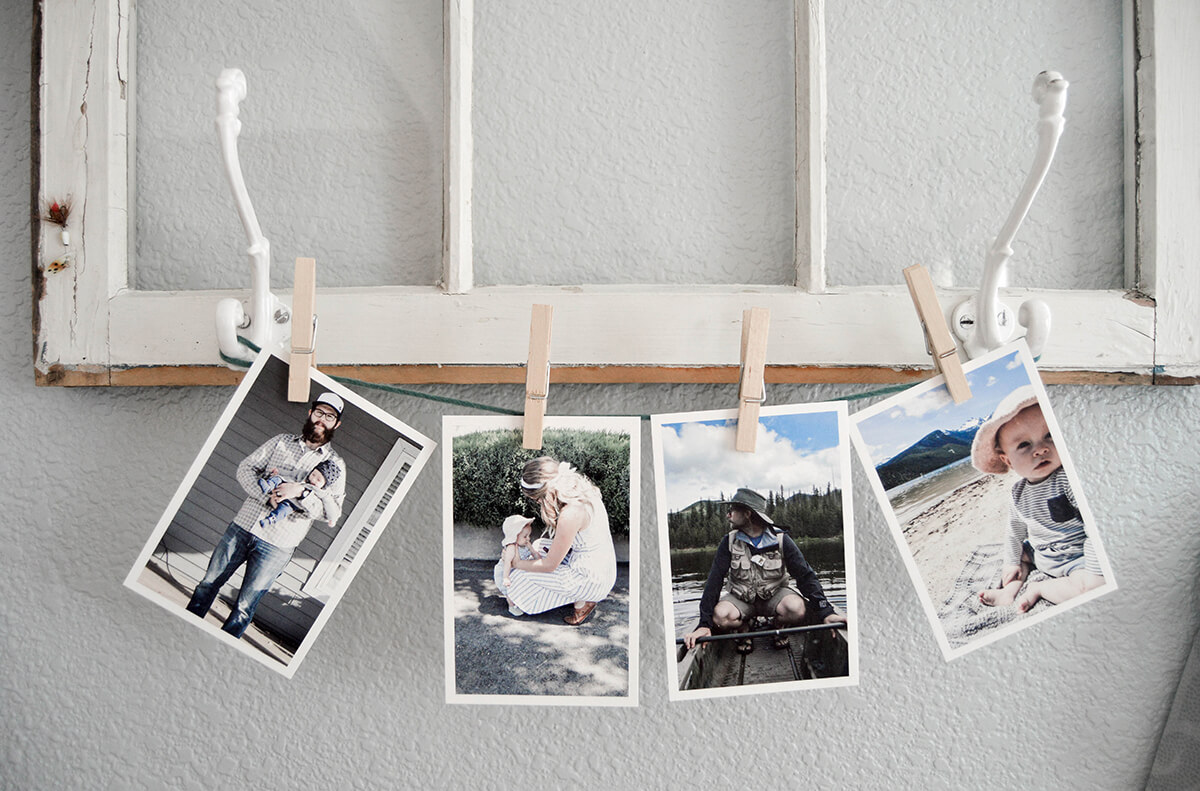 Photo By @freas.naturals
What you'll need: Thick string such as hemp rope, clothespins

Take a page out of the old-school dark room with a clothespin display. Your line can go above a door frame, run between hooks, under a mantel — let your imagination run wild.
---
Which photo display idea will you use?
These creative ways to display photos without frames are just a start. We'd love to see how you use any of them in your space. Don't forget to tag us on instagram (@artifactuprising) with your own spin.
---
Sours: https://www.artifactuprising.com/diy/display-photos-without-frames
80 - How to Build a Wooden Picture Frame
She was very much interested in religion, in some ways she was strict, but kind, as a child she always protected me, and there was always. Something to talk with her about. But she, too, seeing the changes in me lately, shook her head disapprovingly, but was silent.
Once, in fact, the very incident that I want to tell you happened. After a sleepless night, I went home for something to eat.
Now discussing:
Until you finished, tell me what you came up with. - I want to lick you. - With pleasure. She got up and threw the towel aside, and she sat down on the edge of the sofa, leaned on her back. And spread her legs.
4525
4526
4527
4528
4529