The New 3,300-Piece Tim Burton Batmobile Might Be the Best Lego Model I've Ever Built
Ask any Star Wars collector and they'll tell you that Lego's $800, 7,500+ piece Ultimate Collectors Millennium Falcon set was an absolute showstopper and the pinnacle of plastic brick model making. Until last week I would have agreed, but then I spent the past weekend building Lego's new 1989 Tim Burton Batmobile—and I truly believe it's the best set the toymaker has ever released.
At 3,306 pieces, the Burton Batmobile (or the "1989 Batmobile" as Lego refers to it) is less than half the piece count of Lego's UCS Millennium Falcon, and almost 1,500 pieces smaller than the recently released UCS Imperial Star Destroyer. But at 23 inches long it still feels massive, and every time I pick it up I use as much care as I would hoisting a toddler.
It might lack the extensive greeble detailing that those larger Star Wars models use to create the impression they're both gigantic spaceships, but I'd argue that recreating the iconic curves of one of the most recognizable vehicles in movie history with plastic bricks was a bigger model making challenge—and one that I think Lego's designers absolutely nailed with this new set.
AdvertisementYou can skip ad after 1 second
You can go to the next slide after 1 second
G/O Media may get a commission
The next generation of AirPods
Adds some of the features we saw come with the Pro like spatial audio support and water resistance.
I rarely keep Lego models assembled and on display. Once built they'll stick around for a few weeks, before I tear them down and they get absorbed into a giant plastic bin of loose pieces. But I don't think I have the heart to do that to Lego's new Batmobile. I'm not only impressed with how the model looks, but also impressed with the extra functionality it includes. The lid of the cockpit, which is built with a custom windshield piece, slides forward on a rail mechanism that also allows it to subtly raise and then lower again when it closes—mimicking how it worked on the real Batmobile in the movie.
There's a fully detailed cockpit inside as well, with lots of levers, foot pedals, and a stickered dashboard covered in gauges and buttons. The steering wheel can even be used to turn the Batmobile's front wheels—although it's tight quarters in there, and squeezing your hand into the cockpit to reach the wheel is a bit of a challenge. Lego's designers have also included the Batmobile's pop-up machine guns, which are deployed and retracted by rotating the turbine exhaust on the back of the car.
It's not just features built into the Batmobile that make this set such a joy; also included are a trio of new minifigures. Michael Keaton's Batman has a new molded cowl and cape, so you can't turn the figure's head (now that's some attention to detail!), Kim Basinger's Vicki Vale comes with her own little camera, and then there's a villain for them to square off against, Jack Nicholson's Joker. They're great for displaying alongside the Batmobile, but the model itself is built at a much larger scale than the minifigures, so it kinda looks like a couple of costumed children have hijacked Batman's ride when you try to place the figures in the cockpit. It's far from a dealbreaker, however.
Having assembled some of Lego's gigantic sets in the past, what I enjoyed most about the 1989 Batmobile is that the build never felt like a grueling marathon. The set has 24 bags of pieces to work through, and an accompanying instruction manual that clocks in at 435 pages, but I was able to complete the build over a weekend. By comparison, it took our own Germain Lussier over a week, some 34 hours in all, to assemble the UCS Millennium Falcon. Even if you love Lego, that's quite a time commitment.
Some of the earlier parts of the build, including the Batmobile's underlying infrastructure that's assembled from Lego Technic pieces, can feel a bit tedious, as you're not entirely sure what parts of the car you're building. It does make the model look and feel incredibly solid, however, which is something I can't say for Lego's other large vehicle models like the Bugatti Chiron. But as you move onto the vehicle's exterior, seeing the Batmobile slowly but steadily come together is incredibly satisfying. Despite having assembled hundreds of Lego sets to date, there were still some clever building techniques used for the 1989 Batmobile that I hadn't encountered before. It kept on surprising me, and reminded me why I'm not a professional Lego designer—but am very glad that someone else out there is, and doing a damn good job at it.
So when can you get this wonderful toy? The Lego 1989 Batmobile officially goes on sale starting November 29 for $250, which is just in time to justify that hefty price tag as a holiday gift to yourself.
---
For more, make sure you're following us on our Instagram @io9dotcom.
Sours: https://gizmodo.com/the-new-3-300-piece-tim-burton-batmobile-might-be-the-b-1839622968
We Build LEGO's 1989 Batmobile
The upcoming LEGO Batmobile (1989) is a scaled replica of the Batmobile from Tim Burton's 1989 movie, starring Michael Keaton as Batman, Jack Nicholson as the Joker, and Kim Basinger as Vicki Vale. It is comprised of 3306 pieces split into 24 bags, with a page of stickers and decals for the completed vehicle.It comes with three minifigures: Batman, Joker, and Vicki, who can be posed on a small, buildable LEGO stand. Each of the mini-figures has accessories: Batman has a detachable cowl and cape, Batarangs, and a grappling hook. Vicki Vale has a camera. Joker has a detachable hat and revolver. The LEGO Batmobile can be mounted onto a buildable, rotating stand, and there's a plastic placard that makes it perfect for display.
The completed build is beautiful; it's both counterintuitive and impressive to see how the LEGO construction medium, primarily known for its angular bricks, recreates the original car's iconic curves. In addition, the Batmobile has all sorts of tiny, functional details underneath its sleek exterior. The cockpit roof slides forward and backward to allow passengers in. You can rotate a mechanism at the back of the car, and machine guns will rise out of the car's hood. There are grapple hooks on both sides of the car near its exhaust pipes. Turning the steering wheel in the car will correspondingly pivot the front wheels left and right.The build itself is an exercise in specificity. There are a number of blue pins, for example, that have one end that is slightly longer than the other. In most LEGO builds, the majority of the pins are of equal length on both sides, which makes the work simpler and harder to get wrong. All you do is find the right colored pin, plug, and push without any thought to orientation.
But with the LEGO Batmobile, you constantly have to pay attention to which end of the pin you're inserting, as well as the direction from which you're inserting it. Owing to its long, tip-to-tail length, the Batmobile has plenty of asymmetrical pieces that are direction-specific and require your meticulousness.
Otherwise, you may build a section of the car that is the inverse of what it's supposed to be. You may find yourself in a miniature variation of that classic bridge quandary, where two construction teams start building from opposite sides of the river and fail to meet in the middle. You might misuse a piece earlier in the build, only to discover later that there are no extras of that piece. In that case, you'll have to undo several steps to rectify your error.
Thankfully, it is highly unlikely you will have to scrap hours of work, owing to the segmented manner of the build itself. The designers were clever in how they designed the Batmobile to be self-correcting; something won't fit right and will force you to backtrack and reassess.You begin by building the Batmobile's base as a series of beams held together by pins. They give the entire car a feeling of strength and substantiveness; the beams have to be pulled apart individually to disassemble them and cannot become detached the way that traditional LEGO bricks can.
From there, you install the steering mechanisms and the retractable machine guns under the hood. One positive quality of this build is that there's something interesting at every step; there are very few points when you're building purely or repetitively for its own sake. By putting the unique components first, the designer seems to be teasing us: 'Here's a little taste of this cool thing. But you'll have to keep building to see how it all fits together--how it works in the final design.'
The fenders come next, followed by the front sides. You build out the driver and passenger's cockpit, which include seats with headrests, stick shifts, computer screens, a gas pedal, and a steering wheel with a Batman insignia in its center. You then build a giant, retractable roof, which you can slide forward and backward.Near the end of the build is one of the best parts: the 'plating' of the vehicle with rounded, outer black pieces that create the signature look. You feel, for one vicarious moment, like Bruce Wayne, installing fireproof, bulletproof armor on his latest ride, like a knight girding his horse for battle.
Is the LEGO Batmobile (1989) designed to be played with? Yes and no. It is, first, and foremost, a display piece rather than a toy. But I have a five-year-old son who loves LEGO and helps me build. And although there's some plating that comes off when he handles it too roughly, I can't build a massive Batmobile in my living room and tell him not to play with it. So I've become resigned to doing some light, periodical reassembling, and my son has been delighted with that decision.
It took me the better part of a three-day weekend, working in the mornings and evenings, to build the LEGO Batmobile (1989). Drawn out to a leisurely pace, the entire construction could have easily filled two weeks.
Should you decide to build this, take the time to savor it. Pause every so often to note how dense and layered everything is, and how much work it must have taken to design this -- to ensure that a single piece, laid down at the beginning of the build, would serve a purpose, as part of a greater whole, hundreds of steps later. Take your time. 'Leisurely' is the best way to enjoy and appreciate a project of this scale and ambition.
The LEGO Batmobile (1989) will retail for $249.99. It will be available at brick-and-mortar LEGO stores and the LEGO online store beginning on Black Friday, November 29.
Kevin Wong is a contributor to IGN. Talk LEGO with him on Twitter at @kevinjameswong.
Was this article informative?
Sours: https://www.ign.com/articles/2019/11/13/we-build-legos-1989-batmobile
The Batmobile is one of the most iconic movie vehicles of all time. It's always painted black, packed with gadgets and gizmos, is absurdly fast, and will make an awesome appearance in every movie that features the Caped Crusader. But as of late, the Batmobile has started to look more like a tank than an actual car in the latest movies that feature Batman, like Christopher Nolan's Dark Knight trilogy and Batman vs. Superman: Dawn of Justice. The last Batmobile that actually looked like a car was featured alongside Michael Keaton in the 1989 movie directed by Tim Burton, simply titled Batman. Lego's latest set features the 1989 Batmobile from that movie, and we received the set on the day of its release: November 29, Black Friday.

The box all but beckoned us to dump out all 3306 of its pieces and just build the damn thing. So we did. In the interest of sharing the simple joy of putting plastic bricks together, we set an initial two-hour time limit to complete as much as we possibly could, after which other C/D staffers would tap in to help complete construction of the nearly two-foot-long behemoth.
To show you just how detailed the Lego 1989 Batmobile is, we set up a camera and recorded what we've built so far. In two hours, we were able to complete the basic frame, the steering system, and the beginnings of the front fenders. We went through six bags of pieces and followed about 125 instruction steps until we hit the two-hour time limit.
What can you learn from spending two hours on a massive Lego project on this scale? That this set is extremely complex, fun to build, and well worth the $249.99 asking price. Even a group of veteran Lego users like us, were still amazed seeing this set's use of building techniques and pieces we've never seen before. The instruction book is the thickness of a textbook and was super easy to follow. The amount of detail that Lego put into this set is truly astounding, yet, we hasten to add, of manageable difficulty for most ages above elementary school—and even for kids that age, with adult supervision/help.
The verdict after spending two hours with 3300 plus pieces is that this is an amazing gift for the Lego, Batman, or car enthusiast in your life. They'll spend hours building this set and at the end of it, will be ecstatic with the final product. And we should know: we fit right in the middle of that Venn diagram of car enthusiast and Lego lover.
This content is created and maintained by a third party, and imported onto this page to help users provide their email addresses. You may be able to find more information about this and similar content at piano.io
Sours: https://www.caranddriver.com/features/a30084359/batmobile-lego-build-video/
All Lego Batman 2019 Sets Compilation - Lego Speed Build Review
Xbox
LEGO Dimensions Batmobile Instructions
If you've dug into the starter pack for LEGO Dimensions I'm assuming you're wondering why there no instructions present for it. Instead of being included within the game itself, most of the instructions for LEGO Dimensions are included in the game when you play it or randomly during levels when it's required.

With that I've produced a video of Batmobile instructions so you can build the vehicle without playing the game for whatever reason you need to. May add picture instructions later, though the video is what I have time for currently. Below you'll find two video options in regards to fully creating whatever you want with this special ride that's almost essential for the game.

Hopefully this set of instructions assists you in building this item for the game, or maybe just for playing with outside of the game too since these are awesome LEGO creations. Remember to have fun, and good luck within the game!

LEGO Dimensions Hub
Updated: Video showing all three Batmobile variations and all Batmobile Upgrades.
Sours: https://gamerheadquarters.com/articles/lego-dimensions-batmobile-instructions.html
Lego build how batmobile to
I was 5 years old when Batman was released and changed cinema forever. It ushered a new world of Superhero Movies and redefined what a blockbuster meant. Now I don't remember any of that, but I do remember watching it on TV when I was a little older and being blown away by everything about it. In the UK the comic book scene wasn't quite as saturated as the US market (shout-out to all the Beano and Dandy fans!) so Batman wasn't quite such a household name, most people only knew him the 60's TV show. That wasn't this Batman, this Batman had depth, darkness, flaws even. And it made him infinately more interesting.
In the movie Joker uttered the infamous line "Where Does He Get Those Wonderful Toys?", lets find out just how wonderful it is.
Contents:
Background
Batman and LEGO are long time friends. The iconic Hero has probably had more LEGO versions of the Batmobile than the Comic Book version. We've had Comic Book recreations, Movie recreations, and countless original takes. Batmobiles are also the only non-Star Wars sets that appear in the Ulitmate Collector Series. I love the batmobile, every version, even the crazy one from Batman & Robin. I love seeing where it's taken next. My favourite is the sleek classic style seen in The Animated Series of the 90's which echos a 1920's version of this 1989 Movie one.
Some of my favorite LEGO Batmobiles are:
Also, if you've caught the Batmobile bug make sure to check out all our users MOC's. I can even find an Animated Series version as well as versions based on the recent Justice League movie, Arkham Asylum videogame series, and some cool 1960's versions (I especially like the look of this Technic one from designer GeyserBricks). However, no-one has been brave enough to tackle the batmobiles from the 90's movies Batman Forever and Batman & Robin unfortunately!
The Set
Batman™ fans and anyone who appreciates cool cars will love the LEGO® DC Batman 76139 1989 Batmobile™ model car kit for adults. This beautifully detailed LEGO brick building toy replicates the classic curves of the famous Batmobile car, as seen in the 1989 Batman movie. Measuring over 60cm long and built from 3,306 pieces, the model offers a challenging and rewarding build. Die-hard fans will love authentic features such as the slide-open cockpit with a new-for-November-2019 wraparound windshield element, 2 hidden machine guns with a pop-up function activated by turning the turbine exhaust, and decorative grappling hooks on each side of the vehicle. The Batman toy car comes with a rotating display stand (with an attached information plate with 1989 Batmobile™ statistics) for ease of viewing from any angle. A must-have for all Batman fans, this super-hero toy construction set also includes 3 new-for-November-2019 minifigures—Batman with a cape that matches his 1989 movie outfit, The Joker™ and Vicki Vale™—plus a brick-built minifigure display stand.
The Box
The box measures 580 x 375 x 160 mm. Inside are 25 bags, 24 numbered 1 to 24, 1 unnumbered bag, 4 loose parts (2x 52985 Tyre 69 x 28 and 2 x 18450 Tyre 81.6 x 44 R), an instruction manual, and a sticker sheet. As is common with larger sets like this the bags were split between the main box and a second smaller white box inside.
The Instructions
The instruction manual measures 270 x 195 mm. With 434 pages and 619 total build steps. The first 50 pages are taken up with all the background infor (in 4 languages) that we have come to expect from a showcase set such as this. With information from the set designers, graphic designers, and element designers.
The pdf's can be downloaded here.
The Parts
The set contains 3308 parts and 45 spares, in 29 colors, and 40 part categories, with a total of 501 unique parts/color combinations.
Main colors are:
Main categories are:
New Parts:- Not only did we get that awesome new cowl and the custom (probably never to be used again) windscreen, LEGO also snuck in a new tyre.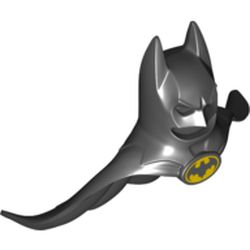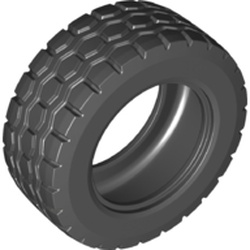 New Prints of Existing Parts:-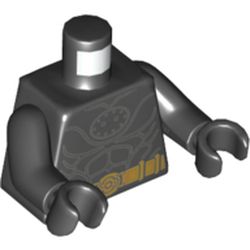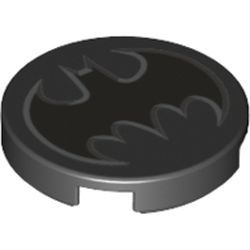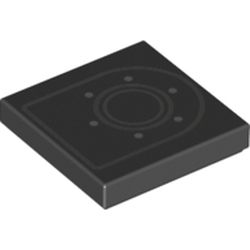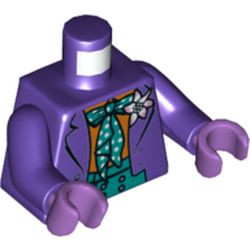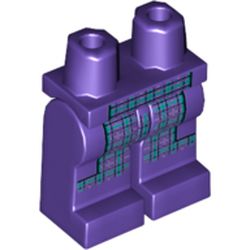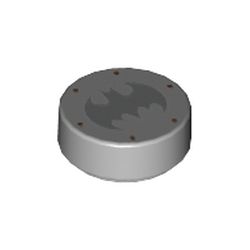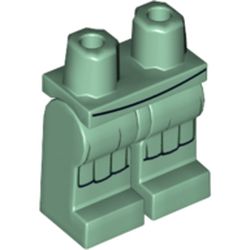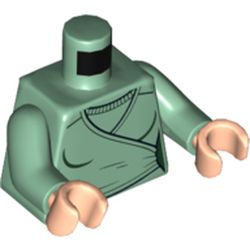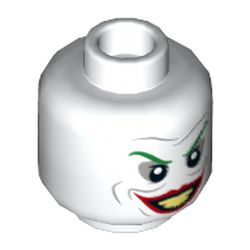 Parts in new colors:- A couple of interesting re-colors in this set. 2465 in Medium Azure and 2654 in Trans-Black are old parts with new colors. 2465 is interesting because it is completely hidden in the final model, why go to the expense of molding a new color if it's not even seen?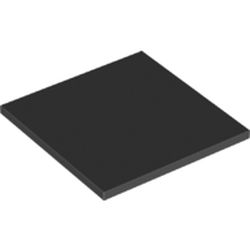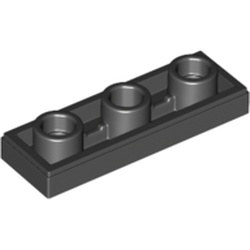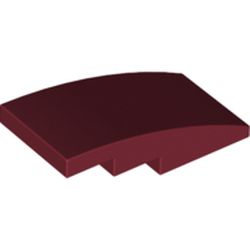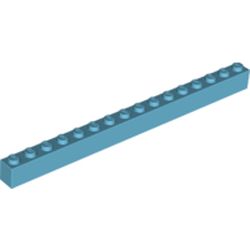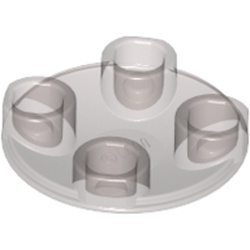 Rare Parts (Appears in 3 or less sets):-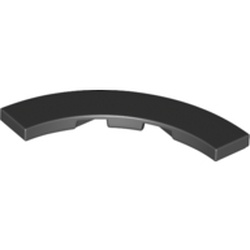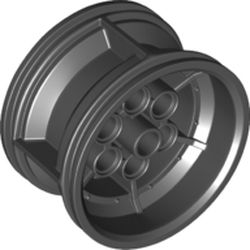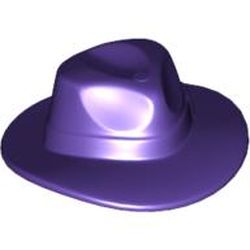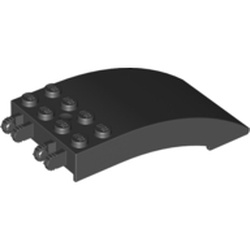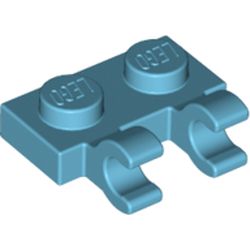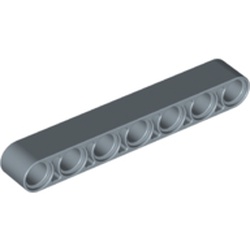 This set comes with 3 minifigs, Batman, Vicki Vale, and The Joker.
Batman's new cape is absolutely awesome but completely impractical which hammers home the point that this is a display set, not a play set. Vicki Vale is a pretty bland minifig, I would've prefered a Bob the Goon minifig instead. But the figure that steals the show is Jack Nicholsons Joker. He has the perfect expression, that balance of menance and complete, child-like, glee.
The Build
Bags 1 & 2: When I had finished assembling the chassis I was kinda blown away by how big it was. This model is certainly going to test the extremes of my photo area. The steering mechanism/axle is really well thought out (bonus points if you realised I have the red beam upside-down in the second photo). Then to finish out bag 2 we build the first bit of bodywork, the nose.
Bags 3 & 4: The front wings are built from bag 3 with bag 4 adding the front wheel arches. Already we're getting some really great techniques, I could stop now and love what I just built.
Bags 5, 6, 7 & 8: Bag 5 adds the first bits of the cockpit. The steering wheel controls the front wheels. It works well but once the model is complete it's very hard to get the to wheel making it pretty hard to steer, makes you wonder why they bothered adding the mechanics.
Bag 6 builds the machine guns. The are a fun build and should add some play factor to the model. Then bags 7 and 8 add some side detailing. Again, the techniques used are ingenious.
Bags 9 & 10: Now we really get something fun to build. Bag 9 adds some side panelling, but 10 gives us those awesome air intake vent thingys. I love the use of the tail fins to create the iconic side steps on the batmobile.
Bags 11 & 12: Attention turns to the cockpit. The seats are very similar to those found in 76023-1 The Tumbler, I wonder if that was intentional. The sticks in the center are purely for show, to my extreme frustration my kids keep touching them and I have to go fish them out with my fat fingers.
Bags 13 & 14: We finally give the rear some love. Adding much needed structure. Bag 14 builds the rear wheel arches. The slot between them is presumably used to slot the tail fins in somehow.
Bag 15: All of a sudden, upon completing bag 15, we have a instantly recognisable Batmobile. This bag adds so much detail. The front turbine is added and much to my disappointment it doesnt rotate. The headlights are acheived by adding a sticker to a Trans-Yellow 1 x 1 Brick. You don't see the sticker but it helps the color of the brick pop once in place on the Batmobile (I also impressed myself how well I put on those tiny stickers). The front slopes are simply beautiful.
Bag 16: Here we add more bodywork, completing the hood and side panels.
Bag 17: The roof is built. I was curious to see how the sliding mechanism would be achieved. It ends up being much simpler than I was expecting. Infact when I first put it on I was convinced this wouldn't be strong enough, and wouldn't slide smooth enough, but when you're finished adding all the bodywork around it it's a dream. It even has that kind of slight drop movement seen on the real thing. Yes the windscreen looks amazing, I just get less excited about purpose built parts. There's not really any other use for this windscreen. Maybe on a jet-boat or something.
Bag 18 & 19: Mostly just more bodywork in these bags. Adding structure around the roof. The seat headrests do look cool though.
Bags 20 & 21: Ok so I need to address something you may have noticed in the header image. Bag 20 comes with 1x 41750 Wedge 8 x 3 x 2 Open Left and 1x 41749 Wedge 8 x 3 x 2 Open Right, or at least it's supposed to. I received 2x 41750 and 0x 41749. I opened bag 21 (where a further 2 of each are found), but they were correct. This is easily the biggest error in a set I've ever had. Now this isn't normally a big issue as LEGO are amazing for quickly and easily fixing any errors, however the world is currently in crisis and LEGO have closed it's bits and pieces service. Meaning I can't get a replacement yet. Unfortunately I couldn't find a black one in my collection, luckily I did find a Dark Red one. That is why the roof contains an incorrectly colored part.
Back to the build. Bag 20 fleshes out some of the less impressive panelling. But bag 21 build a roof section that you then clip onto the model. The spoiler section is a great build and looks perfect.
Bag 22: As predicted the fins are built then slotted into the gap in the wheel arches. I'm actually a little underwhelmed by them. After building some really great bits these feel less than perfect. The side scalloping just doesn't look right, and it's hard to see in the images but as their clutch points are all near one end the ends near the scallops are loose and pull away from the model (you can see the couple of millimeter gaps best in the final photo)
Bag 23: The jet engine exhaust looks great, very realistic, and the last thing is the cover for the machine guns. This is where the set loses me. I can't believe they settled on this being the best way to execute them. I may be wrong but I don't remember Batman stopping to pick up some car bits after shooting his machine guns. I wish they were either on a hinge or even simply attached to the top of the machine gun so they'd lift and lower with them instead of just popping off.
Bag 24: Finally. after a week of trying to build this with my two kids stuck at home with me, I get to the last bag. I get that sad feeling you get when you don't really want a build to end. The rotating base for the batmobile serves its purpose just fine, even if it is fiddly getting the car on it. The Minifigure stand looks great, very in-keeping with the aesthetics of the movie, I've said it in another review though, I'm not really a fan of these stands or giant plaques that I have to put a sticker on. I find them kind of pointless. It's also very annoying trying to get them all on, well Vicki Vale with her giant camera at least, another point for Bob the Goon.
Conclusion
So was this set worth the hype? Yes it is. There are some truly wonderful techniques and design choices throughtout. This is perhaps the most famous of all the Batmobiles, it captures everything that Batman is about, his mystery, menace, and ingenuity, and LEGO have put all that into this model and executed it do a level unequalled in any other LEGO Batmobile design. All of my criticisms really aren't that bad when looking at the set as a whole.
While we're talking of criticisms there is one more thing I'd like to point out. This is actually my biggest complaint with the set. The large 10202 Tile 6 x 6 that is used for the center of the cockpit roof looks absolutely terrible. For those unfamiliar with these large tiles, they are made from slightly different plastic, presumably LEGO's regular recipe ins't great for molding such large parts. The issue is they have a much more matte texture than regular parts. This doesn't always matter, but on the batmobile it is so visible, and the rest of the model is so shiny, that it sticks outs really badly. The difference in texture also makes the color slightly different. Below are two photos I took, one with and one without a flash. You can see how different the part looks, with the flash it looks a little brown-ish. And once I noticed this I went back to look at the publicity photos and you can actually see the difference on there too, I guess it's just far more noticable in person. If I keep this on display I will definately be replaceing that with smaller, shinier tiles.
Otherwise I highly recommend this set for those who love to build something unique and extraordinary. It's most definately a display piece, this toy is not for playing with. Batman fans, LEGO vehicle fans, AFOL's searching for new techniques and build experiences will all be overjoyed with this set. And at 8c per part it's good value for money too.
Build on,
Jared
Disclaimer: This LEGO set was kindly provided for review by The LEGO Group. Anything said in this post is the opinion of the author and not The LEGO Group.
Parts- and build photographs by Jared Hinton (© 2019 Rebrickable)
This LEGO Set is available now at the LEGO Shop in these locations:
US for $249.99 | CA for CA$299.99
Sours: https://rebrickable.com/blog/255/review-76139-1-1989-batmobile/
Lego Super Heroes 76023 The Tumbler - Lego Speed Build
LEGO 1989 Batmobile Review: A Great Use of Nostalgia Dollars
Rating:
9/10?
1 - Absolute Hot Garbage
2 - Sorta Lukewarm Garbage
3 - Strongly Flawed Design
4 - Some Pros, Lots Of Cons
5 - Acceptably Imperfect
6 - Good Enough to Buy On Sale
7 - Great, But Not Best-In-Class
8 - Fantastic, with Some Footnotes
9 - Shut Up And Take My Money
10 - Absolute Design Nirvana
Price: $250
The Batmobile is one of the most iconic vehicles of all time. But the Batmobile you remember likely depends on your age. As someone born in the early '80s, the 1989 Batmobile will always be mine. And now, LEGO has re-created it in all its black and dark gray glory—with some fiddly bits.
Here's What We Like
It's the freaking Batmobile
Pop up guns are a nice touch
Batman and Joker look amazing
Good value at 7 cents per brick
And What We Don't
Somewhat difficult to build
Pieces break off too easily
For display only
If you're an '80s child, 1989 was a special year. It gave us the most serious take yet on a live-action Batman movie. It was, perhaps, even the most serious live-action superhero take (with respect to Christopher Reeve's excellent, but still campy, Superman). 
Michael Keaton's Batman changed the game with an older version of Joker, an armored Batman, and one of the best Batmobiles we'd ever seen. The idea of owning it in a glorious, detailed LEGO form was an instant yes from me.
But if you want to own Batman's best gadget, prepare yourself for some amazing features, but a difficult and fragile build.
Steering and Guns Blazing
Let's dive into the look of the 1989 Batmobile because this nails the design perfectly. If you're familiar with the Michael Keaton Batman movies, you'll recognize it immediately.
At 23-inches long and 4-inches high, this Batmobile is enormous, so you'll want ample room to display it. You get all the right details from the sliding cockpit to the flame turbine in the back. Even the swooping Batarang-like wings are present over the wheels. 
Thanks to The LEGO Movie, we joke that Batman only builds in black and very dark gray, and on the outside, that seems true here. LEGO covered the external shell in an appropriate, shiny jet-black. You only see the dark gray pieces if you slide open the cockpit or look at the undercarriage.
The sliding cockpit also reveals the first of several features LEGO incorporated into the build. When the cockpit's open, you can turn the steering wheel and the front wheels will swivel accordingly. If you spin the turbine exhaust, guns pop out of the car, although, it's up to you to remove the covers.
You'll also build a turntable display, so you can spin your epic Batmobile and your friends can admire it from every angle.
The LEGO Minifigs are another instance of near perfection. LEGO reworked the Batman cowl to closely match the "rubber-armor" look of the Keaton-era movies, and the best part is the swoopy cape. Jack Nicholson's Joker hits all the right notes from his purple fedora to the acid flower in his lapel.
The same as the film, Vicky Vale is sort of "just there." You can display the Minifigures on a small stand that's reminiscent of the gothic church at the end of the movie.
One downside of the Batmobile's sheer size is that the Batman Minifigure looks incredibly tiny when you put him in the cockpit. It's like putting a toddler wearing a Batman costume into a real Batmobile and asking him to drive.
Still, I'd rather have the larger Batmobile, so it's a downside I don't mind.
A TECHNICal Build
LEGO doesn't call this a Technic set, but it uses Technic pieces and methods of construction for the steering wheel and turbine features. This (among other things) increases the difficulty of this build. LEGO rates it as an 18+ set, and that seems appropriate.
The steering mechanism is a new style of geometry we've not seen in other LEGO cars with the feature, but that's likely due to the sheer width of the Batmobile.
It's a simple build. The most tedious process is connecting all the pieces that make the turbine lift the guns. You run them from the back and nearly to the front of the car.
The inside is colorful, which helps when trying to figure out where the pieces go. The all-black exterior is just the opposite—determining which brick goes where is a chore.
At one point, the LEGO instructions calls for three of a particular piece, but only tells you what to do with two of them. This led to a lot of page-turning to figure out what went wrong, but the piece is just an unnecessary spare.
You can't measure the difficulty of a LEGO build by the number of pieces alone. It's really the techniques required and how you have to build the layers. The Batmobile uses several unique techniques you won't find in a "building" set, like a store or castle. For example, despite having more pieces, LEGO Hogwarts is a more straightforward, much faster build than the LEGO Batmobile.
Any adult can get through this build, but younger children might find it too difficult to do alone.
The Batmobile Broke a Wheel, Joker Got Away
To be fair, this Batmobile isn't so fragile that a wheel will fall off, but it does sometimes feel like it. When moving it from my building center to my LEGO display center or picture booth, I lost pieces dozens of times. The biggest offenders were the swooping Batarang-like wings above the rear wheels—these break off if you stare at them too hard.
The turntable also breaks apart fairly easily if you're not careful when you carry it, and it really doesn't work that well. Don't expect to just give it a slight push to watch your Batmobile spin around; LEGO just can't do that. You'll have to make the entire spin happen, so think of the turntable as a feature for changing up your display.
Of course, my son wants to play with it, because who wouldn't? But just pushing it around on the floor causes bricks to fall off. This Batmobile is for display only—yet another reason it's rated 18+.
For the Love of Batman, Buy It!
If you're looking for a LEGO Batmobile toy for your children to play with, don't get this set. Go for the much cheaper and sturdier "Pursuit of the Joker" set instead.
However, if you're an Adult Fan of LEGO (AFOL) and Batman (AFOB?), you should definitely pick up this set. If you're a fan of Michael Keaton's turn as the big bad bat, then this set is absolutely for you.
Despite being a branded set, you also get a lot of bricks for a good price. I consider a good set value to be 10 cents per brick. At $250 for 3,306 pieces, this set averages around 7 cents per brick, which is a steal! You also get a unique piece (the windshield) and a custom version of the Bat cowl.
From a value standpoint, the 1989 Batmobile almost sells itself, but when you factor in the nostalgia, it's even better! The set is somewhat fragile, though—you won't be playing with it. But then, some LEGO sets are only meant to be displayed.
If you love Batman and LEGO, get this set!
Here's What We Like
It's the freaking Batmobile
Pop up guns are a nice touch
Batman and Joker look amazing
Good value at 7 cents per brick
And What We Don't
Somewhat difficult to build
Pieces break off too easily
For display only
Sours: https://www.reviewgeek.com/50101/lego-1989-batmobile-review-a-great-use-of-nostalgia-dollars/
Similar news:
A newly released Batmobile Lego Technic set is a retro-looking car based on the vehicle that will be featured in the 2022 film The Batman.
This set contains 1360 pieces and includes two light bricks, moving pistons, a spinning flame exhaust, front steering, rear differential, and opening doors and hood.
This set is available for pre-order and will start shipping on November 1, priced at $99.99.
Lego is releasing a new Batmobile Technic set based on the personal vehicle that the caped crusader will be driving in the upcoming film The Batmanstarring Robert Pattinson. The film was expected to release this year but was delayed due to the COVID-19 pandemic, but this Lego set is a good outlet for fans waiting for its eventual release.
Batman and his Batmobile, of course, are legendary superheroes, and the iconic car has been present in every iteration of Batman. Every Batmobile has features that make it unique and stand out from the previous versions. This new and presumably improved version has yet to be seen, so consider this Lego version a teaser. It shows some resemblance to a Chevrolet Camaro or Dodge Challenger from the late 1960s or early 1970s era.
LEGO Technic THE BATMAN – BATMOBILE 42127 Model Building Kit (1,360 Pieces)
Preorder
The set comes with 1360 individual pieces, so it's not going to be quick or easy to build. The kit includes are two light bricks: the yellow light will illuminate the grille, while the red light will glow over the transparent rear engine. The set also includes front-wheel steering, a rear differential, and a hood and two doors that open and close. To top it all off, there is a spinning flame on the back of the car imitating the fire that backfires from the exhaust in the films.
LEGO DC Batman 1989 Batmobile 76139 Building Kit (3,306 Pieces)
Buy Now
An earlier, more elaborate Batmobile Lego set was released in 2019, based on the 1989 Batmobile. That set contained 3306 pieces and took a long time to build. The new Batmobile set has almost 2000 fewer pieces but will still take a lot of time to construct. The previous version had a price of $249.99 while this one only costs $99.99—a bargain in Lego terms for a set this big.
The new set is available for preorder and will begin shipping on November 1.
This content is created and maintained by a third party, and imported onto this page to help users provide their email addresses. You may be able to find more information about this and similar content at piano.io
Sours: https://www.caranddriver.com/news/a37974563/1360-piece-lego-technic-batmobile-shopping/
359
360
361
362
363