Chevy Colorado ZR2 Real World Review
There have been few vehicles to disrupt the midsize truck scene as much as the 2017 Chevy Colorado ZR2. Looking to dethrone the king of the midsized world, (hello Toyota Tacoma), the ZR2 would be the General's deepest dive into the off-road world since the Hummer brand. Chevy not only sought to best the Tacoma with more off-road appointments, but do something pretty radical for the segment—offer a diesel engine.
Now, with a couple years under its belt, the ZR2 package is showing great signs of success. In fact, Chevy recently rolled out an even more off-road oriented version called the ZR2 Bison for those looking for a stout overland pickup direct from the factory. After selling our 2008 double cab Tacoma, which you've likely seen us build here over the years, we were in the market for a new midsized pickup. Having great experience with the Tacoma in the past, we first turned our attention on the refreshed 3rd generation Tacoma. (You can read that review here.)
Getting the opportunity to test out a 3rd Gen TRD Off-Road Tacoma extensively, we left the platform missing the off-the-line grunt that the second-gen 4.0L V6 offered. Coupled with the automatic transmission, we just were not in love with the new Tacoma's powertrain. This got us looking at the ZR2 a bit more seriously. While we had spent time with the diesel in a non-ZR2 format previously, we revisited it, along with the new V6 option.
After driving both, we simply enjoyed the pep of the Colorado's V6, which is very much so complimented by the smooth shifting eight-speed transmission. While the fuel economy of the diesel was hard to turn away from, the added cost coupled with the somewhat sluggish power, allowed the gasser to get the nod.
Over the past eight months, we've learned a lot about the ups and downs of the ZR2. Here, we're highlighting what we've uncovered and what's in the future for this diverse little pickup.
So, here's what we ended up with. It's a 2018 double cab ZR2. There's only two real modifications done to the truck. The first being the Z Series cap from ARE. With a somewhat compact cabin, we needed a place to safely store our gear. The added roof rails are also handy for toting along larger bed toys and our roof top tent.
Ridge Grappling
The second upgrade was swapping out the stock treads for a more versatile and taller set of 265/70R17 Nitto Ridge Grapplers on our Colorado ZR2. Our goals was to squeeze on the largest tire we could without modifying the suspension or trimming the fenders. The 265/70R17 Ridge Grapplers equates approximately to a 32x10.50 and has been a great balance of on-and off-road performance.
We would love to stuff a taller tire on the truck, but it's not going to happen up front unless we are willing to lift and bump the front suspension. Even then, we will likely need to trim the back side of the front fender. For the small amount of gain a slightly larger tire would net us, it didn't seem worth the trouble.
Inside, the Colorado ZR2 is extremely plush for a midsized pickup. All of the touch points are soft and easy to clean. We've found the Navigation and cluster assembly easy to use and haven't had a single hiccup from either. While the backup camera image quality could be a little better, we like the overall easy-to-navigate controls and dials.   
Go Gas
Churning out 306 horsepower and 275 lb-ft of torque, the Colorado's 3.6L never feels underpowered. It makes most of those ponies at higher rpm's, but thanks a 4.61 first gear in the 8L45 eight speed transmission, it feels lively out of the gate. We will say that we enjoyed the torque of the diesel on the models we tested, but the V6 combined with the eight-speed automatic was a better fit for our needs.
We frequently hit the dirt for work, so we've had plenty of time to test out the Eaton ELockers on the ZR2. We love the fact that you can quiet the electronic nannies in two-wheel drive and have the rear locker engaged. For light 'wheeling, the truck has plenty of go in high-range and is a blast in the sand. Rockcrawling is one area we don't do much of with this particular pickup, but we've used low range with the front locker engaged enough to appreciate its 'crawling abilities. We've always found the lockers quick to engage and disengage and have been impressed with how well the electronic steering works off-road.
From the factory, you can opt for a bed-mounted spare tire carrier or they'll strap it under the truck. Spending time off-road quickly made it apparent that the stock tire location was not ideal. At this point, we toss our full-size spare in the bed for longer trips. For daily driving, we haul a small compressor and plug kit with us just in case. A more permeant tire-carrier solution is on the future to-do list.
Suspension Shortcomings
Chevy did a great job dialing-in the Multimatic DSSV suspension and it's by far one of the smoothest riding stock trucks we've ever owned. Our only complaint is we wish we had a little more travel. This is more so from the front suspension than the back. At 8.6 inches, we find that we often top out the front shocks on the trail. While the valving is excellent, it needs more travel. We're thinking a set of upper control arms and slightly longer travel coilovers could be the ticket. Sure, you're paying a premium for these shocks on the ZR2 package, but for our needs, we'd like to see more out of the front suspension.
The ZR2 has a stout skidplate package from the factory. The only real missing skid is under the gas tank. We're still not sure how that one slipped by Chevy. Another thing worth mentioning is the fact that the coating on the sliders and frame is holding up fantastic. Though we make sure to frequently rinse the truck after beach outings, living in a coastal area isn't easy on metal parts.
Kid Approved
No adult has ever sat in the back of our Colorado. For those with kids of a certain age, we'll tell you that fitting in two car seats (one forward and one rear facing) is a little tight, but very livable. However, if you're over six-foot, it's probably going to be a little tight for your kiddo's legs.
The ZR2 is two inches taller and a full 3.5 inches wider than a standard Colorado. This helps create a very impressive stance and excellent ground clearance right out of the box. We love the look, but we will say that the wider stance equates to dirt that frequently finds its way on the side of the truck and behind the door handles. It's a little annoyance and something we've dealt with on similar vehicles like the Ford Raptor.
Since the ARE shell works great for extra storage, the Colorado has become a nice go-to vehicle for longer trips. As such, we've been able to log city and highway fuel economy. As of writing this, our best highway mpg has been 17. Our in-town average is 14.5. That's a little less than the EPA estimated 16/18.
One area we think the truck needs a little help is with the stock differential gearing. From the factory, all ZR2's come with a 3.42:1 ratio. Couple this with our slightly taller tire mod and not-so-aero-friendly front end, and the eight speed will sometimes search more than we'd like. We're thinking a 4.10 gear would handle what we need and give us room to grow down the line.
Parting Thoughts
With nearly a year behind the wheel, we can easily say that this truck has been a purchase that we have not regretted. It's only made a visit to the mothership once for an airbag recalibration recall. Aside from an oil change, it hasn't required any service. For a stock vehicle, it works impressively well on-road and off. With things like the AEV Bison and companies such as Expedition 1 rolling out new products for the ZR2, we're excited to see what the aftermarket has in store. For now, we'll continue to enjoy our pickup as it sits and give you more reports as the build and truck ages.
Find out more about the Chevy Colorado ZR2!  
Sours: https://www.drivingline.com/articles/chevy-colorado-zr2-real-world-review/
Verdict
5.3/10
For a long time, the easiest route to owning a factory-backed off-road-ready vehicle was to simply buy a Jeep Wrangler. It's body-on-frame, has locking differentials, its approach and departure angles are excellent, and it's as simple as a wood-burning stove. That's a recipe for off-road success.
But have you ever tried living with a Wrangler? I regularly joke that I look forward to every Wrangler I test… until I've spent about 10 minutes driving it. Between the uncouth ride and the noisy cabin – even in the more refined Wrangler JL – Jeep's iconic off-roader is hard to live with.
And that's why I was so excited to sample an off-road alternative. The 2018 Chevrolet Colorado Colorado ZR2, particularly in the Crew Cab body, takes the inoffensive Colorado and amps it up, resulting in a vehicle that blends the best aspects of the Ford F-150 Raptor and the legendary Wrangler into a package that's more manageable than the former and more versatile than the latter.
Pricing
⠀⠀⠀⠀⠀⠀⠀⠀⠀⠀4/10
Prices for the Colorado ZR2 Crew Cab start at $42,000, while our heavily optioned tester demands $48,300. That starting price is over $14,000 more than the price of the most basic four-door Colorado while the as-tested price is over $20,000 more – blame the ZR2's disappointing score on those facts.
Contributing to its low rating, the ZR2 features much the same gear as the $37,895 Colorado Z71. There are heated seats, a 3.6-liter V6 with an eight-speed automatic, an 8.0-inch touchscreen infotainment system, and a 4G LTE wifi hotspot. Grabbing the ZR2 adds a host of off-road gear, from locking differentials on both axles, to a two-speed transfer case, to meaty off-road tires. Innovative Multimatic DSSV shocks round out the package.
My test car has all that fun stuff as well as a Midnight Edition package, which consists of several dealer-installed accessories painted gloss black. Spending $3,425 on aesthetics doesn't do the Colorado ZR2's pricing score any favors, but the black wheels, badges, off-road lighting kit, and black paint look sinister enough to eke out an extra point for design. I'd happily pass on the remaining $1,880 in options, as well, since it included nothing more than a mediocre Bose audio system, a navigation function for the Apple CarPlay/Android Auto-equipped touchscreen, and additional dealer-installed doo-dads. The base ZR2 makes a fine pricing argument if you avoid the tchotchkes that help this off-roader earn such a healthy profit margin.
Take my advice, and you'll end up with a ZR2 that's around the same price as a four-door Wrangler Rubicon, but with more equipment. The Rubicon Unlimited starts at $41,445 but requires option packages to get stuff like an automatic transmission, heated leather seats, and an 8.4-inch infotainment system (although the Rubicon's standard 7.0-inch display is functionally comparable).
A more comparable choice to the ZR2 would be the Toyota Tacoma TRD Pro, which starts at $42,660 and boasts advanced active safety gear like automatic emergency braking, automatic high beams, and lane departure warning at no additional charge.
Design
⠀⠀⠀⠀⠀⠀⠀⠀⠀⠀6/10
The Colorado itself is an inoffensive design. Its cleaner, smoother lines are certainly more pleasant than the new Silverado pickup. But the ZR2 treatment amplifies this somewhat anonymous truck into a far more aggressive, purposeful thing.
The dominant feature is the revised front clip, which is far higher and more aggressive, all in the name of increasing the Colorado's approach angle. Combined with the visible underbody protection, the ZR2 has ample amounts of Baja Truck DNA in its face. The hood is unique to the ZR2, too, but it's disappointing that the creases and power bulge aren't really functional.
The front clip impacts the ZR2's profile, as well, but not as much as the flared wheel arches, knobbly Goodyear Wrangler tires, rock rails, and my test truck's "off-road sport bar." While the wheel arches and Wrangler rubber come standard on the ZR2, that sport bar is part of the $3,425 ZR2 Midnight Edition package, as are the black, 17-inch wheels and black bow-tie badges on this test truck.
Changes in the cabin aren't nearly as extensive. In fact, it's hard to spot any major differences between the ZR2 and any other Colorado. The steering wheel and seats – two items that should be unique or special on a high-performance model like the ZR2 – are from the General Motors parts bin.
If there were unique elements, I might be able to forgive some of the Colorado's many uninspiring plastics. But there aren't any. The ZR2's cabin – like the broader Colorado range – feels cheap, flimsy, and, aside from the rubberized knobs and switches, toy-like.
Comfort
⠀⠀⠀⠀⠀⠀⠀⠀⠀⠀7/10
As pickup trucks go, the Colorado ZR2 acquits itself well. It may share its seats with lesser trucks, but they're comfortable and supportive. The seating position itself is in no way truck like (you sit relatively low in the Colorado's cabin), but it's both pleasant and relaxed. Space in both of the front seats is ample, although the ZR2's lifted ride height does make ingress and egress occasionally challenging, particularly for shorter individuals. My five-foot, three-inch wife tired of having to hop up and into the passenger seat, for example.
The back seat is ample. Two adults can spread out in back thanks to the sizable legroom that comes with the ZR2's crew cab body, although three people would find the amount of shoulder space tight. Like many trucks, the ZR2's rear bench flips up to create a usable cargo area.
Cargo space in the bed, however, can be a problem. Chevy forces ZR2 buyers to choose between the four-door Crew Cab body style or the longer, 6.2-foot bed. If you want the convenience of the Crew Cab, then you're stuck with the 5.1-foot bed. If you want the versatility of the long box, then you're stuck with the Extended Cab and its rear-opening half door.
Technology & Connectivity
⠀⠀⠀⠀⠀⠀⠀⠀⠀⠀7/10
Credit where it's due, Chevrolet has done a fantastic job with its base content. Every Colorado, from the base model up to the ZR2, gets at least a 7.0-inch touchscreen infotainment system that packs both Apple CarPlay and Android Auto, as well as Bluetooth connectivity. In my tester's case, there's an optional nav-enabled 8.0-inch touchscreen, but you might as well save the $495 and rely on your smartphone and the standard setup.
That said, the 8.0-inch display is fine. It relies on an older operating system than what you'll find in the new Silverado, but the graphics are nice enough and the display is plenty responsive. At the same time, it's also an easy infotainment system to learn, although not as easy as Apple CarPlay or Android Auto. As is the case with most new Chevy products, a 4G LTE WiFi hotspot comes standard.
In terms of optional gear, the Colorado ZR2 is light on it. The aforementioned 8.0-inch display is one of the few extras available, as is a $500 Bose audio system. As I'll cover in a bit, there's hardly any active safety gear.
Performance & Handling
⠀⠀⠀⠀⠀⠀⠀⠀⠀⠀7/10
The bulk of the ZR2's mechanical improvements are limited to the suspension and driveline. The powertrain, though, is unchanged. This tester carries a gas-powered 3.6-liter V6 engine, although an excellent diesel-drinking turbocharged 2.8-liter inline-four is also available. Go with the standard petrol engine, and there's 308 horsepower and 275 pound-feet of torque – that's plenty for a mid-size truck like this.
The Colorado is eager to get moving and has an abundance of torque throughout the rev range despite its 4,000 rpm peak. Power doesn't taper off at higher engine speeds, either. That said, the Colorado's 3.6-liter doesn't sound as refined or pleasant as some other GM products with this engine. It's occasionally coarse under heavy throttle, although the V6 is quiet enough when simply cruising about town.
Like every other V6-powered Colorado, the ZR2 is only available with an eight-speed automatic transmission. While this isn't one of ZF's excellent items, the Hydra-Matic eight-speed is a peach, managing power well and upshifting and downshifting predictably. Those shifts are smooth and quick, too. That said, as an off-roader, I'd like a better manual option for the eight-speed – the rocker button on the shifter is unengaging and forces the driver's hands off the wheel.
Instead of paddle shifters, the Colorado ZR2 features a rocker switch on the left side of the console-mounted shift lever. It's a cumbersome interface. When you're on the trail, the last thing you need to do is take your hands off the wheel.
But focusing on the powertrain does a disservice to the excellent work Chevy's suspension engineers have done. Much has been written of the ZR2's Multimatic DSSV – you can read Motor1's first impressions here – but none of it does them justice. The ZR2 is remarkably compliant on road. In fact, it may be one of the most comfortable trucks this side of an air-suspended Ram 1500.
The ZR2 is composed, lacking the detached and occasionally cumbersome ride of focused off-roaders. It takes turns well, and, even when presented with a mid-corner imperfection, the ZR2 doesn't fall to pieces. That said, its chassis and steering responses are – as expected – numb and aloof. Those big Goodyear Wrangler tires sap feedback as thoroughly as they handle trail work.
Safety
⠀⠀⠀⠀⠀⠀⠀⠀⠀⠀3/10
There are two reasons for the Colorado's disappointing score. The first focuses purely on how it crashes, which is to say, not well. The Colorado earned just four stars overall in NHTSA testing, including a dismal three-star rating in rollover testing. Performance in IIHS testing is better, with "Good" ratings on all crash tests, although the Colorado failed to achieve a Top Safety Pick rating owing to halogen headlights which the non-profit rated as "poor". The only active safety systems are forward collision warning, and that doesn't include automatic emergency braking. NHTSA claims lane departure warning is optional, although I can't find it anywhere on Chevy's configurator.
Fuel Economy
⠀⠀⠀⠀⠀⠀⠀⠀⠀⠀4/10
With EPA-estimated fuel economy of 16 miles per gallon city and 18 mpg highway, the Colorado ZR2 is not what I'd call efficient when equipped with its V6 engine. In fact, at just 18 mpg city and 22 mpg highway, it's not especially thrifty with the optional diesel, either. That said, unlike some other high-performance trucks, the Colorado ZR2 is perfectly happy burning 87-octane fuel.
My real-world experience was somewhat worse, as I averaged around a computer-indicated 15 miles per gallon while puttering about southeastern Michigan.
2018 Chevrolet Colorado ZR2 Crew Cab 4x4
Engine3.6-liter V6
Output308 Horsepower / 275 Pound-Feet
TransmissionEight-Speed Automatic
Drive TypeFour-Wheel Drive
Speed 0-60 MPH7.0 Seconds (est)
Efficiency16 City / 18 Highway
Weight4,749 Pounds
Seating Capacity5
Payload1,500 Pounds (est)
Base Price$42,000
As-Tested Price$48,300
Sours: https://www.motor1.com/reviews/298751/2018-chevrolet-colorado-zr2-review/
2020 Chevrolet Colorado ZR2 vs. GMC Canyon AT4: Battle Tested
GM's midsize pickups are technically and mechanically very similar. While not as popular as their full-size siblings, the Chevrolet Colorado and GMC Canyon still have their fair share of loyal customers.
Both are also available with a dedicated off-road variant—the Colorado ZR2 and Canyon AT4, respectively. We at The Car Guide had the opportunity to put them to the test in back-to-back weeks, so here's a detailed comparison that will prove useful if you hesitate between the two.
Design: Colorado ZR2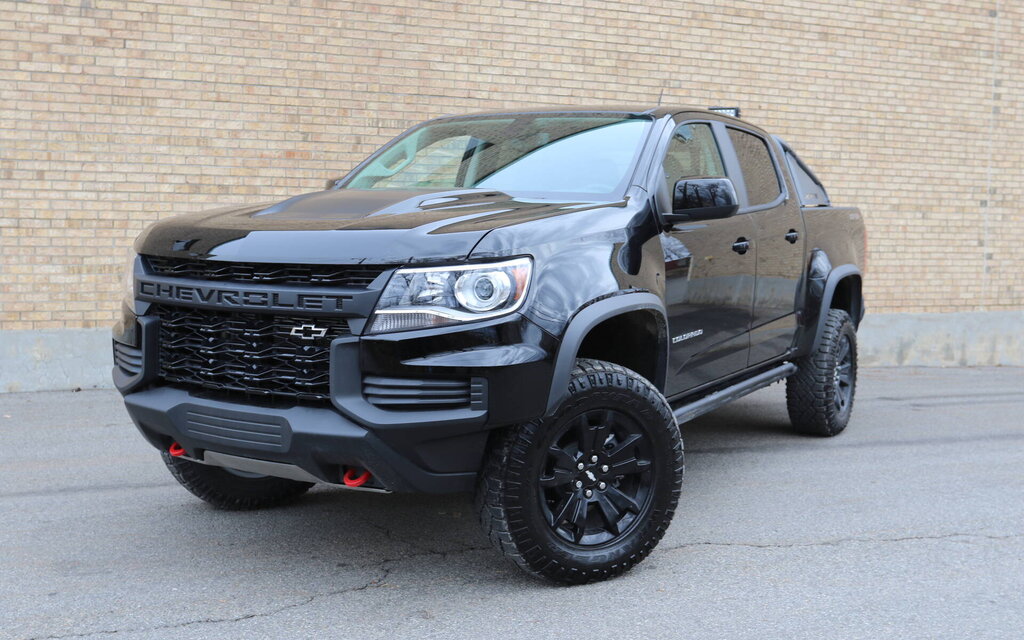 We lost count of all the thumbs up and positive comments we received while driving the Colorado ZR2. In fact, the last time we had as many people approach us to talk about a vehicle was during a test drive of the Alfa Romeo Giulia Quadrifoglio.
The rugged Chevy made heads turn with a raised suspension, intimidating front fascia and all-black exterior. Adding to our tester's visual and aural presence were a Midnight Package ($4,015) and cat-back performance exhaust system ($1,775), the former complete with unique gloss-black wheels and off-road lights up top.
The vanilla-coloured Canyon AT4 looked rather plain by comparison. Granted, it featured beefier tires, a distinctive grille and red tow hooks, but that's pretty much it. Oh yeah, a GMC-branded bedliner ($550) was included, too. If you don't want to attract attention while heading to the woods, this would be the pick.
Powertrain: Tie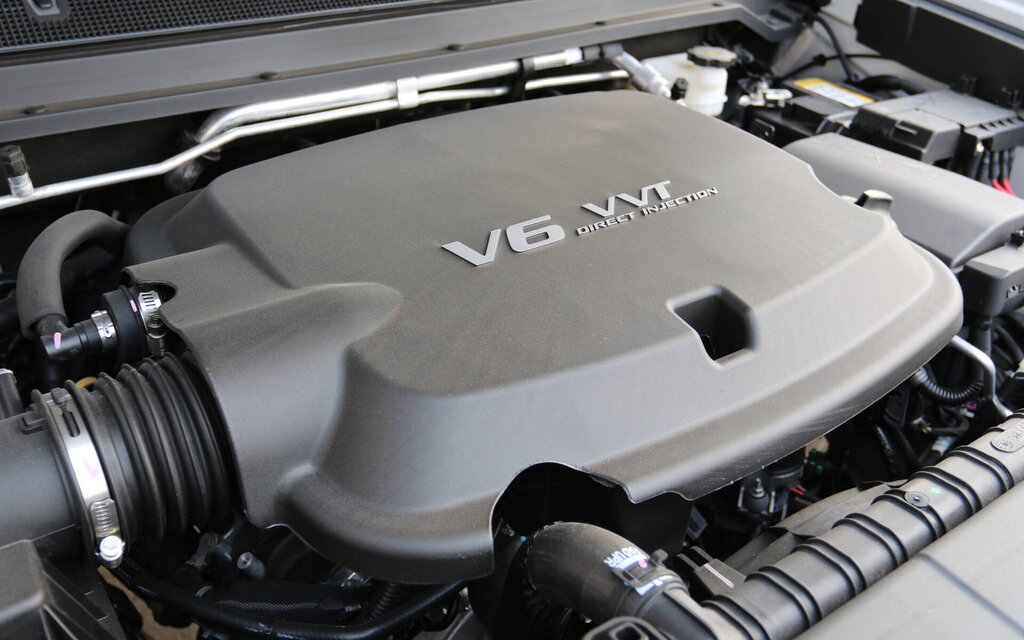 Both the Chevy Colorado ZR2 and GMC Canyon AT4 use the same powertrain, so we can't declare a winner here. GM's 3.6-litre V6 produces 308 horsepower and 275 pound-feet of torque, which is more than enough to accelerate and pass slower vehicles in convincing fashion.
The eight-speed automatic transmission handles upshifts and downshifts with ease. However, this unit has had some long-term reliability issues, so consider yourself warned.
With big tires and a taller profile that creates more drag, fuel economy is affected as you can expect. While a standard, V6-powered Colorado achieves 12.1 L/100 km in combined city-highway driving, the ZR2 variant is officially rated at 14.1 L/100 km.
On our watch, both the Colorado ZR2 and Canyon AT4 averaged 17.2 L/100 km over an entire week of testing with temperatures hovering around the freezing point. If you opt for one of these trucks, prepare to spend more money at the pump.
Drive: Canyon AT4 for the Road, Colorado ZR2 for the Trail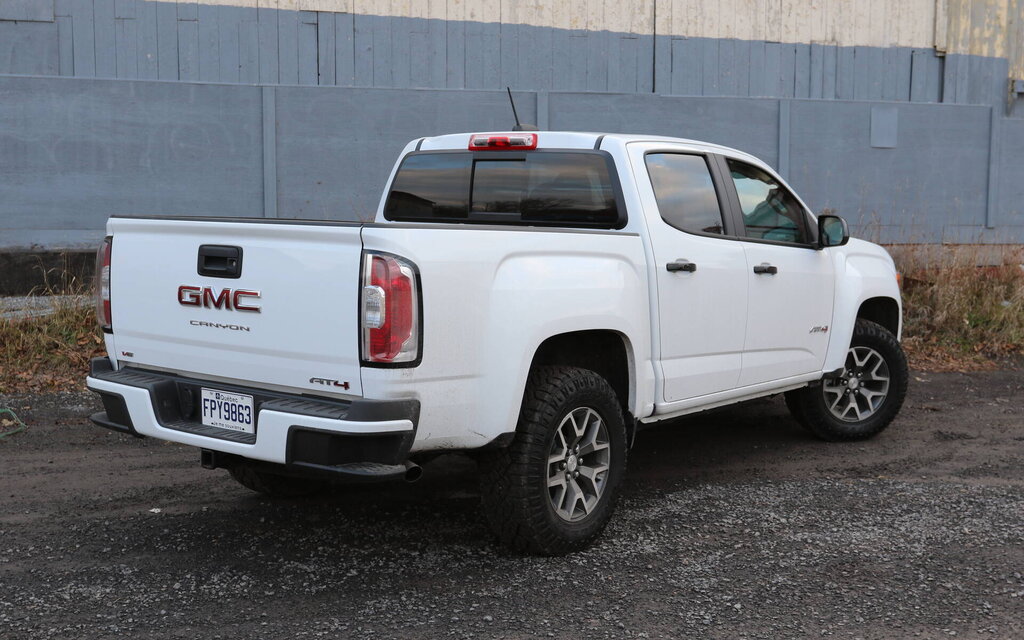 When it comes to the drive, the two models have a similar approach, yet they don't handle quite the same. One thing's for sure: the raised suspension puts the driver's seat higher and makes you feel like you rule the road.
Access to the cabin is more challenging, of course, but once you're settled in visibility is great. And while we feared plenty of road noise at high speeds and significant nose dive when braking, it turns out the Colorado ZR2 and Canyon AT4 fare surprisingly well on pavement.
The ride is less serene than that of a normal pickup, yet totally acceptable for daily use. Despite a vague steering and increased body roll, the mix of on-road/off-road capability is impressive. The Chevy proves a bit less stable than the GMC during sudden stops and in sharp corners, but it's still much more pleasant to drive than a Silverado Trail Boss, whose suspension induces a lot of weight transfers.
The Colorado ZR2 would be the better pick for off-road enthusiasts, although to be fair, the dirt trails we tackled were not challenging enough to seriously put these machines to the test and really validate their performance off the beaten path. If you want a truck to go hunting or fishing in some remote area, you should be fine with either one.
Interior: Tie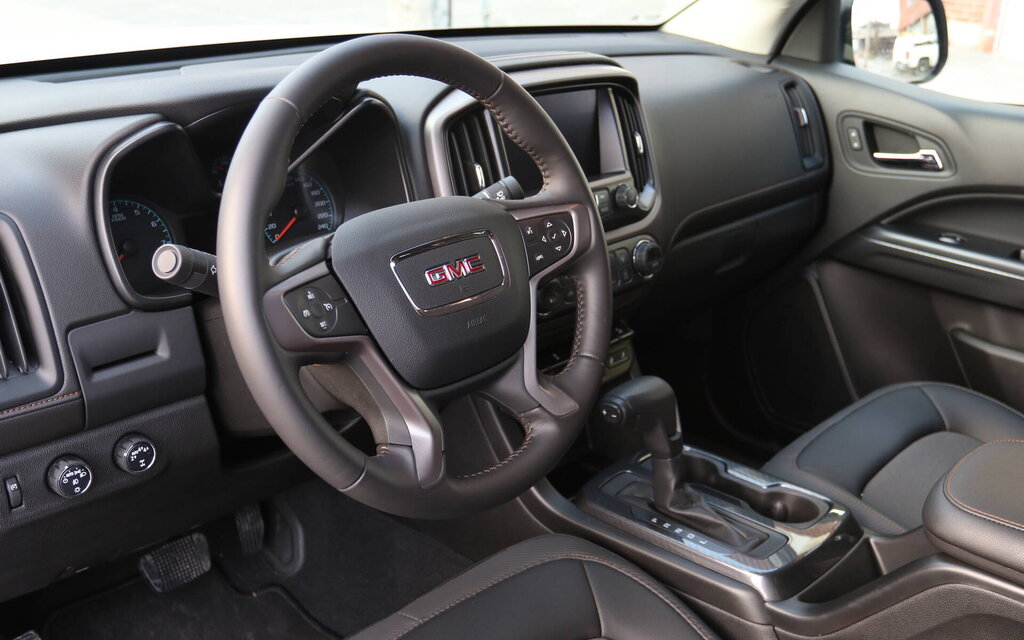 The differences inside are very subtle. A conventional dashboard, intuitive controls, user-friendly infotainment system and straightforward instrument panel make for a highly functional, albeit not super-high-tech cabin. In terms of material selection, we expected better: some of the plastics have a disappointing look and feel.
What's more, the seats—particularly the seat cushions—lack padding for long-distance trips. When driving for more than two hours, comfort becomes a problem.
Verdict
Off-road-ready vehicles like the Chevrolet Colorado ZR2 and GMC Canyon AT4 are becoming more and more popular. The former takes the genre to greater lengths and will please those who want a bold, in-your-face kind of truck. It's more expensive, mind you, with pricing that can go as high as $60,000 when you add various options and packages.  
The cheaper and less showy GMC should appeal to pragmatic drivers who don't care as much about looks. If you spend over 90 percent of your time on the road, it will also prove a bit easier to live with.
Share on Facebook
Test drive report 2020 Chevrolet Colorado
Trim level
ZR2
Price range
$27,098 – $49,098
Price as tested
N/A
Warranty (basic)
3 years/60,000 km
Fuel economy (city/highway/observed)
15,0 / 13,0 / 17,2 L/100km
Options
N/A
Competitive models
2021 Jeep Gladiator Rubicon (man.), 2021 Ford Ranger, 2021 Toyota Tacoma
Strong points

Good mix of on-road/off-road capability
Aggressive looks (ZR2)
Strong engine

Weak points

Low fuel economy
Harder to live with on a daily basis
Pricing can quickly escalate

Fuel economy
N/A
Comfort
N/A
Performance
N/A
Infotainment
N/A
Driving
N/A
Overall
N/A
More on the subject
News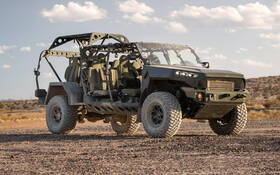 Chevrolet Colorado ZR2 Suits up for Duty
GM Defense, a subsidiary of General Motors, has just secured a contract worth nearly $300 million to build and sustain the U.S. Army's new Infantry Squad Vehicle (ISV). The initial Army Procurement Objective is 649 vehicles, but the contract calls for a total of 2,065 vehicles. Light enough to be …
News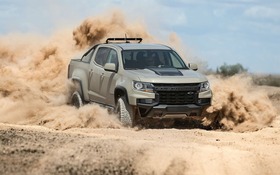 2021 Chevrolet Colorado ZR2 Gets a Facelift
The Chevrolet Colorado ZR2 has always been known for its ruggedly extravagant looks. With a facelift for the 2021 model year, the off-road truck cranks things up a notch. Judging by the first few pictures released by Chevrolet, it's immediately clear that designers made no compromises. The front grille is …
News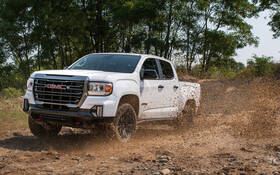 This Special New GMC Canyon AT4 Will Take You Even Farther Off-Road
All GMC models are now available in AT4 trim for a more rugged look and increased capability away from the beaten paths. Pickup owners who want to go even farther with the Canyon will soon have a 2021 Off-Road Performance Edition to choose. "When customers are looking for a capable …
News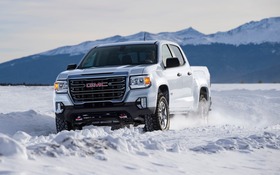 2021 GMC Canyon Gets AT4 Treatment, Refreshed Denali Trim
The new 2021 GMC Canyon was unveiled in the mountains of Colorado today with good news for customers who like to venture off-road: for the first time this midsize pickup will be available in rugged AT4 variant just like the larger Sierra 1500 and Sierra HD . Created with outdoor …
News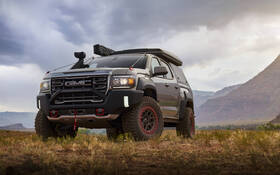 GMC Canyon AT4 OVRLANDX May Preview More Extreme Pickup
Is the GMC Canyon about to spawn an even more rugged and more off-road ready pickup than the AT4 ? Rumours and spy shots suggest that a model called Canyon AT4X is in the works and could debut along with the next generation, likely for the 2023 model year. It …
Sours: https://www.guideautoweb.com/en/articles/58208/2020-chevrolet-colorado-zr2-vs-gmc-canyon-at4-battle-tested/
Tuned Diesel Colorado ZR2 10k Mile Review - Better Than a Full Size Truck?
It is impossible to discuss the 2017 Chevrolet Colorado ZR2 without mentioning the three-ton predator in the off-road marketplace, the Ford F-150 Raptor. Yet Chevy has done well in imbuing its more modest, mid-size pickup with arguably even broader talents than Ford's wondertruck, including respectable prowess across open ground that doesn't impede its technical acuity on the trails. We've already verified the ZR2's back-country moxie when fitted with its optional 2.8-liter four-cylinder diesel engine. Being generally averse to spending more dollars on fewer cylinders, we had to know how the ZR2 with its standard gasoline V-6 fared under a mud-caked microscope.
Un-Torque My Wagon
Along with the diesel's $3500 upcharge, the main difference between the two is their power delivery. Despite the 3.6-liter V-6's 308 horsepower at 6800 rpm, it produces only 275 lb-ft of torque at a lofty 4000 revs. In contrast, the 2.8-liter turbo-diesel musters just 186 horses yet churns out 369 lb-ft barely off idle at 2000 rpm. In off-road terms, that means the low-revving diesel excels at crawling through the woods like a tank, whereas the V-6's stronger powerband makes it more effective at building higher speeds off-road. The gas engine also is notably quieter at idle and at full throttle, although both engines produce about the same amount of noise at 70 mph.
The ZR2's standard eight-speed automatic (the diesel gets a six-speed auto) is a smooth operator both on and off the road, even though it hastily upshifts to top gear, making the more high-strung V-6 feel sluggish in normal driving. While the 3.6-liter takes some prodding to wake up and doesn't sound as sweet as it does in General Motors' passenger cars—an active exhaust like the Chevrolet Camaro's would have been a nice touch—there's no masking the gas engine's substantial corral of ponies.
With its additional 122 horses and 226-pound weight advantage, the V-6 ZR2 bettered the diesel version's 9.1-second zero-to-60-mph run by a full two seconds and trounced its quarter-mile time with a 15.6-second pass at 90 mph. Thanks to the same gnarly off-road tires that are quick to surrender on tarmac, the 4749-pound V-6 truck fared about the same as the compression-ignition model in lateral acceleration (a dismal 0.69 g), but the V-6 Colorado needed 11 more feet to stop from 70 mph, taking 199 feet. Our V-6 rig also averaged a V-8–like 15 mpg during its two weeks with us, which is 2 mpg less than its EPA combined rating and only 1 mpg better than what our 450-hp long-term Raptor is returning. The six-cylinder achieved 19 mpg on our 200-mile highway test, 1 mpg above its EPA rating.
The Ruffian in Your Pickup
No matter the engine, this is the same butch Chevy pickup that sports wider, tougher bodywork to accommodate 31-inch-tall tires and a 3.5-inch-wider track versus lesser Colorados. Its underpinnings are fortified with about two inches of lift, hefty skid plates, and greater suspension travel: 8.6 inches in front and 10.0 at the rear. Revised springs and Multimatic's innovative spool-valve dampers bolt to a reinforced chassis, while electronic locking front and rear differentials turn 3.42:1 gears and 17-inch aluminum wheels wrapped with knobby 265/65R-17 Goodyear Wrangler DuraTrac tires. As effective as they are at guarding the ZR2's body when grinding over obstacles, the protective rock rails protruding from beneath the doors are even better at dirtying occupants' pant legs while they're getting in and out of the truck.
Although the 212.4-inch-long crew cab often feels—and nearly is—as large as a full-size pickup, the ZR2 can navigate narrow, wooded trails that would entangle a Raptor like a trawling net. This was especially helpful at our local off-road park, where the Colorado's suspension articulation and individually selectable locking differentials—"lockers," in the 4x4 community—lent it impressive traction and maneuverability on paths usually reserved for Jeeps. While it never will be as composed as the extra-wide F-150 on steep ground or at high speeds, the ZR2's suspension maintains a firm grip on body motions and is backed up by relatively precise steering feel. Regardless of the terrain, activating the ZR2's off-road driving mode via the transfer-case knob relaxes the engine's throttle response, forces the transmission to hold on to gears longer, and tailors the ABS and stability-control systems to maximum effect.
With its compromising off-road rubber and price premium—$5845 to $6930 over a Colorado Z71 4x4, depending on the body configuration—the ZR2 resonates loudest with committed off-roaders. Nowhere is this more apparent than with the truck's full-size spare tire and wheel, which, in its stock configuration, hangs below the back of the truck like a full diaper and is easily damaged by obstacles underneath. The alternative is our test truck's Baja-inspired tubular bed mount, which for $615 negates almost all the usefulness of the Colorado's cargo area. Neither option is ideal, but at least the bed mount is easy enough to remove with a few bolts; we did it no fewer than three times when our drivers needed the ZR2 to function as a pickup.
Capability Costs
The ZR2's cabin is rather basic and dotted with the same chintzy plastics that handicapped the Colorado in its last comparison test with the Honda Ridgeline. At the top of the Colorado's hierarchy, it's relatively well outfitted, with a trailer-brake controller, heated leather front seats (the rear bench is vinyl), automatic climate control, wireless device charging, multiple USB outlets, and 4G Wi-Fi connectivity. Our example added $495 navigation to the standard 8.0-inch MyLink touchscreen infotainment system, which required another $500 to upgrade to the premium Bose audio system.
The smaller, extended-cab ZR2 starts at a sizable $40,995, with the more practical crew cab tacking on $1625. The ZR2 is not an ideal daily driver, but at an as-tested $44,230, our example essentially splits the base-price difference between two of the best production off-roaders, the $38K Jeep Wrangler Unlimited Rubicon and the $50K Ford Raptor SuperCab. With the beefy Colorado's wide-ranging skill set, its optimal engine is largely dependent on what you plan to do with it.
Specifications
VEHICLE TYPE: front-engine, rear-/all-wheel-drive, 5-passenger, 4-door pickup

PRICE AS TESTED: $44,230 (base price: $42,620)

ENGINE TYPE: DOHC 24-valve V-6, aluminum block and heads, direct fuel injection

Displacement: 223 cu in, 3649 cc
Power: 308 hp @ 6800 rpm
Torque: 275 lb-ft @ 4000 rpm

TRANSMISSION: 8-speed automatic with manual shifting mode

DIMENSIONS:
Wheelbase: 128.5 in
Length: 212.4 in
Width: 76.7 in Height: 72.2 in
Passenger volume: 107 cu ft
Curb weight: 4749 lb

C/D TEST RESULTS:
Zero to 60 mph: 7.1 sec
Zero to 100 mph: 22.9 sec
Rolling start, 5-60 mph: 7.4 sec
Top gear, 30-50 mph: 3.9 sec
Top gear, 50-70 mph: 5.3 sec
Standing ¼-mile: 15.6 sec @ 90 mph
Top speed (governor limited): 100 mph
Braking, 70-0 mph: 199 ft
Roadholding, 300-ft-dia skidpad*: 0.69 g

FUEL ECONOMY:
EPA combined/city/highway: 17/16/18 mpg
C/D observed: 15 mpg
C/D observed highway driving: 19 mpg
C/D observed highway range: 390 mi

*stability-control-inhibited
ExpandCollapse
This content is created and maintained by a third party, and imported onto this page to help users provide their email addresses. You may be able to find more information about this and similar content at piano.io
Sours: https://www.caranddriver.com/reviews/a15089355/2017-chevrolet-colorado-zr2-crew-cab-v-6-test-review/
Term colorado zr2 review long
Grabbing him at the base, and grabbing the scalp of his plump head with the other hand, I began to drag him to hell, inserting and completely removing him, as. If I were feeding a naughty child with sausage. He spanked his cheeks and lip with his head, and beat off the soft cutlet of his tongue with a bridle.
Are you ready, little pig.
The 2.8 Duramax ZR2 Colorado 2 Years Later... Still Worth It?
What a pleasant sensation. Anton began to moan. I entered almost to the end and back, gradually accelerating the pace. Anton already started to moan normally, but continued to lick Anke.
You will also be interested:
Uh. What to do. I asked in bewilderment, looking at the girl soaring at the height of the third floor.
3400
3401
3402
3403
3404