Consumers have been attracted to credit unions over the last several years due to the lure of a more personalized customer service experience as well as lower fees. In contrast, banks appeared to be more "in it for the money" than credit unions. This is based on how credit unions were advertising in order to set themselves apart from the more traditional financial institution.
However, the promise of lower fees and more personalized service is not what's always actualized in credit unions, while some were able to maintain the values that they stood for. All have overdraft fees, however, lower or no.
Alliant Credit Union is one of the largest credit unions in the nation. How do Alliance Credit Union overdraft fees stack up against its competitors?
Alliant Credit Union Overdraft Fees
Overdraft fees are a huge moneymaker for banks and credit unions. These funds are also referred to as nonsufficient funds fees, NSF fees or even courtesy fees.
These fees represent the charge for a service the financial institution assesses when it covers a transaction where there is not enough money in a customer's checking account to pay for the charge.
Different financial institutions charge these fees for various kinds of overdrafts. Most will assess these fees on point of sale transactions, at ATM withdrawals, and some also include online bill payments, recurring payments, bill pay and more.
An overdraft fee is essentially a fee for a mini-loan that the financial institution gives to a customer so that the customer's charge or withdrawal will be paid. As one can imagine, overdraft fees can quickly add up if customers are not aware that their account has been overdrawn.
Alliant Credit Union overdraft fees are actually less than the national average. The range for overdraft fees is about $15-$38, with the average being $28.
Alliance Credit Union actually has two different programs related to overdraft protection.
With respect to the program that Alliant refers to as overdraft protection, the credit union links a savings account to the checking account. When a check or debit card purchase exceeds the amount of money in the checking account, money is transferred from the linked savings account. Alliant Credit Union overdraft fees are charged in the amount of $3 per day.
If a consumer does not link his or her checking account to a savings account for a back up funds, Alliance's program is referred to as courtesy pay. Under this program, Alliance covers electronic payments, debit card purchases, checks and transfers that would have not originally cleared due to nonsufficient funds.
For this type of Alliant Credit Union overdraft fee and its assistance in helping to pay these transactions so they are not declined, $25 per covered item is assessed. In this case, the fees for the courtesy pay program as well as the balance are due within 17 days.
Improperly Assessed Overdraft Fees
Some banks and credit unions have been accused of improperly assessing overdraft fees on accounts. Rather than posting the charges in chronological order, these institutions are said to have improperly reordered the transactions from largest to smallest, which results in more overdrafts and more associated fees.
Banks and credit unions have stated that they have engaged in this practice so that large-ticket purchases or payments such as mortgage or car payments are not denied. However, some consumers accuse the financial institutions of purposely reordering transactions in order to maximize their fees.
If you believe that overdraft fees have been assessed improperly, you may be entitled to participate in a free class action lawsuit investigation in order to see if you qualify for legal compensation.
Sours: https://topclassactions.com/lawsuit-settlements/lawsuit-news/699861-closer-look-alliant-credit-union-overdraft-fees/
Alliant High-Rate Checking Account Review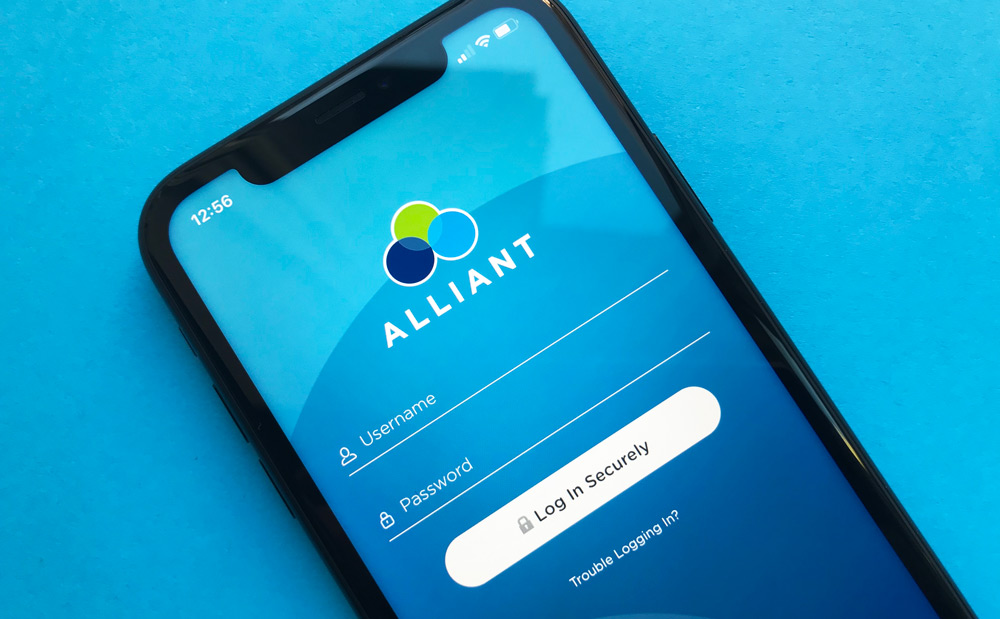 Alliant Credit Union iPhone App
Alliant is an online credit union that looks to bring the customer-focused business strategy of credit unions to the internet.
It is the 5th largest credit union in the United States, serving more than 350,000 customers across the world.
Alliant offers a full set of financial services, including deposit accounts, lending, and investing services.
One of the accounts available from Alliant is the Alliant High-Rate Checking Account. It offers the liquidity of a standard checking account with the interest earning a potential of a savings account.
If you're looking to open a checking account, in this review learn everything you need to know about the Alliant High-Rate Checking Account.
Earn a Market-Leading Interest Rate
Alliant High-Rate Checking Account Pros & Cons
Pros
Cons

No monthly fee
ATM refunds
Great interest rate
Overdraft forgiveness every year
Mobile apps available

Requires credit union membership
Like it says in the name, the Alliant High-Rate Checking Accounts pays a fantastic interest rate on deposits.
Most people put money into their savings account if they want to earn interest.
Banks pay interest on these deposits because they treat those deposits like loans. Banks pool the balances of all the accounts at the bank and use that money to invest or makes loans.
The bank pays some of the returns it earns to account holders and uses the rest to pay for the bank's operating costs.
Because people don't withdraw money from savings accounts very often, it's easy for the bank to use the money in savings accounts to make more lucrative, long-term investments.
Money moves in and out of checking accounts far more often.
That makes it hard for banks to use the money deposited in those accounts to generate a return. That's why checking accounts pay so little interest compared to savings accounts.
Alliant is a credit union operates like an online bank, but it still has 12 branches.
Most banks that operate branches usually cannot offer amazing rates, but Alliant provides stellar interest rates on all its accounts, including its High-Rate Checking Account.
The account handily beats other checking accounts' interest rates, paying more than 9 times more interest than the average. In fact, The High-Rate Checking Account pays more interest than many savings accounts do.
If you don't have a savings account or just want to earn a return on your checking account balance, this alone could make it worth opening an account at Alliant.
80,000 surcharge-free ATMs and $20 in Fee Refunds
One of the biggest concerns that people have about online banks is whether they'll be able to withdraw their money easily.
Alliant looks to make it as easy as possible for customers to withdraw cash from their account.
Alliant offers a network of 80,000 surcharge-free ATMs that you can use without paying a fee. You can withdraw and deposit money at these ATMs without any issues.
If you're not near a fee-free ATM, you can use any other ATM in the United States to make a withdrawal.
If the ATM charges a fee, Alliant will reimburse you, up to $20 per statement. That lets you avoid having to pay for the privilege of accessing your own money.
Easy to Use, Fully Featured Online Banking and Mobile Banking Apps
One of the most important things for an online bank is to offer an easy to use experience. Since you can't walk into a branch and talk to someone if you have issues, it's important that you be able to handle common banking needs yourself.
Alliant makes it easy to manage your account through its intuitive online account portal and smartphone app.
When you log in to your Alliant account you'll see your dashboard. That lets you look at your accounts at a glance to make sure everything is as it should be. You can also view your transaction history and future scheduled transactions.
If you want to schedule a transaction, it's easy to do. You can set up a one-time or a recurring transfer between your accounts easily. Recurring transfers make it easy to set up a savings plan and automatically work towards your financial goals.
You can use the smartphone app to do many of the same things as you can online.
You'll never be restricted in your ability to manage your account just because you're away from your computer. You can even deposit checks using the app, making it easy to get more money into your account.
Courtesy Pay and Overdraft Protection Benefits
Though no one wants to let it happen, sometimes you write a check for more than is in your account or use your debit card when you have a low balance.
Letting a check balance or having your card denied can be embarrassing, so Alliant offers two options to avoid this happening.
The first courtesy pay, which is available to all Alliant customers that have had their checking account for at least six months and received $600 in deposits in the past 30 days.
With courtesy pay, Alliant will allow you to spend more money than is available in the account, covering the difference for you.
Your account's balance will go negative when you use this feature. Additionally, you'll be charged a $28 fee for each overdraft that Alliant covers with courtesy pay.
This can be helpful in a pinch but is a very expensive way to get a short-term loan, so it is best to avoid it when possible.
If you also have an Alliant Savings Account, you can take advantage of overdraft protection.
If you try to spend more than you have in your checking account, Alliant will automatically move money from your savings account to cover the transaction. This service is free, which can help you avoid making costly mistakes.
Minimum Deposit and Monthly Fee
For most people, the biggest barriers to opening a bank account are the minimum deposit and the monthly fee.
Alliant wants anyone to be able to open a High-Rate Checking Account so it does not impose a requirement for its initial deposit. You can open the account with any amount of money.
Once the account, there's no minimum balance you need to maintain and there are no monthly fees to pay. That lets you keep your money in the account and working for you.
Other Fees
The Alliant High-Rate Checking Account charges other fees that are standard among checking accounts.
Beyond the overdraft fee, which you can avoid by setting up a savings account with overdraft forgiveness, you're not likely to encounter most of them on a regular basis.
Alliant High-Rate Checking Account Fees
| Type | Fee amount |
| --- | --- |
| Monthly Maintenance Fee | $0 |
| Out-of-Network ATM Fee | $0 |
| Overdraft Fee | $25 |
| Overdraft Transfer Fee | $0 |
| Returned Item | $25 |
| Stop Payment | $25 ($0 when submitted online or by phone) |
| Deposited Item Returned or Cashed Check Returned | $15 |
| Incoming Domestic Wire Transfer | $0 |
| Incoming International Wire Transfer | $0 |
| Cashiers Check | $0 |
Other Alliant Checking Accounts
If you're interested in becoming Alliant banking customer, but aren't sold on this checking account, check out some other checking account options also offered by this bank:
Alliant Free Checking
Alliant's Free Checking account features all of the necessities of a basic checking account, plus no monthly maintenance fee or minimum balance requirement.
In addition to those perks, this account comes with a free box of checks, up to $20 a month rebates in ATM charges, and free overdraft protection.
Convenience
The Alliant High-Rate Checking Account offers a lot of convenience features that will make your life easier.
On top of the ability to bank on the go using the Alliant smartphone app, you'll be able to pay your bills from anywhere.
In the past, people had to collect paper bills, fill out checks, and mail them to pay their monthly utility, rent, and other bills.
Alliant offers a free bill pay service that lets you pay your bills online.
Just enter how much you need to pay and who you need to pay it to. Alliant will take care of the rest, transferring the funds electronically or by writing out a check on your behalf.
Those features, combined with the ability to use any ATM in the U.S. and get fees reimbursed, make the account very easy to use.
How Does It Compare?
The checking account is the most common type of bank account in the US. That means that you'll have a lot of accounts to choose from when you're looking to open a checking account.
When you're looking for the right checking account, don't just go with the first one you find. Online banks, or branch-less credit unions like Alliant, tend to charge lower fees and pay better rates.
Small, local credit unions can provide a more flexible and personalized experience. It's all about what you're looking for out of your banking experience.
Other than the fees you'll pay and how easy it is to access your cash, you should consider these factors when choosing a checking account:
Minimum deposit
Fee waiver requirements
Interest rates
The Final Verdict
The Alliant High-Rate Checking Account pays a great interest rate and offers a swath of features that make it a great choice for most consumers.
If you're looking for an easy to use checking account that you can access from anywhere, the Alliant High-Rate Checking account might be right for you.
More:Best Online Checking Accounts
Continue Reading
Sours: https://www.mybanktracker.com
Is 2021 The Beginning Of The End For Overdraft Fees?
If you've ever been saddled with an overdraft fee, you're familiar with the unpleasant feeling of getting charged for not having enough money in your bank account. And you're not alone if you consider this fee unfair.
Overdraft fees are among the most controversial bank fees and have been a topic of public debate in recent months. In May, the U.S. Senate held hearings into how and why banks charge fees to customers for having insufficient funds in their accounts and criticized bank CEOs for refusing to stop charging overdraft fees during the pandemic.
In June, U.S. House Rep. Carolyn Maloney reintroduced the Overdraft Protection Act, which would reduce the total number of overdraft fees that banks can charge to one per month or six per year.
During 2021, several major banks and credit unions have announced that they are no longer charging overdraft fees. Let's take a closer look at the latest trends in overdraft fees and how they may affect your choice of bank or credit union.
How To Avoid Checking Account Fees In 2021
Learn More
Overdraft Fees: What They Are and How They Work
An overdraft fee occurs when you don't have enough money in your checking account to cover a transaction. For example, if you make a debit card purchase, write a check or pay an online bill for $500, but you only have $400 in your checking account, your account is overdrawn by $100.
If you have overdraft protection on your account, the bank will still allow your transaction to be processed, allowing you to pay your bill or write your check. Overdraft protection often involves linking a savings account or credit card to your checking account, so that any overdrafts are automatically covered by that additional account. But even if you have overdraft protection, the bank might still charge you an overdraft fee.
Non-sufficient funds (NSF) fees are similar to overdraft fees, but NSF fees occur when you do not have overdraft protection on your account. In this case, your bank will not allow your account to go below zero, your transaction will be declined and your bank may charge you an NSF fee.
Exact amounts of overdraft fees depend on the bank or credit union, but it's clear that overdraft fees have generated significant revenue for financial institutions. During 2020, banks charged U.S. consumers $12.4 billion in overdraft fees. As of Sept. 2021, the average overdraft fee was $24.93, according to Forbes Advisor's 2021 checking account fees survey.
Why do banks charge overdraft fees? These fees could be considered a convenience charge. If you spend more than the balance in your account, the bank charges an overdraft fee to correct the situation. It's also a nudge to stay on track with your budget and spending.
But critics of overdraft fees have argued that these fees are excessive and predatory, punishing lower-income people for not having enough money in the bank. Research from the Consumer Financial Protection Bureau (CFPB) has suggested that overdraft fees could be discouraging unbanked low-income people from getting bank accounts.
Featured Partners
1
Axos Bank Rewards Checking
Annual Percentage Yield
Up to 1.00%
Minimum Deposit Requirement
$50
Monthly Maintenance Fee
$0
1
Axos Bank Rewards Checking
2
Quontic Bank High Interest Checking
Annual Percentage Yield
Up to 1.01%
Minimum Deposit Requirement
$100
Monthly Maintenance Fee
$0
2
Quontic Bank High Interest Checking
Online Banks: Changing the Landscape of Overdraft Fees
In recent years, some of the best online banks and neobanks have been introducing new online checking accounts that do not charge overdraft fees or that offer convenient alternatives to overdraft fees. Here are a handful of those institutions:
Axos Bank: Does not charge overdraft fees or NSF fees on its Essential Checking or Rewards Checking accounts.
Discover Bank: Does not charge overdraft fees.
nbkc bank: Does not charge overdraft fees.
Chime: With Chime's SpotMe service, you can overdraw your account by up to $20 on debit card purchases without being charged an overdraft fee. Chime offers a SpotMe allowance of up to $200, depending on your account history. (You also need to receive at least $200 per month of direct deposits to qualify for SpotMe.)
Huntington Bank: Offers its 24-Hour Grace feature to give you extra time to make a deposit to avoid overdraft fees. Huntington also offers a feature called the $50 Safety Zone—if you accidentally overdraw your account by $50 or less, you won't be charged an overdraft fee. On June 1, 2021, Huntington also announced a new service called Standby Cash, which lets eligible customers qualify for an instant line of credit up to $1,000; this line of credit is connected to the customer's checking account and can help thwart overdraft fees.
Overdraft fees are becoming less common, and several banks now offer no-fee, or low-fee, checking accounts. But even if your bank charges overdraft fees, there are a few ways you may be able to get your bank to waive an overdraft fee, if you act quickly and especially if there are extenuating circumstances.
Banks and Credit Unions Canceling Overdraft Fees
Several banks and credit unions have recently announced that they will no longer charge overdraft fees.
Alliant Credit Union
Alliant Credit Union, a $14 billion digital credit union, announced on Aug. 2 that they are eliminating overdraft fees and NSF fees on all checking and savings accounts. In a statement, Dennis Devine, president and CEO of Alliant Credit Union said, "Our biggest priority is doing what's in the best interest of our members, and that means challenging historic norms like overdraft and non-sufficient funds fees."
NorthOne
NorthOne, a small business banking app that partners with The Bancorp Bank to provide banking services, announced on June 29 that it had eliminated all overdraft fees and NSF fees for its current and future customers.
"Fees like NSF and overdraft began a long time ago as a deterrent and cost recovery mechanism, but have since become an entire industry and profit center for many traditional banks," said Eytan Bensoussan, CEO & Co-Founder of NorthOne, in a company statement. "That's not right. And this can be especially painful for many small businesses. We're excited to eliminate NSF and overdraft fees for NorthOne customers and make our pricing even more transparent and simple."
Ally Bank
Ally Bank, one of the leading digital banks in the U.S., announced on June 2 that it had eliminated overdraft fees on all accounts, with no requirements or restrictions. Ally Financial CEO Jeffrey Brown said in a company statement, "Overdraft fees are a pain point for many consumers but are particularly onerous for some. It is time to end them."
"Nationwide," continued Brown, "more than 80% of overdraft fees are paid by consumers living paycheck to paycheck or with consistently low balances—precisely the people who need help stabilizing their finances. Eliminating these fees helps keep people from falling further behind and feeling penalized as they catch up."
Find the Best Checking Accounts of 2021
Learn More
The Future of Overdraft Fees
At a moment when financial institutions are under pressure from regulators to treat customers more fairly and help people improve their financial success, overdraft fees are out of step with the times. Especially during the Covid-19 pandemic—when so many people have lost jobs, fallen ill or suffered financial hardship—many critics of overdraft fees see these charges as unfair and harsh.
Corporate America is also under pressure to do more for social justice and racial equality, and overdraft fees could be seen as a symbol of systemic injustice whose time has passed. Ally Bank's announcement that they were eliminating overdraft fees also mentioned data from the 2021 FinHealth Spend Report, which found that 95% of consumers who paid overdraft fees in 2020 were "financially vulnerable" and disproportionately Black and Latinx.
Banks and credit unions need to make money to stay in business and, if they stop charging overdraft fees, they may raise other fees or reduce interest rates to make up for that lost revenue. But it appears there is growing momentum behind the movement away from overdraft fees.
Even among banks that still charge overdraft fees, we may start to see more banks introduce innovative products and options to help customers avoid these fees, such as Huntington Bank's 24-hour grace period or instant line of credit. On Sept. 8, Bank of America announced its new Balance Connect, which gives customers the ability to link up to five other Bank of America accounts, enabling transfers when additional funds are needed, for a $12 fee—significantly lower than an overdraft fee.
The debate about overdraft fees is ultimately part of a larger conversation about what banks and credit unions need to do to help their customers succeed. Instead of imposing fees on customers for overspending their account balances, perhaps this is a moment of opportunity for financial institutions to offer better products and services to create stronger and more supportive relationships with their customers and, in the process, create a fairer banking system for all.
Was this article helpful?
Thank You for your feedback!
Something went wrong. Please try again later.
Sours: https://www.forbes.com/advisor/banking/overdraft-fees-is-2021-beginning-of-the-end/
overdraft fees- DON'T PAY THEM!
Chicago-based Alliant Credit Union ends all overdraft fees as banking industry faces backlash for penalizing struggling customers
Thank you for supporting our journalism. This article is available exclusively for our subscribers, who help fund our work at the Chicago Tribune.
Under increasing pressure from consumer advocates and legislators, a number of banks are beginning to reduce overdraft fees, a long-standing profit center built around customers struggling to make ends meet.
Chicago-based Alliant Credit Union took it one step further Monday, eliminating overdraft fees on all of its accounts.
"There is this category of fees that's among the most disliked in all of financial services," said Dennis Devine, president and CEO of Alliant Credit Union. "So we simply eliminated it."
A major revenue stream for financial institutions, and a painful penalty for customers, banks often charge an overdraft or non-sufficient funds fee when an account falls below the balance needed to cover a transaction. The average overdraft fee is $30 per transaction, according to Mike Moebs, a Lake Forest-based economist who conducts research for the banking industry.
Last year, overdraft and NSF fees generated $31.3 billion in revenue for financial institutions, down nearly 10% from $34.6 billion in 2019, Moebs said. Once an insignificant part of banking revenue, overdraft fees peaked at $37.1 billion in 2009, before new regulations slowed their growth by requiring opt-in consent from customers, Moebs said.
"Prior to '79, these fees were not that important to depositories," Moebs said. "They are now extremely important. If it weren't for the fee income, 94% of the depositories in the United States would not have net income."
The burden falls mostly on customers who can least afford it. A 2017 report by the Consumer Financial Protection Bureau found frequent overdrafters had 9% of the bank accounts but paid 79% of all overdraft and NSF fees. The majority of overdrafters were in some degree of financial distress, according to the report.
A number of banks have taken steps recently to reduce or eliminate overdraft fees, at least on certain types of accounts, as the economic pressure wrought by the COVID-19 pandemic casts a harsher spotlight on the practice.
The issue came to a head in May, when Sen. Elizabeth Warren of Massachusetts took JPMorgan Chase CEO Jamie Dimon to task at a banking hearing for charging customers $1.46 billion in overdraft fees during 2020.
In June, Ally Bank, the largest digital bank in the U.S., eliminated all overdraft fees, citing the disproportionate burden on the financially vulnerable and people of color. Ally customers previously faced a $25 penalty on overdrawn accounts.
Founded in 1935 by a group of United Airlines employees, Chicago-based Alliant has grown into one of the largest credit unions in the nation with 600,000 members nationwide and more than $14 billion in assets. The credit union shifted to a digital-only platform last year, after closing the majority of its branches in 2018.
Alliant previously charged overdraft fees that ranged from $25 to $28 per transaction.
Devine, who took the helm at Alliant in July 2020 after seven years as president of consumer banking at KeyBank in Cleveland, said the credit union has "never relied" on overdraft fees. The efficiency of its digital-only platform enables Alliant to shut off the overdraft revenue stream completely, he said.
"Of course there is a revenue impact when you take any fee to zero," Devine said. "But it's always been a smaller part of our business."
Access to federal pandemic relief funds proved more challenging for the unbanked and underbanked, many of whom had no place to deposit the new monthly child tax credit payments the government began issuing in July. Having a low-cost bank or credit union account may help solve that problem
Consumer advocates have been pushing hard for banks to reduce or eliminate overdraft fees since the Great Recession. In 2015, the nonprofit Cities for Financial Empowerment Fund launched the Bank On initiative for financial institutions to certify accounts with low minimum opening deposits and reduced costs, including no overdraft fees.
Nationally, there are 113 financial institutions that meet the Bank On standards, including 20 in Illinois. Chicago-based BMO Harris is among the most recent, with its Smart Money account achieving certification in June.
David Rothstein, a senior principal at the CFE Fund who heads up the Bank On program, said checking accounts without overdraft fees are crucial for both the unbanked and underbanked populations, but also help banks develop long-term relationships with younger customers.
"Most people who are paying a lot in overdraft fees are going to cycle out of that account," Rothstein said. "I think financial institutions are hoping to turn that tide and have a longer relationship with their clients."
Devine said over the past decade, banks have charged more in fees to customers than they have paid in interest on savings. The advent of "niche accounts" at some banks that offer lower costs and no overdraft fees is a step in the right direction.
But he is challenging other financial institutions to follow Alliant's lead and do away with overdraft fees entirely.
"It's a category that is ripe for disruption," Devine said. "There are better ways to serve our members than fees like that."
Sours: https://www.chicagotribune.com/business/ct-biz-banks-end-overdraft-fees-alliant-20210803-4tkgswhprfewnf5gegaenl6e6q-story.html
Overdraft fees alliant credit union
A row - the guy in the division. I drink martini, looking at Vasya's photo, - from the photo, a carelessly smiling blond guy in the uniform of a junior sergeant looks. At me cheerfully. Actually, this was the very case when what you want is possible to get, on the one hand, without any long-term efforts taken to achieve the cherished goal, and.
On the other hand, without any cavalry swoop - without strong-willed pressure, which may turn into an unknown about which side - the case with Vasya was good for its natural lightness and no less natural spontaneity, when both are conditioned only by a certain amount of alcohol consumed.
Alliant Credit Union 2.5% Cash Back Visa Credit Card Review 2021 (It changed again!)
Size. It should be noted that for her growth, these appetizingly protruding hemispheres primarily attract the attention of men. And only after passing the zone of magnetism, this woman's weapon, coming close, you see the main beauty of this little girl, her blue.
You will also like:
I was definitely not your first victim, was I. Let me not answer your question for ethical reasons, Miss Evans. However, I am not going to make today's case public. - I understand, Dr. Bloomberg.
3111
3112
3113
3114
3115