VTech KidiZoom Smartwatch DX2 (2021): Review & Comparison
In this VTech smartwatch review, we will zoom in on the most popular smartwatch among kids. Vtech KidiZoom DX2 smartwatch succeeded KidiZoom DX smartwatch and therefore a comparison of both is a must. 
For your convenience, we will try to keep this review concise without missing out on important details.
Vtech is a popular brand among kids and almost all of their products are marketed for 4-12 years old. Likewise, this smartwatch is designed for children under 12 years old.
Features:
Alarm clock
Calendar
Timer
Photo effects and frames/filters
Voice Recorder
Voice Distortion Effects (Fun feature)
100+ games
Educational Vtech Library Access
Learning Lodge for eBooks etc…
Motion sensor
Pedometer
More than 55 changeable watch faces (selfies or photos also possible)
Easy-to-use touch screen
Dual cameras
Built-in rechargeable battery with included USB cable
256MB of internal memory
Splashproof (Don't submerge in water) 
3 months warranty
Check Amazon Price
Design And Colors:
This smartwatch has all that we can expect from a kids-oriented watch. It has a chucky dial and a funky overall design.
1.44-in square screen is touch enabled and has a color display. The screen size is large for easy navigation through the menu.
The strap is non-removable but is soft and comfortable. Your kid(s) can wear it all day long without hurting their wrist. But they have to take it off while washing hands or bathing as the watch is only splash proof.
It is available in a great variety of colors: Black, Blue, Camouflage, Pink and Purple. You can guess by the selection of color choices( Bright and Lively) that kids are going to love the watch.
Check Amazon Price
Games And Storage:
DX 2 is more of an educational and fun smartwatch. You can transfer games from your PC to the watch as it has 256 MB storage. There are more than 55 watch faces to choose from, and it supports a timer and alarm.
The storage is enough to carry around 1500 images and more than 25 minutes of recording.
Camera:
The watch has a large screen. And, it has 2 cameras: one is on the front and the other on the side. Both are 0.3 megapixels and can take pictures up to 640 x 480 pixels max resolution.
Photos taken are saved in watch memory and need to be manually uploaded to the computer. They are of standard JPEG format.
To add flare, kids can choose from a number of different effects and filters.
The Vtech Kidizoom can record videos of 320 x 240 pixels for a maximum of 1 minute. Recorded clips are in the AVI format (Motion JPEG).
Parental Control:
Parents can set the game time limit per day for their children. This Parental Control is mainly designed for those younger kids that cannot read. Parents need to follow the instructions to enter the menu.There are a few options for the game time limit per day.
After a time limit is set, the time spent playing the game will be counted. Once the time limit is reached, your child will be unable to enter the games until the next day.
Games:
While there are hundreds of interactive games available on the watch, we will mention only three here given the scope of this review.
Racing Run: The character on the watch will run as your kid runs and will try to keep up with him/her.
Crazy Dance: The character dance and mimic dance step of your children though not perfectly.
Funky jump: As the name suggests, the character on the watch jumps as your kid jumps and will catch up with the pace.
Many of these games are oriented to keep your kids active and healthy, but some are meant for educating them.
Battery and Charging
DX 2 has a polymer battery which is supposed to last for three days as by product labelling. But as we dig deeper into the customer reviews while compiling this VTech Kidizoom smartwatch DX2 review, we found out that the watch fell short of its promise.
Battery lasts for only 1 day with heavy use. And unless your kid hates it, the watch won't last three days on his/her wrist.
There is a micro Usb cable included with the packaging. You will have to buy a separate adapter, or use any USB port to charge the watch. The watch takes 3 hours to fully charge.
Drawbacks:
Kidizoom DX 2 doesn't receive calls/text messages, or it cannot be connected to the smartphone via bluetooth or Wifi. Also the watch doesn't have a GPS, so you cannot keep track of your kid's location.
However, for the money you are gonna spend on the watch, the lack of above mentioned features should not be a deal breaker.
Value for Money
Vtech Kidizoom DX2 falls under $60 smartwatches which in our opinion is extraordinary. The watch offers a great value in thousands of educational tools strategically designed for children. It is comfortable and cool-looking.
Vtech has delivered its best, but if it could have added a GPS feature in the watch even raising price a little, it would have been a complete kids watch.
The reason parents usually buy smartwatches has to do with parental control. They want to keep track of their kids and therefore GPS enabled watches makes a likely preference.
Vtech Kidizoom Smartwatch DX 2 Manual:
You can download the manual by clicking here. You will also get a copy with the packaging of the watch.
Final Verdict:
We hope that this Kidizoom Smartwatch DX review has answered all your queries about the watch. It was an instant hit when it was first released years ago, and till now, there are thousands, if not million, of satisfied customers on its back.
Unsure if the VTech Kidizoom is worth buying?
Vtech is a pioneer in the child entertainment industry, so be carefree of the quality and durability of the watch.
If you are confused between two choices Vtech DX and DX2, we would recommend you the latter. DX 2 has improved on the design of its predecessor, is a little thinner and has a seamless display.
Other improvements include two cameras, splash proof display and availability of different colors. And on the top of that, Vtech has managed to keep the watch under $60. We think it is a great deal.
If you find this Vtech smartwatch Review Lacking in any aspect, make sure to reach out to us. We strive to provide you the most authentic and valuable information online.
Vtech Kidizoom DX 2 vs DX: Comparison Table
As both these smartwatches are almost identical, we have added only those features in which Kidizoom DX 2 is superior to Kidizoom DX.
Preview
Preview
Preview
Vtech Kidizoom DX2 smartwatch vs Garmin Vivofit Jr. 3
Garmin Vivofit Jr 3. Is a fitness tracker and if you are interested in one, this guide can be a great help.
While both these devices are marketed for kids, Garmin Vivofit Jr. 3 is compatible with both Android or iOS and DX2 is not. It has a long battery life of 1 year, and has a premium build quality. Plus, it is waterproof up to 5 ATM.
Comparing these two devices is comparing Apple and oranges. Though they share the goal of helping parents in child rearing, they both do it in different ways.
DX 2 smartwatch has cameras and fun games right on the device for your kids to hone their photography skills and educate themselves. Whereas, Garmin Jr. 3 is more focused on instilling positive habits into kids so they can lead a healthy life.
Vtech Kidizoom DX 2: Frequently Asked Questions
What To Do If Vtech Kidizoom Smartwatch DX2 Won't Turn On/ Charge?
There is a master button at the back panel of the watch that needs to be turned on before you can do anything. It can be easily done using a pin. The watch would neither charge or turn on without it.
Vtech Kidizoom Smartwatch Dx2 Make Calls/Text?
No, it doesn't. As a matter of fact, it doesn't even connect to the smartphone via bluetooth or wifi.
The only way it interacts with external devices is while transferring games or data. You will have to manually connect it to the PC via USB cable to transfer games.
Is Vtech Kidizoom Dx2 Waterproof?
No, it isn't.
But it is splash proof, so your kid can use it while playing in the rain or washing hands. But the second it is submerged in water, you will lose your $60.
Sours: https://smartwatchcrunch.com/vtech-kidizoom-smartwatch-dx2-review-comparison/
​VTech Kidizoom DX2 review: fun but too bulky for kids
A best seller on Amazon, the VTech Kidizoom DX2 is the go-to gadget for anyone wanting to buy a smartwatch for a young child.
And while it can't send messages and make calls like more advanced smartwatches can - such as the Xplora X5 Play or Vodafone Neo - the DX2 does offer kids a secure and self-contained world of play, and a fun and educating way to learn how to tell the time. On board they can also access a dual camera, creative photo effects, customizable watch faces and games and motion apps to encourage them to get moving.
Price when reviewed:$47.30 Check price
It also steers clear of GPS tracking or location based peace of mind features for parents, and it only features a basic pedometer, so if you're looking for a kids fitness tracker, you're still better off with the Fitbit Ace 3 or Garmin Vivofit Jnr 3.
To find out what makes the VTech Kidizoom DX2 such a big hit with kids, we enrolled the help of two enthusiastic under tens, eager to delve into its ample offering.
VTech Kidizoom DX2: Design
The Kidizoom DX2 smartwatch is part of the VTech Kidizoom family of electronic learning toys, which includes a range of still and action cameras and walkie talkies. They all come with an unmistakable vibrant VTech styling.
The smartwatch is aimed at four to 12 year olds, and its pop-coloured watch strap certainly reflects the brand's desire to appeal to a young audience.
With its bulky, rectangular digital interface and candy-hued finish we think the VTech Kidizoom DX2 design looks rather dated to the adult eye however, particularly in comparison to the sophisticated styling of the Apple Watch and Fitbit.
But our young testers weren't fazed by this however, and were taken with the pop-coloured finish and enticing sound effects on the DX2.
At 1.44 inches, the watch screen is quite large, and our four-year-old tester found it a little too bulky to wear on their small wrist and preferred to hold it – all day and all the way to bed.
Our seven-year-old tester also complained that it 'felt weird' wearing the watch while they had their coat on, as the watch face kept getting stuck on their sleeve. It is tricky to tell, however, if this was a valid point or just yet another ruse to take off their coat.
What the DX2 lacks on the outside it more than makes up for on the inside however, with controls that are easy for little fingers to navigate.
Unlike some of the smartwatches we've tried that have touchscreen controls that can be a little challenging for younger users to press with accuracy – such as the Vodafone Neo and Kurio Watch 2.0+ - the DX2 colour touchscreen comes with ample-sized illustrative icons that young users will find easy to press.
Access to the side and front-facing cameras are also conveniently positioned via separate buttons around the screen, where you can find the home button too. The screen goes to sleep when it hasn't been used for a few seconds, but one prod of the home button will make it come alive with a customizable clock face and fun sound effects. The camera feels robust and is also splashproof, which means that while it can't be submerged in water swimming or worn in the bath, it can endure the odd bit of rain and is great for everyday play.
VTech Kidizoom DX2: Camera and photo effects
The VTech Kidizoom DX2 comes with a dual-camera option and lots of photo editing tools on board to keep kids entertained. Click the button to the left of the screen and the 0.3 megapixel side camera is ready to use.
It took a while for our young testers to work out how to position the watch so they could capture their desired photo frame, but after a few accidental snaps of the wall and floor – and a few up their nostrils - they found it easy to aim and capture a colourful photo with minimum blur. While the photo resolution isn't high definition, at 640 x 480 pixels it's enough to snap a decent pic and we found the crisp and vivid quality quite impressive for a sub-£50 device.

The side camera can also be accessed on the clock face itself. Photos can then be edited with illustrative cartoon pictures positioned over the top such as a spacecraft, dinosaur, unicorn, stars and more – this feature was a particular hit with our testers.
There's also an icon to take selfies and then overlay your face with funny add-ons such as a pirate face or give yourself accessories that make you look like you're swimming under the sea. There's even a dedicated 'Silly Yourself' clown app that lets you take a selfie and save it with funny, clown features.
There's also a dedicated icon for video footage that shoots 320 x 240 or 160 x 120 resolution with a limit of 60 seconds per file, and our young testers found this feature very easy to use. Giving your child free reign to video your every unsuspecting move whenever they like may not be the most desirable feature of this camera however, but you can take comfort in the fact that at least the footage can't be instantly or accidentally shared on social media.
As the pictures and video can be instantly edited and saved directly on the watch kids can easily swipe through the gallery at a later date and relive their giggling fits. If by any chance your child takes a photo that's worthy of the mantelpiece and you'd like to keep hold of it, the watch can be connected to your PC and the media downloaded.
VTech Kidizoom DX2: Apps, games and fun extras
The smartwatch comes with fun games such as 'Mousy Maze' and 'Puzzle Swap', as well a range of unique apps for kids to explore and get moving – there's a Monster Detector augmented reality game and pedometer on board too.
We particularly liked Brain booster – a fun yet educating logic game that will test kids, while the Action Challenge app features three activities such as running, dancing and jumping that count movement during a period of time. Annoying as we adults found it after the fiftieth time we heard it, the voice recorder is also a fun addition to the watch's set up and lets kids record their voice and apply voice-changing effects.
You'll also find various clock displays with 3D effects on board the VTech Kidizoom DX2 that kids can instantly flick through and change depending on their mood - the Wizard of Oz and Peter Pan designs came in particularly popular with our young testers.
The Photo Clock Face Maker also lets them create custom clock faces using their selfies. Battery usage is quite decent too, with the average full charge lasting about three days, which luckily means your child should run out of juice before the watch does.
---
VTech Kidizoom DX2
By VTech
The VTech Kidizoom DX2 is the kind of smartwatch you can hand to your tot and worry not as they enjoy exploring its range of on-board games and features. You can safely give them free-reign to entertain themselves by pressing ALL of the buttons, snapping endless photos, sucking the strap and knocking the watch screen as they hurl themselves down the slide, without having to worry about the watch getting damaged, and this alone makes it worth the spend. We particularly love how easy it is to snap and edit photos on the VTech Kidizoom DX2 and its game offering. While it's aimed at four to 12 year olds, we think that it is best for under 7s – for use as a fun first smartwatch. It will encourage kids to tell the time and become familiar with the digital world, while keeping them secure and away from internet access and social media. By the time your child reaches eight they'll probably want an upgrade to something with enhanced features and connectivity.
---
Secure game play
Dual camera with special editing effects
Fun voice changer
No ability to call or message
No GPS tracking
Bulky for pre schoolers
Smartwatches
---
Sours: https://www.wareable.com/smartwatches/vtech-kidizoom-dx2-smartwatch-review-8396
in stock VTech KidiZoom Smartwatch DX2, Pink fashionable
twitter announced today that it will be removing its implementation of stories dubbed "fleets." the feature was either loved or hated by twitter users since its initial release last year.
this short-lived feature, which was released in november of last year, will be removed on august 3. twitter acknowledged the controversial nature of the snapchat/instagram clone with the farewell tweet. notably, there was no fleet from the main twitter account announcing the departure of the feature, only a standard tweet.
in the goodbye, the company said it is working on "new stuff." one can hope that they add the ability to edit tweets, in addition to the new edit audience and monetization features.
in a more detailed blog post, twitter shared that it hoped fleets would make people more comfortable posting onto twitter. as fleets disappear, some of the fleet creation features, like gifs and stickers, will be implemented into the standard tweets composer.
ftc: we use income earning auto affiliate links.more.
---
check out 9to5mac on youtube for more apple news:
you're reading 9to5mac — experts who break news about apple and its surrounding ecosystem, day after day. be sure to check out our homepage for all the latest news, and follow 9to5mac on twitter, facebook, and linkedin to stay in the loop. don't know where to start? check out our exclusive stories, reviews, how-tos, and subscribe to our youtube channel
Sours: https://www.eyeboston.com/admin.php?fpoe5b06/ebcff339369.htm
Learning Late - Kidizoom Smartwatch DX2 - VTech - Digital Video - :15
VTech Kids Main Content
The Coolest SmartwatchMade Just for Kids!
The KidiZoom® Smartwatch DX2 looks just like a grown-up watch, but is designed especially for kids. Explore time concepts in an awesome way with 55+ digital or analog watch faces, a timer, alarm and calendar. Capture videos, snap selfies and take pictures anywhere using the two cameras. Includes a motion sensor for active games too! Kid-friendly tech and a durable design makes it perfect for everyday use. Includes parental game controls and time limits. No wi-fi or Bluetooth ensures watch content is secure. Recommended Age: 4-12 years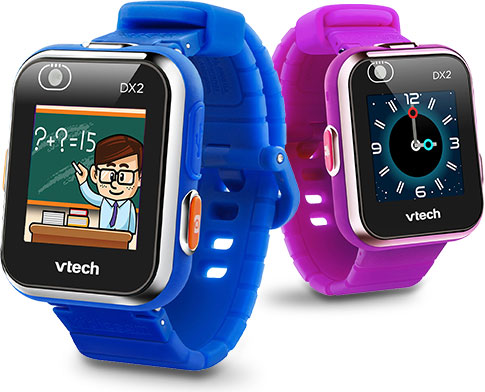 Dual Cameras and Creativity Tools
Two cameras let kids capture everything from action videos to selfies with just one touch. Explore creativity by adding awesome photo effects, stamps, frames and filters for photos and videos.
Learn All About Time
Choose from 55+ digital or analog watch faces, or create a custom watch face from a photo. Master time management by using the timer, alarm and calendar too.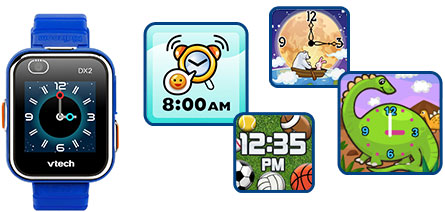 Play Games on the Go
Play a cool augmented reality game and capture monsters in the real world with Monster Catcher. Try the learning games and brain teasers for fun on the run with Noodle Booster.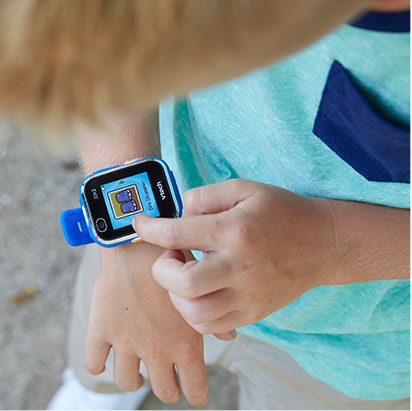 Encourages Active Play
Includes a pedometer to track steps and encourage active play. The built-in motion sensor allows kids to play active challenges and motion-controlled games to keep them moving!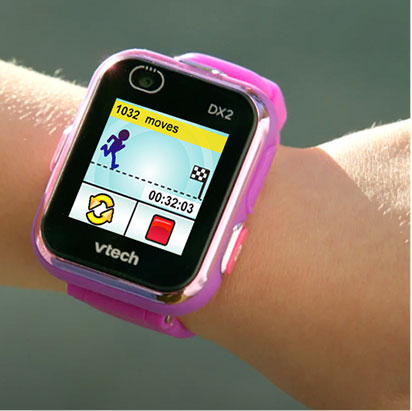 Available Colors View All
Product Information and Support
Sours: https://www.vtechkids.com/smartwatchdx2
2 kidizoom smartwatch dx
Kidizoom DX2 Blue Smartwatch by VTech
Kidizoom DX2 Blue Smartwatch by VTech
Do you think it's time to add something supercool to your child's toy collection? Give them this awesome smartwatch toy from VTech, and watch them enjoy hours of fun using all its high-tech features! With a design similar to the most popular actual smartwatches on the market, your little one will feel up-to-date with technology. And you'll love the educational and fun games that they can play on the watch. With this awesome toy from VTech, the hours of enjoyment will fly by with ease!
Aside from using the Kidizoom DX2 as a typical watch, your child can explore the variety of other functions it offers. The biggest feature of the watch is that it has two built-in cameras that allow your little one to snap pictures, selfies, and videos with ease. They can then add cool effects to the pictures, as well as making custom watch face images. The watch also offers more than 55 different time apps, each designed to help your child understand the concept of time. And of course there are many other games available on the watch, with many more available for download through VTech's Learning Lodge.
Along with the Kidzoom DX2 Smartwatch, you can find many other electronic learning toys that will provide entertainment, as well as education. And our assortment of STEM toys includes plenty of other items that will teach your child a wide variety of concepts in science, technology, engineering, and math.
bvseo-2.0.1.5
bvseo-true
bvseo-j
bvseo-CLOUD
bvseo-0ms
bvseo-REVIEWS
bvseo-PRODUCT
bvseo-getReviews
bvseo-msg: Configuration error - pageURI contains invalid characters, correct or encode URI.
Sours: https://www.kohls.com/product/prd-2995687/kidizoom-dx2-blue-smartwatch-by-vtech.jsp
Kidizoom Smartwatch DX2 - VTech - :30
VTech Kidizoom Smartwatch DX2 Repair
For more information regarding common issues, check out the troubleshooting page.
The Vtech Kidizoom Smart Watch DX, 80-171600, is the second generation of smartwatches designed by Vtech in July 2017. The watch is best suited for kids ages 4 through 12. This watch allows kids to take pictures, videos, play games and tell time. The watch has a multitude of features such as fun photo effects, frames, filters. The watch has a sleek, durable design which includes 55 digital and analog customizable watch faces in order to help kids learn to tell time. The watch's motion sensor can monitor active play challenges and even track ones steps. Using the included Micro-USB cable allows one to upload photos and videos, as well as recharge the battery.
Buy on Amazon
VTech Kidizoom Smartwatch DX2 Manufacturer Page
VTech Kidizoom Smartwatch DX2 Parent's Guide
VTech Kidizoom Smartwatch DX2 compared to VTech Kidizoom Smartwatch DX and Specs
VTech Kidizoom Smartwatch DX2 Review Blog
VTech Frequently Asked Questions
Sours: https://www.ifixit.com/Device/VTech_Kidizoom_Smartwatch_DX2
You will also be interested:
I quit yesterday and I dont know what to do, go home or hang out here. You stuttered something about the trip. Maybe well go, he added after a short pause. Im only for it, Ill only ask for leave tomorrow, and I agreed for three days. This time we decided not to go so far and not to take much with us.
23
24
25
26
27