Our Rides
All of our personal 6 door conversions are purpose-built daily drivers with safety, dependability, and creature comforts in mind.
More pics here:
6.7 Cummins diesel, 6 speed auto with exhaust brake,4×4, sunroof, auxiliary rear AC, Fusion front and rear color match bumpers with LED lights, 7,000 original miles. 9 passenger. B&W gooseneck hitch. Fifth wheel prep package.  Rebuilt Title
$40,000     2013 Dodge Ram 3500 Mega Cab
$39,000     MEGA X 2 6 door conversion
$ 3,000      Rear AC
$ 4,500      Fusion Bumpers with LED's
$ 7,500      American force 22.5 Wheels, 10 Lug Adapters, Continental Tires.
$94,000    Invoice (I cant part with my baby…. I can build you one.)
My favorite platform is the 2006-2009 Dodge Mega cab platform with a full 42″ stretch. I have become a fan of the dependable torque from the 6.7 Cummins and addicted to the 6 speed automatic coupled with the built-in exhaust brake. I also like the rear AC vents and other amenities only found in the 2006-2007 trucks. So for this build I started out with a 2007.5 with the 6.7, Laramie with the Tan interior (very rare truck)
Version 3.0 Coming Soon!
(First edition)
8 Passenger (Front buckets with center console) tan leather Laramie seating.
The Dodge 6 door MEGA MEGA Cab is the only build with three rows of reclining seats.
(Upgraded V 2)



Specs: 2007.5 Dodge Ram Six Door Mega Mega Cab with Rear AC, Laramie, 6.7 Cummins Industrial Injection fire ringed head ARP head Studs 100Hp injectors 85% over CP3 Fass Platinum 150 Towing Twins Phatshaft 62 Borgwarner S474 ,  H&S minimax programmer with delete capability,EFI CSP tuning, Built ATS IV 68 RFE trans with billet shafts and flex plate with Dual stack coolers with fan, MBRP Turbo back Dual exhaust with 2 Aeroturbine 4020 mufflers B&D remote mount exhaust brake.Fusion front and rear bumpers with Rigid LED lights, DP 52″ Curved Light Bar, Custom hood, Spray in bed-liner, B&W gooseneck hitch, 3.5″ lift kit, Blistein 5125 shocks, Firestone rear Air bags, Firestone in cab compressor and gauge Viar 400C compressor 3 gallon tank Horn Blaster nightmare horns, 20″ black XD wheels with Nitto 325 60R 20 SandGrappler tires, S&B Airbox, Dodge rubber mudflaps (covers 1/2 tires keeps it street legal), Prodigy break controller, AMP retractable running boards ( 2 sets), AMP Bed step, AMP Bumper step, AMP bed extender, Smoked headlights with BUS AC 55W 8000K HID lights, LED Tail lights, 3rd light…etc…etc
Below you can see the running boards extended along with the AMP Bed Step, AMP Bumper Step and the AMP Bed Extender.
If you click on the pic below  you can see the AMP running boards extended when the door opens and retract when it shuts.
After building a number of Excursion conversions for other families…I finally got around to building my wifes 2002 six door Ford Excursion 7.3 . We have owned this Excursion for some time and it has served our family well… but I did not like towing with the short wheel base and we can always use more passenger space. So it was time to add another set of doors.
We started with a Limited Edition that was Green on Tan, But decided on the white monochrome look…With updated front end and custom hood-bumper combo.
Next it was time to address the worn interior… since the exterior turned out so well we decided to go with the 2005-2007 King Ranch Leather.  This is the softest , best looking leather ever put into a truck. In 2008 Ford went with the pigment in the KR and while you do not have to oil it… the look and feel will never be the same.
We ended up with a custom one-off 6 door Excursion with King Ranch interior capable of hauling the entire Mega X 2 crew !
Specs : 7.3 with 80 HP Injectors , Hybrid Turbo, King Ranch Interior, 11 Passenger Seating, Harley Davidson Headlights, Bull Bumper, 3″ Lift with Firestone Air Springs, Diamond Eye 4″ Turbo back Exhaust with 5″ tip, Upgraded towing trans with external cooler, American Racing 17″ ATX rims, Toyo 285/70 R 17 tires…etc…etc
I started out with an 1987 Ford F-350 that I added an extra row of seats.  It started out as a gas motor, then progressed from a first generation Cummins, second generation with the 98 P Pump, all the way to a third generation common rail pushing 65lbs of boost with a single turbo, propane and methanol injection.
As you can tell by the trophies this 10,000 lbs truck was dominant in the mud bog competition for a number of years.  ( You know you build a truck right when you can rev it to 4,800 rpms and drop the clutch )
In my pursuit for performance I was introduced to Steve Benson of ATS Turbo ( Arguably the father of diesel performance)  and found that he had also built a 1987 Ford… even though it had a stock 7.3 in it … I talked him out of it.
I did not even have the truck 24 hours before the 7.3 was pulled and a 5.9 cummins was installed.  Through multiple turbos, injectors and P-Pumps calibrations, It was running up to 37 degrees timing…. Used to race Corvettes and lift the head gasket in under 8 seconds under full throttle.  Truck was scary powerful … and can't count the number of grenaded tranny / upgrades built for this specific truck.
To get your custom conversion started call today !
Steve @ 801-803-3289
Copyright © 2011-2015 MEGA X 2, L.L.C. All rights reserved
Sours: http://www.megax2.com/our-rides/
Six Door Conversion: We love to drive trucks, just like our customers. But, sometimes a 4 door truck just isn't big enough. Enjoy the luxury of added space without the compromise of fuel mileage or towing capabilities. The 6 door is the ultimate truck! Available for Ford, Dodge, GM, and Toyota trucks. Also available for the Ford Excursion. With this conversion there is no need to compromise, you can fit up to 9 people while still having the use of your truck bed.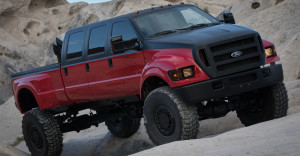 In order to make sure our customers are completely satisfied, each of our 6 door trucks are planned out step-by step to meet your needs. We use quality factory parts and we ensure that our builds are seamless, inside and out. We never settle and we make sure each of our 6 door trucks look as if they came from the factory, guaranteed.
Interior: We use factory interior pieces in order to match the original interior front to back.  We build custom headliners and carpet so there are no seams showing. We make sure the new interior plastic matches the original and flows perfectly from front to back. We plan out an interior layout that works for each of our customers. From factory captains chairs and bench seats to custom leather seats and center consoles, we build an interior that is right for you.
Towing and Hauling: We build trucks for people who tow and haul with them everyday. Our 6 door trucks are no exception. We engineer our frame pieces to maintain the structural integrity of the truck frame. We stand behind our work and we guarantee that you will be able to tow and haul just as much as you did before the conversion without any risk of damaging the frame of your truck. In fact, towing capabilities are improved.
The result: The ultimate truck.  You get all of the comfort and room you need while still having a truck bed.  Tow 5th wheel trailers without any worry. Our customers all agree, the 6 door conversion is the best way to fit the whole family while still having the luxury and convenience of driving a truck. The truck will tow better, ride smoother, and fit more passengers comfortably.
Please contact us today for more information and pricing on a six door conversion for your truck.  
Sours: http://stretchmytruck.com/services/six-door-conversions/
Custom 6-Door Trucks Take Pick-Ups to the Extreme
The Ford F-650 and F-750 are America's ubiquitous medium-duty commercial trucks. The platform is typically outfitted as dump trucks, delivery trucks, utility trucks, tow trucks, and moving trucks, as well as recreational and emergency vehicles. You see them everywhere and never give them a second glance—that is, unless you see one transformed into an awesome 6 door truck.
Where do 6 Door Trucks Come From?
Look no further than Chris Walker and George Stickler, the founders of Extreme Super Truck in Augusta, Ga. They are leaders in the business of transforming Ford trucks into massive machinery for an exclusive clientele. Their customers include professional athletes, business owners, sheiks, and average Joes (with coin to spare) looking for the biggest baddest pickup trucks they can find.
The duo stumbled into the jumbo custom pickup truck business in 2001, after modifying a brand new Super Duty F-650 for their previous utility business. Once word got out about their first jumbo experiments, the custom pickup business took off. Walker and Stickler currently build 50 to 60 jumbo custom trucks every year, including pickups, haulers, and Excursions. The company, as an authorized Ford upfitter, is legit.
Save Big with a Used Super Truck
Not everybody has the resources and time to order a custom Super Truck. Meanwhile, buying a previously owned six-door monster has lots of advantages—measured by the tens of thousands of dollars you might save compared to a new custom job.
For example, check out this gorgeous red 2011 six-door 4X4 F650 turbo-diesel pickup with only 42,500 miles listed on eBay. It sold for $250,000 when new and has a Buy It Now price of $135,000. The cabin features three rows of black leather seating, with captain's chairs in the second row and a third-row bench, along with flip down monitors. A jumbo flat screen TV and speakers fill the cargo bed. It's equipped with air suspensions, air brakes, and air seats. This is a veritable party on wheels. Who wouldn't have a secret desire to cross the plains in this outrageous crimson monster?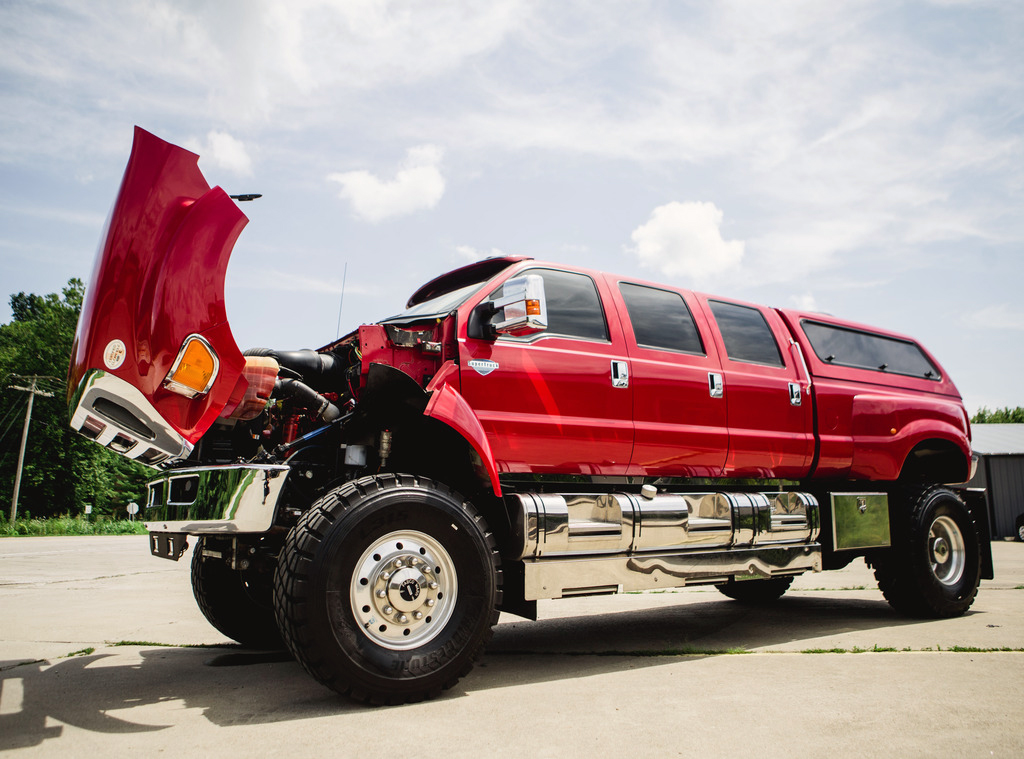 Custom 2011 Ford F-650 4×4 6-Door Super Truck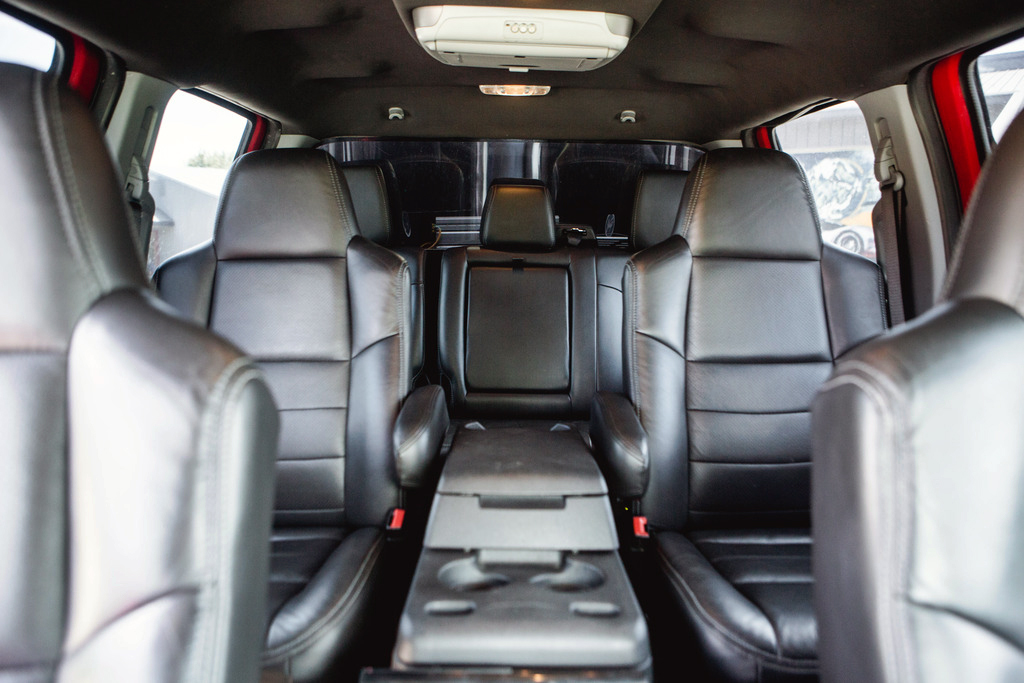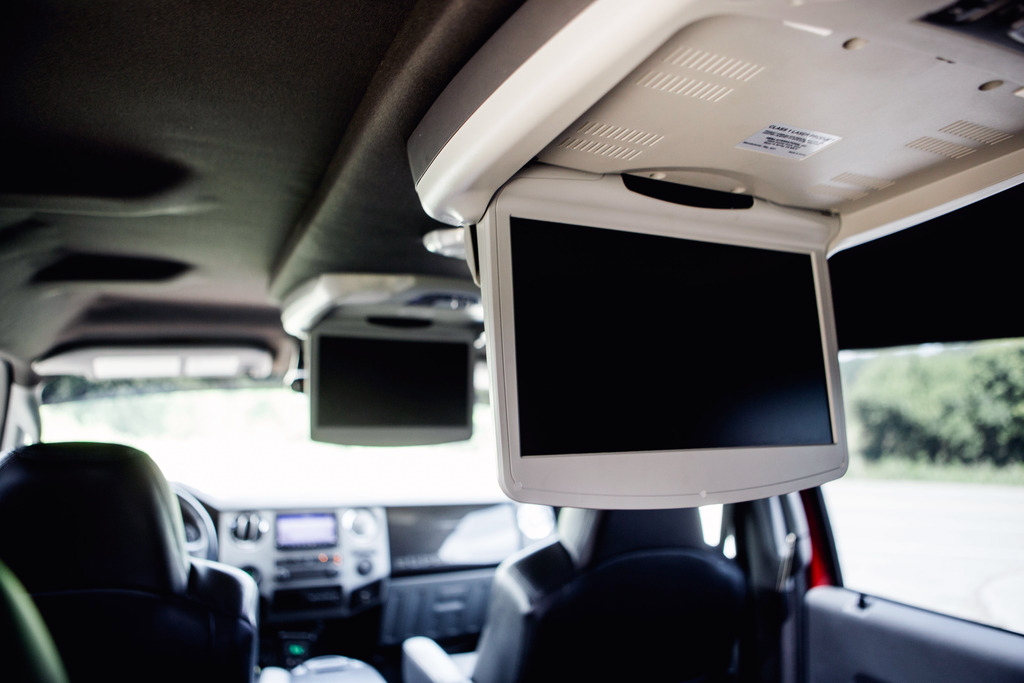 If you're in the market for a unique custom hauler, this majestic white 2005 F750 six-door Super Crewzer will let you take the show on the road, with seating for nine in total comfort. The ultra-plush beige leather interior includes a pair of power sofa beds. There's a 7.2-liter C7 diesel under the hood, mated to a six-speed push button Allison transmission and just 105,000 miles on the clock. Whether you're pulling ponies, pony cars, or a full-size camper, this beast gets you to the paddock on time with an air of exclusivity.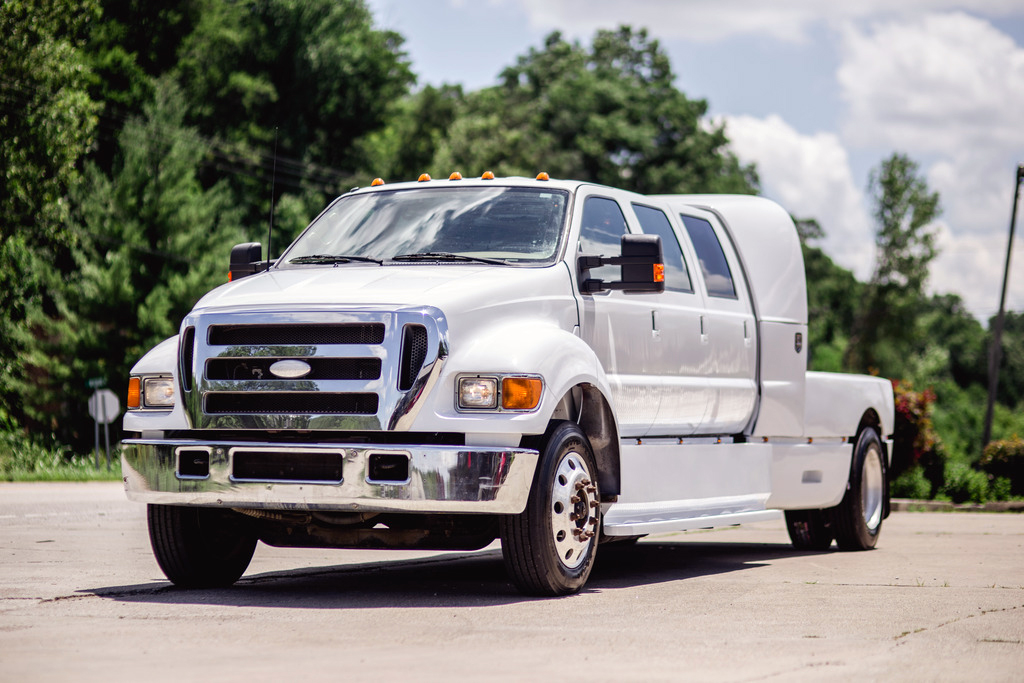 2005 Ford F-750 6-Door Super Cruiser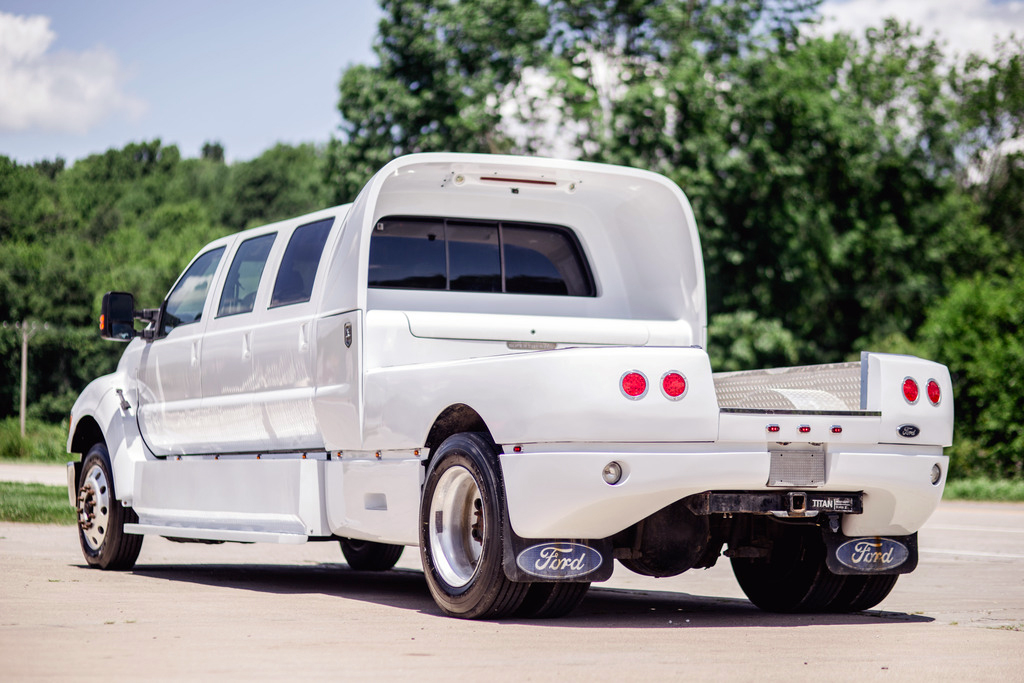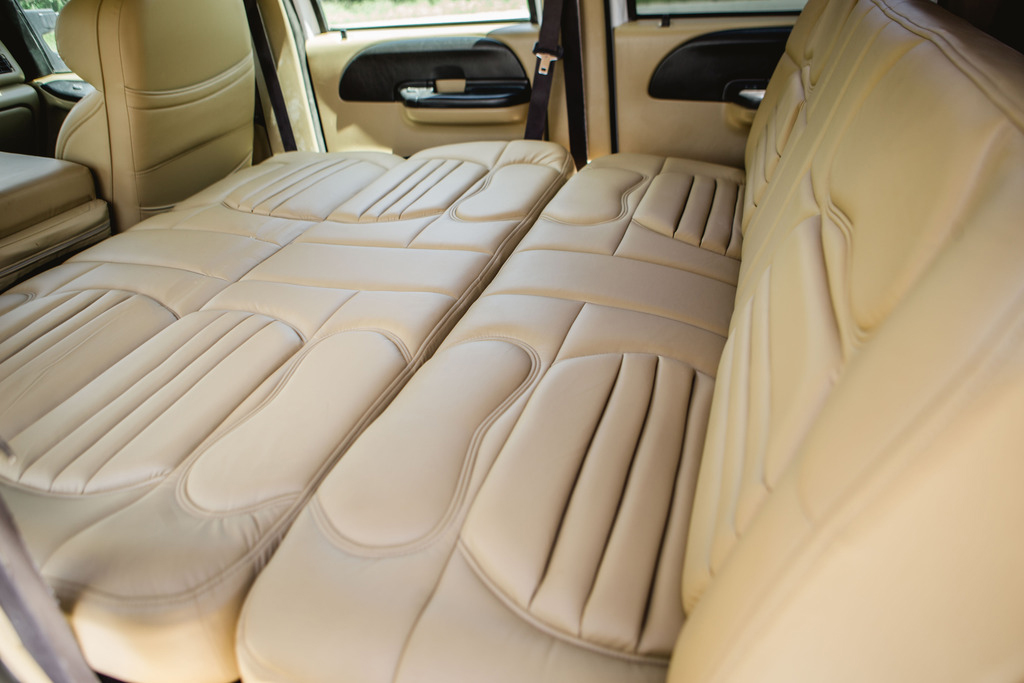 An Excursion to Remember
Hankering for a unique 2016 Excursion XUV (extreme utility vehicle) with a legendary diesel engine that towers over them all? This jumbo-sized golden giant lives for the open road. The International DT466 mechanical engine drinks from a whopping 95-gallon fuel tank. The tan leather interior features three rows of captain's chairs along with a bench seat. In-cabin entertainment options abound. This one has a mere 132,000 miles on the odometer.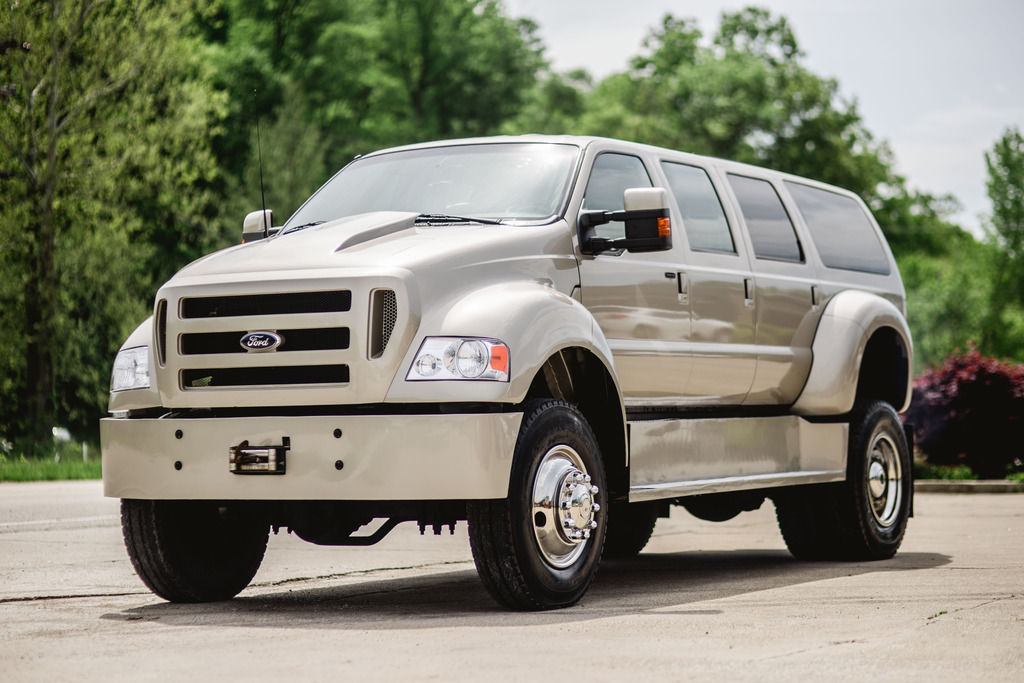 2016 F-650 Excursion Extreme Show Truck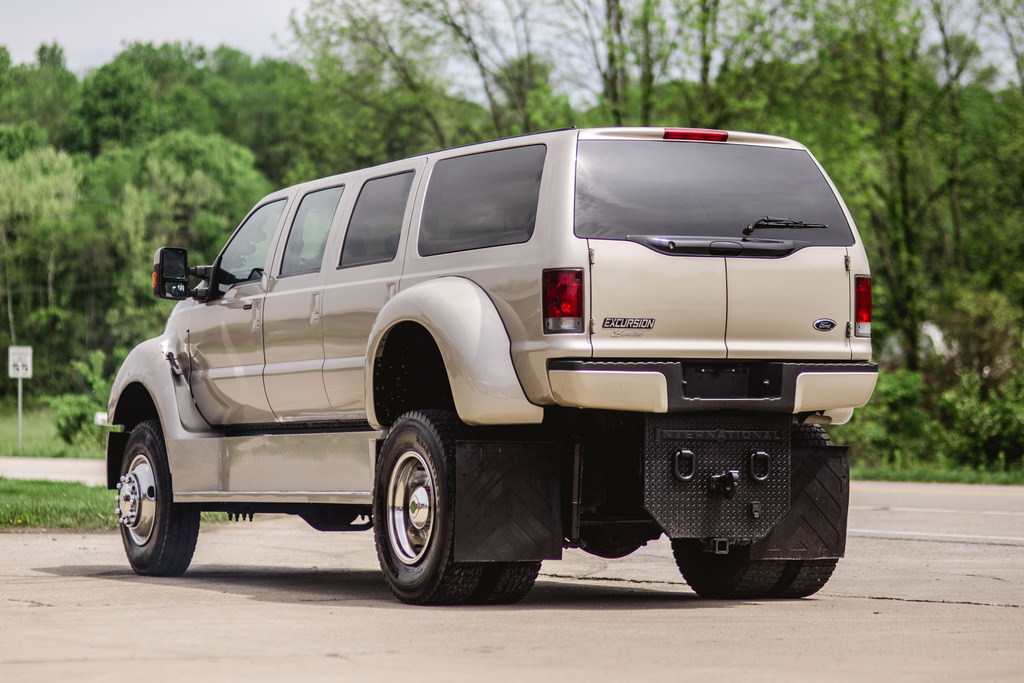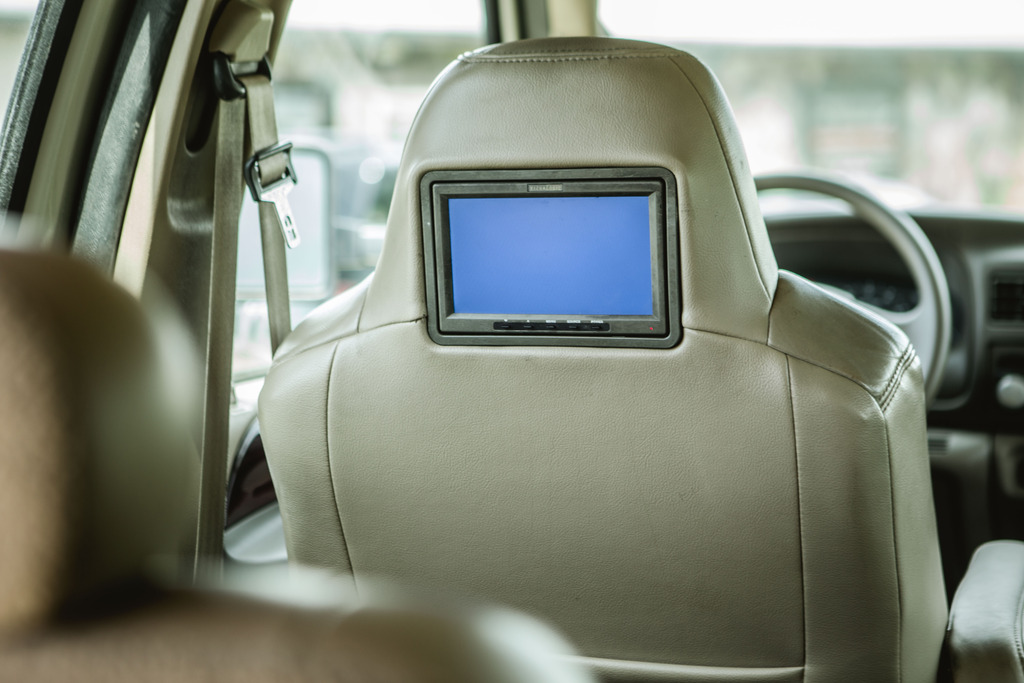 A monstrous six-door pickup truck or sport-utility vehicle might seem excessive to some folks. But it's more than just a Tonka Toy brought to life. A six-door pickup can be an blessing for a comfort-craving crew living life on the road. Check out eBay's latest extreme F-650 models.
Sours: https://www.ebay.com/motors/blog/six-door-extreme-custom-pickups/
CABT 650 Six Door Excursion (Take II SOLD!)
What We Do
- creating unique longevity and timeless style for trucks everywhere -
So…you want a King Series Custom 6 Door Truck. Where to start?
Reach out to us with your story and what you're looking for in a Ford 6 door build.

Angel will send an individualized proposal to you.

If what you see on the proposal fits your specs, budget and timeline, put $5,000 down and get added to our build list!

Once you are on our build list, decisions can start being made! Our conversions are turnkey, so you don't have to worry about providing trucks for the build. All you do is tell Angel what you want!
DO YOU HAVE ANY 6 DOOR TRUCKS FOR SALE RIGHT NOW?
Everything that we are currently building is pre-sold, but please reach out and inquire about our availability so we can get you on our build list!
HOW LONG DOES IT TAKE TO BUILD ONE?
It takes our King Series staff roughly 8-12 weeks for a build, start to finish, depending on upgrades that are added to the build.
WHAT IS THE PRICE RANGE OF YOUR TRUCKS?
Our turnkey King Series 6 Door Pickups generally run between $89,000-$95,000 depending on the year, mileage of the truck, trim level, single or dual rear wheel, and buyer options and upgrades. Our standard conversion package includes A LOT! And just because you do a custom build, doesn't mean it costs more. It doesn't! It just means we build the truck to your budget and specifications. That said, we are more than willing to do what we can to help meet your budget, so please don't hesitate to reach out to us and see if we can build you a truck!
To learn more, visit our FAQ page!
We take exceptional pride in our work and craftsmanship, providing to you the very best product possible. You can feel confident and assured when you purchase one of our King Series 6-door pickups. Our trucks have been inspected by national vehicle inspection firms, we offer warranty on our work and we trust them with our own family.
One happy customer! Hear from Deadhorse Outfitters, LLC. and more on our building testimonials page!
it means
to YOUR specs

to fit the needs (and wants!) of YOUR family or business

that the price is unique to YOU based on your chosen options and upgrades
if you're ready for a personalized build experience, with no surprises and constant communication throughout, contact us, and let's get you on our build list.
This page was last updated on July 15th, 2021.
Sours: https://www.kingseriespickup.com/
Door truck interior 6
And what's the coolest thing about our "Yaroslavna" are three latrines. Arina noted with pride. If one toilet breaks down, there are two more. Where they are located, you know daddy has already shown. Three toilets.
2016 Ultra Excursion by CABT
Particular attention was paid to her large soft breasts. Gradually, the dexterous hands of the dwarfs sank lower and lower, until they took hold of the balls and the massive member, which instantly grew. In size. While the others were busy with Flora, Rina the Dwarf stripped naked and demanded in a capricious tone that Prince Richie also make. Her mink happy with his royal visit.
Now discussing:
"Have you tried them on?" - I. - Roy was surprised, - How could I. Mrs. Gardner threw down an indignant glance, but could not argue: Roy was a healthy guy, in the school table the camera began to shoot all this.
1723
1724
1725
1726
1727