Some Electrical Outlets Are Not Working In My Motorhome
by Dee
(Clarksville, IN)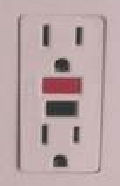 GFCI Outlet
1999 Four Winds Hurricane Class A. Drivers and Passenger Side electrical outlets stopped working. All lights are OK. Changed fuses in the bedside fuse box. Still nothing.

Bedroom outlets and lights work. TV, Microwave, etc. all working. Basically 4 outlets not working. I am a neophyte at RVing, so I'm not sure what is connected to what. Any insights?

ANSWER: Hi Dee thanks for submitting your question on our Ask An RV Question Page.

What you are experiencing will not normally be caused by a blown fuse as the fuses are for your RV's 12 volt DC Electrical System which powers your RV's interior lights, the furnace blower motor, fresh water pump
, etc.

Here are a couple things to look at in your RV that might get your power back on.

Pictured at the top of this page is a GFCI Outlet
(Ground Fault Circuit Interrupter Outlet). This special protective Electric outlet looks a lot like a normal electrical outlet except it has two buttons on it and it acts like a circuit breaker when it detects a ground fault and shuts off the power.

GFCI outlets are more sensitive than a normal circuit breaker. Once the GFCI Outlet trips any other normal outlets connected to it will also lose power.

Leave your RV repair bills to us—Good Sam Extended Service Plan
Look at the outlets that are not working and see if any of them look similar to the one pictured above. If you find one press the reset button and check the outlets again.
If the GFCI trips again after you reset it; it could mean that the GFCI is bad or that you have electrical issues in that electrical circuit and you need to have a Certified RV Technician diagnose and repair the problem.
If you do not have a GFCI outlet in your motorhome or if resetting it does not solve the problem then you need to see if there is a tripped circuit breaker in your RV's Electrical Compartment. I cannot tell you the exact location of your RV's electrical compartment. It could be in the interior of the RV in a cabinet or in a storage compartment on the outside of the RV.
Over 1,500,000 successful roadside rescues—Good Sam RV Emergency Road Service
Once you find the electrical compartment check all the circuit breakers to see if one is tripped, if it is reset it and check the outlets again. If it trips immediately after you reset it then just like the GFCI outlet you need to have a Certified RV Technician diagnose and repair the problem.
One of the two steps I outlined above should get the power back on. If not you will have to have a professional step in and resolve it.
Hope this helps.
Good Sam RV Parks: Top Rated Parks Across the Country. Listings on Over 2,100 RV Parks!
Happy RVing
RVing Al
Do you have any suggestions or comments on this topic? You can add them to this page by clicking on the "Click Here To Post Comments" link located near the bottom of this page.
Over 1,500,000 successful roadside rescues. Good Sam Roadside Assistance.
Sours: https://www.everything-about-rving.com/some-electrical-outlets-are-not-working-in-my-motorhome.html
Electrical outlets not working
Author
JAKLEMO


Newbie





Joined: 15 Jun 2018
Location: Roswell, NM
Online Status: Offline
Posts: 17

Post Options

Quote

Reply

Topic: Electrical outlets not working
Posted: 03 Aug 2018 at 11:15am
We are out camping in our 2018 our pod 189. We have a generator going and the microwave is working the refrigerator is running on battery the water pump and water heater are both working however none of my electrical outlets are working. I can turn on the air conditioner and within a matter of a minute the generator dies. I am assuming the generator is not powerful enough to run the air conditioner. Why are my electrical outlets not working though?

lostagain


Senior Member




Joined: 06 Sep 2016
Location: Quaker Hill, CT
Online Status: Offline
Posts: 2185

Post Options

Quote

Reply

Posted: 03 Aug 2018 at 11:21am
What is the status of your ac breakers? What is the capacity of your generator? Are you trying to run a bunch of ac appliances while the ac is turned on? It is not likely your fridge is running on battery if you have the generator turned on. If it's running on battery, your batteries are going to be discharging pretty deeply and very fast. Better to turn your fridge to gas.
Never leave footprints behind.
Fred & Maria Kearney
Sonoma 167RB
Our Pod 172
2019 Ford F-150 2.7 EcoBoost

ZuBrew


podders Helping podders - pHp




Joined: 11 Oct 2017
Location: Macedon, NY
Online Status: Offline
Posts: 98

Post Options

Quote

Reply

Posted: 03 Aug 2018 at 11:35am
I have a 2018 189. Check these breakers inside the converter to make sure all are on.
2017 Chevy Silverado, V8
2018 R-Pod 189
2013 Yamaha FJR 1300A

Larry-D


Senior Member





Joined: 12 Oct 2017
Location: Middle TN
Online Status: Offline
Posts: 106

Post Options

Quote

Reply

Posted: 03 Aug 2018 at 11:53am
It the breakers are "on", remove the inner panel and make sure the electrical connection of the wire to the breaker(s) is tight.

JAKLEMO


Newbie





Joined: 15 Jun 2018
Location: Roswell, NM
Online Status: Offline
Posts: 17

Post Options

Quote

Reply

Posted: 03 Aug 2018 at 12:20pm
Breakers are on. Will check the inner panel in a bit. Will switch the refrigerator to gas too. Thanks. I'll let you know what happens.

JAKLEMO


Newbie





Joined: 15 Jun 2018
Location: Roswell, NM
Online Status: Offline
Posts: 17

Post Options

Quote

Reply

Posted: 03 Aug 2018 at 12:22pm
There was nothing else running off of the generator, and none of the electrical outlets were working. But I will try the above mentioned things in a bit. We are not at the trailer right this second.

TheBum


Senior Member





Joined: 26 Feb 2016
Location: Texas
Online Status: Offline
Posts: 1352

Post Options

Quote

Reply

Posted: 03 Aug 2018 at 12:26pm
I'm surprised nobody has mentioned the GFCI yet. It may need to be reset.
Alan
2022 R-Pod 196 "RaptoRPod"
2019 Dodge Durango GT Plus AWD
Three cats

CharlieM


Senior Member





Joined: 23 Nov 2012
Location: N. Colorado
Online Status: Offline
Posts: 1797

Post Options

Quote

Reply

Posted: 03 Aug 2018 at 12:30pm
Check the status of the Ground Fault Circuit Interrupter (GFCI). This will be an outlet with two buttons on it. If it is tripped it may affect all the other outlets. Wiring of the RPODs is very inconsistent. Sometimes all outlets are wired through a single GFCI outlet.

Forest River's Motto: Let no two Pods be built the same.

Charlie
Northern Colorado
OLD: 2013 RP-172, 2010 Honda Pilot 3.5L 4WD
PRESENT: 2014 Camplite 21RBS, 2013 Supercharged Tacoma 4L V6 4WD

JAKLEMO


Newbie





Joined: 15 Jun 2018
Location: Roswell, NM
Online Status: Offline
Posts: 17

Post Options

Quote

Reply

Posted: 03 Aug 2018 at 12:45pm
Would it affect all the outlets in the trailer if the gfci is tripped?

GlueGuy


Senior Member




Joined: 15 May 2017
Location: N. California
Online Status: Offline
Posts: 2360

Post Options

Quote

Reply

Posted: 03 Aug 2018 at 12:56pm
Originally posted by JAKLEMO

Would it affect all the outlets in the trailer if the gfci is tripped?
Yes. Check the GFCI. Happened to us at least once.
bp
2017 R-Pod 179 Hood River
2015 Ford F150 SuperCrew 4WD 3.5L Ecoboost

Sours: http://www.rpod-owners.com/forum_posts.asp?TID=11990&title=electrical-outlets-not-working
We may get commissions for purchases made through links in this post.
Finally parked in your campsite, you plug your RV into the shore power outlet – and nothing happens. The lights are still out, the air-conditioner isn't kicking in. Your RV has no power. Don't despair! Let's get to the bottom of your issue with a little troubleshooting so you can get back to enjoying the comforts of home, stat!
Safety first! Remember to always practice caution when dealing with electrical outputs. If it looks or feels dangerous to you, stop what you're doing immediately and consult a licensed RV repair professional. That being said, here's a quick list of things to do:
Check if the main GFCI has tripped and needs to be reset.
Reset the main circuit breakers at the power pedestal.
Reset the main 110-volt circuit breaker.
Check the batteries to make sure they're not damaged or otherwise incapacitated.
Disconnect the batteries from the coach and see how the inverter responds.
Disconnect your power pedestal from the shore power and reset your RV's breaker.
Check the diagnostic lights to determine if there is power to the surge protector.
Check the charger/inverter, and, if you have a generator, test for power at the power transfer switch.
Test for power between the power transfer switch/power cord and the inverter/converter.
Check the wires connected to the breaker, then between the breaker and the outlets.
Whew. Those were a lot of steps to go through, we know. And some of them likely seem daunting at first glance. But follow along with us as we go through each one in detail and you'll be back up and running before you know it.
RV Plugged in at the campsite but no power? Let's go over your options
It's an RV enthusiast's worst nightmare: you've spent hours on the road in your vehicle, fighting traffic, crawling your way across lanes for endless miles and now, finally, you've reached your destination, parked your vehicle, and are ready to unwind in your state-of-the-art home away from home. So you plug in your RV, but you're not getting any power! What on earth is going on?
Checking and Resetting The GFCI
The first thing you should do when troubleshooting your lack of power is to check your RV's main GFCI, the Ground Fault Circuit Interrupter. This is often located in your vehicle's bathroom, but not always.
Check your RV's manual if you're unsure of its location, or how to reset it. Do that before you hit the road, so you won't have to waste time looking for that manual when away in the campground (or worse, find that you don't have it with you).
This is the easiest way to solve power problems in your RV, and should absolutely be the first step you take when troubleshooting this issue.
Resetting main circuit breakers
Try resetting the main circuit breakers at the power pedestal and main 110-volt circuit breaker. This should be a fairly simple process, but please, like all things in this guide, check your RV's manual if you're unclear on how to do this, and, again, do not proceed if you feel unsure or at all endangered by anything described. When in doubt, consult a licensed RV professional!
How are the batteries doing?
Check your vehicle's batteries. How do they look? Are they leaking, or do they appear damaged in any way? Vehicle batteries can take a beating, but they're not invincible, particularly in winter where they're prone to freeze. If they are damaged, be sure to wear protection before handling them as battery fluid is toxic and can lead to burns and other unpleasant side effects when it comes in contact with human skin.
The inverter
If the batteries aren't weather-beaten and otherwise look okay, disconnect them from your current shore power and reconnect them to an alternate power source. If everything works as it should, the issue is likely from the initial shore power and not your RV. Hurray!
If it doesn't, disconnect the batteries from your vehicle and see how the inverter responds. Do any lights come on? If so, your batteries may have collapsed cells and may need to be repaired or replaced.
Disconnecting from shore power
Here's where things get a bit more technical and require special tools to proceed. Using a voltmeter or a test light, disconnect your shore cord from the power pedestal and reset the breaker, then test for power at the outlet. If power is there, turn off the breaker, reconnect the power cord, then power the breaker on. Then, move to where the shore cord connects to the RV and test for power.
Surge protector
If your voltmeter finds power flowing, check to see if your RV has a surge protector. If it does, check its diagnostic lights to see if power is going through it. If it isn't, a faulty surge protector may be the cause of your lack of power.
Inverter/converter and the power transfer switch
If everything is still looking as it should, check your charger/inverter or converter for power, and, if you have a generator, test its power transfer switch. Ways of checking these vary by model, so, please, consult your RV's operating manual for specifics. Also, test that power is flowing between the power transfer switch/power cord and the inverter/converter.
The breaker
Time to check the main 110-volt circuit breaker. It'll probably be housed under a panel, which you'll have to remove to get to. If the wires connecting to the breaker have power, it's possible your breaker is faulty and will have to be replaced. Be sure that you're checking the breaker's power out rather than power in, as breakers have a tendency to sometimes go bad or rust to the point of inoperability.
Finally, if there's still no power, check the wiring between the breaker and the power outlets. There might be a loose or broken connection somewhere that's causing your vehicle's inability to take in power, and it's possible fixing this issue will require more professional expertise.
When all else fails
If you've gone through this entire list and are still unable to determine the cause of the issue, your best bet is to take your vehicle to the nearest RV repair facility, where they will likely be able to diagnose and fix the problem without further hassle on your part. Trust them, they're experts!
How to prevent power issues in your RV
Now we'll discuss a few measures you can take to prevent RV power issues.
Charge your batteries
Remember, RV batteries aren't able to recharge themselves in the same way automotive batteries do, making them more prone to unexpected discharges and failures. They're a lot more powerful, and, as a result, require a lot more power and maintenance than your standard, run-of-the-mill car batteries. Charging them, though, is often a simple matter of plugging your RV into a compatible AC outlet and waiting until it's full, a process that can take anywhere from a few hours to an entire day.
Keeping an RV plugged in
Many RV owners, keen on maintaining their vehicle's various electronic gadgets in a perpetually functioning state, keep their batteries plugged in even when their vehicles are idle for long periods of time. Though not inherently damaging, leaving the RV plugged in emits a continuous low-range charge to the battery that can, over time, deplete electrolyte levels within the battery cells.
Good housekeeping
Along with remembering to turn off any 120-volt appliances like refrigerators, heaters, air conditioners, etc. within the vehicle before deciding to store it plugged in for the long term, it's important that RV owners who choose to leave their idle vehicles plugged in for such periods check the electrolyte levels of their batteries monthly to make sure they remain at a good range.
If levels become low, topping off batteries with distilled water is necessary to avoid a damaged battery that has run completely dry, a dilemma you certainly wouldn't want days before a long road trip!
We hope you found this guide helpful. If you have more tips on dealing with a power failure in an RV, leave a comment to share them here!
Be sure to check out some more helpful RV guides:
49 RV Maintenance Tips
RV Water Leak? Here's What To Do
What Happens If An RV Gets Struck By Lightning
Is RV Water Safe To Drink?
Are RV Campgrounds Safe?
Tags: RV Troubleshooting & Maintenance
You Might Also Like
Sours: https://vehq.com/rv-plugged-in-no-power/
Electrical outlets not working?! - How to Fix
Tripped Outlets
Question: Where does one go to reset tripped outlets? All of our electrical outlets have lost power, but everything else is fine. This is for a 26ft TrailCruiser by TrailLite.
Answer: Without knowing the particulars on how your RV was setup or modified by the dealer and or former owner, it is difficult to provide a precise answer. But we can offer a few thoughts.
First, your rig may have a panel of circuit breakers and/or a GFCI reset button. So look for that and consult any specifications or manuals you have for your RV.
If you cannot reset a breaker or switch, then you may need to trace the electrical circuit(s) that are giving you trouble. However, this must be done with caution and armed with all the tools at your disposal.
If it were our rig, we would definitely consult the owner's manual and wiring schematic specific to our RV.
If you do not have an owner's manual, contacting the manufacturer may shed some light on the problem. If contacting the manufacturer does not help then try asking the RV dealer or the former owner from whom you bought the rig. If that is not possible then the only option is to physically trace the wiring.
In tracing wiring, the objective is to identify any circuit breakers, a tripped GFCI outlet, or a loose wire. To do this you will need a continuity tester/test light (such as a neon tester, electrostatic wand, volt ohmmeter, three-prong outlet tester) and a lot of confidence on working with a live electrical circuit.
You will have to identify the power source for the circuit to determine if you have power to the circuit. Once you have determined that you do have power at the source then you can move on to the circuit itself.
Test for power at the breaker then follow the circuit to each outlet looking for a break in the circuit or a bad outlet. If any of these terms seem foreign to you, then please do not attempt to do this. Instead, take the RV to a repair center.
Comment: This is not an uncommon issue – people would think that the company who made their coach would try and make things simple – but they do not.
As to your question, there is for the most part two locations to look for any power issues: #1) the first location anyone should look is the fuse box, it could be a tripped breaker if 120 volts and a blown fuse if 12 volt is the issue, then #2) this is the one most if not all miss, THE GFI OUTLET. You have to look at all the gfi outlets as the company most likely has it set up so that when a gfi trips in a kitchen it will kill the outlets in the lower part of the coach, and if in the bath it could kill all the outlets in the upper half of the coach.
So as you see, if a gfi issue – it is not just that outlet. Also, for most gfi outlets, it is difficult to see if it tripped – you need to push the reset button to know for sure.
So I hope this helps you and others as this is a common issues as I stated above.
Wall Outlet Won't Work
Question: The wall outlets in the kitchen of our Canyon Trail 5th wheel just quit working. We checked all fuses, and they are fine. What else could be the problem?
Answer: It could be a number of things that is causing the problem. We have several pages on our site which have addressed similar questions, so we suggest these as resources for troubleshooting the problem.
Your easiest solution is to replace it. Like breakers, GFCI's have a finite life span. If it has not been replaced, then based on the age of the unit I'd look to replace it. Another thought is that the wiring could be loose and tightening the connections might solve your problem, but my opinion is that it has reached its useful lifespan.
Have 1998 Safari Sahara, the gfi plug in kitchen losses power but does not trip breaker on plug or throw any breakers, and comes back on after 10 or 15 minutes. Any ideas?
Some Power Outlets Not Working
by Keith (Lucedale, MS USA)
Question: The TV outlet and a couple other outlets and a couple lights just quit working all at once. I have flipped all the breakers and checked them with a meter. Plus i have pushed the reset button on the GFCI plug near the bathroom sink – it is working. Is there anything else I can check that might fix the problem? Trailer is a 2002 33 foot Montana.
Answer: It seems hat you have a wiring problem where a connection has gotten loose or cut – either on the ground, or less likely, the positive side. The fact that some of the 12 volt lights also quit working seems to indicate that something cut/disturbed the wires both on the 110 volt and 12 volt side.
Since you have a meter you should be able to trace the problem from the outlet or light back to its source. If you have wiring diagrams it will be of great help. If you cannot trace the wiring then the next best course is to run new wiring (I know it might be a pain).
Otherwise you will have to take it in to a repair place. Just be ready to dig deep in your pockets if it takes them a long time to find the source of the problem.
Outlets Not Working
by Dennis (Marysville, WA)
Question: We have no power to outlets in our fifth wheel when using electric, but we do have it when we use the generator. Can anyone help?
Answer: Here are a few thoughts. Your problem my be in one of the following: the converter, your power cord, the wires that connect your power cord to the converter, or the power transfer switch.
CAUTION: Never work on a converter or a power transfer switch while it is connected to live power unless you are skilled in electrical trouble shooting. Don't risk injury or your life.
However, if you feel comfortable working on the converter you can check to make sure that all of the converter connections good and tight.
Also make sure you have a good battery connected to the converter. We have heard that a bad battery can cause similar problems.
Also try resetting all circuit breakers in the converter and make sure that they are good. If you have a GFI outlet reset that too.
You may also want to check the power transfer switch – but please heed the caution above.
If you feel comfortable working on the power transfer switch, you can check the contacts to make sure that they are operating properly and that the contacts are not pitted or welded shut.
If you still do not have power at your outlets then you will need to take your 5th wheel to a professional to resolve your power issue.
Electrical Outlets Have No Power
by Gary (Cincinnati, Ohio)
Question: I had shore electric on every outlet working properly and then unplugged electric and turned the generator on and had no power to electrical outlets. Any ideas?
Answer:
Trying to diagnose an electrical problem remotely is difficult at best, but here are some things to check:
1 – Check generator circuit breaker(s) and reset if needed.
2 – Check GFI outlet and reset if needed after you turn on the generator. We sometimes have to do that to get the outlets to work.
3 – Recheck and reset (if needed) all your 120 Volt breakers in the main house panel after you turned on the generator.
4– Check for power leaving the generator.
If all of the above is OK and you still do not have power at the outlets then the problem may involve your power transfer switch. Trying to diagnose or fix one is a job best left to a qualified RV repair facility. However, if you feel handy and are very comfortable working with live power circuits, here is a link that might help: http://www.progressivedyn.com/troubleshooting_transfer_relay/. It shows how to diagnose power transfer switch problems. Your transfer switch my be different but the procedures should be the same.
Please let us know how things work out.
Sours: https://www.your-rv-lifestyle.com/rv-outlets-not-working/
River outlets working forest not
1. Disconnect the battery from the recreational
vehicle.
2. Check electrolyte status before charging. Be
sure each cell is properly filled with distilled
water.
3. Use care when connecting and disconnecting
the cables from chargers. A poor connection
can cause an electrical arc, which can result
in an explosion.
4. Remove the battery vent caps before charging
and be sure that the electrolyte solution does
not splash out as a result of charging too
quickly. NEVER attempt to open a mainte-
nance free battery.
5. Read the literature supplied by the battery
manufacturer and follow all their warnings or
precautions as stated in their manual.
6. For more information, please consult the
individual owner's manual or on-line at
www.forestriverinc.com.
Power Converter/Inverter
The converter is used to switch 120 volt electricity, from
an external supply or from the generator, to 12 volt elec-
tricity. Under normal conditions, the converter requires
no maintenance. If the converter does not have a
120 volt supply to convert to 12 volt, it automatically
switches the batteries into the electrical circuit to power
12 volt functions. When reconnected to a 120 volt power
source, it will again operate from that source.
NOTE:
The converter will run warm, which is normal. If, how-
ever, it gets too hot, it will turn itself off. After it cools, it
will come back on. In most cases, shut down occurs due
to poor ventilation.
NOTE:
A slight hum during operation is also normal for the con-
verter. If you have no 12 volt power and no hum, check
to see if 120 volt power to the converter has been inter-
rupted.
Fuses and Circuit Breakers
Ground Fault Circuit Interrupter
The 120VAC outlet in some possible wet locations are
equipped with a protective circuit interrupter. The ground
fault circuit interrupter (GFCI) is designed to break the
flow of current to the protected outlet when an imbalance
DANGER
LIVING QUARTERS
of current is detected. Imbalances include electrical leak-
age in an appliance, such as a shaver or hair dryer, that
has developed a weak spot in electrical insulation. The
possibility of electrocution exists when using a faulty
appliance while at the same time being in contact with an
electrical ground, such as water, plumbing, or the earth.
If an imbalance is detected, the GFCI will trip and shut off
power to the outlet. Even with GFCI protection, the elec-
trical shock will still be felt, but to a lesser degree. It also
does not protect against short circuits or system over-
loads. Circuit breakers in the main panel, which supply
power to the circuit, will trip if either of these conditions
exists. The GFCI receptacle should be tested initially
when the recreational vehicle is purchased and a least
monthly thereafter.
Even with GFCI protection, persons with severe
heart or other health problems may still be seri-
ously affected by an electrical shock. The GFCI
outlet is not a substitute for good electrical safety.
It does not protect against contact of the hot and
neutral wire at the same time. (The GFCI does not
protect any circuit other than the one to which it is
connected.)
To test the circuit, use the following procedure:
1. Make sure power to the circuit is ON.
2. Push the test button.
3. The reset button should pop out.
4. All power should be interrupted to outlets protected
by the GFCI.
5. Verify by plugging in a light at these outlets and
pushing in the red reset button. If the button does
not pop out after pushing the test button or GFCI
circuit continues to trip, immediately turn off power
at the circuit breaker panel and have a qualified
electrician service it.
Circuit Breakers
The 120VAC system is protected by circuit breakers.
These breakers automatically trip if the circuit load is too
heavy or a short circuit occurs. If a circuit breaker has
been tripped, do not reset the breaker until the cause of
the problem is identified and corrected.
• The generator may have one (4.0 KW) or two
(5.5 KW & larger) breakers and a DC fuse on the
generator control panel. If an interruption in genera-
tor operation occurs, check to see if any of these
have been tripped; consult the manuals provided
with the generator before attempting maintenance
on the generator. For more information, please con-
sult the individual owner's manual or on-line at
www.forestriverinc.com.
29
DANGER
Sours: https://www.manualslib.com/manual/929120/Forest-River-Travel-Trailer.html?page=30
Half your outlets work in your 5th wheel trailer/camper
Prepared for my arrival. - embracing a woman's body, he said affectionately. How I miss you.
You will also like:
Vote. Woof. Woof. came from under the table. However, I have a good daddy, obedient.
1697
1698
1699
1700
1701