Rolling ladder ideas – creative interiors and furniture ideas
We will show you a selection of rolling ladder ideas which are especially useful in various situations. Although they are widely used in warehouses or industrial stockrooms, these ladders are not uncommon in private homes. They are manufactured from a variety of materials – wood, salvaged wood, stainless steel, aluminum, and you can see them in home libraries, children's bedrooms, kitchens, pantries, wine cellars.
Rolling ladders are also called sliding ladders, as they are sliding on the same principle as sliding barn doors and the hardware is more or less the same as the one of barn doors. We shall look at how rolling ladders are used in different rooms and why they are so popular among homeowners.
Rolling ladder ideas – the advantages of using a rolling ladder
Many people look at different rolling ladder ideas and think of convenience, safety, ease of movement, appearance, how it will fit to their home decor. This is quite understandable as any ladder or staircase must meet the requirements for safety and of course, it has to provide a convenient use. Rolling ladders offer a number of advantages and the biggest and most important one is that they are a great space saving idea and a perfect solution for small living spaces as they do not take any valuable floor space and you can always tuck it away when not using it.
The ladders are practically versatile and can be used in any home and in any room. They are lightweight and can be moved without effort. They are offered in many different styles, sizes and designs so it is not a problem to find one which will fit with the interior of your home. Some models are equipped with a platform, others are simple step ladders and they are the more popular type for residential use.
On the downside of sliding ladders, the first and most important consideration is safety. They can be difficult to climb and can be dangerous for pets and small children. Some models made of solid wood can be heavier which means that moving the ladder will require more effort. It is essential that ladders are installed with the right height so that the users will not have difficulties with the access of what they need and avoid accidental falling.
Rolling ladder ideas in home libraries
Rolling ladder ideas are especially popular in home libraries. A rolling library ladders vary in styles from antique to modern stainless steel designs or beautiful combinations of wood and metal. A rolling library ladder adds functionality to rooms with high shelves or floor to ceiling cabinets. From a purely practical point of you, a rolling library ladder helps you increase the storage space which is important for every homeowner no matter whether you live in small apartment or in a large house. We all know that storage space is never enough. You could choose a model to match with the bookshelves or you can make it an accent by getting a design in a contrast color which will pop out against the bookshelves.
Using moving ladders in kitchens and pantry cabinets also provides access to the out-of-reach space which allows you a more efficient use of the vertical space in your home and better kitchen or pantry organizing. Same applies for walk in closets – you could store seasonal clothes in the upper space save from the floor space of the closet.
These ladders are widely used in bunk bed designs as they can be moved to one side or the other so that the floor space is as free as possible. Again the space saving function is coming as a major advantage since bunk beds are mostly used in small bedrooms where every inch of space is valuable.
How to choose the best rolling ladder – useful buyer's tips
You can have a custom made model or opt for a rolling ladder kit and install it by yourself. Many manufacturers offer such kits. When choosing, you should pay attention to the various elements of the hardware. On the first place you have to choose the right size, height and width of the ladder so that it fits exactly to your space. The roller type can be straight or curved and the rail brackets have to be chosen accordingly. Rolling ladders may have or not have wheels and the market offers many options – modern style wheels, traditional, with or without brakes. Make sure you get rail end stops which will control the sliding motion of your ladder. It is worth thinking for rolling ladder accessories like handrails which will add to the safety and convenience, the type of step treads and tread support.
Installing a ladder as a DIY project follows a few steps. First you need to fix the rail. Kits come with brackets that are fixed and the rail is inserted into the brackets. Install end caps with a screw and then you can assemble the steps of the ladder. Usually rolling ladder kits come with assembly and installation instructions and you should follow them so that your ladder operates properly and is above all safe. Always check the guarantee period as different types of ladders come with a different guarantee.
Whichever type of rolling ladder you choose – a traditional wooden ladder or a modern stainless steel one, it will be a useful and practical addition to your home. Check out the fantastic rolling ladder ideas in the gallery below and see which one is best for your home.
Sours: https://deavita.net/rolling-ladder-ideas-home-furniture.html
Best Library Ladders For Kitchen You Can Buy Right Now
Before jumping right on to the list of best library ladder for kitchen, lets first talk about why you need them and how they make the kitchens better!
Let's face it, kitchens can be messy. And there is almost no way to keep your kitchen neat and organized without using some shelves and racks.
And if your kitchen is anything like the rest of the people, it has a lot of high shelves to store different kitchen essentials such as spices, herbs, dishes, spoons, packaged food, and a lot more.
Yes, everyone loves to keep these things on high shelves and cupboards to save space.
But the problem begins when you need to use them multiple times a day for cooking and keep it back there. And you can't even use normal ladders or extension ladders in your kitchen as it already has a limited amount of space.
So, what's the solution?
The solution is a library ladder for kitchen. These ladders are minimalist in design, small in size, and a lot of light and efficient to use in your kitchen's already claustrophobic space.
In this article, we're going to share everything you need to know to buy the perfect library ladder for your kitchen. So, pay attention. Here we go…
Things To Consider Before Buying Kitchen Ladder
Whether you've got a lot of experience with different kinds of ladders or you're just a rookie looking for a library ladder or step stool to solve your problems, you have to know all the basics to make the right choice.
In this section, you're going to learn about the top 4 most important things you must consider before you drive to a ladder shop.
Make Sure the Floor is Completely Level
If you're planning on bringing a library ladder to your kitchen, you have to make sure that your floor is completely level.
You just cannot use a library ladder in a room with a sloppy surface as it might not be safe for you. A hardwood or concrete floor is the right kind of floor for this ladder.
And if you have a floor made of tiles, just make sure that all the tiles are even and the surface isn't sloppy.
Also, experts don't recommend using this kind of ladder on a floor with carpet as the ladder may slip because of it. Be careful of these things even before thinking to buy a library ladder.
A step stool works really well in these situations. So, if your floor isn't totally level, you should definitely go for a step stool as they're easier to use on an uneven surface.
Have Adequate Space
You must have an adequate amount of free space in order to use your library ladder freely all over your kitchen.
Also, your ceiling needs to be a little high to properly use your ladder. You can't use this kind of ladder with relatively low-ceiling kitchens as either the ladder won't fit or you may get hurt.
So, before you hit the market to get a ladder for you, make sure you know the height of your ceiling accurately.
However, if the height of your kitchen ceiling isn't that high and a library ladder won't fit in, you can always go for a step stool.
They're relatively short and portable which makes them perfect for these situations.
Choose the Right Ladder Style
Before you leave your house to buy a library ladder for your kitchen, decide what ladder style you're ideally looking for.
This kind of ladder comes with various styles. So, you need to figure out which style suits you the best.
You can either go for a simple straight style ladder or you can go for a bending style ladder if there is an obstacle between you and the shelves. There's also a loft-style ladder.
However, it's quite unlikely to be used in the kitchen. So, it's better to stay away from it if you're looking for a ladder for your kitchen.
However, if your kitchen shelves are not quite that high, then there is no need to get a library ladder. In these cases, a simple step stool will do the trick.
Consider the Material
Whether you're buying a ladder or any other physical object, you can't ignore the importance of selecting the right material. There are two major material options when it comes to library ladders.
The first one is wood. Wood is, by far, the most desired material for a ladder and people are using this material for a long time.
It's sturdy, strong, and comes with flatter steps. Meanwhile, metal ladders are perfect for a streamlined room and usually lighter than a wooden ladder which makes it easy to move.
Assess your particular requirement properly to get the best library ladder for your kitchen.
Now, you know exactly what you need to look for while diving in to buy the right library ladder for your kitchen. You know the type, the materials, and the necessary conditions to see what kind of ladder will fulfill most of your needs.
But it's still quite tough to go and look for a library ladder when you have no idea what you'll be seeing in front of your eyes, which will only overwhelm you with choices.
And the only way to escape the choice paralysis is to know what the best ladders look like and what their key features are.
In this section, we're going to reveal the top 5 best library ladder for the kitchen you should go for. One of them is step ladder. Also, we have mentioned 2 ladder kits if you wish to buy ladders separately.
Rolling Ladder From QG
If you're looking for a minimalist rolling library ladder for your kitchen that is safe to use even on a carpet, you should go for this rolling ladder from QG.
Although it's made of wood, it only weighs about 40 lbs and is quite safe to use because of its sturdy built.
It comes with an 8 feet latter and two 6 feet black aluminum rails so you can easily get the ladder of your dreams which will help you climb with ease.
Features
Easy Installation
This library ladder comes with a thorough guide on how to install the ladder. This makes it quite easy to install and you can do it yourself without outside help. Now, you no longer need to spend your hard-earned money on installing your ladder. Just follow the steps described in the guide, assemble it, and you're ready to play.
Flat Wooden Steps for an Easy Climbing Experience
This ladder from QG is made of flat wooden steps which give you more space to hold your legs. Also, these wooden steps feel a lot smoother to your feet than metal steps giving you a pleasurable and safe climbing experience.
Check-out this rolling ladder on Amazon.
Sliding Ladder From SNYUAN
Sometimes, taking the ladder from one place to another or moving it to the side can be a huge hassle. With this sliding library ladder from SNYUAN, you can easily move this ladder to the side to reach your desired place.
Made of unpainted knotty pine wood, this library ladder is 96-inch tall so you can safely reach even the highest of the shelves.
Features
5-Year Factory Warranty
This library ladder comes with an astounding 5-year factory warranty so you'll never have to worry about having a broken step or weak frames as long as you've followed the user-manual correctly.
8 Straight Steps
This ladder comes with a minimalist design that easily reflects in its steps too. The steps are simple and durable. You have a total of 8 steps to put your feet on, which makes it easy to climb the ladder safely without the fear of falling down.
Know more about this ladder on Amazon.
DIYHD Pine Wood Library Ladder
If you're looking for a simple library ladder that performs the basic task of climbing just fine, this Pine Wood ladder from DIYHD is the best choice for you.

This ladder made of fine pine wood weighs just 17.7 pounds, which is so light that you can move it anywhere effortlessly. This particular model of the library ladder is 87 inches tall which is perfect for using it in the kitchen.
Features
Unpainted Surface for a Vintage Look
This library ladder comes with an unpainted yet smooth frame made of pine wood that invokes a vintage feel the moment you look at it. This will blend smoothly with your kitchen and make it look even more stylish.
Easy Assembling
This simple and light ladder is quite easy to assemble. It comes with screw hardware required to assemble it and a comprehensive guide which will help you install it without much fuss.
However, please note that you need to buy other kits like rollers and extraction tracks separately. Although they're optional, it's recommended to buy them as it adds a lot of functionality to your ladder which will make you move it easily and use it safely.
For more information about the price and other features, click here. (link to Amazon)
Note: You will have to buy the kit separately to make the ladder fully functional. The recommended kits are also mentioned later in the article.
KINMADE Library Ladder
If safety is the biggest concern for you, then you can never go wrong with this library ladder from KINMADE. It comes with 2 beautifully designed side rails, 7 sturdy and safe steps, and one top rail.
Once you assemble this, you'll have an amazing ladder ready to tackle any high place.
It weighs just about 15.4 lbs, which is, by far, one of the lightest library ladders and it is almost 96 inches tall. Now, you can readily tackle anything related to climbing with this library ladder at your disposal.
Features
Made of Red Oak
This amazing ladder is made of strong and sturdy red oak, which is one of the strongest wood to build your furniture from. This gives you a feel-safe experience whenever you climb on it. Not everyone can beat this.
It Brushes up Your Kitchen's Look
This library ladder made of red oak and traditional wooden design perfectly blends with any kitchen, stepping up the entire look and feel of your kitchen.
Click here to check it out on Amazon.
Note: You will have to buy the kit separately to make the ladder fully functional. The recommended kits are mentioned below.
Classic Library Ladder Kit From Rockler
This sturdy ladder kit comes with all the important hardware you need to assemble it, which makes it way less painful to assemble your ladder with and start using it.
Features
It's Made of High-quality Steel
Now, you don't have to worry anymore about the life of your library ladder as this one is made from high-quality steel. So, your ladder is safe from bugs, water, and moisture which means the quality of your ladder will stay intact for years to come.
Checkout price and how to install guide here. (link to Amazon)
KINMADE Sliding Library Ladder Kit
The ladders mentioned above can work perfectly KINMADE sliding ladder kit.
With this stylish and chic sliding ladder, you can simply attach this kit with your library ladder and move it to different places in your kitchen.
This particular ladder kit has a 13 feet long track which is enough to reach even furthest part of your kitchen shelves.
Features
No Bottom Rollers
One of the slickest features of this library ladder kit is that it doesn't have bottom rollers. Sometimes, bottom rollers can create problems while sliding through a rug.
And if you have an uneven floor, you can't use bottom rollers too. This ladder kit cuts all these problems and introduces top rollers so you can get wherever you want in your kitchen without any worry.
Minimalist Design
This library ladder kit comes with a minimalist design and it helps do one and only one thing, help you climb your ladder safely.
And that's all you need. It doesn't overwhelm you with a lot of unnecessary technologies, which helps to make your life easier.
Check-out the ladder kit on Amazon.
Folding Step Stools by LIYFF
Not everyone likes to keep a big ladder in their kitchen as this is quite a tough task to move sometimes.
If you're one of those who loves to get your job done with compact tools, this LIYFF folding step stool is perfect for you.
It comes with 6 sturdy wooden steps that are capable of carrying up to 150 kg.
Also, it's foldable so you can adjust its height and even make it work in uneven places. There are just no other simpler ways to reach your cupboards.
Features
Made of Pine Wood
This folding step stool has been constructed using strong and sturdy pine wood. And it's quite environment-friendly and durable so you don't have to worry about frequently replacing it with a new one.
It Blends Beautifully with Any Kitchen
This step stool is quite stylish and gives an elegant look to any place you keep it. Its small size and beautifully designed pattern will blend with your kitchen and step up your kitchen aesthetics.
Check out this folding step stool on Amazon.
Important Safety Measures
No matter what kind of ladder you use and how sturdy it is, you still have to take several safety measures to ensure your well-being.
While climbing up or down through the ladder, you should always make a three-point contact to make sure you stay balanced. Never ever try to slide the library ladder when you're on it.
Also, never lean on your sides or on your back too much while you're standing on a library ladder. If you need to adjust its placement, just climb down and adjust it according to your needs.
This way, you can have a safe climbing experience.
In Conclusion
Getting the right library ladder for kitchen is tough, especially if you're buying a library ladder for the first time.
However, if you've come this far, you have acquired the basic knowledge you need to hunt down the perfect library ladder for you.
Make sure you consider every aspect of a ladder before making your final purchase decision. Make sure your floor is completely level and you have adequate space to keep your library ladder.
Remember, there is no one size fits all when it comes to buying a ladder. So, you need to give a good thought to your ladder style and material too.
Finally, if you're still confused about what to look for, take a look at our top 8 library ladders for inspiration.
However, these ladders are carefully selected so you might also find the ladder you're looking for right there. So, go through all of them carefully.
Now, you're all set to go and select the best library ladder for your kitchen. So, let's do some shopping.
P.S.=> How are you planning to use a library ladder? Let us know in the comment section.
Other Useful Posts:
7 Best Black Ladder Shelves – Top Picks & Buying Guide
Sours: https://ladderplanet.com/library-ladder-for-kitchen/
In need of more kitchen storage space? Before you start knocking down walls, take a pause—the answer might lie in expanding up, not out.
When Krysta Gibbons of Kipling House Interiors was designing a childhood friend's new house near Jacksonville, Florida, she took full advantage of the 12-foot ceiling height in the catering kitchen by building the cabinets all the way up to the top. To ensure that the ultra-high cabinets would actually be accessible on a day-to-day basis, she brought in a brilliant feature: a rolling ladder, just like the ones you see in libraries.
"Unlike a standard step ladder that you have to pull out, this one is on wheels, so you can easily roll it from one side of the room to the other," says Gibbons. "It really lets you use all the vertical space!"
The mahogany-and-brass piece, which was made by Putnam Rolling Ladder Co., also adds some serious design flair. "Truth be told, even though it's practical, the ladder definitely adds a cool factor, t0o," Gibbons adds. "I love how the brass rail separates the accessible cabinetry from inaccessible cabinetry—it's like jewelry!"
.
Follow House Beautiful on Instagram.
Emma BazilianSenior Features EditorEmma Bazilian is a writer and editor covering interior design, market trends and culture.
This content is created and maintained by a third party, and imported onto this page to help users provide their email addresses. You may be able to find more information about this and similar content at piano.io
Sours: https://www.housebeautiful.com/design-inspiration/a29133820/kitchen-ladder-storage/
Rolastair™ Rolling Ladder Stands
Time to go above and beyond library walls.
The classic rolling library ladder often evokes images of majestic libraries, full of epic bookshelves, and maybe Belle sing-songing about escaping her provincial life. But they can be used for a great variety of purposes – from straight utilitarian practicality, or adding a unique sense of design and room architecture. You may even be able to combine the two; let's browse how a rolling library ladder could be just the right addition for your room. (Note: all photos were customer submitted!)
Kitchen Rolling Ladder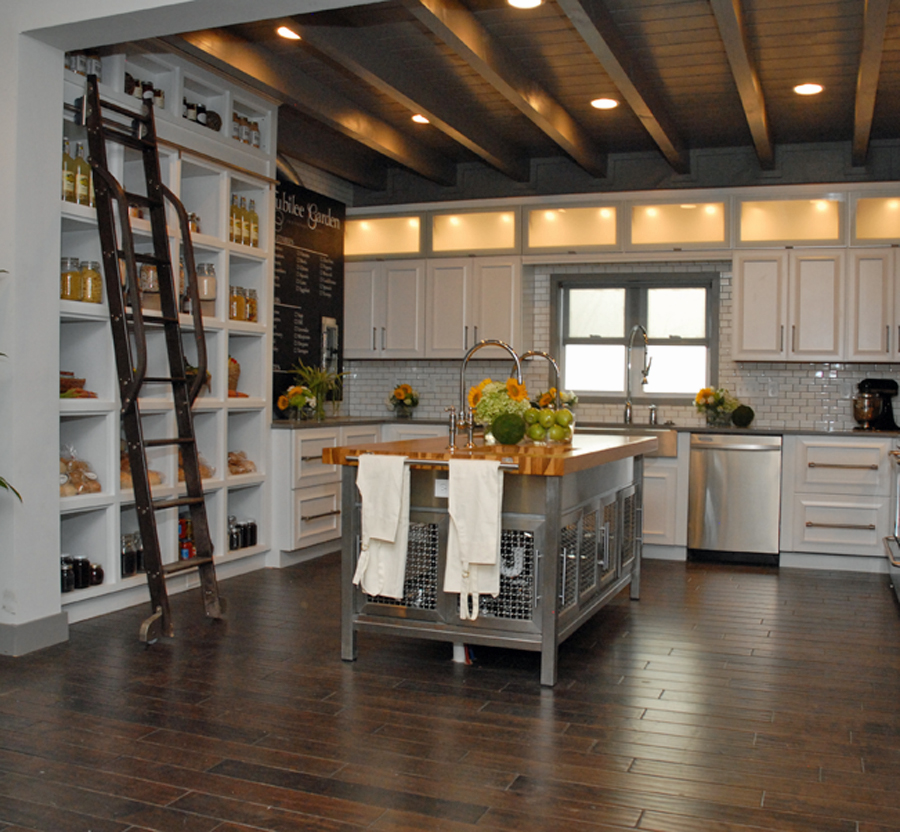 Why not maximize your space? Finding a ladder set up that will provide access yet give you flexibility and room to cook is the way to go.
Dressing Room / Boudoir Rolling Ladder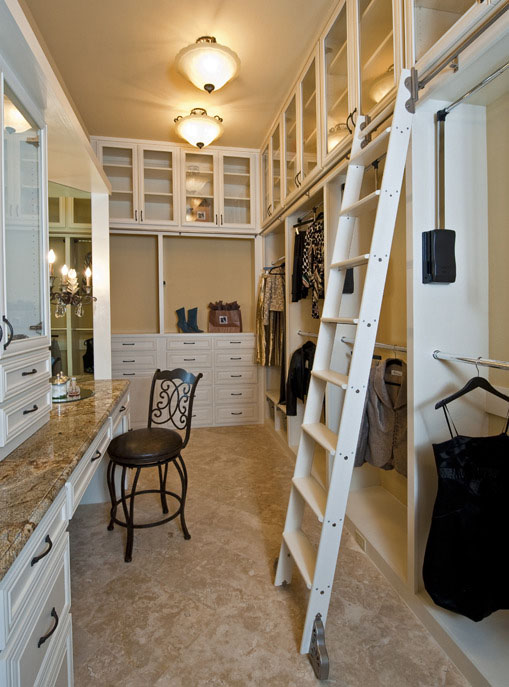 A great use of space for fashion-savvy folks. Especially if you are shuffling multiple outfits or bodies in and out of a compact area, the dressing room rolling ladder may make it all come together.
Living Room / Sitting Room Rolling Ladder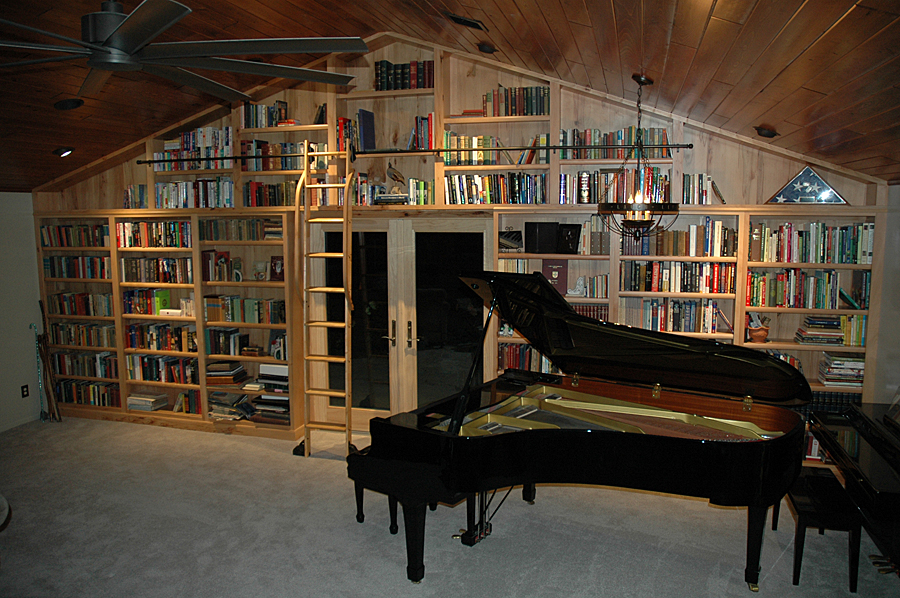 The right rolling ladder can bridge elegance in design to enabling so many options – wouldn't you want to explore those sprawling bookshelves with your guests, as the piano plays on through the night?
Home Office Rolling Ladder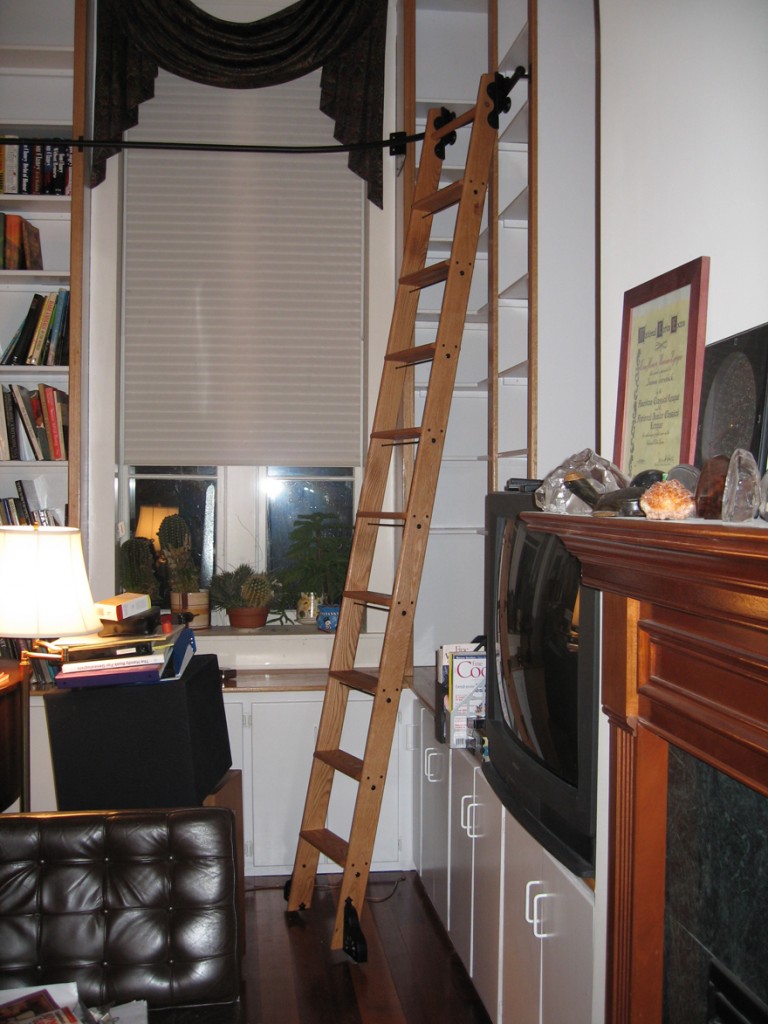 If you have files up to your eyeballs, or higher – maybe it's time to maximize the shelving space available. Or if you are in a tight city apartment, and your "office" and "living room" (and more) don't exactly have clear boundaries, the rolling ladder can help. Did you notice how the curved support rail connects between shelves, passing over the window?
(Stationary) Rolling Ladders In Place of Stairs
Sometimes fitting a true stairwell into a space just doesn't work. With the right set up, a bit of strategy and some innovation, a rolling ladder could do a good stand-in for a full stair case.
Atrium / Side Exit Rolling Ladders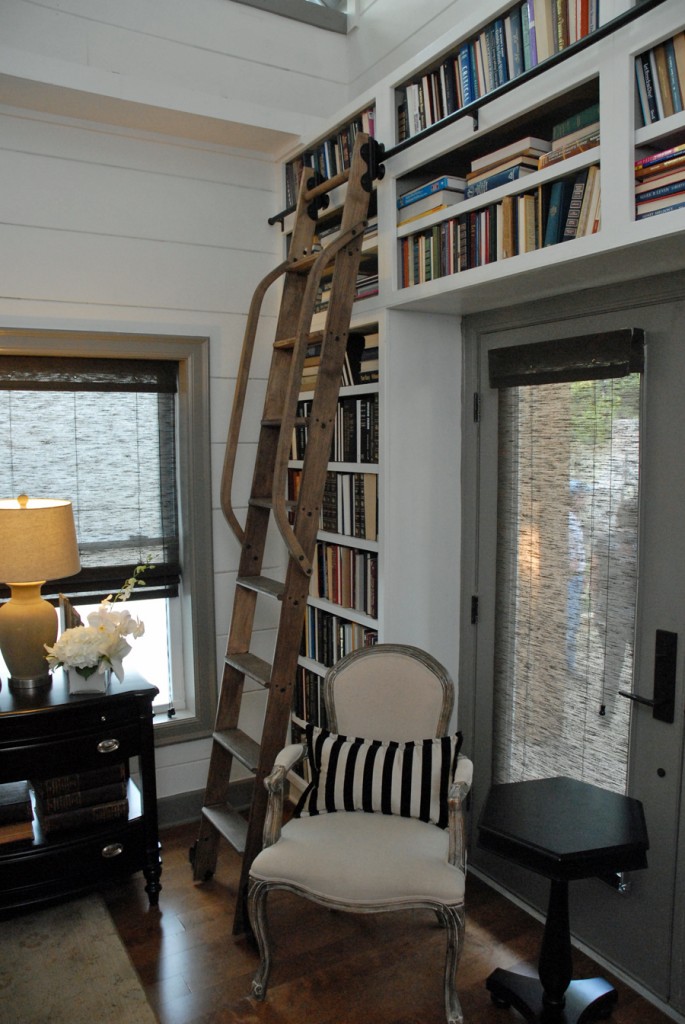 Don't let that extra wall space go to waste. A well-placed rolling ladder can give you access to storage or shelving that a doorway might otherwise inhibit. With a built-in ladder you can re-position at will, there is no more hassle.
Pantry Rolling Ladders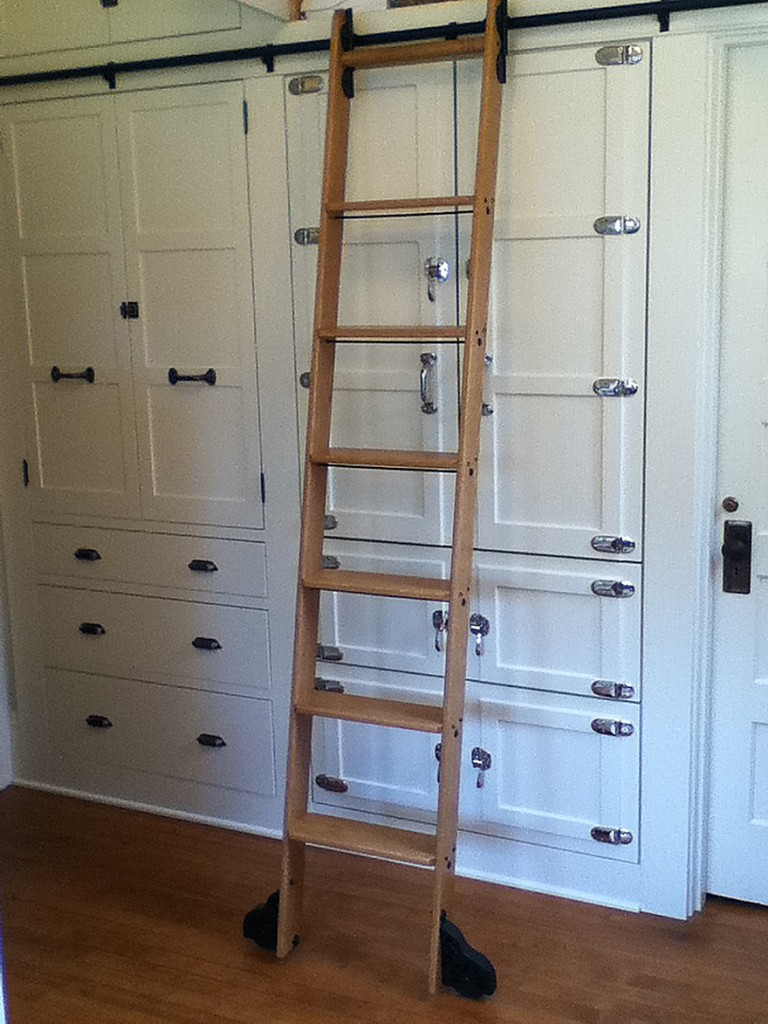 Got a tall pantry or alcove where you store particular items? Maximize the area by using a rolling ladder – compact and flexible.
Rolling Ladders In The Closet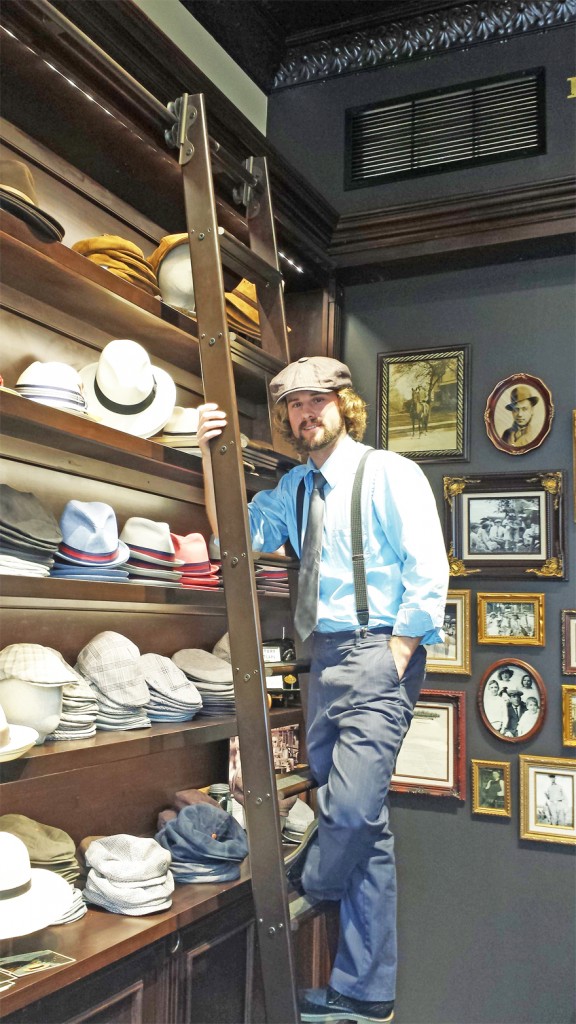 Are you a collector? Is your spouse one? Maybe you have an extensive wardrobe or need to maintain one for your other activities; this might be the perfect solution for you. Keep your accessories and special items within arm's reach, and bring some serious style to your wardrobe with a rolling ladder in your closet.
With all of these great ideas, have you found out where a rolling ladder would best fit in your home? Let us walk you through selecting all the right parts with our step by step ordering process – we'll help you every step of the way. Or check here if you want to browse our Ladder Kits and various components.
Sours: http://www.highlandsdesigns.com/wp/tag/pantry-ladder/
Ladder cabinets kitchen rolling for
Climbing The Ladder
Melissa Parr
When I was a kid, I always loved climbing and exploring! I try to embrace my inner child in certain elements of my designs because I think it is important to incorporate a certain playfulness in the right space. After all, who doesn't love to have fun in design and let their creativity flow?!
Visual Interest and Dimension
It is so important to add layers and dimension to your space. Without dimension, your design will fall flat and become lackluster and dull. I feel the best way to bring in texture is through your art and accessories. They can be the element that brings the whole design together. A ladder can be an exciting way to add a pop to your space and bring life to an otherwise flat run of cabinetry or wall space.
A Hint of Whimsy
Whenever I think of rolling ladders, I think of the library in Beauty and the Beast. Who hasn't dreamed of having a grand space full of books as far as the eye can see? Adding in a ladder is the perfect way to add a little bit of fun and whimsy to your home library. They are also very functional for those top shelves that are hard to reach!
Raising the Height of Your Space
Speaking of top shelves, if you are anything like me, it is difficult to reach some of the items at the top of your pantry or on the higher shelves of your kitchen cabinets. If you incorporate a ladder rail along the tops of all of your cabinets, you can access anything you need and you have the potential to raise the height of your ceilings and cabinets if you are doing a new construction or remodel project. I always try to make my cabinets touch the ceiling when possible. If you think the ladder will get in the way, you can always add a small hanging spot on the side of your cabinet run to store the ladder when it is not in use.
Decorative Elements
I always try and include three-dimensional decorative elements into my design. It really makes your space come alive. With a ladder, you have so many options for the finish and the construction. The design opportunities are endless. A decorative rolling ladder is essentially a piece of art in your space. It is a sculptural element that is also functional while bringing the whole design vision together.
Versatility
One of my favorite things about a rolling ladder is how versatile they are! You can add one in your kitchen or pantry design. They work perfectly in a home office or library space. They are also very practical in a closet or even a home bar! The options are limitless and the fun is contagious! If you decide to incorporate one in your design, please share your pictures with me! I hope you all have a fantastic Memorial Day Weekend!
Sours: https://www.sheerinteriors.com/blog/tag/rolling+ladder
Rolling Ladders
Aim High: What to Know About Adding a Library Ladder
Important Considerations

Before proceeding with a library ladder project, make sure your space meets these four requirements.

1. Determine if there's adequate support at the location you want to install the rail. If not, you'll need to add it. Keep in mind that the rail needs to support not only itself and the ladder, but the person standing on it and the torque created by that person's movement. Klint Peacock of Bartels Doors, who represents MWE brand ladders, says that if you're mounting onto wood cabinetry, as shown here, you don't need additional support because the unit itself is already solid wood.

However, if the rail is to be mounted directly to a wall surface, extra support will likely need to be built into the wall if it's not concrete. Peacock explains that when someone is sliding the ladder or even climbing on it, there is no force pulling down on the rail or the mounts (the floor receives the force). The problem arises with the force created when the ladder is pulled outward. While the ladder mounts are extremely load bearing, they need to be mounted to something solid.
2. The floor surface must be completely level. If you have an older house with floors that have a charming slope to them, a library ladder won't work for you. Hard-surface floors, such as hardwood and tile, are ideal. Just make sure the tile or stone is level and doesn't have a pronounced dimension variance, like in the clefts of slate. Otherwise, the ladder may get caught on high points. Carpet isn't recommended either unless it is a level loop with a very low pile.

3. You must have a minimum clearance space from the center of the track to the ceiling, which is needed for installation. Some manufacturers require a 7-inch clearance, but this dimension could vary with others, so it's prudent to verify first.

4. Make sure you meet the weight requirements of the ladder you're interested in. For example, MWE's ladders have a 265-pound load capacity.
Choosing a Style

Library ladders come in three general configurations, determined by the use and surrounding architectural elements.

Straight. The straight style is pretty self-explanatory. It's a straight up-and-down ladder that is meant to go against a vertical wall or cabinetry, as seen in this study.
Bent. A bent library ladder, seen here, sports a bend midway to work around an obstruction such as a countertop or radiator cover. A ladder manufacturer can make this ladder based on the obstruction's height and depth dimensions that you provide.

Loft. A loft-style ladder has distinct extended side rails at the top to accommodate accessing a loft or mezzanine level.
Materials

Wood. Wood library ladders usually have a more traditional look. While more substantial in scale, they also have flat steps, and some have a beautiful cast-lace-like star pattern housing over the bottom wheels that give them a Victorian-era flair. (More pared-down options are available too). Wood ladders are made of solid hardwoods, including birch, cherry, mahogany, red and white oak, and walnut. They can be left unfinished, stained or just coated with a clear finish.

However, if wood grain isn't your thing, wood ladders can also be painted, as shown here. Painted finishes can teeter between traditional and contemporary, depending on the color and context. The hardware finish options for wood ladders and the rails are attractive and extensive.

Metal. In contrast to wood ladders, a metal library ladder is visually lighter and lends itself to more streamlined spaces. However, the example shown here harmonizes beautifully with the more traditional components of the kitchen.

Michael Macklin of Cameo Kitchens says his client spent much time selecting the ladder and finally decided on the Akzent line by MWE. Macklin says it has the clean lines and simple tread style his client was looking for that weren't found in a wood ladder. Many metal ladders are left in their metallic finishes, but some manufacturers, such as Alaco, also offer powder coating.

Macklin says this project totaled $3,820, including the railing and mounting hardware.
Mounting Style

Library ladders either have a J-style hook at the top that allows the user to manually remove or slide the ladder along the track, or there's a rolling mechanism that is permanently attached to the top railing.

Hook. A hook-style ladder is required only if you need to pick up the ladder and move it to another piece of unconnected track. (Note that tracks can turn inside corners, so if you want to access two intersecting walls, you can still pursue a ladder with rolling hardware.) However, some prefer the look of the hook style, like designer Amanda Gorski of Homepolish. She says her project shown here uses a hook-style ladder made by Rockler. The ladder was included in her design of the new bookcase. "I haven't met a client yet that doesn't love the idea of a library ladder," she says. "They are not only practical, but a fun twist to a fixed wall unit."
If you're considering the hook route, be sure to investigate the weight of the ladder you're interested in and also take into consideration the height and if there are any obstructions, such as pendant light fixtures, that may interfere with moving the ladder to another piece of railing.

The hook-style ladder shown here was custom made for Board and Vellum by Boiler Room Custom Metal in Seattle. Board and Vellum designer Jeffrey Pelletier notes that because the bottom portion of the ladder is wheeled, one adult can lift it quite easily. In fact, Pelletier says, this ladder is actually transferred between the living room and adjacent kitchen, where there is another section of railing. "It's a fun feature in the house that people love to interact with," he says.

Pelletier says this completely bespoke ladder was $4,000, including two sections of railing.

The weight of MWE's hook ladders ranges from 30 to 70 pounds, depending on the tread selected, Peacock says. And while that's fine for an average person to pick up, children and seniors may have a more difficult time. Unlike the Alaco and Putnam Rolling Ladder examples, MWE's ladder designs do not have wheels on the bottom.
Rolling. This striking red wood ladder is an example of a rolling library ladder. Again, a rolling-style ladder is permanently attached to the track and needs to maintain its connection with it. It's not removable like the hook-style ladder. Two wheels — one above and another below the top rail — guide the ladder left to right along its track. Meanwhile, two bottom wheels finished off with fetching cast wheel covers assist in the movement of the ladder.
This elegant library shows a rolling library ladder on a curved track to accommodate 90-degree corners. Tracks can be curved to adapt only to inside corners; outside corners are impossible. Also, only rolling ladders work on curved tracks, so this is not an option for hook-style ladders. The user will have to lift the ladder up a bit more (versus a straight run) to maneuver the ladder around the curved portion of the track, but it's quite easy to do.
In or Out?

A lot of people immediately dismiss owning a library ladder because they've seen them sticking into the space, becoming a tripping hazard when not in use. However, many are unaware that most ladder manufacturers offer mechanisms to push the ladder snugly against the wall or cabinetry, like in this kitchen, designed by Tim Barber. Barber wall mounted this Alaco ladder system to drywall with 2-inch by 4-inch blocking behind it, and it couldn't work better in this narrow passageway. Alaco manufactures an upper slide-bar assembly for its ladders to achieve this vertical solution.
Putnam Rolling Ladder offers a top-slide feature for both its rolling and hook-style ladders that allows it to be pushed vertically to conserve space when not in use, as seen here.
Modern Ladders And Step Stools
Likewise, MWE's Klassik series ladder, seen here, has a telescoping option, which Peacock explains is "a pivoting wheel that allows the ladder to sit flush with the wall when not in use, and the ability to pull the ladder out when in use."
Safety Options

Using the ladder properly offers the highest level of safety and appeals to most folks' common sense. Always maintain three points of contact at all times (both feet and a hand). Don't try to slide the ladder while standing on it, and instead of overreaching, move the ladder to a new position.

While library ladders are quite sturdy and safe by design, most companies offer additional safety options. Handrails are one, as seen on this ladder. Rubber nonslip safety treads are another option.

Safety wheels and auto-stop functions, which lock the moment the ladder has weight placed on it, are also available.
Cost

Because a library ladder project requires precise measuring, estimating, skilled installation and possibly construction drawings, it is highly encouraged (if not required) to hire an architect, a contractor or an interior designer for this project. A library ladder should run in the ballpark of $2,500 to $4,000 installed. However, the price varies based on the length of the railing, type of ladder, wood species, labor rates, freight and location.

Omar Tolentino of Alaco says the list price of the company's standard 9-foot maple wood ladder is $1,825 and includes the plated hardware. A satin nickel railing runs $26 per linear foot.

See more great home projects
Sours: https://www.houzz.com/magazine/aim-high-what-to-know-about-adding-a-library-ladder-stsetivw-vs~31700579
You will also be interested:
Access Upper Storage Area in Your Home or Business with the Quiet Glide Library Ladder
Are you looking for a stylish and functional way to conveniently access upper shelves or unused space in your library, closet, wine cellar, kitchens, pantries, or lofts? With the Quiet Glide rolling library ladder, now you can.
Van Dyke's offers the Quiet Glide Rolling Library Ladder wood ladder kits, hardware kits, and rail kits. The rolling library ladder hardware kits come in four finishes, three types of upper guides and three styles of ladder wheels. Quiet Glides unique ladder rail system is the only library ladder rail kit on the market that offers solid aluminum rails - not hollow tubes. All the parts on a Quiet Glide rolling library ladder are machined or manufactured by American craftsmen.
The unassembled library ladder kit contains all the wood parts necessary to assemble a library ladder. Choose cherry, oak, or maple. Hardware is not included. See detailed instructions here.
Sours: https://www.vandykes.com/the-quiet-glide-library-ladder/a/89/
149
150
151
152
153