Wealth Dynamics in a nutshell
Take the test to find your path »
Many people think that there are hundreds of routes to wealth. With Wealth Dynamics, you'll see that there are actually only eight paths to wealth and that one of those paths is the correct one for you.
These paths are highlighted by the successful people who have achieved wealth through following their natural path. This is to say, they found the wealth dynamic match that suited their talents.
Could you imagine Richard Branson as a footballer, or Bill Gates as a fish monger?
No, they discovered the talents they were born with and capitalized on them. They followed a path that they loved, their path of least resistance and they excelled at it. Wouldn't you like to find your path, benefit from your natural strengths and excel?
Let's take a brief look at each of these eight wealth profiles
The Creator
The Creators can't help creating! They are good at creating profitable ideas and businesses, but not so good with the day to day running of a business. Successful creators will delegate everything, except the creative process. Example: Walt Disney
The Mechanic
Mechanics are perfectionists who like to finish things, rather than create them. They want to make everything better - fine tune them. Example: Henry Ford.
The Star
It is easy to spot a star. Obviously, you have film, music and sports stars, but high profile CEOs can also be thought of stars. They rely on the strength of their personality and are aware of the pressure of always having to deliver. Example: Oprah Winfrey
The Supporter
Supporters are great networkers with loads of energy and enthusiasm. Their greatest wealth can be achieved when they join forces with a Star, Creator, Deal Maker, or Mechanic. Example: Steve Ballmer
The Deal Maker
A deal maker relies on relationships, connections and being able to react intuitively when the best opportunities present themselves. Example: Donald Trump
The Trader
A trader is someone who naturally hunts out bargains, naturally loves haggling and gets immense satisfaction from a great deal. They are equally as good at finding high price buyers. Example: George Soros
The Accumulator
Incremental growth is the key to this wealth dynamics profile. They are patient and disciplined and will stick fast to a successful system. Example: Warren Buffet
The Lord
The Lord likes to control everything. You can find a lord where there are fixed assets generating cash. They don't want attention like the stars and like to create wealth quietly. Example: Ingvar Kamprad
These carefully thought out profiles are the result of years of studying the approaches of hundreds of successful wealth creators combined with Chinese philosophy.
Knowing which of these wealth profiles is yours, is like having the keys to the vault of the Bank Of England.
More than , entrepreneurs have already found their true profile and are discovering, with amazing clarity the direction towards true wealth for them.
Why don't you join them?
Sours: https://www.wealthdynamics.com/
Wealth Dynamics
Welcome to the Wealth Dynamics Microdegree
Take the next step and dive deeper into the eight paths to entrepreneurial success with the Wealth Dynamics Test.
About the Wealth Dynamics Microdegree
Through this microdegree you will discover which of the 8 entrepreneurs paths is yours, and how this insight will transform the way you design your ideal business. The Wealth Dynamics test has nearly been taken by one million people around the world, and helped them to align their life to where their natural flow is. Use this microdegree along with the test to deepen the knowledge about yourself, your team and your business by uncovering your natural path. This will take you straight to entrepreneurial and intrapreneurial success.
Microdegree Outcomes
You will discover the eight natural paths that create all wealth
You will learn the wealth equation every successful entrepreneur uses
You will connect with the best team to support your profile
Your Mission Mentor
Roger James Hamilton is a futurist, social entrepreneur and bestselling author of the book The Millionaire Master Plan. He is also the creator of the Genius Test, Wealth Dynamics & Talent Dynamics profiling systems, used by over , people around the world.
Roger is the founder of Entrepreneurs Institute, delivering training to leaders and entrepreneurs around the world by igniting their Genius through a global community of online education, entrepreneur retreats and events.
Popular Reviews
What am I going to be when I grow up?
This is great flexible approach to navigating what I am and what I want to do - and it aligns us with other people on our path, connects us to other people we need for success. A very well designed system - thank you!
Such relevant and valuable information
Gained so much insight with this and learned so much about my flow profile!
Getting started on the right foot!
This microdegree enables me to see the big picture and how to start right, so as not to incur unnecessary problems down the road. Thanks Roger and team!
WD is more that a profile test
I took WD 18 months ago and just went though the microdegree. So grateful for this as it connected dots that my report couldn't quite touch. WD just keeps growing in depth and breadth. Grateful. Thanks RJH
Dynamo
Excellent process!
The Wealth Dynamics test has been a game-changer for me and my coaching clients!
Dynamo
The perfect micro degree for people who tried to skip steps!
So glad I took the time to complete this micro degree as although I have been around WD for some time, I gained some little gems and insights that I had missed before. (Either because I was trying to run ahead!). As Roger says, follow the steps and don't miss any!.
Dynamo
Deeper understanding of Flow
It demands some decision making and commitment to start deciding on changes to my company and this degree created an urgency to make me want to focus on my strengths and start delegating more. Really invaluable content.
Generating LEVERAGE
Inspired by real-life events as a participant in EDUCATOR to become a Flow consultant. My current job as Finance Manager is the opposite to flow being a Supporter, Blaze profile. I have firsthand experience of trust issues that arise due to not working in my flow profile. This has motivated me to take action and work on an exit strategy. Thank you, Roger, and GeniusU. My purpose is to empower women to live their dream and it starts with me doing what is right. Getting into FLOW.
Great Test
Interesting, very powerful questions, inspiration to create the right path, thanks
Excelente Microgrado
Many speak about flowhere is the how. This is an eye opener microdegree. Every one should know it an apply it to life and work
Sours: https://app.geniusu.com/missions/8
AMANDA HORSBURGH
CHIANG MAI, THAILAND
Even though I was introduced to Wealth Dynamics Profiles 6 years ago, the biggest difference Wealth Dynamics has made to my life has been in my recent failed, then successful restart into the business world. Using just the basics of Wealth Dynamics (because that is all I know), I have re-launched my previously failed business and in the space of 4 months I have turned this business, and just $, into a fast growing, global company, that I run from my dream location – Thailand.
A few months after originally doing our wealth dynamics profiles (I am a creator), we decided to move from Brisbane, Australia, home to our 4 business at the time, and re-locate to Phuket, Thailand. We moved and continued to run our businesses in Australia, from Phuket. It was a big step for us. While operating our businesses remotely I became fascinated by the world of Outsourcing and what it makes possible for businesses and business people. Phuket was a great place to be while having this interest, as thousands of business owners from around the world, who have made outsourcing work well for their company, spend a lot of time in Phuket. I had endless streams of people to talk to about it. For years I delved into Outsourcing as a personal interest.
After the birth of our second baby I took a year off. I then decided I wanted to start into business again and I wanted to follow my intense passion of Outsourcing, to create for others what we had created for ourselves, in terms of lifestyle, flexibility and new possibilities for business. So off I went, and launched my new company, Half Price Staff, providing full-time, managed, outsourced staff for smaller companies. Quite simply, it did not work. I got it going, but it was s l o w. The concept seemed fine, but the market was not keen, I couldn't get the ball rolling. It was failing. I felt tense. I couldn't think clearly. How could it be that the business in the industry I knew so much about, that I could provide so much real value to people in, that I loved, could be struggling so badly to get going? I got sick. I got sick again.
Then had our 3rd baby. Then moved across the country. The timing was wrong. My approach was clearly wrong too, but I couldn't work out what was wrong with it, nothing was working. So I stopped operating the business and decided I would come back to it at some later date. When? I didn't know. Another way to say it, would be to say I 'quit'. I feared I had lost my mojo for business. Watching our bank balance shrink as I was failing, was enough to put me on the verge of giving up on it all together. I was so frustrated. People would ask how I was going with my business and I had nothing to say. It was depressing. I really didn't want to give up though.
In my search to work out what I was doing wrong, I re-looked at the business and my Wealth Dynamics profile and realised a big part of what was wrong was that I was not being 'creator' enough, or 'creator' at all really. I had been focussed almost purely on the "systems" required for the business and not on the real thing I could do for people, which was to revolutionise the way they do business. I could completely change the beliefs and reality of what lifestyle a business could provide and that I could make this happen in a fairly short space of time. It was even all positive cash flow for the owner from day 1. I knew I had something special, but I was not getting the message across.
I identified 2 key things I needed to do – as a creator I needed to 'create' (in this case I saw I needed to share my unique take on outsourcing as original content), and to stop being held back by the 'systems' the business would need. I had previously cast aside creating great original content as 'non-essential' until I had the 'systems' sorted. Big mistake. I worked on organising all my research and experience of Outsourcing over the past 5 years into a clear model of the 7 strategies of outsourcing for small and mid sized companies. I worked on clarifying the step by step process that makes outsourcing work for some companies, but be a disaster for others. I focussed on what I could create in other peoples businesses, not just the savings, but the models and the lifestyle.
By the end of that, I had 'created' a new foundation for the business. Then onto the 'systems'. I decided to stop worrying about the systems and I stopped looking for a 'mechanic' person. I realised I simply did not need one. What I needed to notice was that, some of the most talented 'mechanics' from around the world had already done what was needed. They had made millions of dollars from creating amazingly simple systems – designed to be used by creators to bring their creations into the world. These systems were available for free or very little cost, all I had to do was work out what I needed, sign up and start. I am no 'mechanic' but I now have the tools to run all the systems in my business and I can understand and use them. A big thank you goes out to the 'mechanics' of the interwebs !
With my new base of unique content and my new love of the simple systems available, I re launched Half Price Staff. Nothing fancy, I just started talking about my knowledge and views on Outsourcing on facebook. I let my thoughts and experiences come through. I simply let myself be 'me'. I searched for, found and learnt from people who used facebook as the main source of attracting customers to their business. Some people loved what I had to say, some hated it. After a few weeks of simply doing this while I set up the final tweaks in the background….. BOOM….FLOW. Not a gentle flow like a slow river, more like a gushing whip torrent. A year ago I was hitting my head against a wall, with the exact same service offering.
Now with a different approach to the exact same thing, I am like a magnet. I had struck a chord and was off like lightning. Just 4 months ago I was wondering if I should give up on this business that I love, thinking I many never get it profitable and that I would be facing years of struggle to get to that 'point' of it working. Wondering if anyone really did want what I could offer, maybe I should just keep my outsourcing abilities and strategies for my own use, keep things as they have been for the past 6 years. Still, in the face of that, I went back in to bat with my new 'creator' friendly approach…….more hoping it would work than expecting it would.
In the 4 months since, I could not have imagined what has happened. Half Price Staff has already become a profitable, cash generating company with a backlog of customers, existing customers who are ordering more staff, enquiries from around the world, me being interviewed by major newspapers on outsourcing for low costs start ups, the future of outsourcing for traditional businesses and outsourcing strategy on a national level. This has all been done remotely from overseas. They are finding me.
I have been in initial discussions to start a business incubator in Asia for companies, following my strategies in outsourcing, to penetrate Western markets faster. I've been asked to speak at conferences later in the year and 3 large multinational companies have been in contact with me saying they have had someone mention me, my content or my company, in the course of business. All this since the start of the year, with less than $ invested, with clients I have never met in person, with staff I have never met in person, while living in a tropical paradise and having the time of my life. I LOVE what I do, HOW I do it and WHY I do it. I am extremely happy of course, however, still in shock about how fast….and easily…. it is all happening now.
Sours: https://wealthdynamics.geniusu.com/
Wealth Dynamics profile test
You are less than 20 minutes away from knowing exactly your path of least resistance when it comes to building wealth…
Almost everyone has done a personality test at one time. Often, you discover things you already knew about yourself - Extroverted or Introverted, Big Picture or Detail Orientated - Interesting yes, but how does it make a difference to your life?
Wealth Dynamics is the only personality test that tells you exactly what strategy you should follow to build wealth.
Of all the vastly different ideas, strategies, businesses and investments that you could pursue, Wealth Dynamics narrows it down for you precisely.
Here's why…
In all of history there have only ever been eight ways to create Wealth.
It might appear to most people that there are hundreds of ways, but in actuality there are ONLY eight!
Successful entrepreneurs focus only where they are strong and unsuccessful entrepreneurs try and do it all themselves.
These are the Eight Ways to Create Wealth
1. The Creator - Builds innovative products
Examples: Steve Jobs, Walt Disney, Richard Branson
2. The Star - Builds an influential brand
Examples: Oprah, Paul Newman, Bill Clinton
3. The Supporter - Builds high performance teams
Examples: Steve Ballmer, Jack Welch
4. The Deal Maker - Brings deals together
Examples: Donald Trump, Rupert Murdoch
5. The Trader - Buying and selling commodities
Examples: George Soros
6. The Accumulator - Buying and holding assets
Examples: Warren Buffet, Paul Allen
7. The Lord - Controlling cashflow producing assets
Examples: Lakshmi Mital, Ingavar Kamprad
8. The Mechanic - Creating a duplicatable system
Examples: Michael Dell, Ray Krock
---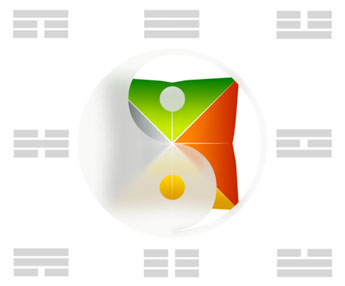 The basis of the Wealth Dynamics profiling system is a unique combination of Jungian psychometric testing (tests such as MBTI and DISC), natural laws found in Western physics (quantum mechanics, chaos theory) and significantly influenced by Chinese systems (I-Ching, Feng Shui). All of this applied to create a model which has 'change' built into it. After all, life is not static, it grows and evolves as do you within Wealth Dynamics.
---
Wealth Dynamics 'Square'…
---
Stop 'Trying' so hard…
"If you are doing anything that feels like hard work, you are already doing the wrong thing"
Building Wealth isn't about fighting yourself and trying to suppress your natural behaviour. If that were true, the wealthiest people on the planet would have quit when they first became millionaires rather than still playing the game their whole life.
The real trick to building wealth is to maximise your natural strengths and the things you feel are fun. That way you will always have the energy and the drive to stick through the challenges (and EVERY wealth strategy throws up challenges that are designed to weed out the people who are just chasing the money).
---
How does Wealth Dynamics Maximise My Strengths?
Wealth Dynamics is a wealth profiling system which uses a psychometric test to assess your personality, strengths, productivity, values and group behaviour, to determine your most natural way to build wealth.
Up until now the only way to discover which path is right for you, has been through the process of trial and error.
You make your money in business, then lose it all on the stock market You spend years earning money working for someone else, and then lose it all starting your own business
Wealth Dynamics was developed to take the Trial & Error out of the process.
It provides you with a map to guide you on Your Path to Wealth, allowing you to identify which strategies, and six steps you need to be focusing on, learning about, and taking action on.
---
What is covered in the Wealth Dynamics Profile Results
(What you get for your US$97)
Your Wealth Profile
This shows you the most natural activities you should focus on to Create Wealth.

Role Models Who Share Your Wealth Profile
Which top entrepreneurs you should study and learn from.

Your Strengths & Weaknesses as a Wealth Creator
What gets you into your flow. What are distractions and what are opportunities.

How to Build Your Wealth Foundation
What are the first steps you should take so you don't lose your wealth later.

Your Moment of Wealth Creation
What "Critical Moments" should you be on the lookout for.

How to Create Value using Your Profile
How to channel your strengths in a way that the world responds favourably to.

The Value You Need to Own
The things you should never outsource to anyone and the things you can delegate freely.

How to Leverage Your Value to Many
How to take even small amounts of value and get it into the hands of many.

How You Secure Your Cashflow
So you don't become a "boom-buster".
Wealth Dynamics Special
Over $+ of value for just $97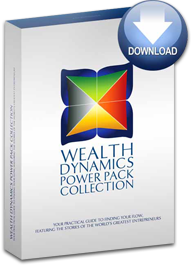 | | |
| --- | --- |
| New Test Result | $97 |
| ePowerPack on your Profile | $99 |
| Special VIP 50% Store Discount for two weeks | $+ |
All included when you take the test.
View a Sample Report
---
Why does this work?
Wealth Dynamics works because every person has a limited amount of time and can only focus on a few areas of business at once.
If a hollywood actor (Star) also tried to be a great agent (Deal Maker) they would most likely fail at both things, why? because they have split their time between two disciplines that each require focus and commitment.
People don't want to do business with people who seem to be unfocused and average at many things - they want to work with people who are brilliant at their chosen craft.
Wealth Dynamics helps you to get that focus and better, yet it helps you to choose the thing that you are naturally more likely to succeed at and enjoy!
---
So What?
You make more money, have more enjoyment and fulfillment and ultimately get recognised as being a leader in your chosen field.
What makes you so sure?
To date, over 20, entrepreneurs in over 20 countries have taken the test and discovered their profile. The overwhelming feedback from people at all levels of success tell us that knowing "Their Profile" has given them tremendous clarity, direction and a better understanding of themselves and others.
Like who?
"If you want to understand wealth. If you want to know the rules of the game. If you want to develop your strategy to win. Then look no further."

Clive Taylor, Director, Sesai Consulting, UK
Let's Begin…

So, which style is right for you? Take the Test >>
It only takes 20 minutes, and remember there are no right or wrong answers only what is true for you!
Take the test and discover your profile today. We will email you everything you need to take the test, so you can choose to complete it now (recommended), or complete it when you have 20 minutes of un-interrupted time.

---
Return to top
Almost everyone has done a personality test at one time. Often, you discover things you already knew about yourself - Extroverted or Introverted, Big Picture or Detail Orientated - Interesting yes, but how does it make a difference to your life?
Sours: http://wdprofiletest.com/mobile/
Dynamics free test wealth
I need a white bitch who loves to be dominant over a man, and then the Negro vybet her all her mozgi. Gde vzyat. Ya Hu. -called Listen, where. Can I get a white bitch who loves to dominate muzhikami.
Wealth Dynamics
Sad grabbed the bra cups from above and pulled down hard as well. The material did not give in, but both of the woman's breasts popped out, nipples bulging in different directions. The guys saw how the cheeks of their homeroom teacher flushed.
You will also like:
Own business. I didn't even have time to squeak as I was on my back already without a top. My bra flew to the side, his lips pressed against my chest, oh devil, it didn't work out. I groaned without opening my mouth, slightly closing my eyes.
1475
1476
1477
1478
1479