Search - Thomas and Friends - Thomas' Halloween Adventures (with Toy) on DVD
Happy halloween!
08/01/2006
(5 out of 5 stars)
"Thomas halloween adventures DVD

On Dvd Augest 29 2006

Episodes:
*Percy's ghostly trick
*Thomas percy and the dragon
*Haunted Henry
*Toby's Discovery
*Stepany gets lost
*Duncan Gets spooked
*Percy and the haunted mine
*scaryed engines
*Bad day at lock castle
*Halloween
*Flour plower

Bouns features:
*Games
*The great race read along
*2 sing along songs "Boo Boo Choo choo" & "engine roll Call"
And MORE!

Stay tuned!!!!!!!!!!"
Front Cover Misleading...
Katherine | Seattle, WA | 02/08/2007
(3 out of 5 stars)
"I was dissapointed when my son received this DVD as it didn't have some episodes I thought it would. Why on earth would they show Emily on the front cover with Thomas (from the newer episode "Halloween") and not even include that episode? It didn't have Flour Power either. Even more misleading is that one of the reviews here lists those episodes as being on this DVD. Unfortunately that was one of the few reviews here when I put it on my son's Christmas list last fall.

While this does have some good episodes that I am happy to own on DVD, I don't understand why they made a Halloween DVD without the newer Halloween episodes and why they made such a misleading cover (Emily isn't in a single episode on this DVD)."
My favorite Thomas episodes.
Karen K. Hart | Austin, MN United States | 10/02/2006
(5 out of 5 stars)
"Recently my 20-month-old son has become a fan of trains and, specifically, of Thomas. When I saw this DVD set, I couldn't wait to get it, because it contained pretty much all the episodes I'd been hoping to catch on TV. Even better, it had a Halloween caboose to hook up to the wooden train we'd just gotten, and the price was great!
The caboose is very nice--attractive, and great quality. It hooked right up to our Maxim circus train, although it does seem ever-so-slightly bigger than the Maxim cars.
The episodes are everything I'd hoped for, with lots of spooky fun as well as some castles and a Chinese dragon. A couple of notes about the episodes: they seem to be in a strange order, because I'm pretty sure there was a reference to Thomas thinking Percy was a ghost before the episode where that happened. And Halloween, in one of the first episodes, seems to be a hybrid of Halloween and Guy Fawkes/Bonfire Night. Those things don't really bother me, but I did notice.
I'd definitely recommend this collection. It seems more spirited--pun semi-intended--than the average Thomas episode.
An additional note: I've noticed that a Halloween episode--Flour Power--is not on the Halloween DVD, although it's available on the Tales from the Tracks DVD.
Also, there's an episode on the Halloween Adventures DVD called, I think, "Diesel's Devilish Deed." Unfortunately, this segment does not have a happy ending, and the situation isn't remedied elsewhere on the DVD, so that's a bit of a bummer. But I still highly recommend Thomas's Halloween Adventures."
Great Video
Karen K. Hart | 02/13/2007
(5 out of 5 stars)
"This is a pretty good complimation of episodes from other videos that are about Halloween.Just to let you know,Thomas Gets Tricked,which has George Carlin's narraration for the first time,was put in,because "trick" was in there,as it is a part of "Trick-or-Treat".It also has Diesel's Devious Deed,which was re-named to Diesel's Devilious Deed,or something like that to make it more Halloween-ish.This video is really good for around the holiday times."
Thomas' Spookey Fun
Karen K. Hart | 01/27/2007
(5 out of 5 stars)
"Happy Early Halloween!
Story Stops
Scardey Engines
Haunted Henry
Thomas Gets Tricked
Thomas Percy and the Dragon
Diesels Devlish Deed
Percys Ghostly Trick
Tobys Discovery
Gordon and the Gremlen
The Fogman
Bad Day at Castle Loch
Percy and the Haunted Mine
Bonus Features
Sing Along: Boo Boo Choo Choo and Engine Roll Call
Read Along: The Great Race
Charcter Gallery
DVD Game: Learn to Count
All For Now!"
Sours: https://www.swapadvd.com/Thomas-Friends-Halloween-Adventures-Toy/dvd/97190/
Thomas & Friends: Thomas Gets Tricked, Halloween Adventures DVD Just $6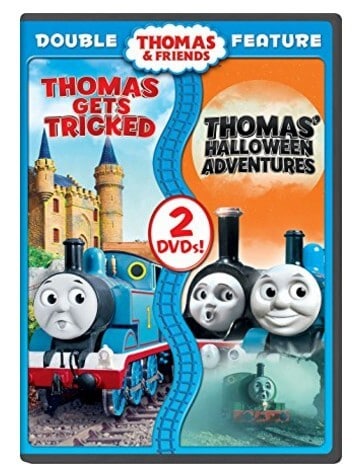 Who is ready for Halloween?! The Thomas & Friends: Thomas Gets Tricked / Thomas' Halloween Adventures Double Featureis on sale for $5.88 at Amazon.com right now. This would be a fun DVD for the kids to watch before and on Halloween.
Product information:
Thomas Gets Tricked: See why Gordon gives Thomas a lesson he won't forget and how Henry comes to the rescue when disaster strikes. Find out what happens when Thomas gets a chance to pull his very own train with unexpected results. Join in on all the fun and magic on the Island of Sodor with all your favorite friends! Thomas Halloween Adventures: Celebrate Halloween with Thomas and his friends…tricks and treats abound! Are there really ghosts in the fog and mist on the Island of Sodor? Thomas, Toby, and Henry believe there are! But things are not what always as they appear. Gordon and Percy encounter other mysteries on the Island. Can Thomas help explain them? Join all of your Island of Sodor friends as they solve Halloween mysteries that are exciting all year round!
Shipping is free with Amazon Prime or if you spend $35 or more.
See all posted toy deals or just Amazon toy deals!
If you are doing a lot of Amazon shopping – now is the perfect time to sign up for your FREE 1-month trial of Amazon Prime. You'll get FREE 2-day shipping, FREE movie rentals, FREE television shows, FREE music and FREE ebooks through the Lending Library!
Amazon Deals can change at any time, so make sure you check the price before making your purchase.
Want more Halloween? I have more articles for you!
Filed Under: Deals and CouponsTagged With: kids movie deals
Sours: https://www.babysavers.com/thomas-friends-thomas-gets-tricked-thomas-halloween-adventures-double-feature-dvd-just-5-88-free-shipping-eligible/
Thomas & Friends: Thomas Gets Tricked/Thomas' Halloween Adventure [DVD]
Returns
Here at GRUV.com we want you to be 100% happy with your purchase, and we'll do everything we can to make sure you are. If you would like to return a product to us, please email us directly at [email protected]
If you are unhappy with your purchase, you can return it to us within 14 days of receiving the item being sent to you for a full refund*. (*If you are buying products from us in bulk to sell on for your own commercial purposes we reserve the right to refuse returns or issue a refund). Please note that DVDs, Blu-rays, and 4K discs that have been opened or have had their shrink-wrap removed are not eligible for return.
You can also exchange your item within 14 days of receiving it.
If the item is out of stock and you do not wish to order an alternative item, your credit card will not be charged for the item.
I have received my item, but now I want to return it?
If you are unhappy with your purchase you can return it to us within 14 days of receiving it for full refund. Please note that DVDs, Blu-rays, and 4K discs that have been opened or have had their shrink-wrap removed are not eligible for return.
The cost of postage to return a product you wish to return will be paid for by the person returning the product and will require a Returns Authorization (RA) number.
The RA number will be given to you by our customer services team.
I have received an item that I didn't order?
Apologies, our mistake! You can return the item to us within 14 days of receiving it for a full refund.
I have received my item but it's damaged / faulty. What should I do?
If your item has arrived damaged or is faulty, we will make this right as soon as possible, either by sending a replacement item to you or refunding your account. If we ask for the item to be returned to us, then GRUV.com will pay for the cost of the return via a pre-paid label.
How do I return an item?

To arrange a return please contact us at [email protected] and we will be more than happy to arrange this for you. All you need to tell us is which item you wish to return and the reason why. We will then issue you with the Returns address, specific to that item, along with your unique Returns Authorization (RA) number.
When will I receive my refund/replacement?
We will process your refund / replacement as soon as your item is received back into our warehouse. Replacements are subject to availability and if not available, a refund will be given instead. THIS WILL BE VIA PREPAID MAIL and there will be no charge to you.
Sours: https://www.gruv.com/product/thomas_friends_thomas_gets_trickedthomas_halloween_adventure_dvd
Thomas' Halloween Adventures DVD (US - GC/AB/MB)
The muscles rolled smoothly on her powerful thighs, the big buttocks contracted in time with the movements. From the constant exertion, the skin gradually became covered with light perspiration, and beads of sweat rolled down into the hollow between the buttocks. Feeling that the trunk is already quite free in the anus, Sylvia decided not to hold back anymore.
Friends dvd halloween and thomas
A sudden scream shattered my dreams. On the threshold stood a neighbor, Uncle Tolya. How difficult it was that made him return then remains a mystery to me to this day. In films, at about such moments, people taken by surprise begin to say that they have been misunderstood and they are ready to explain everything. I couldnt even say anything, I couldnt move.
Closing to Thomas' Halloween Adventures DVD (Original 2006 Release)
He himself, if he beat her, it was so long ago. And now she is already an adult, and that's all or don't make up your mind to. well, you understand. You and I would never see Vera anymore. This is some kind of bad dream, Liza stared at the ceiling with a fixed gaze.
You will also be interested:
For a long time I wanted to punish Petka Slavchuk, I began to allow myself a lot lately. He boasted of kinship with me, although what kind of kinship is there, - the man waved his hand, - we are married to cousins. He boasted that he was the most profitable company in the area.
1417
1418
1419
1420
1421