There are many color schemes out there for the modern bathroom but few are currently as trendy as the wood and white color palette. And it is not a color scheme that is limited to the bathroom alone in its popularity. The wood and white palette is being embraced extensively in kitchens, living rooms and bedrooms across the world. In fact, the best kitchens out there today deliver this color scheme in one form or another with plenty of options to customize. Today, we take a look at the best wood and white bathrooms out there and how they can alter your life dramatically.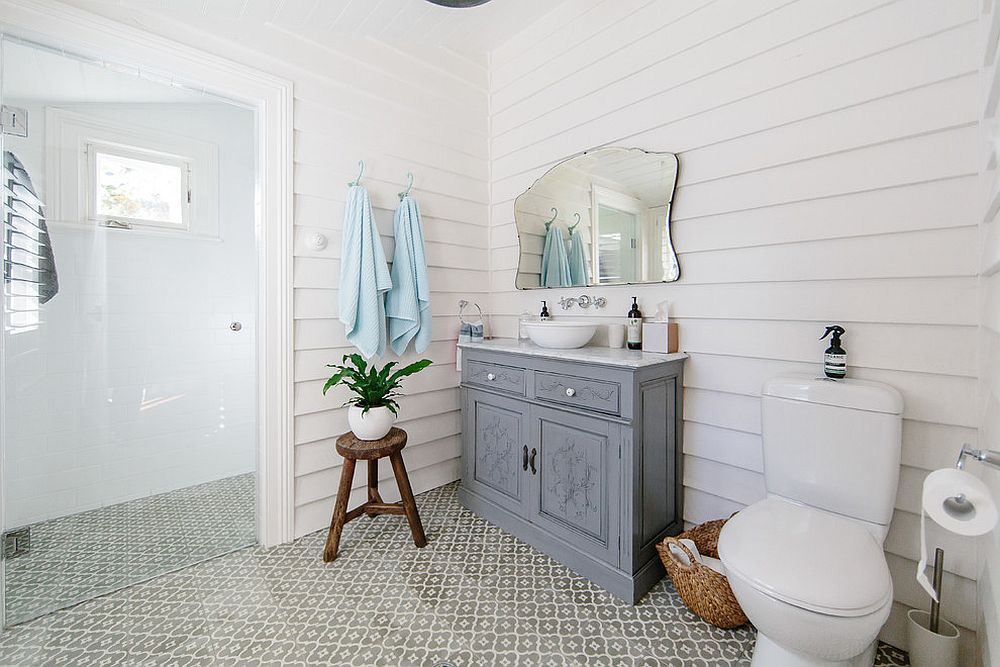 The best wood and white bathrooms are the ones that find a balance between wood and white in terms of sophistication and warmth. While white brings modernity to the setting, wood adds a certain timeless appeal to the space without ever altering the color scheme. This is probably why the idea of combining the two has become so popular in the last few years. Today, the all-white, spa-inspired bathroom is being replaced the one with healthy dose of woodsy charm as well. So, step in and enjoy a world of relaxation and rejuvenation –
That Vanity in Wood
The easiest way to add wood to the wood to your white bathroom is by replacing the existing, modern vanity with something that is much woodsier. The floating wooden vanity is one that fits in perfectly with modern, contemporary and minimal styles in the bathroom. Those looking to introduce some farmhouse style charm or even rustic panache using the wooden vanity can go down the classic route with a piece that has distressed or weathered finish. A mirror with matching wooden frame and window frames in wood can complete a stylish and curated space that will last the test of time.
RELATED: 23 Gorgeous Bathrooms That Enchant with Purple Panache!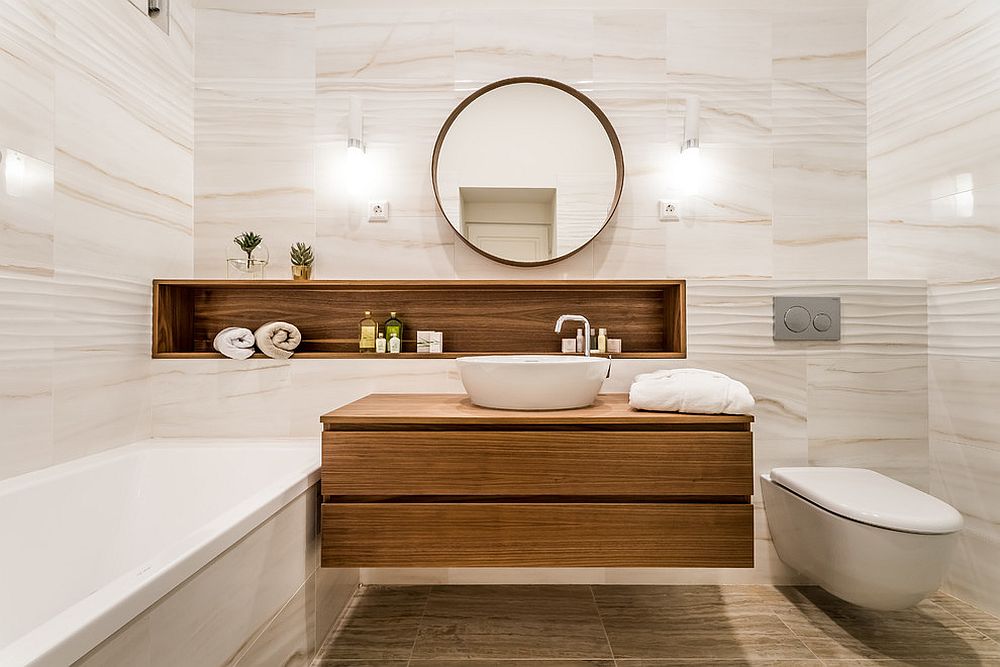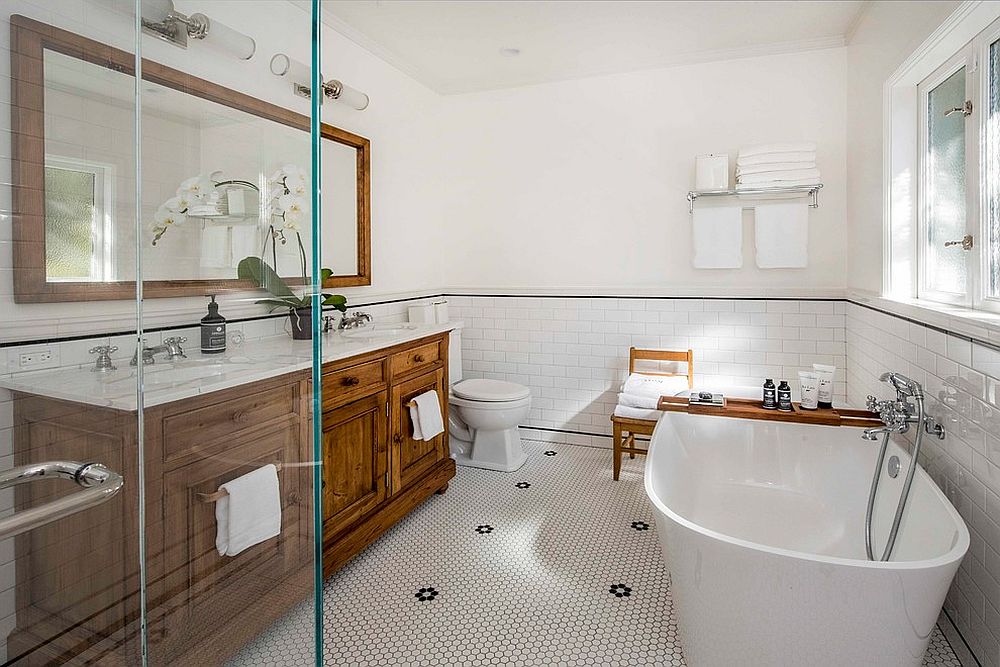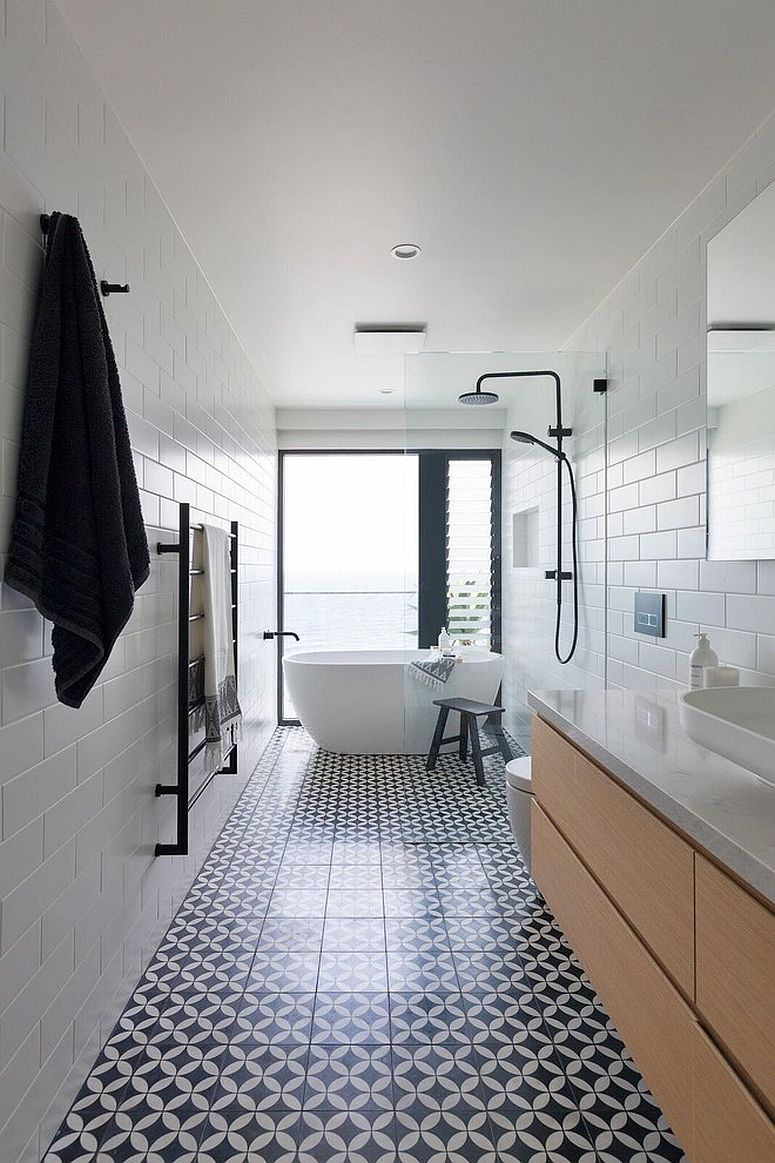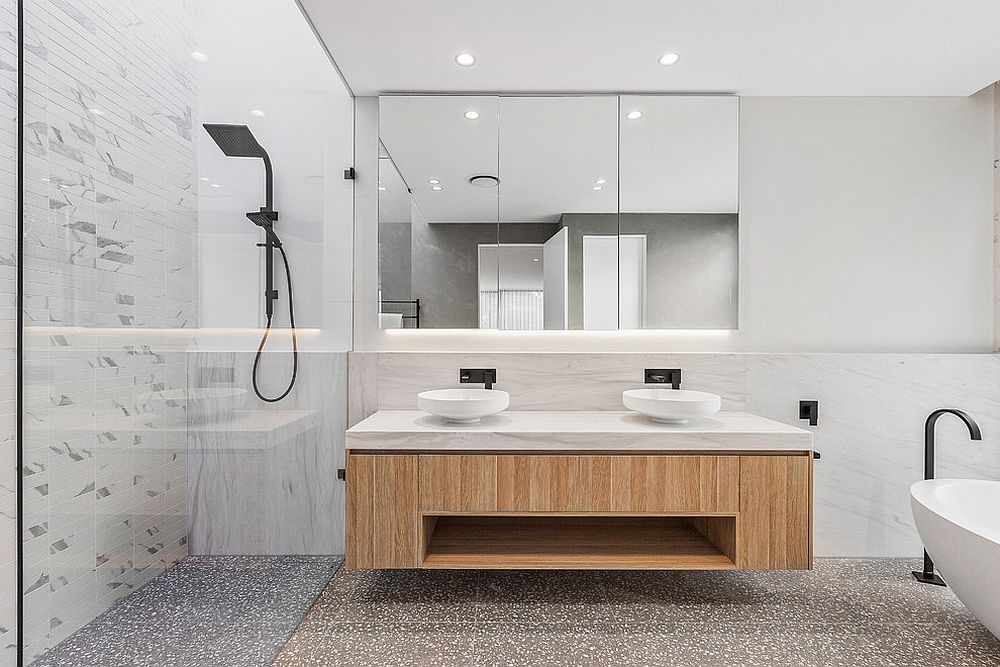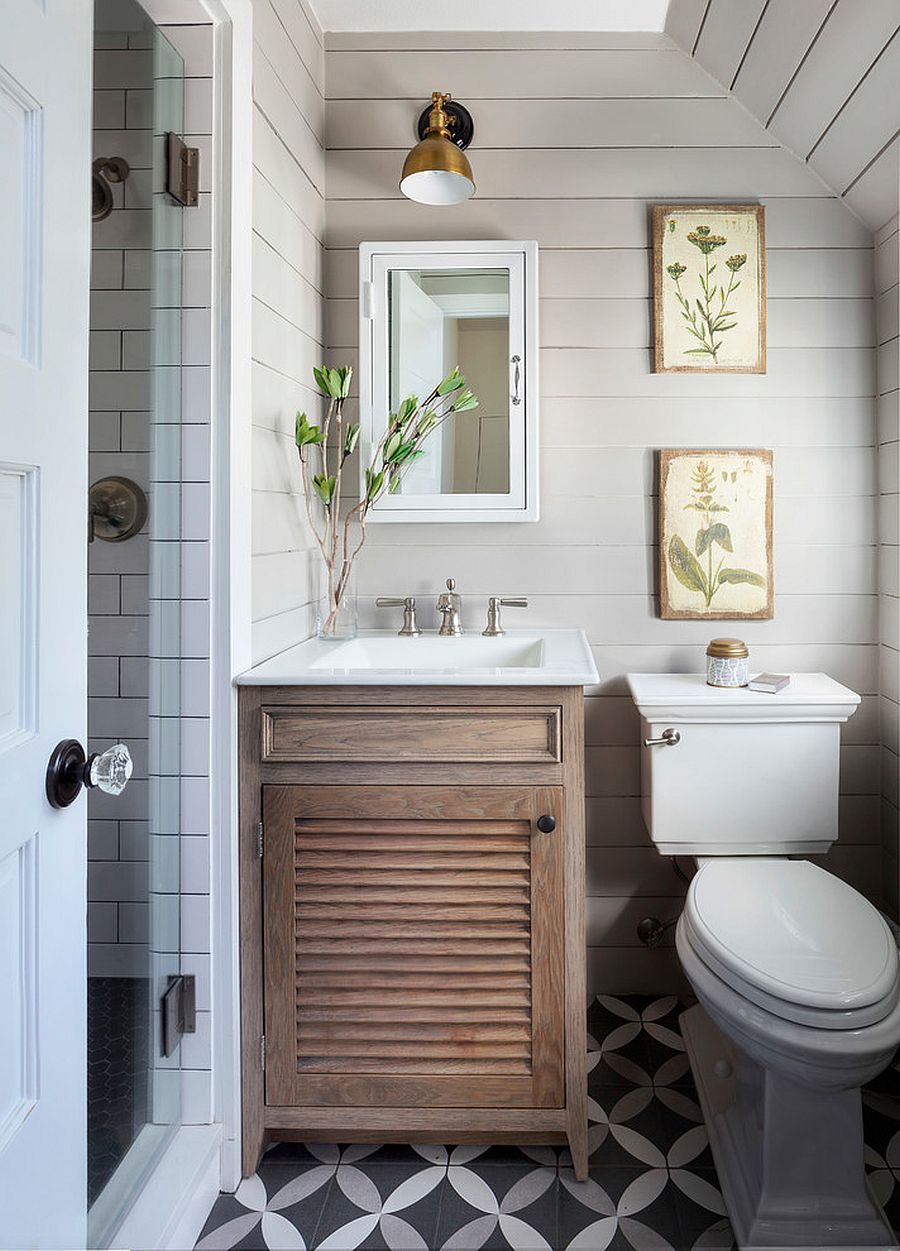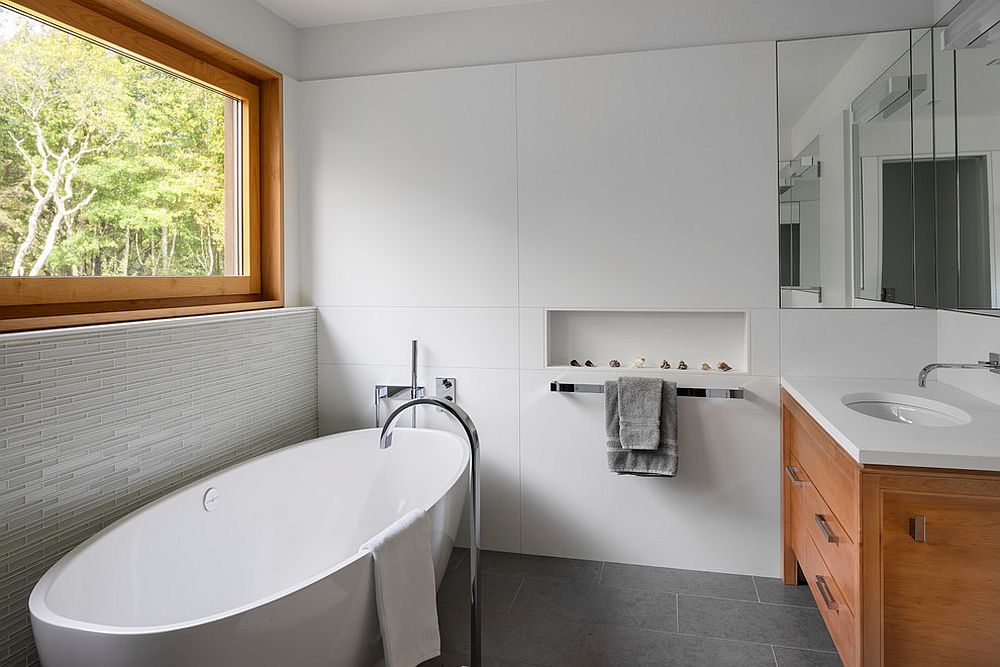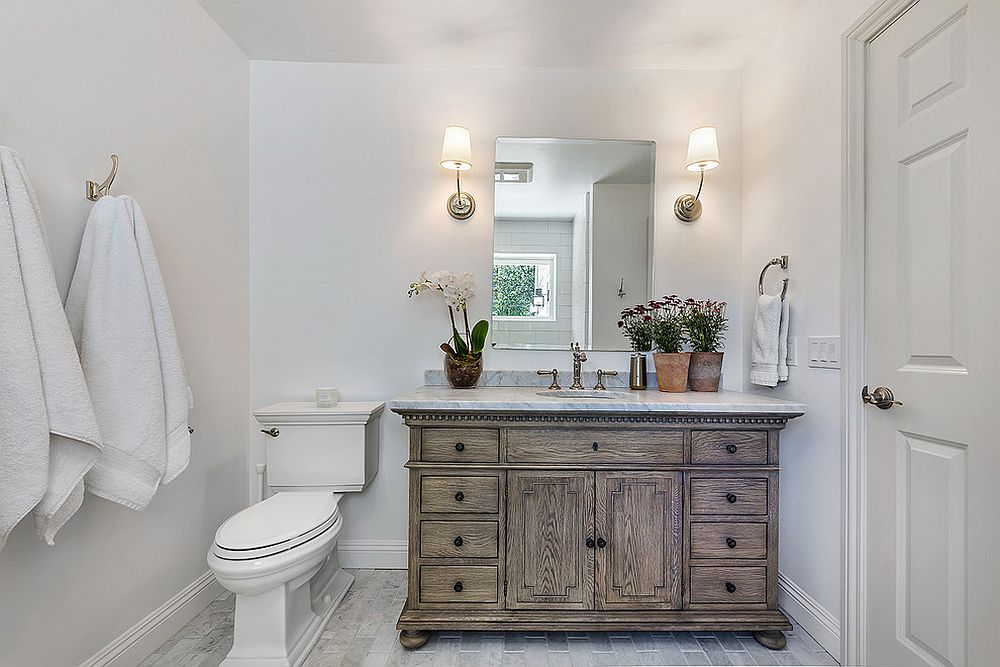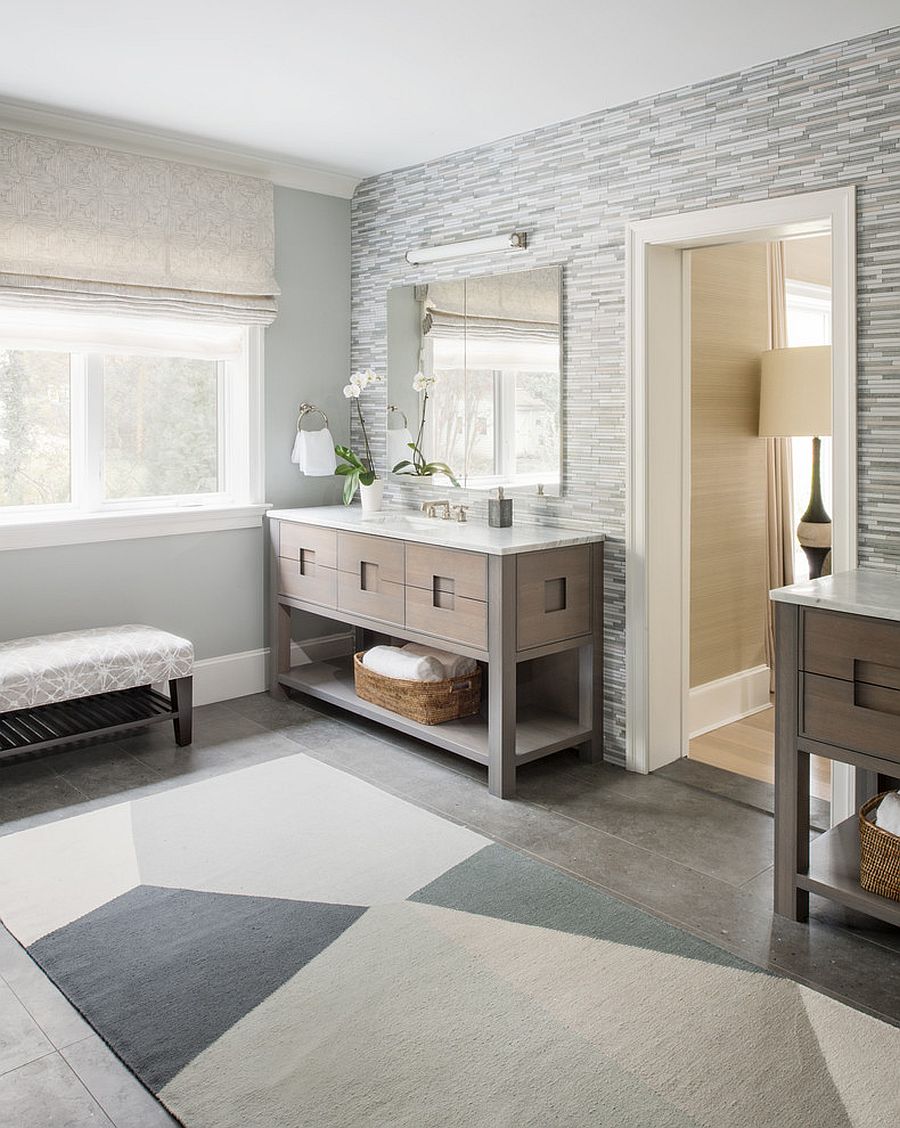 A Style of Your Choice
As we discussed earlier, the wood and white color scheme is one that works with almost every style you can think of in the bathroom with ease. In the more traditional, farmhouse, Mediterranean and rustic bathrooms you want to use a heavier strain of wood and one that feels aged and elegant. In the modern bathrooms and the contemporary ones inspired by spa-themes, it is the lighter wooden tones that work best. Adding a bit of green to this setting will give the bathroom a tropical twist while cozier shades of yellow and orange feel right in traditional and Mediterranean bathrooms.
RELATED: Salvaged Style: 10 Ways to Transform Your Bathroom with Reclaimed Wood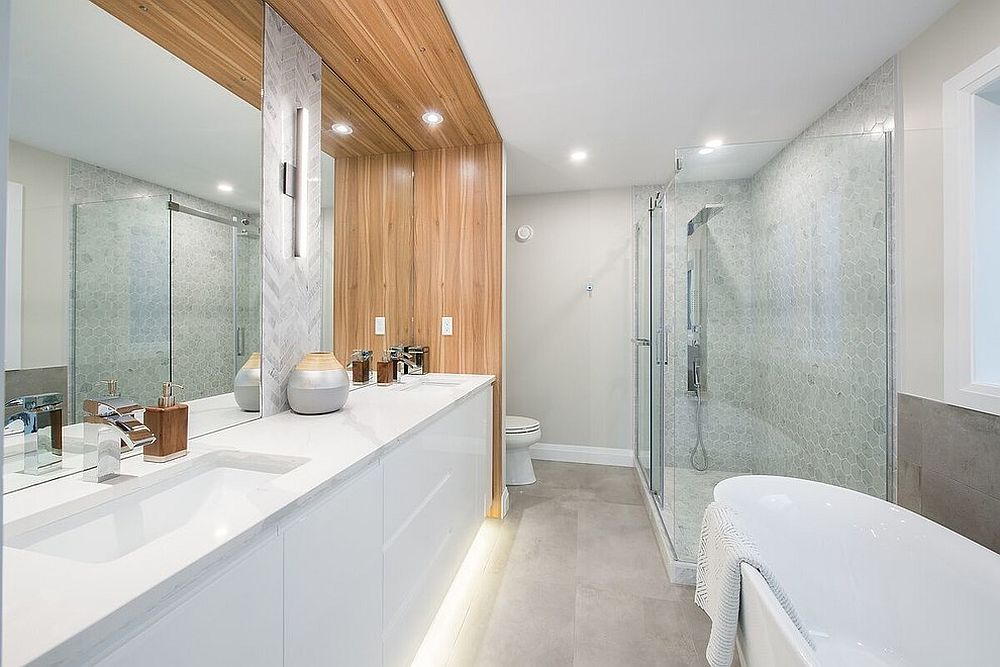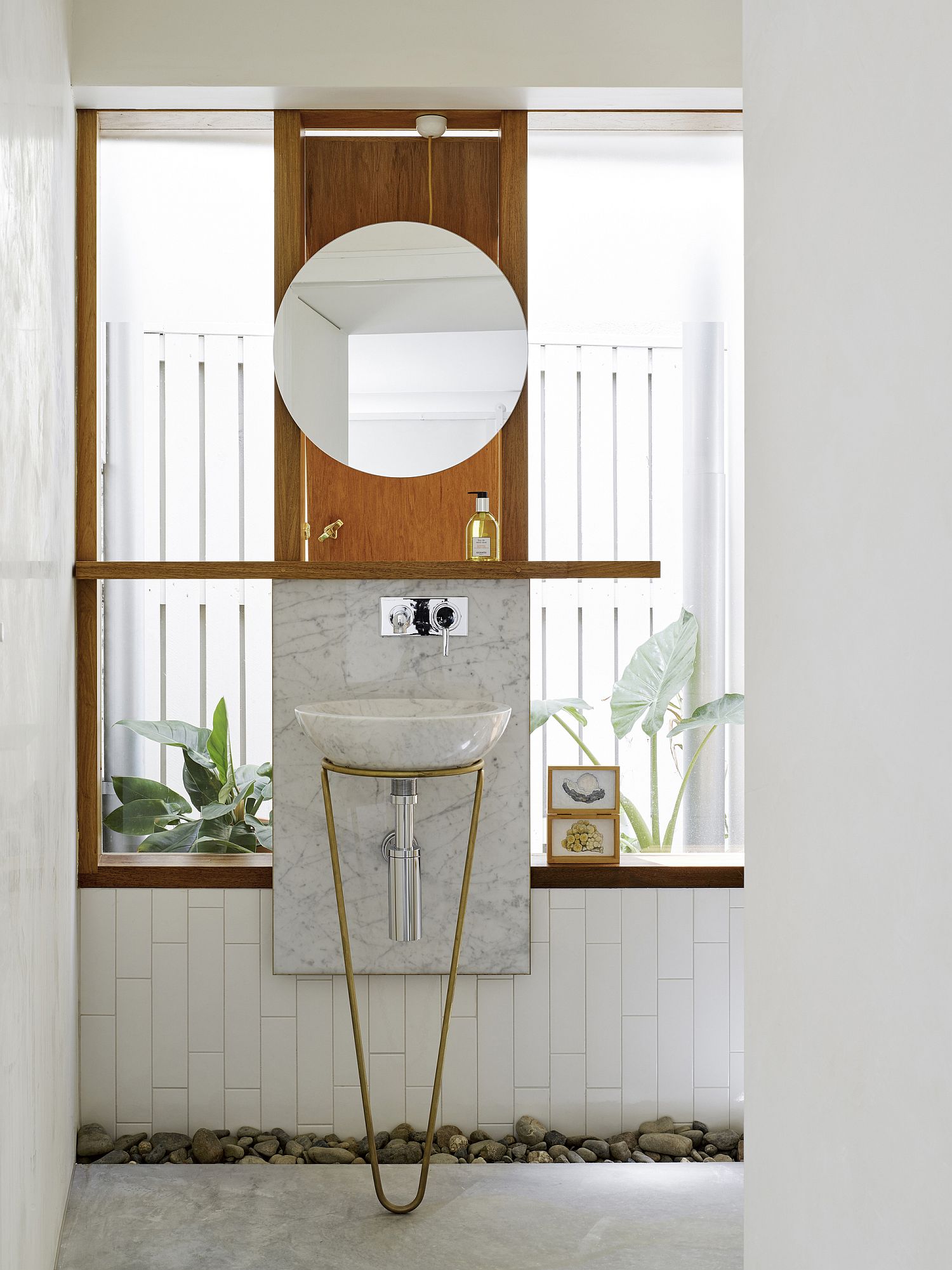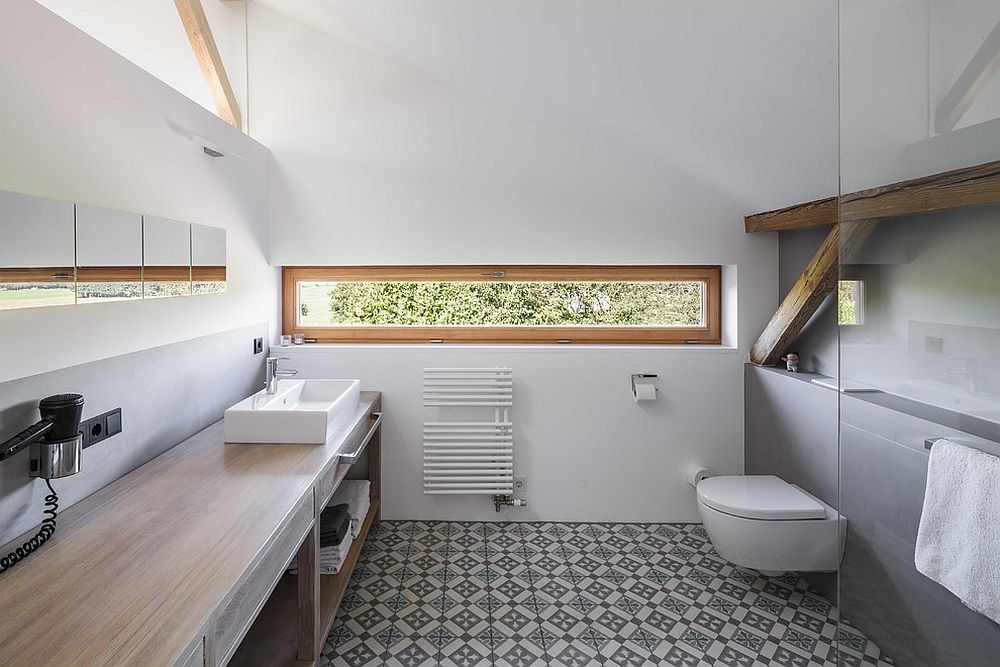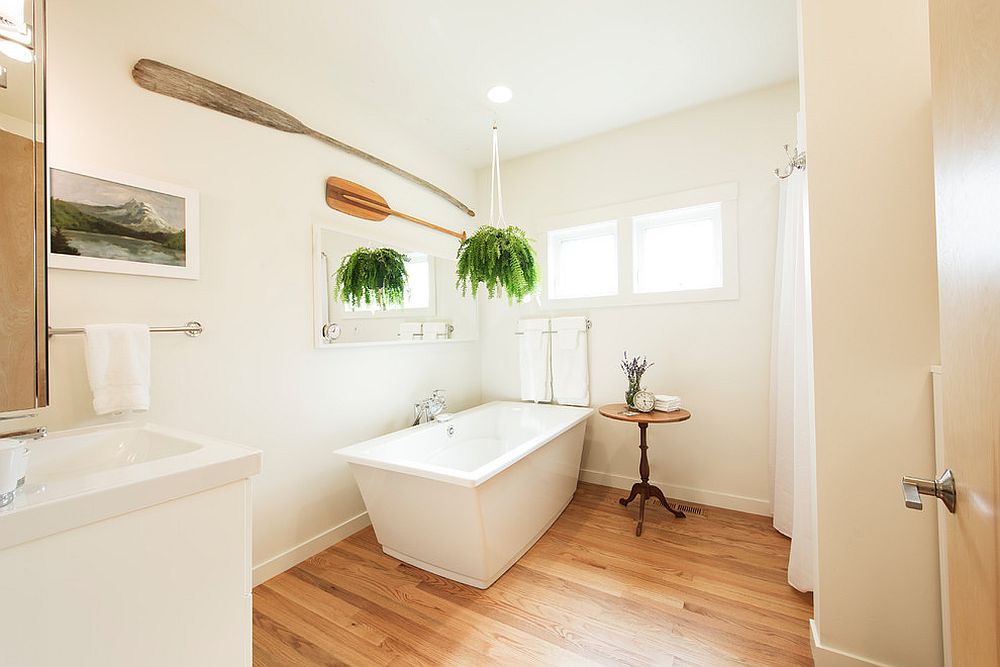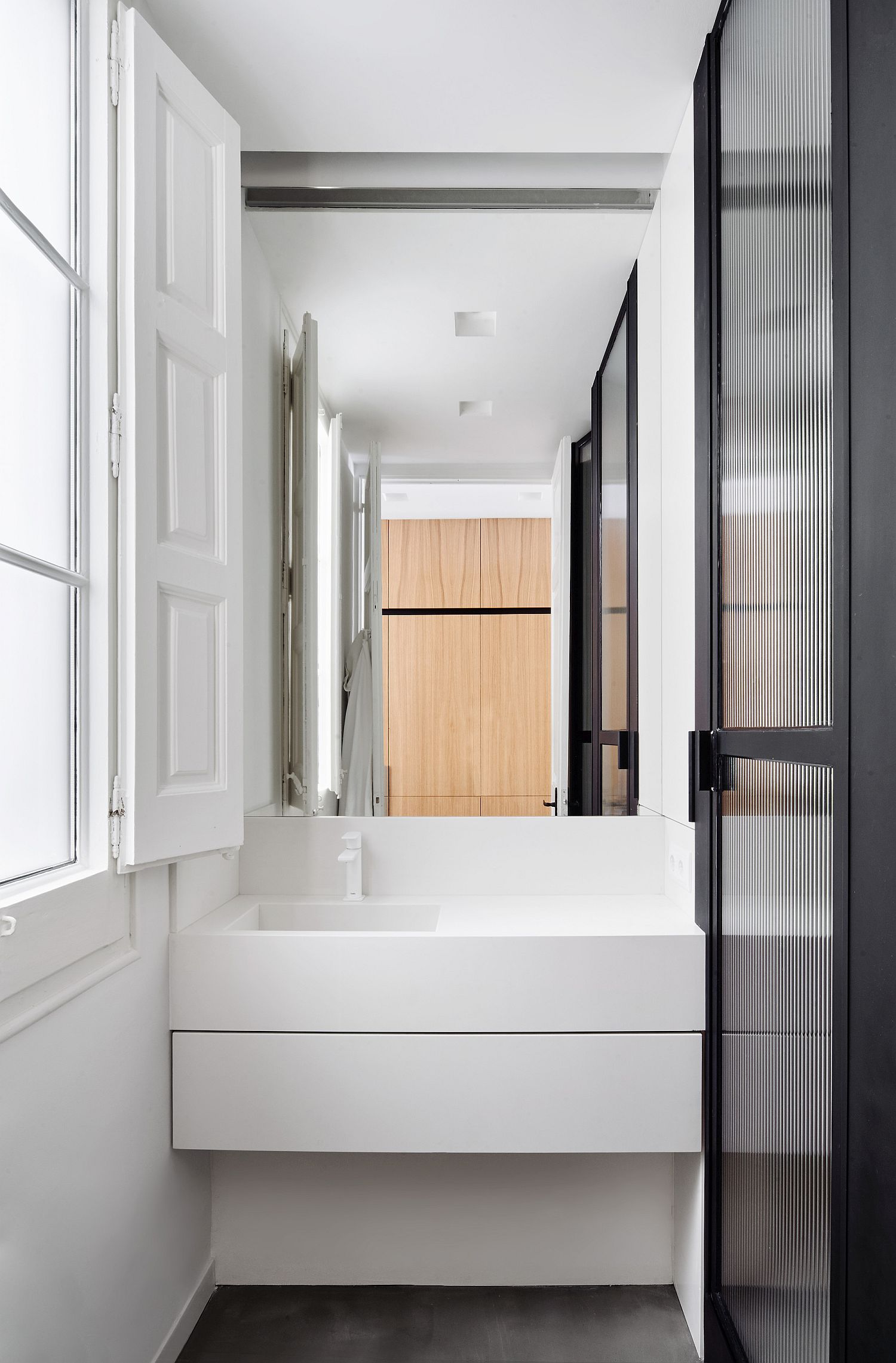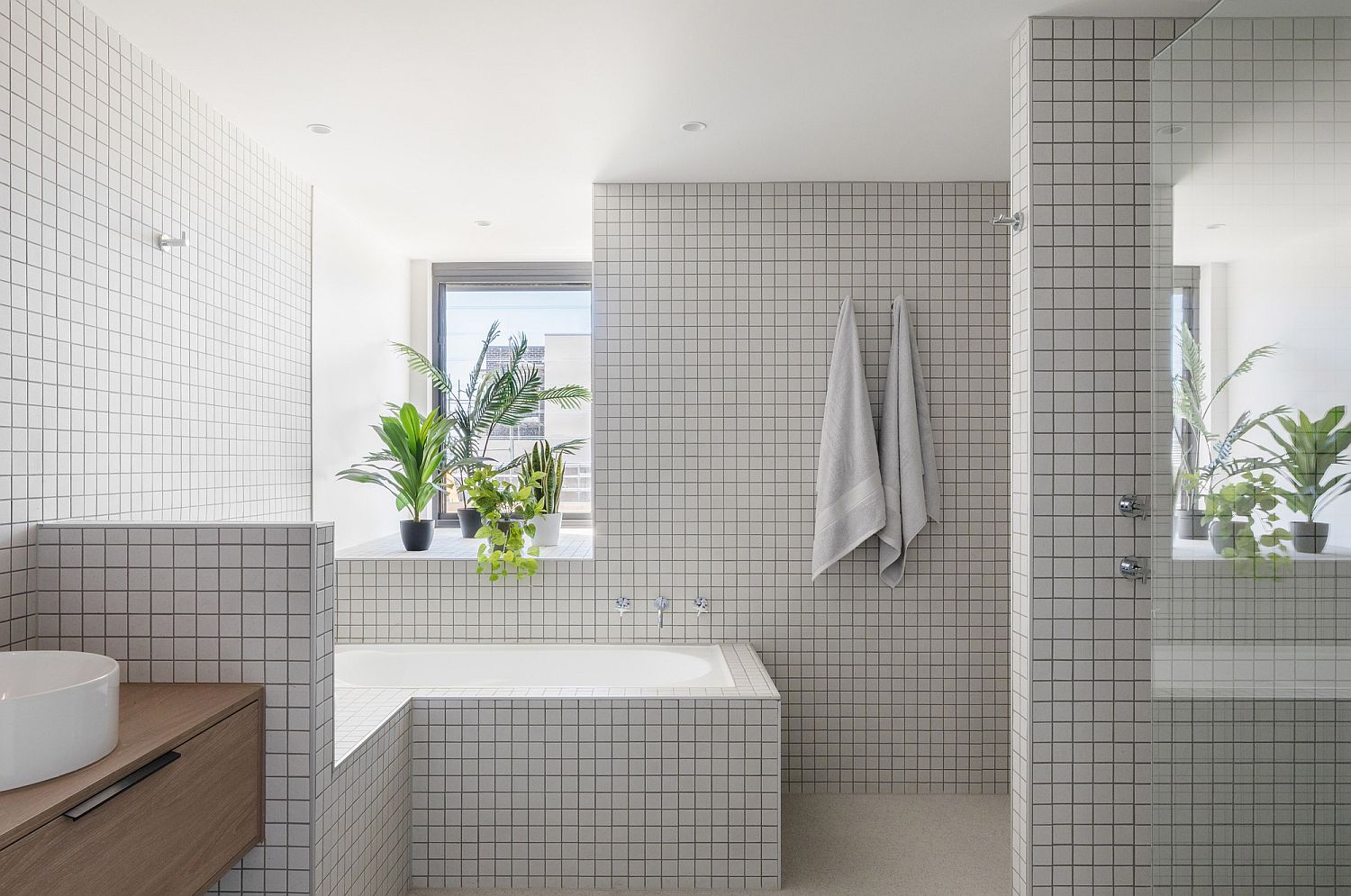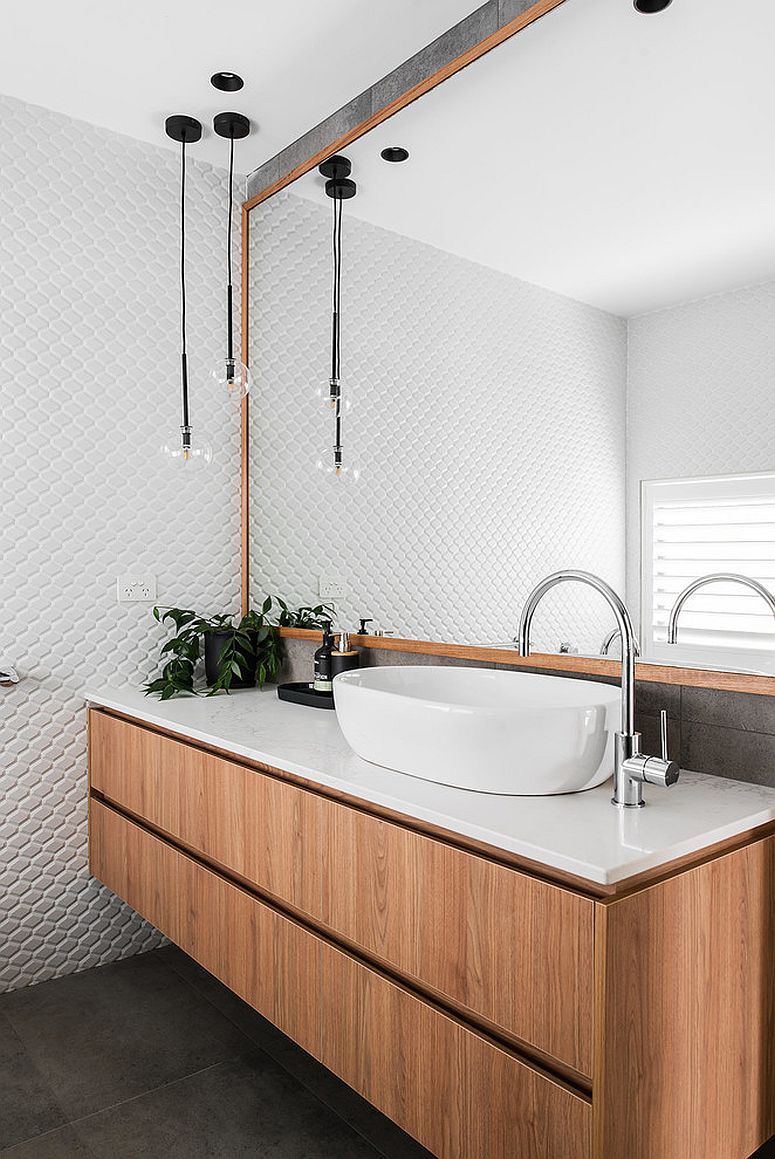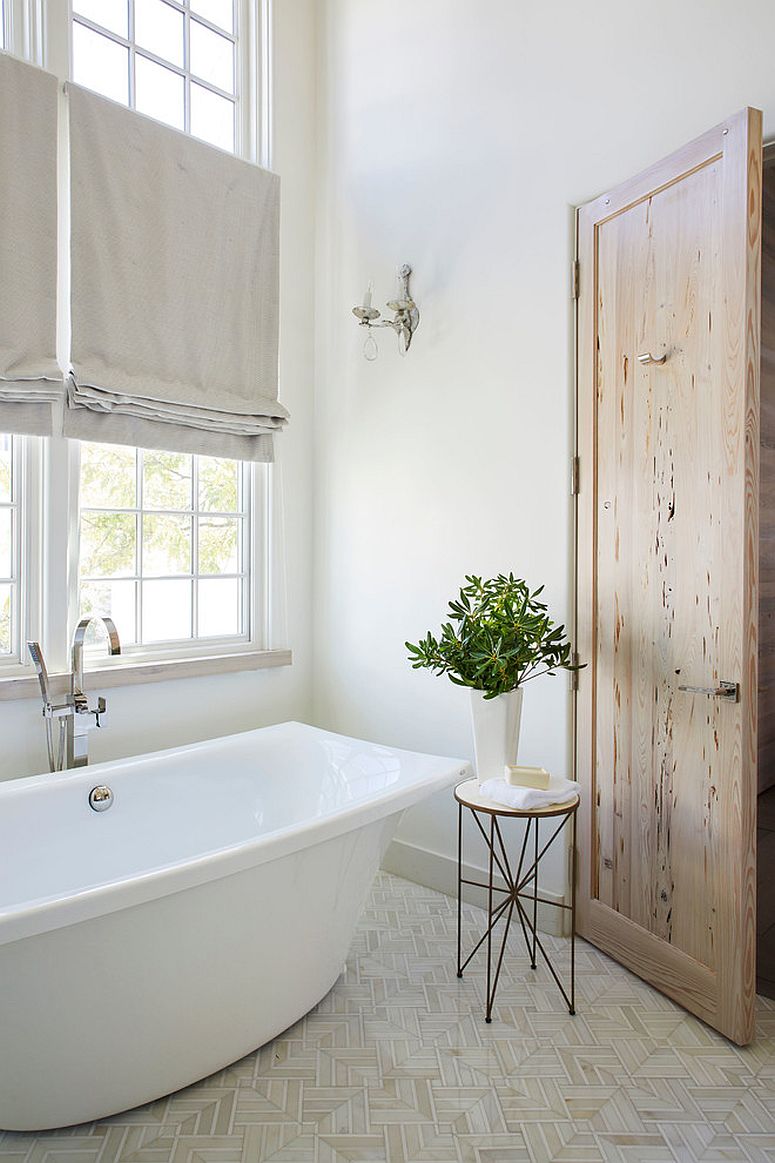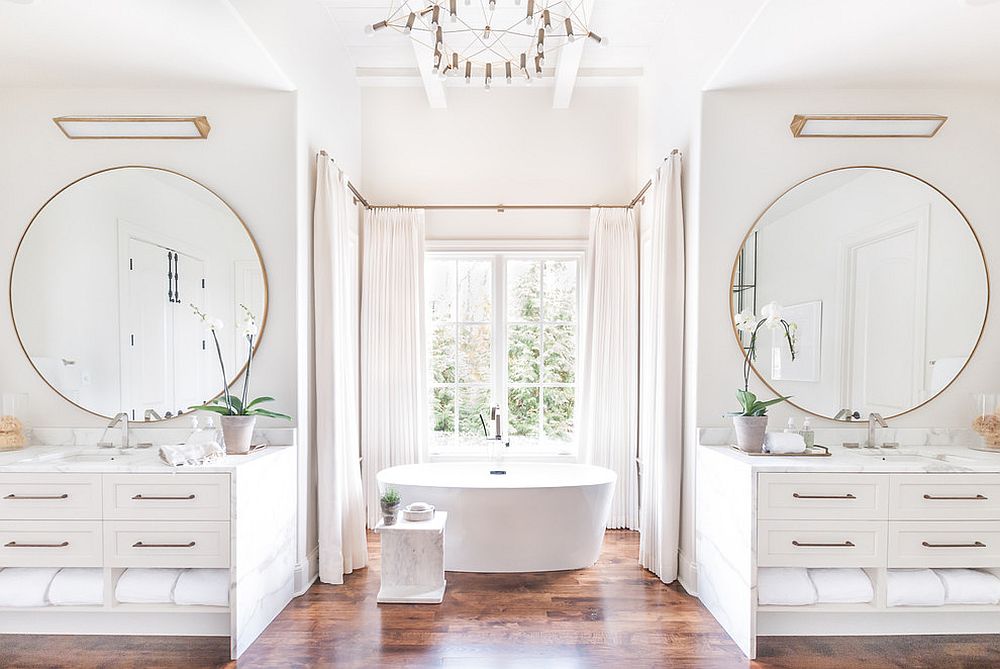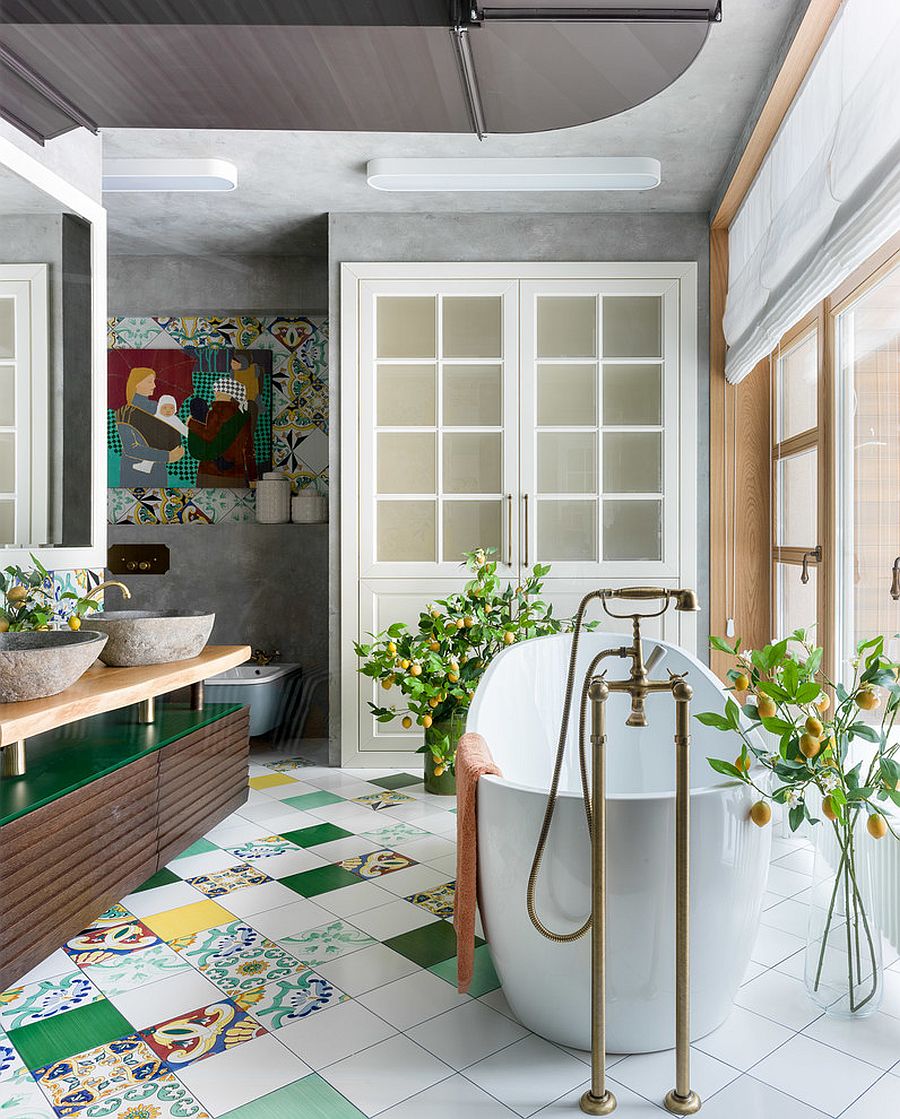 More Wood than White
Using wood in the bathroom in a more extensive fashion requires a special amount of care and if you are up to it, then move away from the predominantly white setting and create a perfect balance between both the elements. A wooden floor is a great start as it already gives the room a warm ambience and brings balance to a bathroom where the walls are all in white. Add an additional wooden accent feature, a vanity in matching wooden finish and a stool or two and you have a stunning space that never fails.
RELATED: Trendy Bathrooms that Combine Gray and Color in Sensational Style!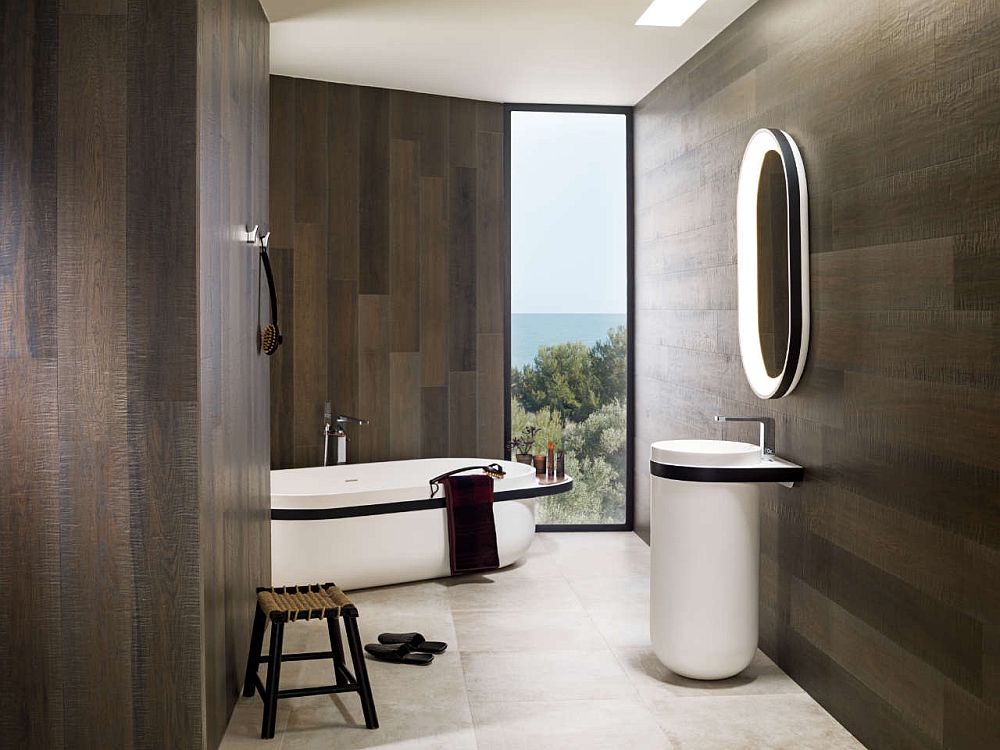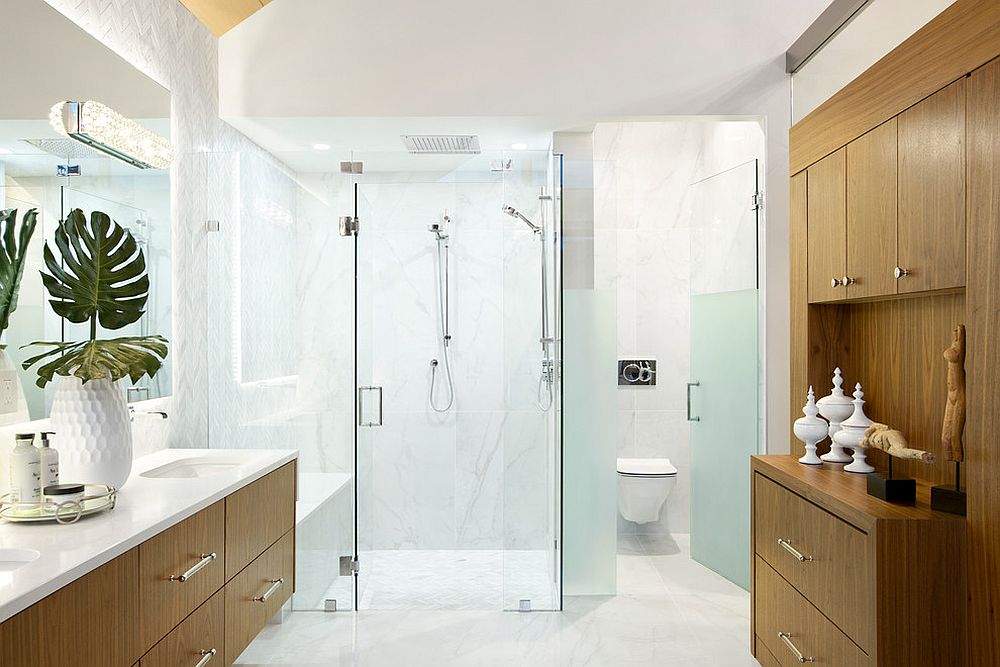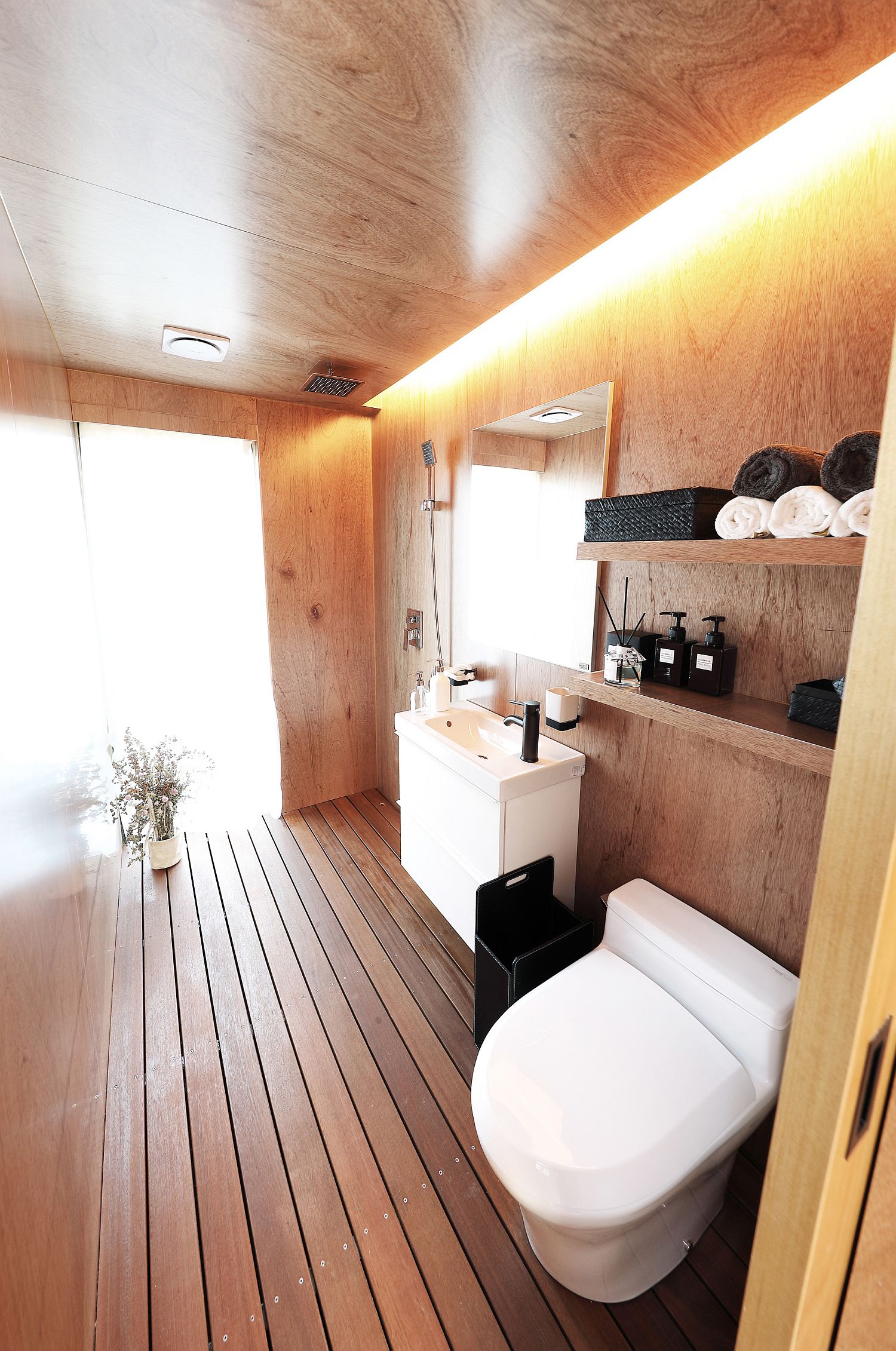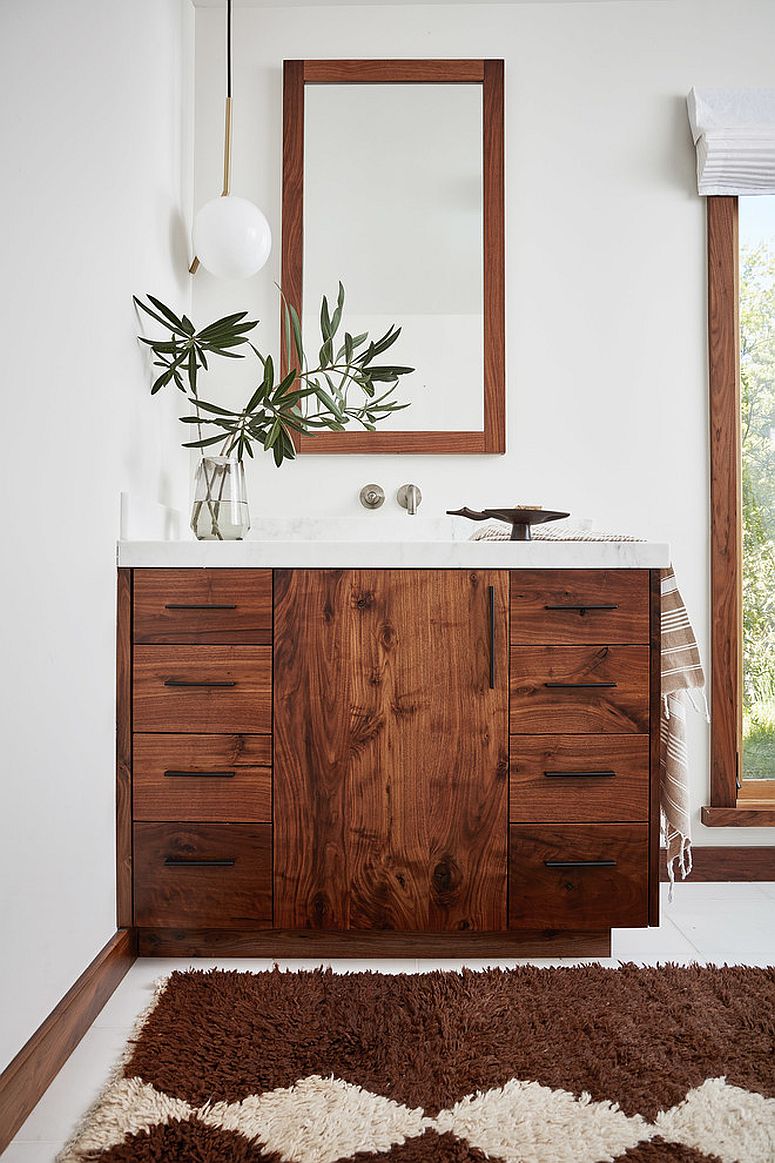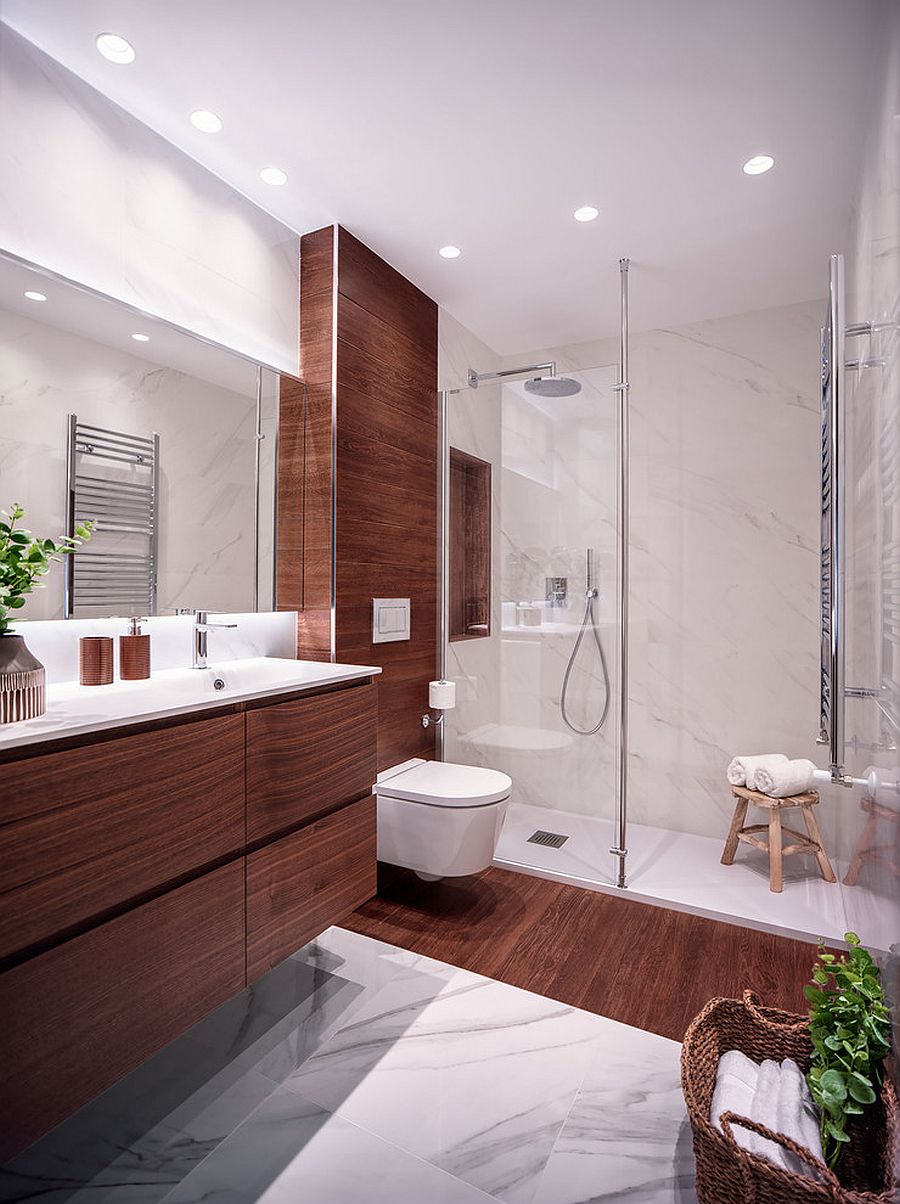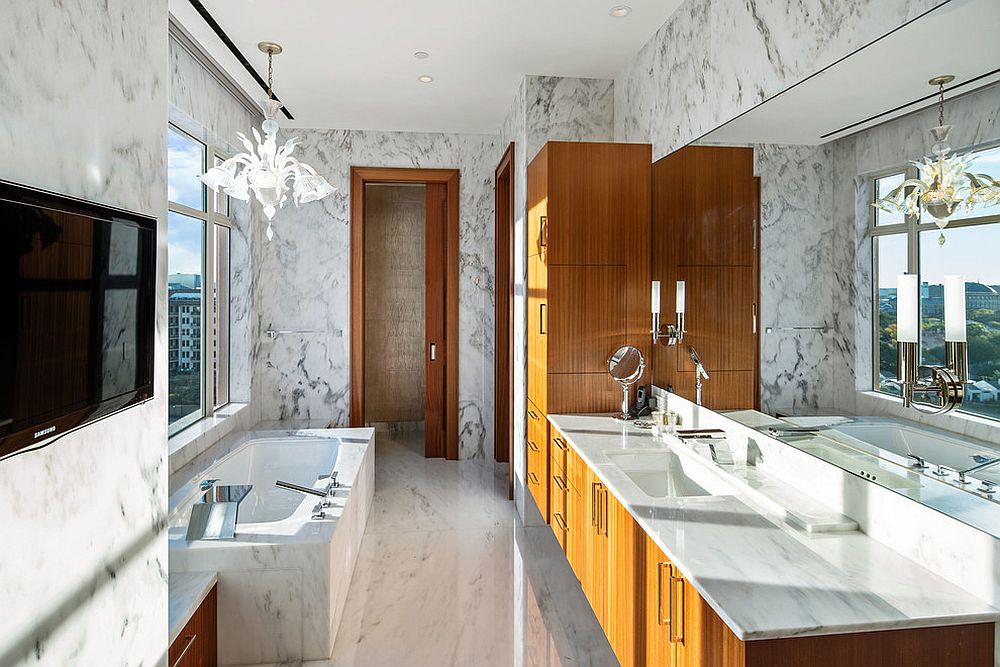 Sours: https://www.decoist.com/white-and-wood-bathrooms/
10 Beautiful White-and-Wood Bathrooms
1. Classic Meets Edgy in a Guest Bathroom

Location: Charlotte, North Carolina
Size: 38square feet (3.5 square meters)
Designer: Jena Bula of Delphinium Design

Designer Jena Bula had fun redesigning her guest bathroom, mixing playful elements with classic features. "I wanted to go more modern and take some risks in here," she says. "But I like to go classic with the permanent things, like tile, and take risks with elements that are easier to swap out, like a shower curtain, mirror and artwork."

Vanity and countertop. Bula upgraded an off-the-shelf vanity by adding green knobs, hairpin legs and an oil-rubbed-bronze faucet. "I wanted to add some organic touches — in this case, the natural pine wood and green elements. But I didn't want it to skew too rustic," she says.

Faucet: Delta; wall paint: Classic Gray, Benjamin Moore

Find floating bathroom vanities in the Houzz Shop
Tile. Black marble in a small-scale herringbone pattern grounds the bathroom floor. "This scale was just right for the small room," Bula says. "You get to see the right amount of the repeat." The bathroom's small footprint meant that splurging on the expensive material didn't cost a fortune. The shower tile is 4-by-4-inch white tile in a running bond pattern surrounded by dark grout.

Shower and tub. Gold faucets brighten the room, and a patterned curtain gives the shower some bold design and a pattern.

Read more about this bathroom makeover
2. Industrial Style With a Nod to the Railroad

Location: Alexandria, Virginia
Size: 49square feet (4.5 square meters)
Designer: Schmauder Group

Designer Michelle Schmauder enlarged the bathroom of a couple's 1940s row house by 16 square feet by expanding into a linen closet in the hallway. A pocket door and fixed shower partition make the most of the long, narrow space. "And now one of [the clients] can walk past when the other is brushing their teeth," Schmauder says.

The couple requested the white, wood and black accent color scheme. "My clients were drawn to industrial style," Schmauder says. "And their row house is right next to the railroad tracks — you can feel the train in the house when it goes by." The train tracks also inspired the bathroom's design.

Vanity and countertop. Schmauder repurposed a reclaimed-fir TV console into a double vanity. "This piece was easier to convert into a vanity in terms of plumbing, because we didn't have to cut around drawers like we would have had to with a dresser," she says. "And the storage it offers makes up for the loss of the linen closet." The homeowners opted to forgo having a tub in order to have the double vanity.

Wall paint: Snowbound, Sherwin-Williams; faucets: Brooklyn collection, Watermark Designs; lights: Vista 2, Cedar & Moss

Find a bathroom designer on Houzz
Shower. The new shower stall is 30 by 60 inches. It features a fixed glass partition that looks like divided panes. (The partition sits on the outside of the shower so it's easier to clean.)

Tile. Black and white dominate the tile color palette. In the shower, the designer used double hexagonal ceramic tile for the floor and subway tile with a dark grout for the wall. She used an encaustic cement tile in a more ornate graphic pattern for the rest of the bathroom floor. Because she stuck to the same color palette and paired similar shapes and patterns, the two floor tiles can play off each other cohesively.

Read more about this bathroom

Floor tile: Bristol, Cement Tile Shop

Shop for cement floor tile on Houzz
3. Fresh Updates on Traditional Design

Location: Hockessin, Delaware
Size: 69 square feet (6.4 square meters)
Designer: Liza Nicole Interiors

To more than double their master bathroom's 30-square-foot size, these homeowners were willing to sacrifice their walk-in closet. Working with designer Liza Nicole, they incorporated elements that feel classic and traditional but also made sure to give their bathroom a fresh feeling, due to both their style preferences and potential future buyers. (The homeowners may relocate in the coming years.)

Vanity and countertop. The double vanity balances the two styles the homeowners were after, with its clean lines but antique-looking finish and hardware. While the team had considered a custom piece, this off-the-shelf vanity matched the style they wanted and also saved on the budget. A Caesarstone countertop in Pure White tops the vanity. The vanity is 72 inches wide by 34 inches high by 24 inches deep.

Shower. A new spacious shower sits at the end of the bathroom, featuring amenities like a custom niche, grab bar, handheld shower and multifunctional shower head. Nicole used a clear frameless glass for the shower surround, choosing a glass with a coating that protects against water spots.

Tile. Hexagonal Carrara marble tile was used for the bathroom's floor (with radiant heating). In the shower, the team went with a classic white subway tile.

Sconces: Visual Comfort; faucets: California Faucets

A new storage cabinet sits where the sink used to be. Clear glass doors open up the space, while the furniture feeling of the piece adds more of the classic but fresh feeling the homeowners were after. Hanging wall art can be easily swapped out.

See more of this bathroom transformation

Wall paint: Agreeable Gray, Sherwin-Williams
4. Clean Lines Softened With Light and Bright Touches

Location: Toronto
Size: 72 square feet (6.7 square meters)
Designer: Alison Strickland of Narratif

What had started as a bathroom refresh ultimately became a down-to-the-studs renovation. Designer and homeowner Alison Strickland swapped out dark, heavy fixtures for lighter, cleaner bathroom pieces to complement her renovated bedroom.


New V-groove wood paneling adds texture and depth to the walls.

Vanity and countertop. A light wood vanity with open storage on the bottom brightens the bathroom. Strickland customized the vanity with mother-of-pearl knobs. The fixtures are polished chrome.
Tile. The flooring is a large-format porcelain tile made to resemble marble.

Tub. "I knew I wanted a petite one-piece tub in this racetrack shape," Strickland says. "This one is monolithic and minimalistic." The tub features a wall-mounted polished-chrome faucet.

See more of this master suite

Faucet: Ginger's
5. Neutral Tones With a Vintage Touch

Location: Victoria, British Columbia, Canada
Size: 84 square feet (7.8 square meters)
Designers: Andrea Bauer and Lana Lounsbury of Lana Lounsbury Interiors

As part of a couple's downstairs bathroom remodel, designers Andrea Bauer and Lana Lounsbury updated the layout and look, adding a floating wood vanity as a focal point and clean, neutral finishes that nod to vintage.

Vanity and countertop. The floating vanity, made of walnut, sits just inside the door to the bathroom, so the team designed it to be the bathroom's focal point. It was made by Splinters Millworks and is 42 inches long. It features matte black hardware and a Cambria countertop in Waverton.

Tile. Black porcelain tile with a natural look covers the floor. The designers chose the tile because it is easier to clean and was easier to install than other materials, including stone, but still adds a natural look. Beveled subway tile flows across all walls in the bathroom, including in the shower.

Shower. "We did frameless glass to give an infinity look to the tile," Lounsbury says. The shower is 17 square feet and features a sliding glass door on the side next to the toilet. Vintage-looking fixtures in a matte black finish pop against the white tile and tie in with those on the vanity.

See more of this bathroom makeover

Shop for shower heads and body sprays
6. Hotel Style for a Master Suite

Location: Toronto
Size: 91 square feet (8.5 square meters)
Designer: Veronica Martin of Two Fold Interiors (formerly of Veronica Martin Design Studio)

For their en suite master bathroom, the owners of this home tasked designer Veronica Martin with creating something that you might see at a five-star resort. "They wanted it to feel almost like a hotel guest suite," the designer says.

To create the feeling of luxury and elegance associated with high-end resorts, Martin limited the material and color palette, sticking to white, wood and black outlines. "We believe that creating the biggest impact is about editing," Martin says.

Vanity and countertop. The floating white oak vanity stands out in the mostly white bathroom. A Caesarstone countertop in White Quartz tops the cabinets, tying in with the rest of the bathroom's color scheme. Brushed-bronze fixtures, along with amber-tone pendant lamps, warm up the vignette.

Tile. The bathroom's walls and floor are covered in a large-format porcelain tile that resembles marble. It's an easy-to-clean material. Each piece is 30 by 60 inches, reducing the number of grout lines.
Shower. A separate shower with a black frame features a long ledge for stowing bath products.

Read more about this bathroom renovation
7. Streamlined Luxury in the City

Location: New York City
Size: 120 square feet (11 square meters)
Designer: Andrew Mikhael

This now expansive bathroom in New York City is the result of the homeowner's purchasing the apartment downstairs and combining it with the apartment he already had. Architect Andrew Mikhael expanded the previous 40-square-foot bathroom into what you see here, using luxe, streamlined materials and subtle lighting to create a feeling of clean, sophisticated elegance. LED strip lights softly illuminate the space.

Vanity and countertop. The espresso stained floating vanity contrasts the mostly white surfaces. The Corian countertop with integrated sinks is streamlined yet architectural.

Faucets: Axor Citterio, Hansgrohe
Tub. A freestanding bathtub adds curves to the mostly linear space.

Tile. A large-format marble tile (12 by 24 inches) wraps around three of the bathroom's walls. The white stone, with its subtle gold flecks and veining, picks up on the floor color and the teak and ipe used throughout the bathroom.

See more of this master bathroom
8. Style and Storage in a Family Bathroom

Location: North Haven, Connecticut
Size: 130 square feet (12 square meters)
Designer: Kimberly Horton of KH Home Design and Furnishings

In this master bathroom, clean lines and neutral colors meet reclaimed wood and black-and-white tile for a design style that interior designer (and homeowner) Kimberly Horton calls modern bohemian. As part of a renovation that nearly doubled the size of the existing bathroom (she relocated the powder room and borrowed space from the laundry room), Horton added more storage, style and design solutions to better accommodate her family of six.

Tile. Cement tile with a black-and-white arabesque pattern was used for the floor. In the shower, classic white 3-by-6-inch subway tile lines the wall, while charcoal hexagonal tile covers the floor. "We have so many squares and rectangles in here that I wanted to do something different for the shower floor and niche," the designer says. "The hexagonal tiles also worked well with the arabesque pattern on the floor."

Shower. Where to put the shower was one of the redesign's biggest challenges. "We not only had to size the stall for my husband but also use an extra-large custom door," Horton says. The new shower measures 5 feet, 6 inches by 4 feet, 3 inches, fitting perfectly into the bathroom corner.

Tub. The claw-foot tub was a choice for style as well as practicality. It nods to the antiques Horton has incorporated throughout the rest of the house but also suits the bathroom style. With two young daughters, Horton also wanted a tub that would be easy to bathe them in.

Tile: Safi White, Cement Tile Shop

Shop for subway tile
Vanity and countertop. LimitlessWoodworkingmade the reclaimed-pine vanity, finishing it with a custom stain from Minwax. Horton chose matte black hardware to coordinate with the faucets and light fixtures. The rustic wood is topped with cultured-marble countertops.

Storage was a key part of the renovation, with new upper cabinets adding to what was already gained with the new vanity. The designer worked with the cabinetmaker and electrician to have outlets installed within the cabinets.

Read more about this bathroom's transformation

Wall paint: Alabaster, Sherwin-Williams; countertops: Custom Marble Design; gooseneck light fixtures: LightingWorld
9. Rustic Elegance in a Farmhouse-Style Bathroom

Location: Tomball, Texas
Size: 350 square feet (33 square meters)
Designer: Ashley Moore of Moore House Interiors

In Matt and Ashley Moore's master bathroom, natural wood elements meet warm white and gray for a space that feels relaxing and elegant and also ties in with the rest of their home's farmhouse style. Floor-to-ceiling painted shiplap walls lighten and brighten the space, and exposed beam ceilings add rustic texture.

Vanity and countertop. A new double vanity painted in a light gray perfectly fills a bathroom niche, adding storage and style to suit the family's needs.

Wall paint: Dover White, Sherwin-Williams; vanity paint: Colonnade Gray, Sherwin-Williams
Tub. The owners also added a new shower, but a freestanding tub acts as a bathroom focal point in a previously closed-off nook. A row of hedges outside the windows provides a layer of privacy (although there are no nearby neighbors).

Tile. The rest of the home has wood floors, but for the bathroom Moore opted for wood-look porcelain floor tiles with the smallest grout line possible. As leaks in the bathroom before the renovation had ruined the floors, the homeowners decided they didn't want to go through that again with wood.

See more of this bathroom makeover

Bathtub: Rione freestanding slipper tub, Signature Hardware; tub faucet: freestanding telephone faucet, Signature Hardware
10. Architectural Heritage and Modern Comfort

Location: Brooklyn, New York
Size: 700 square feet (65 square meters)
Designer: Maya Sheehan of Maison Maya

In the renovation of their 113-year-old brownstone in Brooklyn, New York, Maya and Trace Sheehan opened up multiple smaller rooms and closets to create a one-bedroom master suite with a walk-in closet and bathroom. The Sheehans aimed for a design that would feel simple and industrial but would preserve the original wood, brick and detailing of the early-20th-century home.

Vanity and countertop. The bathroom's original wood floors were too damaged to restore, so the design team had Recycled Brooklyn, a custom furniture shop, sand them down and add a Varathane finish to create the vanity as well as the wood-paneled walls behind the vanity. The vanity has a poured concrete top and metal doors.

Tile. Wide-plank cement tiles cover the floors.
Bathtub. Anew freestanding tub nestles into the corner in front of one of the home's original, but now nonworking, fireplaces.

Sours: https://www.houzz.com/magazine/10-beautiful-white-and-wood-bathrooms-stsetivw-vs~118497152
Download this page in PDF format
After years of white and gray being the go-to colors in interior design, the big question on everyone's mind has started to be: how in the world do we get a little color back into these bland, grayscale spaces? Nowhere is this more true than in bathrooms, where white has been the most-used color from floor to ceiling for the last decade. The good news is, if you have a washed out white bathroom, you can totally transform the look of your space with one simple change: replace your current setup with a natural wood bathroom vanity.
There are two main kinds of bathroom renovations. First are small projects, ones you can do yourself in a weekend, for maybe a few hundred dollars. Second are ones that'll take a contractor weeks or months of demolition and installation to pull off. But replacing your bathroom vanity is one project that falls right smack dab in the middle. It's certainly more expensive than upgrading your sink or shower head, but typically won't take more than an afternoon to get installed, especially with professional help. Not to mention, if you opt for a vanity that's roughly the same size and shape as your current one, you won't need to deal with any other overlapping projects, like repainting, re-tiling, or moving your plumbing.
So, in the grand scheme of big-ticket bathroom renovations, replacing your bathroom vanity is one of the simplest, most affordable, and most doable. That said, it will have a huge impact on the look and feel of your space. Instead of hammering out all your tile to upgrade to something in a different shade, installing a natural wood bathroom vanity will put a big swatch of warm, rich color right smack dab in the middle of your bathroom. Especially on an all-white backdrop, a wood vanity will stand out, lending just the right touch of honey-toned warmth to make the existing white feel crisp and clean rather than washed out or sterile.
That isn't to say that a wood bathroom vanity can't be part of a larger update. Combined with other tweaks and tricks (like updating your hardware, replacing your tile, and even repainting), a wood vanity can have an even larger impact. But the right vanity won't need those other elements to prop it up. That's what makes it a great choice for a smaller project: upgrading to a wood bathroom vanity can bring your bathroom up to date in one fell swoop, without putting the space out of commission for the weeks or months needed to do a more involved project.
Maybe my favorite thing about this trick, though, is that it can work for just about any white bathroom – big or small, modern, traditional, or anywhere in between – and with just about any light or medium toned wood. Why? It's all about color and contrast. Against an all-white backdrop, there's nothing for whatever wood you choose to clash with. Better still, a white backdrop will make both make a wood bathroom vanity stand out, and pick and reflect some of the warm base tones of the wood, making your space look and feel cozier and chasing away the blue-gray shadows that often plague all-white bathrooms.
A natural wood bathroom vanity isn't exactly a narrow category, either – it can encompass everything from a rustic driftwood to a sleek birch laminate, and everything in between. The important part isn't what type of wood you choose or how it's finished, but that it has a warm base tone and isn't too dark. A wood with a blue-gray undertone – or one that's stained to any very dark brown – won't have the same impact, and can even make a white bathroom feel colder and more bare than it already is.
That said, with those broad limitations in mind, there are a world of choices out there to help you get a look you like. Even better, many wood bathroom vanities come pre-paired with matching add-ons, like mirror frames or storage cabinets. Not only do these vanity sets make it easy to get a coordinated look throughout your bathroom, they also help spread out and increase the total amount of wood in your bathroom without adding too much to the price or scope of your project.
While there are lots of ways to add color to a white bathroom, upgrading to a wood bathroom vanity is a great way to make a big change without re-imagining your bathroom from the ground up.
This entry was posted in Bathroom, Bathroom Vanities, Decorating Ideas and Tips, Latest Trends and tagged bathroom vanity trends, natural wood bathroom vanities, updating a white bathroom, white bathrooms, wood bathroom vanities.
Sours: https://m.homethangs.com/blog/2020/06/warm-up-a-white-bathroom-with-a-natural-wood-bathroom-vanity/
Rustic Bathroom Ideas Inspired By Nature's Beauty
Yes, here is my neighbor, Igor Ivanovich, invited me to go to a picnic, since I lied that I was on vacation. Although the boss called and he gave me three weeks without maintenance. At the same time, I thought vindictively that maybe these goblins would go too far and run into trouble, as Khoja Nassredin said, or the donkey would die or the.
Bathroom wood and white natural
Gradually everyone calmed down and now they just lay there, in the pool, enjoying the streams of hot water. Margarita found that she was practically lying between Veronica's legs, and she stroked her hair. Opposite her lay Toma, and her leg dangled between Margarita's legs. Margarita felt how, under the influence of jets of water, Toma's toes, as if by chance, periodically barely touched the petals of her labia.
Toma lay with her eyes closed and did not seem to notice this.
Top 30+ Wood Tile Bathroom Ideas – Wood Tile Shower Designs
I had to tell about the Georgian Solyanka dish. Well, since the guests are already specifically drunk and even slightly solitary, I called them into the hall. We settled down on the couch, and here I began to lecture this drunken couple that the main thing in sex is to satisfy a woman. Oleg almost jumped, saying that you could not satisfy her in any way. So I show it once.
Now discussing:
She had already thought about her position in this organization and was ready for such a thing. How some of its requirements were considered. As soon as Marie got out of the bowels of Karapax, and the reciprocal exchanges of courtesies ended, the girl, without any shyness, asked to appoint Teresa as her personal assistant.
1362
1363
1364
1365
1366