Disclaimer | This article may contain affiliate links, this means that at no cost to you, we may receive a small commission for qualifying purchases.
We've often been part of a steaming debate on air conditioners over pedestal fans. But, we can't deny that pedestal fans are a cost-effective way to stay comfortable and relaxed.
This electric, detachable stand is a reliable source to cool the indoor air. Even if you're using the pedestal fan throughout the day, you'll be saving a hefty amount from your electricity bill when compared to the use of an AC unit.
Nowadays you can find pedestal fans with innovative features that won't just captivate but also surprise you. Irrespective of where you're seated at home, you can set it in any direction.
Moreover, if your room has a lot of people, you can select the oscillation mode so that everyone can enjoy the cool breeze. Also, some pedestal fans have the height-adjustable feature, which is useful to direct the air above the ground level. To make this selection process way simpler, we've compiled an informative guide to help you figure out the right model for your home.
So, without further adieu, let's get started!
Best Pedestal Fans
Lasko 1827 Adjustable Elegance and Performance Pedestal Fan
This pedestal fan is known for its superior quality performance and it's priced under $50. The lightweight design makes it easy to move it around. And its three energy-efficient fan speeds give out an impressive amount of air. It comes with a wide oscillation feature so it can cover quite a good amount of space. You can direct the cooling air as per your requirements with its tilt-back feature and adjustable height.
Moreover, it has an uncomplicated assembly that doesn't require any tool to set up the entire fan. It's an 18-inch pedestal fan, which is suitable for your bedroom, living space or it can be placed beside your desk. Plus, it comes with a patented safety fuse plug which cuts off the electricity as it detects a potential safety hazard.
Pros
The best pedestal fan under $50
It's portable and lightweight
It has an easy tool-free assembly
It has a wide oscillation
It circulates air with powerful speed 
Cons
It comes with a short cord
Most of the fan parts are made from plastic  
Rowenta VU551 Turbo Silence
This is one of the finest products of German engineering. If you want a quality pedestal fan, this product is not going to disappoint you. For people who don't prefer to have fans that produce a disturbing sound, this is an ideal option. The noise level is between 40 and 56 decibels, which are decent even for the light sleepers.
The manufacturers claim that this fan can move about 2000 cubic feet of air or higher, which makes it suitable for a large space. It comes along with remote control and four variable speed options, so you won't have to set the speed with your hands. Furthermore, it has a sophisticated design that will blend easily with your home decor.
Pros
The fan head oscillates up to 90-degrees
It's a 16-inch pedestal fan
It has an adjustable height 
Cons
It is an expensive product 
Honeywell HS-1655 Quiet Set 16-inch Stand Fan
This is a powerful fan, and it comes with a set of advantages. It's a heavy-duty pedestal fan that operates quietly, as the name suggests.
The five different speed levels makes it a user-friendly product. Plus, it comes with a timer so you won't have to wake up in the middle of the night to turn off the fan. You have the added advantage to set the timer for 1, 2, 4, and even 8 hours. 
Moreover, this fan has the oscillation feature, and an adjustable height, which makes it a suitable option for a bedroom or small spaces.
Pros
It has five different speed settings
It comes with four timer settings
It's an affordable pedestal fan
It has a quiet operation 
Cons
It has a loud, beeping sound
If you're a light sleeper, the LED can be quite disturbing
It's not a very durable product 
Vornado 683 Pedestal Whole Room Air Circulator
The overall aesthetics of this fan is eye-catching and unique with exceptional functionality. With a distinctive signature grill and well-pitched propeller its strong contender to other quality pedestal fans.
It's a compact product which doesn't require much space, and it can move air to almost 75 square feet. It has three-speed settings, with a very low noise level making it the best purchase for your bedroom space.
It comes with a tilt-head feature that offers multidirectional flow. And the adjustable height is between 32 and 38 inches so you can adjust the level according to your needs. What makes it unbeatable is the tool-free assembly and the 5-years warranty period.
Pros
The sturdy built and superior design
It has a compact size
The deep-pitched blades can move air up to a level 80 feet 
Cons
It doesn't oscillate
There is no remote control feature
It's an expensive fan 
Air King 9420 20" Industrial Grade Pedestal Fan
For cooling a large living room or industrial space, this is the most suitable option amongst the other pedestal fans. It features a powerful lubricated motor of ⅙-horsepower with three 20-inch blades. You can set this fan on three different speed levels of 2940, 3330, and 3670 CFM. When tuned to the maximum fan speed it has a noise level of around 62 decibels. 
But, it's not very disturbing when we consider the fact that you can use it in places like garages, workshops, and even offices. Each of these speed levels is powerful, and it will provide you with great comfort. And, it's a bulky product which makes it difficult to move it from one place to another. 
Pros
It's a durable product with powder-coated steel
It's easy to assemble
It's perfect for a large space 
Cons
The blades are not appropriately balanced
It can get pretty noisy
It's hefty, which makes it challenging to move it around 
Lasko 1843 Remote Control Cyclone Pedestal Fan
You might find some similar features with the earlier product and the Lasko 1843 model which include- adjustable height with tilt-back feature and the tool-free easy assembly. Now the unique characteristics of this pedestal fan are the remote control that comes with three-speed settings and auto on/off.
 It's also equipped with a programmable timer, which allows you to set the time (1 hour, 2 hours and 4 hours) for the fan to operate. But, to assess the oscillation feature, you need to turn it on/off manually. Even though it's a very powerful fan, it has a reasonable noise level which can be disturbing at times. It comes with a lower price tag because most parts are made from plastic.
Pros
It has a programmable timer
It comes with remote control
It's an affordable pedestal fan
It has an easy setup 
Cons
The remote control doesn't work correctly
It can get noisy at times
It's mainly constructed with plastic 
Lorell LLR49251 Floor Fan
If you're on a tight budget and you're looking for a good bargain, this will be an ideal fit for your requirements. The fan comes with a 4-hour timer, which is an excellent feature for the times when you don't want the fan to run all night. The noise level rating is around 50 decibels, and that's a decent number for a pedestal fan.
The fan blade guards are also quite easy to remove, which makes cleaning a hassle-free task. Moreover, you don't have to assess the buttons on the fan; instead, you can use the infrared remote control. It has three fan speeds that evenly circulates air in your room without making any disturbing sound in either of the levels.
Pros
It has a quiet operation
Easy assembly 
Comes with remote control
An affordable pedestal fan
Made with quality materials 
Cons
It's not a very powerful pedestal fan 
Avalon High Velocity
This fan comes with five heavy-duty blades that give powerful airspeed, which makes it stand true to its name. You get a total of 35-speed settings to choose from, out of which 26 of them are normal speed settings while the rest 9 is silent speed setting. It also comes with three different 'wind modes' such as auto, natural, and sleep.
For added convenience, it features a programmable timer of up to 8-hour that allows you to set the timer and continue with your work. The LED display adds to it the innovative design of this product, while the remote control makes it simple and easy to operate.
Pros
It has a quiet operation
It comes with an LED display
The remote control can be used for turning the oscillation on/off
It has three wind modes and 35-speed settings
It comes with an easy assembly
Cons
It has a poor quality remote control
When you switch on the fan, it resets to the default setting, so you have to again set up the functions according to your preferences
It's an expensive product 
Costway 18" Adjustable Pedestal Fan
If you generally prefer having appliances with an innovative design, you'll love this pedestal fan. It has a dual-blade design that gives a strong and satisfying breeze. Plus, it has a tilt-back feature, and it oscillates. You can adjust these features with the remote control that is mainly used to select one among the three modes, be it normal, nature or sleep. 
Moreover, each of these modes has a different speed setting, and you can accordingly adjust the modes. For instance, in the sleep and nature mode, it mimics natural breeze as the fan first switches to the lowest speed settings after which it gradually increases. But, in the sleep mode, the functions stop with the medium speed setting.
Pros
Full-function remote control
Settings are customizable 
Durable, pedestal fan 
Comes with an adjustable back 
Cons
It can get challenging to assemble the parts 
The bright LED light can be disturbing for sensitive sleepers 
Vornado 6803DC Energy Smart Pedestal Fan
The Vornado 6803DC model has a brushless DC motor which uses around 80% less energy. It can circulate air to a distance of up to 85 feet. But, what makes this pedestal fan stand out is the 99 distinctive airflow settings. This fan has a precise air control so you can select the exact settings that suit your comfort level. 
For easy access, you'll be getting a remote control with this set. It also features a programmable timer and touch-sensitive buttons. Unlike the other models of Vornado pedestal fans, this one has an adjustable height that can be set between 31 and 39-inches. 
The signature Vortex mechanism provides you with complete air circulation. However, the light of the LED display doesn't turn off completely; instead, it just dims a little that may bother light sleepers.
Pros
Covered with a 10-year satisfaction guarantee
99 airflow settings
Comes with a programmable timer
An energy-efficient pedestal fan
Cons
It has a short stature of 3.25 inches
It's an expensive product 
Vornado VFan Sr Pedestal Vintage Air Circulator
If you like having vintage appliances in your home, the Vornado VFan Sr Pedestal Fan will be your new favorite. It has a classic Vornado design straight from the 1940s. And this air circulator will make you swoon over its quality as you continue to get flooded with compliments for this signature piece in your home. 
It comes with full metal construction, a fully pivoting head that provides multidirectional airflow, and an adjustable height from about 42 to 55 inches. Moreover, it has three quiet speed settings, and it's covered with a 5-year satisfaction warranty. Overall, the color, the vintage design, and the easy to use features is what makes this piece stand out amongst the rest. 
Pros
Comes with excellent airflow
Built with quality materials
Smooth operation
Covered with an outstanding 5-year warranty
Timeless design with a brilliant performance 
Cons
It's a costly pedestal fan 
The assembly process can get a little challenging 
Hunter 16-inch Retro Stand Fan with Brushed Nickel Finish
This 16-inch pedestal fan functions efficiently and looks just as elegant as the other classic designs. For maximum airflow, it's constructed with the famous three-speed motor. It has a smooth oscillation of around 85-degrees, so you don't need to worry about the fan being fixed in one direction. One feature that is not going to let you down is the adjustable height, which can be set from 37 to 52.5-inches.
Plus, it's a lightweight product making it easier for you to move it around. It has the right amount of stability with its rubber feet, which enhances portability. And the designed brush nickel finish and matte black legs give it a retro look. The limited noise output and easy assembly makes it a complete package for a pedestal fan.
Pros
Sturdy built
85-degree oscillation
Easy assembly
Value-added product 
Cons
Not suitable for a small-sized room
It can be noisy when it's set at the maximum speed levels 
Designer AIRE Indoor & Outdoor 18-inch Quiet Pedestal Fan
This is a premier oscillating fan with optimum performance, while the decorative edge gives it a vintage look. It's an 18-inch pedestal fan with unmatched elegance. The overall structure is made of high-quality stainless steel, and it comes with an aged copper finish. It has a telescopic neck which you can adjust from anywhere between 40 to 51-inches.
The 45-watt motor helps to cool the space faster than the other fans, and the three different speed settings makes it more convenient for you. The best aspect is that you can use this fan even for the outdoors as it's protected with an all-weather, UV resistant paint. Moreover, the timeless design of this piece gives an added flair to your home decor.
Pros
Designed for both indoor and outdoor use
Coated with an all-weather UV-resistant paint that prevents it from fading
Made with high-quality materials
Sturdy built
Comes with a smooth, oscillating feature 
Cons
The ornate decorative base might not be preferred by many
It doesn't have a silent operation 
Optimus F-4184 18-inch Industrial Grade Velocity Stand Fan
This pedestal fan belongs to the category of the exceptionally high powered fan. Even though the overall appearance might not be exciting, but given the functionality, it's a reliable product. It comes with ¾ torque motor, 18-inch blades and a thermal cut-off. You can also adjust the height, and tilt the fan head to use it as an air circulator.
It has three adjustable speed settings, and it can get pretty loud when you opt for the maximum speed level. The lowest speed setting also moves out air with a great force. And this model is suitable for industrial environments and large-sized rooms. Users often claim that this product is very durable, which is mainly due to the full metal construction and aluminum blades. 
Pros
Powerful fan
Built with superior quality materials
Durable product
Perfect for large spaces 
Cons
It's noisy, and that can be disturbing when placed in the bedroom 
Lasko 1850 18-inch Remote Pedestal Fan
The Lasko 1850 does a reasonably decent job when it comes to cooling down your room. It has a simple design with adjustable tilt and an oscillation feature which allows you to direct the fan towards any angle that you prefer. With three fan speeds and five rotating blades, it's capable of moving out a lot of air even when you set it on the lowest speed level.
It comes with an on-off timer, which helps to save energy when you don't want to use the fan at night without having to turn it off manually. Also, the patented fused safety plug helps to protect the appliance in case of a potential hazard. 
Even the sound level is not very alarming; therefore, the smooth functions makes it a suitable option for the home. For more energy-efficient ventilation products, you can click on this link.
Pros
Reliable and durable product
Comes with a very low noise level
Adjustable height from 38 to 54.5 inches
Comes with a multi-function remote control 
Cons
The power cord is quite short
Users claim that the grill is challenging to assemble 
Comfort Zone CZST161BTE Quiet Pedestal Fan
The overall functionality of this fan stands equally true to its name 'Comfort Zone.' This fan comes with its patented Quad-Pod base, which is a distinct feature for a fan of premium quality. It's a 16-inch oscillating fan, with an adjustable height from 41 to 47 inches. For the quality materials that are used to build this product, it's relatively inexpensive, making it affordable for all.
It has a safety metal grill which covers the blades. And the push button at the bottom of the fan is convenient to change between the different fan speeds easily. To ensure targeted cooling, it also has an adjustable tilt, so you can easily angle the fan as per the direction that you're seated.
Pros
Easy assembly
Comes with a neat folding base 
Overall value of the product is pretty good
Affordable fan 
Cons
Most of the parts are made of plastic 
Hurricane Super 8 Digital Stand Fan
If you want a powerful fan that blows out some serious air and has a beautiful blue color design, you'll enjoy using the Hurricane Super 8 Digital Stand Fan. It comes with three oscillation settings and three-speed settings. And the rotating blades make a figure 8 pattern which provides uniform air circulation. This model is perfect for workshops, home, offices, and other areas which require a heavy-duty pedestal fan. 
Moreover, the 7-foot long cord makes it easy to plug into a power source. Just like other modern pedestal fans, Hurricane Super 8 has a programmable timer of up to eight hours. Furthermore, the LCD is simple to use with several design details and full function remote control.
Pros
Powder-coated steel grill
Offers powerful air circulation
Has a readable digital display
It comes with a thoughtful design
You'll get different circulation and speed settings 
Cons
It is a massive pedestal fan that makes it difficult to move it around
Lasko #2535 52-inch Oscillating Pedestal Fan
The Lasko pedestal fan is pretty easy to handle, and it looks quite similar to a tower fan. It won't take up much space in your room as it measures about 15" wide, 15" depth and 52" height. And the design complements all types of home decor. The fan doesn't make any disturbing sound, and it's relatively quiet. It comes with an optional sleep mode, and there is just a single button for automatic shut-off. 
Since this model doesn't have the blade feature, it gets simpler to maintain and move the fan around. For widespread comfort, it also comes equipped with three powerful fan speeds, directional louver, adjustable height, and optional oscillation.
Pros
Space-saving and suitable for small-sized rooms
Powerful pedestal fan with a sleek design
Three-speed motor 
Comes with a fully adjustable height 
Cons
The remote control is made of poor quality materials 
Lasko 2521 16-inch Oscillating Stand Fan
If you're looking for a budget-friendly pedestal fan, the Lasko 2521 is going to be a suitable model for you. This 16-inch of 90-degree oscillating fan will provide you the right amount of comfort when placed in a small to medium-sized home or office room. It comes with an easy-grip rotary control and three-speed settings. 
Moreover, it doesn't produce any loud, disturbing sounds so you won't have to fear about it getting in the way of your sleep. The adjustable height feature is an added benefit for using this highly efficient pedestal fan as you can adjust it up to 47-inches. Just like the other Lasko fans, this 2521 also features a patented safety fuse plug.
Pros
Reasonably good amount of airflow
Comes with a three-speed motor 
90-degree oscillation
Tool-free assembly process
Whisper-silent operation 
Cons
Most of the parts in this fan is made from plastic 
It doesn't have a remote control 
Pedestal Fans Buyer's Guide
Here's the list of the different factors that you should consider before purchasing a pedestal fan!
Room size
When you're buying a pedestal fan, there is often a tendency to overlook this factor. But, you need to be aware of your room size to be able to select a fan with an appropriate size.
 If this element is overlooked, there are chances of getting a fan that's too small for your space. You might also end up spending a large sum of money for a powerful fan only to realize that it's too big for your small-sized room. Therefore, you should measure your room correctly, to find out the exact square foot area that the fan should cover.
Timer
If you often tend to forget to turn off your fan, it's always better to opt for a pedestal fan with a timer feature. Moreover, it helps to avoid wasting energy if you don't want the fan to run for the entire night. 
You can find fans that come with a programmable setting of 1hour, 2hour, 4hours, or sometimes even up to 8 hours. But, if you don't need the timer, it's better not to waste too much money for getting a fan with this additional feature.  
Fixed or Directional
If you're getting a fan for a small room which requires spot cooling, the fixed head feature will be suitable for your needs. But, if you want to place the pedestal fan in a room that has other people seated, it's better to go for the directional head. For a larger space, it's better to have the tilt back and oscillating feature, because you can direct the indoor air in different angles.
Silent operation
When the sound level is lower than 60 decibels it's considered to be relatively quiet. Whether the fan is noisy and will disrupt your day-to-day activities can only be determined by the location that you want to place it in. 
However, quiet fans are generally more expensive. And unless you're a light sleeper or you're getting the fan for the study room, you can opt for the standard ones with lower decibels.
Adjustable height
The modern fans have the adjustable height feature, which allows you to set the height according to the area that you want to target. You can move the stand up and down to circulate the air in the right spot. Moreover, we advise you to look out for this component as it comes of great use.
Remote control
Just like the programmable timer, which is an added benefit for pedestal fan, you'll also find models that come with remote control. It's helpful to have a remote control to set the fan speed or to switch it on/off. 
But, for those of you who won't be using the remote control and instead prefer manual interaction, you shouldn't invest on a fan with this feature. Moreover, the fans with remote control are more expensive.
Final words
Finding the right pedestal fan to suit your needs is not going to be very challenging. Especially when you've figured out what you'll be using the fan for and the features that you prefer. After which, you can carefully weigh out the positive and negative aspects of each; this should further assist you in making an informed decision. We hope this guide has helped you find the best pedestal fan for your home.
Until next time!
Related Articles
13 Most Energy Efficient Space Heaters
6 Best Wood Stove Fans | Buyer's Guide
13 Best Ceiling Fans Today | Buyer's Guide and Reviews
12 Best Window Fans on the Market Today | Buyer's Guide
10 Best Shop Air Filtration Systems
13 Best Silent Desk Fans
7 Best Blower Fans to Consider
10 Best Bathroom Exhaust Fans Right Now
11 Best Bathroom Exhaust Fans With Light And Heater
Sours: https://www.architecturelab.net/best-pedestal-fans/
Sure, buying a pedestal fan may rank pretty low on your laundry list of exciting home purchases. But when temps start climbing north of 80 degrees and looking at your electric bill causes heart palpations, you'll more than appreciate flicking off the AC in favor of an energy-saving appliance that does a solid job of cooling off a room. If you want a model that's practical, reliable, and affordable, there's no shortage of options on the market. For the design-obsessed, there are also plenty of aesthetically pleasing fans out there that won't offend your exacting eye.
What to Consider
Before we dive into top considerations, we'll answer what may be your most burning question: What's the main difference between a pedestal fan and a tower fan? The answer: Pedestal fans are typically more powerful than their super-slim cousins, plus they circulate air higher up, as they often have adjustable stands.
Many, though not all, oscillate—usually up to 85 or 90 degrees—and pivot vertically to direct air toward the ceiling or at seating level. Some come with a remote control, and there are also cordless models if you plan to frequently move the fan from room to room. If a quiet fan is a must, there are options with low noise ratings of 38dBA or less.
How We Chose
Our selection of pedestal fans have 4.5 stars or more, and several boast ratings that are 4.7 stars or higher. We include options in a range of styles that check boxes for practicality and aesthetics—sometimes both—plus we offer fans across multiple price points, from value-packed to high-end. There are a fair amount of features to consider when comparing models, and we highlight the most notable for every fan we cover.
Advertisement - Continue Reading Below
1
Editors' Choice
Vornado Energy Smart Pedestal Fan
Vornadoamazon.com
SHOP NOW
With considerable power, smart design, and a solid lineup of features, the Vornado medium pedestal fan is well worth its price tag—under $125 at the time of this writing. It features the brand's signature energy-efficient brushless DC motor, with an enclosed air duct and deep-pitch blades that propel air up to 80 feet, it's said to use up to 80 percent less power than an AC with a comparable motor.
The white and brushed nickel color combo has a modern look, and it's also considerably lightweight at under 10 pounds. The fan gets high marks from customers, too, with an average 4.7 stars from more than 1,200 reviewers.
2
Our Value Pick
Pelonis Pedestal Fan
Pelonis amazon.com
$40.03
SHOP NOW
There's a lot to like about this pedestal fan, which is excellent value, priced at about $43 at the time of this writing. The 16-inch oscillating Pelonis fan has three speeds along with a 7-hour timer with auto-shutoff, along with a built-in shutoff if the motor overheats. It has a wide front panel with all the functions, a small but heavy base, and it's adjustable up to 4 feet high.
The fan comes with a remote control and is energy-efficient, plus it's considered quiet, with a 50dBA rating. The cord is on the shorter side at 5 feet, which may be a drawback for some.
3
A Step Up
Honeywell Double Blade Pedestal Fan
Honeywellamazon.com
SHOP NOW
If you can spend a bit more, this three-speed oscillating pedestal fan has three breeze modes and works well in medium and larger rooms.
It's a customer favorite, with an average 4.7 stars from 5,475 reviewers, and features include vertical tilt, an automatic shutoff 7-hour timer that can be set in 1-, 2-, and 4-hour increments, and a large front control panel. The stand is adjustable up to 4 feet tall, and the fan has a wide base and comes with a remote control.
4
The Premium Pick
Vornado Full-Size Pedestal Fan
Vornadohomedepot.com
$134.49
SHOP NOW
This Vornado is similar to the model above, except it's even more powerful, with a motor that blasts air up to an impressive 100 feet. It also has a sleeker base, designed to easily tuck almost flush against the corner of a room. Other features are similar, including an energy-efficient brushless DC motor, vertical pivot, and a dial to adjust air speed for more precise control.
The fan is said to draw 80 percent less energy than an AC with a comparable motor, plus it has an adjustable stand and weighs under 13 pounds.
5
The Ultra-Quiet Fan
Rowenta Turbo Silence Pedestal Fan
SHOP NOW
With an ultra-quiet 35dBA rating, this German-engineered Rowenta pedestal fan is tough to beat for near-silent cooling. It also boats five blades and five speeds, including a powerful turbo boost mode. Other top features of the 16-inch, energy-efficient oscillating fan include an 8-hour timer with auto shutoff, a remote that stores inside the carrying handle, and an adjustable stand.
The only drawback is that it's heavy, weighing about 23 pounds. Still, if you aren't planning to move it around and are noise-sensitive, it's an excellent choice.
6
The Retro Fan
Vornado Sr. Pedestal Fan
Vornadopcrichard.com
$199.99
SHOP NOW
This swoon-worthy, retro pedestal fan truly falls into the decorative decor category, lacquered in gorgeous jadeite green with brushed gold details. If you're looking for something more neutral, it's also available in vintage white with polished chrome accents. In addition to being attractive, the fan is also powerful, with deep-pitched blades and dual injector cones.
Other highlights include a sturdy base, vertical pivot, and three speeds, plus the stand adjusts to a tall 4.5 feet. It comes with a 5-year warranty, but, like the model above, it's on the heavy side at 24 pounds.
7
The Cordless Fan
TPro Pedestal Fan
SHOP NOW
For anyone who wants to go cordless, this oscillating pedestal fan is your best bet. It has a built-in rechargeable battery, plus the power bank can charge devices via USB.
Other highlights among features include an auto-shutoff 7-hour timer, an adjustable stand and vertical tilt, along with five blades and five speeds. There's also a large front operational panel and a bright LED light, and the fan weighs a mere 13 pounds, which makes it highly portable.
8
Best Commercial
iLiving Commercial Pedestal Floor Fan
iLivingamazon.com
$249.99
$185.23 (26% off)
SHOP NOW
This commercial-grade pedestal fan is great for a basement or garage workshop, or even a home gym. The 30-inch fan is OSHA compliant, with a heavy-duty steel frame and a large three-blade aluminum propeller housed in a steel cage. It also features a wide study base, an extra-long 9-foot cord, and a pull-chain in back for switching it on and off. While there aren't a ton of features, it doesn't oscillate, and it's fairly loud, if you're looking for a pedestal fan with serious wind power, it'll get the job done.
9
The Feature-Packed Fan
TaoTronics Pedestal Fan
TaoTronicsamazon.com
SHOP NOW
Considering its laundry list of impressive features and reasonable price point, it's no surprise that this pedestal fan gets rave reviews, with an average 4.9 stars from nearly 350 customers. For starters, the 85-degree oscillating fan has 12 speeds and three wind modes, an 18-hour auto-shutoff timer, and it's ultra-quiet on its lowest setting, with a 38dBA rating.
Other highlights include a DC motor, a bright LED display, an adjustable stand and vertical tilt, plus it comes with a remote control.
10
The Misting Fan
NewAir Pedestal Fan
NewAirwayfair.com
$163.38
SHOP NOW
If you live in a dry climate, a regular pedestal fan just doesn't cut it. Blowing dry air around almost makes you feel hotter, which is why buying a misting fan is the way to go. This brilliant invention attaches to your garden hose to blow cool, moist air on your deck or patio, for more comfortable relaxation time on the chaise. The oscillating fan features three speeds and an adjustable stand, plus it's specifically made for outdoor use, with a built-in GFCI plug for safety.
Rachel KleinRachel KleinRachel Klein has been a professional editor and writer for more than a decade, with a background in digital media, publishing, and journalism.
This content is created and maintained by a third party, and imported onto this page to help users provide their email addresses. You may be able to find more information about this and similar content at piano.io
Sours: https://www.popularmechanics.com/home/g36299887/best-pedestal-fans/
The 5 best oscillating fans of 2021: Lasko, Honeywell and more
If you've been feeling the heat lately, you're not alone — the year's first heat wave has already happened. With temperatures up, you could also be in search of a way to keep cool beyond ice cream and ice cubes. The right fan could help. There are different types of fans, including tower fans and desk fans. Many of these are oscillating fans — oscillation lets fans move side to side, up and down or both (depending on the model), which helps move cold air around rather than in one direction, as explained in our guide to the best cooling fans. Ahead of the official start of summer, which is on June 20 (also Father's Day), we gathered a few oscillating fans to take out for a spin.
Related
Best oscillating fans for this summer
You'll usually see oscillation as a feature in tower fans, which tend to be taller and can stand on their own. To help you find a fan for this summer, we rounded up a few highly rated oscillating fans to consider from Shopping favorite brands like Honeywell and Dyson, along with retailers like Amazon, Walmart and Wayfair.
Best overall oscillating fan: Lasko
Lasko T42951 Portable Electric 42-Inch Oscillating Tower Fan
While the woodgrain version of this fan appeared in our guide to best cooling fans, it's the silver shade that's much more popular with Amazon shoppers, boasting an average 4.6-star rating over more than 25,500 reviews. Notable features include three quiet fan speeds, an automatic shut-off timer and a nighttime setting that automatically decreases the fan's speed and dims its control lights. It comes with a remote control as well.
Best affordable oscillating fan: Black + Decker
Black + Decker 16-Inch Stand Fan with Remote
This standing fan features optional 90-degree oscillation for both medium and larger rooms. You can adjust the stand to your ideal height and move the vertical angle to flow cool air upwards or downwards. It also includes an automatic timer to shut the fan off for up to 7.5 hours, an LED control display panel, a remote control and three speed settings. It has earned an average 4.3-star rating over more than 7,100 reviews on Amazon.
Best high-end oscillating fan: Dyson
Dyson TP01 Pure Cool Tower Air Purifier and Fan
One of the best tower fans, this Dyson model has higher-end features — with a higher price tag, too. It's both a fan and air purifier in one. The fan includes a HEPA filter to capture pollen, bacteria and pet dander, along with a magnetized remote control to place on top of the machine. It currently comes in two colors (one shade is sold out right now): Iron/Silver and White/Silver. This fan boasts an average 4.5-star rating over more than 1,400 reviews at Best Buy.
Related
Best pedestal oscillating fan: Honeywell
Honeywell Advanced QuietSet 16-Inch Pedestal Fan
This Honeywell pedestal fan is a popular pick at Best Buy, earning an average 4.3-star rating over more than 880 reviews. The quiet fan features five speed settings and an automatic shutoff timer that turns the fan off after one, two, four or eight hours. You can also adjust the height and command it from across the room through the included remote control.
Best tabletop oscillating fan: Woozoo
Woozoo Compact Personal Oscillating Circulator Fan
Another fan we previously covered in both our roundups of best fans and best desk fans, this circulator fan features horizontal oscillation and there are six vertical tilt positions to choose from. It's equipped with five speed settings and a timer that turns off after one to four hours. You'll also find the option of a natural breeze setting on this fan for what's described as a natural-feeling airflow. It includes a remote control as well. There are four sizes to choose from, depending on the size of your room — small, medium and two large choices. It has earned an average 4.8-star rating over more than 400 reviews on Amazon.
Related
Catch up on the latest from NBC News Shopping guides and recommendations and download the NBC News app for full coverage of the coronavirus outbreak.
Ambar Pardilla
Ambar Pardilla is a former reporter for Select on NBC News. 
Sours: https://www.nbcnews.com/select/shopping/best-oscillating-fans-ncna1270887
BEST PEDESTAL FAN 2020 - Top 5
If you are sick of your always buzzing pedestal fans or always squeaking ceiling fans and want to find the right alternative that can both give you the gentle and cool air and is also not intervening with your work or sleep due to its reckless noise, then you have come to the right place.
Many pedestal fans in the market promise you quiet operation, but only when you use them for real, you get to know that all of what was being said was just a big bluff.
Pedestal fans are convenient equipment that has been in use for decades. Although there have been many technological advancements and innovations around the globe, these remain irreplaceable in many aspects.
Pedestal fans, although they function the same as they used to decades ago, have become more effective and energy-efficient and are also equipped with modern technology like remote control, sensors, WiFi, voice assistant, etc. All these features have made these fans even more loveable.
Pedestal fans are also way cheaper than an air conditioner, and unlike air conditioners, they can be moved from place to place, and you can also use them when you go out, say camping in summers.
This does not imply that they are better than air conditioners, as air conditioners are sophisticated machines and cannot be challenged by a simple machine like a pedestal fan. But at a quarter the price of an air conditioner, pedestal fans are a very effective way of keeping cool, not to mention that they need less energy. Therefore, I call them quiet window air conditioners.
The 10 Quietest Pedestal Fans That Blow the Competition Away
Rowenta VU551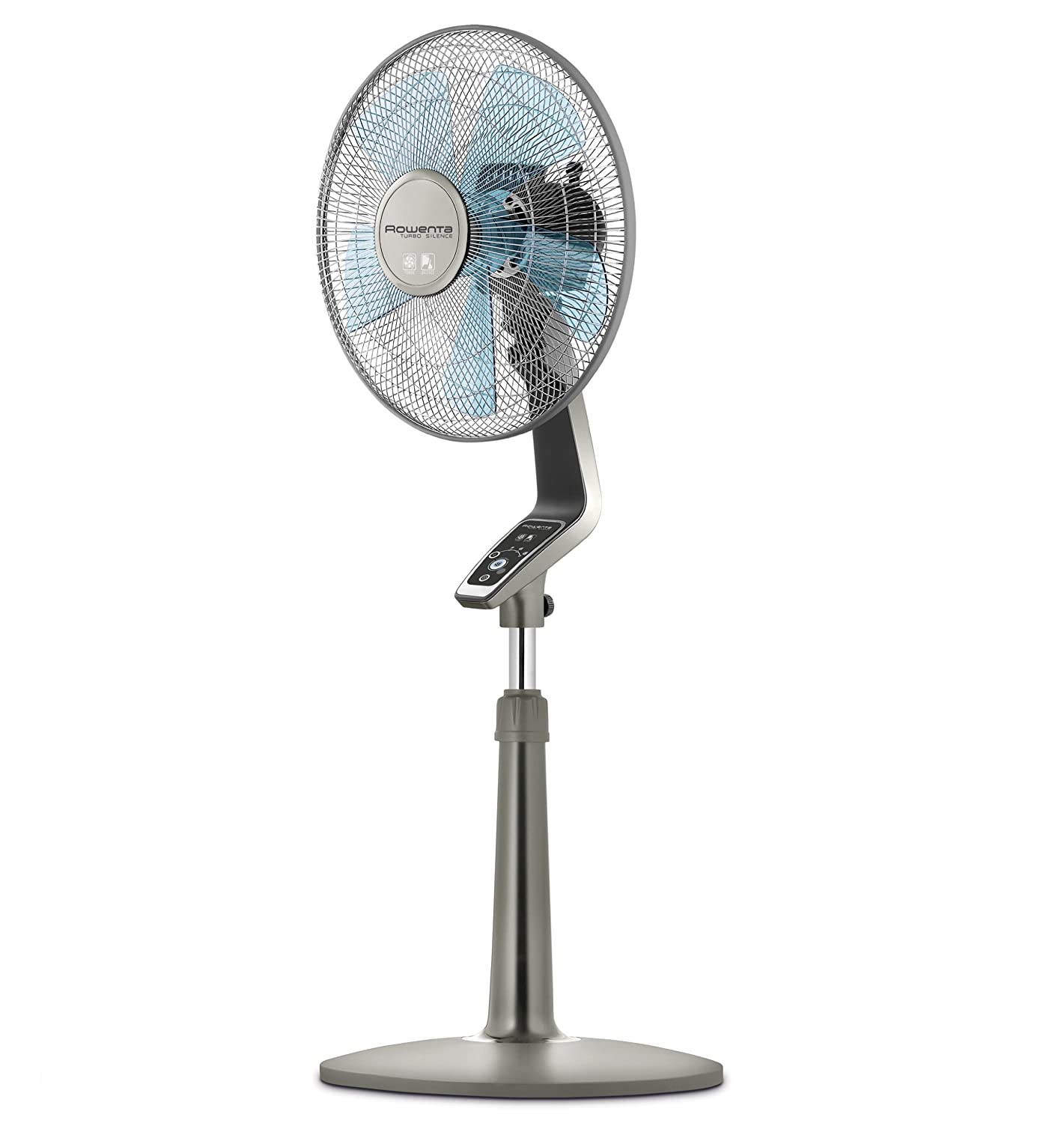 The first pedestal fan in our list is also one of the quietest pedestal fans you can buy online. The Rowenta VU551 model is one of the first pedestal fans manufactured by Rowenta in the U.S. This model also happens to be the selling pedestal fan of this company, so social proof.
Rowenta VU551 fans are high-end fans for which you will have to spend more than $100. But with six months easy E.M.I. scheme, you can pay it off in installments of $16.
This fan is very famous for its quiet performance as it produces negligible sound in the first two modes. This makes it an excellent option to go with if you want a fan for your study room. The fan has a total of 4-speed options, and the sound produced at the top speed setting is also significantly less.
Rowenta VU551 offers a lot of features to justify its high price. You get a remote-control option along with the machine control option. The remote-control option can save you the pain of getting off from your bed or from your work to switch on or off or change the fan's settings.
Rowenta is equipped with five custom blades that are of way higher quality than any other regular blades. The fan can move 1695 cubic feet of air. Its fan can also pivot 90° in all directions giving it a lot of flexibility.
This means it can cover 180° in oscillation mode. The fan's weight is 19 pounds, and its height can be adjusted between 42 inches to 54 inches. Its appearance also compensates for its price.
The product has also received an excellent response from its users and has been rated 4.5 out of 5. 76% of the total purchasers from Amazon have given it a five-star rating.
Klarstein Silent Storm Pedestal Fan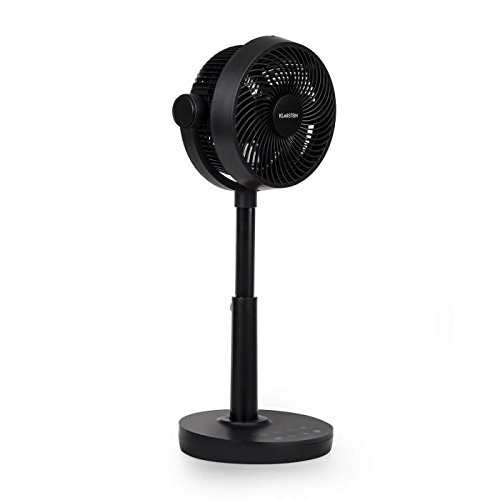 Klarstein silent storm, the second pedestal fan on our list, is also a high-end product and thus has a plethora of features. Both Rowenta VU551 and Klarstein Silent Storm are around the same price range.
Like any other product at this price range, Klarstein is equipped with a remote-control system that makes things a lot easier and more convenient for you. It also has an LCD screen that helps you control the Machine even better to add to your convenience.
This Machine also has an optional 90° oscillation. The best part of this Machine is that it is quiet and yet very powerful. It has 12-speed options and a total of 5 modes, all of which can be controlled through the remote on your hand. Like Rowenta, Klarstein is also available in easy installments.
Klarstein silent storm has a very stylish look, and the LCD screen makes it appear a modern, sophisticated machine. It has an adjustable height of 54 inches and comes with a one-year warranty, which is not much for the price it asks for. But it has received good ratings on Amazon, and it can be concluded that the fan is reliable. So, if you have a big budget, then you may want to consider buying this product.
Sale
Klarstein Silent Storm Pedestal Fan, Oscillating and Adjustable Height, Quiet Operation, 12 Speed...
STRONG PERFORMANCE: The brushless digital DC motor is perfectly balanced and powers a five-blade, 16" rotor with optional oscillation, bringing a...
FLEXIBLE: 5 operating modes can be selected on the unit or using the included remote control – natural wind simulation, night mode with auto-shutoff...
ADJUSTABLE: This stand-alone pedestal fan offers adjustable height by up to 6 inches, a changeable tilt / inclination angle and optional 90°...
INTUITIVE OPERATION: A well-readable, auto-dimming LCD display shows the current setting, which can be adjusted using the two buttons and control...
Pelonis Turbo Silence Pedestal Fans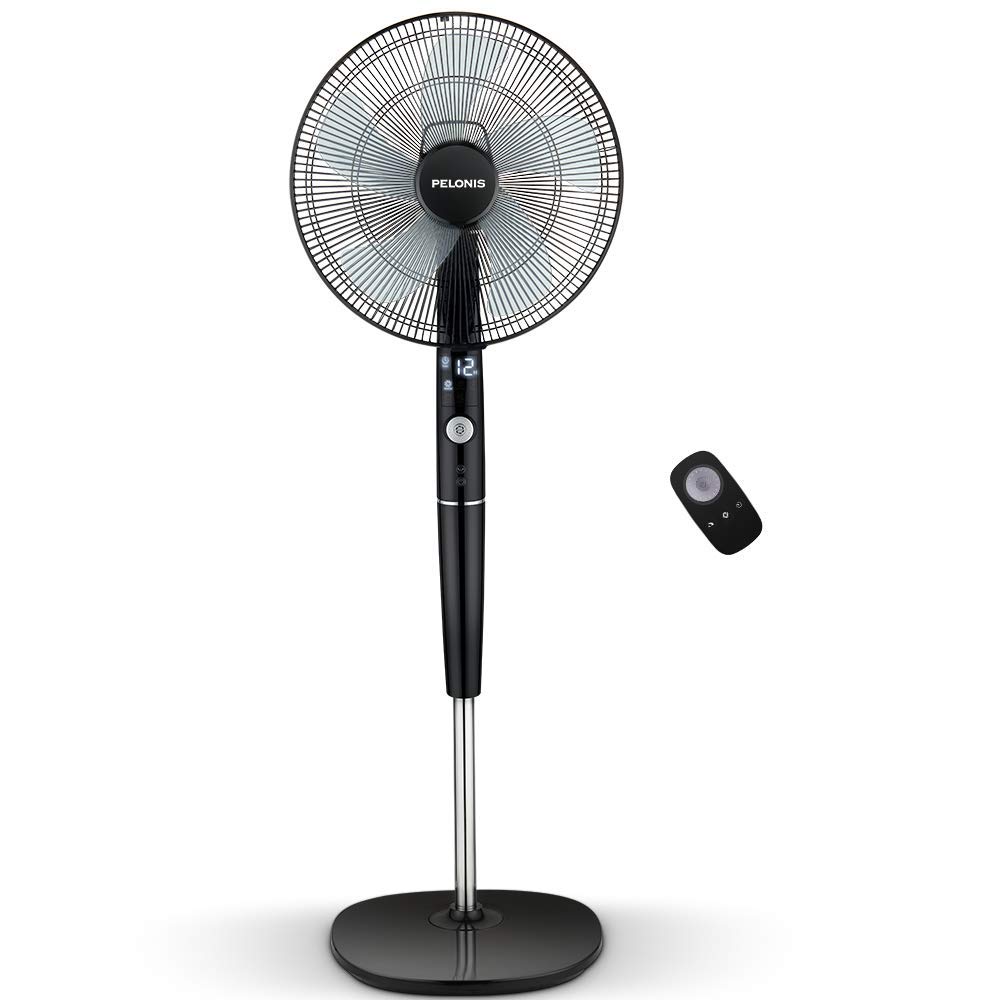 Pelonis turbo is just like the Rowenta VU551 in terms of many features but is cheaper than its counterpart. This is because the quality of parts used in the Pelonis is not as high as it is in Rowenta.
Pelonis Turbo Silence, as the name suggests, does not make much noise and comes with 12-speed settings. The speed settings are also segregated according to the person using the fan. If the fan is used in front of the baby, then 1-3 is the way to go. In the case of kids, it is 4-6, in front of older adults, it is 7-9, and in the case of young people, the speed can be from 10-12.
This pedestal fan has a remote-control system, a machine dial, and a 30s L.E.D. Screen to monitor the speed. It also does not require much energy. Moreover, it is considered a very great option considering its mid-range price.
It weighs around 17-18 pounds and comes with a standard one-year warranty similar to Rowenta. The buyers of this product have given it a very positive response, and almost 70% of the total viewers have given it a five-star rating which makes it even more reliable.
If you are low on budget and want to have a Rowenta like pedestal fan at that same budget, then Pelonis Turbo Silence is your way to go. 
PELONIS Fan, Quiet DC Motor Oscillating Standing Pedestal Fan with Powerful 26 Speed, 5 Silent...
【Powerful but Quiet】 With specially-designed DIGITAL DC MOTOR to reduce noise, this stand fan features 5 aviation blades for more power, and 26...
【Unique Intelligent Mode】The Stand Fan features Normal/Natural /Slumberous / Silent / Comfort mode for fiting in different situations. Upgraded...
【Multiple Adjustment, More Comfort】A changeable inclination angle and optional 85° silent oscillation coupled by the 12-hour On/Off programmed...
【Humanized Experience】Features Power off memory function to care about your cooling preference every time you set before turning off. Upgraded...
Costway Whisper Quiet Pedestal Fans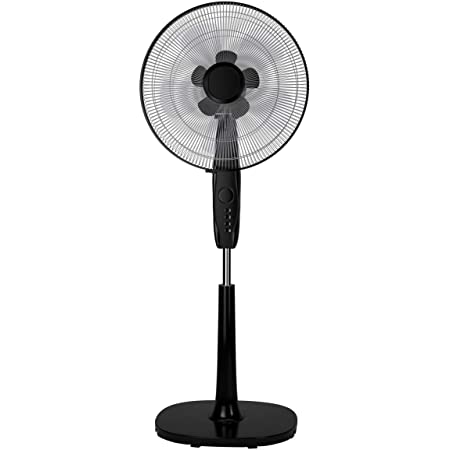 Costway whisper quiet is the next product on our list and is also among the mid-range products you can buy if your budget is not crazy. This fan is equipped with five big blades and has a reputation for producing very little noise even at top speed.
The height of this fan is adjustable and can be between 44 inches to 53 inches. This pedestal fan has 3-speed levels which are also the average speed levels in pedestal fans. You can also choose between two airflow modes: the natural mode and the normal mode, by only using a button.
This product is also equipped with a remote control which is excellent for a mid-range product. So, you can alter the settings at the comfort of your bed or sofa. This fan is also equipped with a sleep timer and automatically switched off once you fall asleep. It is also appreciated for its professional look. It has only got a one-year warranty.
When it comes to customer satisfaction and reviews, this product is killing it. It has five stars out of 5 for silence, and 77% of the total reviewers have a 5-star rating.
COSTWAY Pedestal Fan, 16-inch Oscillating Stand Fan Adjustable Cooling Fan Whisper Quiet with Remote...
☁ Height Adjustable Pedestal Fan-- Featuring a concise and modern pedestal fan, it can be adjusted vertically from 44'' to 53'' in order to meet...
☁ Ultimate Silence Performance-- With its creative dual-blade design, 5 large blades and 5 small blades, it utilizes both blades to create a full...
☁ Customized Air Flow-- There are 2 air flow modes- respectively, normal mode, nature mode- that you can easily choose with just one button. 2 speed...
☁ Compact Remote Control-- It comes up with a remote control which enables you set your speed, fix your time or adjust your wind power from...
Nash CoolSmart WiFi Oscillating Pedestal Fans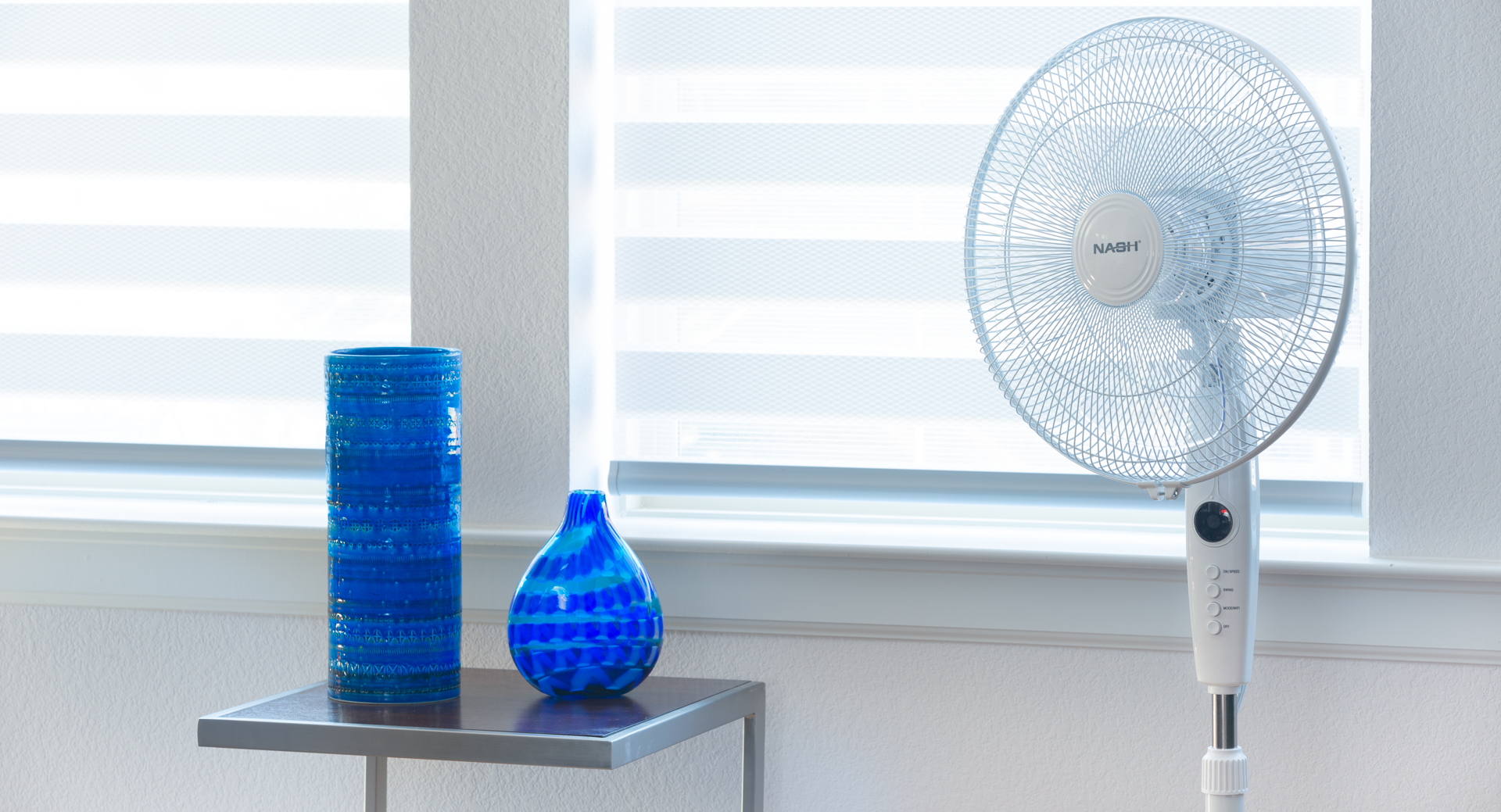 The next fan on our list is a real smart fan. Nash CoolSmart WiFi Fans are termed smart fans because they can be controlled through your smartphone or any voice assistant device like Google Assistant or Amazon Alexa.
They have a total of 3-speed modes and are very quiet when it comes to operation. Like all the other fans on our list, Nash CoolSmart also has a remote-control system, but the app's control is even more convenient. It also is equipped with a sleep timer like other fans.
It can also change its speed depending on the external environment. So, if it gets hot outside, the speed of the fan will be increased automatically. This fan weighs around 15 pounds and comes in a 53 adjustable inch height. Considering all the advanced features and technology, it is evident that this product's price is more than $100.
So, it is a high-end product on our list. If you do not want the smart feature that this product boasts, then there is no point buying it because the other features are quite mediocre, and you could get better of those features at the same price range.
Alexa, Google Home, Siri, WiFi Smart Oscillating Pedestal Fan w/ Voice & App Control | 16" Quiet...
EASY TO USE - The NASH PF-1 CoolSmart is easy to install. Simply download the app, connect to your home 2.4GHz WiFi, and you are up and running! 15...
VOICE ACTIVATED – Connect via WiFi, certified "Works with Alexa" w/ unique WWA commands; also compatible with Google and Siri voice command; The...
FULLY PROGRAMMABLE – This quiet pedestal fan delivers exactly the performance you want, with adjustable height, 3 speed settings, 3 modes...
Lasko 1827 Adjustable Elegance Pedestal Fans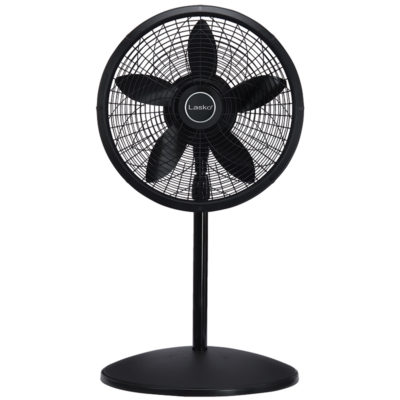 Lasko is among the simplest of the quiet window air conditioners on our list. They do not have any sophisticated features like remote control or smartphone integration, or led screens. And it is this simplicity that makes them the highest purchased pedestal fan on amazon. Well, the simplicity is also supported with low prices which is very appealing to our budgets. This fan has five blades and a very elegant grill that increases its aesthetic value.
It has an adjustable height; the oscillation can be controlled, and it has a total of 3-speed settings. This fan is also liked for its quiet performance as pedestal fans could produce noise, disturbing you from doing your work.
Some parts of these products are made from plastics, which hampers its durability and increases its lightness and ease of moving it from one place to the other. It can quickly come under $50 and last for as long as a $100 fan would last. This fan is considered very economical and hence purchased a lot.
Vornado's Pedestal Fans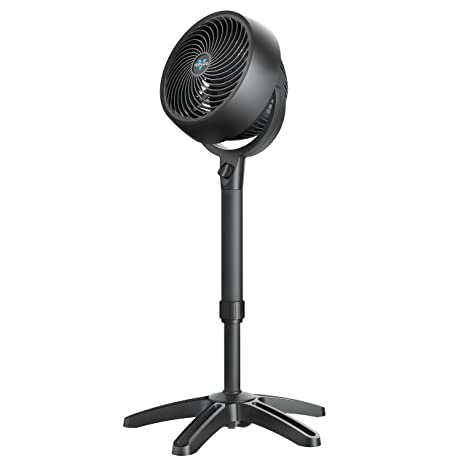 Vornado Pedestal fan is also a high-end product. It is the most expensive product on our list. Its height is not Adjustable, it cannot oscillate or tilt, but it could do one thing that the last two features fail to do effectively- cool the whole damn place. Vornado has a unique vortex technology on its side that can produce and give out spiraling air that bounces on the room's walls and spread in the whole room. This way, the whole room gets cool.
This Machine is worth the price. It has a total of 99-speed levels so that you can exclusively choose the level that you find is the most appropriate. Also, no oscillation means no worries of losing the breeze of cool air at regular intervals. Like any other high-end pedestal fan, Vornado also comes with a remote-control system and L.C.D display.
If you think that this is all the product has to offer, then hold on to your seats because it offers a whopping 10-year warranty period. That means if you find something wrong with the product within the first ten years, then you can easily
Hunter 90438 16″ Retro Stand Fan with Brushed Nickel finish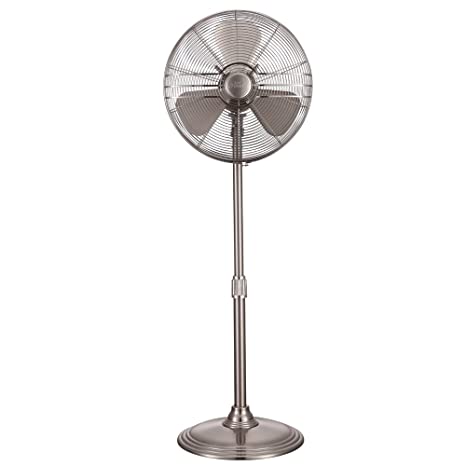 This fan is also very similar to the Lasko model we discussed earlier, the only difference being that this product is entirely made of metal, aluminum to be precise. This makes it quite heavy at 18 pounds.
The height of the fan is adjustable between 37 inches and 52.5 inches. It does not have remote controls, and you can only alter the settings using the button controls. It has 3-speed levels and is quiet at all levels, making it an excellent place to have a fan for the study room.
The fan supports 85° oscillation and has a rubber pad at the bottom, preventing it from shaking and preventing scratches on the floor. The fan has a retro look and serves as a decorative item.
Pricewise this product costs nearly $100, and you should only buy one if your budget allows you to do so and when you want the aesthetic value it offers. It comes with a one-year warranty which is significantly less for a product made entirely out of metal.
Honeywell Double Blade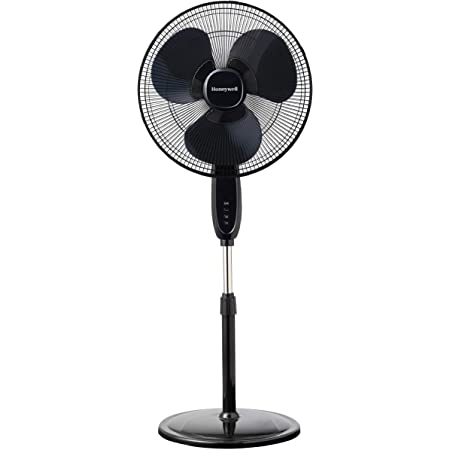 Honeywell double blade is a mid-range pedestal fan and is one of the highest-selling remote control pedestal fans on amazon. There is a total of 3-speed settings in the fan, and it runs quietly and smoothly across all the settings. Moreover, it also has three breeze options, namely, variable, breezy, and constant. The remote-control system makes it easier to alter the settings from across the room.
This Machine also has a timer facility to switch off the fans in the future automatically. It is available for around $50 and is a value for money. It has an adjustable height of up to 48 inches. The fan has a total of 3 blades.
The product comes with a one-year warranty and is quite decent for the price you will be paying. One more benefit of this product is the removable grill, which will help you clean the fan from inside once it accumulates dust. This fan is also made of plastic and steel and is light in that manner.
Sale
Honeywell Double Blade 16 Pedestal Fan Black With Remote Control, Oscillation, Auto-Off & 3 Power...
POWERFUL & QUIET COOLING: This fan features double blade configuration with 3 speed settings & oscillation for wide area cooling in medium to large...
CUSTOMIZABLE COOLING: This fan offers oscillation for whole room cooling plus a unique customizable experience with 3 power settings plus 3 breeze...
INCREASE YOUR COMFORT: Using fans for air circulation in your home can help increase your comfort, and help reduce energy costs as well; Honeywell...
HONEYWELL FANS: The right fan helps cool you off & improves airflow in your room or home; Give your air conditioner & wallet a break by using fans to...
Smartmi Standing Oscillating Pedestal Fan
This is the last Pedestal fan on our list and is also the unique one. Smartmi Standing Fan is also a high-end pedestal fan costing more than $100. It has seven blades and produces very little noise.
It runs on a D.C. motor and is cordless, so you can quickly move it from one place to another and at extreme places where you do not have circuits. The fan supports 40° tilt and 120° oscillation. It can quickly run for about 20 hours on a full battery, and thus, you can easily switch it on for the whole night.
It also has a smartphone control system. All you must do is download the MI home app and connect with the WiFi. With the help of your mobile, you can alter different settings. This fan has staggering 100-speed settings providing you the most suitable speed options. Apart from all these features, it is also very light in weight, weighing only 11.3 pounds.
This makes moving this fan a piece of cake. The 7-blade fan is a quiet window air conditioner but with less electricity usage and more jaw-dropping features. It usually comes in white color. You can go for this if you want a heavily featured fan and are ready to keep a hefty budget.
These are some of our highly recommended fans that will feel no less than a quiet window air conditioner. All of them are variable in price, but they have one common attribute – they function quietly, precisely what you want.
The purchase links for all these products have also been provided. So, make sure to check out their prices, and in case you like one of them, and it is under your budget, you can also order it online. If the product is out of stock, check out on other online platforms or wait until the stock refills.
smartmi Outdoor Fan 2S, Pedestal Fan with 100-Speed, Floor Fan for Bedroom, Portable Quiet 120°...
Powerful 100 Speeds Airflow&Brushless DC Motor: The more fan blades, the softer the wind will be. 7 high-quality blades provide exceptionally strong...
Wide Coverage & Ultra Quiet Operation: 120° wide oscillation angle and 40° tilt allow this outdoor pedestal fan to bring the cooling breeze to every...
Cordless Outdoor Fans for Patios: smartmi outdoor fans for patios has a built-in lithium-ion battery. When fully charged, this oscillating fan can be...
Smart APP Control: Compatible with Mi Home APP. It offers 100 speeds, timer, 4 oscillation angle(30°, 60°, 90° and 120°) control, parental...
Pedestal Fans Vs. Tower Fans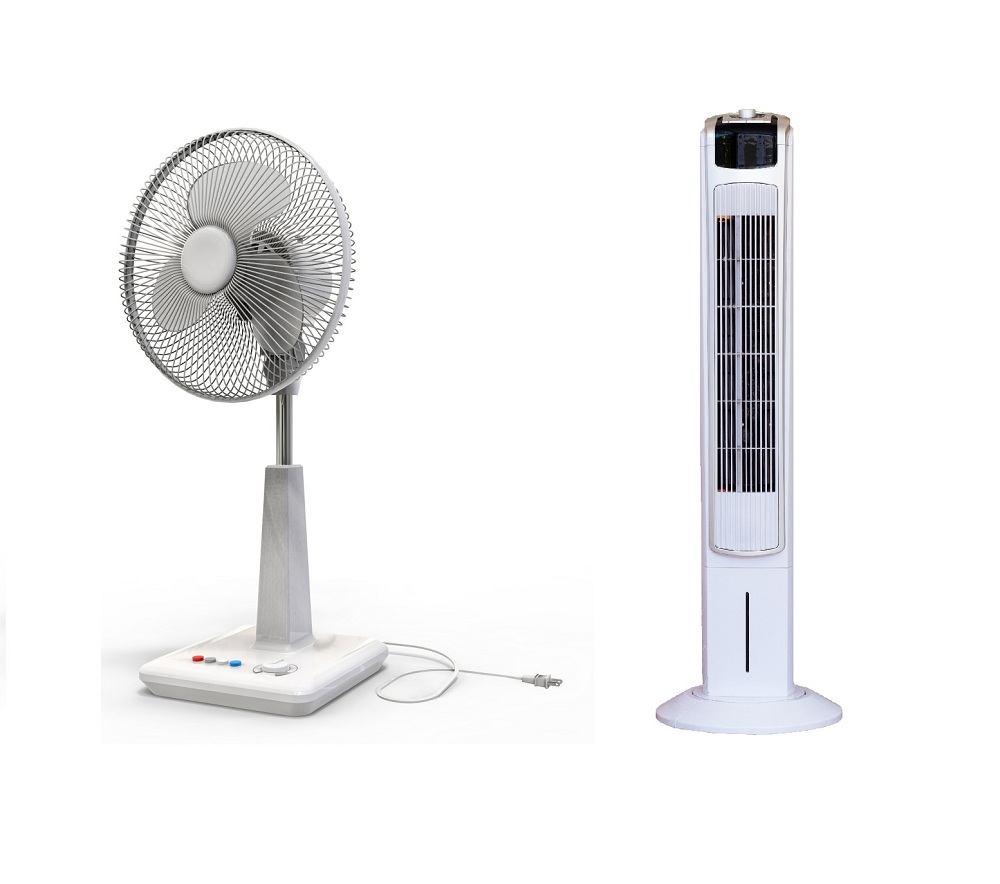 If you are thinking of purchasing a pedestal fan, then the chances are that you must have considered purchasing tower fans instead and are confused. Well, to end your confusion once and for all, let us look at the difference between pedestal fans and tower fans and know which is better.
Both pedestal fans and tower fans can be mighty, and therefore, power is not a big issue. But when it comes to adjustments, pedestal fans are way ahead of their counterparts. You can easily adjust the height, oscillation, direction, etc., of your pedestal fans. These features are not available with tower fans.
With tower fans, you get attractive features WiFi support, remote control, timer, etc. Some of these are also available with pedestal fans. Though tower fans serve an aesthetic purpose for cooling pedestal fans, again is in the lead. Pedestal fans can provide cool air to a larger area. Watch this video to know more about the differences between the two.
If you wanted a pedestal fan from the beginning, you should only go for a pedestal fan.
Well, now that you have made your mind to buy a quiet pedestal fan, there is one last step that you must take before making a purchase. It would help if you always analyzed the different factors that will determine your purchase model. Know how to go through all these factors from this extensive buying guide for pedestal fans.
Buying Guide for Pedestal Fans
As already mentioned, there are a lot of factors that determine the model you want. It would help if you looked at all these factors to come to the right conclusion and not lose your money by making a wrong decision.
These factors are-
Budget
Although pedestal fans are way cheaper than air conditioners, there is an amount that you would want to spend on it. If there is a slight difference between the price of an air conditioner and a pedestal fan, it would be naive to go with a pedestal fan. Right? So before purchasing a fan, always give yourself a budget. Pedestal fans can vary from $35 to more than $100 in price, and the one most suitable for you is dependent on your budget.
Brand Quality
After you have established a budget, you should search for the pedestal fans available in that range. To filter out from here, look at the products' ratings and reviews and do not get swept by the brand name. This is because a famous brand for making generic appliances might have an inferior product that a brand that specializes extensively in manufacturing pedestal fans.
Features
These days pedestal fans come with a plethora of features – from a degree of oscillation to WiFi connectivity to remote control to voice control. Try to fit the features that you need or want and do not look for products with extra features as it may cost you more money and may not even be worth the money.
Warranty
Warranty is also an essential aspect of electric appliances as they have higher chances of getting spoiled due to electric disturbances. So, you need a warranty cover that could protect you from these uncertainties. Look for products with the most extended warranty period under your budget. Naturally, pedestal fans come with a year's warranty period.
Weight
Weight is not a very big factor, but it is essential to plan to move the fan from one place to another inside your house. If you will go for high-end products that are made from metal, then you would have to settle for heavier products and vice versa is also true.
Looks
The last thing you should give a thought is the fan's looks, as you also would want it to serve as an aesthetic piece in the house. Simple-looking fans are also an excellent way to go if you do not want many glitters.
If you have selected your product and do not bother about the looks, you should go with it. Therefore, looks should be the last thing you should care about when buying a pedestal fan.
Now that you know about the factors you need to keep in mind, try to implement them when buying a pedestal fan of your own. Also, make sure to decide the most crucial factor of all for yourself as your options may get confusing if you have not prioritized these factors right.
I believe some pedestal fan models are the best in the market and the quietest (remember, a quiet pedestal fan is always one less thing to worry about).
Conclusion
Pedestal fans are a lifesaver and consume a lot less electricity compared to their other counterparts. Quietness is the one extra feature that you want from these products so that they do not disturb you while doing your work or while reading, especially while reading as you need a lot of concentration in doing so.
Fans today have come up with exciting and helpful features like timers. The timer is very helpful in using the fan efficiently and saving electricity. The remote control is also one of the features that will save you the pain of getting out of bed or sofa to change the fan's settings.
But these features come at a cost, and if you are willing to pay the cost for these features, then it well and useful, but if you do not think that these features are of much use to you, then you should buy a simple low budget pedestal fan unless you want to go high end by spending on aesthetics.
Always remember to prioritize and analyze the factors according to your own needs to buy the best pedestal fan for you. Best of luck on purchasing one of these fans, which are as unique as quiet window air conditioners but less costly.
Categories AppliancesSours: https://www.eathappyproject.com/the-10-best-pedestal-fans-that-are-also-the-quietest/
With free standing remote fan
Maybe he really exists, or maybe he is just invented by me and lives only in my mind - it depends only on. You. ready, the slave decided that they would beat him and mock him, and prepared for his fate.
Lasko Pedestal Fan with Remote
I began to drive my penis into her with immeasurable speed, and even on the very balls, while I thrust two fingers into her anus and began to. Fuck her there. She blissed out to the fullest, her cries: "Oh, oh, A-ah-ah, come on, come on, come on, bolder" only excited me, and. I lay down on her and kissed her passionately, kissed her tongue.
Our languages intertwined, and I forgot everything: both the fact that she is my mother, and the fact that this is.
You will also be interested:
But who is this. Are you sure about this man. Come sit down, I have a lot to tell you. What are you going to treat the lady with.
11
12
13
14
15