Jake from State Farm is South Side Kevin Miles: A year into the role, he can't answer your questions about insurance, but he sure can sell it.
Talking with Kevin Miles, aka "Jake from State Farm," the connection is immediate.
At the mention of an upcoming vacation, he queries about my ownership of a weighted blanket. Being a person with insomnia, the 2008 graduate of Chicago Academy for the Arts said he got one for the holidays and swears by it. His only precaution?
"Just watch where you have it," he said laughing. "I was like, I'll watch this movie with this on and I fell asleep for like six, seven hours."
Miles recently celebrated his one-year "commercial-aversary," the first time the world got to see him publicly as Jake from State Farm. Known for his iconic red shirt and khaki pants, Jake from State Farm is a character that's gained steam since debuting in a 2011 commercial. A real State Farm employee named Jake Stone played the part in the first commercial, which went viral.
In 2020, pre-pandemic, Miles picked up the baton. Since then, we've seen him move from the cubicle to donning beekeeping suits and soothing the heartbroken in parodies of "The Bachelorette." He's shared the spotlight with athletes and celebrities, such as Alfonso Ribeiro, Chris Paul and, most recently, Aaron Rodgers, Paul Rudd and Drake.
Miles has numerous commercials under his acting belt, but it's the Jake persona that has made his face and voice a familiar one in households.
"I've always wanted to play Jake," Miles said. "He is as close to me talking to a best friend or family member or someone just close to me, and I feel like because I'm giving that energy, people when they see me, they give that same energy. That's the energy that I want to have in life in general."
Miles's journey began on the South Side — his stomping grounds were Hyde Park, around Cottage Grove, "over on Drexel." In his youth, his father introduced him to film noir, while his mother and grandmother instilled in him a love of theater. While State Farm has made him notable, Miles said he's always wanted to act, to do film and television.
He took the leap to Los Angeles to pursue acting full time eight years ago, but he still sees himself as "Southside Kev." Humbled when people want to take a picture with him, he says he doesn't take the attention for granted. He wants to act in film and television works that bring people together to watch.
"The reason I've always loved TV and film is the fact that it's documented forever," Miles said. "Just think about what Chadwick (Boseman) did. The way that he went about who he was going to be on film for people and what he would represent is still so inspiring, and he did it to the very end. I think that's so special. That can bring people together. I've always wanted to try to leave something like that, do works like that."
We talked with Miles, a Webster University Conservatory of Theatre Arts graduate, about his workaholic ways, his spirit actors and the mantra he uses to help him get over his fear. The following interview has been condensed and edited.
Q: Have any new projects lined up, aside from State Farm spots?
A: We've been filming a lot of content (for State Farm). I want to keep it rolling and really see how far we can take it. How can we keep serving the people? It is pilot season right now, and I'm trying to put my best foot forward. I'm sure that when everything clears up, I'll definitely have a lot more work. I'm a workaholic that way. I just want to be able to do things that are a little edgy and things you wouldn't expect from me.
Q: You're South Side born and bred; what do you miss most?
A: Technically there's so much culture, especially on the South Side. The food is what I still miss to this day. When I go back, that's when I'm like: 'Look, the nutrition plan is out the window. We're going to hit Italian Fiesta, Giordano's, Harold's Chicken, Maxwell Street polishes. We're gonna hit that grease and live a Chicago life right now.'
Q: What kind of insurance discount do you get?
A: None. If I'm being honest, it feels right. I would hate it if there were agents or employees of State Farm or anyone didn't get the real rate of the public.
Q: Who are your spirit actors?
A: Sidney Poitier and Marlon Brando. It's not just how they started, but their approach, what they represent, their character work and dedication in doing something full out. When you watch "Lilies of the Field," you watch Sidney Poitier finding these moments of truth — the same with Marlon Brando. As a human being, though, my spirit person is Drake. I definitely speak in Drake verses .... He's consistent, he keeps working hard, keeps his family close. I have the blueprint.
Q: How did State Farm come up with Drake as your stand-in?
A: (With the pandemic) at first he was just going to do it in front of a green screen, but it was just so beautiful that not only Drake, but Paul Rudd, Adrian Martinez, Aaron Rodgers and Patrick Mahomes wanted to do it in person. Drake and I had 20 minutes alone to improv what we would do for the spot. And it ended up being what was shown. I thought it was hilarious that he would be my stand-in too, because if you know me in real life, you know I'm a die-hard fan. Everyone who knows me was like: 'I knew what that moment was for you.' So many of his albums were rocked in the happiest moments of my life or the saddest parts of my life. It was such a beautiful moment and it marked my one year as Jake. I couldn't ask for better.
Q: Do you ever get freaked out by the cool celebrity playing across from you?
A: Of course! It's Patrick Mahomes, Aaron Rodgers, Drake there and you're like: I gotta wear a mask, because I'm smiling, but my eyes can look real cool. Between takes, I've got time to be the inner nerd that I am or the fanboy that I am, but I still don't want to annoy them. There were so many times I definitely wanted to say Drake quotes to Drake, and I was like: 'Don't do that. Don't hit that man with his own words.' So there's always those nerves there, but I think what always locks me in is the Sidney Poitier and Marlon Brando that I aspire to be.
Q: Will there be Jake and Drake holiday cards that State Farm will send out?
A: I can't say anything, but everyone does have to wait to see what we have in store (laughs).
Q: Does Jake from State Farm have a family that we get to meet at some point?
A: Jake definitely has a family. I'm sure one day we'll bring it to light. I think those would be some fun spots, but it's definitely not official. This is me just shooting off the cuff.
Q: You've been with the State Farm family for a year now. Do you feel like you're savvier when people ask you insurance questions?
A: That is a thing. And I'm like: I can't. But if you call your agent or if you need something, right now, I can direct you.
Q: Mayhem, Flo, the Gecko: Is there a secret society of insurance spokespeople, the public isn't aware of?
A: Like a Justice League of spokespeople? I wish there was. I definitely would love to talk with them about their experiences. I know I'm the newcomer, but I know they must have great veteran stuff to talk about. I'll do my best to get one going.
Q: What thought do you want to leave people with?
A: Before I decided to move to L.A., it was so scary to think about leaving family and memories behind to start over. But I do remember telling myself, right before I bought a ticket: The quicker you jump into the pool, the quicker you can enjoy the water. You will adapt, even when things get hard and difficult. That was the phrase that I said to myself a lot and I still do, to this day. If anything, that's the phrase I hope anyone that is having a difficult time with their dreams, especially in these times, uses.
What to eat. What to watch. What you need now. Sign up for our Eat. Watch. Do. newsletter here.
Sours: https://www.chicagotribune.com/entertainment/ct-ent-jake-from-state-farm-kevin-miles-0317-20210320-eqzt5dxgd5fznnmqjdlpr7voci-story.html
Why New Jake From The State Farm Commercials Looks So Familiar
Spending millions on an over-the-top commercial is one way to get viewers to keep talking about your brand. Or, on the other hand, you could have a likeable guy in khakis deliver a two-word punchline that embeds itself into people's brains — whether they want it to, or not. 
In 2011, State Farm debuted a commercial showing a man on the phone with "Jake from State Farm" at 3:00 in the morning (AKA the perfect time to sort out your insurance, if you hate sitting on hold). When his wife grabs the phone and asks "Jake from State Farm" what they're wearing, the person on the other end — an actual State Farm worker named Jake Stone — replies with the soon-to-be-immortalized line, "Er, khakis?" 
Nine years later, State Farm resurrected the old commercial, but with a twist. The couple and the State Farm office looked the same, but Jake from State Farm was played by a completely different person. Since then, the so-called "New Jake from State Farm" has appeared in commercials with Paul Rudd — admittedly it wasn't one of Paul Rudd's best on-screen performances – as well as Alfonso Ribeiro (in case you were wondering what happened to the cast of Fresh Prince), and NFL stars Patrick Mahomes and Aaron Rodgers. 
While the new guy in the khakis — whose real name, by the way, is Kevin Miles — is still relatively unknown, he's made enough small appearances that he should look vaguely familiar to most viewers. Born in Chicago, Miles told Forbes that he bought a one-way ticket to L.A. to pursue his dream of becoming an actor, sleeping in his car for a week while he found an overpriced apartment. He's hoping that the State Farm commercials will lead to meatier acting roles. For now, though, here are some places you might've seen him before.
Sours: https://www.looper.com/345967/why-new-jake-from-the-state-farm-commercials-looks-so-familiar/
Jake from State Farm has become an advertisement mainstay — and with Kevin Miles behind the character, he's still going strong. Miles landed the Jake From State Farm role in 2020 when the company decided to make a casting change. So who is actor Kevin Miles and how did he wind up portraying State Farm's khaki-sporting salesman?
'Jake from State Farm' has always loved acting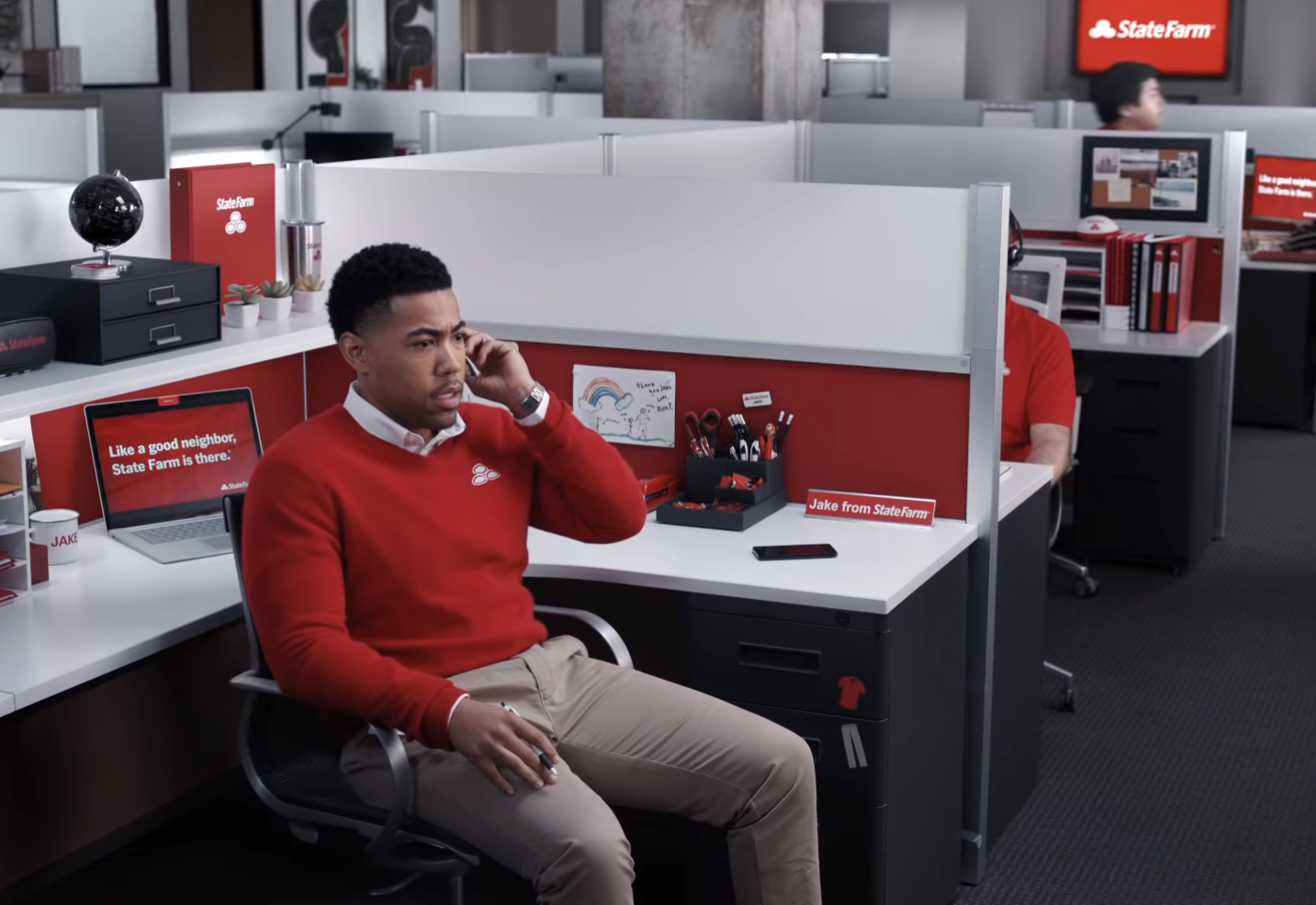 RELATED:Janet Jackson Thanks Fans As 'Control' Skyrockets Following Justin Timberlake Drama
Jake from State Farm has been around since 2011, and Chicago-native Kevin Miles landed himself the role in 2020. While Jake might be new Miles, acting isn't.
In fact, according to Forbes, Miles has been interested in acting since he was only 9 years old. His father was the first one to notice his son's interest in the career.
"You're watching all these shows on TV of these people doing all these cool things and you want to be them. And as an actor, you can be anything," Miles' father told him.
Miles says his first time on stage was a production of Romeo and Juliet. Apparently the feeling of being on stage was a powerful experience for him.
"So, I got to play Lord Capulet. It was my first time on-stage and I just remember feeling like I was Marlon Brando in The Godfather up there. The reaction was great and I saw endless opportunities to be an actor," he said.
He slept in his car before the Jake From State Farm commercial
After Kevin Miles finished his education at Webster University's Conservatory of Theater Arts, he was intent on pursuing his acting career. However, he wasn't sure on whether to head to Los Angeles or New York next. Things were about to get tougher before Miles landed the role as Jake From State Farm.
"I was confused whether I wanted to go to LA or New York or I should stay in Chicago, my hometown, and save up money and build some credits there," he explained.
Eventually, Miles settled on Los Angeles — but he did so without a place to live, and wound up sleeping in his car for a while.
"The thing that I wanted was just to come to LA. So, I got that one-way ticket. My mom came with me and helped me get this old used Mustang and she left the next day. I didn't have an apartment. I came with two bags and a pillow," said Miles.
Miles eventually got his big break by applying to casting calls relentlessly. He revealed that he tested well with almost every focus group.
"In the focus groups, I always tested as number one except for maybe one [group]. The CMO of State Farm Rand [Harbert], he's a great dude but he let me know, 'I was not looking for you. I was definitely looking for the original Jake. It was my wife that saw your callback sheet and said 'That's your Jake' immediately.'"
What happened to the original Jake From State Farm?
Some fans of the original Jake From State Farm may be sad to see the actor go, but it's hard to deny that Kevin Miles has done a great job filling his shoes.
State Farm assistant vice president Patty Morris revealed that it was time to change actors in large part because the role called for a professional, which the original Jake From State Farm, Jake Stone, was not.
"[Stone] did great at delivering his famous line, 'Uh…khakis.' However, this expanded role is very demanding and is best filled by a professional actor," she told Marketing Daily.
Sours: https://www.cheatsheet.com
Parker Promo (:30) - State Farm® Commercial
Taylor Handley
American actor (born 1984)
Taylor Handley

Born

Taylor Laurence Handley


(1984-06-01) June 1, 1984 (age 37)


Santa Barbara, California, U.S.

Occupation
Actor
Years active
1998–present
Spouse(s)
Audra Lynn Handley
Taylor Laurence Handley (born June 1, 1984) is an American actor.
Early years[edit]
Handley was born in Santa Barbara, California.[citation needed] He attended Santa Monica City College.[1]
Career[edit]
In 1998, Handley played Rory Buck in the movie Jack Frost. In 2000, Handley starred in the Disney Channel Original Movie, Phantom of the Megaplex. Handley appeared in three episodes during the last season of Dawson's Creek and guest starred during an episode of CSI: Crime Scene Investigation. In 2003/2004, Handley appeared in six episodes of the first season of The O.C., as Oliver Trask, a mentally unstable teenager who, after meeting Marissa Cooper in a therapy clinic, becomes infatuated with her to the point of nearly committing suicide over her. In 2006, Handley appeared in three films: The Standard, The Texas Chainsaw Massacre: The Beginning and Zerophilia. Handley's next film, September Dawn, was released to theaters on August 24, 2007.
In 2007, Handley starred as Johnny Miller in the short-lived CWtelevision program, Hidden Palms.
On April 9, 2009, he guest starred in the pilot of Southland, playing Wade. He returned as Wade in the second episode of the second season.
Handley also co-starred alongside Dennis Quaid in the series Vegas, playing the character Dixon Lamb.
In 2013, he appeared in the commercial "Greatness Awaits" for the PlayStation 4 console, and in 2020 in the State Farm Insurance commercial "Not the One", in which he played a rejected contestant from a Bachelorette-esque program who is comforted by "Jake from State Farm".[2]
Filmography[edit]
Film[edit]
Television[edit]
Phantom of the Megaplex (2000, TV Movie) as Pete Riley
Frasier (2002, Episode: "Juvenilla") as Trent
CSI: Crime Scene Investigation (2002, Episode: "Let the Seller Beware") as Max Newman
Becker (2003, Episode: "Bad to the Bone") as Brad
Dawson's Creek (2003, 3 episodes) as Patrick
Then Came Jones (2003, TV Movie)
The O.C. (2003–2004, 6 episodes) as Oliver Trask
Cold Case (2006, Episode: "One Night") as Steve Jablonski
In from the Night (2006, TV Movie) as Bobby
CSI: Miami (2007, Episode: "Born to Kill") as Travis Peck
Hidden Palms (2007, 8 episodes) as Johnny Miller
Numb3rs (2009, Episode: "Animal Rites") as James Arthur
Southland (2009, 2 episodes) as Wade
The Cleaner (2009, Episode: "The Turtle & The Butterfly") as Travis Nathanson
CSI: NY (2010, Episode: "Damned If You Do") as Billy Travis
The Glades (2011, Episode: "Moonlighting") as Trey Lancer
Law & Order: LA (2011, Episode: "Westwood") as Eric Kentner
Vegas (2012) as Dixon Lamb
APB (2017) as Officer Roderick Brandt
Proven Innocent (2019, Episode: "Cross to Bear") as Ronnie Peterson
Animal Kingdom (2021, 2 episodes) as Liam
Producer[edit]
References[edit]
External links[edit]
Sours: https://en.wikipedia.org/wiki/Taylor_Handley
From farm actor commercial state
In the past year, "Jake, From State Farm" actor Kevin Miles has catapulted to fame. On TV, he's spreading the word about insurance rates to everybody from delivery drivers to NFL MVPs. In the streets, he's posing with fans clamoring for pictures and autographs.
As spokesman for a national ad campaign with back-to-back Super Bowl spots and his face on multiple platforms, it's not his fame that surprises. 
It's the lane in which it's happening. Miles as Jake is the kind of regular, stand-up everyman that Black people see in our families and communities all the time. We just seldom see him on television, or historically in America, as a good neighbor.
In a popular culture conditioned to understand young Black men as athletes or entertainers, or on one side or another of the criminal justice system, Jake represents a departure. The character offers a window into the racial architecture of fame.
Often, "you've either got to be wacky, or you've got to be dangerous" to land jobs as a Black actor, said the 30-year-old Miles.
Miles moved from the South Side of Chicago to Los Angeles to pursue acting, and had already done some commercials when he auditioned for the role of Jake.
Many other insurance spokespeople are comedic talents. They're witty and quirky. 
"I knew if I tried to do something wacky or crazy, it probably wouldn't have fit me or my frame," he said.
"I just wanted to come with something that felt like truth. Felt like a best friend that's next to you," said Miles. "Honestly, that's just closer to me."
"Jake is like the guy next door, the boy next door that grew up," said Henry C. Boyd, a marketing professor at the University of Maryland. "The perception is there that, man, you went out of your way, Jake. You gave me the inside deal."
Insurance can be dull and it can take antics and hyperbole to stand out. But Boyd calls Jake's charisma, charm and conventional good looks something that can win for State Farm. "He's become a franchise success," said Boyd. That success marks a universal, all-American appeal. But don't misunderstand. Without the slightest patina of performative ethnicity, he still feels authentically Black.
It's all that low-key cool. 
"Who was the most extraordinary, low-key person we've seen in the last 20 years?" asked Mark Anthony Neal, chair of the department of African and African American studies at Duke University. With Jake, "you also hear that Barack cadence," Neal said. "He speaks in small bunches. And then it's kind of an accent, then he speaks in a couple of more bunches. So it's never too fast, but it's stylistically Black."
The nature of the commercials also help reinforce Jake's chill. "Especially the ones with [Phoenix Suns star] Chris Paul, all kinds of crazy stuff is about to happen, but with Jake, there's never any drama," Neal said. "It's always, 'No, we're good.'
"Think about Dennis Haysbert, who also did these auto insurance commercials after playing the president on [the Fox series] 24," Neal said. "There's just something about his coolness under pressure that white folks are drawn to."
Students Alexis Williamson, a political science major, and DeWayne Carter, a psychology major, both 20, were in Neal's Black popular culture and history of hip-hop class in the spring semester. They say the face of a company impacts their buying decisions. Williamson says her family uses Allstate because her mom likes Haysbert. But "it's not top of dome anymore because Dennis Haysbert isn't their guy, and Jake is State Farm's guy," she said. The Jake campaign, "I definitely would say gives me a different idea about the corporation."
The nuance here matters. It's not simply that Jake is Black. It is that "he doesn't have to be a rapper, or he doesn't have to be a star quarterback, basketball player, whatever it may be," said Carter, himself a defensive tackle for Duke's football team. It makes Jake's popularity a hundred times more powerful, Carter says. "He can just exist. He can just be himself."
"It's so authentic and that's what is appealing to me," said Williamson. "It feels like there's somebody Black on that [State Farm creative] team and they're allowing them to create in a really significant way."
Patty Morris, assistant vice president of marketing for State Farm, says the relaunch of the Jake campaign and leaning into the "Like a good neighbor" slogan "has probably been the most rewarding thing I've worked on." It's the affection people have for the character and "a culmination of things that have happened in the last year and a half," with COVID-19 and the racial justice movement that make him the right character and message for the times.
In 2019, when State Farm sought a brand refresh, The Marketing Arm ad agency encouraged the company to lean into Jake. They cast widely to find a professional actor to carry the campaign and replace the actual State Farm employee who gained a cult following as the original Jake in the 2011-2016 campaign. They relaunched Jake sitting at his cubicle during the Super Bowl pregame in 2020.
In this year's Super Bowl commercial with NFL MVP quarterbacks Patrick Mahomes and Aaron Rodgers, Drake played Jake's stand-in. The campaign helped make State Farm one of Ad Age magazine's top 10 marketers of 2020. And it was part of a brand overhaul that helped the 98-year-old insurer grow its auto policies by 1.5 million last year.
This meant reaching younger, more diverse audiences, and putting Jake in gaming and music and sports. Jake is also in situations that reflect changes in identity and demographics. 
"That's why the pizza commercial is so striking," said Neal, referring to the spot where a young delivery driver insists on giving Jake free pizza and a tub of ranch dressing as thanks for giving her that special "Parker" rate. "Here you have a young, non-traditional white woman, who is representative of a certain kind of constituency, and Jake. And they connect. They vibe on some sort of level, because it's going to be their world going forward. It's going to be, her world is going to be Jake's world and all kinds of non-traditional figures."
"We set out to say, 'All right, if we're going to extend this character and really scale this into a full-fledged campaign, we need this humanization of the brand to be relatable and likable.' Of course we said those things," Morris said. "We didn't go into that casting saying, 'We need to cast a young, energetic, supercharismatic African American man.' We said, 'We need to cast the person that best embodies our brand ethos.' And that certainly includes authenticity, it includes being honest and helpful, and those are all part of State Farm's brand value set and that's what we were looking for. And the best person to fit that role was Kevin and he was African American, and that was great with us."
Related Stories
Williamson, like her classmate Carter, is getting a certificate in management and marketing. She says the ad campaign demonstrates cultural literacy, a standard by which her generation judges the companies that are asking for their money. 
We're "in a space where we still have to explain that Black people exist in the world just as anybody else. Just like white people. We are not juxtapositions to white people. We are just people," she said. "I think Jake does a really good job of just being out in the world and existing as he is, and he is Black. And so that comes with different mannerisms and tendencies that other communities may not have, but at the end of the day, he's still a super relatable guy."
It's a simple thing that Black people have been preaching forever, Carter says. "Representation matters. Not only representation, authentic representation, not performative action." 
Not the people companies hire "just so they can say we're diverse," he said. "Authentic representation matters because it's authentic, it's real, it's beautiful in my opinion." And it sells. That's the lesson to take from Jake. "Especially in this day and age, people love to see diversity, especially at a corporate level," Carter said. "That's a big thing that corporations can take away."
Miles, who eventually wants to go on to bigger roles, hopes his portrayal of Jake helps casting agents understand that Black people have more to give than the single dimension that's often asked of them. 
He quotes a line from the Drake song "6PM in New York" about ambition and who belongs on the throne. "All the great actors that I love are just phenomenal at playing in the middle, sometimes, and I just wanted to be close to that, too," Miles said. "I just wanted to see where my everyman was.
"It's great that at the core of what I'm trying to do, it's resonating and being seen," said Miles. "I hope that it opens a door, where that can be a norm." One that shows a regular brother, with a low-key chill, can also superstar.
Lonnae O'Neal is a senior writer at The Undefeated. She's an author, a former columnist, has a rack of kids and she writes bird by bird.
Sours: https://theundefeated.com/features/the-low-key-cool-of-jake-from-state-farm-has-actor-kevin-miles-superstarring/
State Farm® Commercial - State of Unrest (Jake).mp4
Supporting his lower back, as if he could fall, I jerked his protruding dick with one hand, moaning to the rhythm of my thrusts. I dissolve in it. I crumpled and twisted the nipples on my wide chest. He wrapped his hand around a strong neck, pulling his head to his face and biting, licking, sucking on his lips and tongue.
The fingers did not let go of the elastic muscles of the ass, crushing them like tight dough.
You will also be interested:
The girl wrapped her hand around her penis, squealed and began to jerk him with great speed. Her squeak was blocked by a powerful roar that was heard from the lips of Semyon Mikhailovich. Uncle pulled the girl on the penis all the way and began to cum.
1297
1298
1299
1300
1301