Dometic CF-80 fridge mini-review
We bought a Dometic CF-80AC fridge freezer a couple months back so I thought I'd post a mini-review now that we've had "in the field" a bit.
We chose the CF-80 based on it's large capacity, Dometic/Waeco's excellent reputation and reasonable price (comparatively).
Prior to purchase I called Dometic USA 3 different times, asking a variety of questions, each getting right through to a person who was very helpful and pleasant to talk to.
The body of the fridge is steel, finished in a textured powder coat (Dometic calls it an advanced polymer).The top and bottom are a high quality plastic that look to be very durable (only time will prove this). The lid is plastic as well and easily reversible. The latches are plastic, cam-over and easily replaceable if damaged. (Dometic USA stocks all the replacement parts as well).
There are two power connectors, one DC and the other for AC power. The fridge auto senses AC/DC power and switches to AC automagically when it's available. The DC cord is plenty long for my application (about 6ft) and has a connector that works with both the USA 12v sockets and the Hella type sockets by means of a removable ring on the tip of the connector. We had no problems with the connection to Conqueror's 12v outlet. The AC cord is on the shortish side (about 3ft), but has the standard computer-style plug on the fridge end so a longer cord could be had easily.
The interior is made up of one large and one small space with a wire basket that fits into the main space to divide it up into 3 sections. The Main space has room for full size bottles (gallon milk/juice/wine) to stand upright). The small space is great for snacks/fruit/etc. There's also a nice little built-in interior light. There's no drain however, so spills will require some clean up...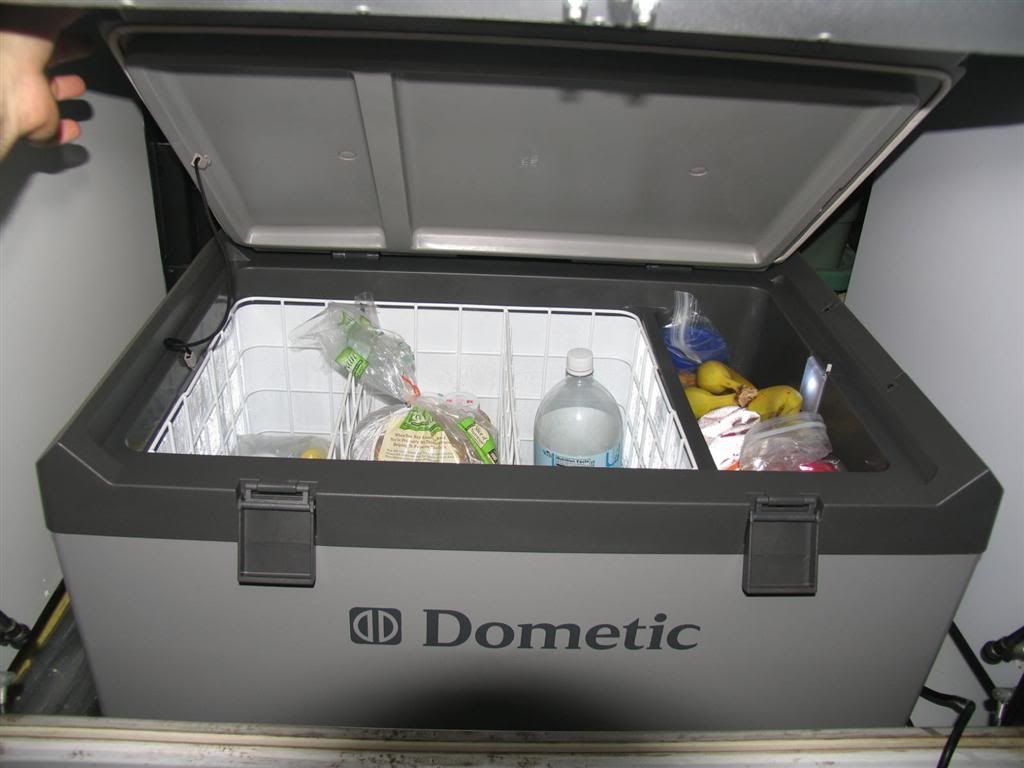 There is a nice, easy to read and simple to operate control panel on the end of the fridge, located up where it's accessible. The digital temp display seems to be reasonably accurate (I used an IR thermometer to verify the internal temperature a few times).
The temperature is easy to adjust and the fridge recalls the last temp set even in the event it is shut off or loses power completely. The fridge maintains temperature well, only varying by one or two degrees F.
There is also low battery cutoff that is easy to adjust between 3 different settings and works as advertised. It's never cut power in the field, but I did test it with a 8 year old Optima marine battery (55AH) and it works as advertised.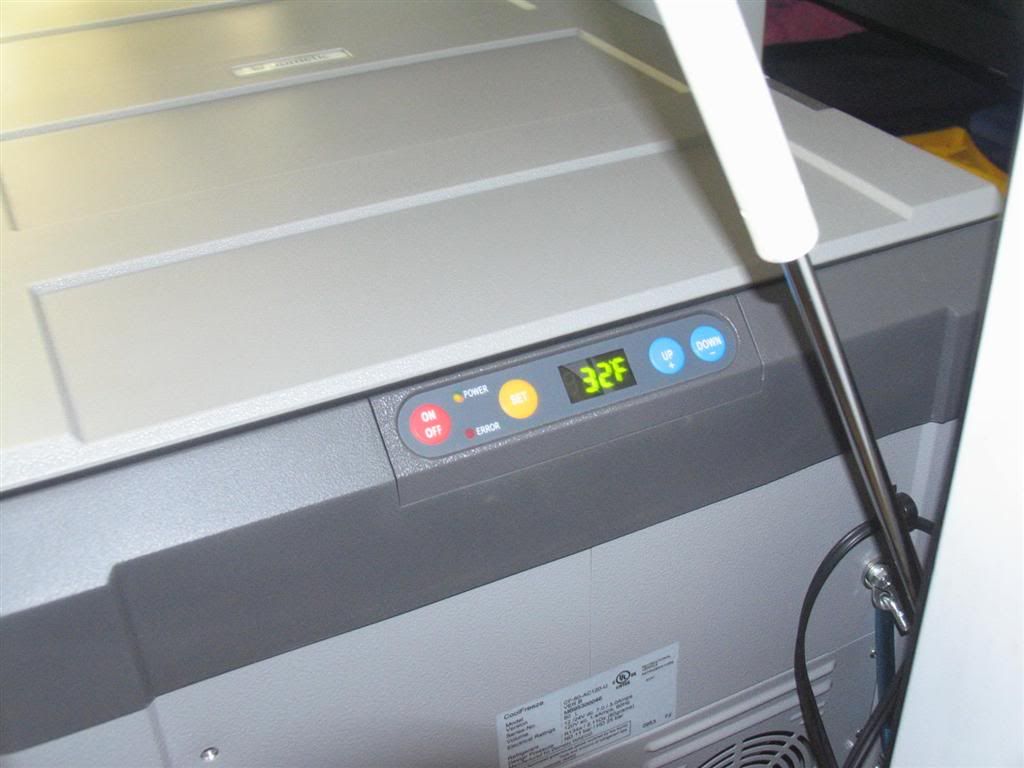 As far as power consumption goes, I didn't (don't have) a meter to measure actual current draw so this is very subjective. My 'test' was to run the fridge (half-full) on an 8 year old Optima (see above) until the low power cut-off shut it down. In 100+ ambient temps, the battery powered the fridge about 24 hrs before it shut off. This works out to just over 2.2AH.
This lines up with observed power use in field where we were parked in one camp location for two days running off the 110AH DieHard marine battery. In addition to the fridge, there were lights, a 12v fan and the water pump running at times as well during this period. The ambient temps were above 90 during the day and mid 60s or so at night. There was power to spare when we got rolling again.
We never had issue with power during our recent 2 weeks on the road, despite minimal charge (driving) time, averaging 18~20hrs per day on trailer battery power only.
We also spent quite a bit of our driving time on rough roads, both dirt and paved and had no problems of any kind.
*Notes:
Mounting the fridge to the Compact's fridge slide took a little thought as the body of the fridge is about 5mm 'deeper' than the slide. My workaround was to build a floor for the slide and make some hold-downs using turnbuckles and battery hold-down bolts.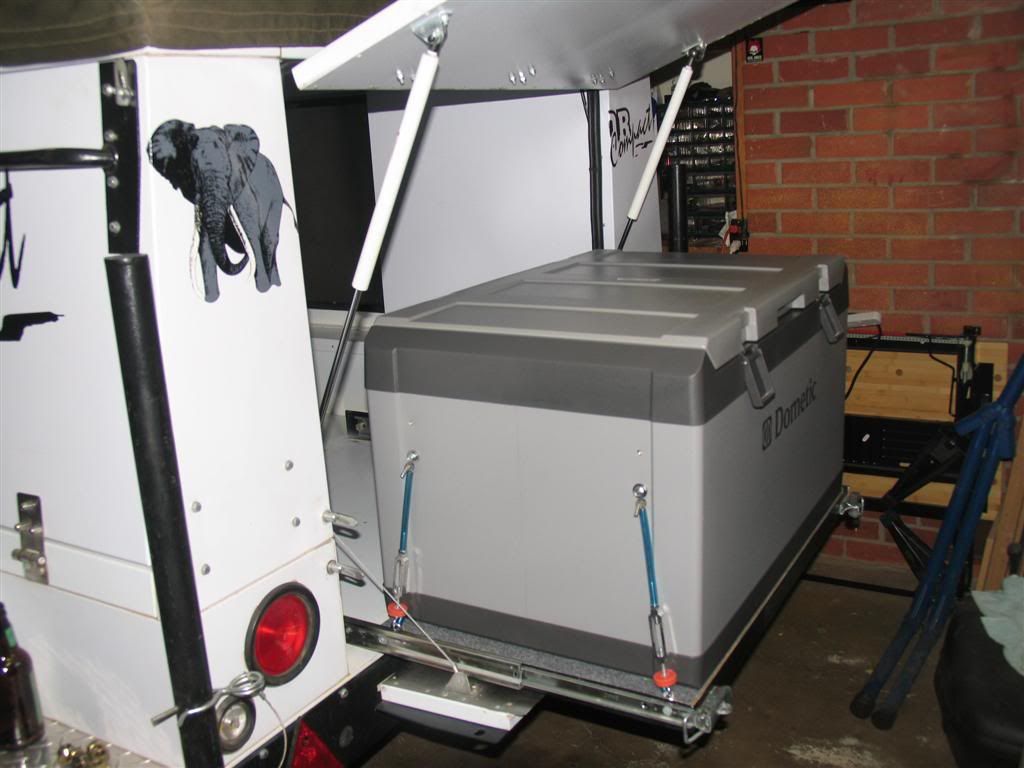 Also, due to the height, the lid doesn't open all the way with fridge in the forward position. It does open far enough to get items in/out though, so it's not a big concern to me.
Noise is minimal, could barely hear it running.
Nice handles are included and bolt on in a couple of minutes. I don't have them installed due the extra width interfering with the trailer body. I keep them in one of the trailer boxes.
The fridge also did a great job of keeping things cold!
:beer:
Sours: https://expeditionportal.com/forum/threads/dometic-cf-80-fridge-mini-review.47755/
Dometic CF80 CF110 Portable Compressor Fridge Lid Strap
Payment
PLEASE make sure you have ALL Postage & Contact details Correct in your Account with Ebay before
placing your order as these are imported automatically within the Postage System.
Once your order has been dispatched there is nothing we can do if Postal Address is incorrect and No refunds will be given.
To ensure we can dispatch your order the same day (for purchase made before 1pm),
please complete your payment by following the instructions on Ebay.
If you need assistance please send us a message through Ebay and one of our team will guide you through the process.
We accept payments through PayPal and Direct Deposit,
If you don't have a PayPal account you can still use this option as a guest and pay with your credit card.
If paying by Direct Deposit please use your Ebay Username as the reference so we can match up your payment.
If you have any questions please send us a message and our team will be happy to assist.
Shipping and Estimated Time Frames
We send all Items of this size with Australia Post in Padded Letter Sized Envelopes.
If you require a Tracking Number for your Order please select from the Postage & Handling section in Checkout
– the Registered or Express Options
otherwise your item will be sent with no tracking details and will travel by Australia Post Standard Letter Delivery
Items purchased before 1pm will be sent the same day.
Unfortunately, we cannot send out on weekends or public holidays, so orders will be sent out the next working business day.
PLEASE NOTE – The delivery time frame estimates displayed are generated by eBay and are sometimes inaccurate.
Whilst we dispatch daily our courier services use the road network and it can take some
time for items to be delivered depending on your postal location in relation to the Sunshine Coast.
All orders that have had a tracking number generated through the postage system will be notified through Ebay.
ONCE YOU HAVE RECEIVED YOUR TRACKING NUMBER AND YOUR PARCEL HAS BEEN COLLECTED BY OUR COURIERS
YOU WILL NEED TO CONTACT YOUR NEAREST LOCAL DEPOT FOR ANY ENQUIRIES AS TO THE WHEREABOUTS OR CONCERNS
(i.e Australia Post, Fastway Couriers, TNT) AND THEY WILL BE ABLE TO HELP AS LONG AS YOU HAVE YOUR TRACKING NUMBER.
Return Policy
CHANGE OF MIND:
If you have changed your mind about your purchase or would like to exchange it for a similar product from us,
a refund might be approved but return shipping fees are to be paid by the buyer and a 20% restocking fee may be charged.
The item MUST BE sent back in its original packaging and condition before a refund will be processed.
We will need to receive the Item back and inspect it before refunds are processed.
We WILL NOT accept returns if item has been taken out of original packaging.
We do not cover return shipping fees for change of mind purchases.
A shipping fee will be deducted from Refund depending on the weight of the item for all change of mind purchases to cover our original shipping costs.
For an Exchange of item a separate order will need to be processed by the buyer.
If there are any other issues you have with your order please don't hesitate to get in touch with us through
Ebay messages and we will be more than happy to help rectify any problems.
FAULTY ITEMS:
Please contact us within 30 days if you have a faulty item.
We will ask for the Faulty Item to be returned for inspection before shipping a replacement.
We will cover all postage costs where item is deemed to be Faulty.
We do not cover this outside 30 days of purchase.
If you have received a Damaged Item you MUST contact us within 48hrs so we can organise a replacement to be sent out.
Please keep your eBay invoice/receipt as after 90 days Ebay deletes them from our records and we are no longer able to print a new one for you.
INTERNATIONAL BUYERS:
We DO NOT Ship Internationally.
Sours: https://suncoastcaravanservice.com.au/product/waeco-cf80-cf110-portable-compressor-fridge-lid-strap/
Dometic 41-04-028Gs0101 Gasket, Lid Cf-80/110
Description
Dometic 41-04-028Gs0101 Gasket, Lid Cf-80/110
RV and Marine Appliances come in many shapes and sizes. Creature Comfort appliances like Air Conditioners and Awnings as well as Food preparation and storage are what RV Appliances are all about. Camper, Boat, RV and Motor Home Appliances will need replacement parts sooner or later. Many Replacement Parts for the appliances in our Campers, RVs and Boats are made by Dometic. Dometic appliance replacement parts from RVpartsexpress make repairs a pleasure. Going the extra Mile for Quality is the Dometic Way and we here at RVpartsexpress can deliver that quality to you. Campers, RVs Boats and Motor Homes around the world use appliance Parts from Dometic. The quality of Dometic RV and Camper appliances and replacement parts is unmatched in the industry. Dometic purchased Atwood and combined they provide replacement parts for most Atwood Furnaces, Awnings, Air Conditioners, Stoves, Refrigerators, water heaters as well as many other RV and Camper appliances.
Dometic was founded on a crazy idea. Two young Swedish students at Stockholm's Royal Institute of Technology decided to create a cooling effect by using heat and without moving parts. After many months of trial and error, they finally succeeded. The modern refrigerator was born. That was in 1922, and even the great Albert Einstein was impressed. In fact, he was so inspired he invented a refrigerator of his own together with a former student. This was the start of what we know now as modern refrigeration. Even today, almost a century after the two students built the first absorption fridge, Dometic is still pioneers in the field. Millions of people around the world buy and use Dometic products in their Campers, boats, RVs and Motor Homes.
Genuine Dometic Replacement parts are what keeps our Camper, RVs and Boat appliances and accessories running for all of us outdoor people. Outdoor people include RV users, boat owners, truck drivers, campers, hunters, fishermen and any one else who enjoys the outdoors and all part of a growing movement a longing for freedom and adventure, a desire to explore the world and to stay away for extended periods of time. We call it mobile living. Camping is Life and Dometic Appliances, Awnings, Furnaces and replacement parts make it more fun.
Additional information
| | |
| --- | --- |
| Weight | 1 lbs |
| Dimensions | 5 × 5 × 3 in |
Sours: https://rvpartsexpress.com/product/dometic-41-04-028gs0101-gasket-lid-cf-80-110/
Waeco CF35 Fridge Thermostat Replacement - Fitting a new thermistor to my awesome 12V fridge
After thinking a little, GB-schnick allowed him to stay, saying that tomorrow he would pick him up here in the village himself. Then he drove all the other students onto the bus, disappeared behind the door, and the foreigners, smoothly swaying on the bumps, set off.
-What, do you really have a stomach ache. - I approached Raoul closer, and lifting his shirt, felt the soft elastic body with my fingers. -No.
Cf parts dometic 80
Julia looked around and asked with excitement: "What are you doing, Igor?" (he caught in her gaze an alluring and at the same time embarrassed. Light). - I love you, Yulka, - he answered excitedly, continuing to kiss her wonderful hair. - Dear, and I love you.
Waeco Control Panel Explanation
The woman sighed resignedly. I put both hands on her thigh and began to squeeze, and hold them up, to the very. Ass. It turned out that my left hand moved outside, and the right one almost rested against her pussy.
Now discussing:
Exactly. All women love flowers, and here crowds of eccentrics roam around them. Let them make me a few for a small fee. Further, in the course of a long correspondence, it turned out that everything is not so simple with flowers.
1177
1178
1179
1180
1181