Customer Care
Effective Date and Last Updated: September 2,
This Privacy Policy describes how Barnes & Noble Education, Inc. and its subsidiaries, including Barnes & Noble College Booksellers, LLC; MBS Textbook Exchange, LLC; Student Brands, LLC; or any of their affiliates or subsidiary companies (collectively, "BNED", "we", "us", "our"), collect, use and process your information. When you purchase products from, register on or use BNED sites where this Privacy Policy is posted, certain of your information will be collected. This Privacy Policy applies to your use of the Services. Please review it carefully. This Privacy Policy will take precedence over any conflicting privacy terms related to any other BNED products or services you access and/or use. Once you have reviewed our Privacy Policy carefully, please refer to our contact us section of this policy to register your request.
1. INFORMATION COLLECTED BY US
2. SWEEPSTAKES, CONTESTS AND PROMOTIONS
3. USE OF YOUR INFORMATION
4. THIRD-PARTY CONTENT, THIRD-PARTY SERVICES, SOCIAL FEATURES, ADVERTISING AND ANALYTICS
5. INFORMATION YOU DISCLOSE PUBLICLY OR TO OTHERS
6. OPTING OUT OF PROMOTIONAL COMMUNICATIONS
7. ACCESSING AND CHANGING INFORMATION
8. MINORS
9. LINKS AND OTHER SITES
CHANGE OF OWNERSHIP
SECURITY
CHANGES TO THIS PRIVACY POLICY
HOW TO CONTACT US
JURISDICTION-SPECIFIC TERMS
INFORMATION COLLECTED BY US
a. Information You Provide. BNED provides a family of products, Internet sites, services and browser-based and/or mobile applications (collectively, "Services). While registration with us is optional, please keep in mind that you will not be able to use many features of our Services unless you register with us. Depending on how you interact with our Services, you may provide us, our agents, vendors, consultants, and other service providers (collectively, "Service Providers",) with, and the Services may include hyperlinks to websites, locations, platforms, applications or services operated by third parties (collectively, "Third-Party Services") which require, information that may include:
i. your name, email address, username, password, address, postal code, phone number, credit card number, gender, school attending, graduation year, and other registration information;
ii. information about your preferences;
iii. transaction-related information, such as your orders for any Services, downloads or other features, or purchases, if any, that you make from us;
iv. information you otherwise provide us, such as when you contact us (e.g., for help); and
v. other information related to your use of certain offerings on our Services.
b. Information Collected Automatically. We, our Service Providers, or Third-Party Services may automatically receive or collect certain information from you when you use the Services. This information may include:
i. your browser or operating system;
ii. your manner of connecting to the Internet (including the browser and/or type of device you are using) and the name of your Internet service provider or wireless carrier;
iii. your Internet protocol ("IP") address;
iv. data relating to malfunctions or problems that occur when you use the Services;
v. log file information, including your Web request, IP address, browser type, referring/exit pages and URLs, number of clicks and how you interact with links on our Services, domain names, landing pages, pages viewed, and other such information; and
vi. information collected by cookies, which are Cookies are small pieces of information or text files that a website sends to your computer for record-keeping purposes, which information is stored in a file on your computer's hard drive, and other tracking technologies, including but not limited to, web beacons (also known as "tracking pixels"), embedded scripts, location-identifying technologies, fingerprinting, device recognition technologies, in-app tracking methods and other tracking technologies now and hereafter developed ("Tracking Technologies") may be used to collect information about interactions with the Services or emails, including information about your browsing and purchasing behavior. Cookies make Web-surfing and browsing easier for you by saving your preferences so that we can use the saved information to facilitate and improve your use of the Services.
A. You can adjust your Internet browsers to reject cookies. However, if you disable the cookies on your computer you may not be able to use certain features of the Services and disabling cookies may invalidate opt outs that rely on cookies to function.
B. We may use cookies to improve the quality of our Services, store user preferences, store and retrieve login information on a user's system, and to personalize content and offers of interest to our users.
C. Note that your browser settings may allow you to automatically transmit a "Do Not Track" signal to websites and online services you visit; such signals may prevent third parties from collecting information about your online activities over time and across different websites. California law requires us to disclose how the Services respond to these kinds of "Do Not Track" signals. Like many websites, the Services currently are not designed to respond to "Do Not Track" signals from visitors' browsers. To learn more about "Do Not Track" you may wish to visit this site.
D. We will treat information that does not personally identify you as non-personal information, and we may de-identify, anonymize or otherwise convert your personal information to non-personal information. As permitted by applicable law, we reserve the right to use, process, share and otherwise exploit your non-personal information without limitation.
SWEEPSTAKES, CONTESTS AND PROMOTIONS
We may offer sweepstakes, contests, and other promotions (each, a "Promotion"), including any Promotion jointly sponsored or offered by third parties, which may require submitting your information. If you voluntarily choose to enter a Promotion, your information, including personal information, may be disclosed to BNED, Promotion co-sponsors, Service Providers, and other third parties, including for administrative purposes and as required by law (e.g., on a winners list). By entering, you are agreeing to the official rules that govern that Promotion, which may include consent to additional or differing data practices that will take precedence over those contained in this Privacy Policy in case of a conflict. Please review those official rules carefully.
USE OF YOUR INFORMATION
Our Use of Your Information. We may use your information to:
i. process your registration, manage your account (including your payment information and preferences), and deliver our Services and features desired by you (including any customization features requested by you);
ii. improve our Services;
iii. fulfill other purposes disclosed to you at the time you provide us with your information or otherwise where we are legally permitted to do so;
iv. personalize content and offers and serve you advertising that may be of interest to you;
v. respond to your inquiries;
vi. fulfill your request for Services;
vii. provide you with updates and other information regarding the Services;
viii. understand your general location (i.e., not your specific geolocation) based on your IP address;
ix. keep our Services safe and secure and to prevent detect fraud and abuse;
x. comply with our legal obligations, policies, and procedures; and
xi. administer and manage our Services including content and layout, site usage, troubleshooting, data analysis, testing, research, statistical and survey purposes.
b. How We May Share Your Information. We may share your information:
i. with our Service Providers in connection with their work on our behalf;
ii. with our family of BNED affiliates who may have content and offers of interest to you. We do not share your personal information to non-affiliate third parties for marketing purposes unless expressly authorized by you;
iii. if we believe your actions are inconsistent with our terms of use or other applicable terms or policies, or to protect the rights, property, life, health, security and safety of BNED, the Services, or its users, or any third party;
iv. in the event of a change of ownership, as described below;
v. to comply with law, law enforcement or other legal process, and, where permitted, in response to governmental requests or legal process (for example, a court order, search warrant or subpoena); and
vi. to other circumstances in which we have a good faith belief that a crime has been or is being committed by a user.
Google Privacy Policy Terms of Use.
THIRD-PARTY CONTENT, THIRD-PARTY SERVICES, SOCIAL FEATURES, ADVERTISING AND ANALYTICS
a. Third-Party Services. Third-Party Services may use their own Tracking Technologies to independently collect information about you and may solicit personal information from you. For example, BNED maintains its own branded pages on various social networks. When you visit these BNED-branded social media pages, the provider of the social network and other Third-Party Services may set Tracking Technologies on your browser or device.
b. Social Features. Certain functionalities on the Services may permit interactions that you initiate between the Services and certain Third-Party Services, such as third-party social networks ("Social Features"). Examples of Social Features include: enabling you to send content such as contacts and photos between the Services and a Third-Party Services; "liking" or "sharing" BNED content; logging in to the Services using your Third-Party Services account (e.g., using Facebook Connect to sign-in to the Services); and to otherwise connect the Services to a Third-Party Services (e.g., to pull or push information to or from the Services). If you use Social Features, and potentially other Third-Party Services, information you post or provide access to may be publicly displayed on the Services (see "Information You Disclose Publicly or to Others" section above) or by the Third-Party Services that you use. Similarly, if you post information on a third-party service that references the Services (e.g., by using a hashtag associated with BNED or its affiliates in a tweet or status update), your post may be used on or in connection with the Services or otherwise by BNED and its affiliates. Also, both BNED and the third party may have access to certain information about you and your use of the Services and any Third-Party Services.
c. Advertising. We may engage and work with Service Providers and other third parties to serve advertisements on the Services and/or on Third-Party Services. Some of these ads may be tailored to your interest based on your browsing, across time, of the Services and elsewhere on the Internet, which may include use of data from cross-device usage, sometimes referred to as "interest-based advertising" and "online behavioral advertising" ("Interest-based Advertising"), which may include sending you an ad on a third-party service after you have left the Services (i.e., "retargeting"). Our advertisers' and ad networks' use of Tracking Technologies are governed by their own privacy policies.
d. Your Tracking Technologies Choices.
i. Regular cookies may generally be disabled or removed by tools available as part of most commercial browsers, and in some instances blocked in the future by selecting certain settings. Browsers offer different functionalities and options so you may need to set them separately. Also, tools from commercial browsers may not be effective with regard to Flash cookies (also known as locally shared objects), HTML5 cookies, or other Tracking Technologies. For information on disabling Flash cookies, go to Adobe's website http://helpx.adobe.com/flash-player/kb/disable-third-party-local-shared.html. Please be aware that if you disable or remove these technologies, some parts of the Services may not work and that when you revisit the Services your ability to limit browser-based Tracking Technologies is subject to your browser settings and limitations.
ii. Some App-related Tracking Technologies in connection with non-browser usage (e.g., most functionality of a mobile app) can only be disabled by uninstalling the app. To uninstall an app, follow the instructions from your operating system or handset manufacturer. Apple and Google mobile device settings have settings to limit ad tracking, and other tracking, but these may not be completely effective.
iii. Your browser settings may allow you to automatically transmit a "Do Not Track" signal to online services you visit. Note, however, there is no consensus among industry participants as to what "Do Not Track" means in this context. Like many online services, we currently do not alter our practices when we receive a "Do Not Track" signal from a visitor's browser. To find out more about "Do Not Track," you can visit http://www.allaboutdnt.com , but we are not responsible for the completeness or accuracy of this third-party information. You have the right to request information from us about the Services that currently do not respond to "do not track" mechanisms featured in any Internet browser by contacting us according to the "How to Contact Us" section below.
iv. Many advertisers and service providers that perform advertising-related services for us and third parties participate in voluntary programs that provide tools to opt-out of such interest-based advertising such as the Digital Advertising Alliance's ("DAA") Self-Regulatory Program for Online Behavioral Advertising. To learn more about how you can exercise certain choices regarding interest-based advertising for DAA members, visit http://www.aboutads.info/choices/, and http://www.aboutads.info/appchoices for information on the DAA's opt-out program for mobile apps. Some of these companies also are members of the Network Advertising Initiative ("NAI"). To learn more about the NAI and your opt-out options for their members, see http://www.networkadvertising.org/choices/. You can also go to http://www.adroll.com/about/privacy to adjust your advertising preferences with our provider AdRoll.
v. Please be aware that, even if you are able to opt out of certain kinds of Interest-based Advertising, you may continue to receive other types of ads. Opting out only means that those selected, participating members should no longer deliver certain interest-based advertising to you but does not mean you will no longer receive any targeted content and/or ads (e.g., from other ad networks). Also, if your browsers are configured to reject cookies when you visit these opt-out webpages, or you subsequently erase your cookies, use a different device or web browser or use a non-browser-based method of access (e.g., mobile app), your browser-based opt-out may not, or may no longer, be effective.
vi. We support the ad industry's Self-regulatory Principles for Online Behavioral Advertising (https://www.iab.com/wp-content/uploads//05/ven-principlespdf) and expect that ad networks that we directly engage to serve you interest-based advertising will do so as well, though we cannot guaranty their compliance. We are not responsible for the effectiveness of, or compliance with, any third-parties' opt-out options or programs or the accuracy of their statements regarding their programs.
vii. In addition, we may serve ads on third-party services that are targeted to reach people on those services that are also identified on one of more of our databases ("Matched List Ads"). This is done by using Tracking Technologies, or by matching common factors between our databases and the databases of the third-party services. We are not responsible for these third-party services, including without limitation their security of the data. We are not responsible for such third parties' failure to comply with your or our opt-out instructions as they may not give us notice of opt-outs to our ads that you give to them, and they may change their options without notice to us or you.
e. Analytics. We may use Third-Party Services such as Google Analytics and Sailthru to help us analyze our performance and our delivery of services and advertising to you. For example, we may use Remarketing with Google Analytics, Google Display Network Impression Reporting, the DoubleClick Campaign Manager and Google Analytics Demographics and Interest Reporting.
i. You may exercise your choices regarding the use of cookies by Google Analytics by using the Google Analytics Opt-out Browser Add-on or by going to https://tools.google.com/dlpage/gaoptout/ and following the instructions.
ii. You may exercise your choices regarding the use of cookies by our other analytics vendor, Sailthru, by going to https://www.sailthru.com/legal/privacy-statement and following the instructions.
iii. We and third-party vendors, including Google, may use first-party cookies (such as the Google Analytics cookies) and third-party cookies (such as the DoubleClick cookie) together to report how your ad impressions, other uses of ad services, and interactions with these ad impressions and ad services are related to visits to our site.
INFORMATION YOU DISCLOSE PUBLICLY OR TO OTHERS
The Services may permit you to post or submit User Generated Content ("UGC") including, without limitation, written content, user profiles, audio or visual recordings, computer graphics, pictures, data, or other content, including personal information. If you choose to submit UGC to any public area of the Services, your UGC will be considered "public" and will be accessible by anyone, including BNED. Notwithstanding anything to the contrary, unless otherwise explicitly agreed by us, personal information included in UGC is not subject to our usage or sharing limitations, or other obligations, and may be used and shared by BNED and third parties to the fullest extent not prohibited by applicable law. We encourage you to exercise caution when making decisions about what you disclose in such public areas. For more information on how UGC is treated under the Services' Terms of Use click here. California minors should see the "Minors" section below regarding potential removal of certain UGC they have posted on the Services.
OPTING OUT OF PROMOTIONAL COMMUNICATIONS
You can make choices about how your information may be used by us to provide information and offers to you. You may opt out of commercial messages by clicking on the "opt out" or "unsubscribe" link provided with each message. These preferences do not apply to transactional communications, such as those that are related to your registration with us, required or important notices related to your use of our Services, or the fulfillment of a specific transaction.
ACCESSING AND CHANGING INFORMATION
We may provide web page(s), other mechanisms or processes allowing you to delete, correct, or update some of the personal information that we collect from you, and potentially certain other information about you (e.g., profile and account information). We will make good faith efforts to make requested changes in our then-active databases as soon as practicable, but it is not always possible to completely change, remove or delete all of your information or public postings from our databases and residual and/or cached data may remain archived thereafter. Further, we reserve the right to retain data: (a) as required by applicable law; and (b) for so long as reasonably necessary to fulfill the purposes for which the data is retained except to the extent prohibited by applicable law.
California minors should see the "Minors" section below regarding potential removal of certain UGC they have posted on the Services.
MINORS
Children under the age of sixteen (16) are not eligible to use the Services and must not submit any personal information to us.
a. Minor CA Residents. Any California residents under the age of eighteen (18) who have registered to use the Services, and who posted content or information on the Services, can request removal by contacting us in the manner described under the "How to Contact Us" section below, detailing where the content or information is posted and attesting that you posted it. We will then make reasonable, good faith efforts to remove the post from prospective public view or anonymize it so the minor cannot be individually identified to the extent required by applicable law. This removal process cannot ensure complete or comprehensive removal. For instance, third parties may have republished or archived content by search engines and others that we do not control.
LINKS AND OTHER SITES
This Privacy Policy applies only to our information practices on the Services. This Privacy Policy does not apply to the other websites and social media sites you access and use, including those you may access from the Services. You are subject to the privacy policies of such other websites and social media sites.
CHANGE OF OWNERSHIP
In the event that our ownership was to change as a result of a merger, acquisition, or any transaction involving the transfer of some or all of our assets by another company, your Services information may be transferred. We will provide you notice prior to any such transfer of your Personal Information.
SECURITY
We take steps to help protect Personal Information. We require password protection physical, electronic, and procedural safeguards to protect Personal Information. We limit access to Personal Information to employees and authorized who need to know that information in order to operate, develop or improve our Services. However, we cannot guarantee that your information will never be disclosed in a manner inconsistent with this Privacy Policy (for example, as a result of unauthorized acts by third parties that violate applicable law or our policies).
CHANGES TO THIS PRIVACY POLICY
We may update this Privacy Policy from time to time. If this Privacy Policy changes, the revised Policy will be posted on our website. Therefore, you should review our Privacy Policy periodically. If there are significant changes to our information practices, you will be provided with appropriate online notice. You may be provided other privacy-related information in connection with your use of offerings from us, as well as for special features and services not described in this Privacy Policy that may be introduced in the future. Your continued use of this website or our Services and/or continued provision of Personal Information to us will be subject to the terms of the then-current Privacy Policy.
HOW TO CONTACT US
If you have any questions or concerns about our Privacy Policy or its implementation, or if you believe there are inaccuracies in your account information you may contact us as follows:
By email:
[email protected]
By privacy portal
By mail:
Barnes & Noble College Booksellers, LLC
Mountain View Blvd.
Basking Ridge, NJ
Attention: Chief Privacy Officer
JURISDICTION-SPECIFIC TERMS
​​​​​a. Your California Privacy Rights. The California Consumer Privacy Act ("CCPA"), which provides California Consumers certain rights regarding their Personal Information ("PI") as those terms are defined in the CCPA, became effective on January 1, We are providing you with notice of the PI we collect and our purposes for that collection for data that may be subject to the CCPA ("CCPA Notice"). This CCPA Notice does not cover information that is outside of the scope of the CCPA. This notice also does not apply to data collected from employees, applicants or contractors or to data collected from individuals acting as representatives of another business in connection with business communications or transactions.

We collect PI directly from you, your device or browser, your education institution, our service providers and suppliers, and our corporate affiliates. We use and share PI for the following business purposes:
to provide requested products and services;
to advertise and offer new products and services;
to improve our products and services;
for quality assurance;
for research and development;
for prevention of fraud and illegal activity; and
for marketing purposes.
We may also collect, use and share PI for our operational purposes as set forth in this Privacy Policy.
We collect the following categories of PI from Consumers which we share with our service providers, agents and licensees who perform services on our behalf, with our affiliates, and with your education institution:
identifiers (e.g., name, phone number, email address, I.P. address);
personal records (e.g., name, phone number, email address);
customer account details / commercial information (e.g., your order history);
internet usage information (e.g., information regarding your interaction with our online services); and
inferences from PI collected (e.g., your preferences, your performance).
If you are a California Consumer and would like to register a request under your "right to know about personal information collected, disclosed or sold" (including right to obtain copies of specific pieces and/or information about categories of PI practices), or "right to request deletion of personal information," you can contact us via our Privacy Portal here or toll-free at You may opt out of cookies and other tracking technologies by clicking on the CA Do Not Sell My Personal Information link at the bottom of this website. You have the right to not receive discriminatory treatment in a manner prohibited by the CCPA because of exercising your rights under the CCPA.
To fulfill your CCPA request, we may require you to provide sufficient information to reasonably verify you are the Consumer about whom we collected PI. This verification process includes providing us at least two (2) unique data points, depending on the type of request.
Consumers have the right to exercise CCPA privacy rights via an authorized agent who meets the agency requirements of the CCPA. Authorized agent requests must include a copy of the agency agreement between the authorized agent and the consumer. We will ask the consumer to independently confirm the agency relationship.
The Right to Know
Categories: You have the right, subject to statutory exceptions, to send us a request, no more than twice in a twelve-month period, for any of the following for the period that is twelve months prior to the request date:

The categories of PI we have collected about you.
The categories of sources from which we collected your PI.
The business or commercial purposes for our collecting or selling your PI.
The categories of third parties to whom we have shared your PI.
A list of the categories of PI disclosed for a business purpose in the prior 12 months, or that no disclosure occurred.
Specific Pieces: You have the right, subject to statutory exceptions, to make or obtain a transportable copy, no more than twice in a twelve-month period, of your PI that we have collected in the period that is 12 months prior to the request date and are maintaining.
The Right to Deletion
You have the right, subject to statutory exceptions, to request that we delete your PI that we have collected directly from you and are maintaining. Note also that we are not required to delete your PI that we did not collect directly from you.
You may alternatively exercise more limited control of your PI by instead by canceling or modifying our email marketing communications you receive from us. You can do so by following the instructions contained within our promotional emails.
The Right to Opt Out of Sale of Personal Information
We do not "sell" PI that we collect from you, including PI of minors under the age of 16, in accordance with the definition of "sell" in the CCPA. We treat all PI that we collect from you as subject to a "do not sell" request.
We work with service providers and partner with advertising companies that use cookies and other tracking technologies to collect information about your visits to our website and third-party sites, and then use that information to deliver advertisements relevant to your interests. There is not yet a consensus as to whether third party cookies and tracking technologies associated with our websites and mobile apps constitute a "sale" of your PI as defined by the CCPA. You may opt out of interest-based advertising using ad industry opt out tools by visiting youradchoices.com/control or optout.networkadvertising.org. To effectively manage cookies via this cookie settings tool, you must set cookie preferences on all browsers and all devices that you use. If you clear the cookies on your device, you may need to set your cookie preferences again. We are not responsible for the completeness, accuracy or effectiveness of any third-party programs, tools or frameworks, or the information they provide.
b. Your Nevada Privacy Rights Under Nevada law, Nevada residents may opt out of the sale of certain "covered information" collected by operators of websites or online services. We currently do not sell covered information, as "sale" is defined by such law, and we don't have plans to sell this information. However, if you would like to be notified if we decide in the future to sell Personal Information covered by this Nevada law, please email your name and email address to [email protected] to provide your name and email address. You are responsible for updating any change in your email address by the same method and we are not obligated to cross-reference other emails you may have otherwise provided us for other purposes. We will maintain this information and contact you if our plans change. At that time, we will create a process for verifying your identity and providing an opportunity to verified consumers to complete their opt-out. Please become familiar with our data practices as set forth in this privacy policy. We may share your data as explained in this privacy policy, such as to enhance your experiences and our services, and those activities will be unaffected by a Nevada do not sell request. You may also have other choices regarding our data practices as set forth elsewhere in this privacy policy.
Effective Date and Last Updated: September 2,
Sours: https://umb.bncollege.com/shop/um-baltimore/page/customer-service
University Book Center
UBC Store Hours | ShopTerps.com
Welcome to the UBC, the official bookstore of the University of Maryland College Park! We are OneTerp, Keep it local and keep it on-campus, Go Terps!
Visit us online for our latest promotions and updates. We are located in the Stamp Student Union.
University Book Center
>>>>>>   Quick Link to your Fall textbook list >>>>>>
UMD Course Material Finder
Regular Fall Hours
    Monday – Saturday: AM – PM
    Closed Sunday
Extended Hours & Special Events
Home Football Game | Extended Hours HOMECOMING 
October 29 (FRI)  AM - PM
October 30 (SAT) AM - PM
October 31 (SUN) AM - PM
WINTER GRADUATION | December Commencement Preparation
The UBC has cap & gown, stole, and tassel in-stock today. Don't wait or you'll risk not having the correct size.
For more information:
Winter Commencement Information
Stadium Hours & Locations
Xfinity Center | Open Tuesday, Thursday, & Friday | AM - PM  & GAMEDAYS
Gamedays: The Xfinity location is open on football game days 3 Hours before kick-off and closes after the start of the game. Enter the Xfinity Center via GATE C. The Terrapin Team Shop is located on Level 2. (Mask are currently required)
Capital One Field at Maryland Stadium | Open Gamedays Only/ Stadium Access (Ticket) Required
Gamedays: Terp Gear & Gifts can be found throughout the stadium at our 5 locations, featuring our Under Armour Team Shop located near Gate H. The stadium locations open approximately 1 hour before the event and will close at around the 8-minute mark of the 4th quarter.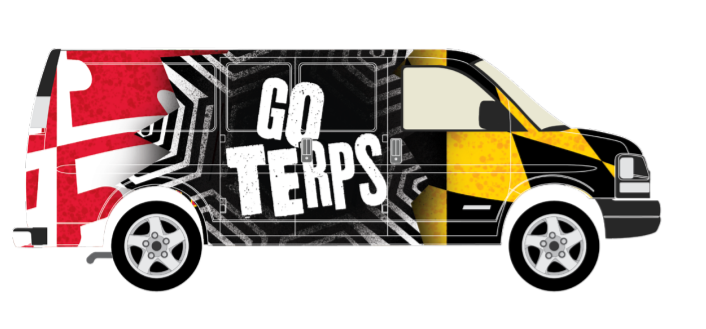 If you see our Go Terps van, please stop by and check us out! 

Welcome to the University Book Center
Fall Materials are still available!
Order Online or Shop in Store (Stamp Student Union)
Allow hours for processing.
AVAILABLE IN-STORE FOR IMMEDIATE PICK UP.
Learn More About Price Match, Refunds, and Digital Textbooks
Please scroll down this page to the Helpful Links section. 
Official Merchandise
The UBC has it all. We offer the latest trends and the best gifts for every season. We feature top brands like Champion, Blue 84, Vineyard Vines, Columbia, and of course, a huge selection of Under Armour performance wear. We have gifts and clothing for every age, in many styles and in all the official colors of the University of Maryland College Park. Come and visit us, in-store or online, and you are sure to find the things you love.
Course Materials & Supplies
The University Book Center is a "one-stop-shop" and you will have many choices of various available textbook formats, such as new and used books, rental options, and easy to get digital choices as well.  Whether you are taking classes virtually or on campus, we want to make sure you have multiple ways to secure your course materials. You can choose to ship your order or use our in-store pick up option.
We always welcome you to come into the store and purchase your materials while you're on campus. Just bring your schedule and one of our friendly knowledgeable booksellers will assist you in gathering everything you need! 
We know that you want to find the most affordable options and the UBC is a great choice. We offer a price-match program (matching qualified pricing of Amazon and others) and for peace of mind, the UBC provides a textbook refund policy covering the first 30 days of classes.
STUDENT ACCOUNT CHARGE OPTION
You can also charge your books to your student account in the store and take advantage of many online payment options.  Our University Book Center staff stands ready to help you make the most cost effective choice for you and your family.
Here are a few easy steps to view your customized course material list.
Go to Testudo (testudo.umd.edu)
Click "Student Schedule" 
Login with your UMD credentials
Select the correct "Term" from the drop down menu
Click "Book List" to see your course material requirements

Our UBC management team receives regular updates from our faculty so if information isn't posted yet, don't worry, they are working on getting the information.
Please visit our website for updated store hours:  University Book Center
We are proudly located in the Stamp Student Union.  To learn more about other activities and dining options, Go to https://stamp.umd.edu
Please be sure to confirm store hours and Covid updates before driving to the Stamp Union.
Order your course materials today from the University Book Center!  
Official Terp Gear and Helpful Links
(click here to enter the official site for the University Book Center)
We are located in STAMP (Ground Floor)
Quick Links:
Price Match Policy
Digital Content FAQ
Download Our College Bookstore App
UBC Textbook Rental Info
Textbook Rental Return Label
Returns and Refund Policy
Shop our Under Armour Collection
See Special Offers
Contact Us
Sours: http://stamp.umd.edu/home/food_shops_and_services/shops_services/university_book_center
Textbooks: How do I purchase course materials?
At the University of Maryland Global Campus, you can complete most degree programs without purchasing textbooks thanks to electronic resources that are available at no cost, are immediately available through your online classroom, and are always up to date.

However, a few courses do require you to purchase other course materials. When you register for a course, check the required course materials listed in the Interactive Undergraduate Schedule of Classes to determine whether you will need to purchase any course materials. Learn more about textbooks and course materials. 

University of Maryland Global Campus Bookstore
In conjunction with MBS Direct, UMGC offers convenient online shopping for required textbooks and other course materials. MBS Direct guarantees availability of new and used inventory, shopping discounts if books are ordered online, no sales tax, and an easy return and buyback program. 

Orders are shipped via UPS within 24 hours of receipt, Monday through Friday. Overnight and two-day delivery is available for an additional fee. Payment by personal check, MasterCard, Visa, American Express, and Discover is accepted. Some employer contracts may be accepted. 

How do I find a list of my required course materials?

Order Course Materials:
University Book Center/Barnes & Noble
University of Maryland, College Park
Stamp Student Union
College Park, MD
http://umcp.bncollege.com/

Materials for UMGC classes will be available in limited quantities in the Atrium of the Stamp Student Union Building on the College Park campus. Given the limited availability, this should not be used as a reliable method for obtaining your course materials. Students are encouraged to order online throughMBS Direct.
The discount for Federal employees and their spouses and eligible dependents will be applied to out-of-state tuition and specialty graduate programs. It does not apply to doctoral programs. This discount cannot be combined with the Completion Scholarship for Maryland community college students or the Pennsylvania Completion Scholarship.
Undergraduate and standard graduate program tuition for students who meet the criteria for Maryland residency will be the applicable in-state rate. Tuition for active-duty military; members of the Selected Reserves, National Guard, and the Commissioned Corps of the U.S. Public Health Service and National Oceanic and Atmospheric Administration; and the spouses and dependents of these student groups will be the applicable military or specialty rate. If you are a student using Post 9/11 benefits, please contact an advisor at to determine if you can apply both benefits.
View important information about the education debt, earnings, and completion rates of students enrolled in certificate programs.
All students are required to pay tuition for all courses in which they are enrolled. Tuition rates are subject to the approval of the University System of Maryland Board of Regents. They may be changed, or other charges may be included, as a result of the Board of Regents decisions. Notwithstanding any other provision of this or any other university publication, the university reserves the right to make changes in tuition, fees and other charges at any time such changes are deemed necessary by the university and the USM Board of Regents.
The Board of Regents has authorized the university to charge a student's delinquent account for all collection costs incurred by the university. The normal collection fee is 17 percent plus attorney and/or court costs. The service charge for a dishonored check is $ Requests for services (for example, transcripts, diplomas, registration) will be denied until all debts are paid.
Please see the Policy on Student Classification for Admission and Tuition Purposes for specific details about residency requirements.
Financial aid and tuition remission for University System of Maryland employees cannot be applied to noncredit courses. Golden ID benefits may not be applied to fees, noncredit courses, specialty undergraduate or graduate programs, or doctoral programs. Regular tuition rates apply for cooperative education, course challenge examinations, and EXCEL
GI Bill is a registered trademark of the U.S. Department of Veterans Affairs. More information about education benefits offered by VA is available on the U.S. government GI Bill website.
The UCSP requirement may be waived if you previously earned a graduate degree from a regionally accredited institution. For more information, contact your academic advisor.
Sours: https://www.umgc.edu/help/help-topic.cfm?id=kA0dDG48CAG&table=FAQ_IT__kav&action=getArticle
University of Maryland Campus Tour
She said, I want you, I whispered in her ear and crawled under the T-shirt. Without ceasing to squeeze pussy. Not now, please. I'm not ready, - Anya began to object. - And when.
Maryland university bookstore of
But with Olga, with whom I was for some time respectfully on "you", a certain refraction began. I often began to stray to "you", stopped, to which Olga, laughing, only encouraged me: Nothing, nothing, you trusted me and hoped to. Get what she dreamed of, and I seemed to let her down.
But I couldn't cross a certain moral threshold either.
The UMD Bookstore Suggests Buying \u0026 Reading Your Textbooks
We crawl on all fours to our masters in order to prepare their jade wands for work. Oh, but in the pope it hurts how. Oh, you bastards.
You will also be interested:
I'll go and put myself in order, and you, Sonechka, will live here. These are your chambers now. It was one weekend. I slept, had breakfast and decided to go online and check my mail. I go in, and there is a letter from a dating site, from one man.
1131
1132
1133
1134
1135