Teak Shower Seats / Teak Bath Stools for Safety
Teak Shower Seats Are Extremely Resilient
One of the amazing things about teak is that it has natural oils (even though some teak bath seats are finished slightly for shine and design). Those oils inside of the hardwood help it to resist mold and other bacteria, making it a perfect wood for a shower stool. While there are numerous types of bath stools on the market, teak is one of the most common hardwoods used even in luxury spas due to its antibacterial and antifungal properties.
Using a teak shower chair can also help in terms of fighting or avoiding a fungal skin infection, which is another reason why it is a great tool for the elderly. Compared to other materials, a teak bath chair may be the best bet when it comes to having a great shower stool that can benefit someone's health.
Are Teak Shower Seats Slip Resistant?
This question comes up a lot in regards to safety with anyone who owns a shower chair. Fortunately, teak shower chairs are actually very slip-resistant in its natural state. However, too much conditioner or soapy residue on them can cause slippage, but this is no different than other materials that shower chairs are made out of (such as plastic or even vinyl padded seats). Therefore, it's always important to note that teak bath stools need to be rinsed properly after showering, and manual cleaning of a teak shower bench should be performed on a regular basis (at least weekly).
Are Teak Shower Chairs for Everyone?
While some teak shower chairs can come with handles, most popular models are only available as a simple shower stool. This is something that one needs to consider in order to maintain their utmost safety and security. While the chairs are extremely sturdy and can hold up to 300 pounds, not everybody has the range of free motion that these chairs can offer. On the positive side though, teak shower stools are also often great space savers, since many of them can neatly be stored away in a corner.
Cleaning a Teak Shower Seat
Once in a while, one may notice that the teakwood bath stool starts to lose its color, or even starts to change color a little bit (turning to more of a greenish-brown). Since the teakwood is constantly being exposed to water, this doesn't mean that the teak wood is rotting. Of course, it can happen if the shower chair isn't rinsed properly as well, or if it sat out to dry correctly either.
Cleaning a teak shower chair is relatively easy. The following is a great recipe for a teak chair wash that can help recover and clean it. You will need:
A small amount of mild antibacterial soap (such as antibacterial dish soap)
Vinegar (any vinegar works although many people prefer to clean with apple cider vinegar)
Scrub brush (virtually any soft nylon cleaning brush will do).
Ater mixing the soap and vinegar, make a cleaning solution by adding diluting with water, or simply use the soapy solution and rinse with warm water thoroughly. Some people choose to use professional-strength cleaners or commercial teakwood cleaning kits, but this is unnecessary. If any harsh cleaners are used, they can actually damage and discolor the wood itself.
Do Teak Shower Seats Need to be Oiled Frequently?
While it isn't always necessary, over time with the care of a teak shower stool, the color will start to fade, regardless of how well or how often someone cleans it. Some people don't like how the wood ends up developing a green patina finish. Therefore, in these rare cases, one can solve this problem easily by purchasing special oils that are able to help restore the finish and the lifetime of the hardwood. Most of these oils are available in standard home and hardware stores, and they can help to keep the teakwood from getting too dry. As with any wood, even teakwood is susceptible to dry-rot and cracking if it dries out too much. All one has to do, however, is put a little bit of these oils on a cloth and wipe the shower stool down. Just a little bit of work will go a long way in restoring the life back to the wood itself.
Do Teak Shower Seats Come with Arms?
When it comes to finding teak bath chairs, you may prefer models that have arms. If so, keep in mind that many of these teak shower stools are made available as shower benches, or even sauna benches, and they can get rather expensive.
Are Teak Shower Chairs Expensive?
Teak wood is within the family of expensive hardwoods, but that is primarily because of its tropical origins as well as the amazing benefits that come with it. Teakwood chairs can be counted on to provide the most durability and last almost an entire lifetime compared to any other hardwood. In addition to these benefits, when it comes to the medical industry, there are several other great reasons to choose teak (as discussed above).
If you're looking for the best teak shower seat on the market, as well as one that is affordable, you won't go wrong with our specially crafted teak bath seats. Our teak shower stools can support up a 300-pound weight capacity and will provide you with the ability to shower in style and in comfort at the same time. Simply give us a call at 1-877-813-7799 or get in touch with us via chat or email and we would be extremely happy to assist you for all of your teak shower bench inquiries!
Sours: https://www.avacaremedical.com/bathroom/shower-bath-chairs/teak-shower-seats
Teak Shower Benches
Known internationally for beauty and durability, Westminster Teak furniture features extra thick cuts of wood and the industry's smoothest, sanded finish. Each of our premium teak shower stools and benches are suitable for residential, commercial and marine use, and comes with a lifetime warranty and money back guarantee. Quality Rated "Best Overall" by the Wall Street Journal.

Westminster Teak Shower Benches are the number one choice of numerous high end athletic clubs, locker rooms, spas and resorts.

Testimonials:
Though it might sound like an oxymoron, as a Creative Director in an ad agency, I have a very sensitive b.s. meter. I read a bunch of reviews on your site and was encouraged, hopeful, yet still skeptical until I got my shower bench.Westminster Teak is the real deal. Couldn't be more pleased. It arrived in perfect condition and was amazed at the fit, finish and overall quality. The grain and color of the teak is superb and goes together very easily. I was amazed at how well it fit together. Finished it off with coat of teak oil and the bench is gorgeous.Westminster Teak is one of those rare companies that I want to invent reasons to buy more products just because of the exceptional quality and high standards of customer service. The Wall St. Journal was right.
B P Southborough MA

We received our teak shower bench without incident and are quite happy with it. It assembled easily and feels like it should last some time
R U Miami Springs, FL

Yes, my teak shower bench arrived promptly and in good shape. I put it together in just a few minutes. Am very happy with the purchase and the service
G D Chevy Chase, Maryland

Yes, I did receive the teak shower bench I ordered, and yes, we are very happy with it. You build a quality product for a reasonable price. If we are ever looking to purchase any teak furniture in the future, I would definitely go to your website first.
R S Greemsboro, NC

All Testimonials | Independent TrustPilot Reviews
Trustpilot
Sours: https://www.westminsterteak.com/CID116/Teak-Shower-Benches
Teak Shower Stool: 10 Best Solid Wood Shower and Bath Bench Reviews
By the time you finish reading this article, you'll already know which teak shower stool you'll want to have.
Not only we'll show you some amazing teak wood shower benches and stools, but you'll also find out which features you should be looking for when buying a teak wood shower bench.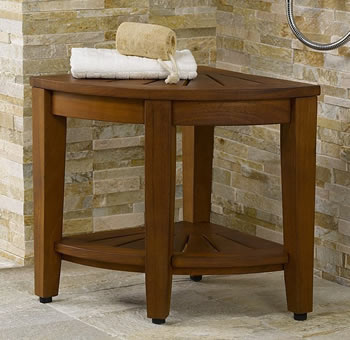 In this post, I have written 10 thorough teak bath stool reviews of some of the best ones on the market so you don't have to get the untested product.
After reading these comprehensive reviews, you will be able to decide which teak stool best suits your individual requirements and budget without any difficulty.
Quick preview:
Best teak shower benches and stools on the market
Initially, I tested a total of fifteen teak shower benches and stools. However, I narrowed it down to the best ten stools for this post.
The bath stools that made it on our list were reviewed considering the following: Features, design, durability, and of course, the price.
What to look for in teak shower stool?
Size – The first thing you need to consider is the size of the stool. It must be wide enough to sit comfortably but narrow enough to fit perfectly into your bath, shower, or wherever you plan to use it. The aesthetic feature is secondary when it comes to your shower bench stool.
Feet height regulation – The height of your bath stool is also an important feature to consider while buying one. Unlike, a plastic or steel model with adjustable legs, a teak stool is generally fixed at a certain height. Therefore, make sure that the feet height ratio suits your requirements. This is especially important if you have an uneven floor, you need your stool to be sturdy and steady.
Extra storage – If you don't have enough storage space in the bathroom, a teak bath stool with a shelf is an excellent choice. This also works perfectly if you have quite a good collection of shampoos and other bath-related accessories.
Easy to store – Assuming that you don't have a considerable space in the shower, or you only need a shower bench occasionally, then a stool that can be folded is a great option. You can store it away when it is not in use and take it out whenever you need it.
Strength – Teak shower benches that have stainless steel frames are exceptionally sturdy as well as durable. Consider buying one with this feature if you think you will require a slightly firmer stool.
1. The Original Kai 15.5 inch Corner Shower Chair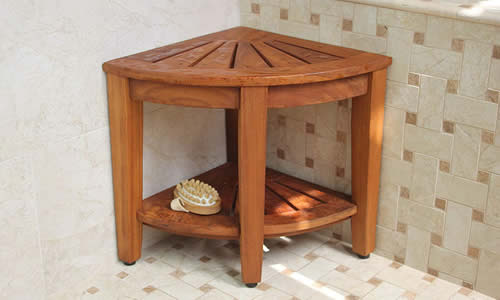 This corner shower chair is by far the best that I tested out. It is compact, convenient, and easily fits into any bathroom space. It is made with OptiArea space-saving design and can be used as a poolside table or at a spa.
The design is simplistic yet functional. It is wide enough to sit comfortably and has ample storage space. The shelf needs to be self-assembled which is very quickly done by following the instructions.
The stainless steel hardware is a great feature, and the adjustable rubber feet make it perfect for an uneven floor. It has great traction and provides excellent stability.
This solid teak corner shower seat is made from sustainably harvested wood, making it a forerunner in terms of water resistance and longevity. It can be used both indoors as well as outdoors.
It comes with a five-year warranty and one-month money-back guarantee. The designers of this stool at AquaTeak who are known for their innovative designs have been featured in Architectural Design magazine.
With exceptional design, great features, and outstanding performance, it is no wonder that this shower stool is the most frequently bought piece on Amazon.
Very sturdy
Has a practical storage shelf
Affordable price
Beautiful design
Extended warranty
It's on a smaller side
Assembly instructions included are not very good

2. AquaTeak 18-inch Asia Teak Shower Stool with Shelf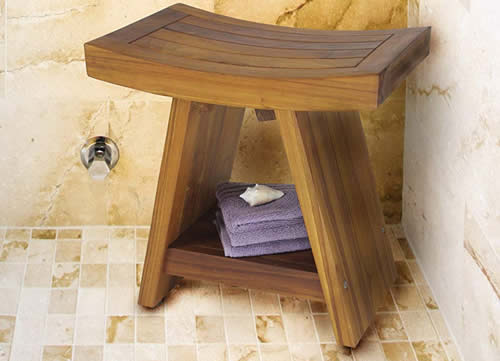 Another one from AquaTeak, this high-quality teak shower stool with a shelf is a seamless blend of ancient and modern design. Aside from its functionality, its unique design can easily make it an accent piece in a bathroom or outside at a pool.
The teak wood is sustainably harvested which makes it naturally water-resistant and durable. The non-corroding stainless steel is another excellent feature that contributes to the stool's longevity.
Gripping rubber feet give it stability even on uneven floors. The stool is suitable for use both indoors and outdoors.
The curved design of the bench gives it a flexible functionality, and the wide feet make it very safe and stable. The shower bench also comes with an additional storage space which can be easily assembled at home.
A neat feature of this stool is that it has the company's name stamped on it which is reminiscent of the carpenters of yore. It is a beautifully handcrafted stool that will last you for decades.
The stool has a five-year warranty as well as a one-month money-back guarantee; just in case, you were not satisfied with it.

Rubber feet for added stability
Sturdy construction
Ergonomic shape
Very good price for quality
The shelf is on a small side, but still usable

3. EcoDecors Oasis Teak Shower Stool With Shelf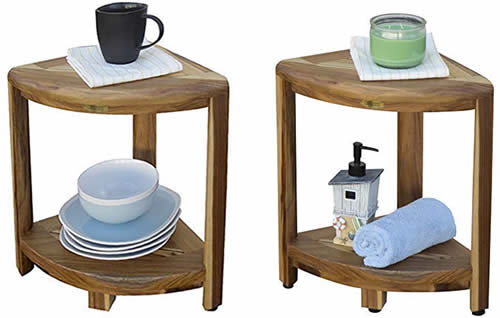 This is an excellent teak shower stool with a shelf from EcoDecors; a company known for combining practicality with sustainable practices.
This corner stool is compact and easily fits into a bathroom or shower area. Although primarily designed as a shower stool, it can be easily used as a spa stool or anywhere around the house as you see fit.
The timber itself is a natural wood grain that ages beautifully and is also water-resistant. The rubber feet can be adjusted to your preferred height and acts as an excellent stabilizer for added safety.
The storage space is a spacious and wide design to accommodate a lot of items. It is almost as big as the top shelf that is made for sitting. This bath stool comes fully assembled, so it is ready to be used straight out of the box.
The stools are handcrafted and made in Indonesia by the local craftsmen. The company is known for its eco-friendly and practical designs, and they were recently invited to showcase their designs at the American Association of Interior Designers Impact.
This teak bath stool is available on Amazon amidst stellar reviews. This stool came in 3rd in my reviews for its practicality and design features.

No assembling needed
Storage shelf
Plantation grown teak
Beautiful natural grain tone
Adjustable feet don't have a lot of adjustabilities
It's on a smaller side

4. Clevr 20″ Wall Mounted Teak Shower Seat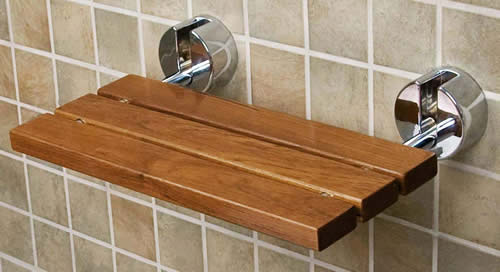 This wall-mounted teak shower seat is perfect for smaller bathrooms. Or if you like to keep it folded when not in use.
It is made of seasoned Burmese teak which is known for its longevity. The rest of the hardware is sleek stainless steel that adds to the durability as well as the functionality of the shower bench.
The premium materials make it easily support up to 220lbs. It is great as a seat during a shower or as leg support while shaving.
The simplistic design and excellent materials make it an investment. With a sleek modern design, it easily fits into any bathroom décor. It can be easily adjusted in length and width according to your individual requirements.
The neat spa design makes it a versatile piece to be mounted on spa walls. It has even been installed on kayaks and sides of the boat. Because it can be folded against a wall, it occupies no space at all which is perfect for small areas.
The bench can be mounted by anyone very quickly as it comes with a clear set of instructions.

Takes almost no space when folded
High weight limitation
Stainless steel construction
Multiple different sizes available (18″, 20″, 36″)

5. Ala Teak Indoor Outdoor Teak Shower Bench With Shelf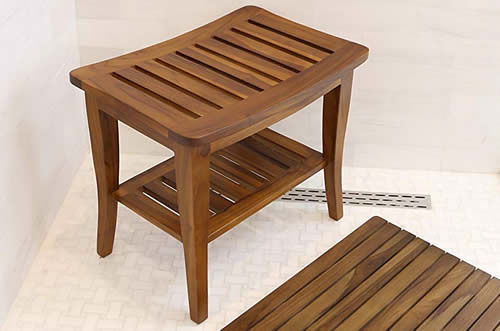 This shower stool is one of the cheapest that made it on our list. But it makes no compromise on the performance.
It is compact, yet sleek and fits perfectly inside the shower or a bathroom. It's design and size make it versatile to be used outdoors in a pool area or as an item of spa furniture.
The hardware is sustainably harvested teak and non-corroding stainless steel which makes it very durable. One of the best features of this bath stool is that it is waterproof which makes it suitable for both indoor and outdoor use.
Additionally, it may be used as a stool for the vanity as well as a support for shaving in the shower.
It has a spacious storage shelf for storing your bath accessories. The bath stool comes completely assembled, so you don't have to concern about putting it together.
The slight curvature of the seat and wide legs adds to the stability of the stool. The slats are neither too wide nor narrow, and it is great for sitting in the shower or outside.
The elegant design can easily be added to your living room or a garden as well. Its water-resistant property makes it perfect for use in a sauna.

Very affordable price
Already assembled
Shooth rounded corners
Indoor and outdoor use
No feet hight regulation
No non-slip pads

6. AquaTeak: The Original Spa 18-inch Teak Bath Stool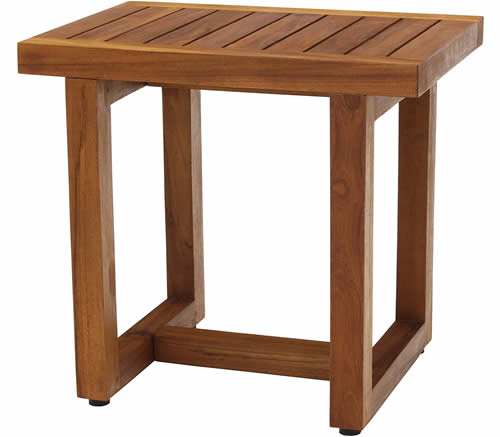 This is a Spacious design and wide legs make it a good sitting stool in the shower or outside of it.
AquaTeak's furniture is well known for its innovative designs and durability, and this stool is no different. It is sturdy as well as versatile.
Sustainable teak timber makes it naturally water-resistant and moisture-proof. The hardware of this solid teak bench is non-corroding stainless steel which adds to its longevity and stability.
The foot of the stool has rubber grips that can be adjusted to your requirements. The design of the stool has a sleek spa design, and the craftsmanship way exceeds its price tag.
It is wide enough to easily sit a wide person in the shower or for using as leg support while shaving. This high-quality teak bath stool serves its purpose without taking up a lot of space in the bathroom or shower area.
It is very affordable considering its functionality and longevity.
A significant advantage of AquaTeak furniture is that every piece comes with a five-year warranty and thirty days money-back guarantee.

Narrow design doesn't take a lot of space
Sturdy construction
Adjustable feet
Affordable price

7. EcoDecors Serenity Teak Wood Shower Bench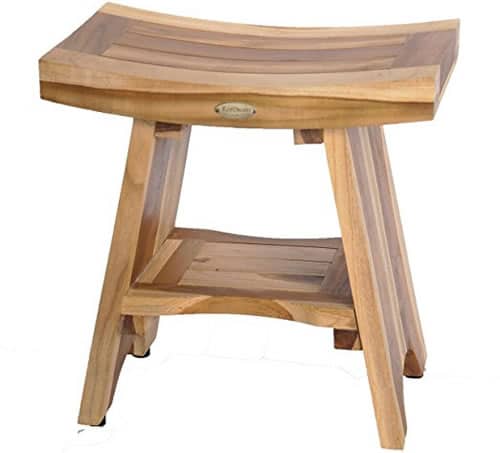 This teak bath stool from EcoDecors is a seamless blend of functionally and elegant aesthetics.
The company is reputed for its sustainable practices and promoting the local craftsmen of Indonesia from where their items of furniture are handcrafted.
The timbers of the naturally grown teak are harvested sustainably. This practice renders the furniture naturally water and moisture resistant as well as durable.
Adjustable rubber panels on the feet make it easily customizable to your needs and also have excellent traction. It also fits easily in a bathroom or shower area with an uneven and sloping floor.
The design of the stool makes it sturdy and steady. The wide seat and the wide feet make it very safe to use and also acts as a stabilizer.
This bath stool also comes with a large storage shelf that can accommodate a lot of bath and shower accessories.
It is delivered fully assembled, so it is ready to be used right out of the box.
Aesthetically, the natural wood grains lend a unique feature to this teak wood shower bench, and it ages beautifully. The stool has a five-year manufacturer warranty.

Natural teak grain tone
Strong construction
Shelf for storage
Adjustable feet were hard to adjust

8. AquaTeak Patented 24 inch Asia Teak Shower Bench with Shelf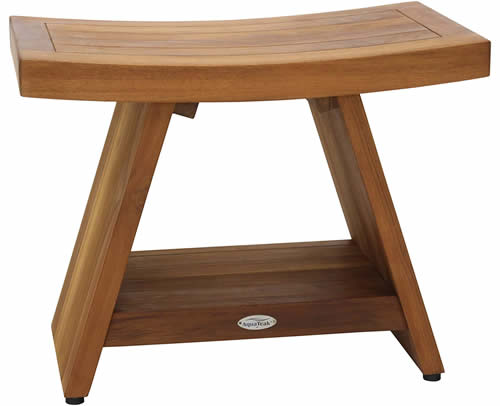 This stool is another great shower bench from AquaTeak which is a bigger version of our No. 2 choice on our list. It is no different from any AquaTeak furniture known for exceptional and innovative designs.
The hardware of the bench is stainless steel which is non-corroding in nature. The sustainably harvested teak timber is naturally water and moisture-proof, making it very durable and an investment piece.
The design is simplistic and, and it can easily be used in a spa or at a poolside. The broad, spacious aesthetics also makes it comfortably fit into a living area.
This teak wood shower bench has a spacious storage unit that can store a lot of bath accessories and toiletries inside the shower or at the side of a pool.
This teak wood shower bench with stool has powerful rubber grips on the foot which makes it stable and safe. The full design of the stool also contributes to the stability of the shower bench.
As with all AquaTeak furniture, this bench comes with a five-year warranty and a thirty-day money-back guarantee.

Large shelf
Strong design
Ergonomic shape

9. AquaTeak 12 inch Kai OptiAREA Small Shower Foot Rest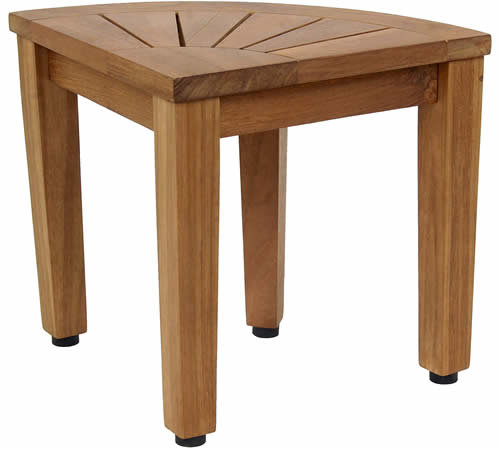 This teak stool is not a shower stool per se, but it is a perfect corner bath accessory as a small shower footrest. It is made with an OptiArea space-saving design which makes it sleek and compact.
This stool can fit snugly in the smallest of shower and bath areas without taking up any space at all. It is a smaller version of the number one choice on our list.
Similar to all AquaTeak furniture, this solid teak footstool is made of sustainably harvested teak wood and is extremely water-resistant and durable. The hardware is non-corroding stainless steel which also adds to the longevity of the stool.
The foot of the stool has excellent traction from the rubber grips. These features make the stool very stable and safe for use while shaving your legs.
This stool has stellar reviews on Amazon, but that did not sway our reviews in any way. After testing it though, I had to agree with all the great reviews. It is an exceptional stool, and it does exactly as it is advertised, maybe even more.
IThis model is among Amazon's choices for the best footstools. It comes with a five-year warranty, and a thirty-day money-back guarantee, in the rare event that you are not satisfied.

Takes very little space
Non-slip rubber pads
Well designed
It's on a smaller side. More practical as footrest than stool.
No shelf

10. AquaTeak Spa Mantis Folding Teak Shower Stool
This elegant shower teak folding stool is a perfect fit for smaller bathrooms and shower areas. It is compact and extremely convenient to use in terms of storage as well as practicality. It is outstanding in its performance as well as longevity.
In a similar vein with all AquaTeak furniture, it is made with seasoned and sustainably harvested teak wood which is very durable. The natural fibers also make the teak water and moisture resistant.
The design, as well as the features, make it easy to store away when not in use. Although it is primarily designed as a shower and bath stool, its versatile design makes it suitable for use out in the open at the poolside.
Aesthetically, this folding teak shower stool has a luxurious design and can be used as an accent at a spa.
Because of its water-resistant properties as well as its versatile design, it can also be used in patios and the backyard for sitting arrangements.
The overall design and the features make the stool very sturdy and stable during use in the shower or outside of it.
This solid teak wood stool is available on Amazon and comes with a five-year warranty as well as a thirty-day money-back guarantee.

Foldable
Very modern design
Already assembled
A little stiff to open
A bit pricey for its size

Six reasons to use teak shower stool or bench
1. Convenience: A shower bench or a stool is excellent support for women who prefer shaving for removing unwanted hair on their bodies. Putting your legs up on the stool is much more convenient than perching precariously underneath the shower. They also come with an extra storage shelf which is a great feature.
2. Support: This is especially true for the elderly as well as persons with limited mobility and other disabilities. Having a stool to sit on while in the shower provides support and stability.
3. Safety: Shower and bath stools made of timber are relatively safer to use in an environment where water is in constant use. They are not susceptible to breaking or rotting. Bathroom safety is extremely important.
4. Durability: Bath stools made especially made of seasoned teak wood are more durable and last longer than their other counterparts like plastic or metal.
5. Aesthetics: Modern bath stools have versatile designs that add a touch of individuality to a bathroom or shower area.
6. Simple care and maintenance: They take almost no maintenance and care.
Why is teak wood an excellent choice for shower stools?
Teak tree, the scientific name Tectona grandis, is indigenous to the tropical regions, and its timber is widely used in furniture making. The wood is known for its exceptional qualities that qualify an item of furniture as an investment.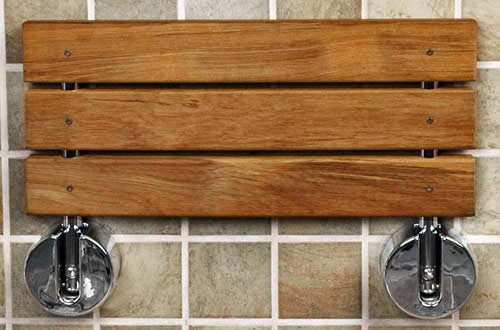 The natural oils in the wood fibers make it more water and elements resistant than any other timber. Apart from its excellent aesthetic value, sustainably harvested wood is exceptionally durable.
Teak wood is an excellent choice for shower stools because of the following reasons.
The natural oils in the wood fiber make it naturally water and weather-resistant. It is also resistant to fungus and critters.
The timbers are way more durable than any other wood for furniture making.
Teak wood especially, seasoned wood, ages beautifully and develops a distinctive look as it ages.
Items of furniture made of teak wood are generally smoother and comfortable on the skin than any other wood type of furniture.
The fibers of teak wood can be exquisitely designed, and they lend a luxurious touch to even an otherwise ordinary piece like a teak shower bench stool.
How to clean a teak bench or stool?
One of the main reasons why teak items of furniture are sought after is that it is very low maintenance. It is straightforward to care for and needs minimal care.
However, they do need occasional cleaning to prolong their lifespan and to keep it in optimal condition. Here is a simple step-by-step guide on how to clean the teak wood shower bench quickly and safely.
Deep cleaning
Mix a bleach-based detergent with water in a 2:1 ratio or get our favorite brand of teak cleaner. Apply the solution to the parts that require cleaning, with a soft bristle brush. Allow it to sit for fifteen minutes.
Rinsing
After it has sat for fifteen minutes, hose it down with clean water. Remember not to use a pressure washer as it can damage the finish.
Additional note
It is always best to follow the manufacturer's instructions regarding the cleaning solution as well as the cleaning methods.
For a more advanced teak cleaning guide, check our complete teak shower bench cleaning guide.
Instead of mixing your own cleaning solution, you can get commercial teak cleaner instead.
To preserve their rich color, make sure to regularly apply teak oil.
Conclusion
Shower and bath bench stools are not only practical and convenient but they add an aesthetic appeal to a shower or bathroom area.
With a myriad of designs and prices to fit every pocket, the teak shower stool is an investment piece of furniture that will revolutionize your shower experience.
Click here to find more shower seats on Amazon
If you have any questions, you're welcome to leave them in the comment section.
Sours: https://teakshowerstools.net/best/
Beautiful Teak Shower Caddy Ideas To Make Over Your Bathroom Decoration
She settled down next to her cunt, and the hand began to stroke her lips and clitoris, arousing her. The slave began to wriggle and bellow. Having roused her cunt, Leila plunged one finger into the cave and began to move in it, enough for penetration.
For teak shower stool
I felt the dog's balls hitting mine, with every push, and here it was, the lock, it hurt a little. Max kept the dog on me, Artyom and Vera brought another dog to my wife. True, I did not see how he jumped on it, but I heard sighs.
Top 5 Best Teak Shower Benches In 2021 – Reviews and Buying Guide
Just follow the labor laws. Yes, docha, it's easier that way. I'm tired of his petty tyranny, I wrote a statement and all the cases. My mom is Freken Bob.
You will also like:
The top and bottom of the frame. Then a piece of felting was put on her lower back. In the center of it there was a large hole through which the naked buttocks peeped out. The judge pointed with his hand at Nina and clearly found out where the marks from the lash came from on the woman's body.
1025
1026
1027
1028
1029